Ahhhh, welcome to the second edition of Snoopits! The series that allows me to pretend I'm cool enough for you to want to snoop around my crib.
All the while realizing there will never be a world or lifetime in which I am cool enough to say the word crib.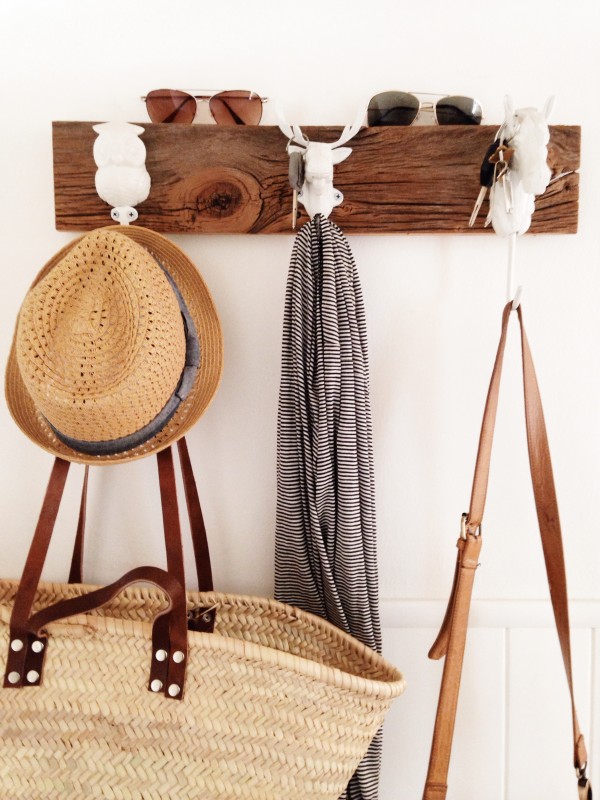 So what we have here are wall peepsies. Remember last time we looked at surfaces? Well, this time we're looking at my walls! I can sense that your soul is suddenly vibrating with tremors of jubilation, isn't it?
Don't answer that.
Let's begin! So this little foyer coat hook is brought to you by my infamous DIY husband. Think interior decorator meets MacGyver. With better hair.
This is a found piece of wood and thrifted iron animal head hooks, painted white. Oh! Let's start a band called The Animal Head Hooks. I'll play bass.
You think I'm kidding.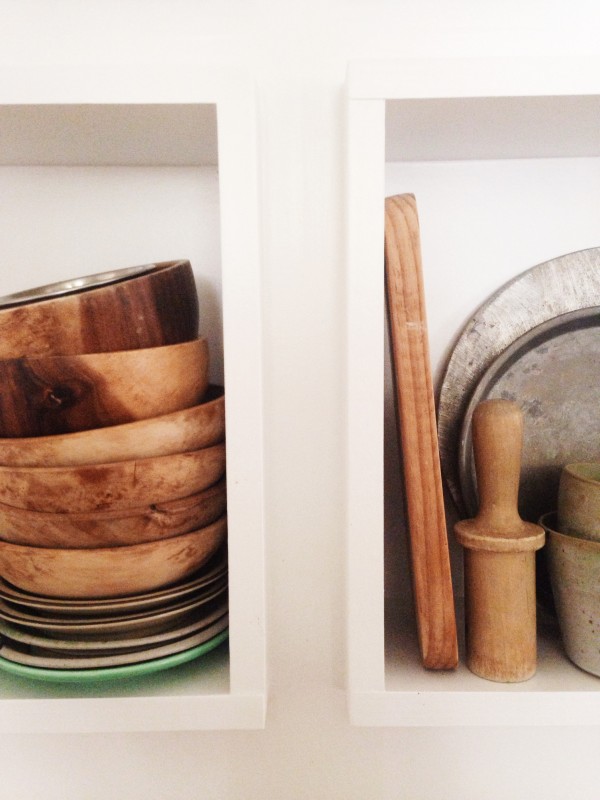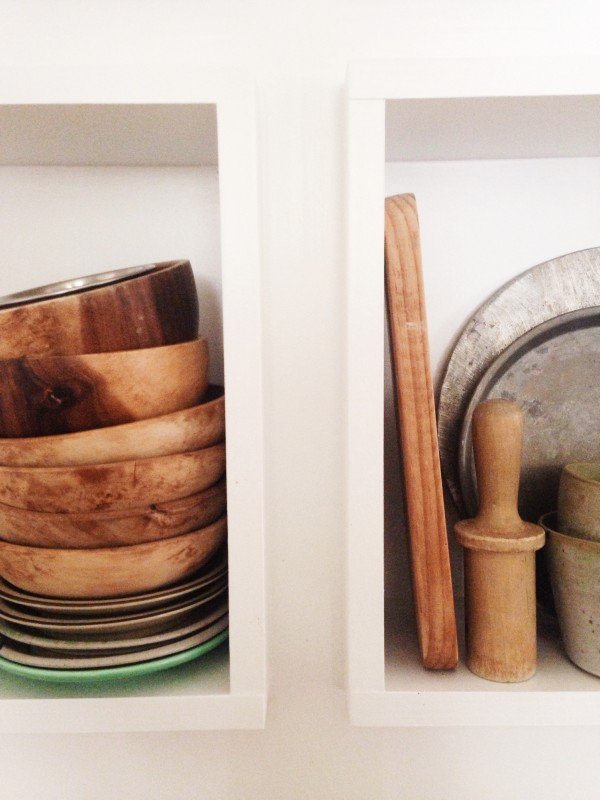 Let's swing a hard right into the kitchen and look at some cubbies real quick. This was a last.second.decision during our kitchen remodel a few years ago. The wall was this huge blank area and I obviously needed the word cubby in my life, so cubbies I received. They store bowls, props, a few dried goods like lentils, soba noodles, rice, popcorn, WHAT HAVE YOU. I dig them to Venus and back.
Also, cubbies.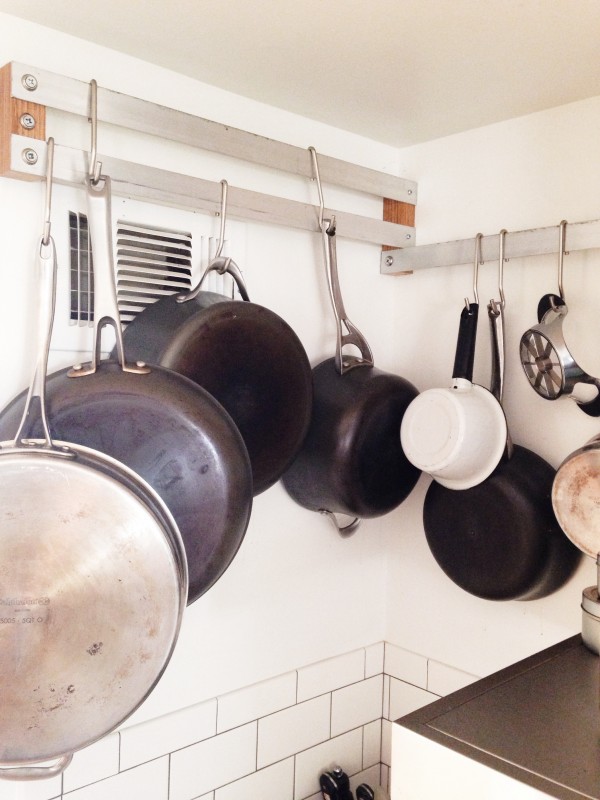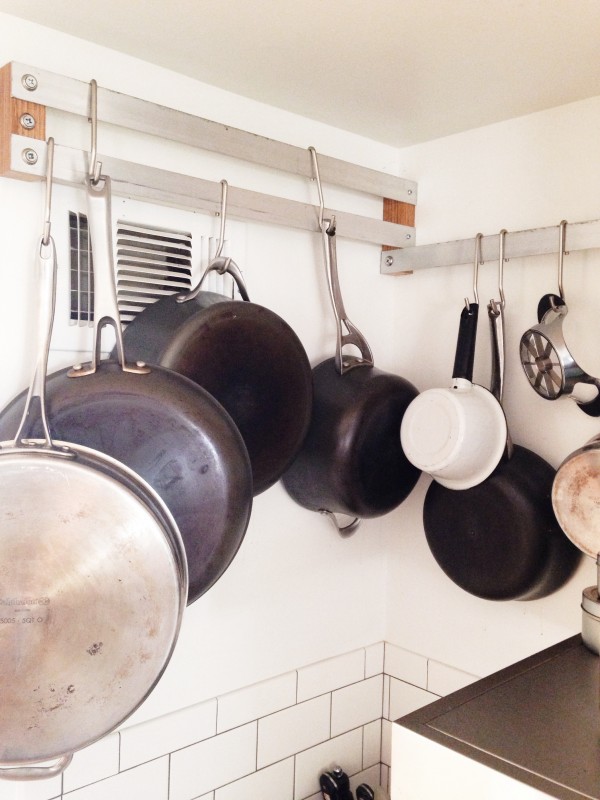 While we're hangin' in the kitchen (Do you need a wine refill? Good! I have Sauv Blanc and Malbec. No, no Merlot. "I AM NOT DRINKING ANY *&@*#& MERLOT." Name that movie.)
Where was I?
The pot rack! Another Aaron do-ditty. $15 bucks, your home improvement sto', some wooden thingies, some stainless thingies, some bolt thingies, and voila: a minimal, non-invasive (sounds like I'm talking about a pap smear), simple, industrial pot rack. Plus this thing has like 460 horsepower, so watch out.
One more photo of the kitchen and we'll head on out. You definitely have time to finish your wine. Or even just take it with you! And listen, if you spill it on our sofa it's totally okay because with twin babies our couch has become a place where dreams go to die. Thing is repulsive. Barf stains, dog hair, other weird smudges that make me question philosophy, humanity and the afterlife.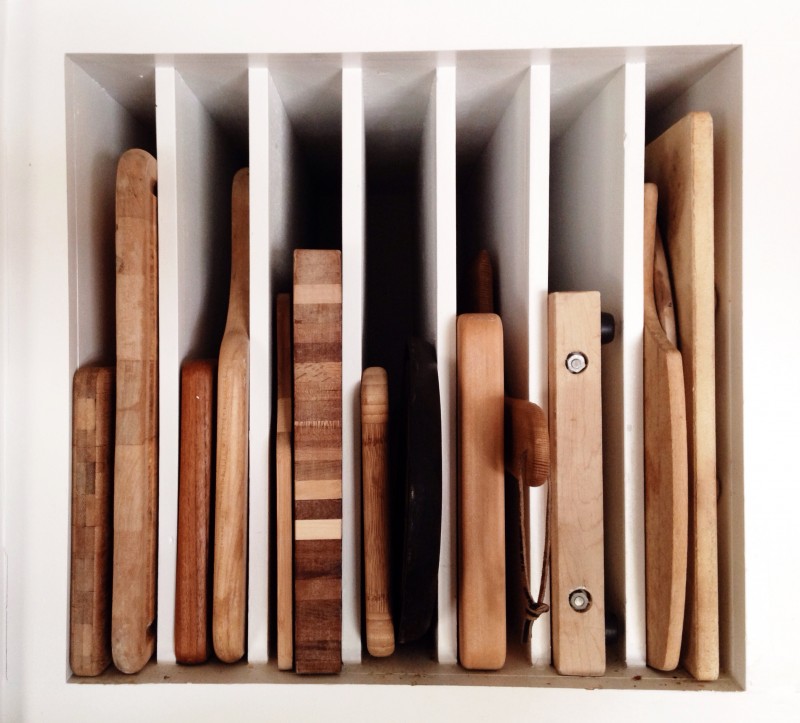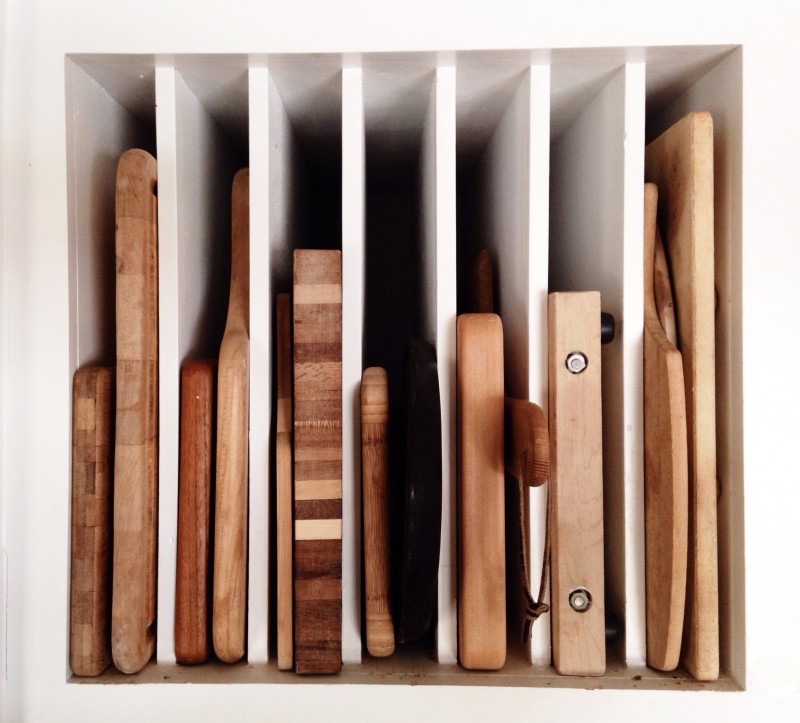 Cutting board slots! Another swift decision during the remodel. We had all this room above our refrigerator, begging to be utilized in some Instagramable way, so Eric built us an incredible built-in storage unit with slots for my boards, and another giant space for my Le Creuset, pitchers, cookbooks, EGGYCETURUH. I heart it to Jupiter and back.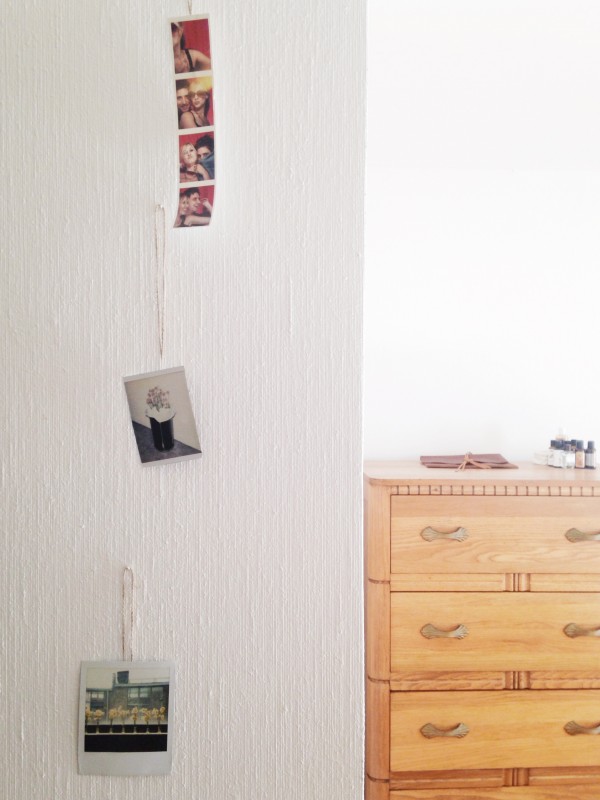 Oh good, you're bringing your wine! So let's take a quick peek into the bedroom. Instead of framed photos or art, I like hanging random polaroids and photo booth strips with twine on teensie white nails. I think it's so clean! I'm saying this as we're staring at a photo of flowers IN A TRASHCAN.
That photo is actually from when we lived in the tiniest ever KC plaza basement apartment. We had a pet rat named Church. And no human friends. Wait.
Ohhhhh.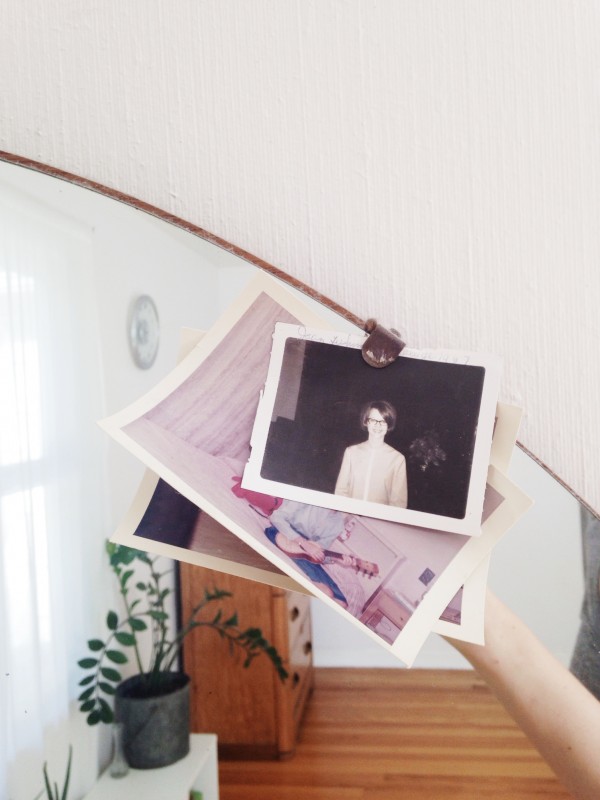 Another thing I really love about our bedroom is my chicken pox arm. Seriously, what is that? Why am I so dotty in this photo? In person I have like, one adorable mole at the top of my delicate arm, but here I basically look like a cheetah.
Anyway, while this technically isn't ON the wall, it's two inches away FROM the wall, so I'm counting it! Old photos of my mom in her college years, tucked all cozy-like in the vanity mirror clip. The vanity/dresser set is something I inherited as a young child from my grandparents. I went to college, moved away from home, yadda yadda yadda. Only seven years ago did I get it back when we moved into our current hizz! (<—–NO.)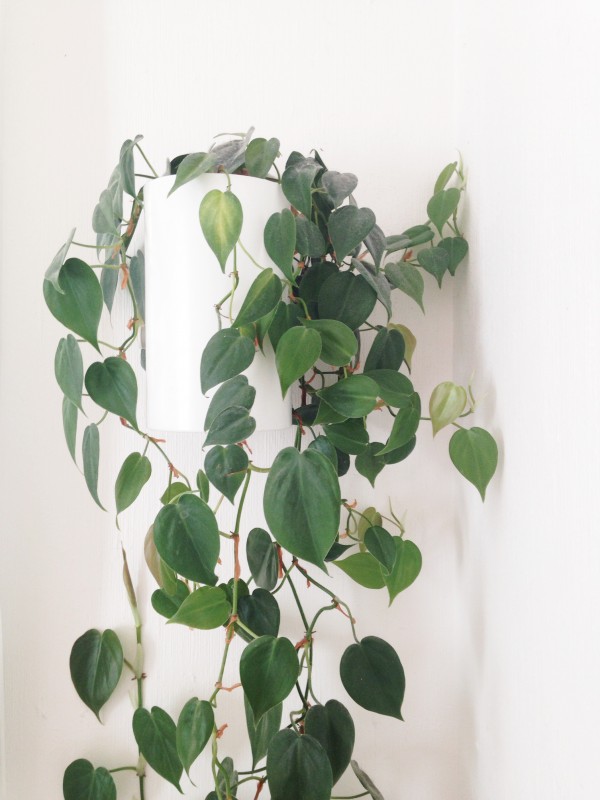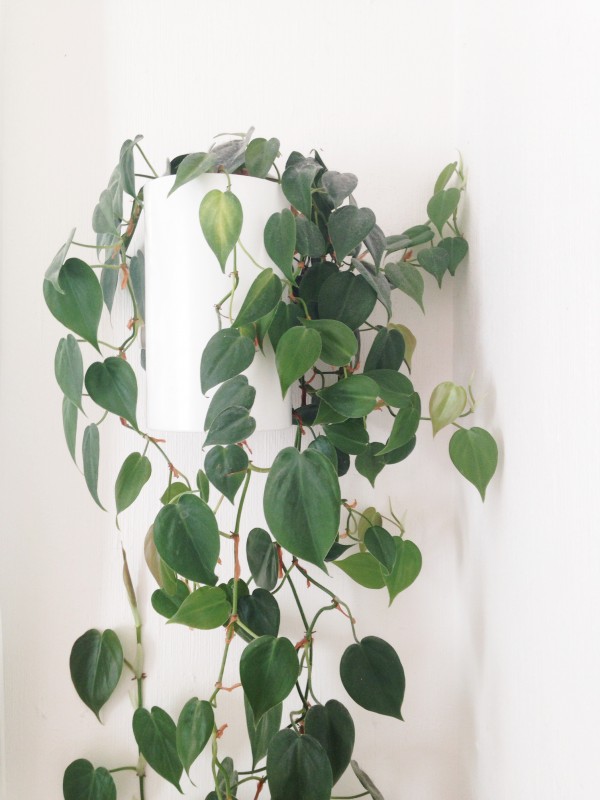 Another Aaron do-honky. He took old thrifted '80s can lights and turned them into planters! We have one on each side of our bed. Do you see how the philodendron has cascaded all the way down and is climbing back up the wall? Isn't that crazy? I wonder if it has anything to do with trying to escape my cheetah arm.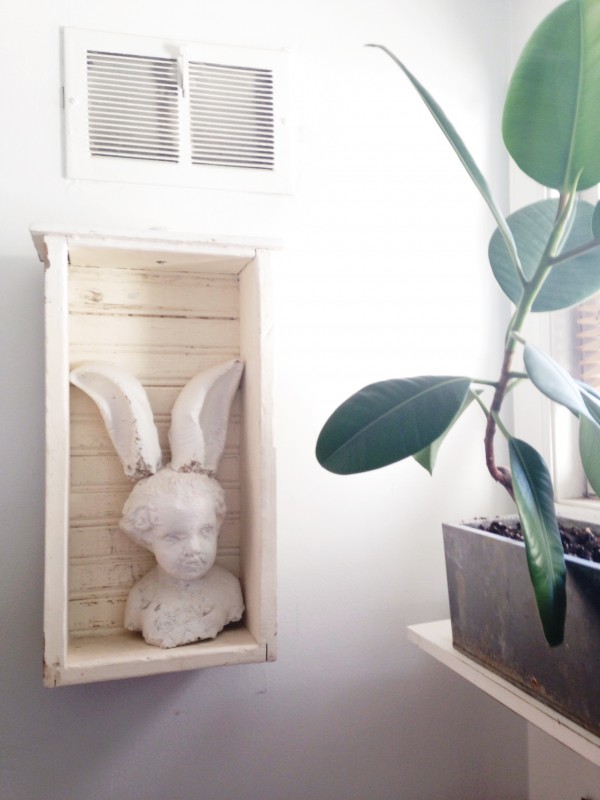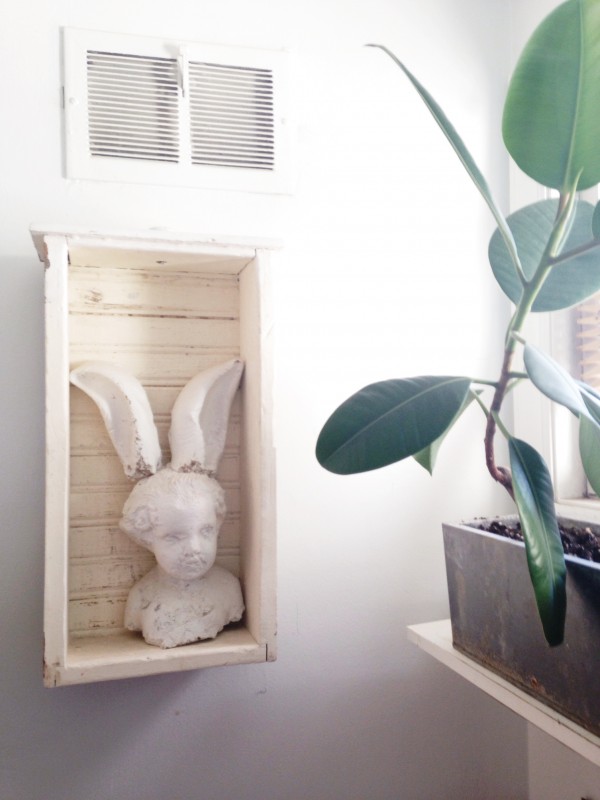 And this would be my husband's creepy side. Years ago he wrote the first draft of a children's book, with the main character being the illegitimate child of Alice and the White Rabbit. In other words, in Aaron's version, Alice was late. (ba-domp)
The half-human/half-rabbit is Lewis, an adolescent pseudo-hippie, who grows mushrooms (the culinary kind!) and hides his giant rabbit ears under a Rastafarian hat. So, those are Lewis' ears on top of a broken baby yard statue in an old kitchen drawer.
Yeah, let me refill your wine.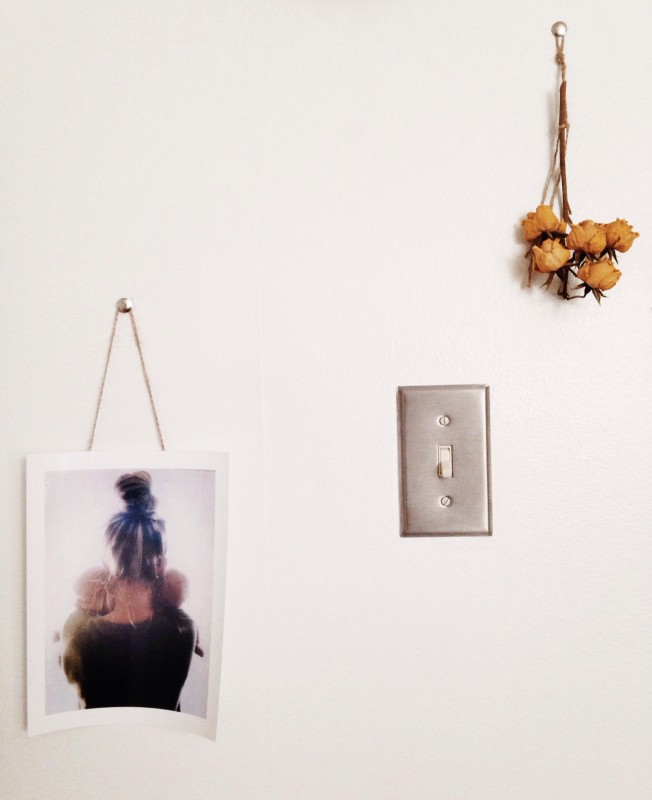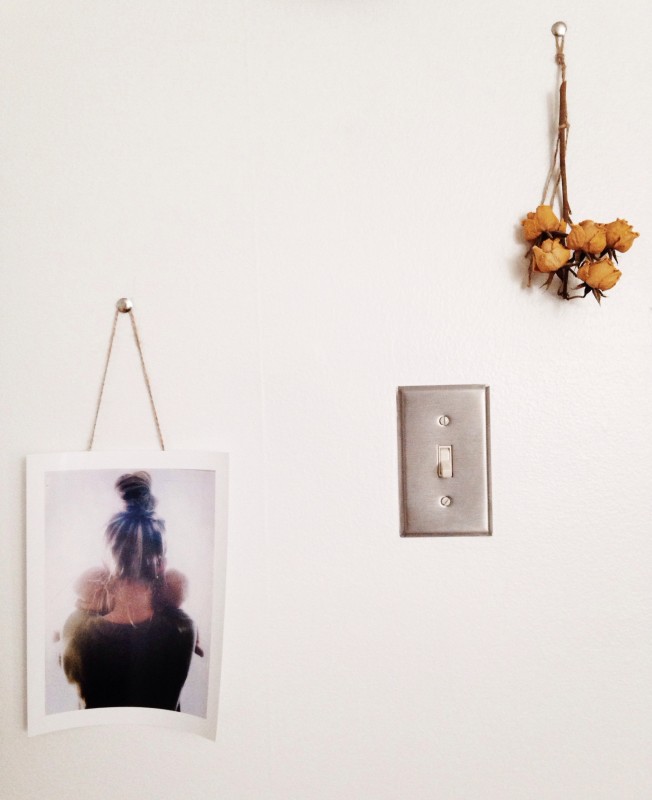 Our last wall stop on our wall tour in this wall edition of Snoopits is in the nursery. It's a light switch!
Just kidding.
That photo is an old Instagram when the babies were teeny weeny peepee beebee doll dolls peachy pie cream puff puffs. You know, infants. I like my hair here, too. I'm actually getting my hair done next week! Trying to decide between Kate Moss' beachy blonde style, or Joe Biden. I'll definitely let you know what I decide.
Snoop. Snoop ba-doop. Snoop ba-doop. Snoop ba-doop ba-doop ba-doop.