I almost called this Jammin' Jambalaya but then I remembered I like having friends.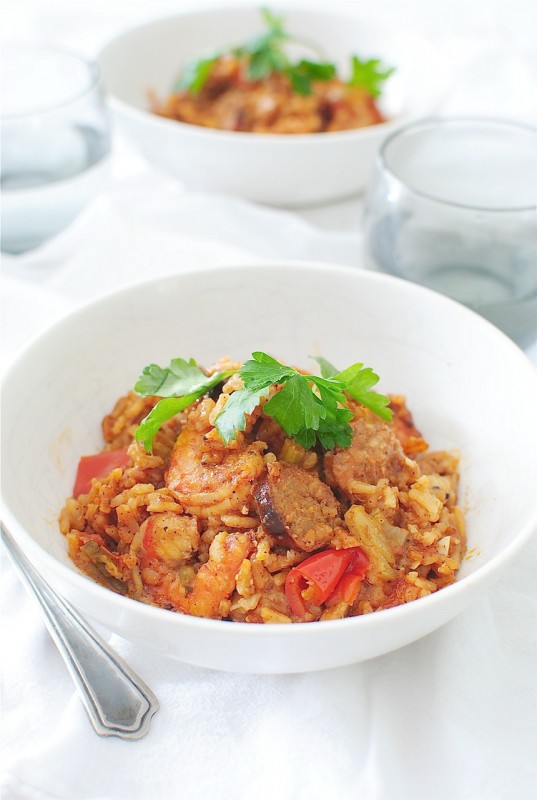 Not only is it jammin' though, it'zeeeeeezy. Not like 1-2-3 easy, but more like 1-2-3-4-5 easy. But not 1-2×87+369-44. It's seriously just 1-2-3-4-5 easy. Good thing it's not 862-13xthesquareofpie+infinitygoogle-81, right?
I always hated math.
This is actually a little thing that Aaron created! The jambalaya. Not the maths.
I always like it when he cooks because I get to hover and make suggestions and point to the better knife. Crap, that came out wrong. I meant lie on the couch with my feet up whist sipping a crisp sauv blanc and flipping through my newest This Old House magazine.
. . . yeah we should probably go back to the first scenario.
I only have three photos because I didn't even plan on shooting this until I took a bite, freaked my face and ran out to grab a notary to renew our wedding vows. It's SOGOODYEWGUYS.
So that's that. It's amazing. You'll be amazed if you make it. Dazed and amazed. Make it so you can be amazed.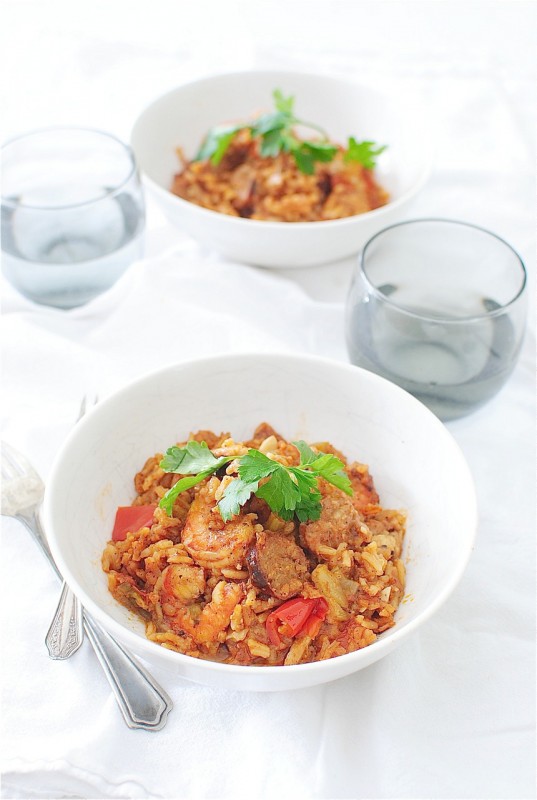 1-2-3-4-5.
Easy Jambalaya:
What it took for 4:
* 4 Tbs. extra-virgin olive oil, divided
* 1/2 pound shrimp, peeled and deveined
* 2 andouille sausages, sliced
* 4 chicken thighs (trimmed of any excess fat), cut into chunks
* 1 medium white onion, diced
* 2 stalks celery, diced
* 1 red bell pepper, diced
* 1 jalapeno pepper, diced (seeded for less heat)
* 2 – 3 Tbs. creole seasoning (like Tony's)
* 1 cup white rice (not instant!)
* 1 Tbs. tomato paste
* 1 quart chicken stock
* parsley, for garnish
In a large sauté pan, heat a Tbs. oil over medium-high and add the shrimp. Sear for about a minute on each side. Remove from the pan and add the sausage and chicken, and another Tbs. of oil if needed. Sear until browned on all sides, but not cooked through, 5 minutes total. Remove from pan and set aside.
Back in the pan add a little more oil, the onions, celery, red bell and jalapeno pepper. Add the creole seasoning and sauté until the veggies are tender, 5 minutes.
Add the rice and toss to coat. Add the tomato paste and press it into the veggies and rice.
Add the stock, along with the reserved chicken and sausages. Partially cover and let simmer until the rice absorbs the stock, 10 to 15 minutes. Taste it and add some salt and pepper as needed.
Last second, add the shrimp to finish cooking.
Serve with parsley and dance, baby dance.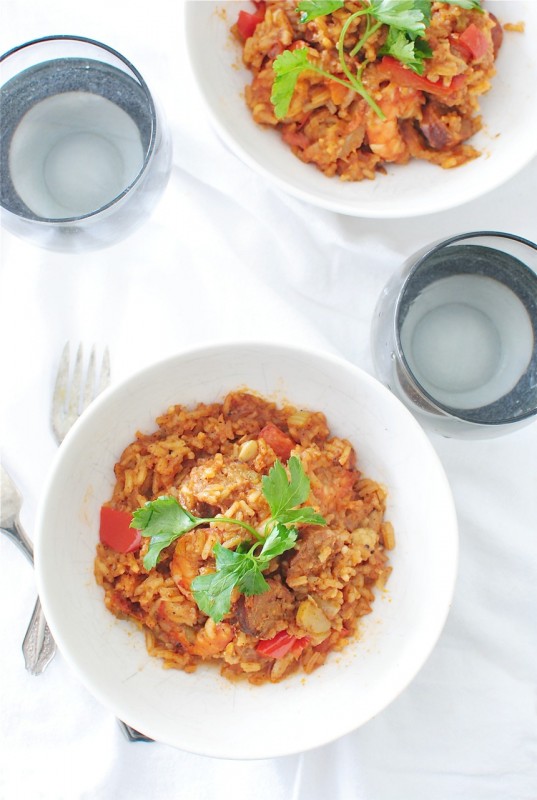 You're still hung up on the This Old House Magazine, aren't you?