DUDES.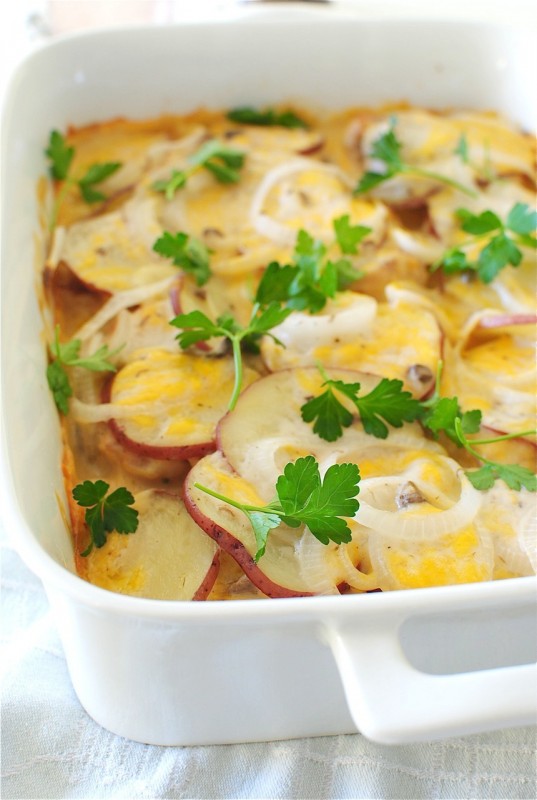 Is it okay if I call you dude?
I call the babies dude. I think they like it. Matter of fact, I know they do because every time I say it they get a little pool of vomit right in the corners of their mouths. And if that's not a sure sign of loving being called dude I DON'T KNOW WHAT IS.
Today's recipe actually comes straight from the hands of my mama! But I'm saying it like they say in Downton Abbey, with the accent on the second half of the word, maMA. Can you imagine if they said it like Americans say it? MAWmuh?
Lord Grantham, "May I present to you, The Dowager Countess of Grantham, my MAWmuh." Good heavens, sick.
Anyway, my parents came up last week to spoil the babes plain rotten so I could catch up on doctor's appointments (Instagram), house cleaning (Facebook) and blog work (naps). Mom brought some old recipes from her "early married life" repertoire and learnt me on some good old fashioned fried pork!
Well, not really FRIED fried. Just pan-seared until nice and golden brown. Are we still friends?
It was cute, as she was hand slicing each potato she rolled her big browns and said, "Back when we were first married, this took me FOREVER to prepare. I'm not even going to tell you what your father would say as he loomed like a tree in the kitchen doorway." Then I introduced her to the mandolin, watched her salivate a sea, and chirp to my dad, "Tim! Christmas list!" And all was well in the world.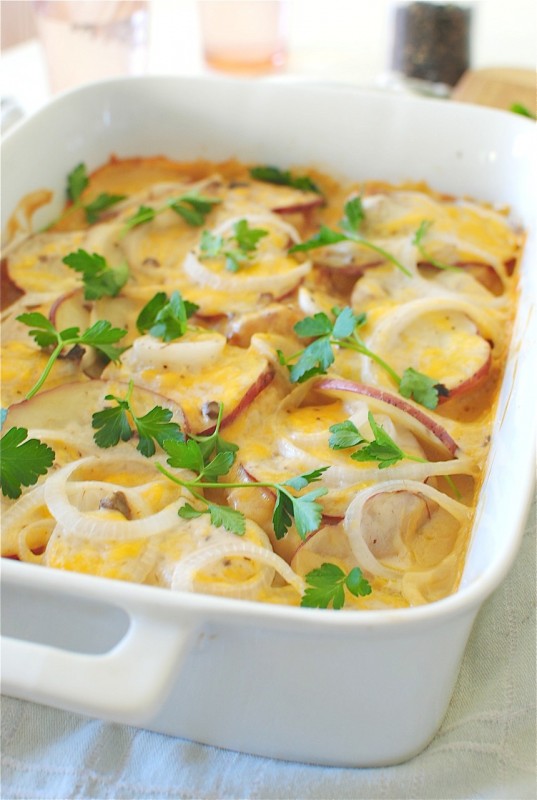 This casserole. DUDES.
Wait, did we ever decide if it was okay if I call you du- never mind.
Pan-seared pork.
Thinly sliced potatoes and onions.
Creamy filling.
Topped with bubbling sharp cheddar.
I'm calling you dudes and you're gonna like it.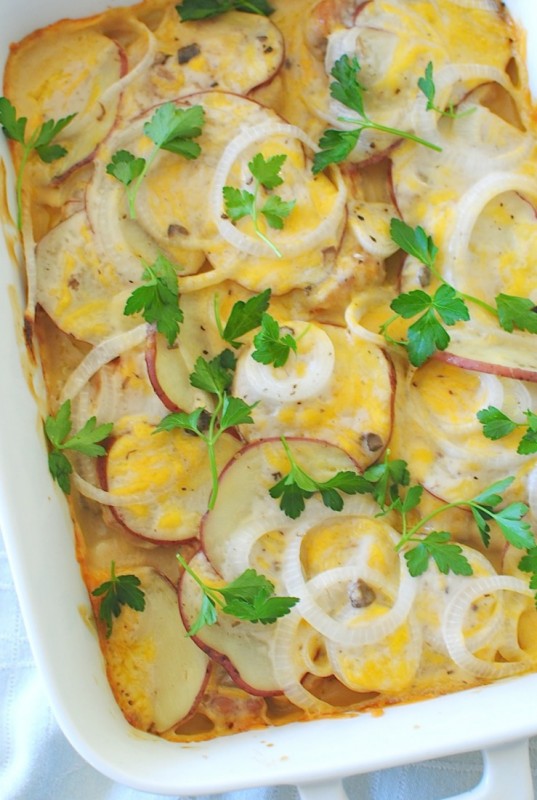 Eat up.
Pork Chop Casserole:
What it took for 4 to 6:
* 5 boneless pork chops, cut in half (making 10 small chops, which is obvious, because you know how math works. sorry)
* 1/2 cup all-purpose flour
* 3 large red potatoes, cut into 1/8″ slices (use a mandolin if you have one!)
* 1/2 white onion, thinly sliced into rings (use that mandolin)
* 1 (10 3/4 oz) can cream of mushroom soup
* 1 1/2 cup shredded cheddar cheese
* salt and pepper, to taste
* parsley, for garnish
* vegetable oil, for frying
Preheat oven to 375.
Place the flour in a shallow dish and lightly dredge each pork chop through the flour, shaking off any excess flour. Shake that thang. Season both sides with salt and pepper.
Heat 2-3 Tbs. of oil in a large skillet over medium-high. Place the chops in the pan and brown on both sides. It's okay if it doesn't cook all the way through. We have baking yet to do. Oh that rhymed.
Arrange the bottom of a 9×13 baking dish with half the potato slices. Overlap just tad. Then arrange the browned chops on top of the potatoes, followed by the remaining potato slices. Then arrange the onion rings on top of the taters. Sprinkle with a little salt and pepper.
Pour the cream of mushroom soup into a medium bowl. Fill 3/4th of the can with water, then add to the cream of mushroom. Whisk to combine. Evenly pour over the casserole.
Top with shredded cheese and bake for 30 to 45 minutes, or until the potatoes are tender and fork pierce-able. Then start a band called The Fork Pierce-ables.
Garnish with parsley and serve!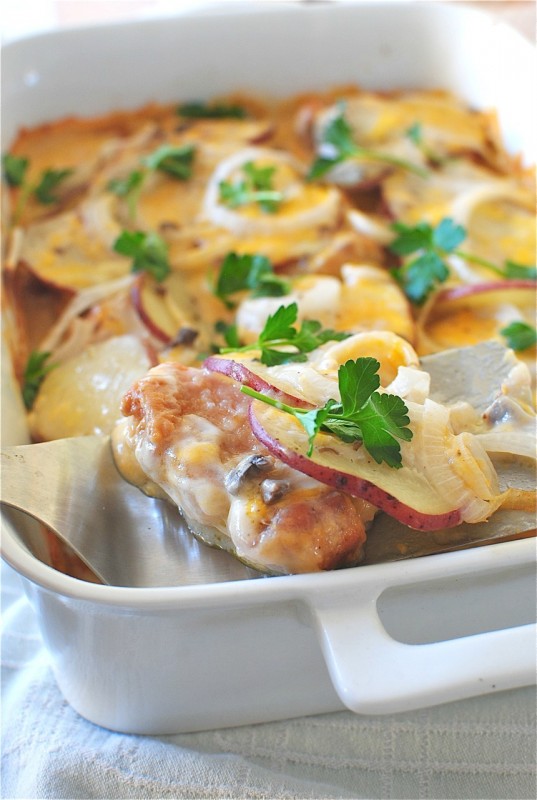 I'm already so happy for your life.