Takin' it to the streets!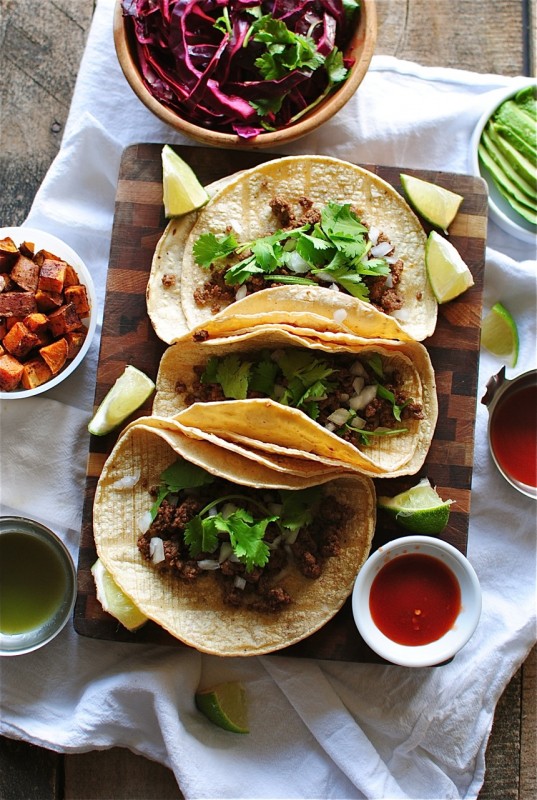 I . . . don't know what that means.
BUT, after finding out I passed my (SECOND stab-o-tron) glucose test, and passing another test that shows I don't need to be on bed rest (at least at this point), aaaand watching my dawg frolic and play like a normal little bean, we're celebrating taco-style. In the streets. We're dancing in the streets. Martha and the Vandella's-style. But only for a little bit because my legs hurt already.
By the way, I can't thank you enough for your sweet words about my Charlie girl. I teared up 58,235 times. HORMONES.
So, street tacos only rule the entire universe. I call them street tacos because I made them the way our little food trucks make them, with two grilled and stacked corn tortillas per taco, a seasoned meat, chopped white onion and cilantro. That's it. No cheese, no frill, nerthrriiinnnn.
Sometimes they serve it with a little cabbage-y slaw thing, and my husband would be okay if 86% of his body was made up with cabbage, so that was a duh situation.
Just red cabbage, cilantro and lots of lime juice!
If you hate cilantro you've probably just jumped out a five-story window. Just use a little! Don't you hate it when people tell you that? "You won't even taste it!" It's like, you won't even taste my fist in your face.
This time I seasoned up some minced organic beef and it was so absolutely perfect I wanted to scream. But you can do whatever you fancy! Chicken, turkey, shrimp, a MIX? Oh man, invite me over when you do that.
You can keep it as simple as this next photo – just meat, onions, cilantro and lime wedges. And that's great and beautiful and you're a really good person.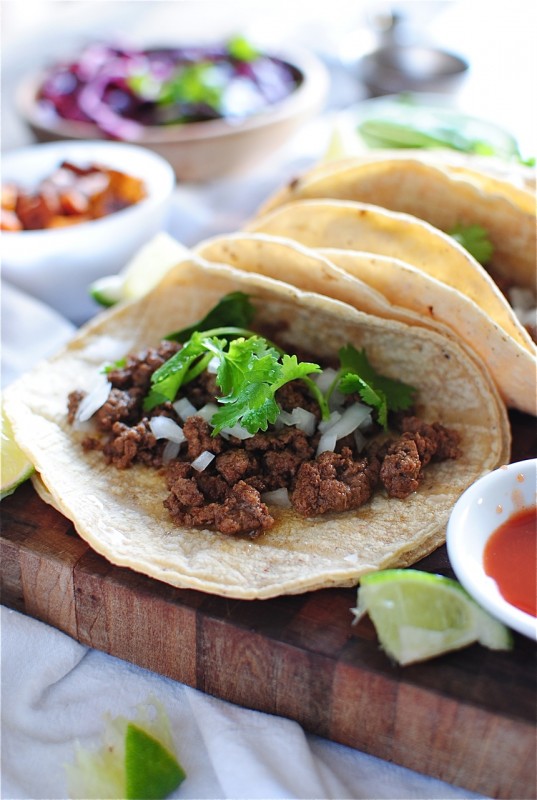 OR, you could be a troll like me and add roasted sweet potato chunks, strands of the cabbage slaw and little drizzles of as many sauces and salsas as you can possibly find. And we're still really good people, dangit.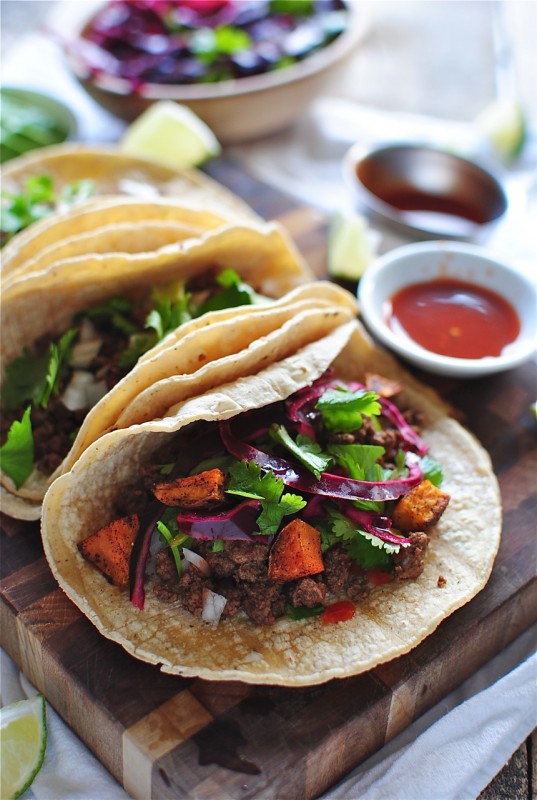 Get streety! (in a very wholesome way)
Simple Beef Street Tacos:
What it took for 6 tacos:
* 1 sweet potato, cut into a small dice
* 1 Tbs. extra-virgin olive oil
* 1 cup shredded purple cabbage
* 1 cup cilantro, divided
* 1 lime
* 1 pound organic ground beef (I used 85/15)
* 2 tsp cumin, plus a dusting for the sweet potatoes
* 2 tsp chili powder, plus a dusting for the sweet potatoes
* salt and pepper to taste
* 1/2 cup chopped white onion
* 12 corn tortillas
* sliced avocado, for garnish
* various hot sauces or salsas
Preheat oven to 400. Toss the diced sweet potatoes with the oil, and a dusting of chili powder, cumin, salt and pepper. Roast for 25 minutes, or until tender.
Toss the cabbage with half the cilantro and lime juice.
Bring a sauté pan to a medium high heat. Add the beef and cook until browned all over. Season with salt, pepper, cumin and chili powder. Taste and add more salt if needed.
Toast or grill the tortillas to your liking. Just get 'em a little warm. And toasty. And corny.
Serve tacos with beef, onions, cilantro, cabbage, sweet potatoes, avocado and sauces of your choice! And more lime wedges. Always more lime wedges.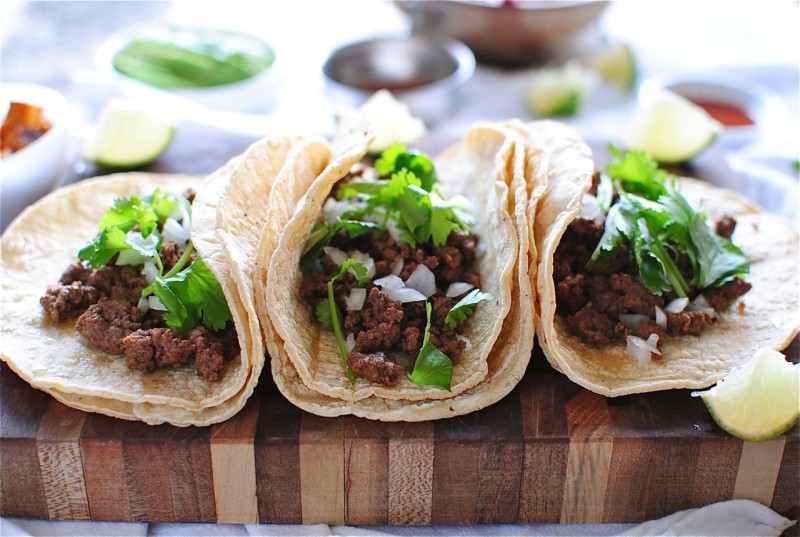 I want 17.