I put a cheeseburger in a salad.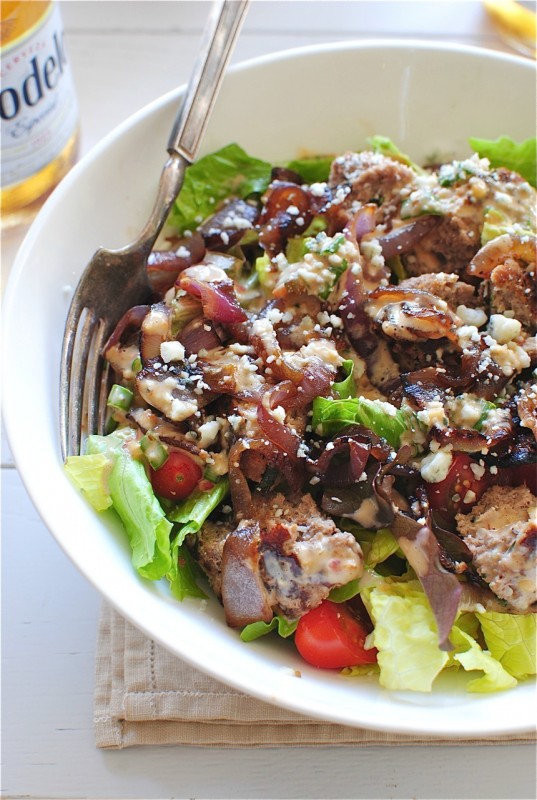 Is that cool with you? Of course it is, you're not made of GRAVEL.
I also made a pub dressing that I think you might take a shining to. Do you remember the pub sauce from my pub burger post a long time ago? It's the same thing! Snnnnnnnaaaaaaaaaaap.
(do people still do the snap thing? no? okay.)
By the way, I can barely take this week already. Barely.frickin'.take.it.
Will we finally meet Ted Mosby's future wife tonight?
Will Cece and Shamalamadingdong actually get married tomorrow night?
Will Schmitty throw a fitty?
Will Nick and Jess just call it a day already and have 13 babies? With glasses?
Will Kree win Idol?
Will Candice win Idol?
Will I finally trim my snaggle-toothed caterpillar eyebrows?
NO ONE KNOWS, YOU GUYS. No one knows.
This is why I put a cheeseburger in a salad. To soothe our tattered souls.
This is also why I added candied caramelized onions to the salad. To massage our eroded hearts.
This is also why I added sweet cherry tomatoes to the salad. To hush our thundering minds.
This is also why I added blue cheese crumbles to the salad. To anoint our ruptured psyche.
The pub dressing though? I just added that because it's just awesome. SNNNNNAAAAAAA- oh.
Put a cheeseburger in your salad.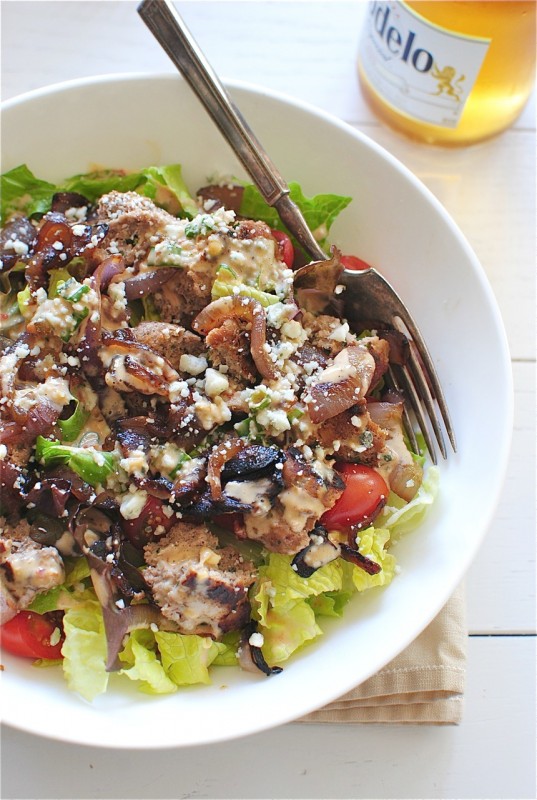 Best decision ever.
Turkey Burger Salads with Pub Dressing:
What it took for 4 salads:
for the burger:
* 1 pound ground turkey
* 1/2 cup chopped parsley
* 3 cloves garlic, minced
* 1 Tbs. worcestershire sauce
* 1 pinch coarse salt
for the pub dressing:
* 1/2 cup mayonaise
* 2 Tbs. soy sauce
* 1 Tbs. brown sugar
* 1 Tbs. worcestershire sauce
* 1 scallion, finely diced
* 1 tsp sambal oelek
* 1 clove garlic, minced
* 1 pinch black pepper
for the rest:
* 2 Tbs. extra-virgin olive oil
* 1 red onion, thinly sliced and caramelized (or sautéed to your liking)
* 8 culs chopper romaine
* 2 cups red leaf lettuce
* 1 cup cherry tomatoes, halved
* 1/2 cup blue cheese crumbles (or more!)
In a bowl, mix the burger ingredients together until fully combined. Form four patties with your hands. You can either let them hang out for a few hours in the fridge, or sear them right away! Your choice.
Heat 2 Tbs. oil in a large sauté pan over medium high. Add the patties and sear on both sides until browned and cooked through, 7 to 10 minutes total.
In another medium bowl, whisk together the pub dressing ingredients. Chill for about 10 minutes.
Divide the lettuces among 4 bowls or plates. Top with caramelized onions, cherry tomatoes, burger patties (torn into chunks or left whole, your choice!), a good drizzle of pub dressing and the blue cheese crumbles.
Yeah you can't even know.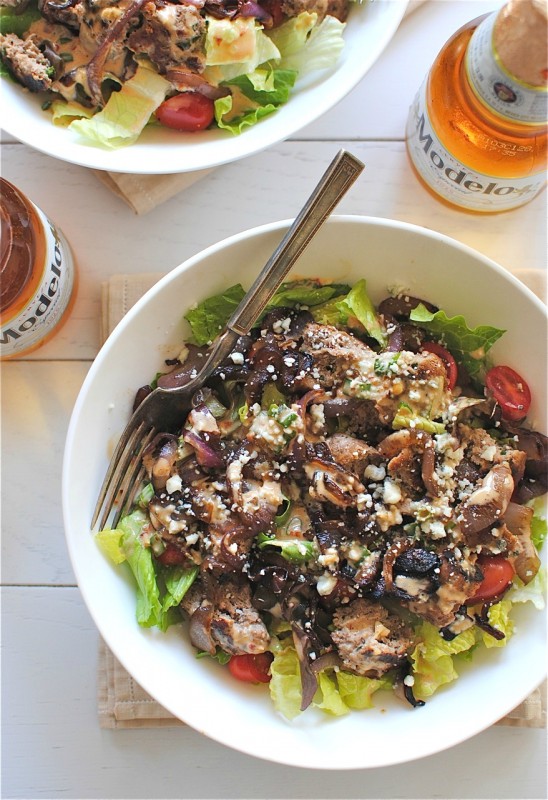 I still have my money on Cece and Schmidt.