Weeeeeeeeeell, well, well. Look who made bressertfast.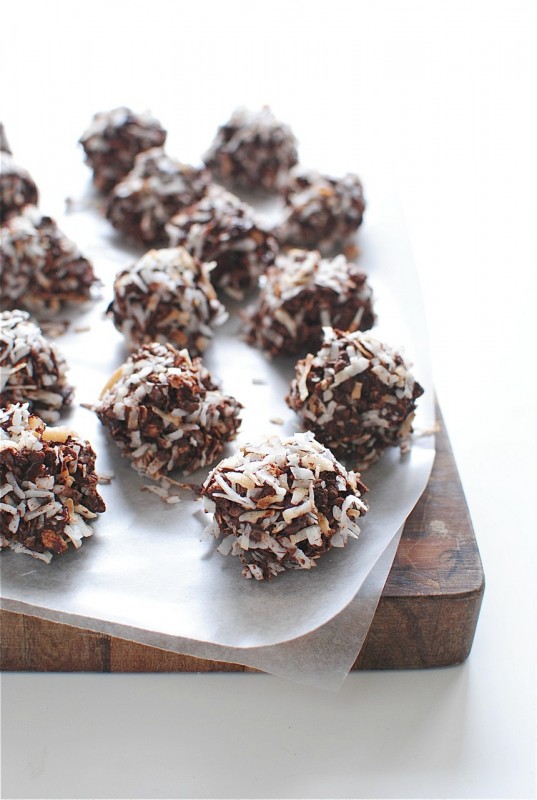 Oh no, it's an actual true factual word combining breakfast and dessert. I didn't make it up at all. It's in the Webster, but don't try to look it up right now because I think their site is down or something.
I realize that to the naked eye, these little bites look eerily similar to these chocolate coconut clusters I showed you a long time ago. I mean sure, they basically have the exact same name. And are made up of carbon copy key ingredients.
. . . And my photos look painfully similar. Like, right down to the dang wax paper.
Did I completely rip myself off?
But wait!
They are actually night and day if we take a closer peep. (You don't have to bring up two tabs of my website. I mean you can! I'm not the boss of you.)
In the cluster version, they have a lot more going on in them, like flour, butter, sugar, eggs, a bunch of riff raff if you ask me.
In the bites version? None of it, SON. Straight up four ingredients for your face.
In the cluster version, they are baked.
In the bites version? Flash frozen, CHEELAH. (just a little though, to help with the molding. not to be confused with crown molding.)
In the cluster version, they are clusters, not at all covered with delicious toasted coconut shavings.
In the bites version? Bites, BUDDY. Obviously covered with delicious toasted coconut shavings.
I mean clearly there is distinct difference between clusters and bites. Once you figure it out, will you let me know?
Also, I snuck (sneaked? snaked? snercked?) some flax seeds into these so that they could do that very important and healthy thing that flax seeds do.
These are so awesome. They're a little crunchy after the chocolate has hardened a bit. The making of them can get a little messy, but it only means you get to lick the chocolate from your fingers constantly and NERBRUDEE is there to stop you.
(that would be nobody, mom)
Eat 'em in the morning, eat 'em at night!
Eat 'em like a cougar in the middle of a fight!
Eat 'em with your pants on, eat 'em with them off!
Eat 'em 9th hole in a solid round of golf!
That was my rhyme for you.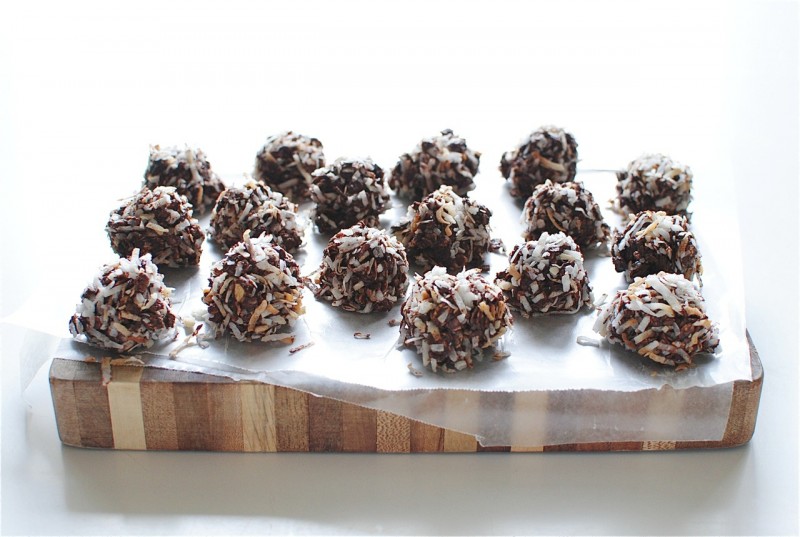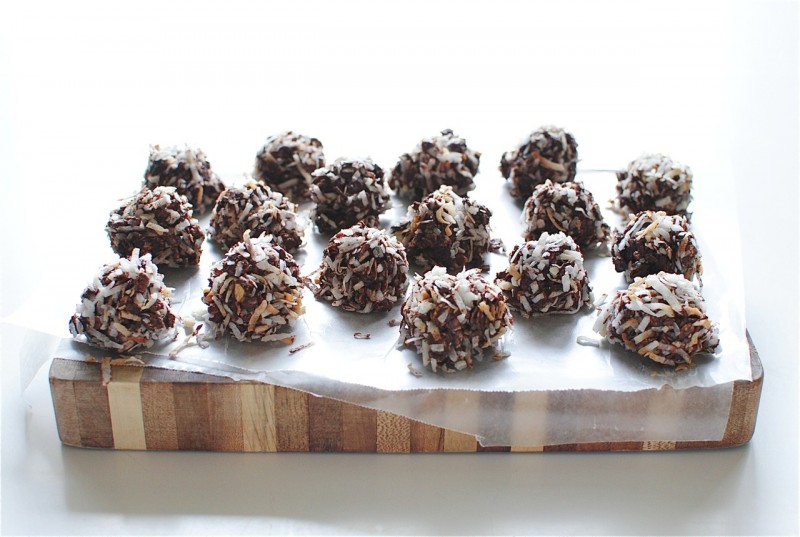 Get bresserfasted!
Chocolate Coconut Granola Bites:
What it took for 58,000 (just kidding. probably around 25):
* 2 cups chocolate chips
* 2 cups plain granola
* 1/3 cup flax seeds
* 2 cups coconut shavings, lightly toasted
Place the chocolate chips in a double boiler (or a bowl over a small saucepan with about an inch of water in it) and melt over medium heat, stirring constantly.
Off the heat, add the granola and flax seeds and stir to combine. Stick the bowl in the freezer for about 10 minutes, to cool and harden the mix a little bit. It makes it easier to roll the mix into the little bites.
Arrange the toasted coconut shavings on a large baking sheet. Using your hands, scoop out a small amount of the chocolate granola mix and roll it around in the shavings, making little balls! Little ball bites. Little bites. Never mind.
Continue until you've made all 58,000. Place the tray back in the freezer for another 5 minutes or so. Then bag and store them at room temp for as long as you want!
But not like 7 months or anything. I can't be held responsible for that.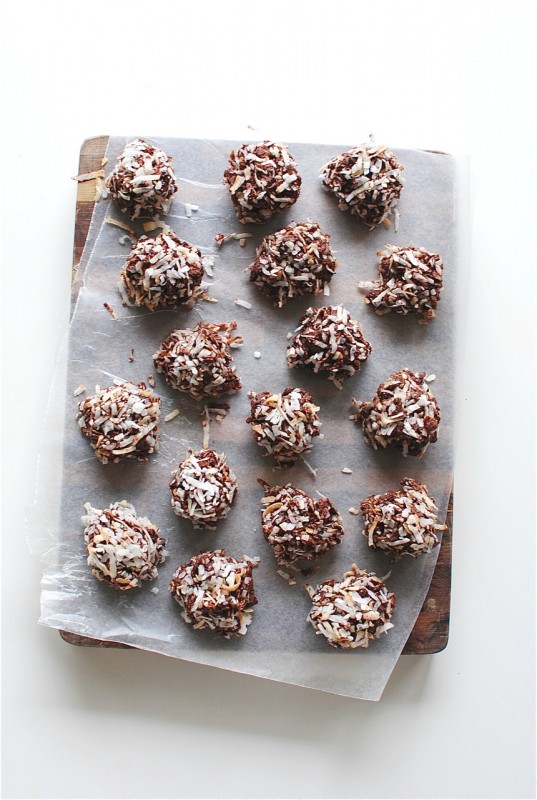 No really, what DO flax seeds do?