How about a burger?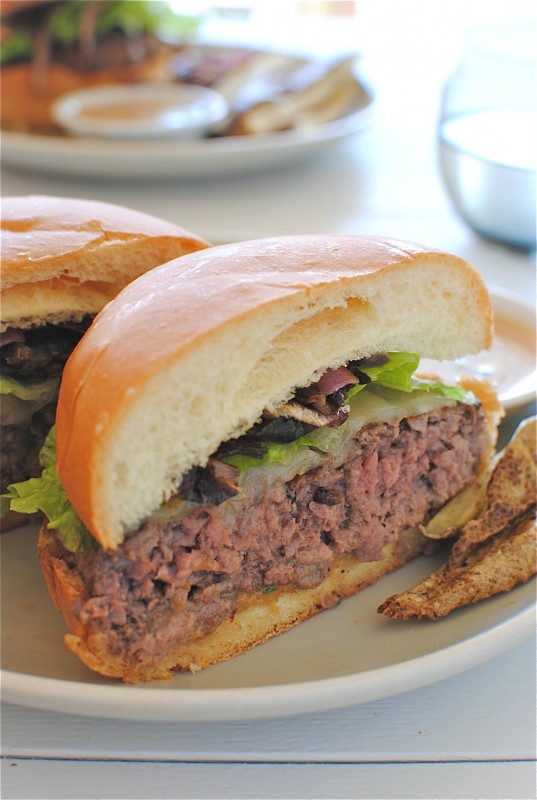 But wait. I don't think y'awnderstaaaaand the situaaation. (said like Bill Cosby)
It all started one Saturday morning last fall as I was meticulously planning the weekend with Pinterest in my lap and PBS on the TVs. Or as I like to call it: Inspiration Station. Don't have a ticket? That's okay. Inspiration is free of charge! All ABOAAAARD!
Omg I'm totally kidding that was so bad please don't flick me.
So anyway, I was watching my routine cooking shows lineup, when out of nowhere, Christopher Kimball and his bow tie decided to descend from the heavens on a solid gold zip-line, followed by a chorus of sparkling infant cherubs, with a platter of these unbelievable homemade beefy pub burgers, and my face completely fell apart. Aaron's face completely fell apart. Charlie's face completely fell apart. No kidding, I felt like everything in my life had been a LIE up to this point.
I mean look at what's happening already. Just look around. Actual steak. Grindage. Melted butter drizzlage. Tossing of meat. Unruly sobbing.
You sear them in the pan, and then finish them in the oven. And all that flavor, all those juices, I mean, I  . . .
You . . .
There's . . .
How  . . . it just . . . it hurts  . . .
And don't even ask about the pub sauce. My heart is on emotional leave right now.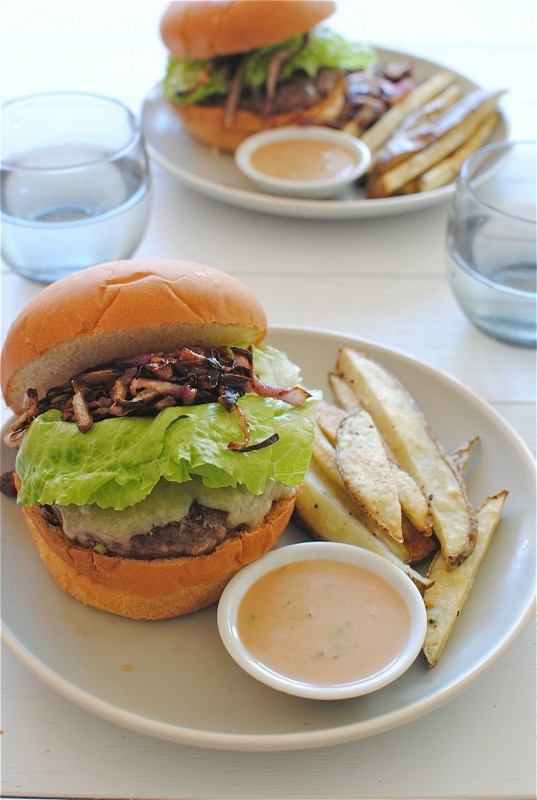 I know this is completely unladylike, but I'm serious, I will mud wrestle a team of baby llamas to get you to make these.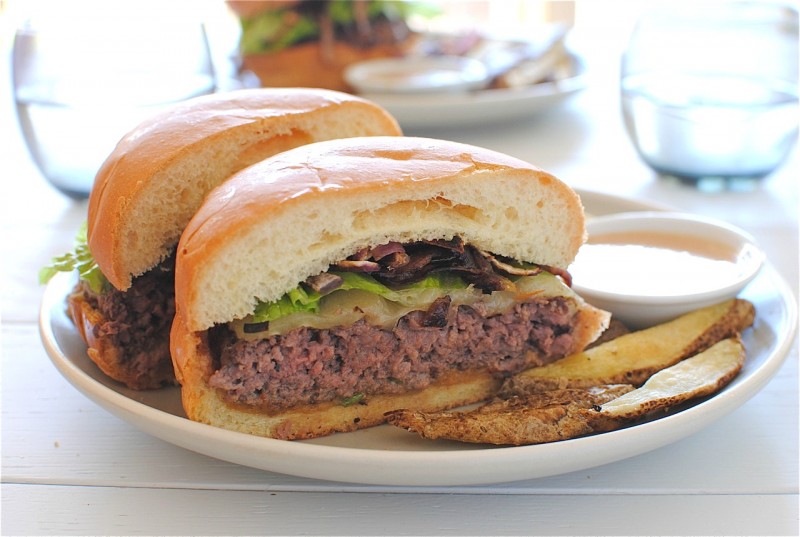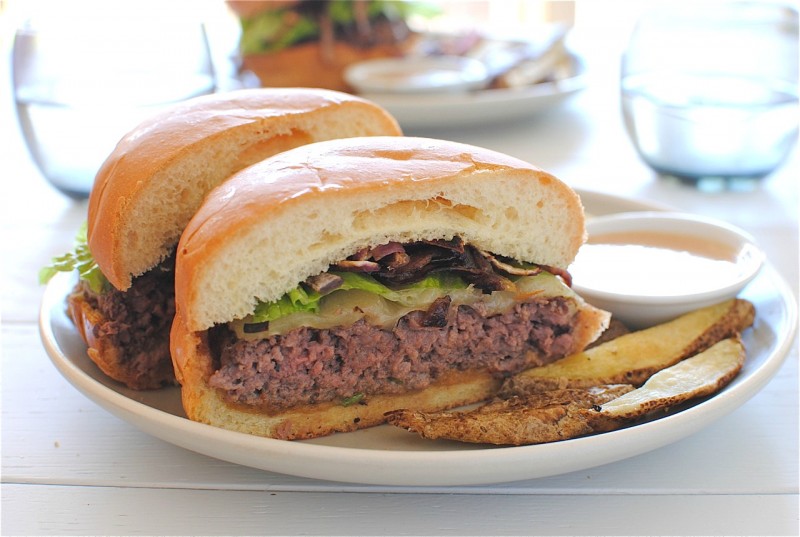 Your tongue is gonna fist bump itself.
Homemade Pub-Style Beef Burgers:
(the burger recipe and technique is straight from America's Test Kitchen. My add-ons are all me.)
What it took for 2 burgers:
* 1 pound sirloin steak tips (or sirloin tip roast), trimmed of any excess fat and cut into 1/2-inch chunks
* 2 Tbs. butter (unsalted)
* a few pinches of coarse salt and freshly ground pepper
* 1 Tbs. vegetable oil
* 2 thick slices white cheddar cheese
* romaine lettuce
* caramelized onions (optional)
* 2 hamburger buns, lightly toasted
*whatever toppings make you sing and dance
for the pub sauce:
(adapted from America's Test Kitchen)
* 1/2 cup mayo
* 2 Tbs. soy sauce
* 1 Tbs. brown sugar
* 1 Tbs. Worcestershire sauce
* 1 scallion, finely chopped
* 1 tsp sambal oelek
* 1 clove garlic, minced
* 1 pinch freshly ground pepper
for the hand-cut fries:
* 1 large russet potato, rinsed and cut into thick sticks
* 1 Tbs. extra-virgin olive oil
* 1 pinch coarse salt and freshly ground pepper
Arrange the meat chunks in a single layer on a baking sheet. Stick it in the freezer for about 15 minutes.
Preheat oven to 300.
In two batches, pulse the meat until it's nice and ground. Pour the ground beef back onto the baking sheet.
Melt the butter and evenly drizzle it over the meat. Season with a good pinch of pepper. Using a fork, gently toss the meat to coat with the butter and pepper. Are you already dying? I was too.
Divide the meat in half and create two large meatballs. Then lightly pat them down into large patties. Now you can let them rest as long as you want, covered in the fridge, or go ahead and cook 'em!
Heat the oil in a large skillet over medium-high. Place the patties in the pan and liberally season with salt and pepper. Sear for 3 minutes; flip, season and sear another 3 minutes.
Now, place the cheese on the meat (if you're having cheeseburgs) and slide the skillet into the oven for about 5 more minutes. OH my gosh.
Okay for the sauce, just whisk all that stuff in a bowl and call it good.
Lightly spread some of the sauce on the bottom bun half, then place a patty on it, then the lettuce, oh my  . . . and the caramelized oni . . . I can't move.
WAIT. The fries. Okay, sit back down.
Once you cut your potato into thick sticks, stick them in a bowl with cold water. Let 'em hang about 15 minutes in the fridge.
Drain the water and pat each fry dry.
Arrange in a single layer on a baking sheet. Drizzle with olive oil and a good pinch of salt and pepper. Throw into an oven preheated to 375. Bake abouuuuut 40 minutes. Flip half way through. Keep an eye on them. These fries will RULE your life.
* tip – make the fries before you make the burgers, so the oven is already on and you just lower the heat to 300 when the burgs go in. Voila.
GET READY for life.