Creamy shells never did hurt nobody, right?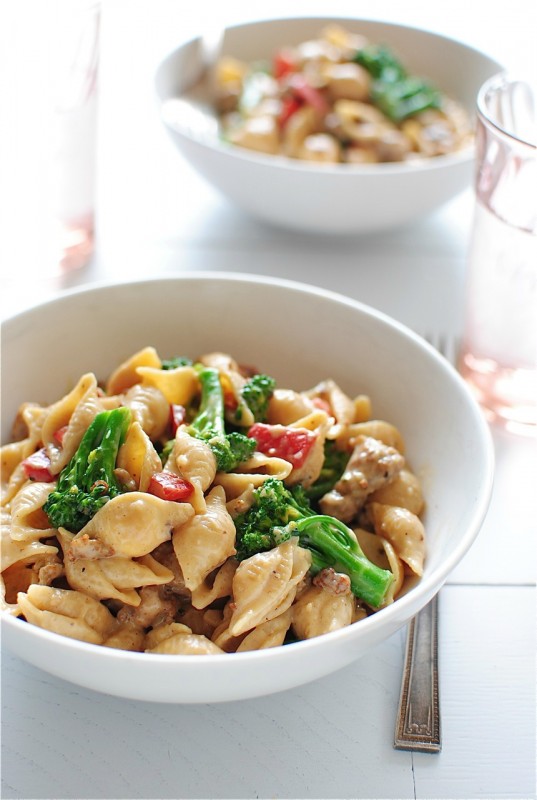 Hopefully caterpillars don't either, becauuuuuse I'm pretty sure I ate about 217 of them.
But let me back up a little bit.
Monday afternoon we made it home from Arkansas, and I felt like absolute hammered earwax. Wiped out past the point of no return, so I let Aaron handle dinner while I pretended to nap on the couch. Our garden is basically hemorrhaging, so he made a huge chicken salad with different greens and broccoli. And it was great! So tasty. So fresh. So gardeny. I ate every last bite. Yadda yadda.
Fast forward two nights.
I was making this here creamy pasta delight, and I decided to use some more garden broccoli before it Michael Bolted. So I pick it, I trim it, I rinse it, I scratch my armpit, I take a closer look.
Um.
There were like, millions of tiny green caterpillars BLENDING IN to the broccoli. Holding on to each little stem like tricky little chameleon sons of you know whats. I scream, I jump nine feet into the air, I drop the broccoli, I sweat.
Then I think about Aaron's dinner only two nights ago. Did he rinse the broccoli as well as I did? Did he rinse it at all? Did he inspect it close enough? Did he see any caterpillars?

So I call him:
Me, "OH MY GAW, AARON. THERE ARE TINY CATERPILLARS ALLLLLLLL IN THIS BROCCOLI. DID YOU RINSE IT WELL THE OTHER NIGHT?"
Him, "I'm kind of in the middle of a meeting right now. Can this wait?"
Me, "NO IT CANNOT. DID YOU RINSE THE BROCCOLI? I'M HAVING A HEART ATTACK RIGHT NOW. TELL ME YOU CLOSELY INSPECTED THE BROCCOLI. THEY ARE EVERYYYYWHEEEEEREEEEEE. AND I THINK THEY'RE HOLDING SAMURAI SWORDS."
Him, "Of course I rinsed the broccoli. I didn't see any caterpillars. I'm sure it was fine."
Me, "NO IT IS NOT. That's just the thing! They BLEND IN like little jerk face slimy tube wizards trying to gross us out and and scare us! I'm telling you, they're ALL in the broccoli. I even boiled the broccoli and I STILL SAW FIVE HUNDRED MILLION OF THEM."
Him, "Bev, calm down. I'm sure it's fine. Hey, it's protein!"
Me, "I HATE IT WHEN PEOPLE SAY THAT."
Him, "Did you see I found your Laverne & Shirley VHS tape?"
Me, "I did. That was nice of you. Thanks."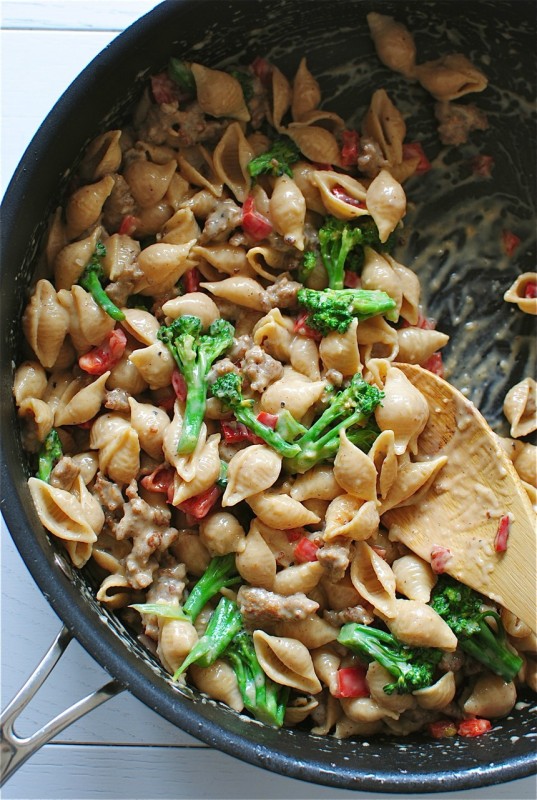 Inspect your broccoli, kids. And don't trust the system.
Now that I've fully sicked you out ON A FOOD BLOG, let me just tell you how yummers* this is.
We have whole wheat pasta shells, we have a cream sauce.
We have roasted garlic, we have a red pepper toss.
We have garden broccoli, we have Italian sausage.
We have my fragile sanity vs. sumo wrestling caterpillarage.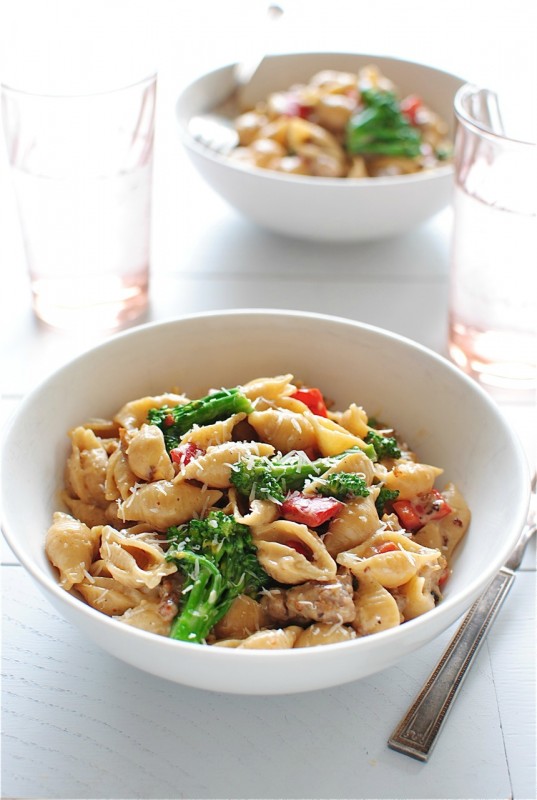 You can leave the caterpillars out of yours though, if you want.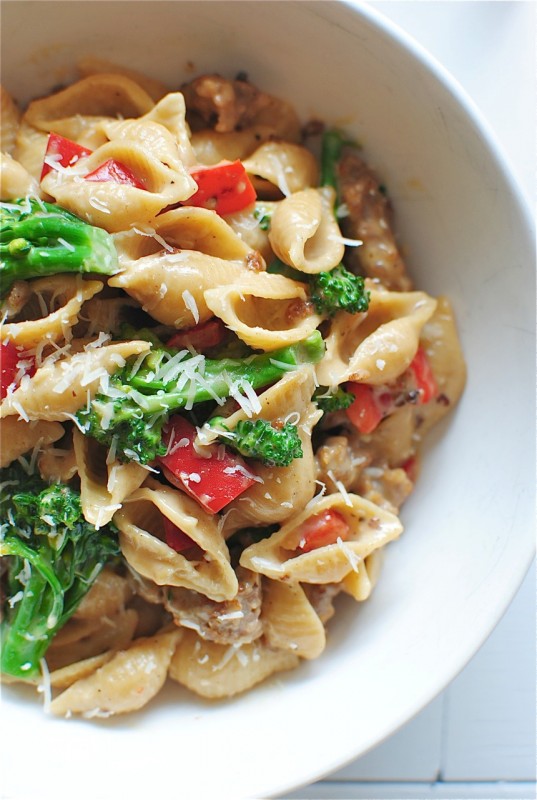 Let's eat.
Creamy Roasted Garlic Shells with Italian Sausage, Peppers and Broccoli:
What it took for 2 pretty big portions. Double to comfortably feed 4:
* 2 cups uncooked whole wheat pasta shells
* 2 Italian sausage links, casings removed
* 1-2 Tbs. olive oil
* 1 red bell pepper, diced
* 2 cups rinsed broccoli florets
* 8 garlic cloves, in their skins
* 2 Tbs. butter
* 2 Tbs. flour
* 1 cup milk (I used reduced fat)
* coarse salt and freshly ground pepper
Preheat your oven to broil. Place the garlic cloves on a small baking sheet and broil for about 5 minutes, tossing the garlic so it browns evenly on all sides. Set aside to cool until we're ready to make the sauce.
Bring a large sauté pan to a medium-high heat. Add the sausage and brown all over, breaking it up with a wooden spoon. Remove from the skillet.
To the pan, add a little oil. Then toss in the diced red bell pepper.
Also, in the meantime, bring a large pot of salted water to a boil. When it starts to slightly boil, add the broccoli and boil for about 30 seconds. Then transfer the broc to the sauté pan with the peppers to finish cooking.
Now you can add the pasta to that boiling water. Boil until it's al dente, then drain.
Add the cooked sausage and pasta to the pan with the veggies, and give it a good toss.
Keep it on a low heat while you make your sauce.
Melt the butter in a small saucepan. Once the foaming has subsided, add the flour and whisk until it's combined and not floury. Then slowly pour the milk in, whisking as you go, creating a nice creamy sauce. Season well with salt and pepper.
Now transfer the sauce to a small food processor and squeeze the roasted garlic cloves into it. Process until smooth and dreamy.
Pour the sauce over the pasta dish and toss to combine. Taste it again. Need a little more salt? Suuuuure.
Serve and devour.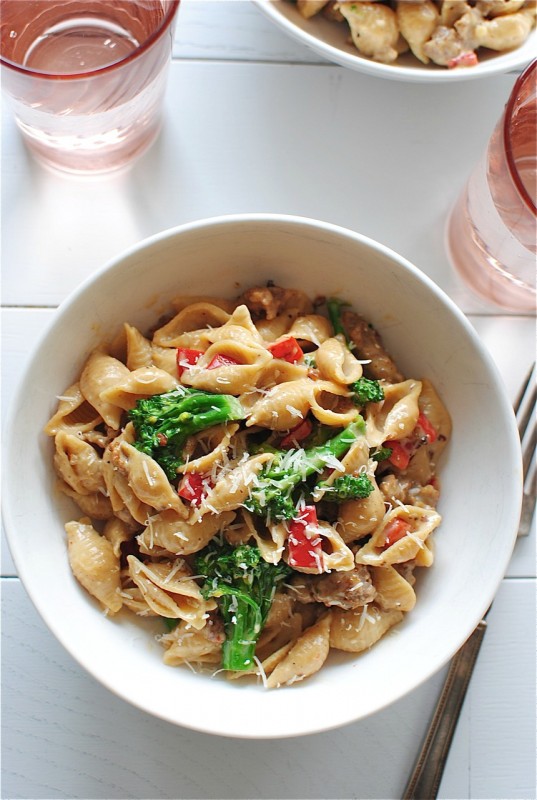 * just flick me already.