Oh that's right.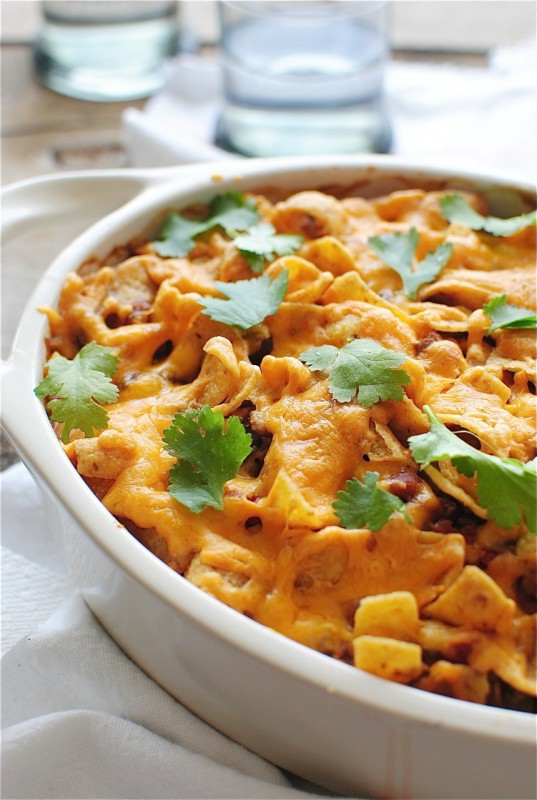 With real life Fritos and everything.
I wanted to call this "Totally Healthier Frito Pie," because it really kind of is. With the use of ground turkey, fresh veggies, some good kidney and pinto beans, some termaters, spices, corn, a piece of your heart, lightly salted Frito chippies and some good cheddar cheese? I mean it's like, which door do you want me to shut? The front? Okay.
By the way, you can totally use fresh corn if you want. I've just been recently diagnosed with the very serious Lazy Pants Syndrome, and one of the symptoms is cooking with Mexi-flavored canned corn.
It's wonderful.
When you bring this to the table, you need to be prepared for two things to occur, right before your very eyes:
1) The faces of your family will erupt in jubilation, like a 4th of July firecracker show, explosions 'round the table, like Pop Rocks in your mouth, but bigger, louder, scarier.
2) The faces of your family will then slide off their bodies, like the rivers of ecstasy, gently flowing in surrender, onto your brand new hardwood floors.
In other words, you deed guuuuuuud.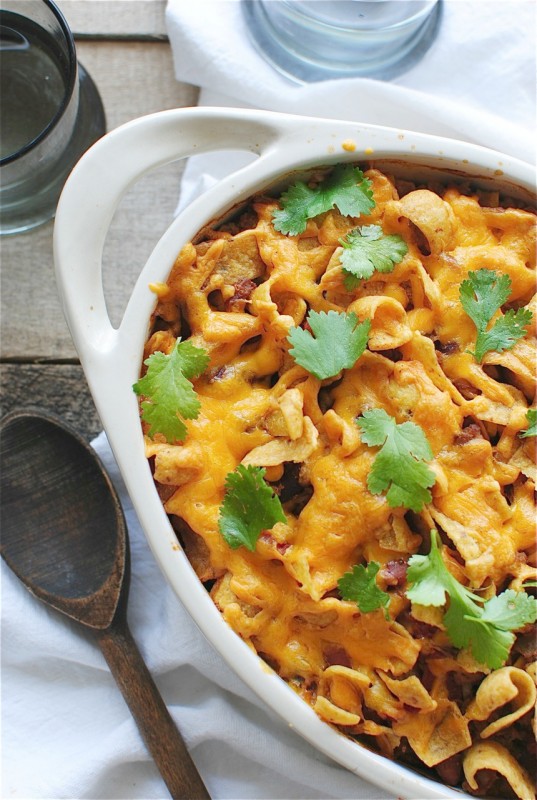 But wear protective clothing. And maybe grab a mop.
Do this.
Frito Pie:
What it took for 4:
* 2 tsp olive oil
* 1 pound ground turkey
* 1/2 red onion, finely diced
* 1 jalapeno, minced (seeded for less heat, sissy)
* 4 cloves garlic, minced
* 1 Tbs. chili powder
* 1 Tbs. cumin
* 1 (14.5 oz) can diced tomatoes
* 1 (14.5 oz) can pinto beans, drained and rinsed
* 1 (14.5 oz) can kidney beans, drained and rinsed
* 1 (4 oz) can diced chiles
* 1 (11 oz) can Mexi-corn, drained
* 1-2 cups (or more!) Frito chips
* 1-2 cups shredded cheddar cheese
* coarse salt and freshly ground pepper
Preheat oven to 375.
Heat the oil in a large sauté pan over medium-high. Add the ground turkey; cook until browned all over, about 6 minutes. Add a pinch of salt and pepper.
Add the onions, jalapeno peppers and garlic. Sauté until veggies have softened, about 4 minutes. Add the cumin and chili powder; sauté another minute.
Add the tomatoes, beans, chiles and corn. Give a good pinch of salt and pepper to the mix and cook for 5 to 10 minutes, until it's all combined and happy and in love.
Pour the mix into a baking dish (mine was 2 quarts. I bet a 9×13 would be perfect). Nestle the Fritos down in the chili mix. Not too far down in it, just sort of on top. Whatever you want! Top with shredded cheese and bake for 30 minutes, or until the cheese is melted and slightly bubbling.
Garnish with cilantro, if desired and CLIMB IN.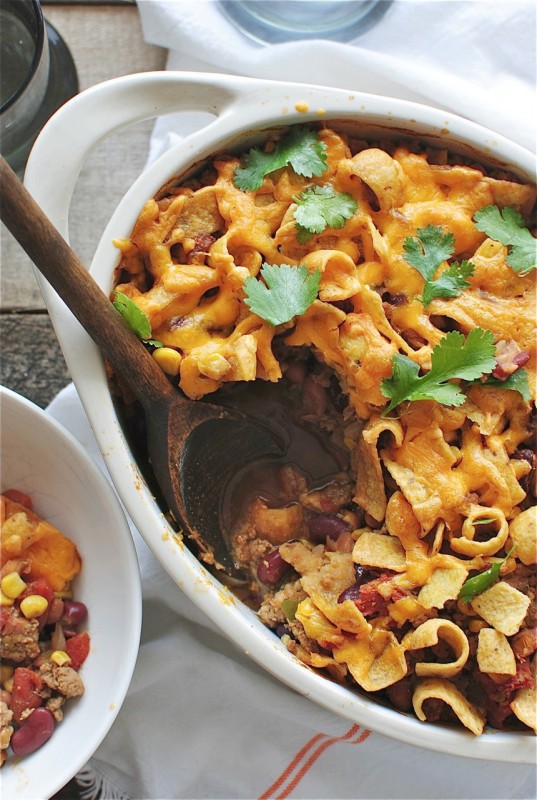 Ignore that cheeseless part at the bottom. You've met my husband, right?