What, it's totally in vogue to post soup in the middle of May, didn't you know?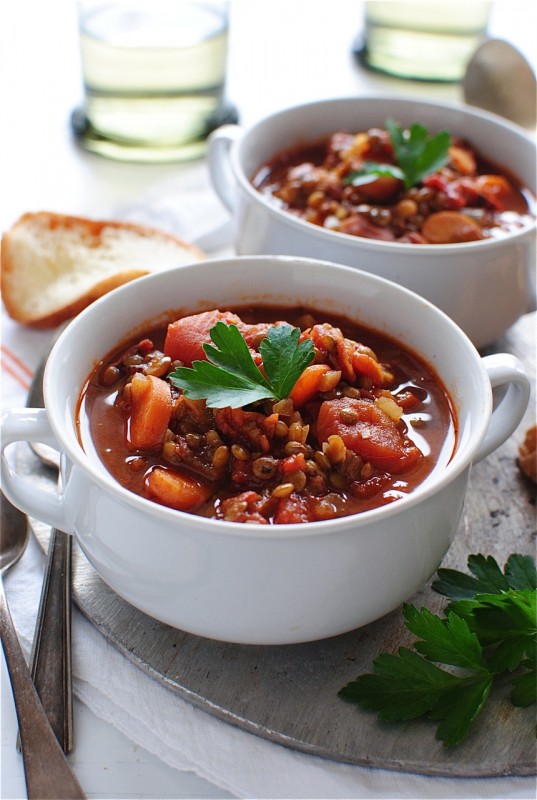 Actually, I made this lentil soup last week when Mother Nature was on a roll at the slot machines, and Old Man Winter went behind her back and played a risky little game with the rest of us at home. MEN.
And you know what, I heard they're still not on speaking terms. To be honest, I'm not surprised.
Not. Surprised. One. Bit.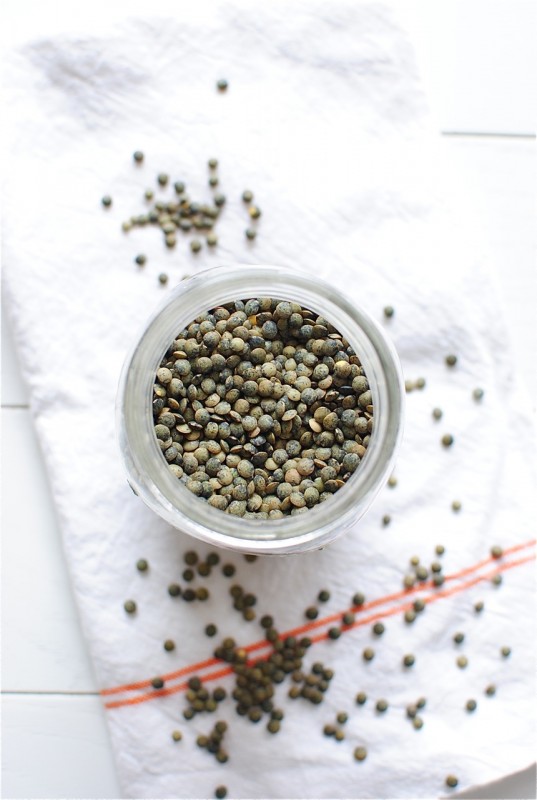 But to be even MORE of a walking contraction, I almost enjoyed it. (please don't stab me)
Not 100%, oh Lord no, but just barely enough to have the festive excuse to uncork a Malbec that's been giving me bedroom eyes since . . . whatever, the day before.
SPEAKING OF CORKS, omgggg. I have a funny story for you.
And I swear this won't take long at all. Not too long. Just a regular length story. It's worth it! I promise I won't ramble or litter this post with run-ons. I'll get straight to it! Straight to the story I want to tell you. This is the best story, I'm laughing so hard already just thinking about it.
Do what? Oh, okay.
You know how dogs love toys? And when they hear a jingle or a squeak or whatever they get all waggy and foamy and cute and mildly psychotic? Right.
You'll never guess what gets my dog maniacal on life. You'll never ever ever guess. Never.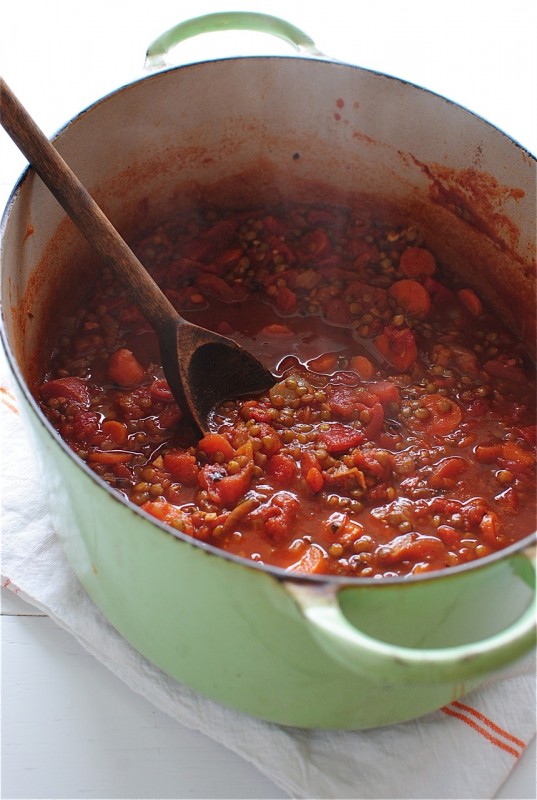 Wine corks! Is that not hilarious/don't call AA??!
She goes certifiably BERSERK when she hears the wine bottle opener clinking and sees the motion of the opener going into the cork and that little airy POP that occurs right after. Just coo-coo.
She doesn't EAT the cork, oh no way. She just shreds it into a zillion little corky pieces all over the couch and I get to clean it up! Isn't that just a gas?! Hahaha hahahaha ahha.
Oh.
I guess I need to wrap this up.
This lentil soup? Bonkers delicious.
Super simple to pull together because it's mostly pantry-style ingredients. It has depth and complexity and flavor and dimension and pizzazz and punch and charisma and chiseled features and strong biceps and legs that won't end an- oh I'm sorry! I didn't realize you were still here.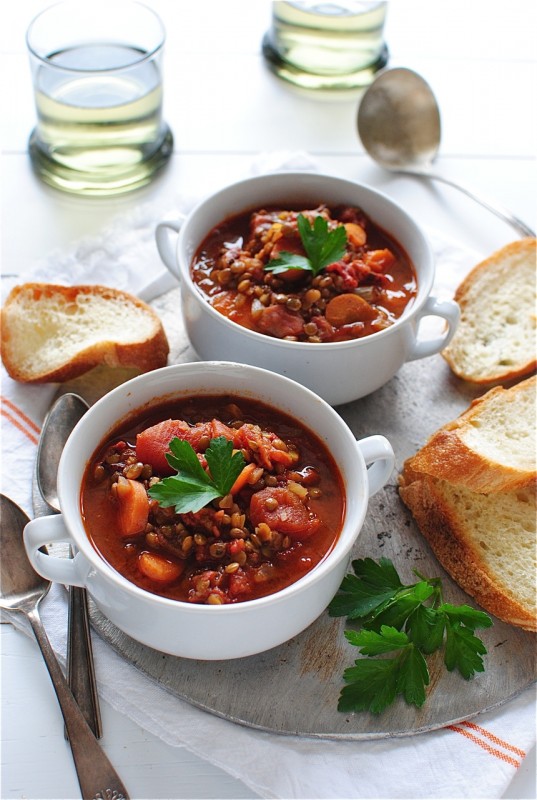 Spring schmring. Make this.
Lentil and Tomato Soup:
What it took for 4:
* 2 Tbs. extra-virgin olive oil
* 1 small white onion, diced
* 2 carrots, thinly sliced
* 5 cloves garlic, minced
* 1 tsp cinnamon
* 1 tsp smoked paprika
* 1 pinch crushed red pepper
* 1 Tbs. tomato paste
* 2 Tbs. fresh thyme and oregano leaves
* 1 (14.5 oz) can diced tomatoes
* 1 (14.5 oz) can fire-roasted tomatoes
* 1 quart vegetable stock (or chicken stock, or water)
* 1 cup French green lentils (picked over for stones)
* 1 Tbs. honey
* 1 Tbs. red wine vinegar
* coarse salt and freshly ground pepper
Heat the oil in a large pot over medium-high. Add the onions and carrots; sauté until they start to soften, 5 minutes. Add the garlic and and sauté 30 seconds. Toss in a pinch of salt and pepper.
Add the cinnamon, smoked paprika, crushed red pepper, tomato paste, thyme and oregano; stir it around until combined, about a minute.
Stir in the canned tomatoes and stock. Add the lentils, bring to a boil, then reduce heat and simmer on medium until the lentils have mostly softened, but are still a little toothy, about 20 minutes. Season with salt and pepper.
Okay now taste it. So good, right? Now add the honey and red wine vinegar. Simmer another 5 to 10 minutes, or until the lentils are cooked through and phenom. (I'm not saying dot com and you can't make me.)
Garnish with fresh parsley and crusty bread!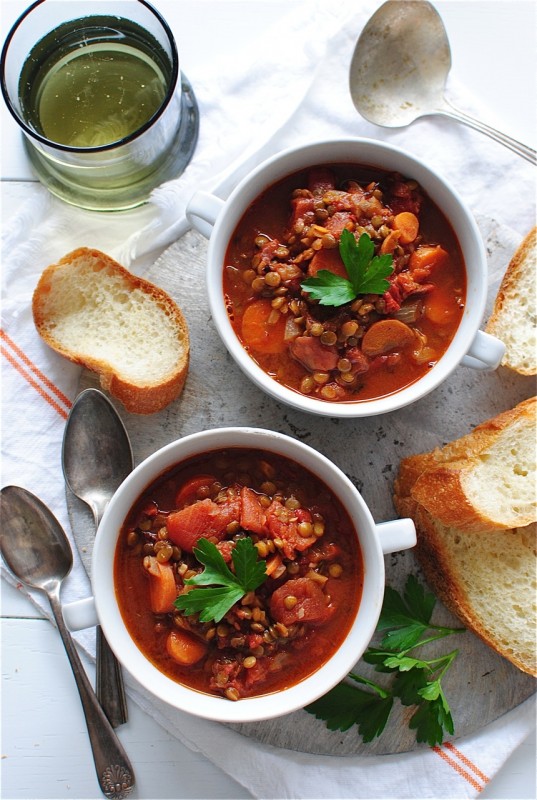 Fiiiiine, I'll pour us some wine. Geez.