I get excited about a lot of things in life.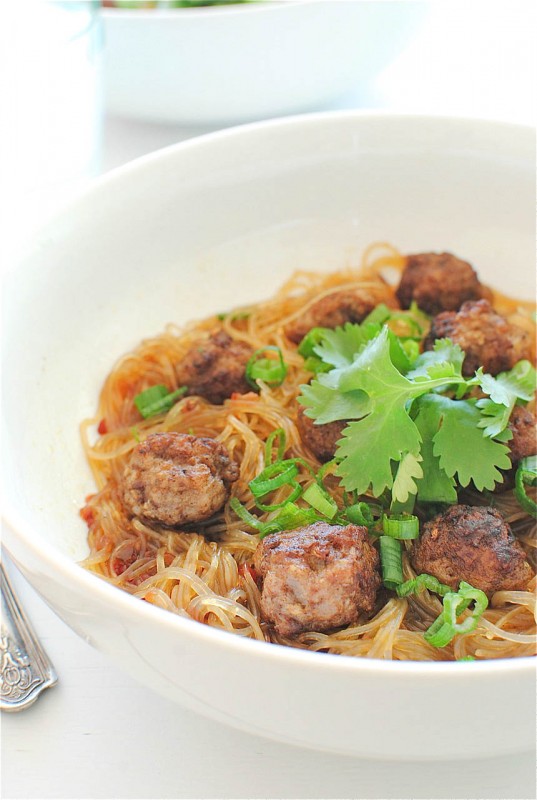 Thunderstorms, marula oil, strong coffee, boot cut jeans, the return of my favorite TV show(ssssssssss), thrifting, incense, pinpointing an eyelid twitch that's been driving me bonk-a-lonk for hours, and Antiques Roadshow. But that's just the tip of the Bevberg. (omg sorry)
But this? Oh.
THIS? Ohhhhhhhhh.
T-H-I-S-D-I-S-H-E-R-I-D-O-O? I'm just not that excited about it.
Just kidding!
I'm dragging this out too long, I know.
There's just so much going on in this thang that has me pumped UP. And you should probably ignore the fact that I just used the words pumped and up together.
Anyway, you know how obsessed I've been with that one soy dressing I make with brown sugar and sambal oelek and fish sauce and minced angel wings? Well, here it is again. A version of it anyway. And we can get excited about this thing in life!
Also, mini pork meatballs with a kiss of Chinese 5-Spice? Hi, yes.
Also again, thin glass noodles coated in said soy dressing obsession? Drrrrive through.
Also one more thing, I need to add pink foam rollers and hair nets to my list up there. Okay thanks.
This came together in about half an hour. I can go ahead and shut the front door if you want.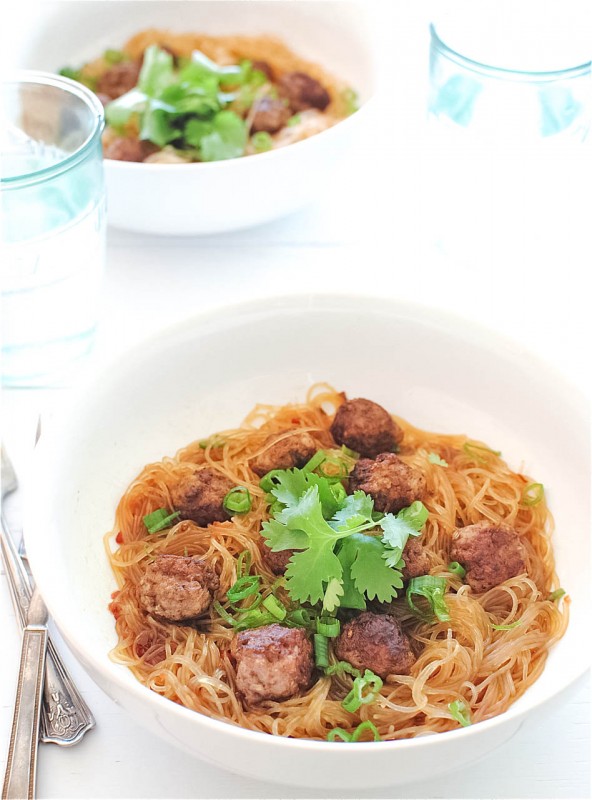 If I could airplane this into your mouth, I would. OH I WOULD.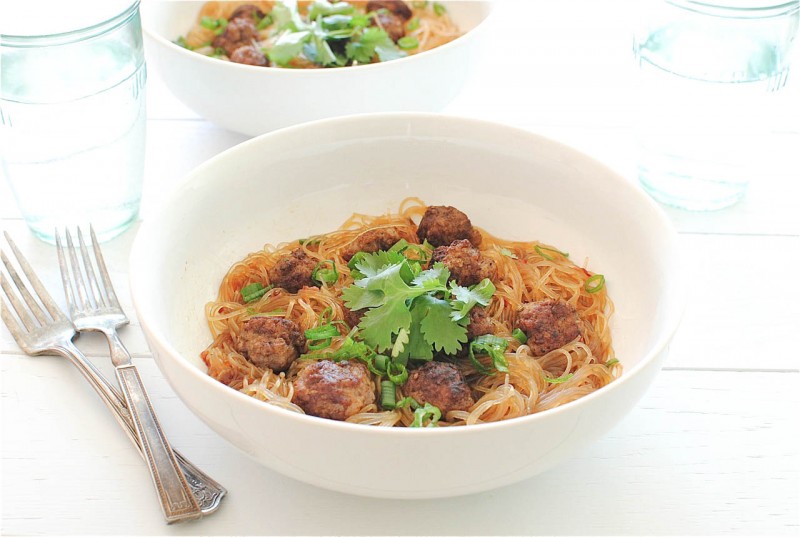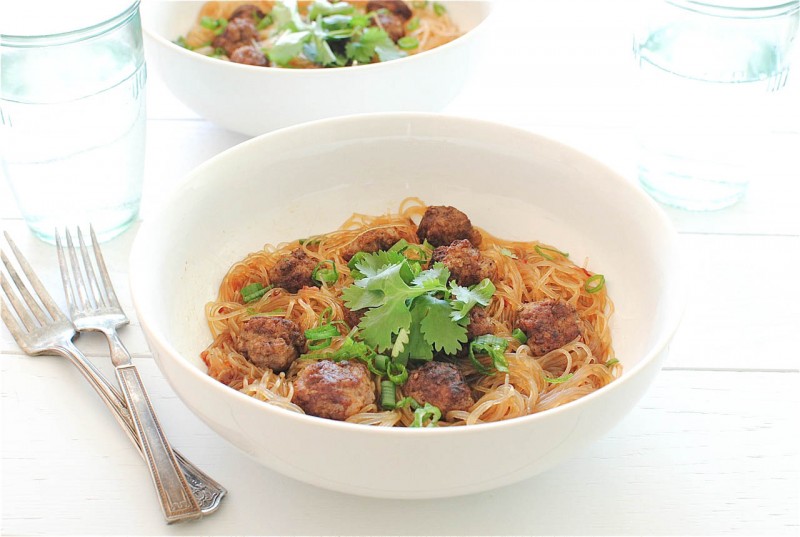 Do it to your life.
Asian-Spiced Mini Meatballs Over Vermicelli Noodles:
What it took for 4:
* 1 pound ground pork sausage
* 2 tsp Chinese 5-Spice
* 2 cloves garlic, minced
* 1 Tbs. freshly minced ginger root
* 1 Tbs. olive oil
* 4 bundles vermicelli noodles
* 3 Tbs soy sauce
* 2 Tbs. water
* juice from a lime
* 1 Tbs. brown sugar
* 1 tsp fish sauce
* 1 tsp sambal oelek
* 2 Tbs. extra-virgin olive oil
* 2 scallions, finely sliced
* cilantro (for garnish)
In a bowl, combine the sausage, Chinese 5-Spice, garlic and ginger. Mix with your hands until fully combined, and then form 15 to 20 mini meatballs out of the mixture. Set aside.
Heat a Tbs. of oil in large skillet over medium heat. Brown the meatballs on all sides and cook through, probably 10 minutes. Do this in batches if ya need!
In a small bowl, whisk together the soy sauce through the 2 Tbs. olive oil. Pour into a small saucepan and simmer on low for a few minutes.
In the meantime, cook the vermicelli noodles in boiling water until al dente, maybe 3 minutes. Transfer the noodles into the soy dressing and toss to combine.
Serve noodles topped with the meatballs and garnish with scallions and cilantro!
Oh man I already can't wait for this to happen to you.