WARNING: this dinner contains cilantro. A lot of cilantro. AKA: the taste of dish soap to a bunch of you weirdos. (jk i love you) Proceed if you dare. Or just sub parsley because that's super easy and this is amazingly tasty. With the cilantro, that is. Never mind.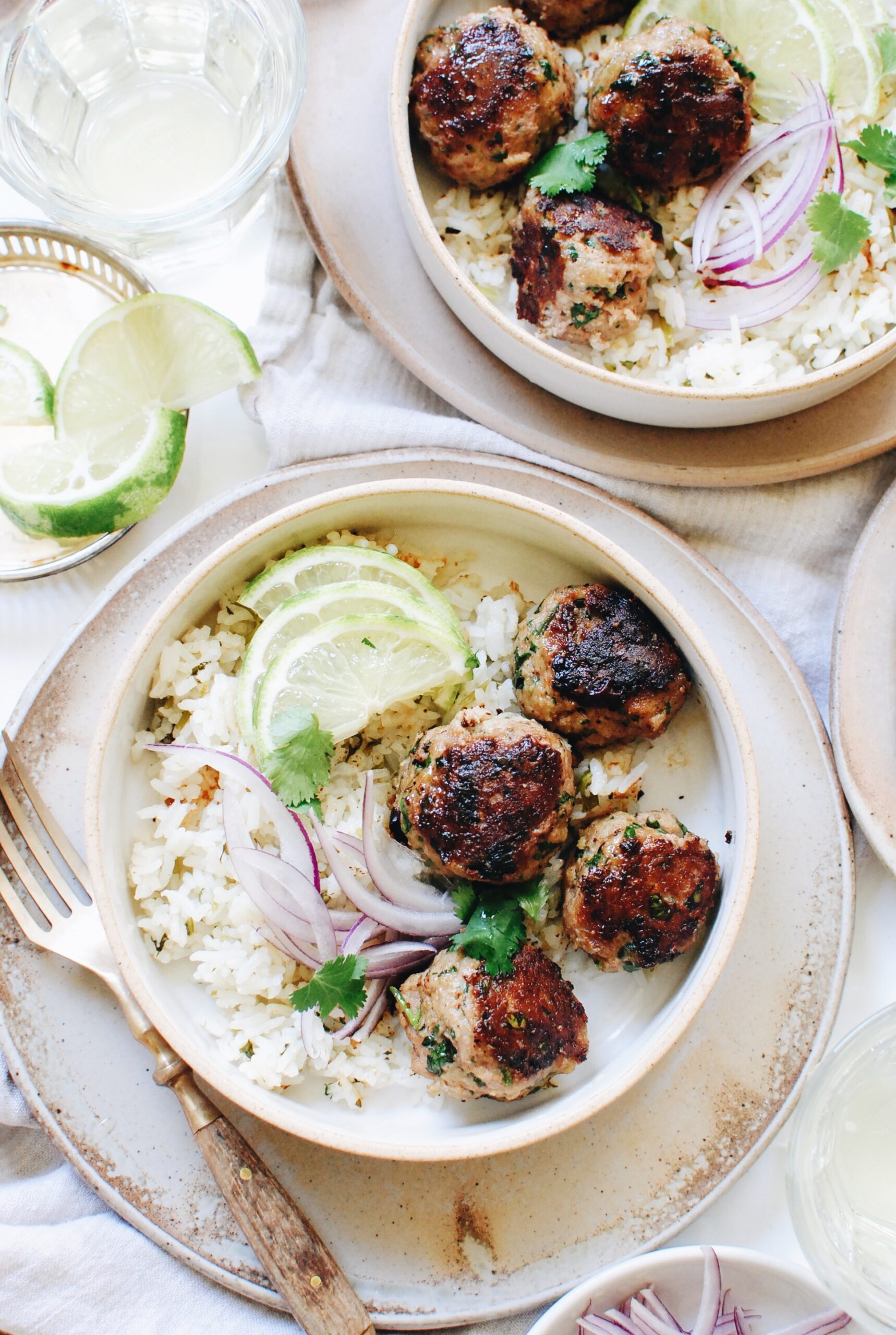 You know how much I heart emoji meatballs. Big time. And honestly, I love any good meatball. Beef, turkey, chicken, pork, I'll take them all. But they have to be properly loaded with herbs and garlic to really do the trick for my fragile heart. And these totally do because LOOK AT ALL THAT CILANTRO.
I can't wait to show you what we do.
I'll tell you right now.
Well, after this next photo.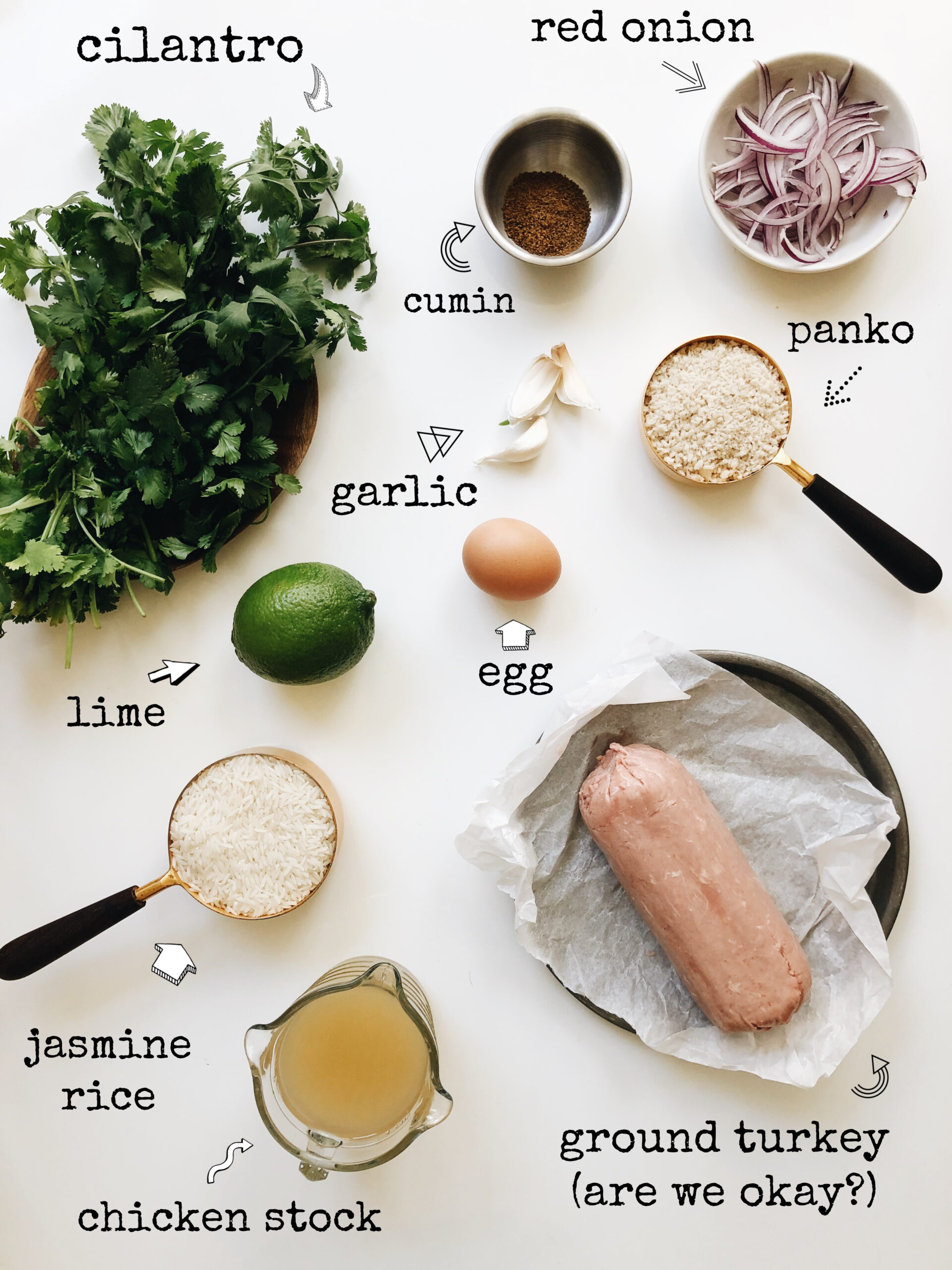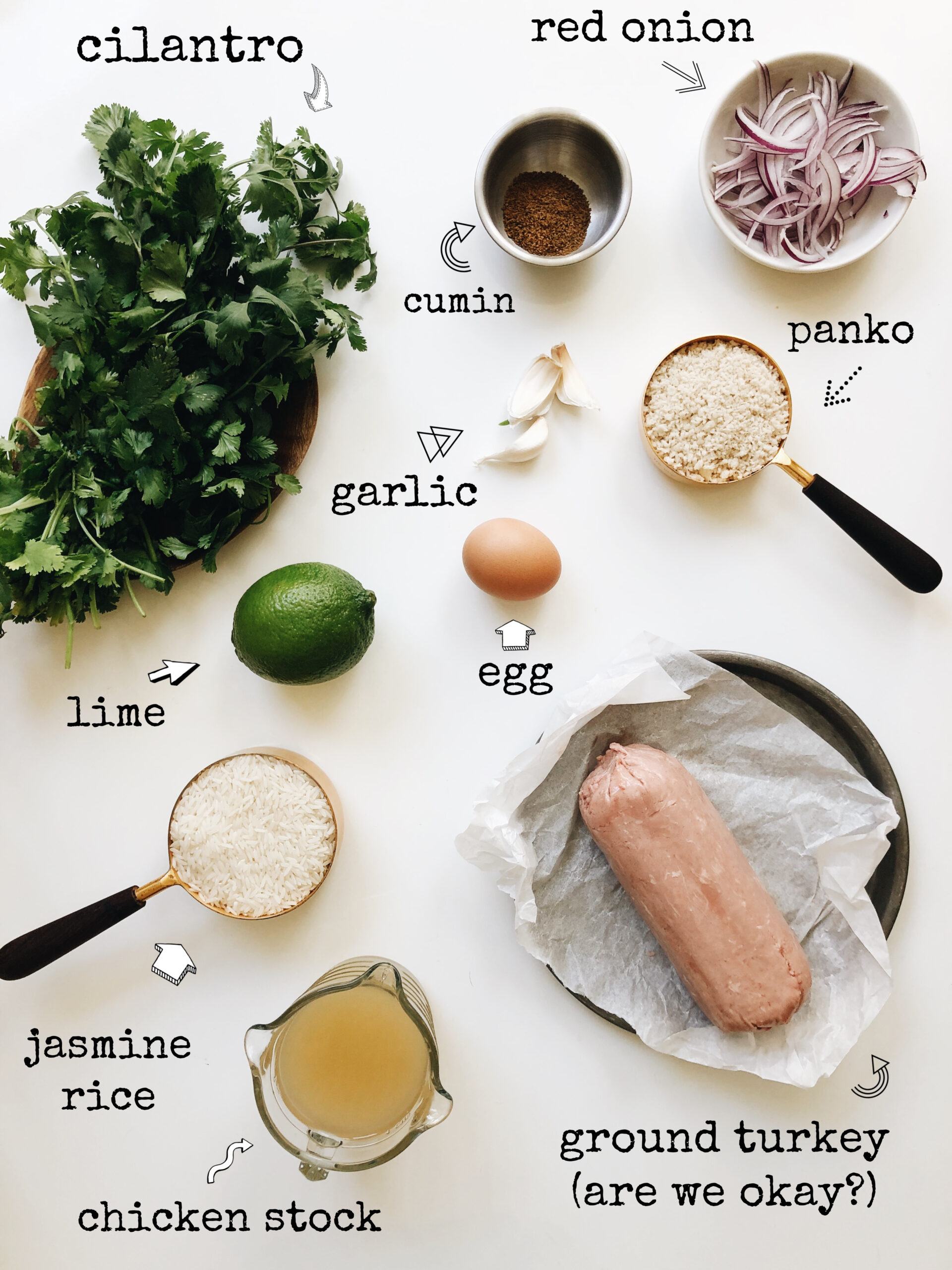 As always, pretty simple! We're gonna take that full bunch of cilantro, lop off the stems, divide the bunch in two, use half for the meatballs, half for the rice, and save a few full leaves for garnish. Got it?
Also, trick about the ground turkey. And I hate these words that are about to spill from my fingers, but – buy the log. Buy the log of turkey. Not the little Styrofoam trays. Those tend to be stringier meat, from the breast, and it makes it V hard to break up and break down. Or something. Buy the log.
Okay bye.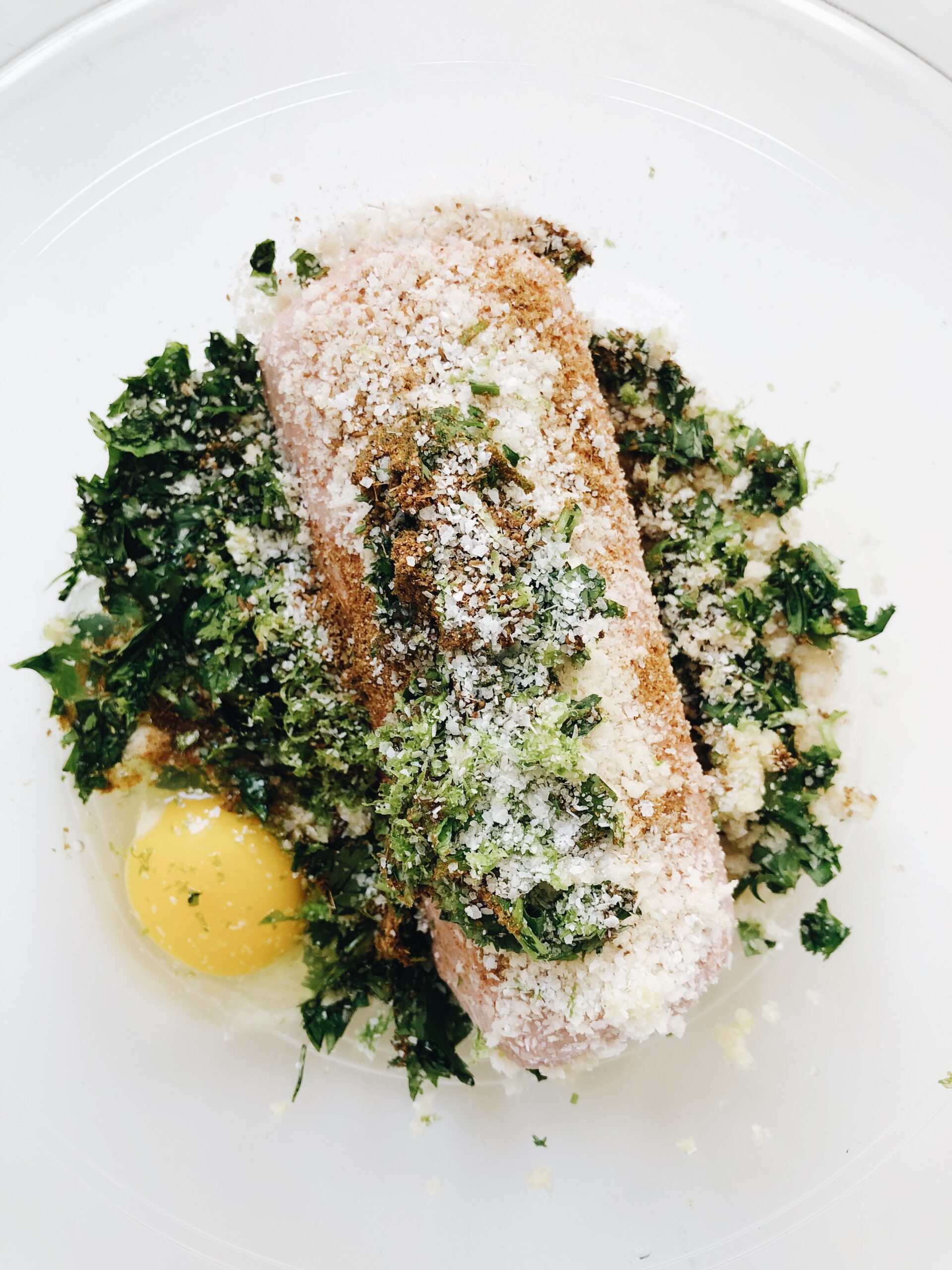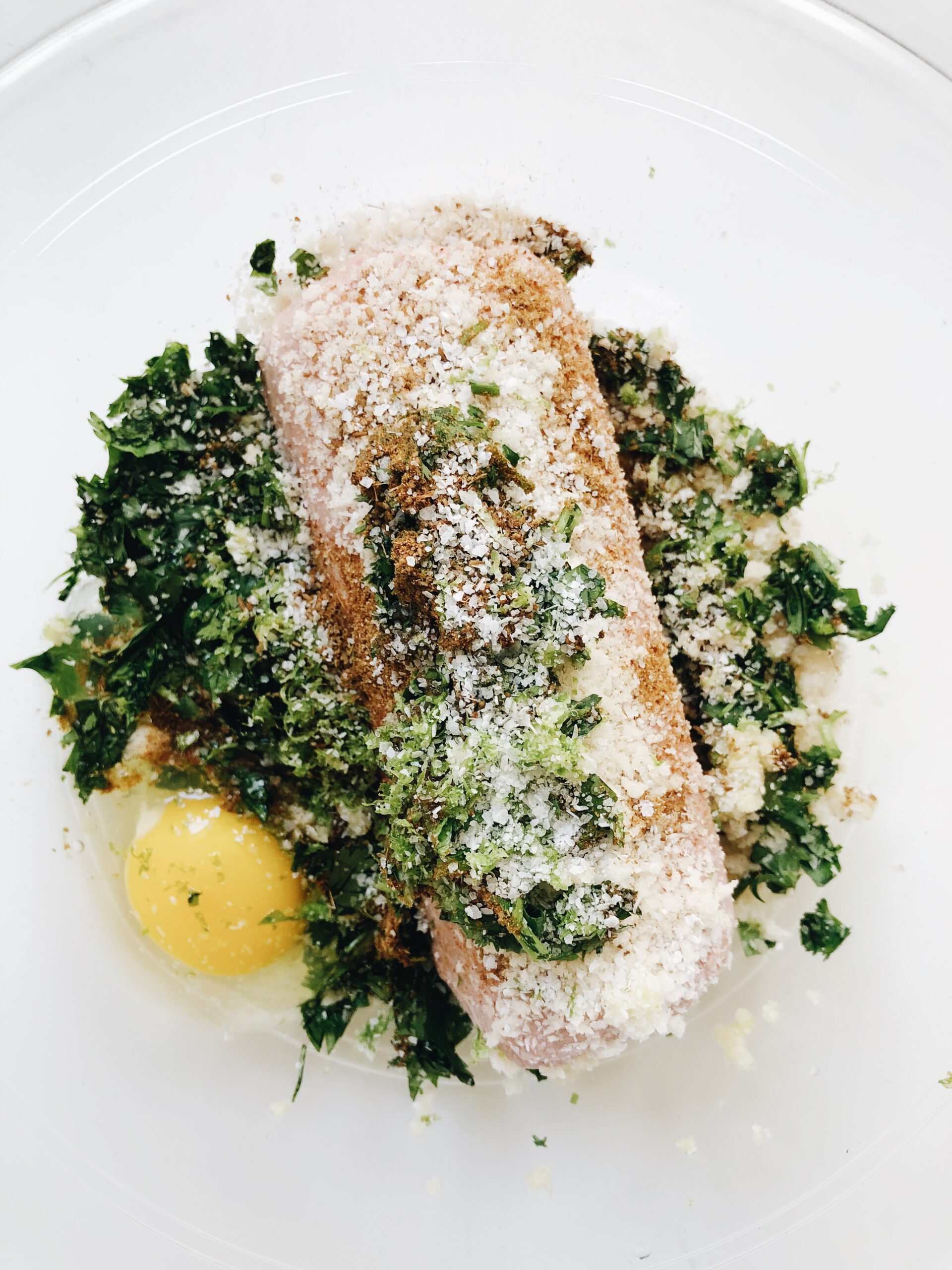 Into our meatballs (don't call them balls, don't call them balls) GO: the ground turkey log (you'll be okay), a truck bed of chopped cilantro, an egg, some panko, some ground cumin, a bit of lime zest and a pinch of salt. Daz eet. You could totally add a little parmesan to this, if you wanted. I'm not sure why I skipped it, honestly. Probably distracted with my boss new range.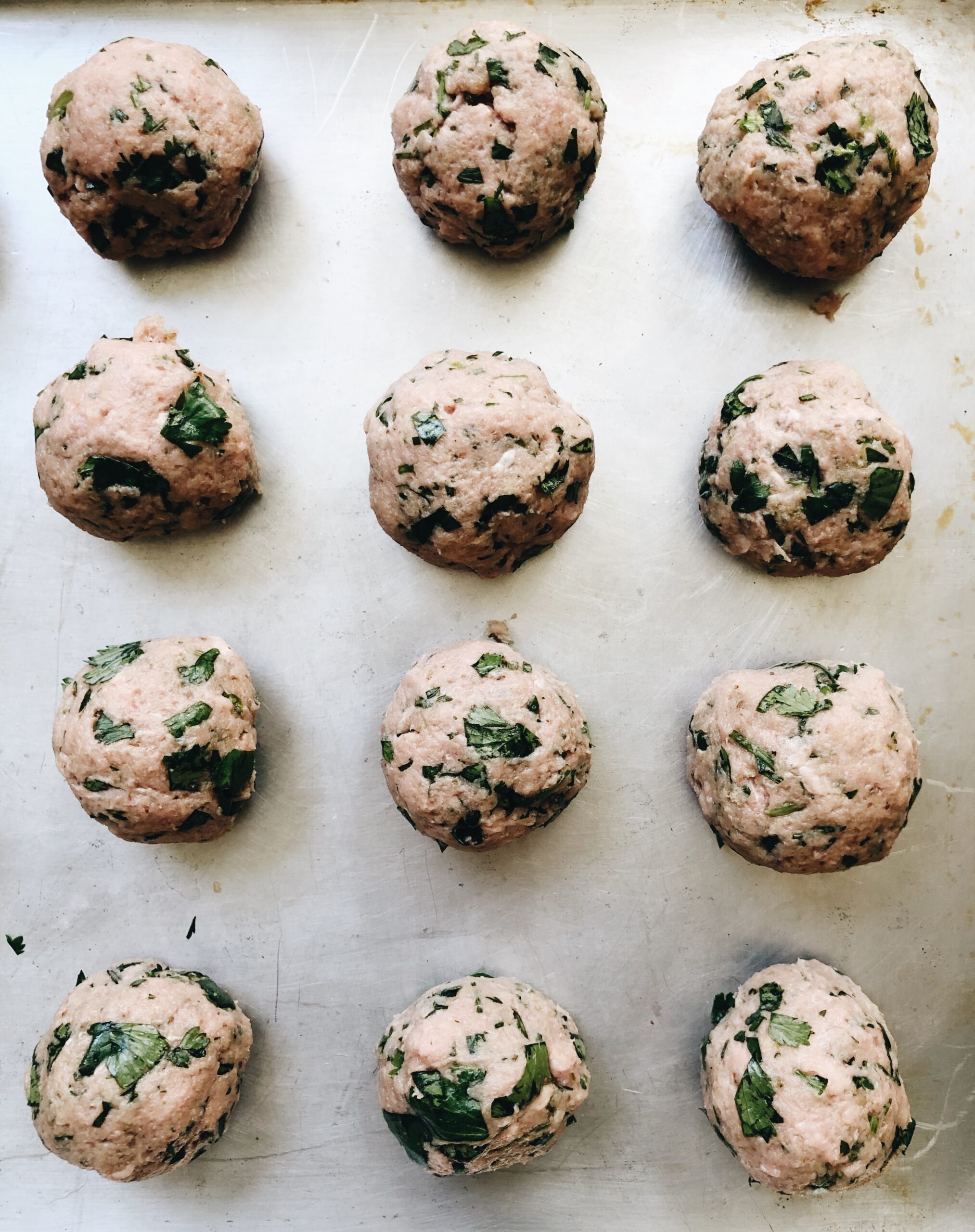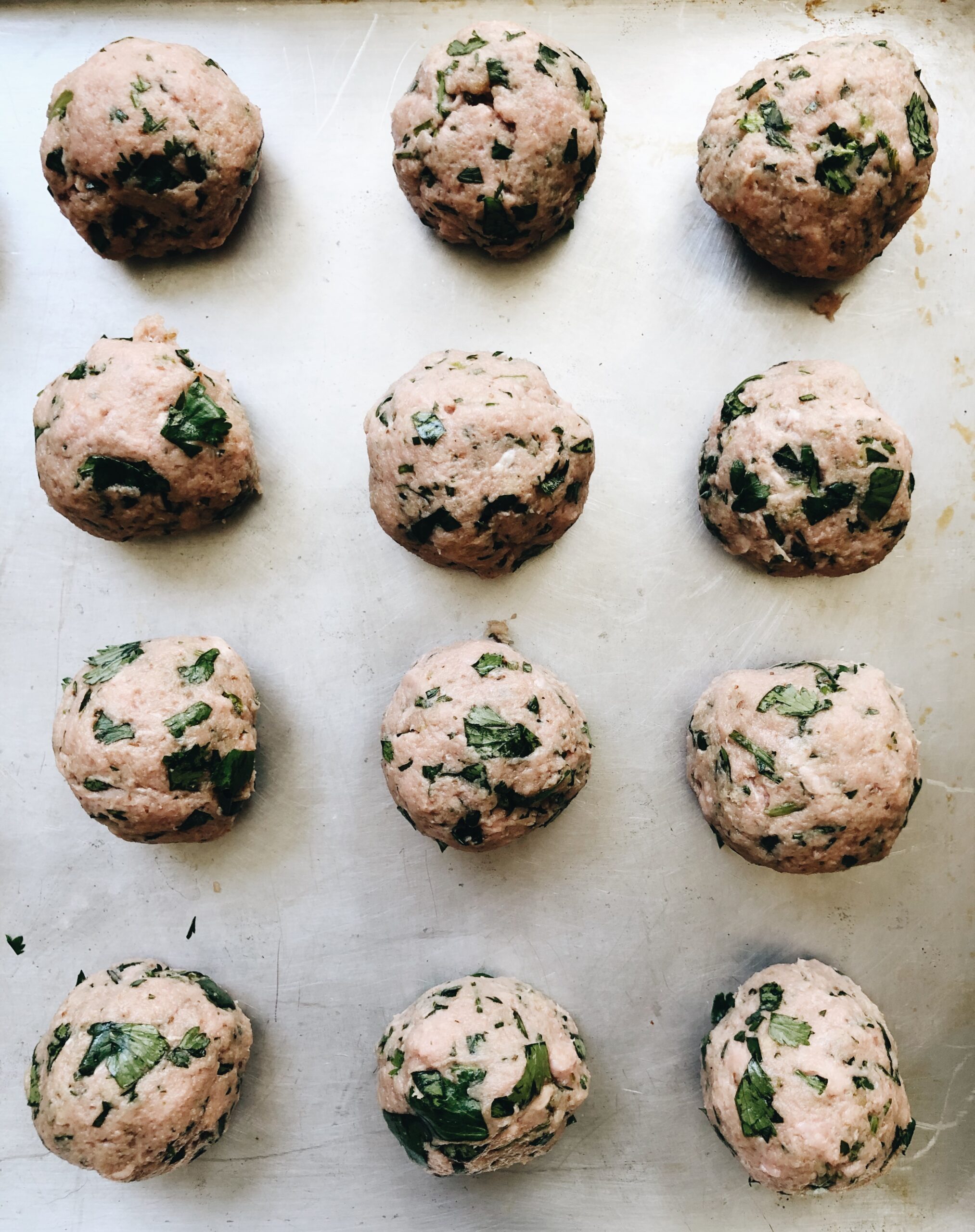 Then you make the meatballs (don't call them balls, don't call them balls). One inchers. Maybe a little bigger. You and your raging soul fairies can decide. NOW, you can cover and let these chill in the fridge as long as you want. Or if you're about to cook within the hour, just throw some foil on top and let them rest on the counter. Either way, Chachi.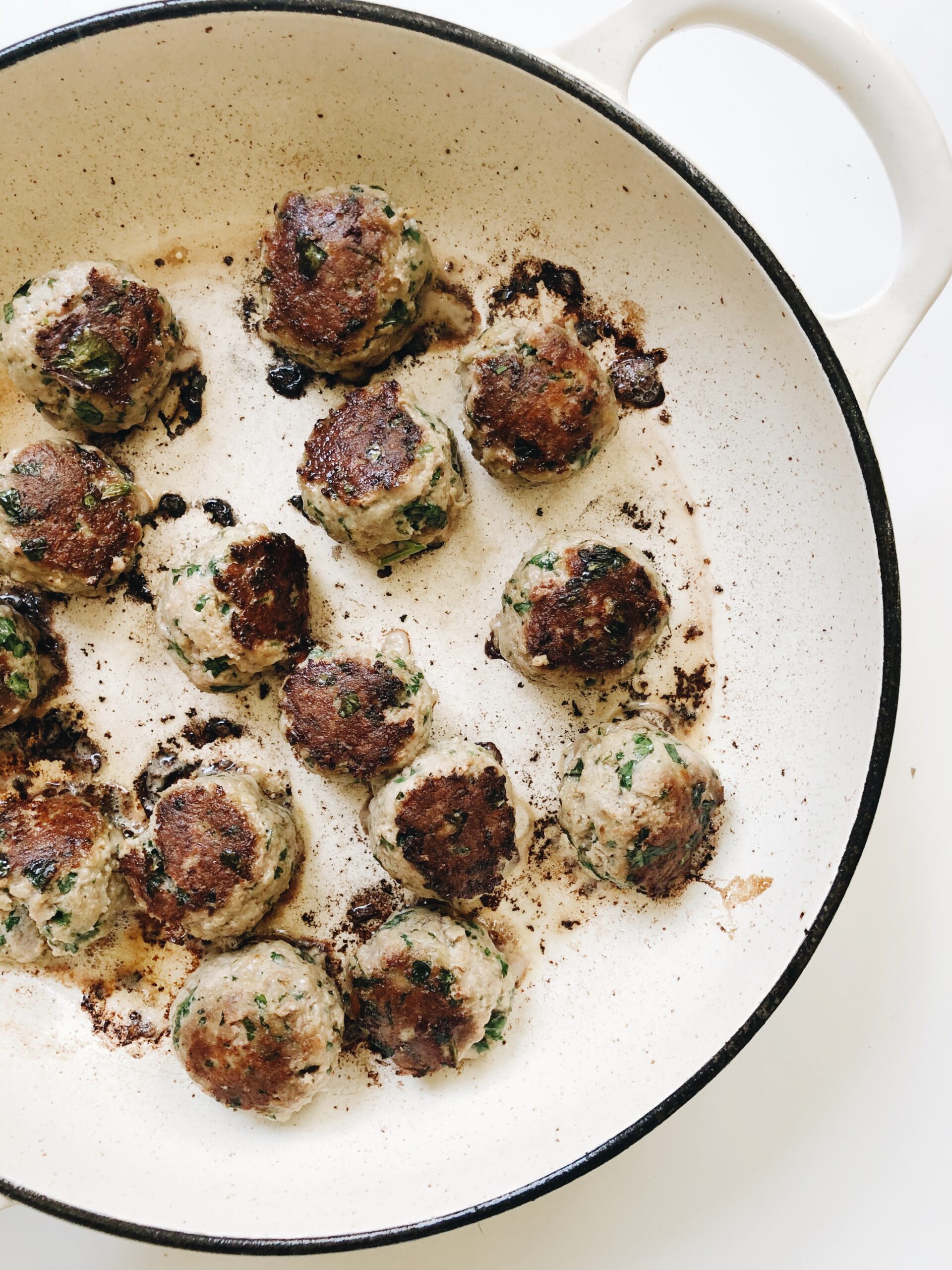 And then just sear! Each side, maybe three minutes. Gently tong (not thong) them around to at least attempt some even charring. It's not going to be perfect, and that's fine. WE'RE ALL DOING THE BEST WE CAN, OKAY?
Wait, why are you looking at me like that?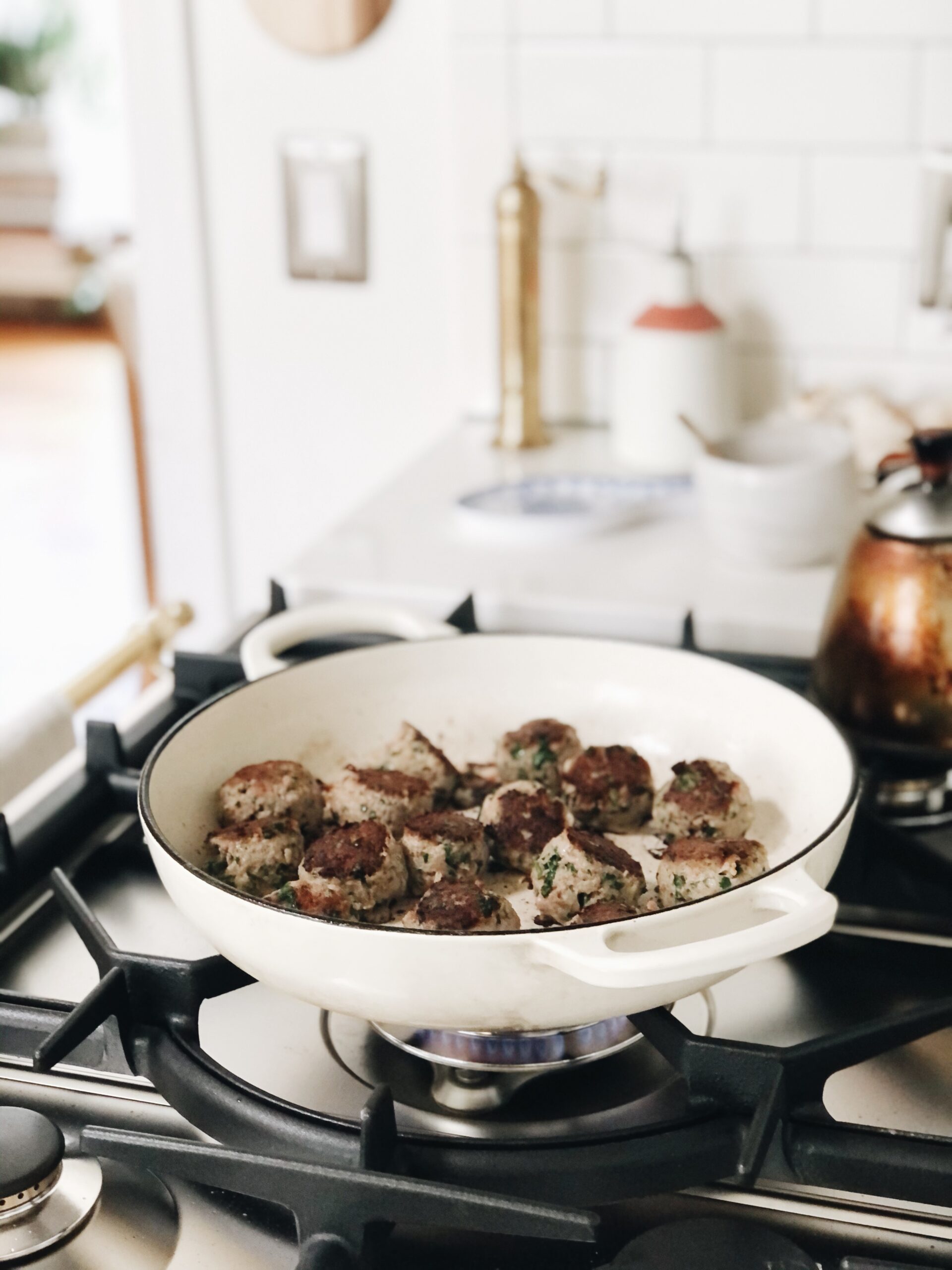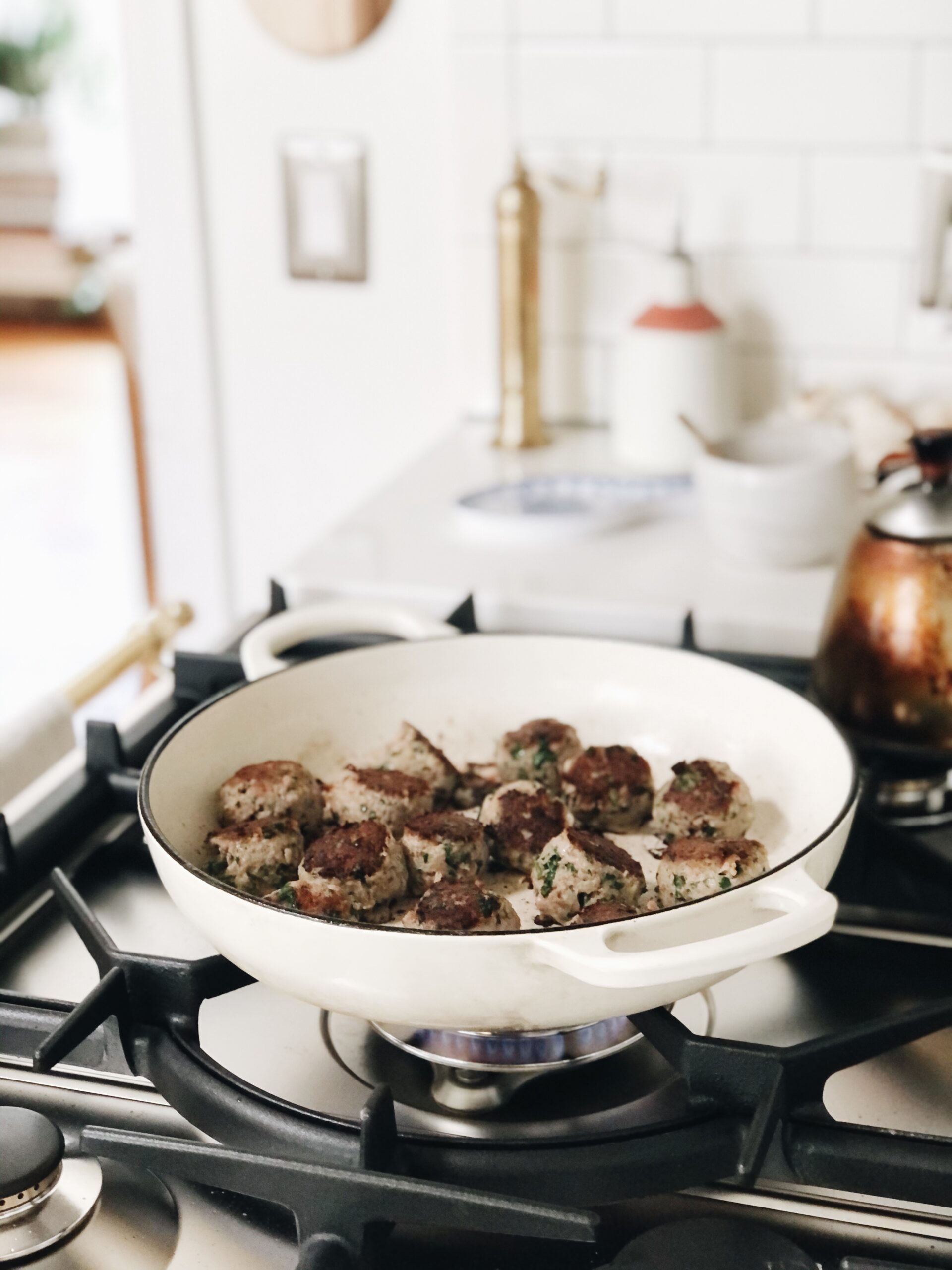 I just needed to show you my clean (new!) range. I'll show you more later on. That's all.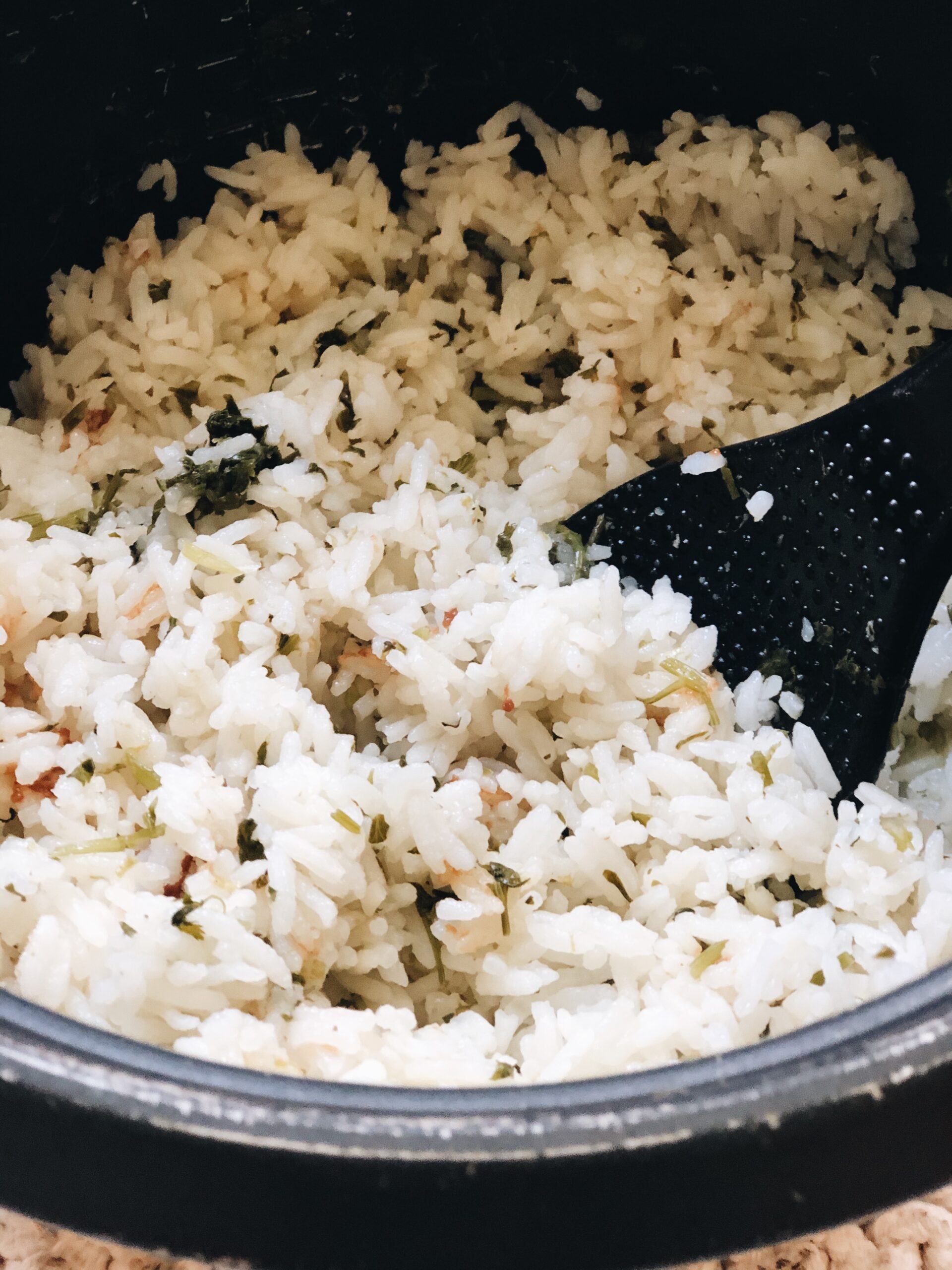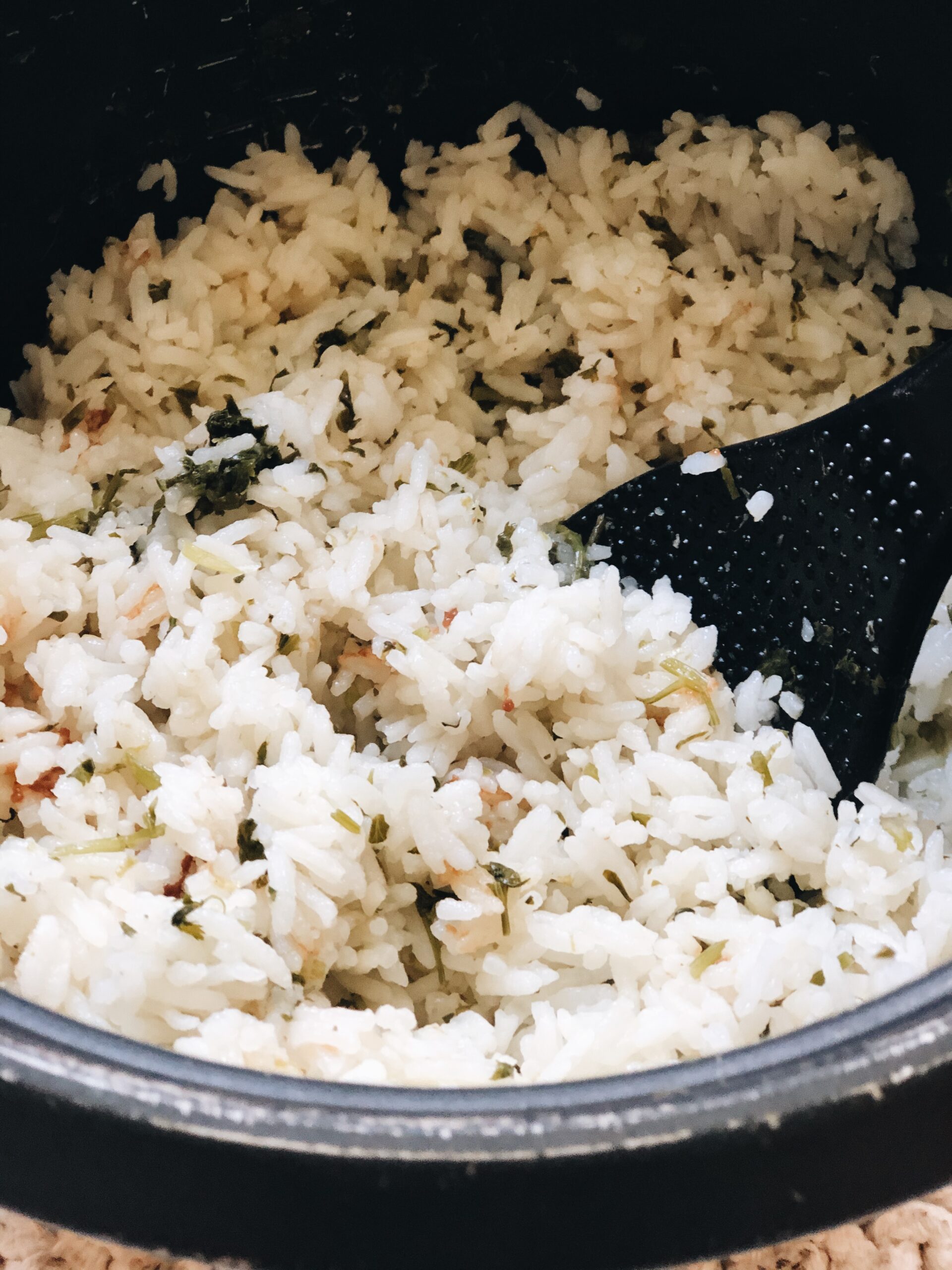 Oh yes, the rice! It's going to go like this: 1 cup Jasmine rice + 1 cup chicken stock + 1 cup water + the rest of that chopped cilantro + the other half of the zested lime + small pinch of salt. I use a rice cooker because it makes my life easy, but you fly in any way you can.
In the rice cooker you'll get some beautiful browning here and there and it's SO GOOD, you won't even.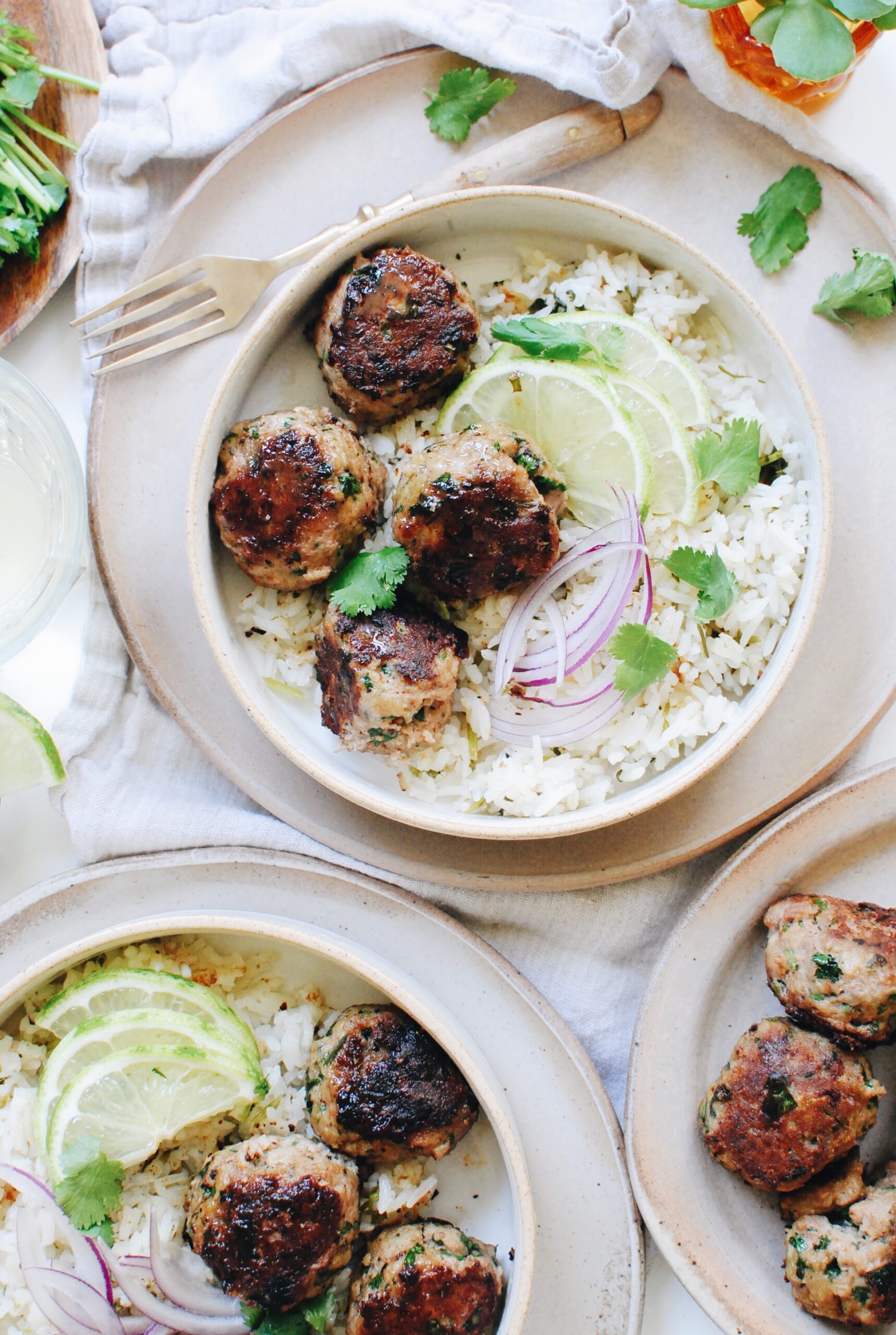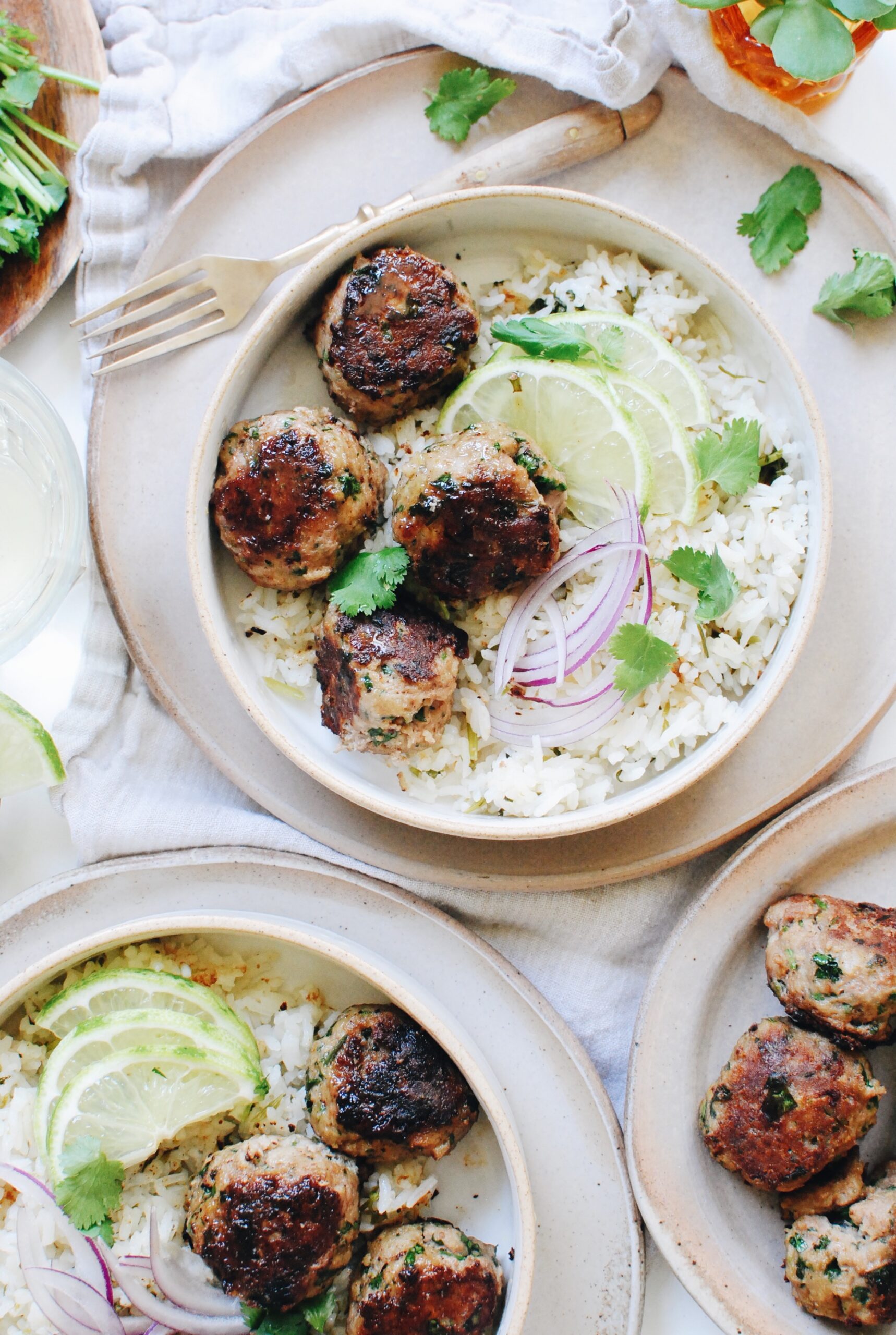 And really, we're just garnishing with thinly sliced red onion (optional, but trust me), the lime that you zested, sliced up, and a few cilantro leaves. The flavors are vibrant and limey and waistline friendly and outrageous and you desperately need to pop this into next week's meal plan. Guys, I might have to get bossy.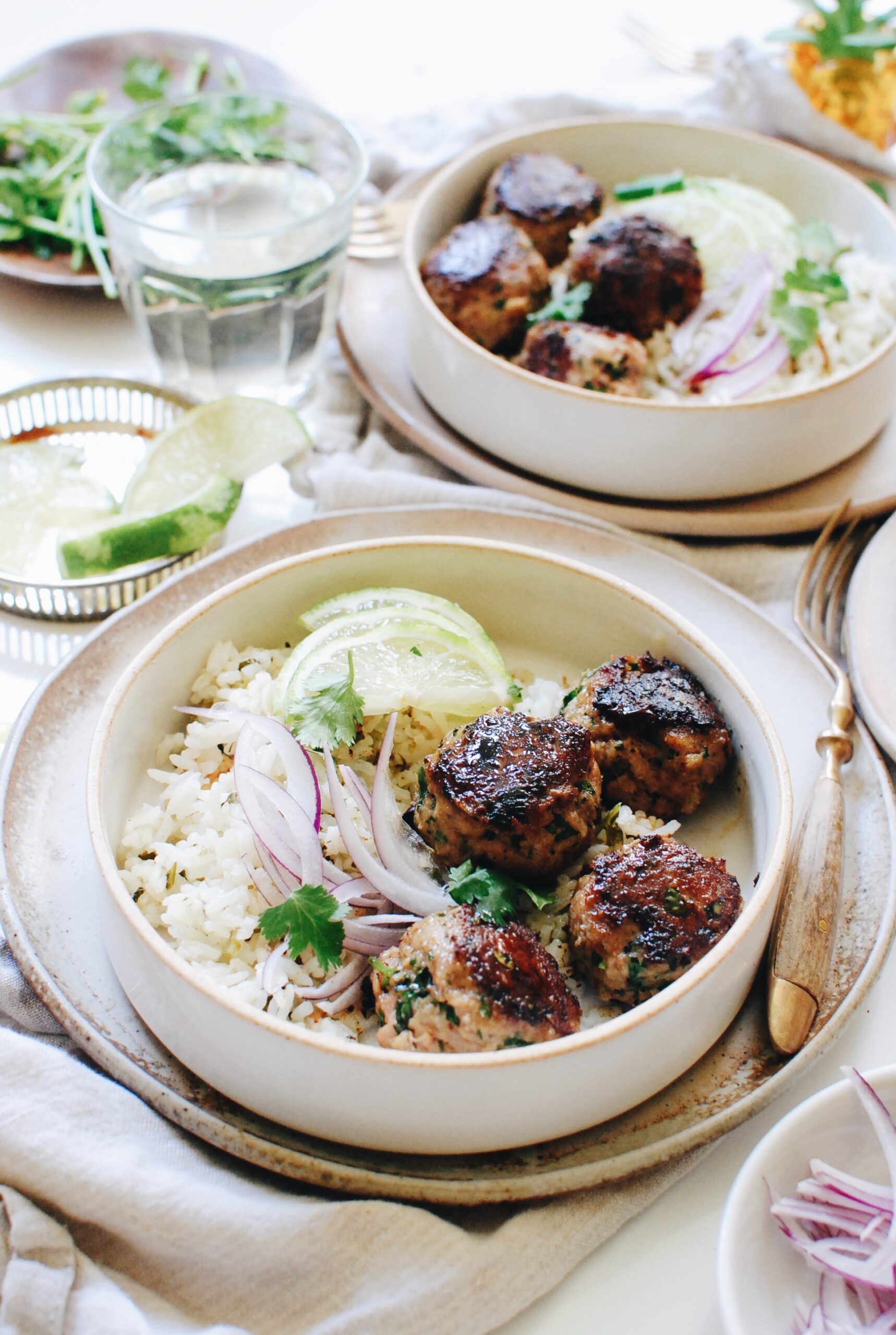 And you remember how simple that was, right? Make the meatballs (don't call them balls, don't call them balls) early, and it really comes together in the time it takes for the rice cooker to cook the rice. Look, it's not a hack. It's a lifestyle.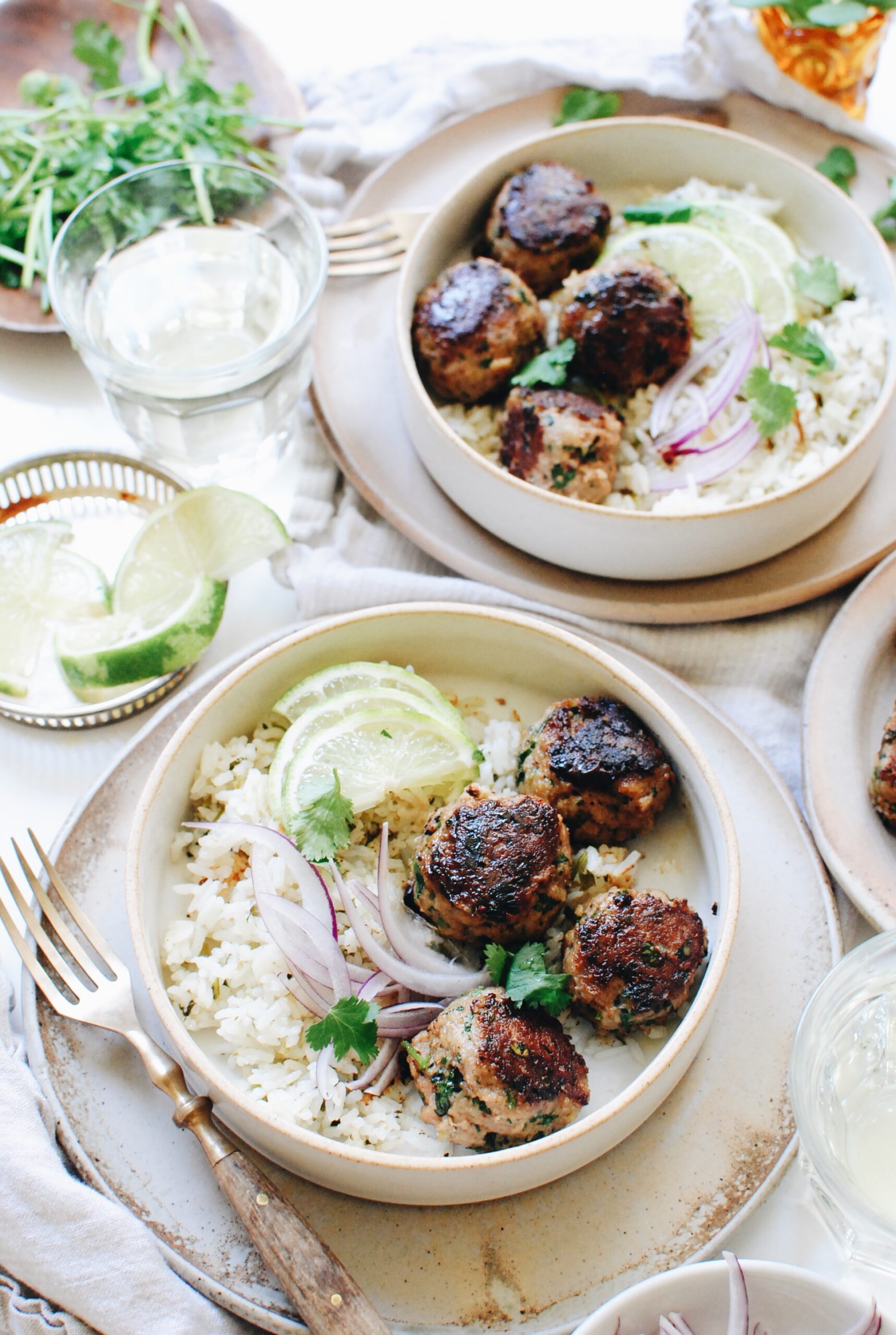 Get. In. That.
Cilantro Meatballs with Rice and Lime
Ingredients
1 pound ground turkey
3 cloves garlic, minced
2 tsp cumin
1/2 cup panko
1 bunch cilantro, divided and finely chopped (leave a few leaves whole for garnish)
1 egg
1 lime
1 cup Jasmine rice, rinsed under cool water until the water is clear
1 cup chicken stock
1/3 cup thinly sliced red onion
Coarse salt
Instructions
In a large bowl, combine the ground turkey, garlic, cumin, panko, half the chopped cilantro, egg, zest from half the lime, and a good pinch of coarse salt. Using your hands, combine the mix until thoroughly incorporated. Then form 1-inch meatballs, placing on a baking sheet. Cover and chill these boogers for as long as you can. If you can't, you're still a good person.
Go ahead and heat a Tbs. or two of extra-virgin olive oil in a large pan over medium heat. Add the meatballs in a single layer and sear on each side, about three minutes per side. Pop the heat down a little and cook another minute or two, just to ensure they cook through.
In the meantime, combine the rice, stock, one cup of water, other half of the chopped cilantro, the zest from the other half of the lime, and a small pinch of salt in a rice cooker. Cook until it beeps! Or do this stovetop. Whatever you feel for your life. Once the rice is cooked, fluff with a fork and squeeze in half the lime juice. Slice the other half for garnish.
Serve the meatballs and rice with slice red onion, lime slices and extra cilantro! Delish. Love it.
Serves four.
7.8.1.2
494
https://bevcooks.com/2021/04/cilantro-turkey-meatballs-with-rice-and-lime/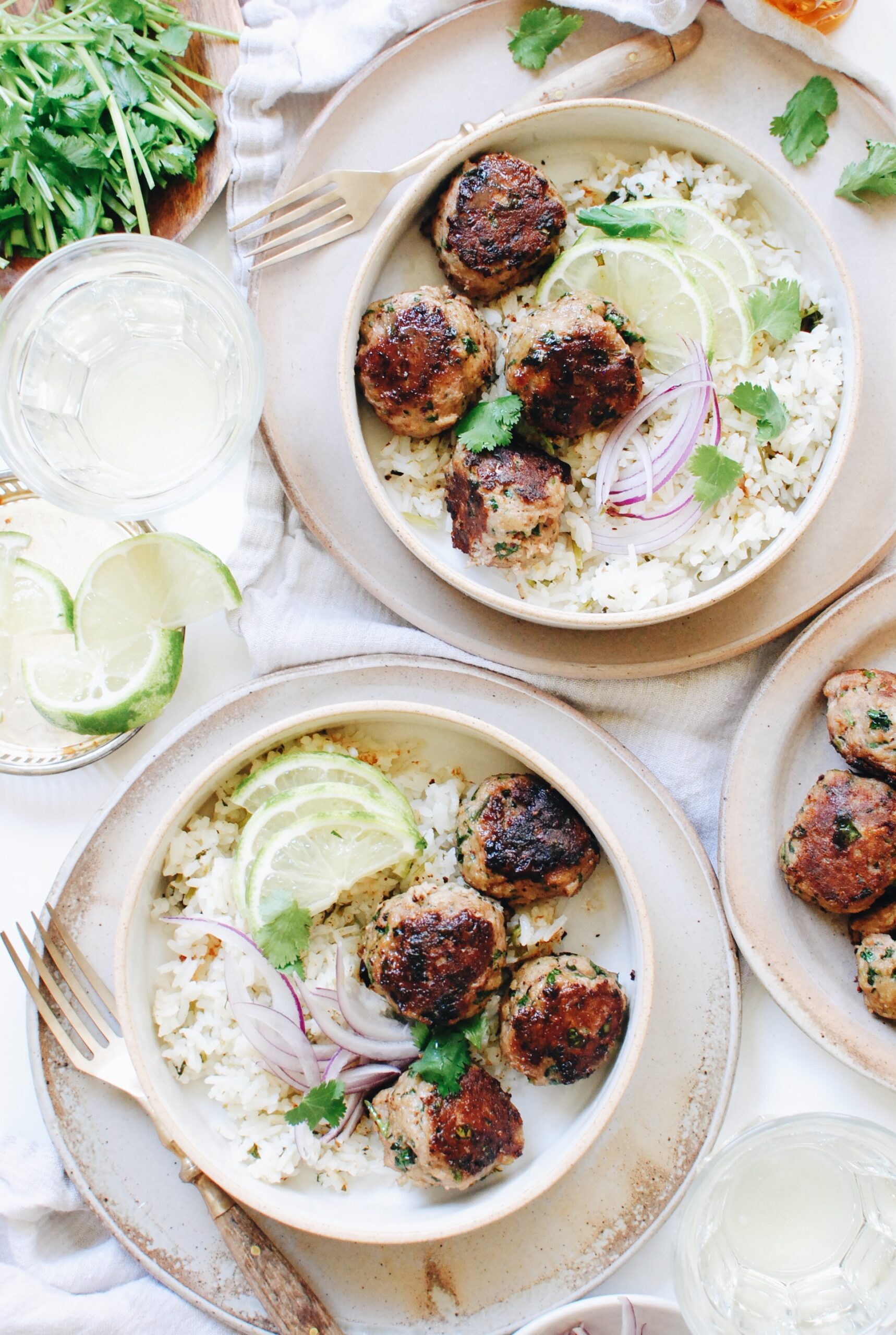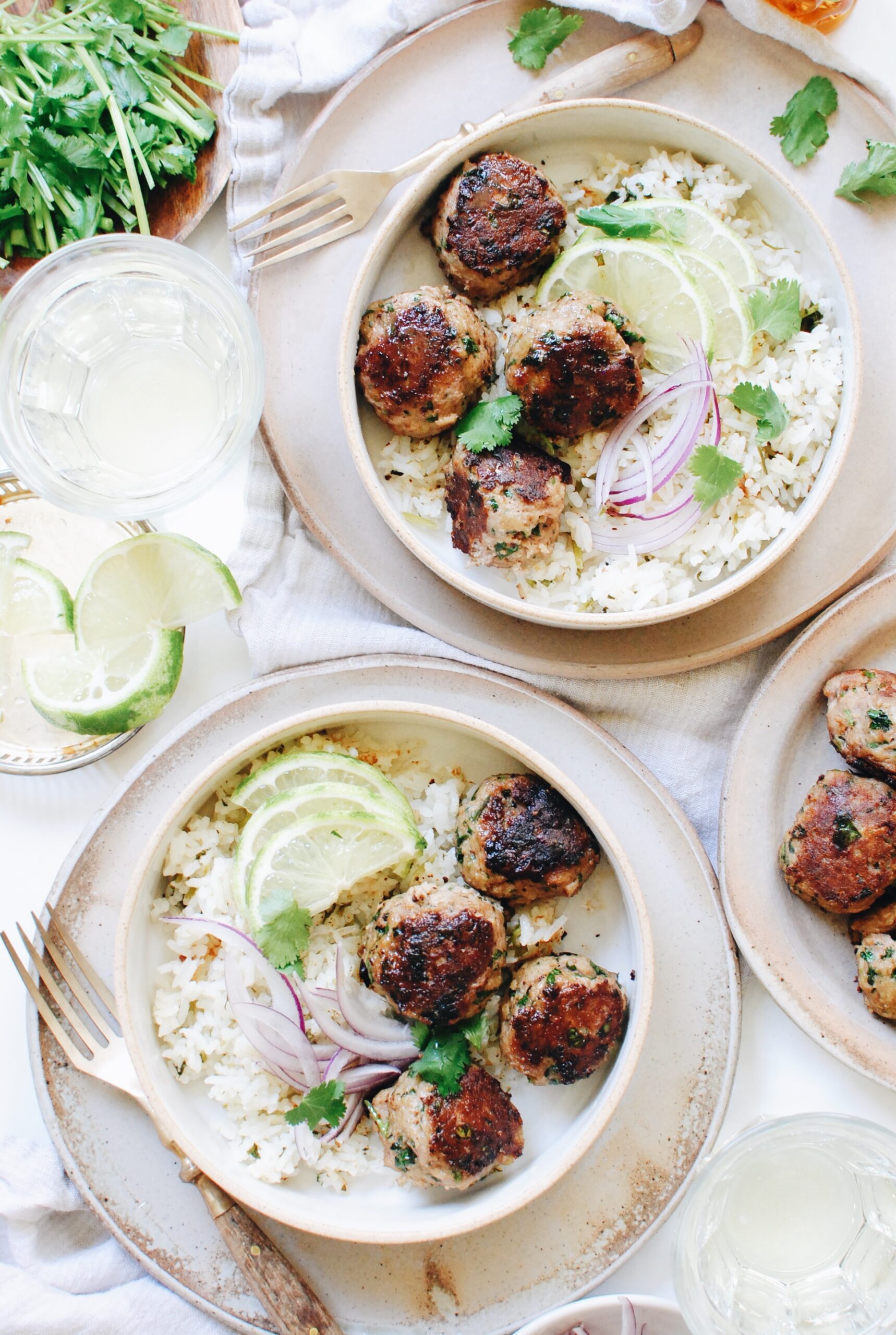 If you head to the store now you can get this started by noon. Go! (see I warned you about the bossy thing.)