I've been wanting to make something like this for the blog FOREVUUUUUR. (Sandlot style)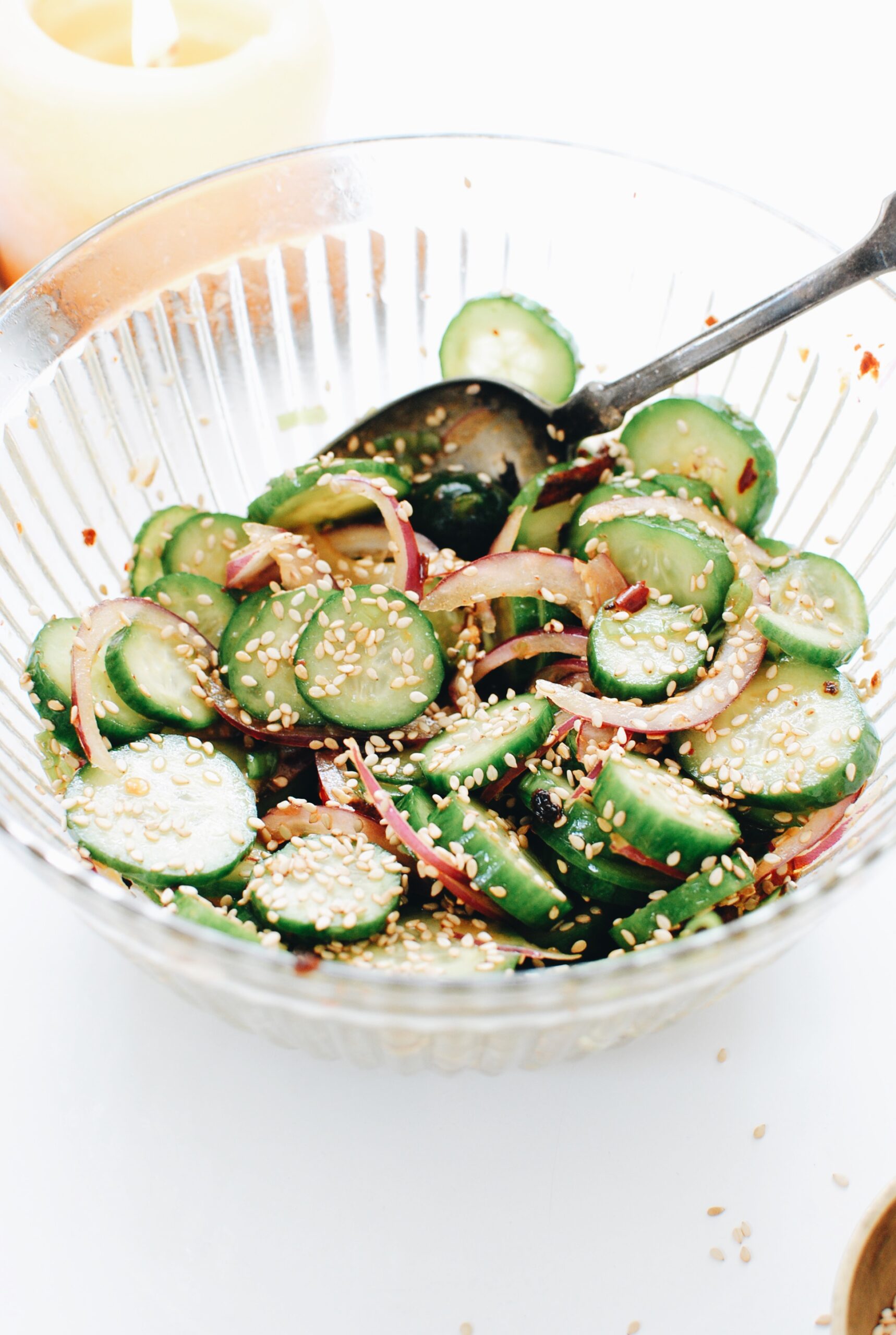 Well, pigeons, today's the day.
You see this type of crunchy cucumber salad all over the place. Can it be called a salad even? Sure. We're doing it. It's embarrassingly easy and you'll need to peruse the pantry to throw this together for tonight, okay?
The only think you may not have is the chili crisp. I IMPLORE you to buy some. It's right there on the Asian aisle next to the soy sauce. Right in there somewhere. It's not overly spicy, and adds the most perfect savory depth to any and everything.
Let us peepeth.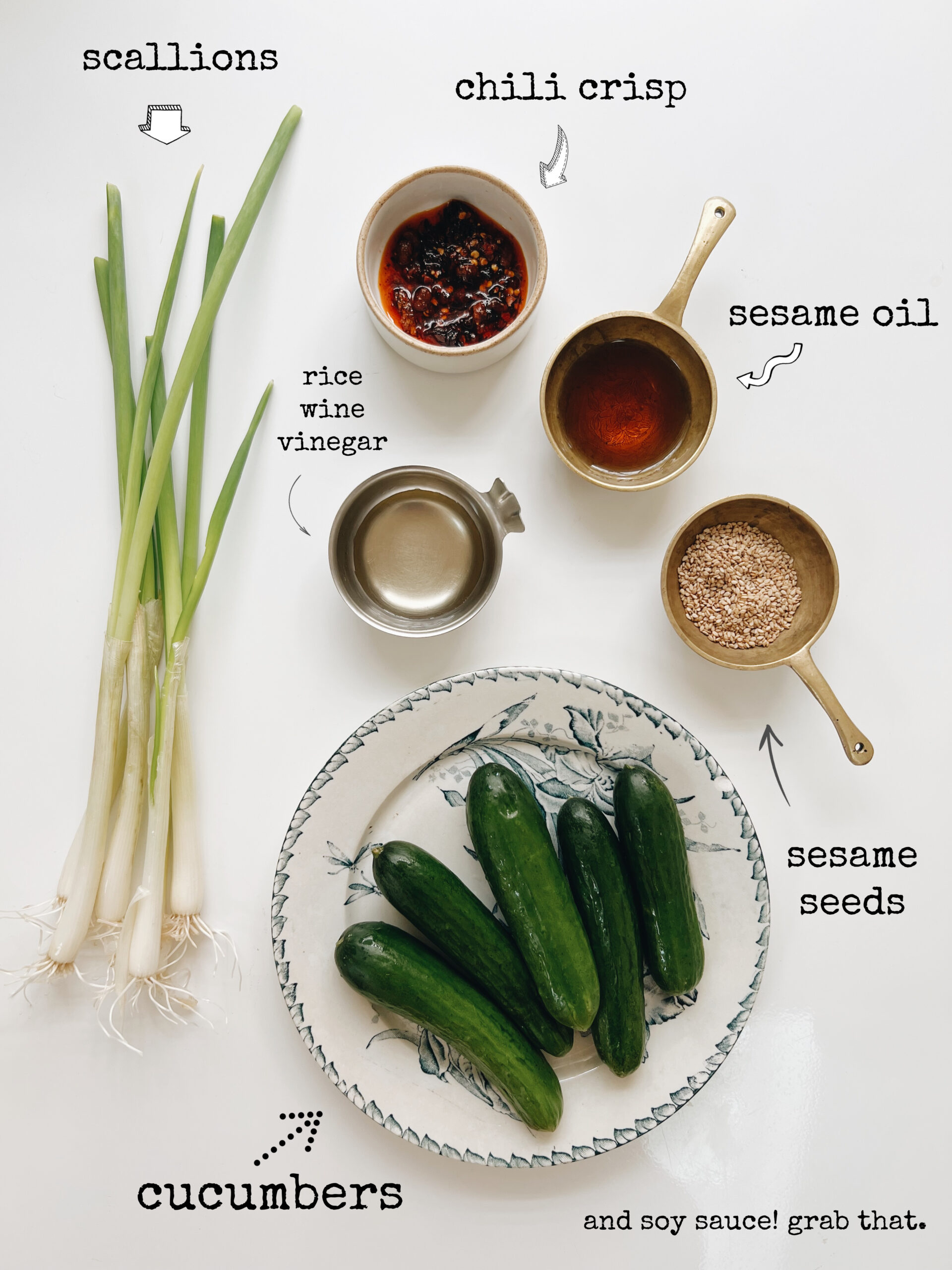 Also, the two things I left out of this photo like a ding dong are soy sauce and red onion. And I even left red onion out of the type in the photo. We'll be okay.
It's going to be so cool and crunchy and salty and savory and vibrant and exciting, you'll need this constantly. Trust me.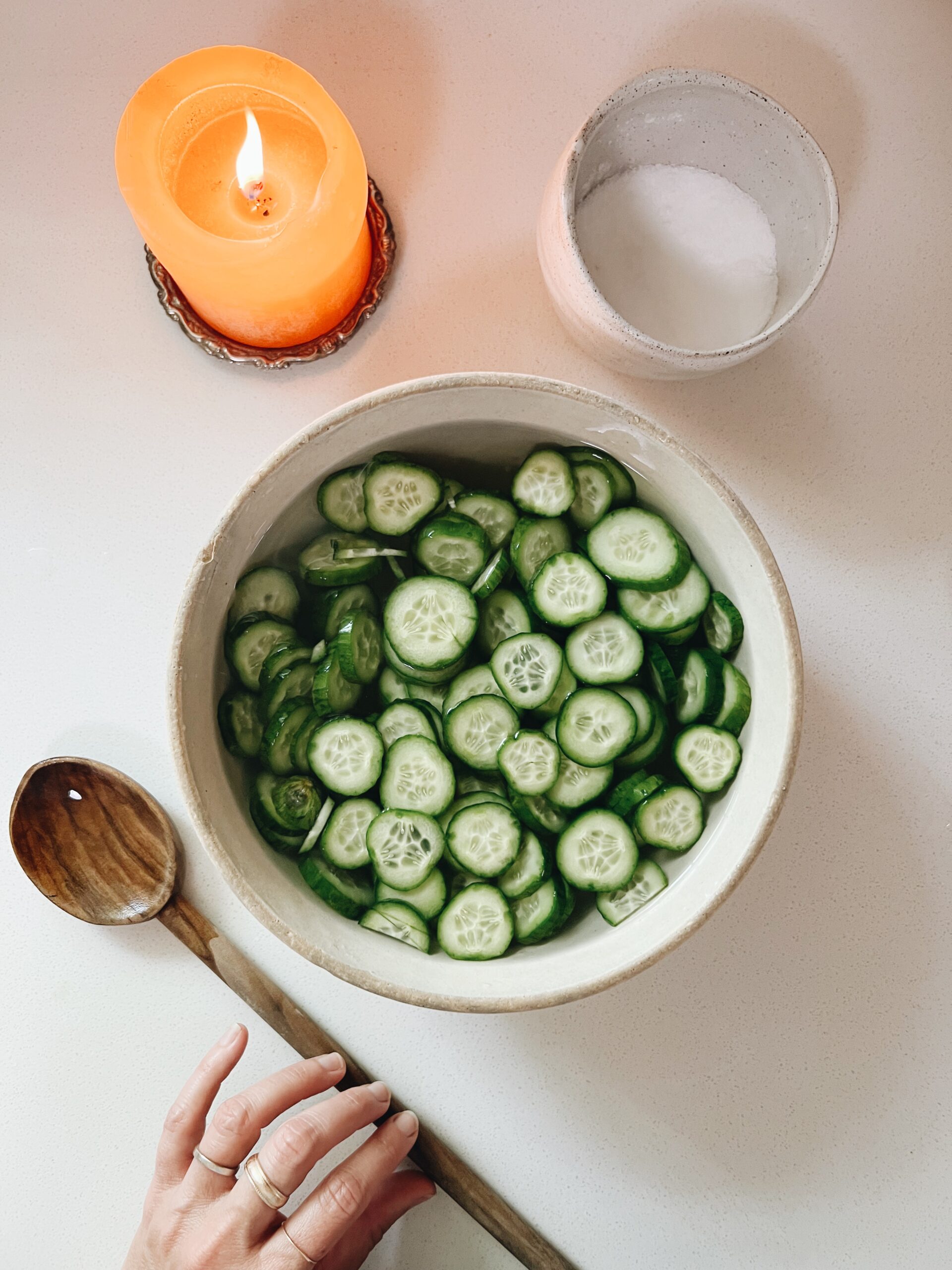 The cucumbers get a quick salt bath! Just fill up a bowl with water and add a Tbs. of salt to your sliced cucumbers. Why? Has something to do with keeping this crunchy I think. I have no idea, I'm not a scientist.
Then you'll rinse them after ten minutes and whip up the rest!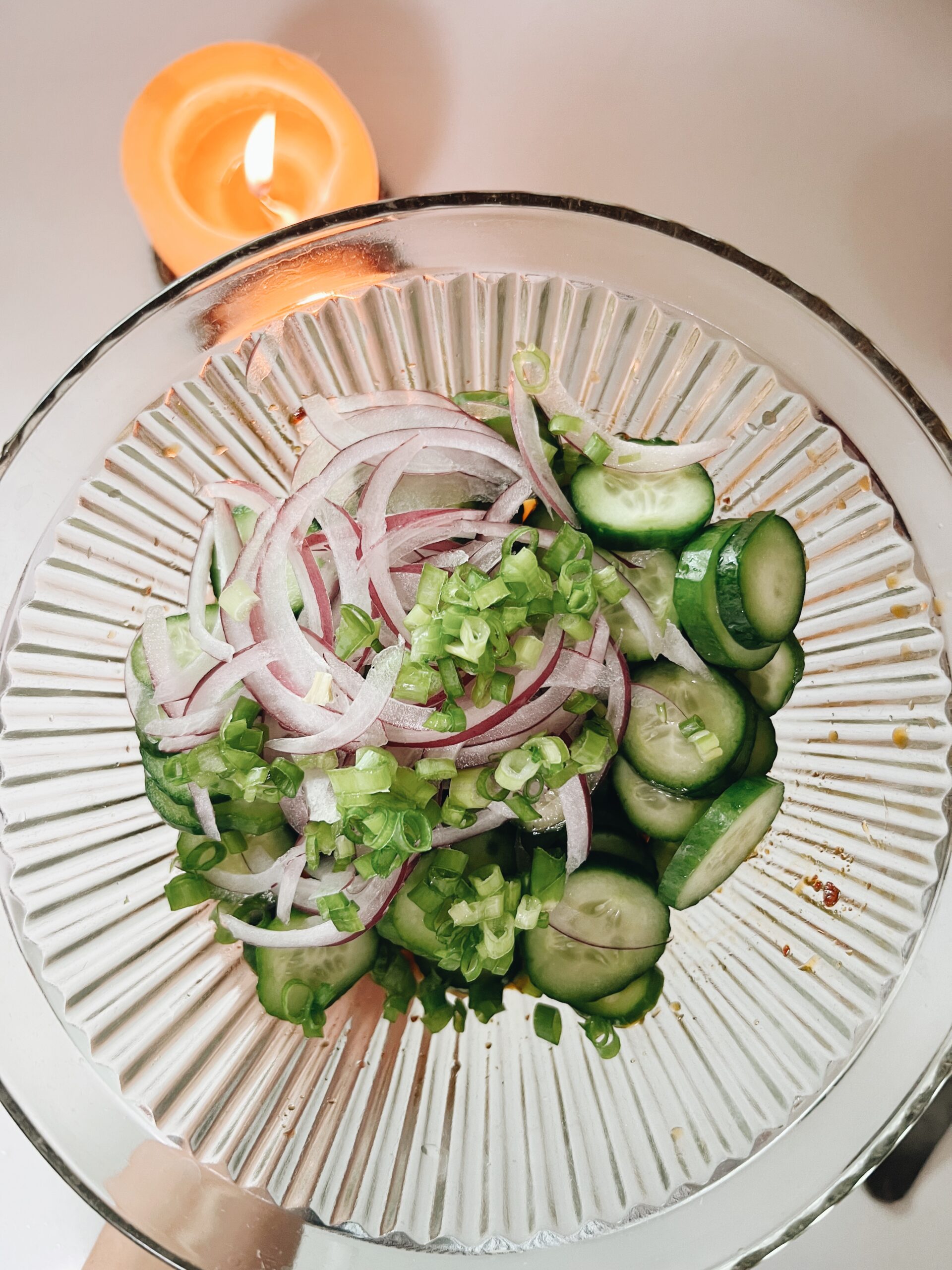 In a bowl you've whisked together the sesame oil, soy sauce, chili crisp and rice wine vinegar. If you taste it I GUARANTEE an eye roll of the satisfactory category.
Then violently throw in the sliced onions and cucumbers. Toss toss. Scallions, too. Another toss. 'Atta goil.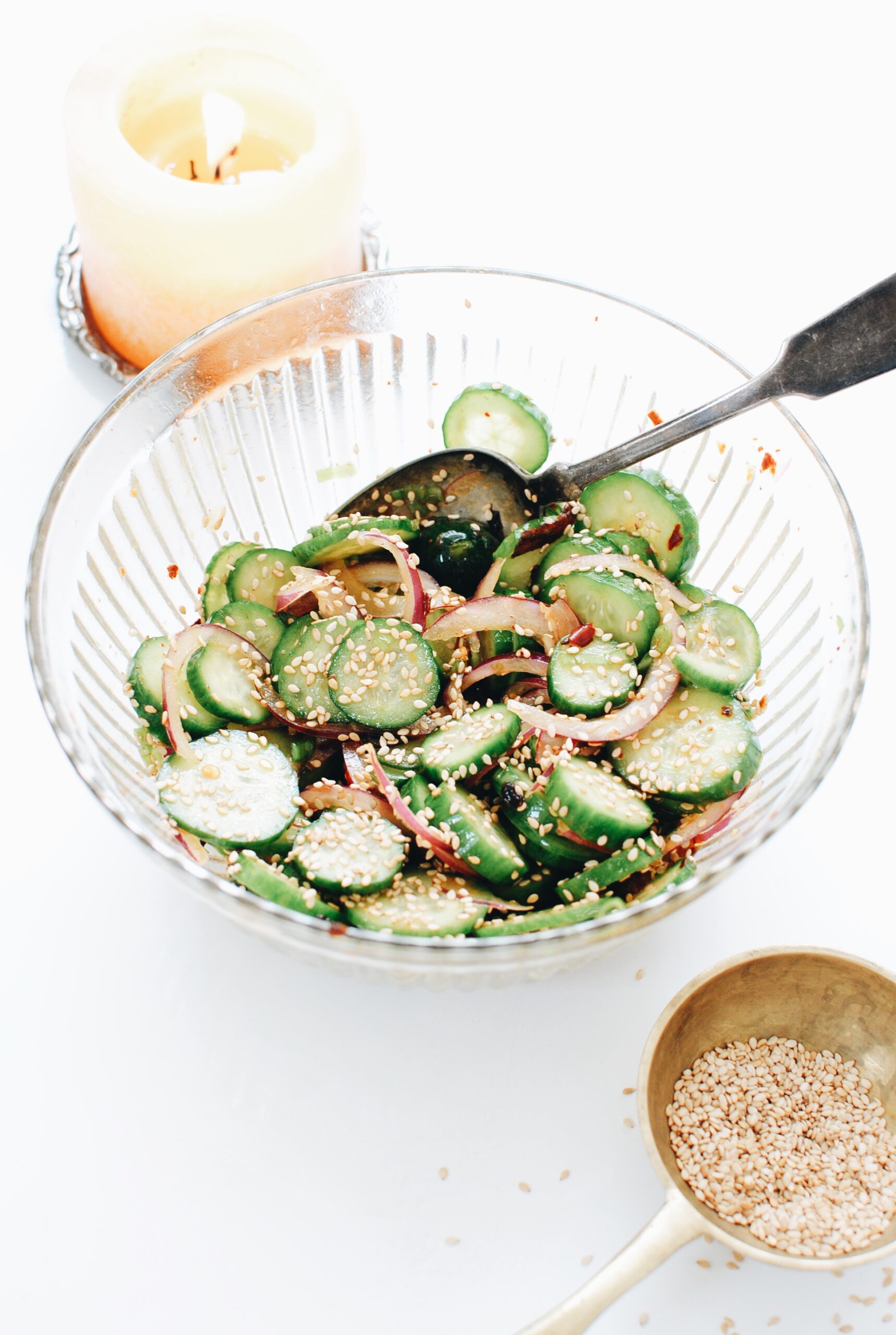 Hellooooo. Sesame seeds get sprinkled over the top and it's just delicious. Crunchy. (like I said) Salty. (like I also said.) Tell you what, just scroll up and read that other paragraph and that's exactly what you get.
The soy sauce is enough for the salt, but if you think you need more, a tiny sprinkle works. And if you need more heat, shoot, add some sambal oelek. Or more chili crisp!
You can chill this for a little bit, or serve as is. I KNOW you'll flip your entire face off for this.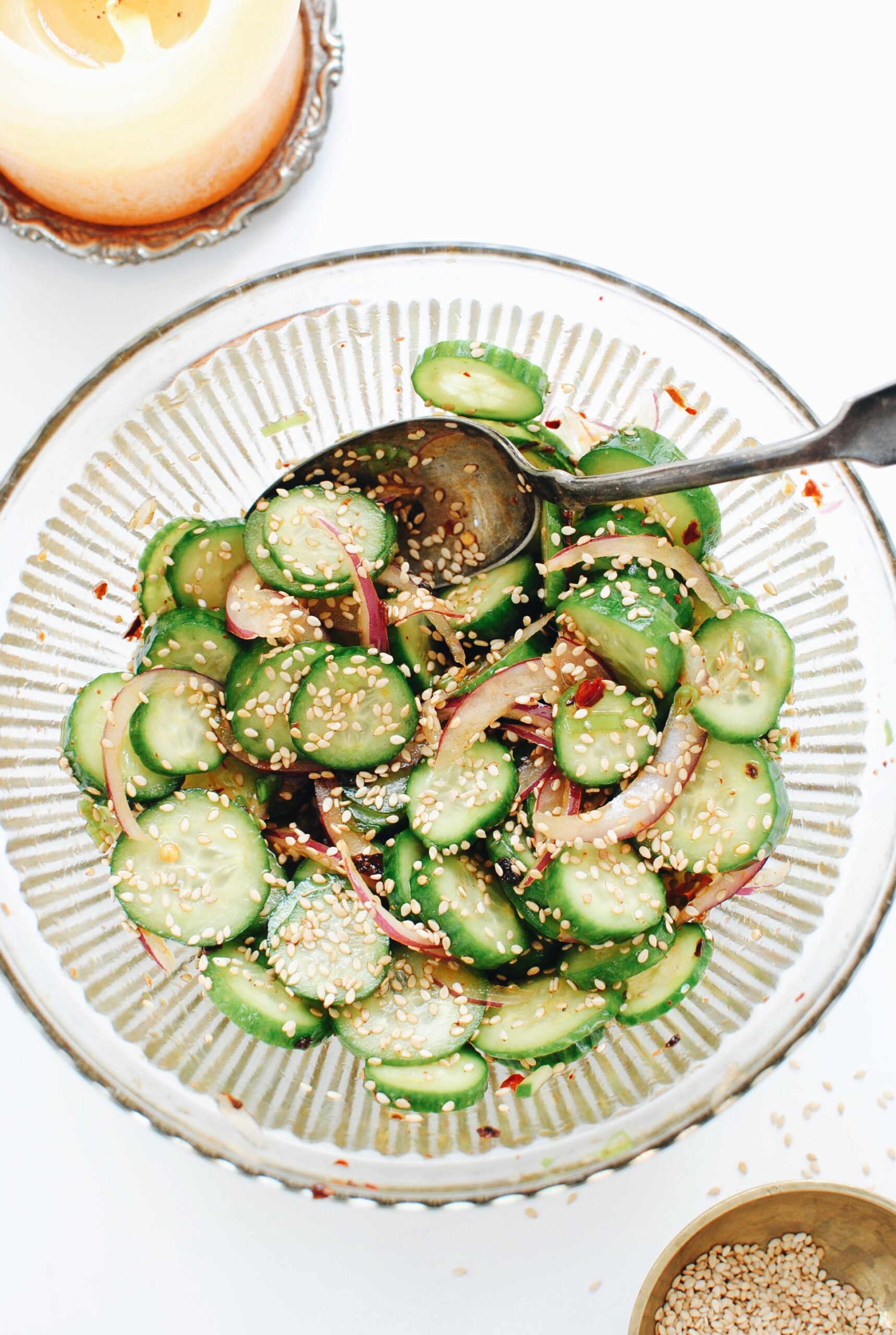 I just know it.
Ingredients
4-5 mini cucumbers (or one large), sliced
1/3 red onion, thinly sliced
2 Tbs. Sesame oil
2 Tbs. Soy sauce
1 Tbs. Rice wine vinegar
1 Tbs. Chili crisp
2 scallions, thinly sliced
2 Tbs. Sesame seeds, for garnish
1 Tbs. Salt (for the water bath)
Instructions
Place the sliced cucumbers in a bowl of salted water. Let this sit for ten minutes, then thoroughly rinse.
In a smaller bowl, whisk together the sesame oil, soy sauce, rice wine vinegar and chili crisp. Pour the mix over the cucumbers and add in the sliced red onion. Toss to coat. Garnish with scallions and sesame seeds. You can chill this as long as you want, or serve as is!
Serves 4 as a side.
7.8.1.2
649
https://bevcooks.com/2023/07/asian-cucumber-salad/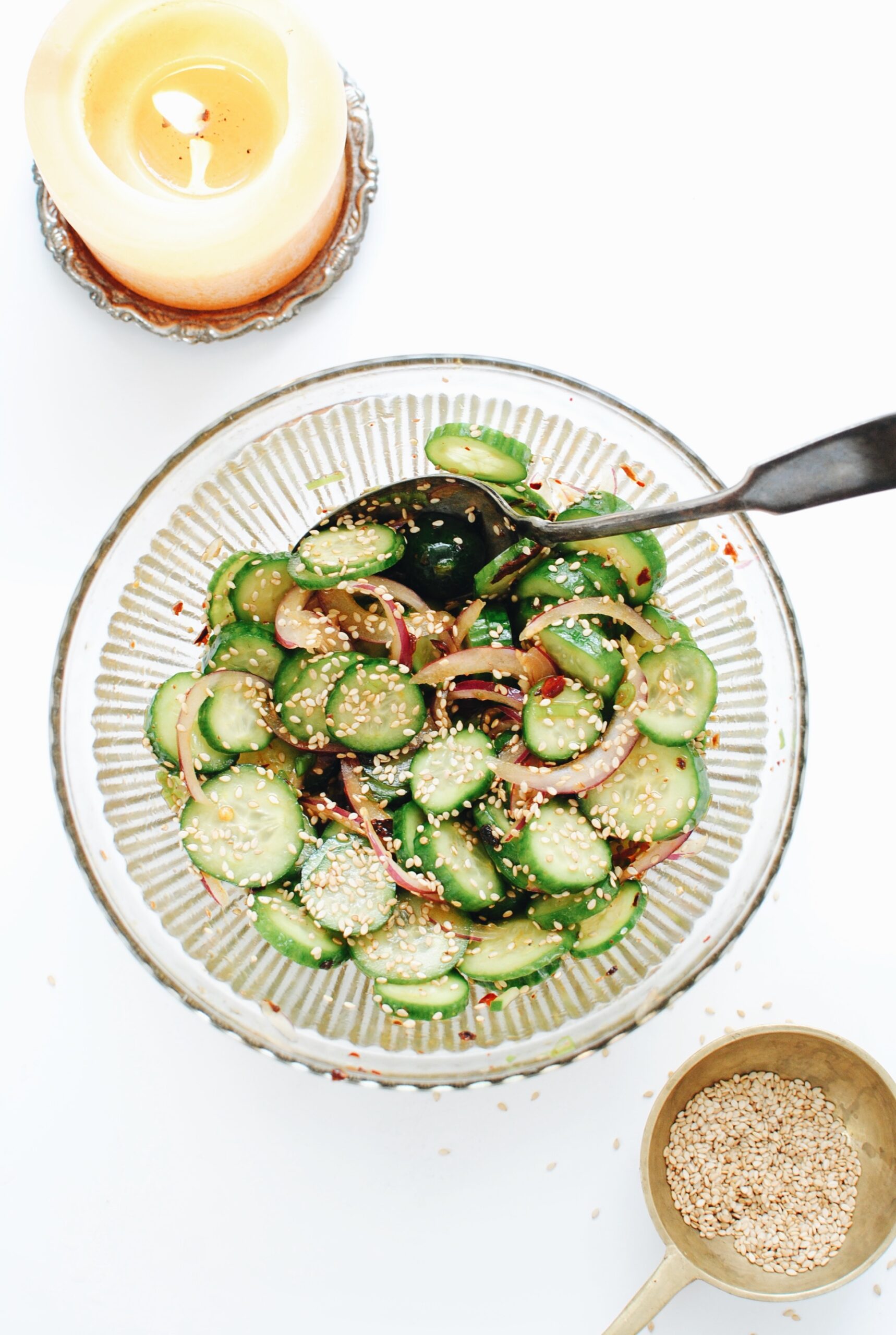 Go make it now or else I might completely freak out.