Meatballs are a love language, I say.
ALL HUMANS like a good meatball.
No, it's true. Ask someone next to you. Well, from six feet back. Ask them.
SEE? Everyone loves meatballs.
And it's the very end of May so I made you some! I made you turkey meatballs stuffed with herbs and onions and garlic. Very simple. You can make these early on in the day and let 'em sit on a tray in the fridge all day, all day. (<–said like John Candy in Home Alone when he's talking about the kid being left at the morgue with the body all day, all day.)
Let's peepeth.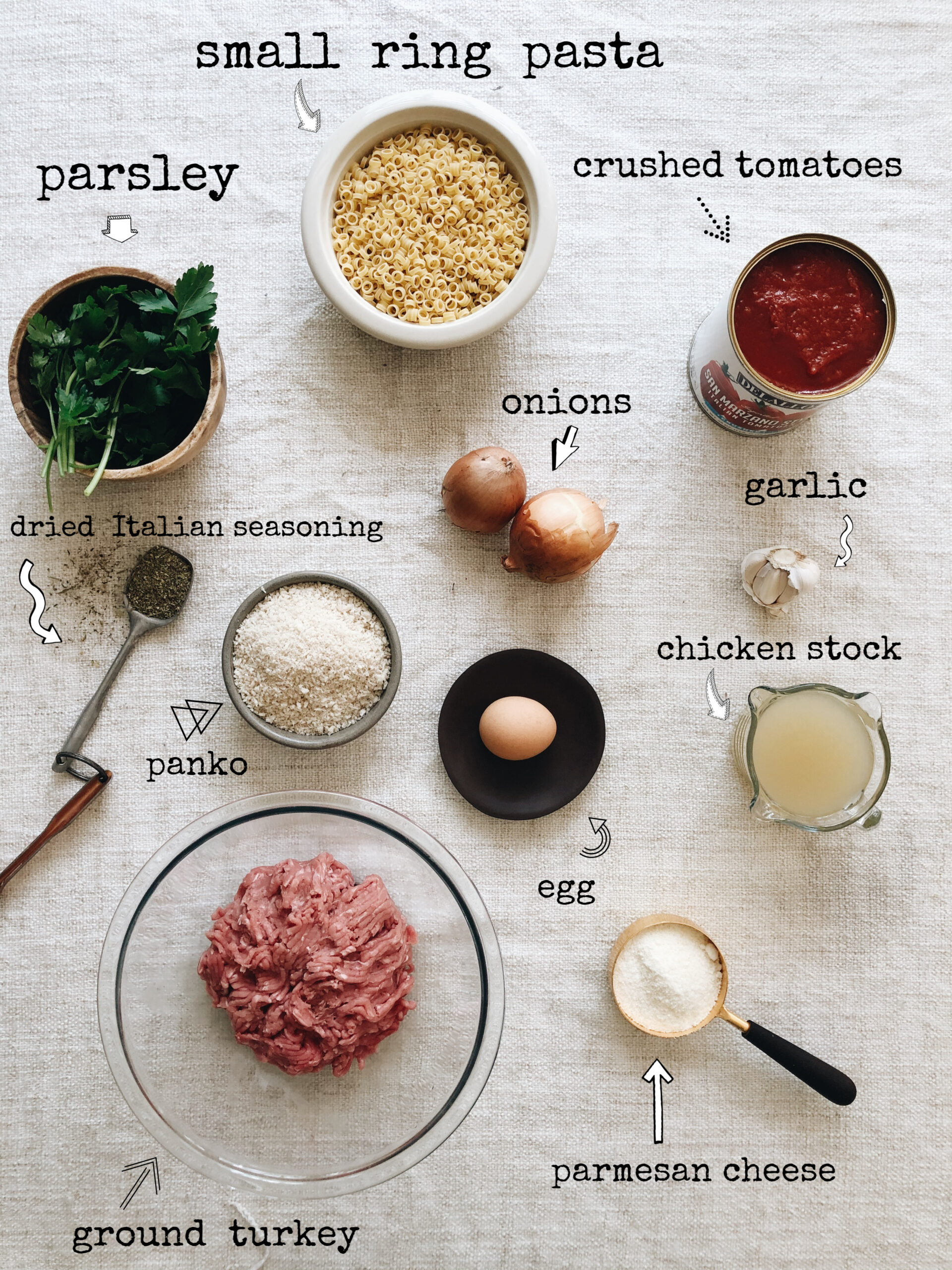 I know you're looking at those onions and are like, "TWO onions, Bev?" Chill out. Mine were small. I mean, look at them next to that egg. They could be cousins! Basically you want near a cup of chopped onion. It sounds like a lot, but truuuust.
And see those tiny pasta rings? That's what the box SAYS. Well, small. Not tiny. So if you happen to see "small rings" or even "baby waby rings" or even "just rings", it works. Just get something that reminds you of Chef Boyardee so you can laugh about childhood memories of eating that and feel joy slash shame within.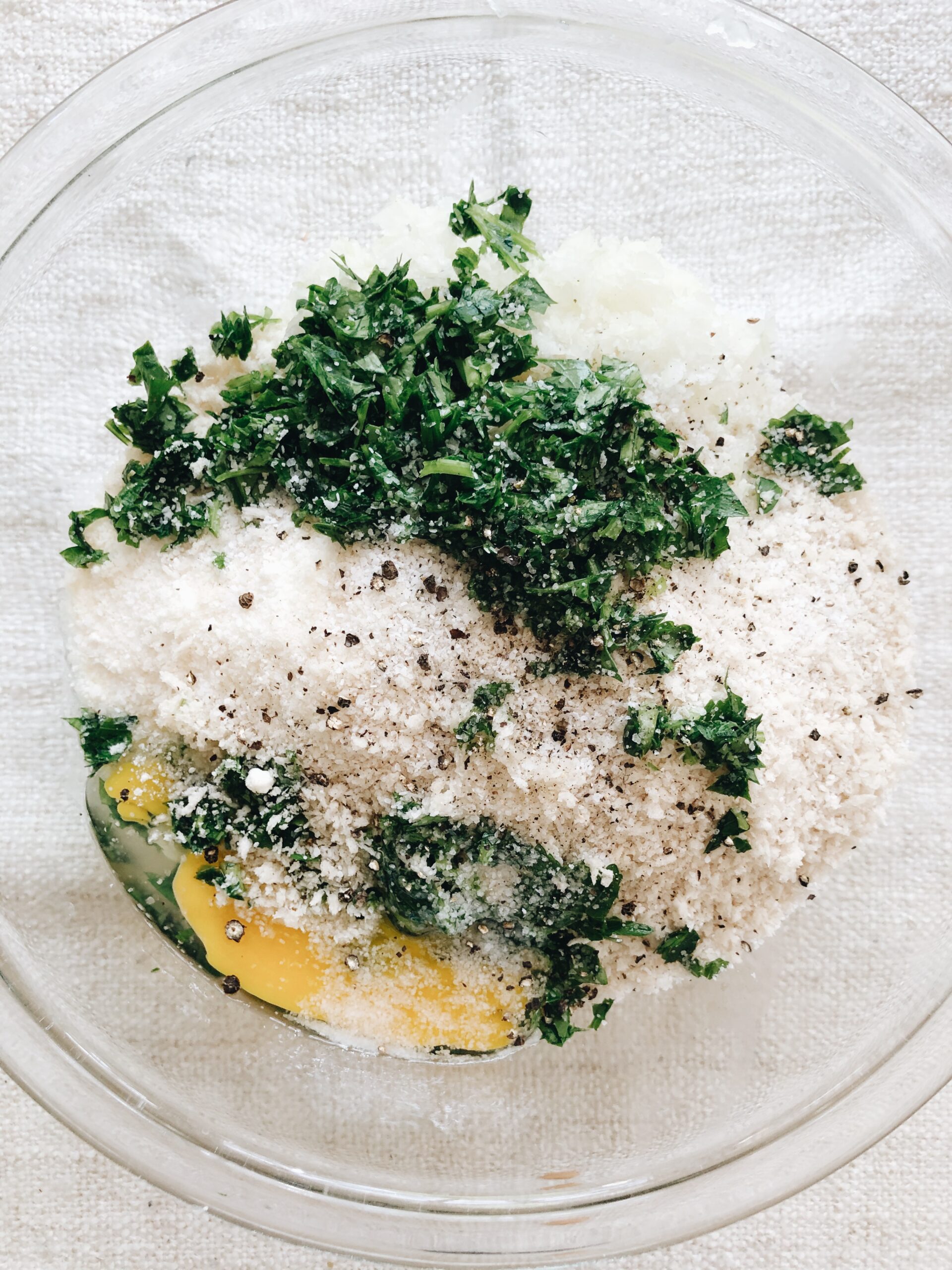 Mix up the turkey (pro tip: let the turkey package sit on the counter for an hour so that your hands and wrists don't ache from frostbite while you form the meatballs, okay?), panko, chopped parsley, egg, chopped onion, grated (or minced) garlic, dried Italian seasoning, parmesan and a good pinch salt.
It's simple but there's soooo much stupid flavor in that, George.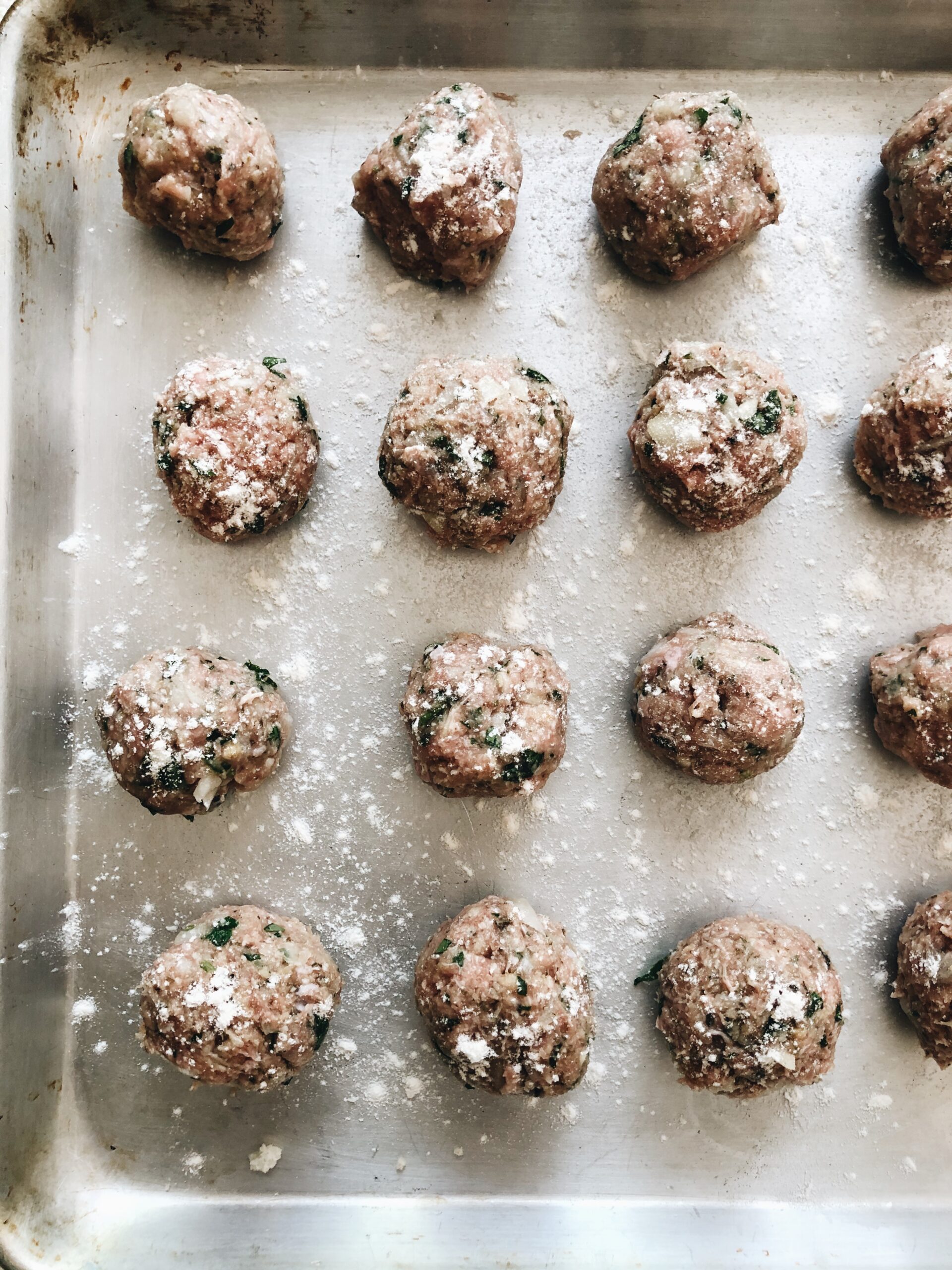 After you form the balls, here's another little tip – dust them with a tiny sprinkle of all-purpose flour. This helps them stay together and brown so nicely in the pan when you're searing.
If your kid happens to be looking over your shoulder, tell them you're having meatballs with powdered sugar on top for dinner.
Maybe don't.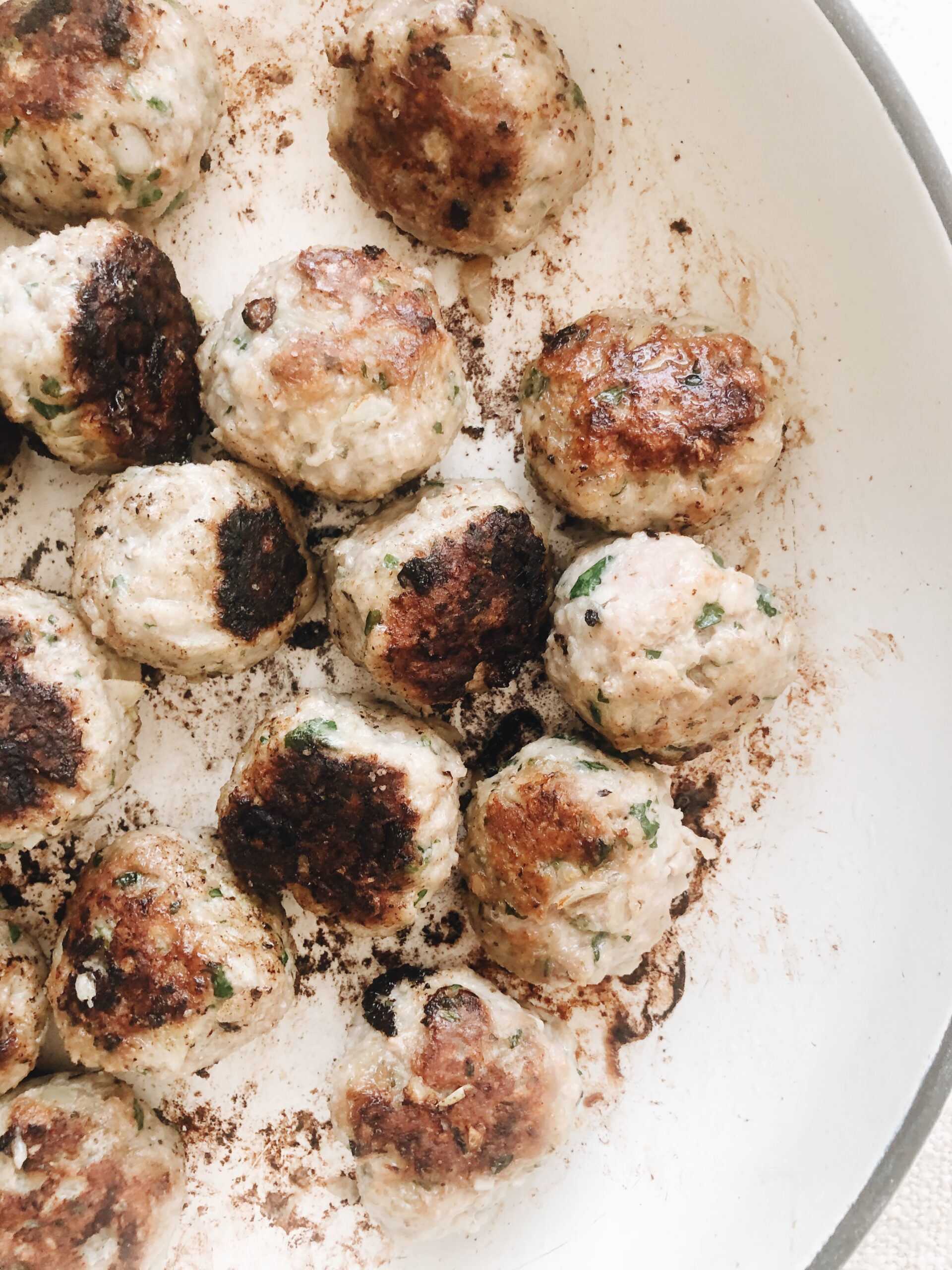 See? You love meatballs. We all love meatballs.
But after they sear, do something for me. Add a huge can of crushed tomatoes + one cup of chicken stock (you can add it right to the can and swish it around to get the last bit of tomatoes) and let the balls simmer for about ten minutes in this bright, acidic San Marzano tomato sauce. Add a pinch of salt, of course. And you know, once you taste it, you're welcome to stir in a Tbs. of honey or brown sugar to even out the acidity. I prefer a bright sauce. There's a time and a place for deep, rich tomato sauces. This isn't that. This is quick, bright, tangy and wonderful. It's a weeknight in the summer, for crying out loud.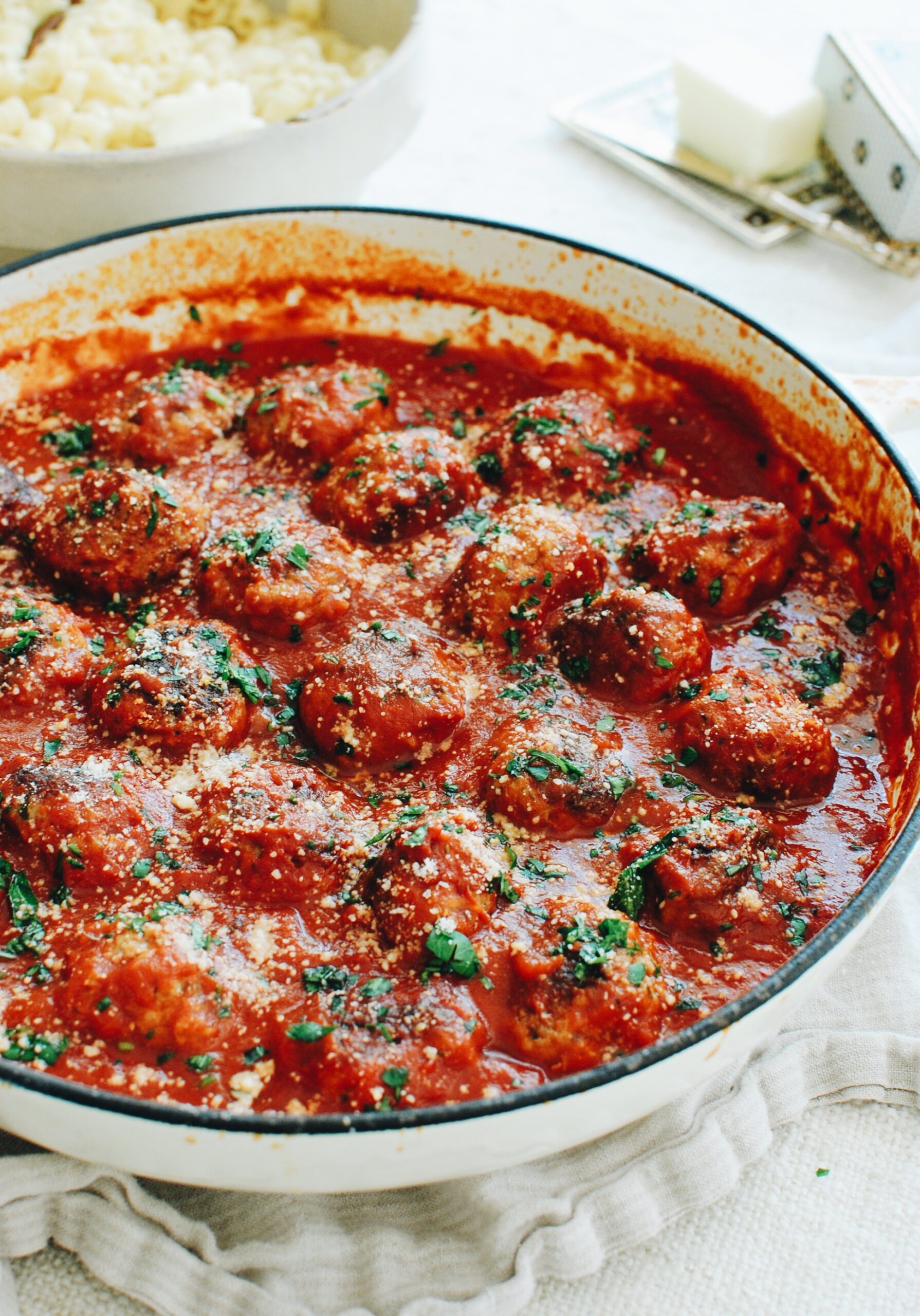 And see, all you'll do is garnish with grated parmesan cheese and more minced parsley. Absolutely divine. Just what you needed but didn't realize until this nano.
And think of how happy your kids will be after playing in your janky blow-up pool all afternoon. This will save, I sayeth.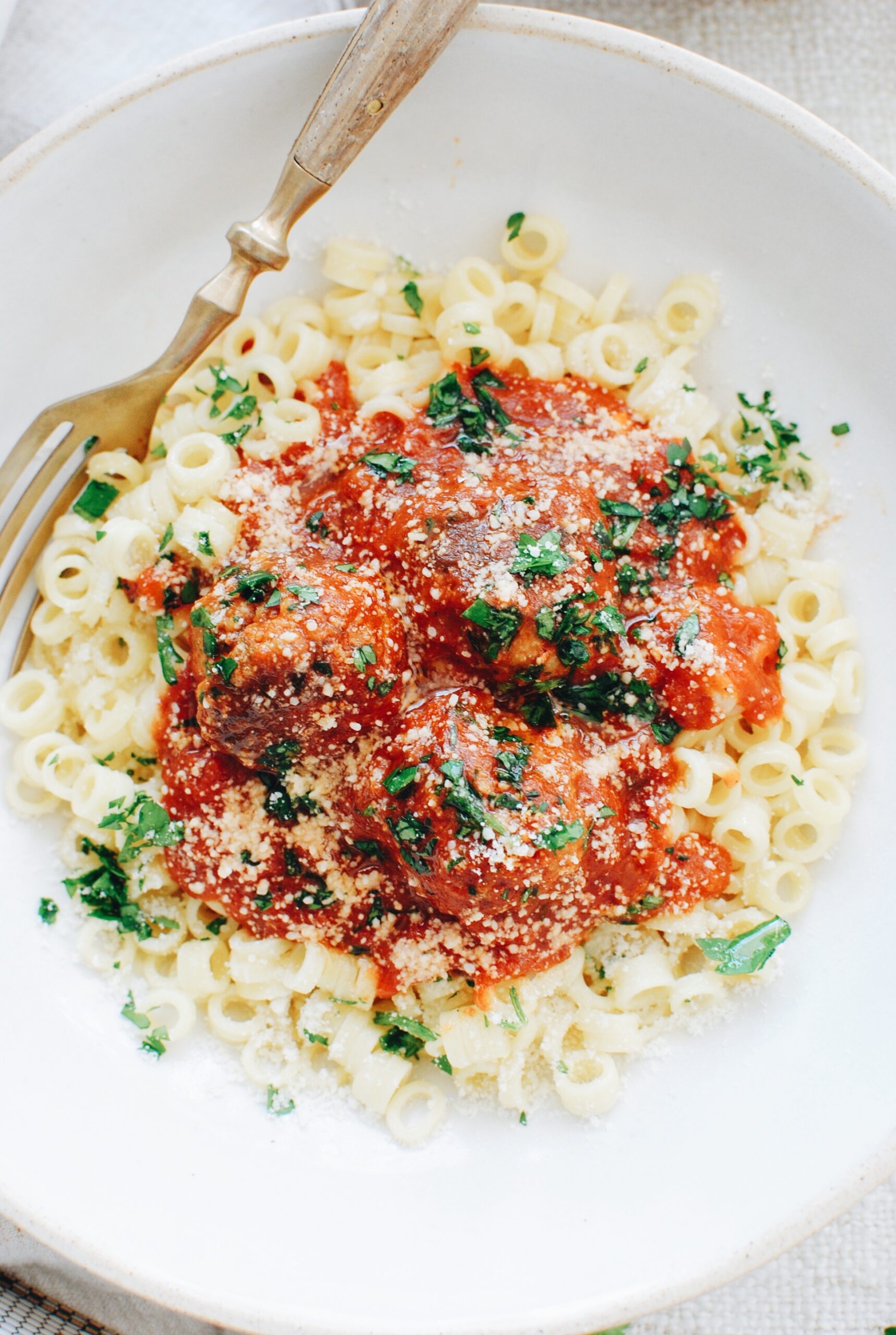 The rings! The itty bitty rings. Just boil, reserve about a cup of pasta water, drain, stir in the water plus a Tbs. of salted butter. Stir stir stir. Have this on the side when you serve.
Dudes.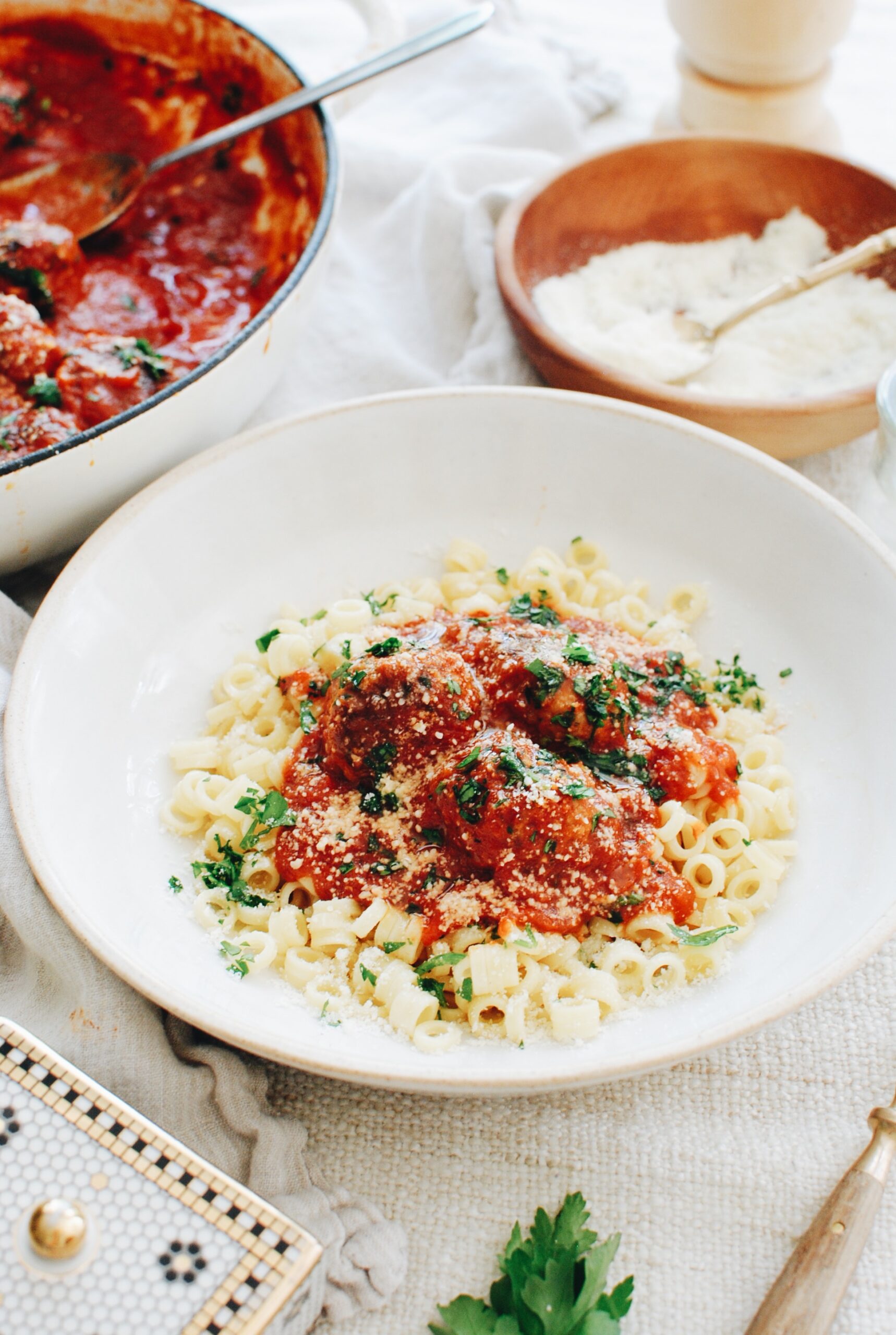 Is that a "deeeeeuuuuum" I hear from the back row?
It's classic, filling, flavorful, simple, family friendly, comfort summer grub, satisfying, pretty to look at, party on the tongue, all of it. It's all of it.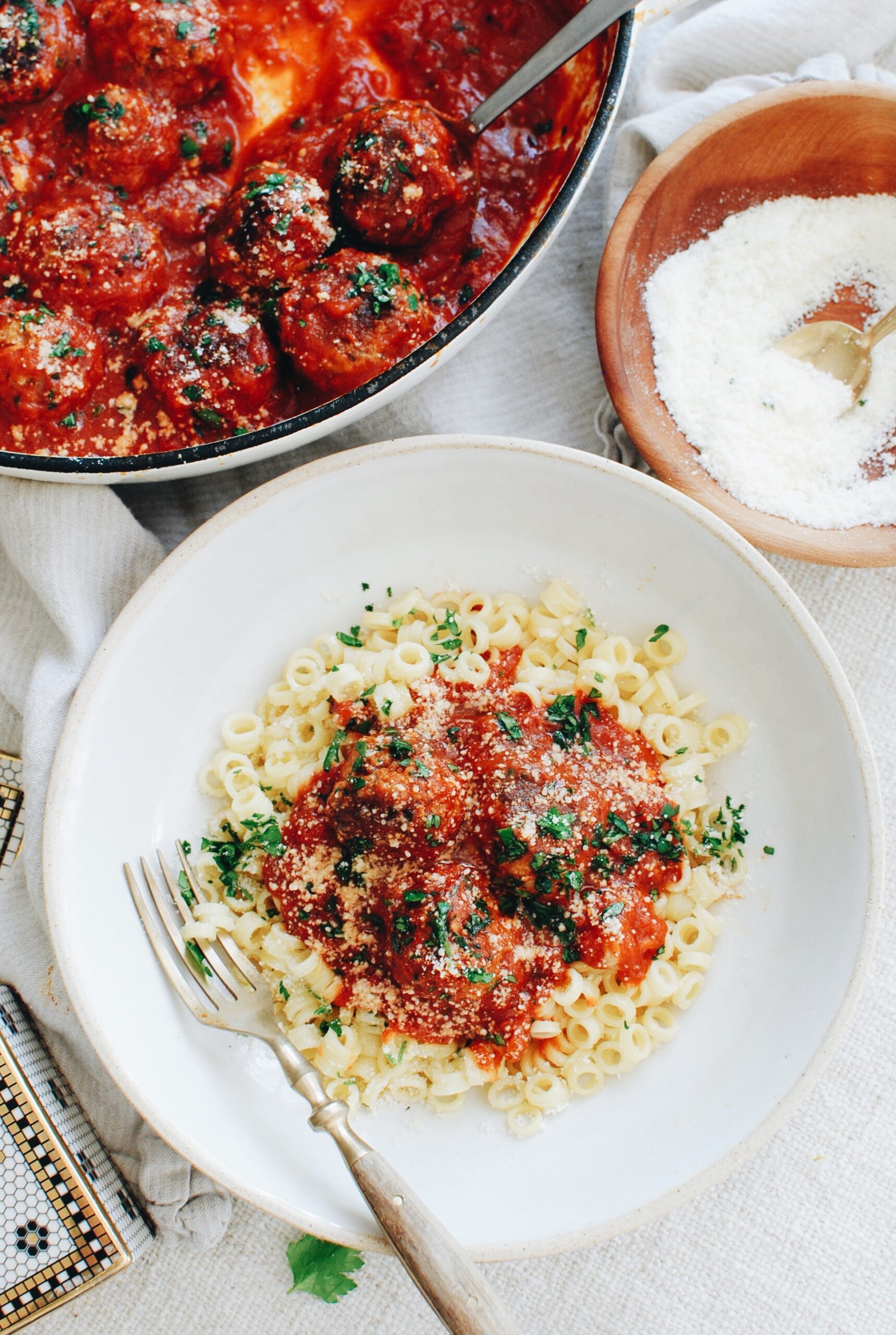 Class dismissed.
Turkey Meatballs with Ring Pasta
Ingredients
1 pound ground turkey
1 cup panko
1 Tbs. dried Italian seasoning
About a cup minced onion
3-4 cloves garlic, grated or minced
1 cup parsley leaves, chopped, plus more for garnish
1 egg
1/3 cup grated parmesan
1 Tbs. all-purpose flour
28 oz can crushed tomatoes (San Marzano if you can)
1 cup chicken stock
3-4 cups small pasta rings
1 Tbs. salted butter
Coarse salt
Instructions
In a large mixing bowl, combine the turkey, panko, Italian seasoning, onion, garlic, chopped parsley, egg, parmesan, and a big pinch of salt. Mix with your hands until fully incorporated. Now form 1-inch meatballs (or any size you want) and place on a large rimmed baking sheet. Once all the balls are on the sheet (and your hands are washed), dust lightly with the flour. Let this sit however long you want in the fridge. Just make sure to bring the tray out about 45 minutes before you want to cook, allowing them to come to room temperature.
Heat a large braising pan (or skillet) over medium-high. Add a Tbs. of extra-virgin olive oil, and arrange the meatballs in a single layer. Sear about two minutes, then gently turn each one to brown the other sides. Once browned all over, add the crushed tomatoes, chicken stock and a pinch of salt. Reduce the heat to medium low and let this go about 10 minutes. Nothing aggressive.
In the meantime you'll boil the small pasta rings until al dente, saving a cup of pasta water. Drain the rest, then pour into a serving bowl. Stir in the pasta water and Tbs. butter. So good.
You're ready to serve! Place it all on the table family style, or simply serve the rings topped with a few meatballs with sauce. Garnish with grated parmesan and extra chopped parsley. There ya go!
Serves four to six.
7.8.1.2
427
https://bevcooks.com/2020/05/turkey-meatballs-with-small-pasta-rings/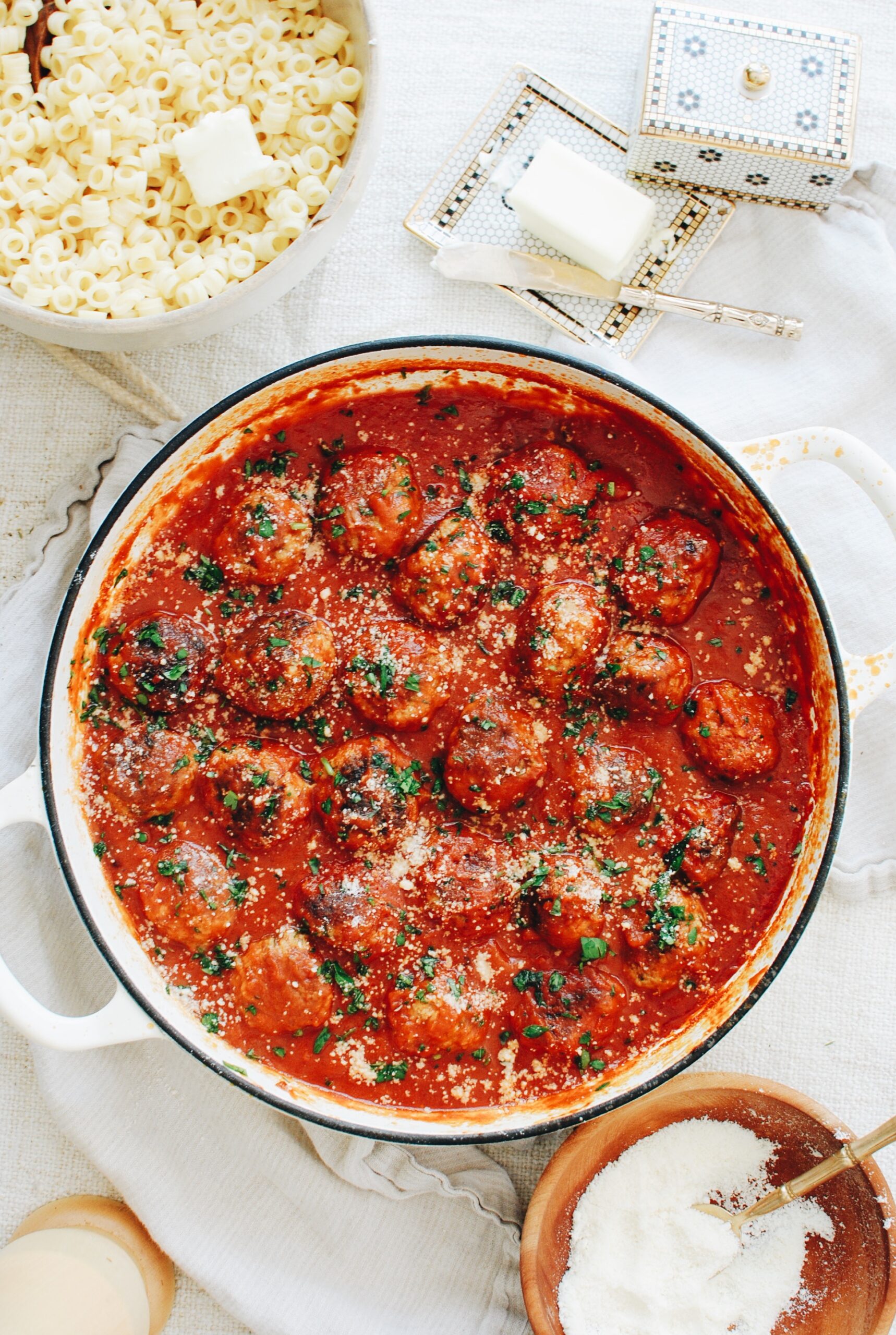 I have a feeling we're all making meatballs in a matter of minutes.