Do you need me to repeat "creamy basil sauce?" Because I'm more than willing.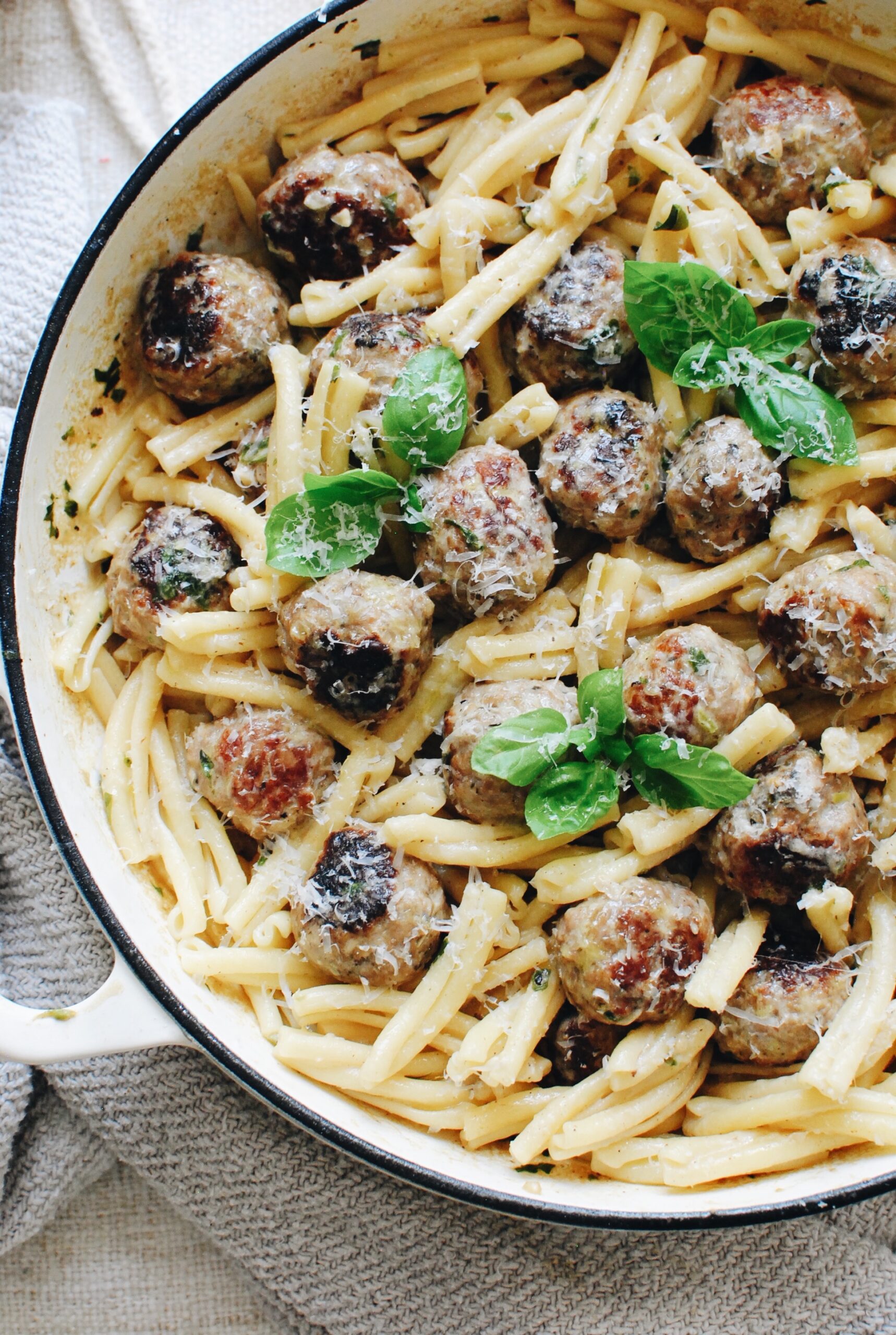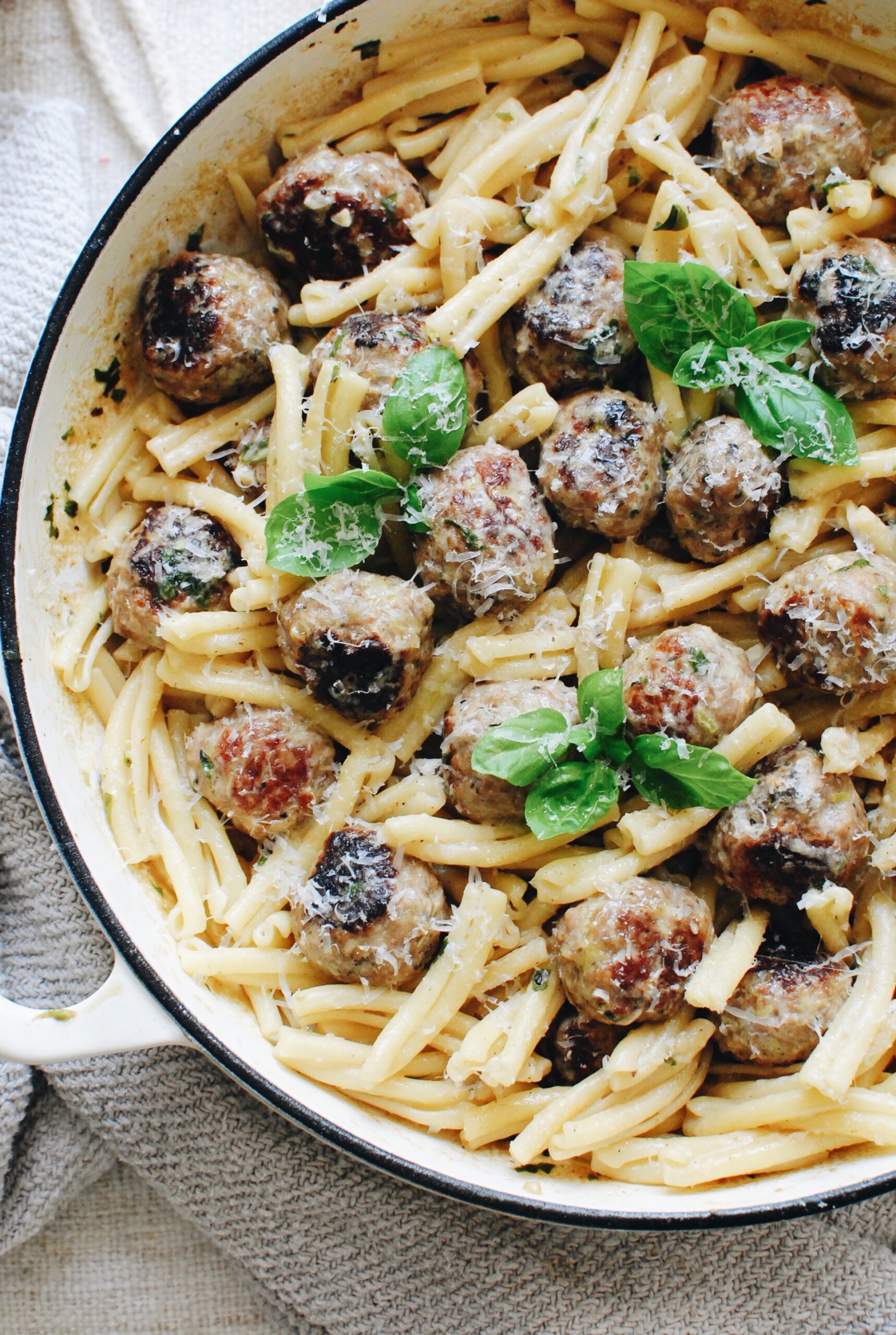 This is sort of like a "spaghetti and meatballs" sitch but only summerfied and creamland dreamland.
Plus we're putting pesto in the meatballs, so. Things are looking up for you. And your mouths. (wipe that drool, people are looking.)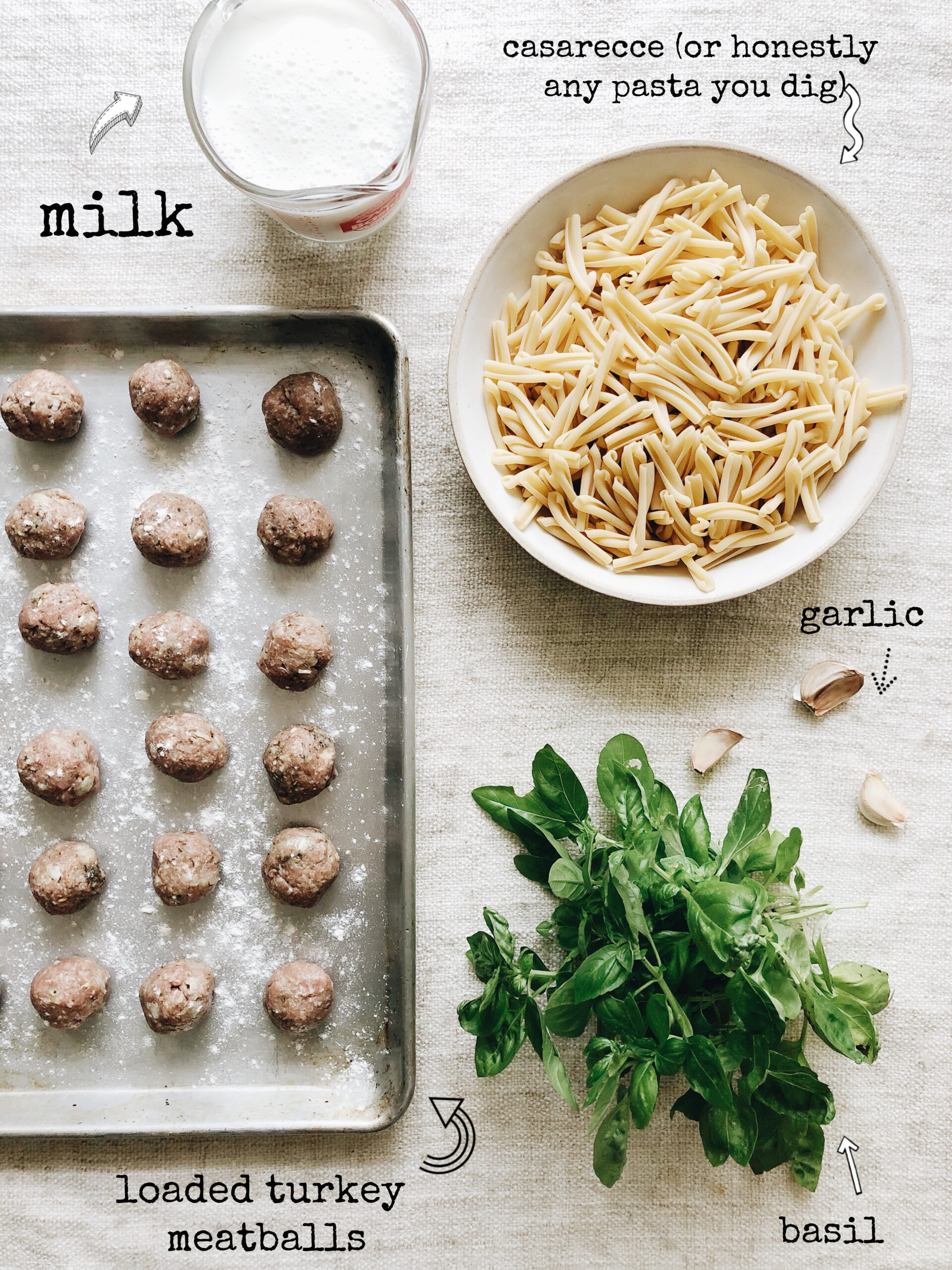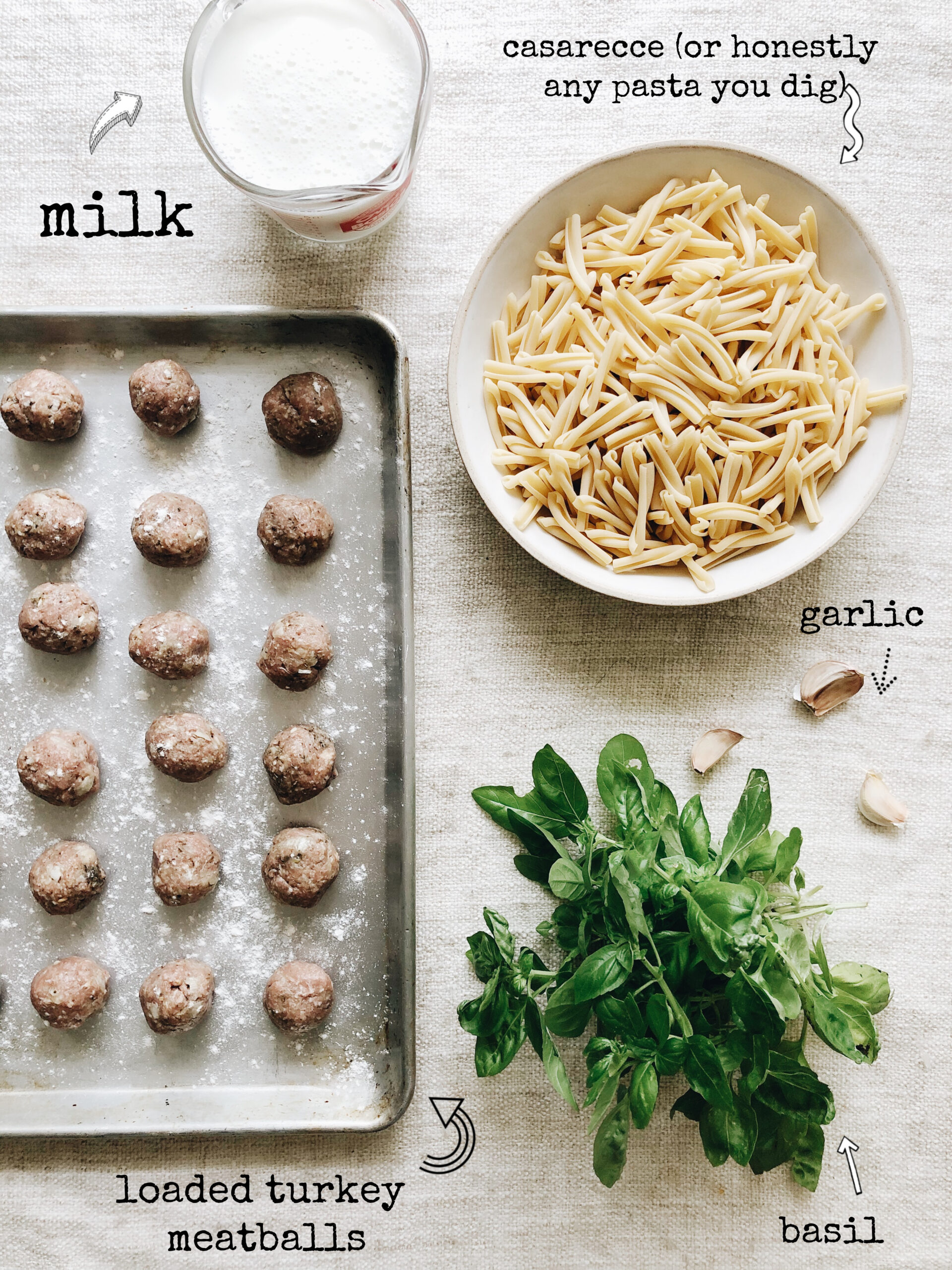 I'll start here and we'll go backwards, okay? We've got L O A D E D turkey meatballs (just you wait), an ish load of basil, garlic, milk and pasta! All the workings of a meal of your dreams, if I say so myself.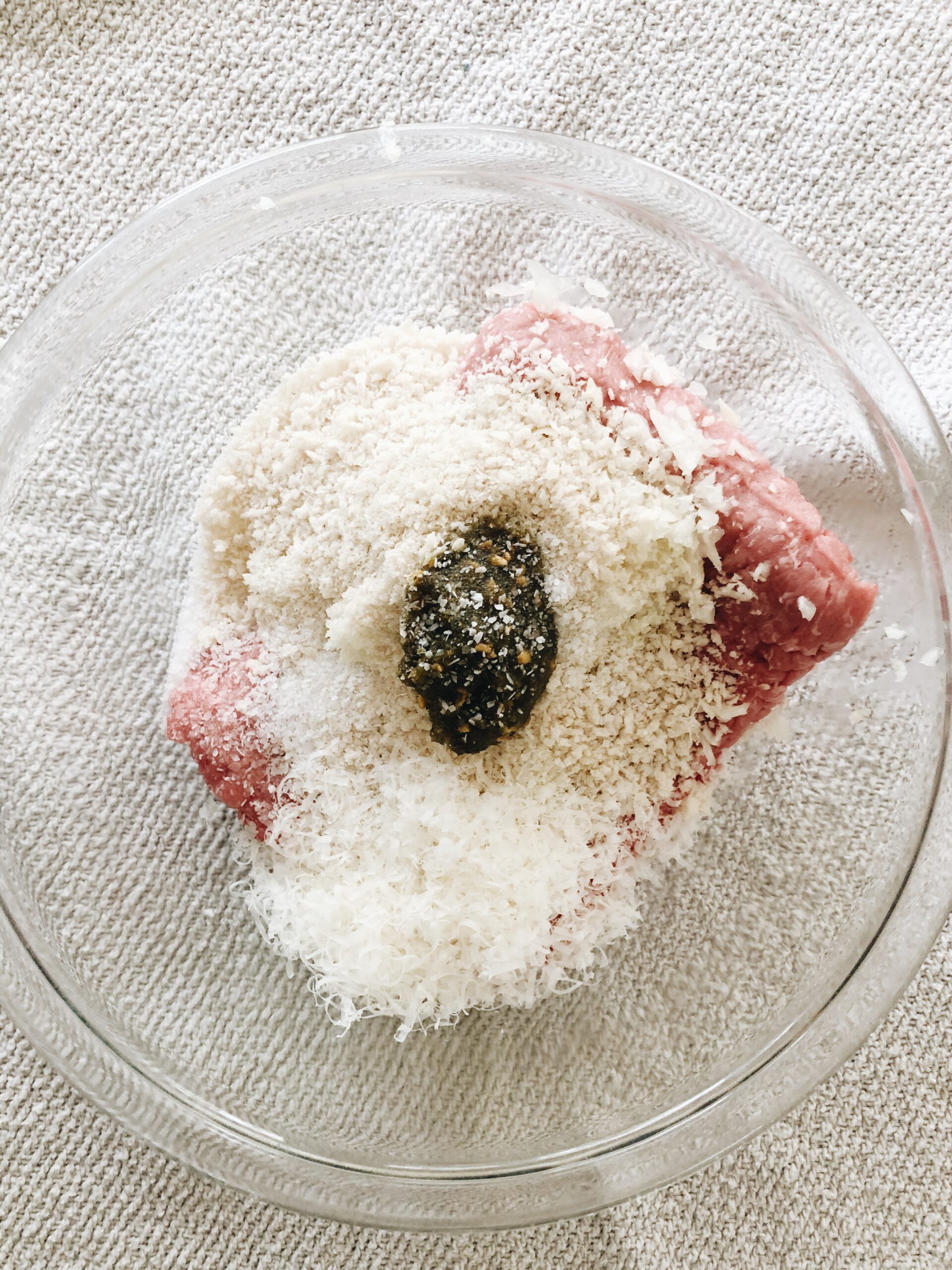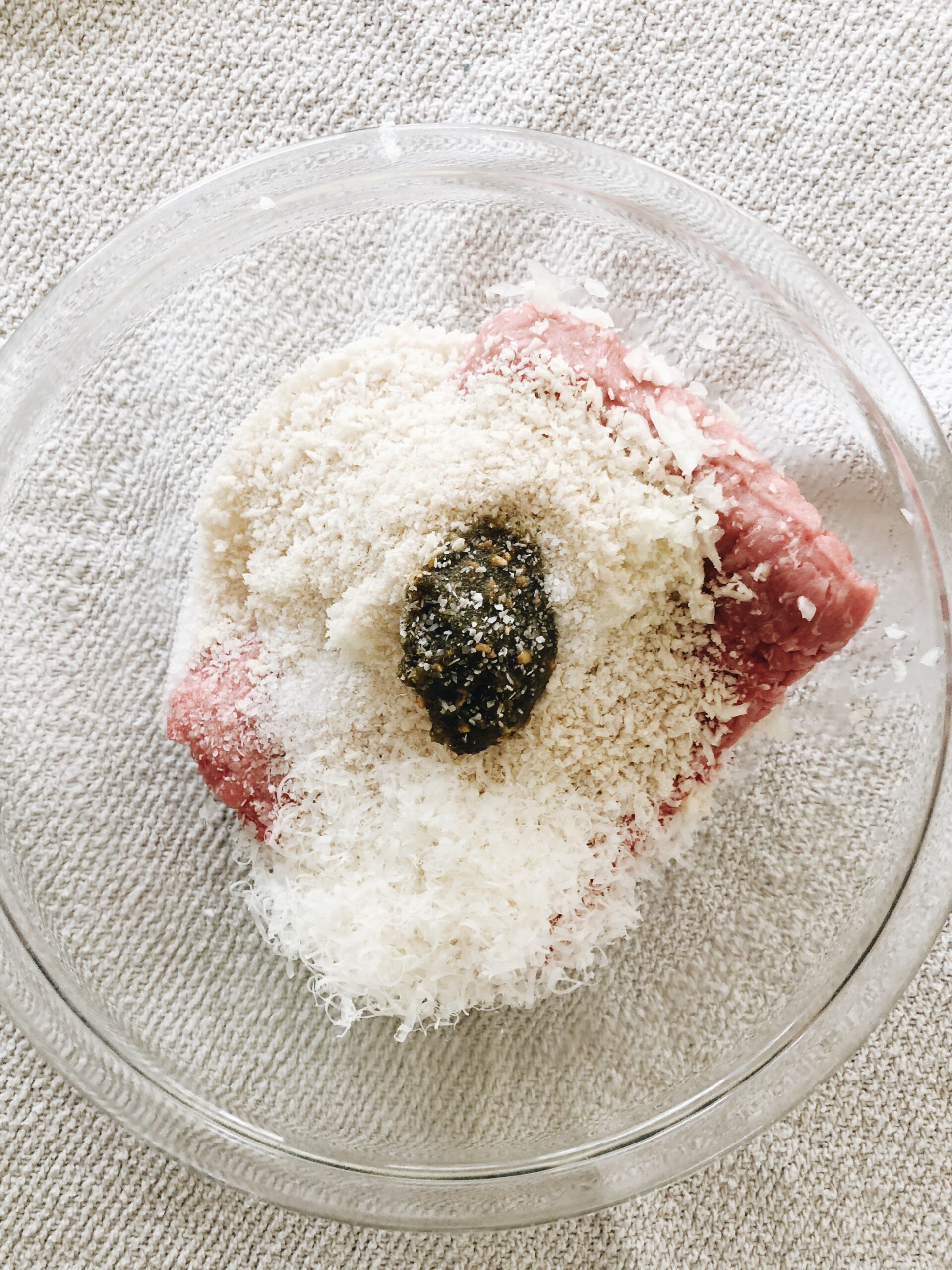 We'll start with the meatballs. I do dig turkey meatballs because you can play with the flavor so much. It honestly doesn't take much to transform turkey, so if you're used to beef, give turkey a go! …bble bble.
Sorry.
Not.
It's ground turkey + chopped onion and garlic (hi, mini food processor) + panko + parm + pesto (store-bought or regular, up to you!) + dried Italian seasoning + salt. Load her up.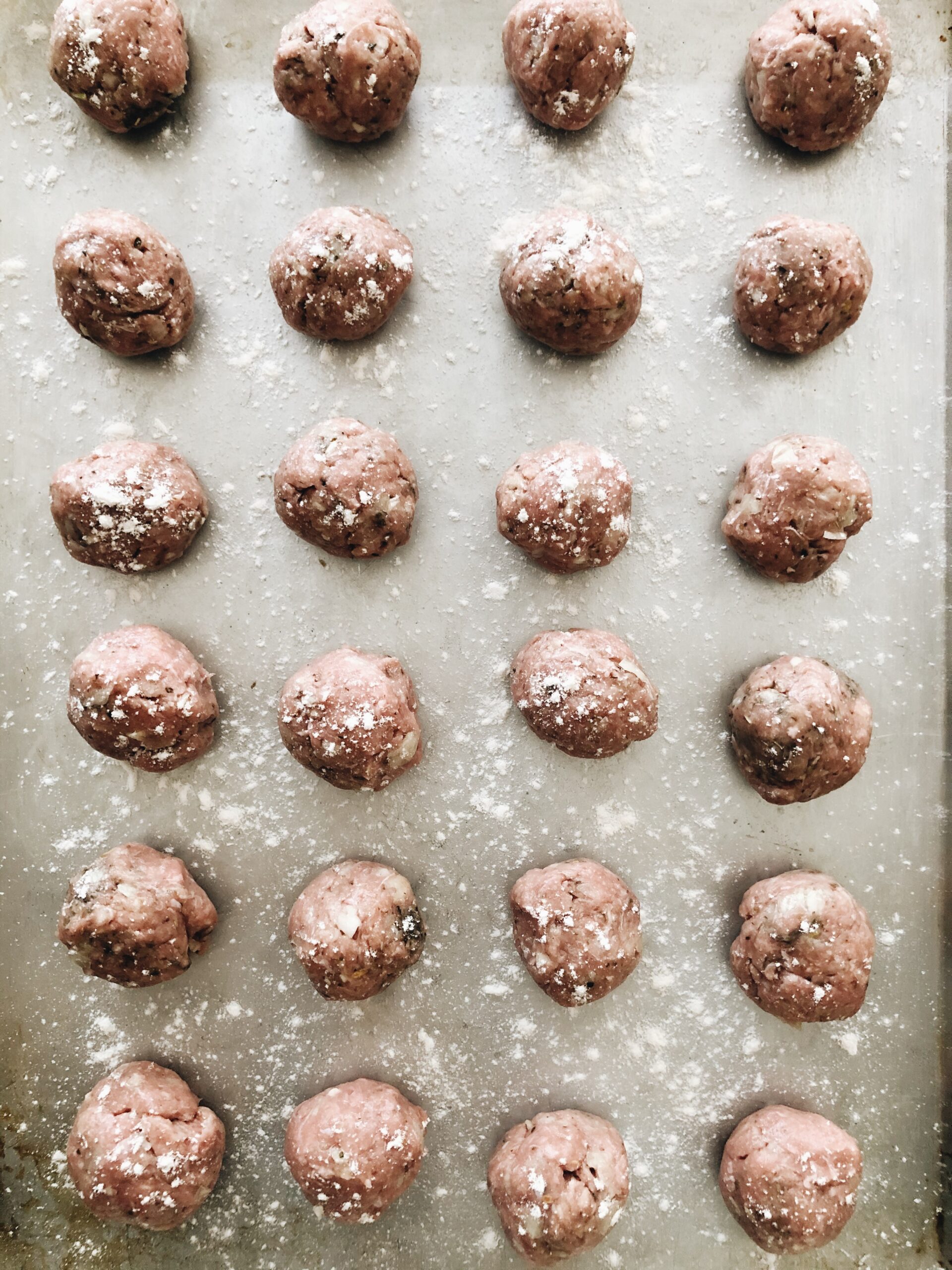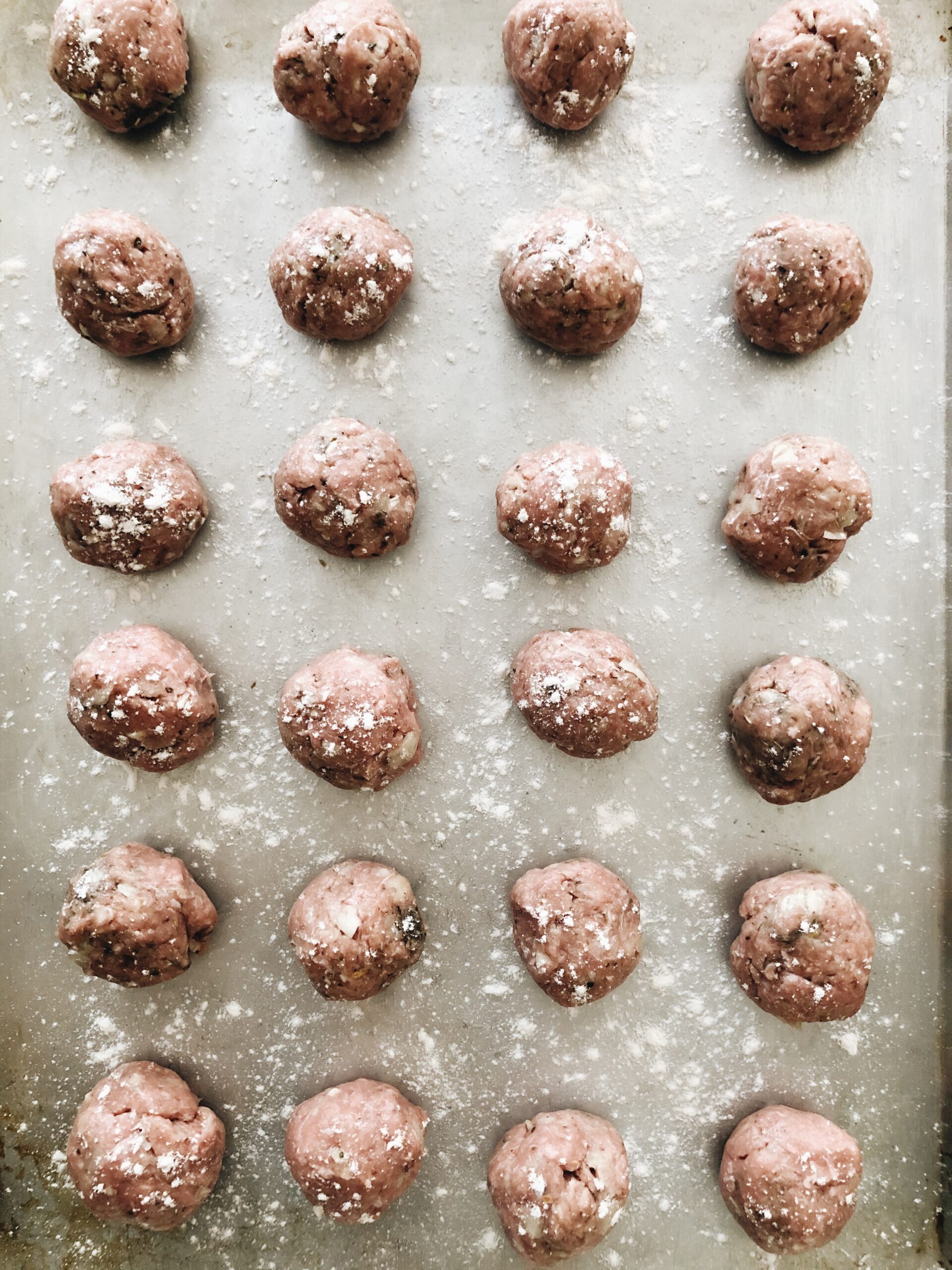 What I like to do is sprinkle the balls with flour, just so they brown a little better in the pan later on. You can make these early in the day or right before, it matters not.
See those little chunks of onion? YUZ YEW DEW. (<–coffee)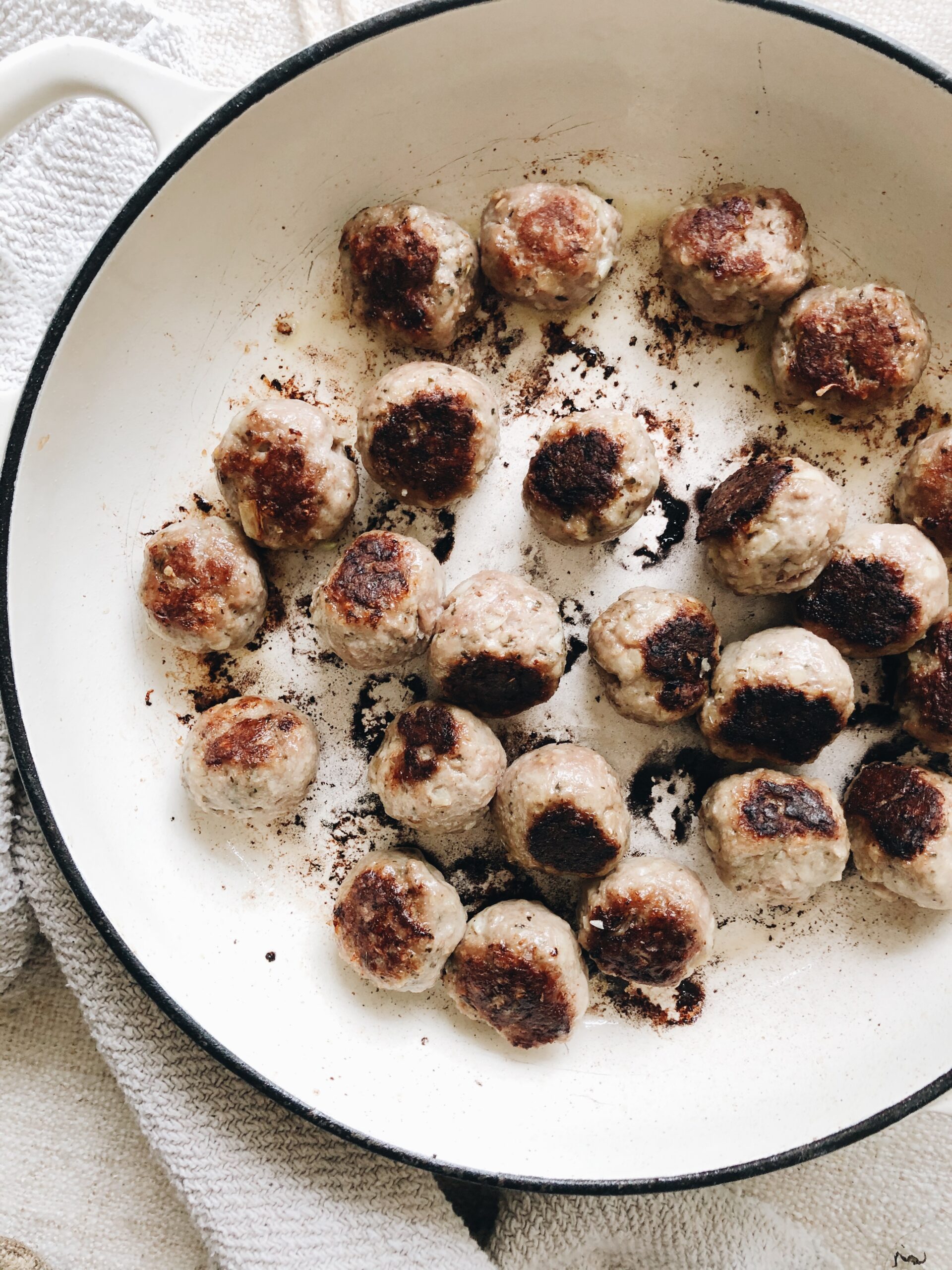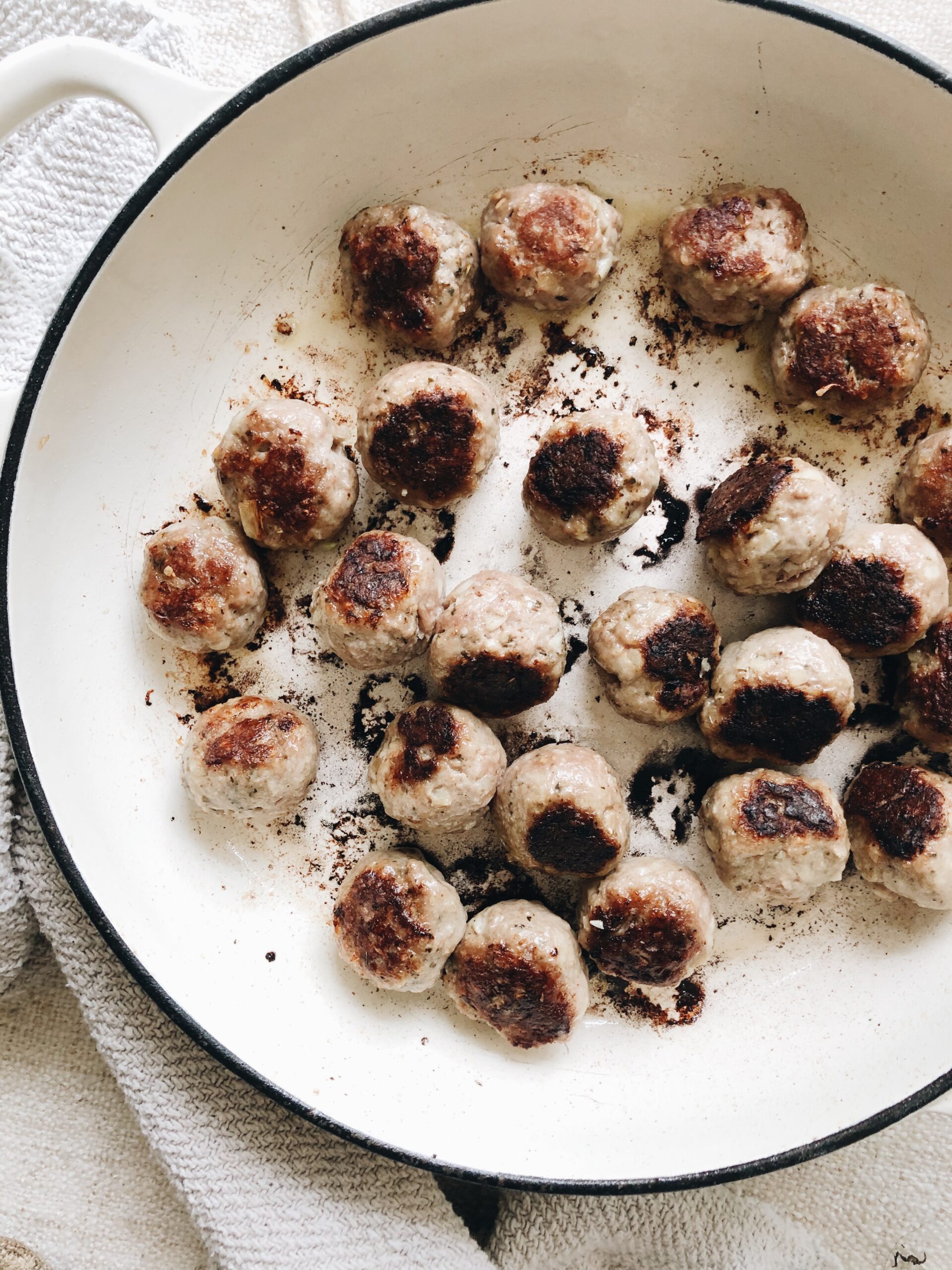 Sear them in a pan all over. They don't have to be cooked all the way through just yet because delicious simmering is on the way. We just want them ready for their close up.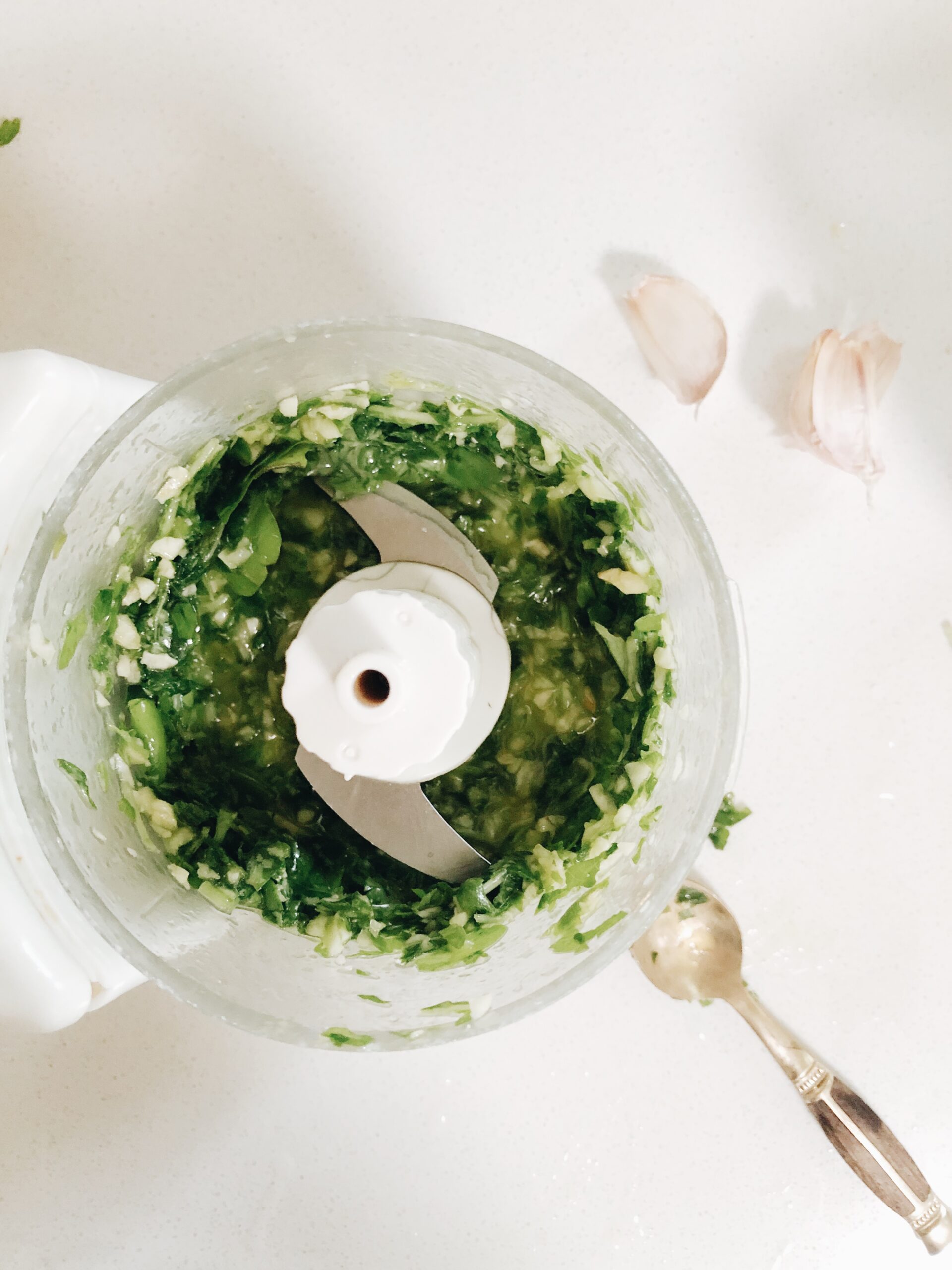 So in a mini (or reg) food processor, you'll blitz a lot of basil with some olive oil and garlic. An almost-pesto, but not quite. And listen, if you need to make a full-on pesto for the sauce, that's fine or whatever. I'm just trying to make things easier for you.
You're like, "But you used actual pesto in the meatballs, Bev. You're confusing."
Look, you're not wrong. I did use actual pesto in the meatballs. From a jar, hahaha! But I'm still a good person. If you want to use the jarred pesto for the sauce, fantastic. I used my garden basil for the sauce and the jarred pesto for the balls because there's a lot going on emotionally for me and this is where we landed, okay? JUST LET ME HAVE THIS.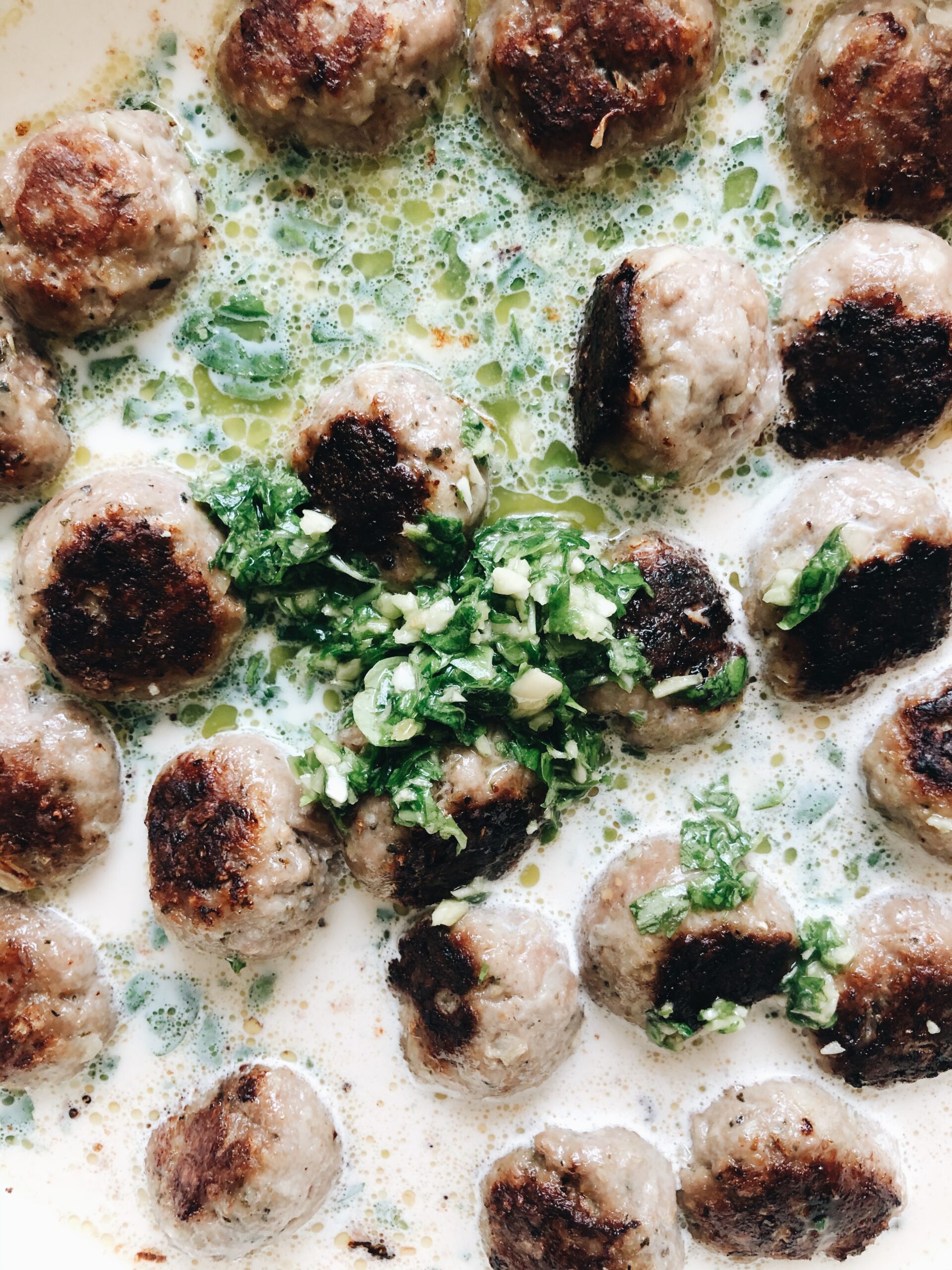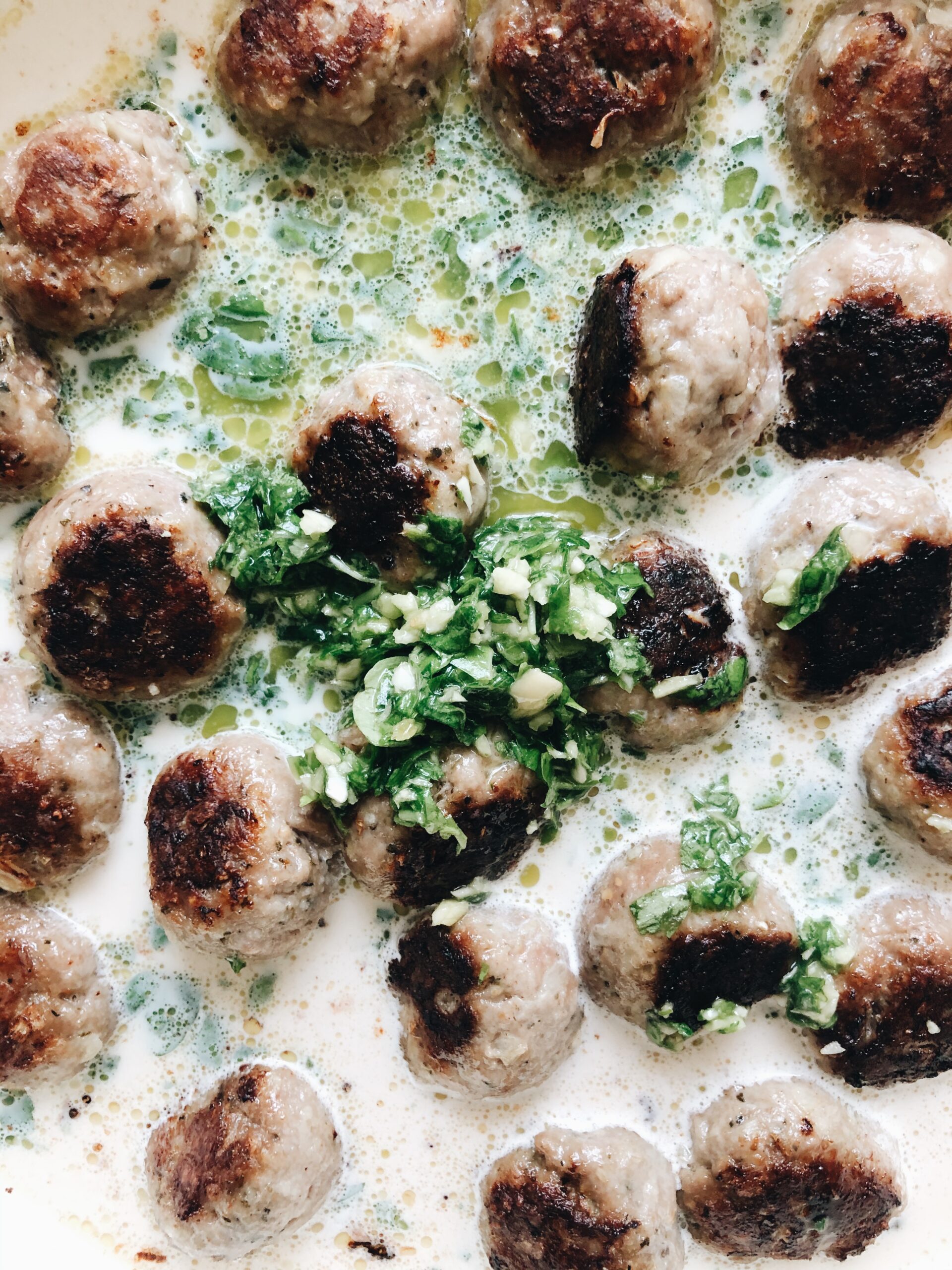 Ooooooo girl, look at that. This is right when you dump the almost-pesto into the milk.
You're like, "Why not a thicker cream sauce, like a roux?" Well, I dunno. Again, just making it easy. Tell you what, if you need to sprinkle a little bit of flour in the sauce to thicken, go right ahead! The starchy pasta will absorb a lot of the cream and it all thickens just fine in the end. We're okay. We're alright.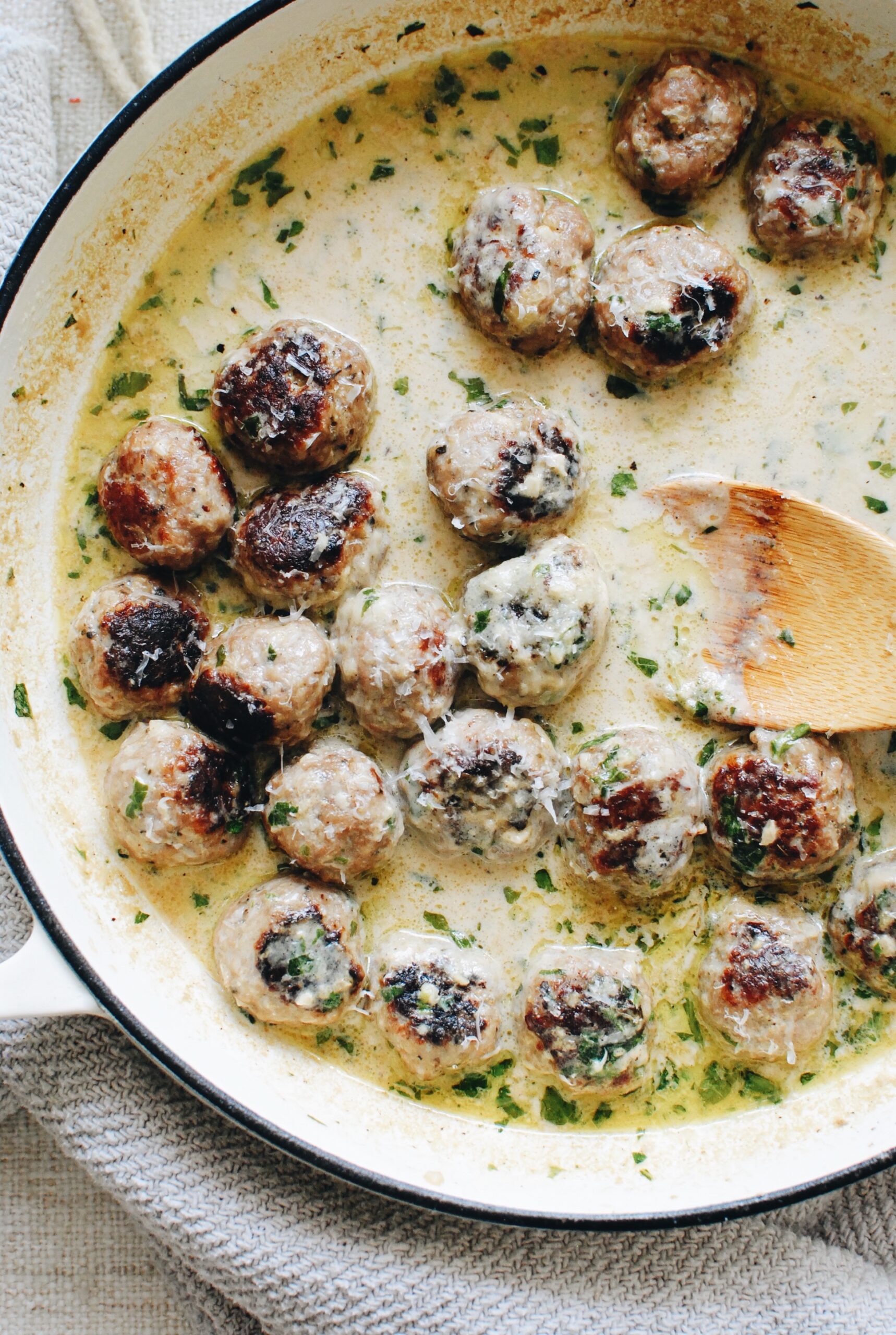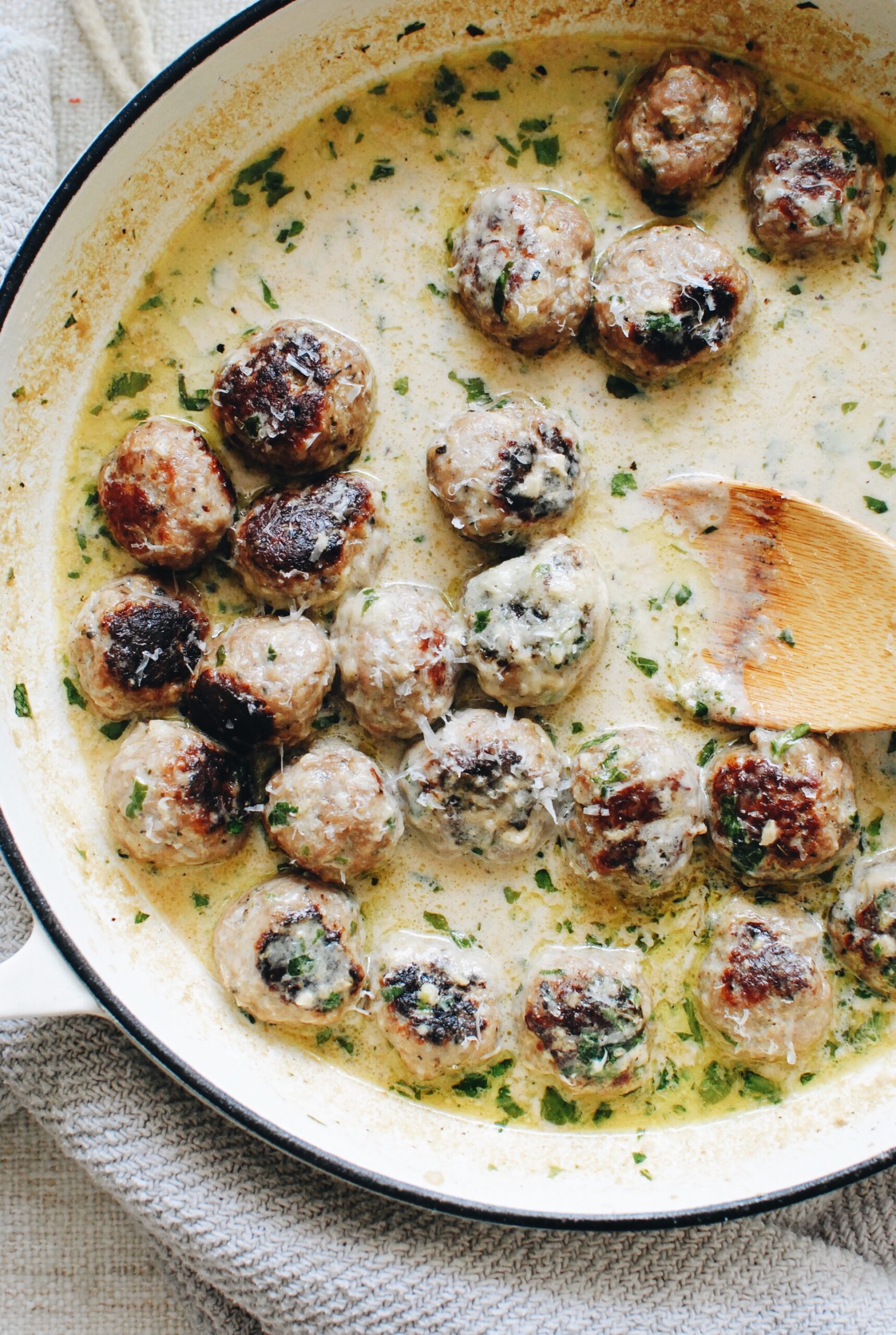 I mean, oh my gosh. If you want to stop right here and just dredge toasted country bread through this then you are truly living.
But I'm adding pasta. Here we go.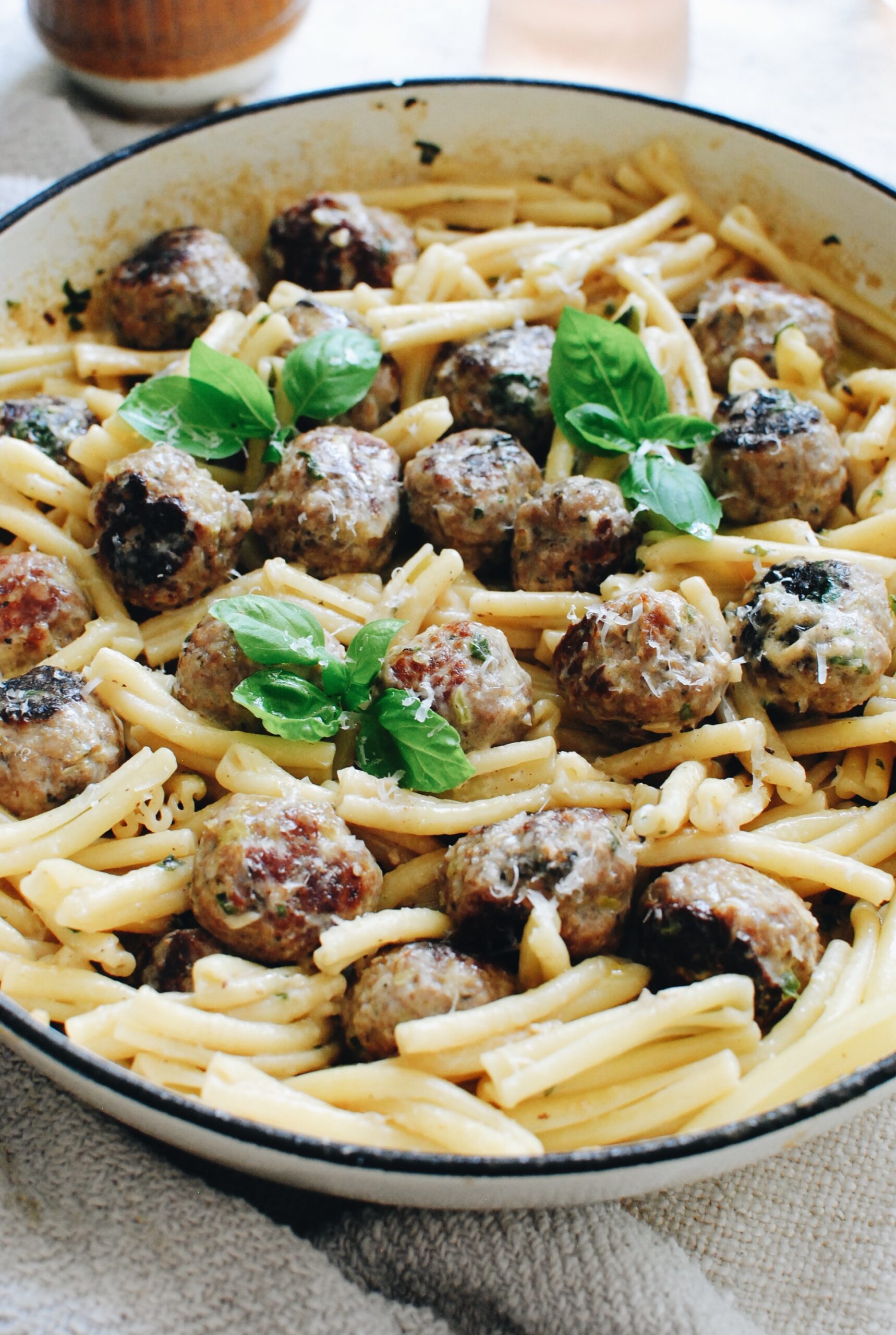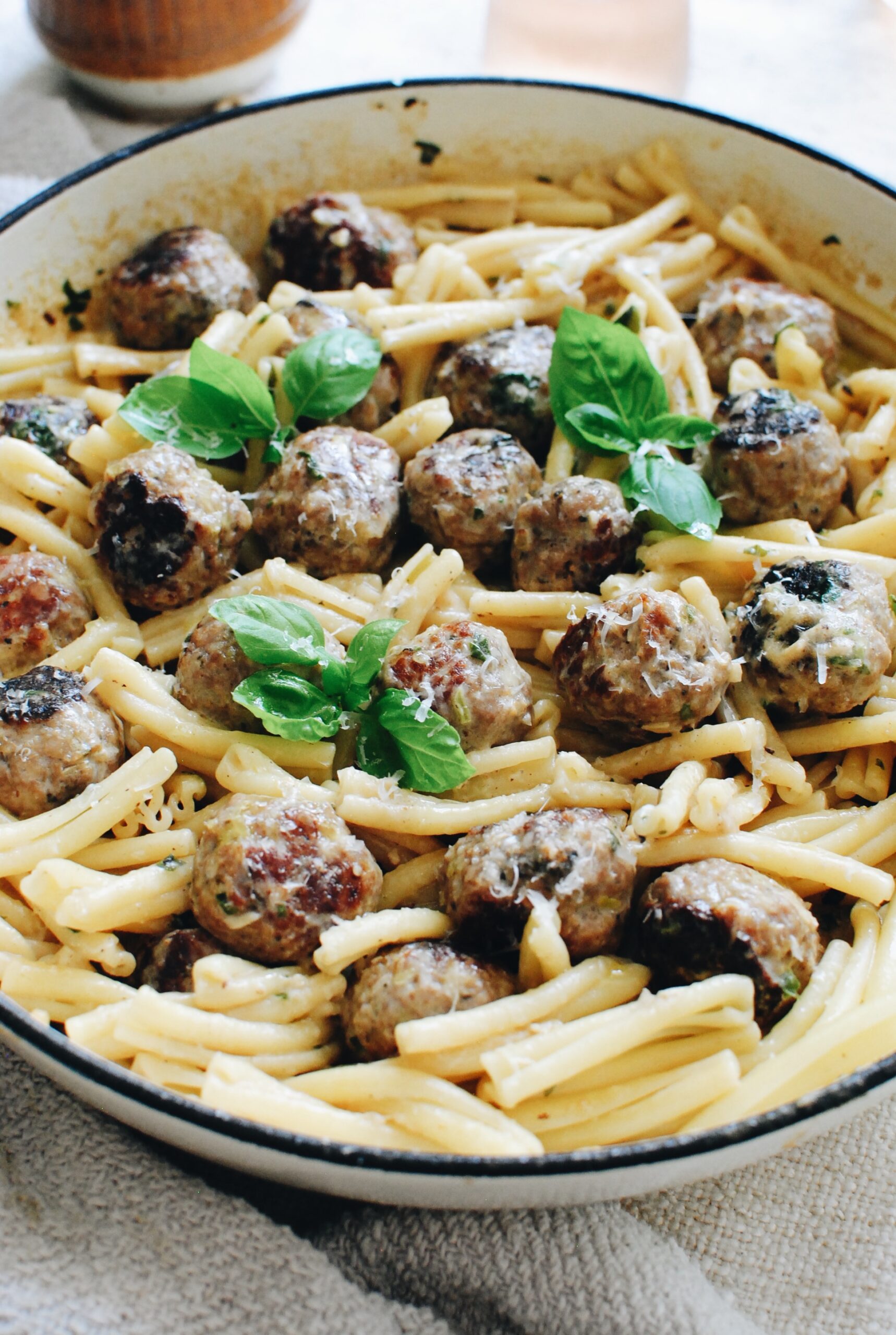 Hiiiiiiieeeeeeeee okay. That pasta can be anything you want. I had this fun twisty shape in the pantry, so I spread my wings. But honestly – long, short, medium, anything goes. Just boil it until it reaches al dente, and transfer it right into the sauce. Then off the heat add a little more parmesan, like a 1/4th cup. And taste it. Salt? Yeah, probably.
Ohhh you're feeling some lemon? I'm on board, you lead the way.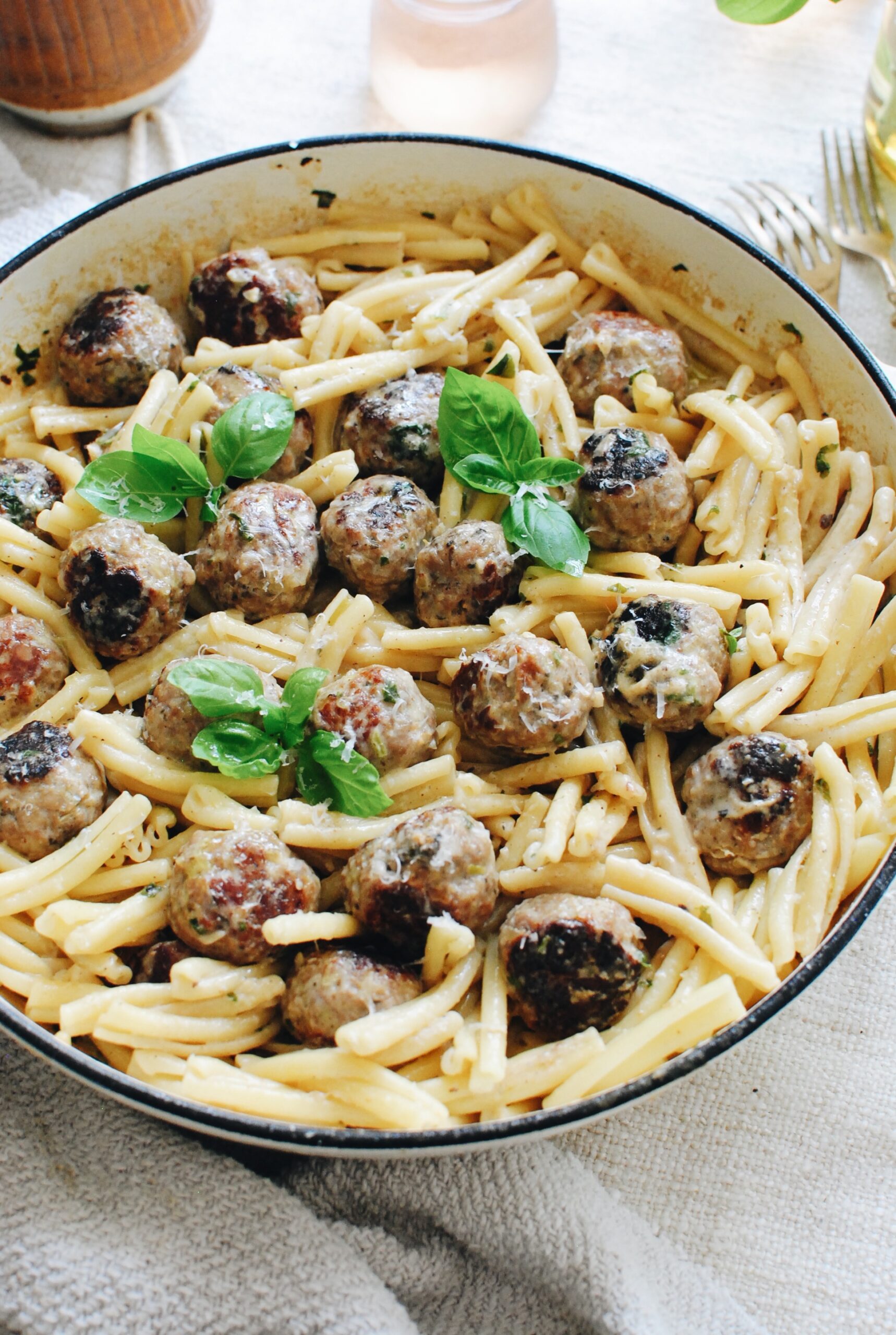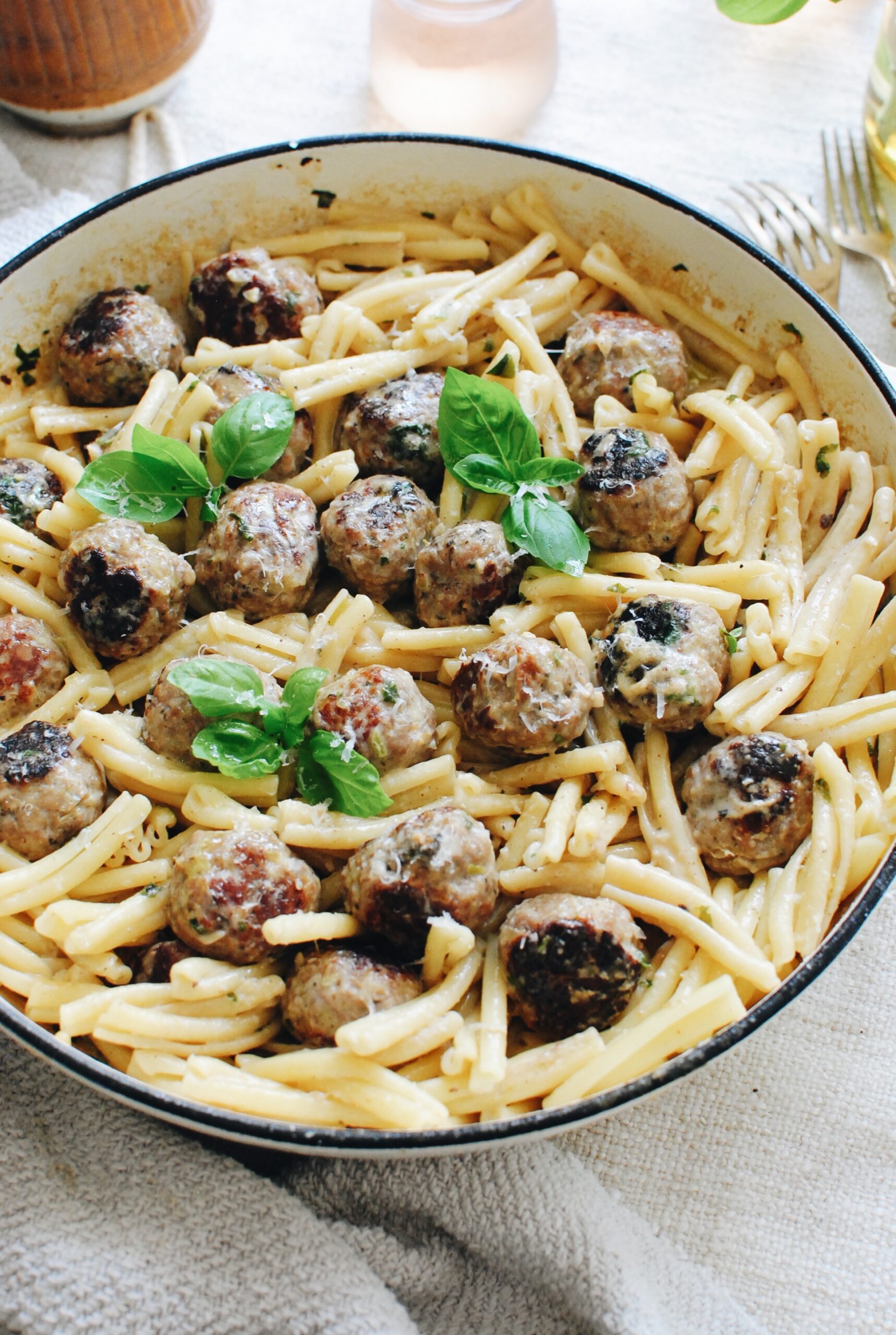 Did the kids love it, you ask? I'M SORRY DO YOU SEE THAT PAN OF HUMAN DREAMS?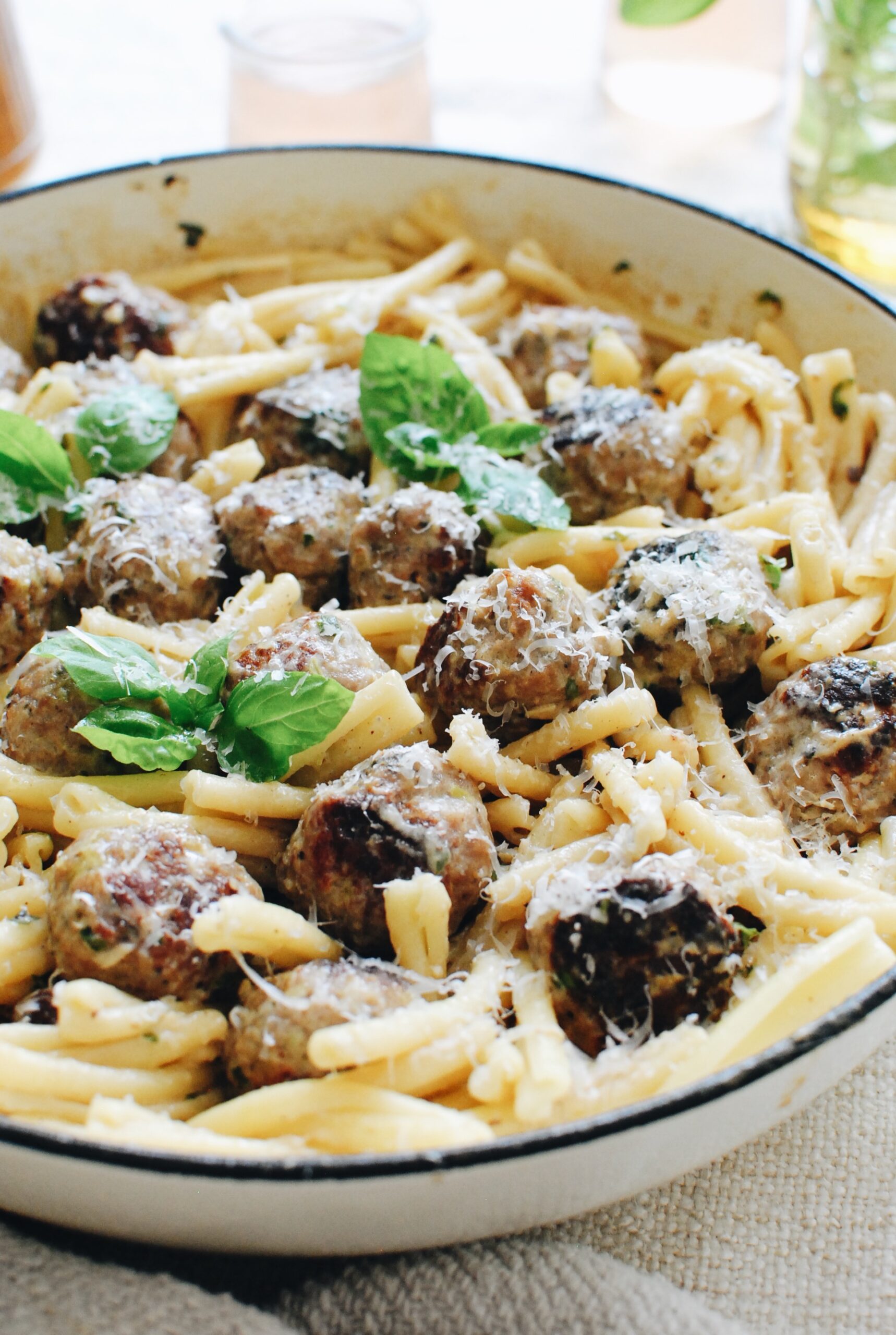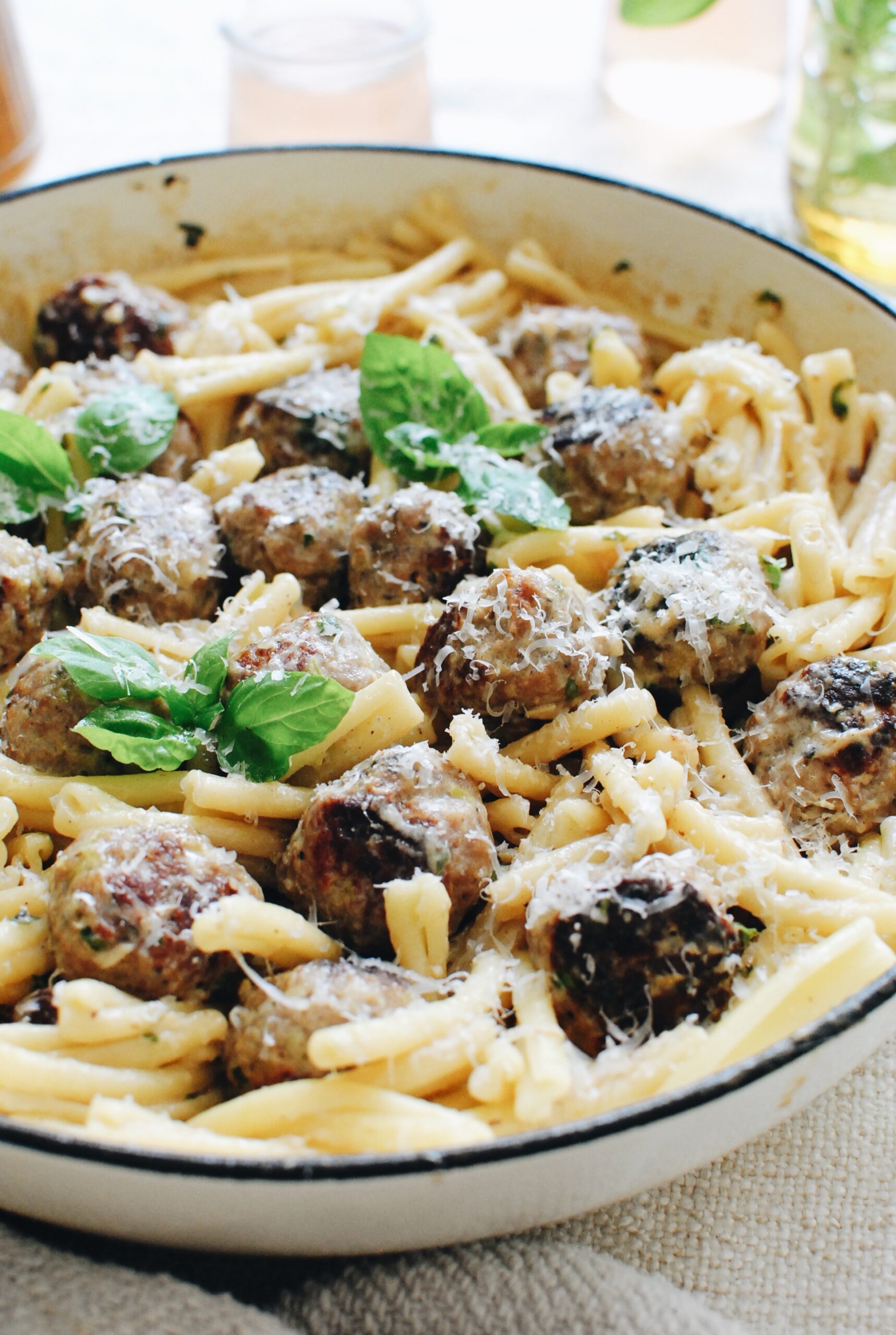 Here's one more close-up because frankly I just liked the photo and felt like we could stand to get a little intimate.
You're like, "Please never say that again."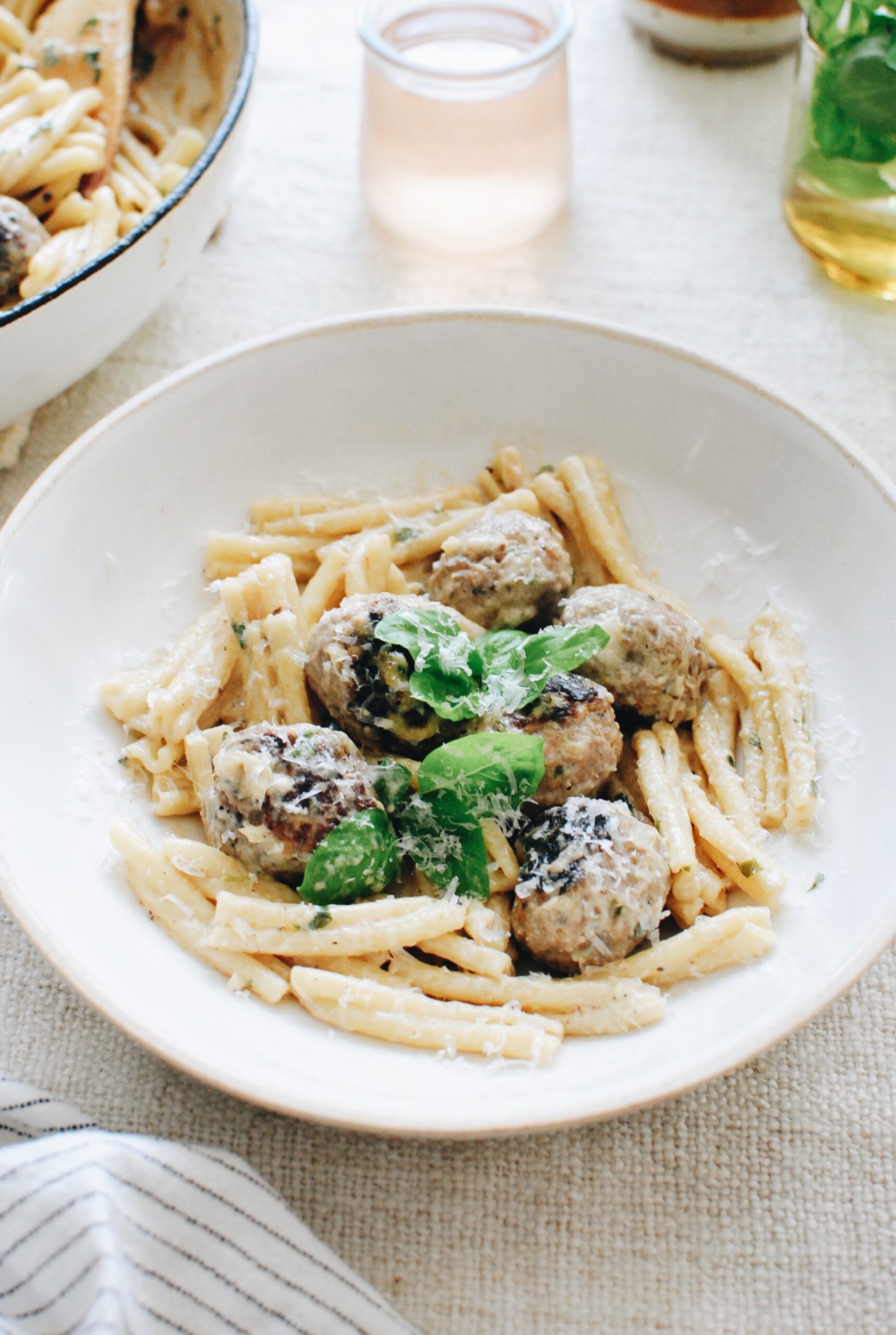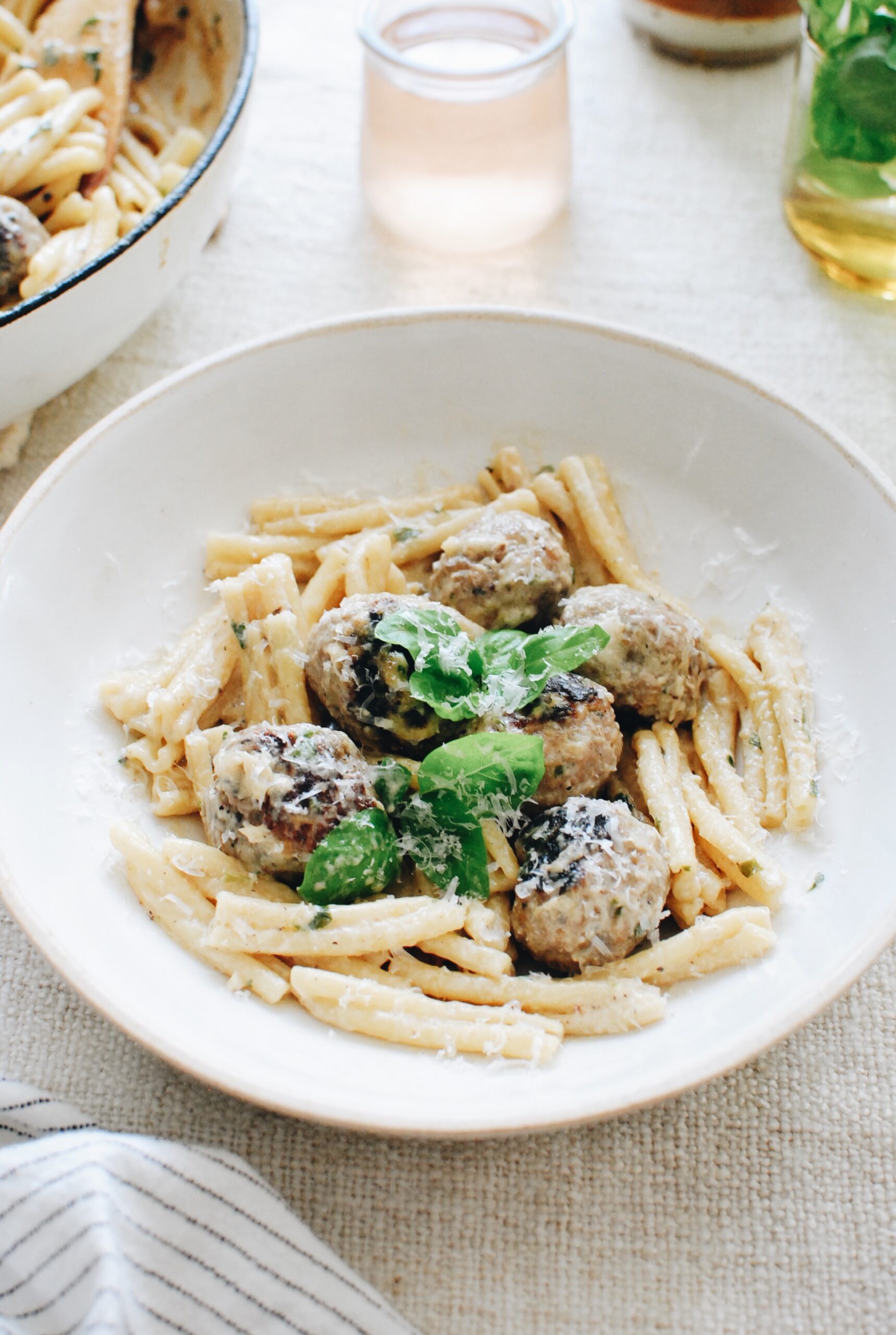 It's obvious that you'll garnish with fresh basil and more parmesan. And your entire upper torso.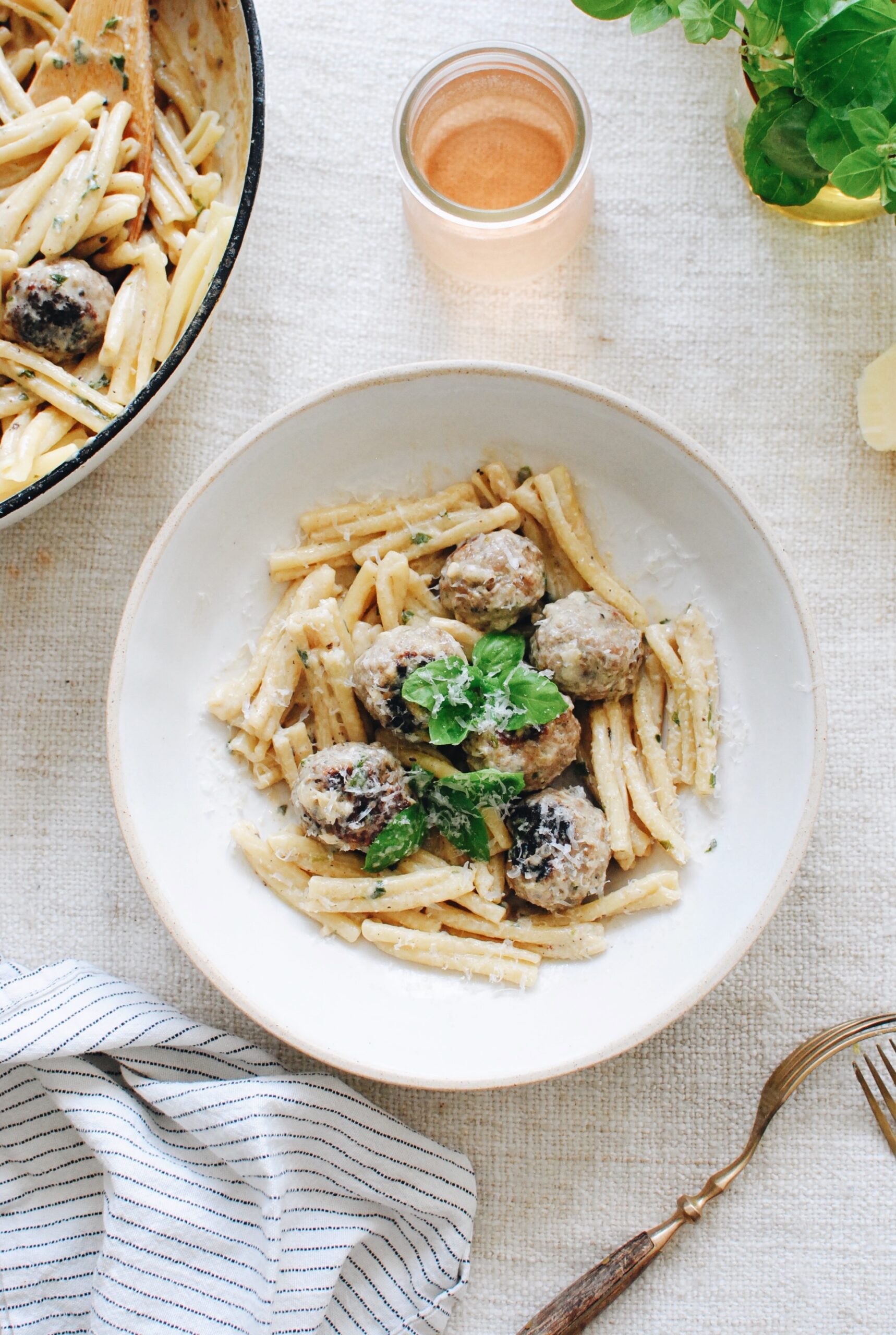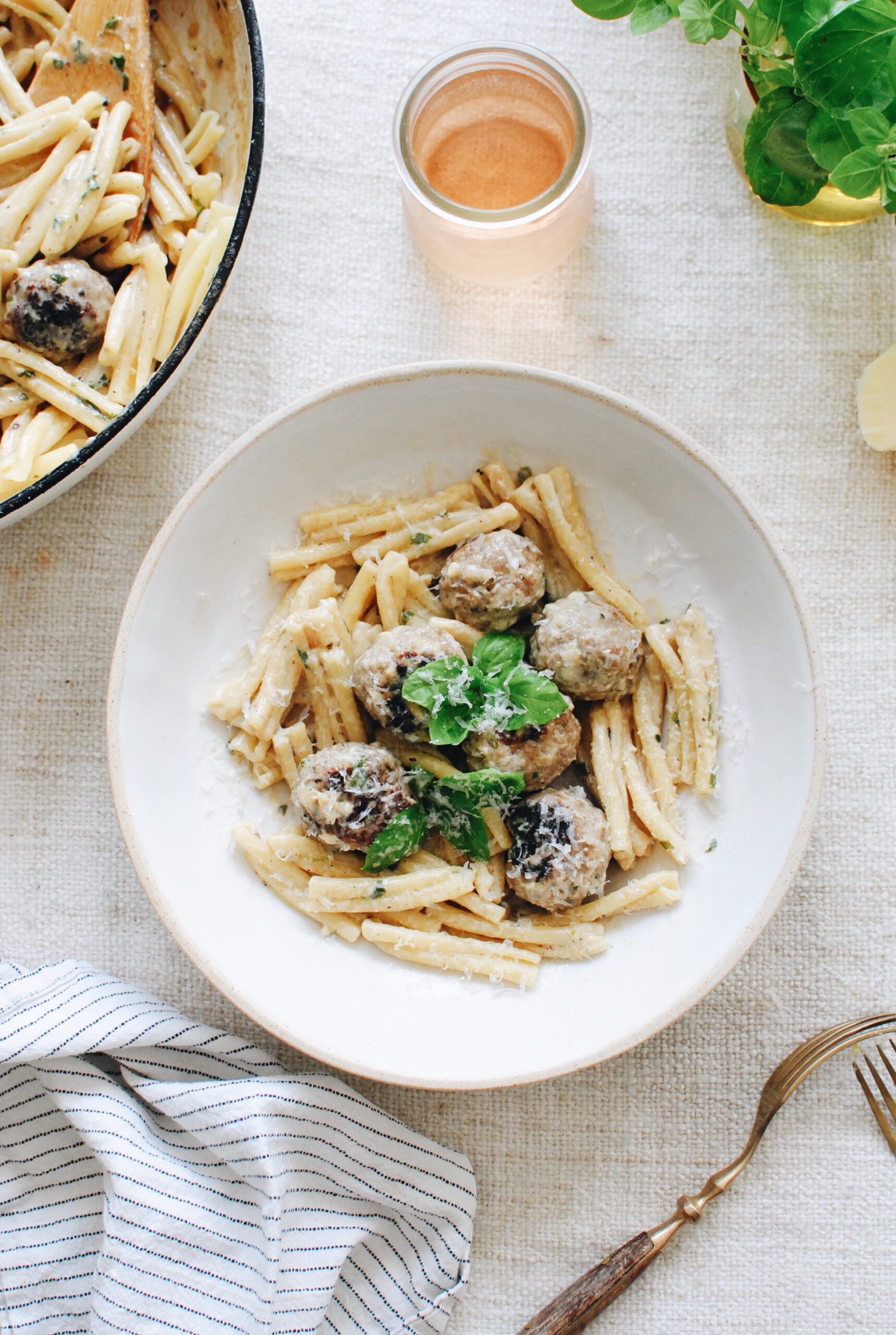 Second summery creamy recipe of the week! Look, I'm only here to please.
Pesto Turkey Meatballs with Pasta in a Creamy Basil Sauce
Ingredients
For the meatballs:
1 1/2 pounds ground turkey
1/2 cup panko
4 cloves garlic
1 small onion
1 Tbs. store-bought or homemade pesto
1/4 cup parmesan cheese
1 Tbs. dried Italian seasoning
Coarse salt
1-2 Tbs. all-purpose flour
For the rest:
2 cups milk
3 loose cups basil
3 cloves garlic
1 Tbs. extra-virgin olive oil
Coarse salt
1 pound short pasta (I used casarecce, but anything is fine)
1/4 cup parmesan, plus more for garnish
Instructions
In small food processor, pulse the onion and garlic until finely minced. Add them to a medium mixing bowl, along with the turkey, panko, pesto, parmesan, Italian seasoning and a good pinch of salt. Work with your hands to mix the ingredients together. Form (roughly) 1-inch meatballs and place them on a baking sheet. Sprinkle the meatballs with the flour and place them in the fridge until ready to cook. Let the meatballs sit on the counter for about half an hour to bring back to room temperature.
Heat a Tbs. of extra-virgin olive oil in a wide skillet over medium heat. Add the meatballs in a single layer and sear for two minutes. Using tongs, gently turn them and sear on the other side another two minutes, until mostly browned all over.
In the meantime, back in the food processor, blend the 3 cups basil, garlic and oil, along with a pinch of salt. Get this as finely chopped as you can.
Add the milk to the meatballs, along with the minced basil mix. Let this simmer on medium-low for about 10 minutes while the pasta cooks. Once the pasta reaches al dente, transfer it (a sieve is perfect) into the cream sauce. Off the heat, stir in the 1/4 cup parmesan, and more salt if needed. Let it thicken just a tad, then garnish with more basil and parmesan. I MEAN.
Serves 4!
7.8.1.2
440
https://bevcooks.com/2020/07/pesto-turkey-meatballs-with-pasta-in-a-creamy-basil-sauce/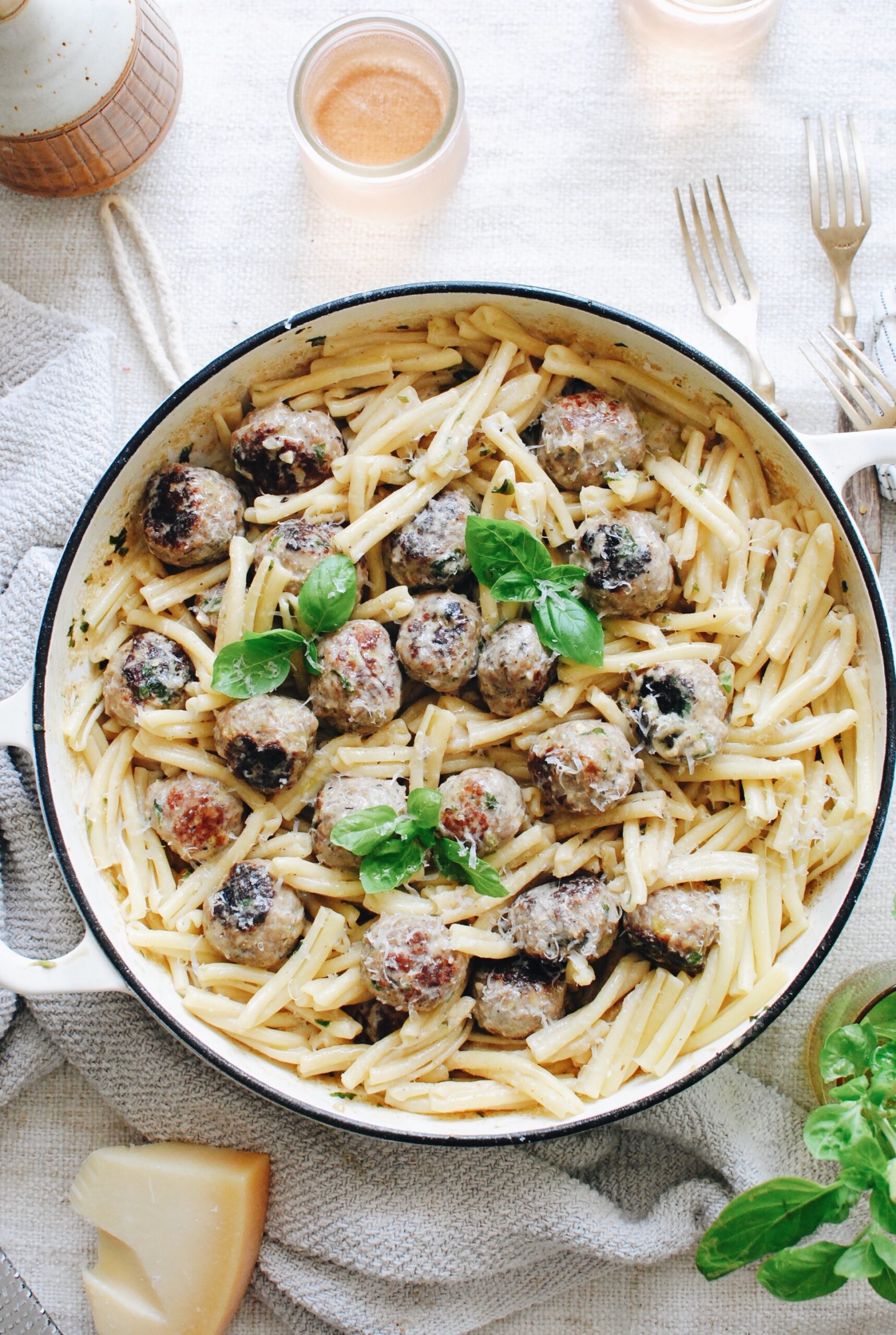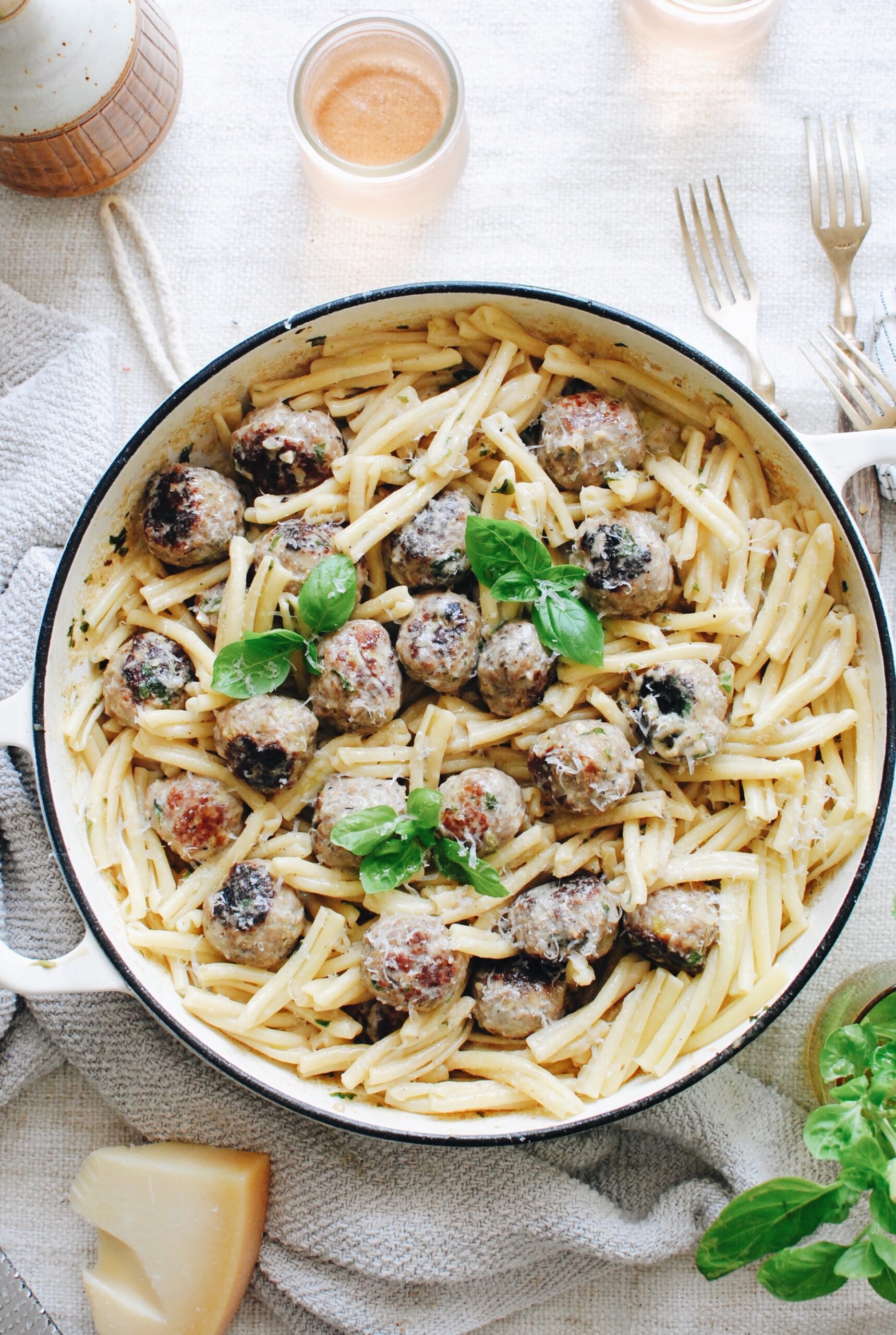 July is looking UP.