Well hello there, ya big ol' pile of comfort for my unhinged face hole.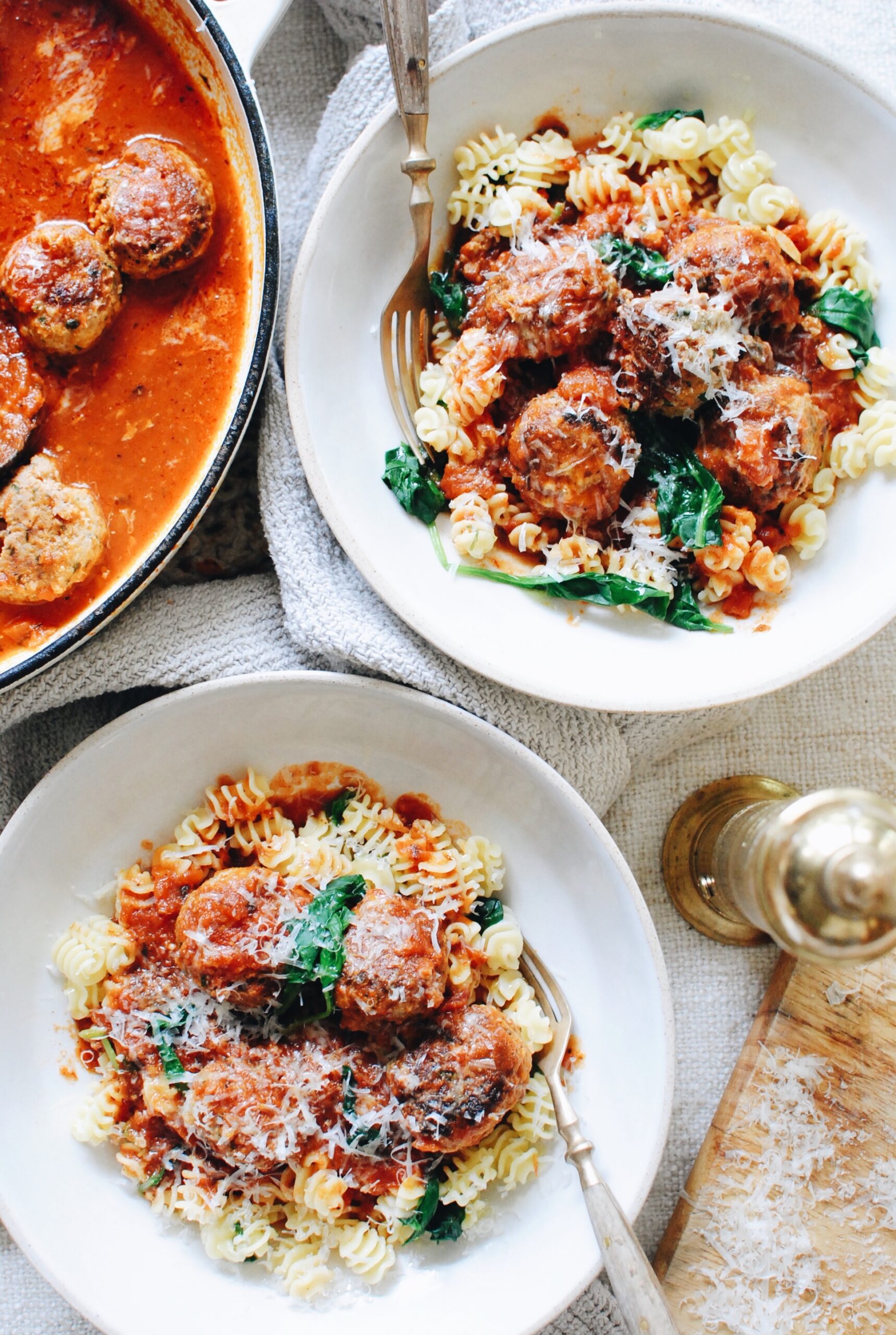 I tell you what, I'll never quit meatballs. Never ever. Don't even try with me today.
These are tender turkey balls l a – h o a d e d with veggies, herbs, parmesan cheese and a piece of your blistered soul. And you won't even be able to deal with what it's simmering in. You can either scroll down or I can tell you right now.
Which do you prefer? I can hang while you decide.
Have you decided yet because I just curled my entire head of hair.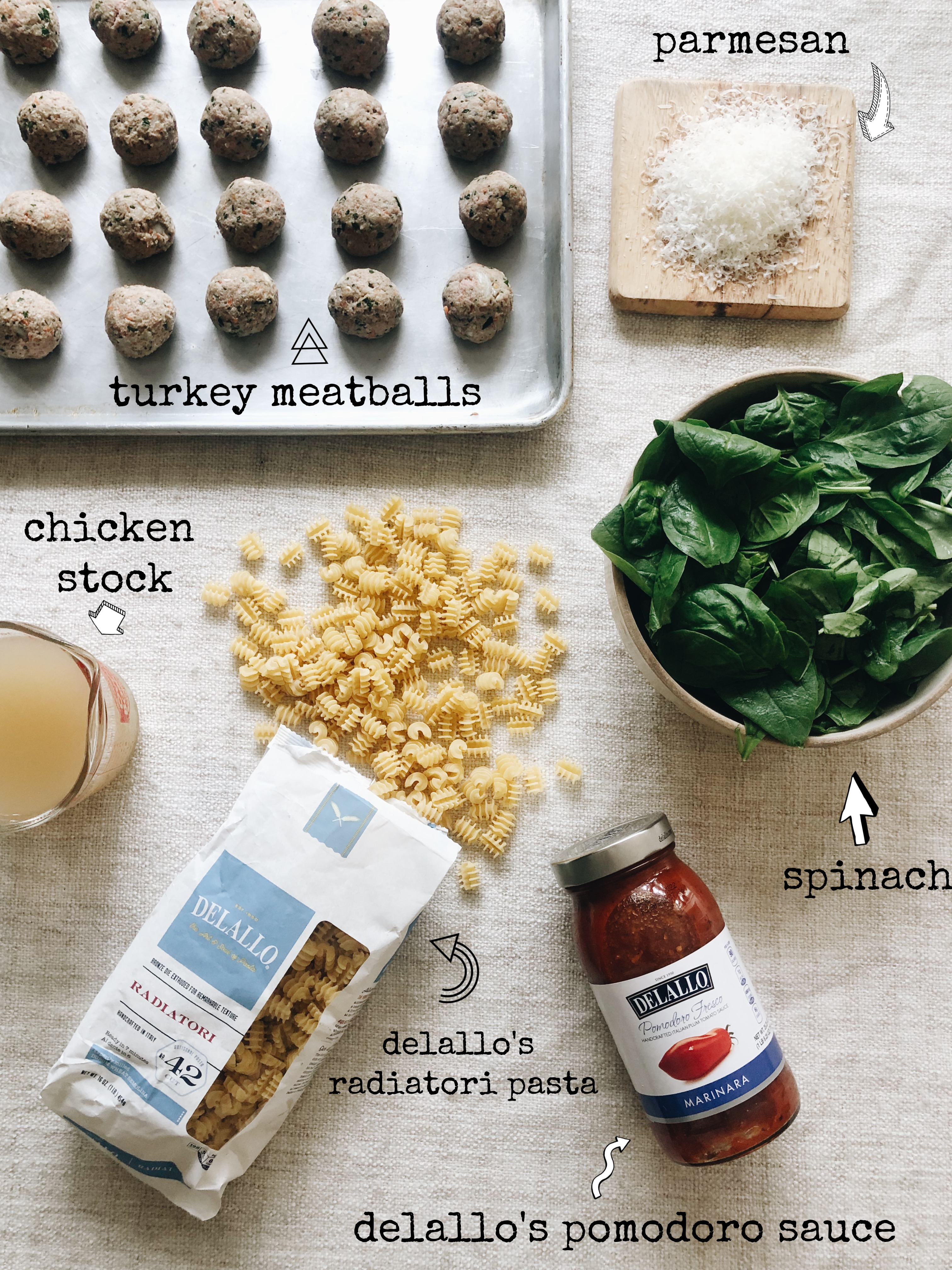 Pomodoro sauce! UGH, DeLallo has this bright but bold pomodoro marinara sauce and it's just picture freakin' perfect in this dish. But what I did was add in a couple of cups of chicken stock to stretch it and give it a sliiiiightly soupy-ness thing going on. And I'll never look back.
Also, are you seeing that pasta shape? It's like mini radiators which I think is so cute for fall because RADIATOR. You know, like a heater in Paris. (I can make everything about Paris if you dare me.) Radiators in the fall, get it?!
Never mind.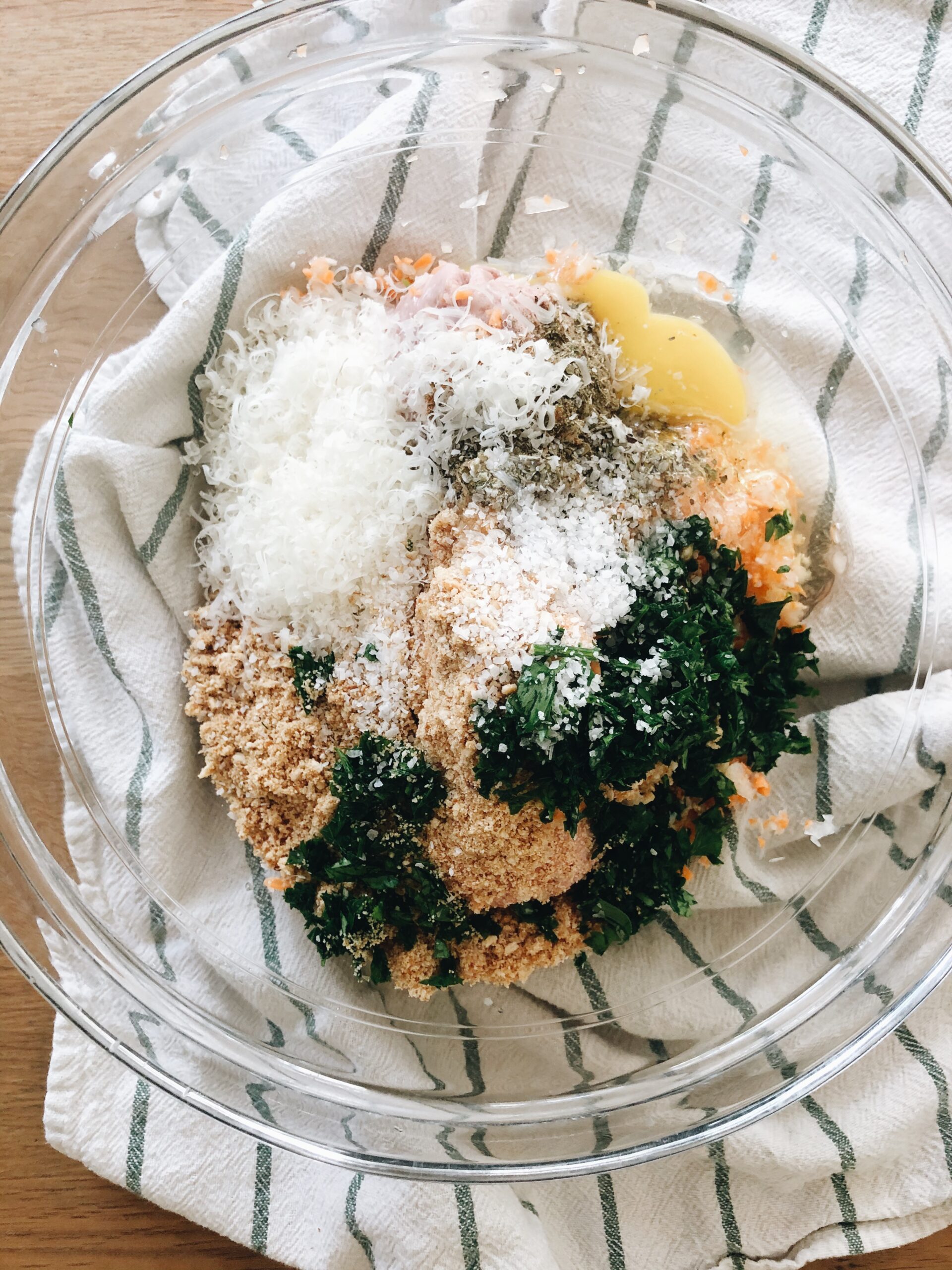 The meatballs are fab – my go-to of turkey, carrots, onions and garlic (which I blitz in a food processor – hey-ohhhh), breadcrumbs, parmesan, Italian seasoning and chopped parsley. And an egg. Super simple but the flavors will knock you down, Sally.
Who's Sally?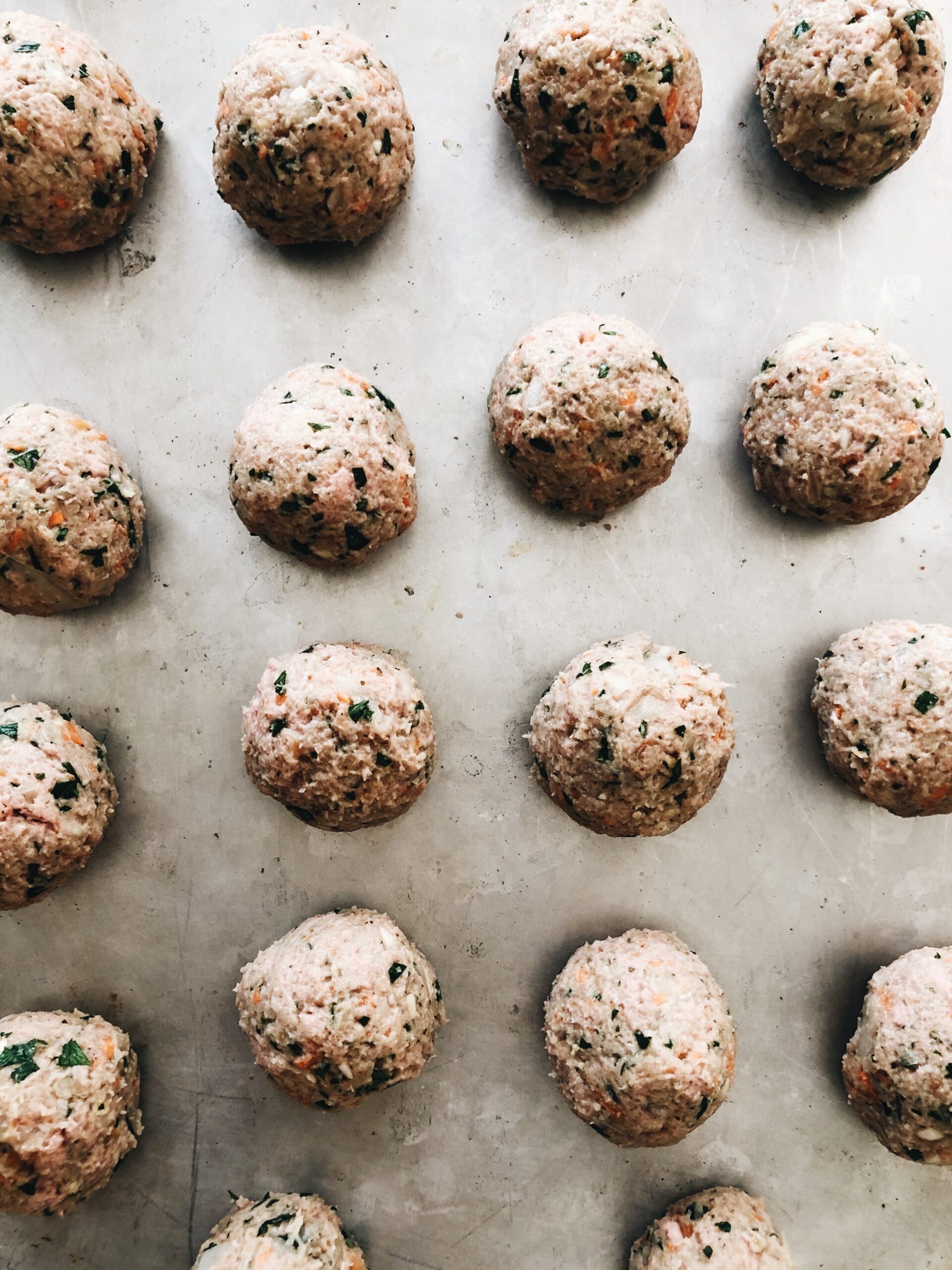 Then just roll them into balls! Two-ish inches. After they chill a bit (only if you have time) you'll dust them with flour so that they brown more evenly and don't stick together.
That one's free.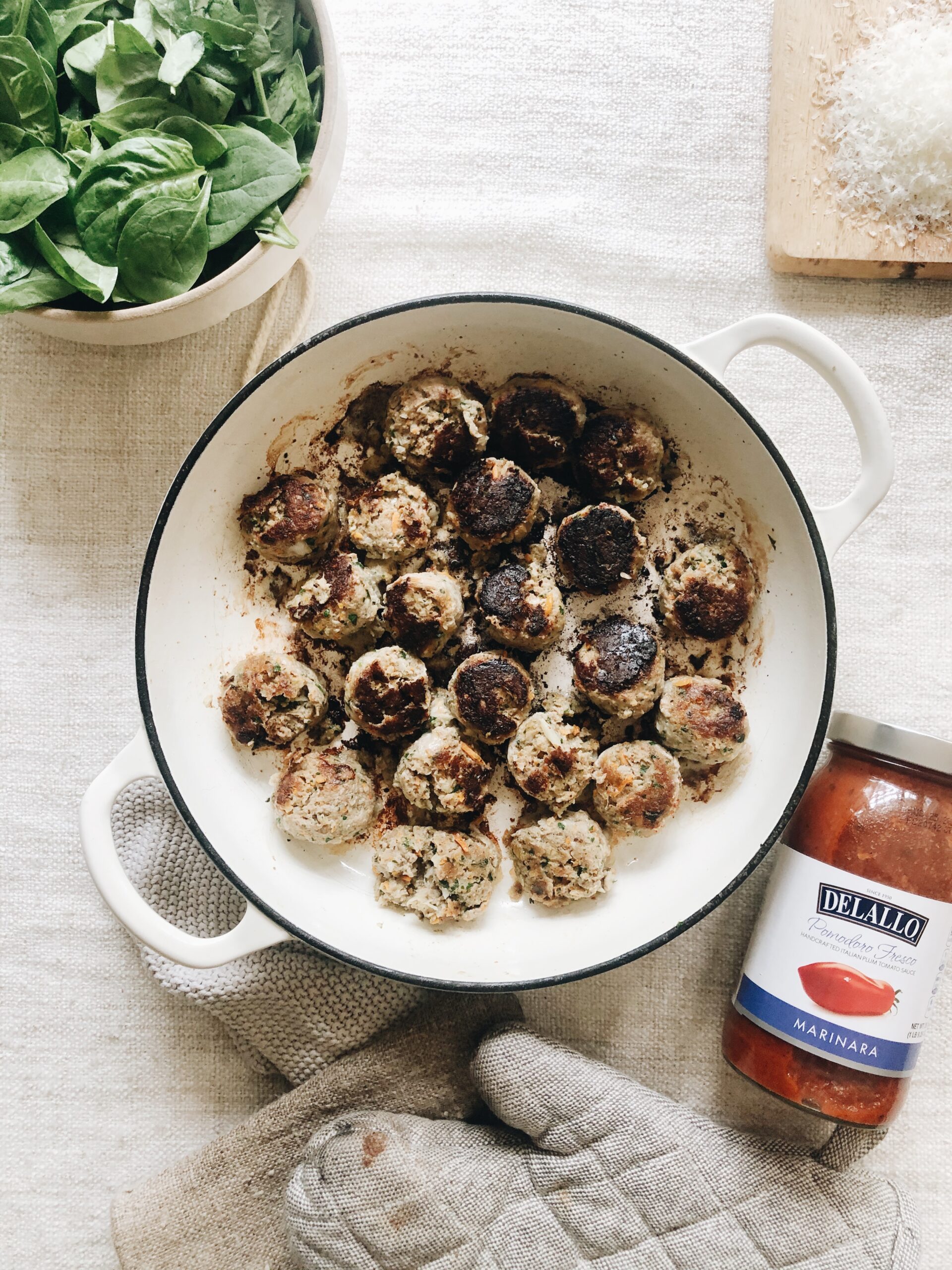 Get them all seared up! We're about to add that brilliant sauce, but I want to show you something first. And you can do this part or not. Totally up to you. I'm not being bossy.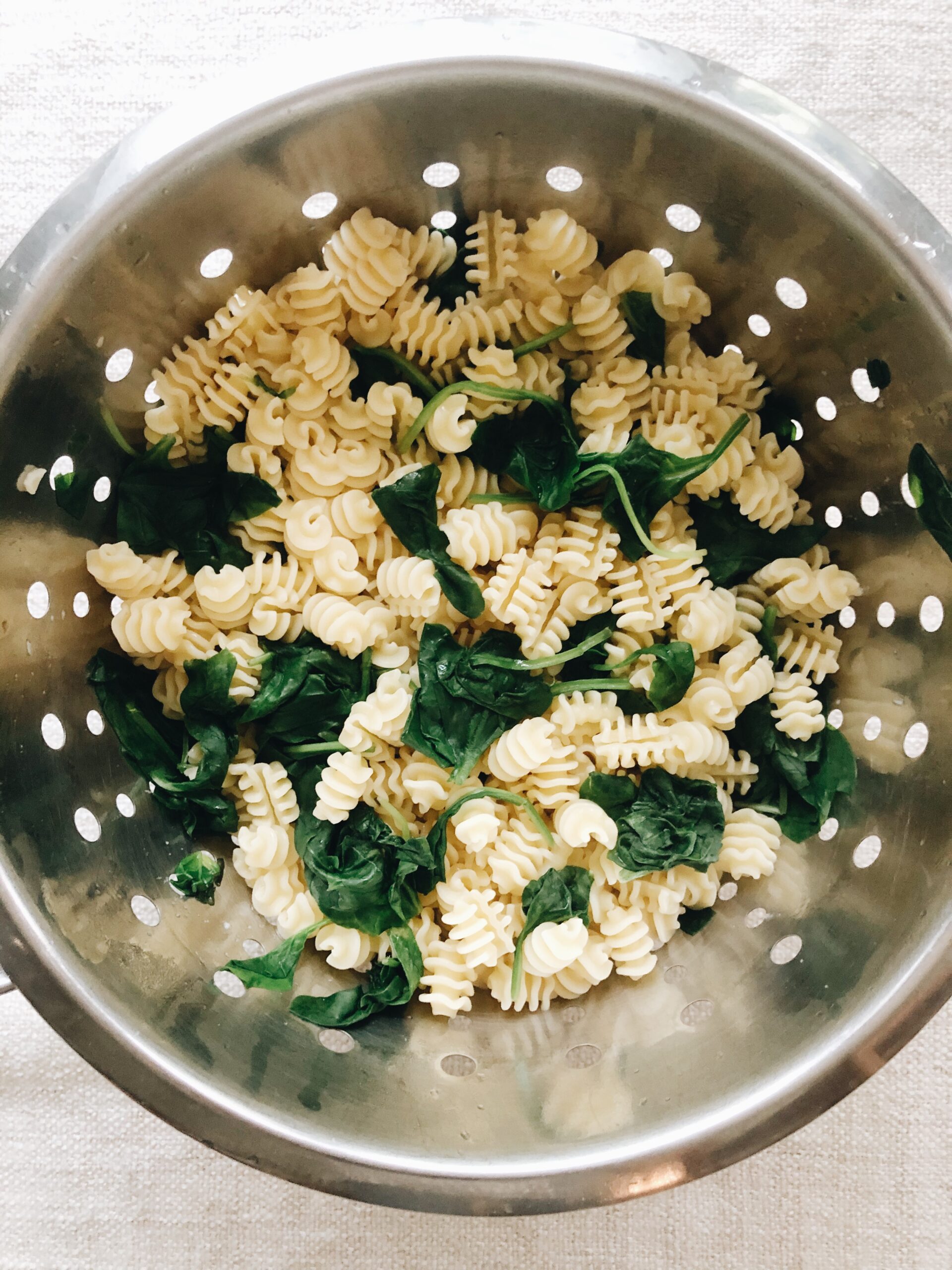 Okay, I boiled my little baby French radiators. But before I drained them, I threw a whole bag of spinach in to wilt! They IMMEDIATELY wilt in that water, and then you can drain.
The maaaaain reason I did this was not to disturb my tender meatballs too much. You can absolutely add the spinach TO the sauce like normal, or you can wilt in the water. Fly, little bird.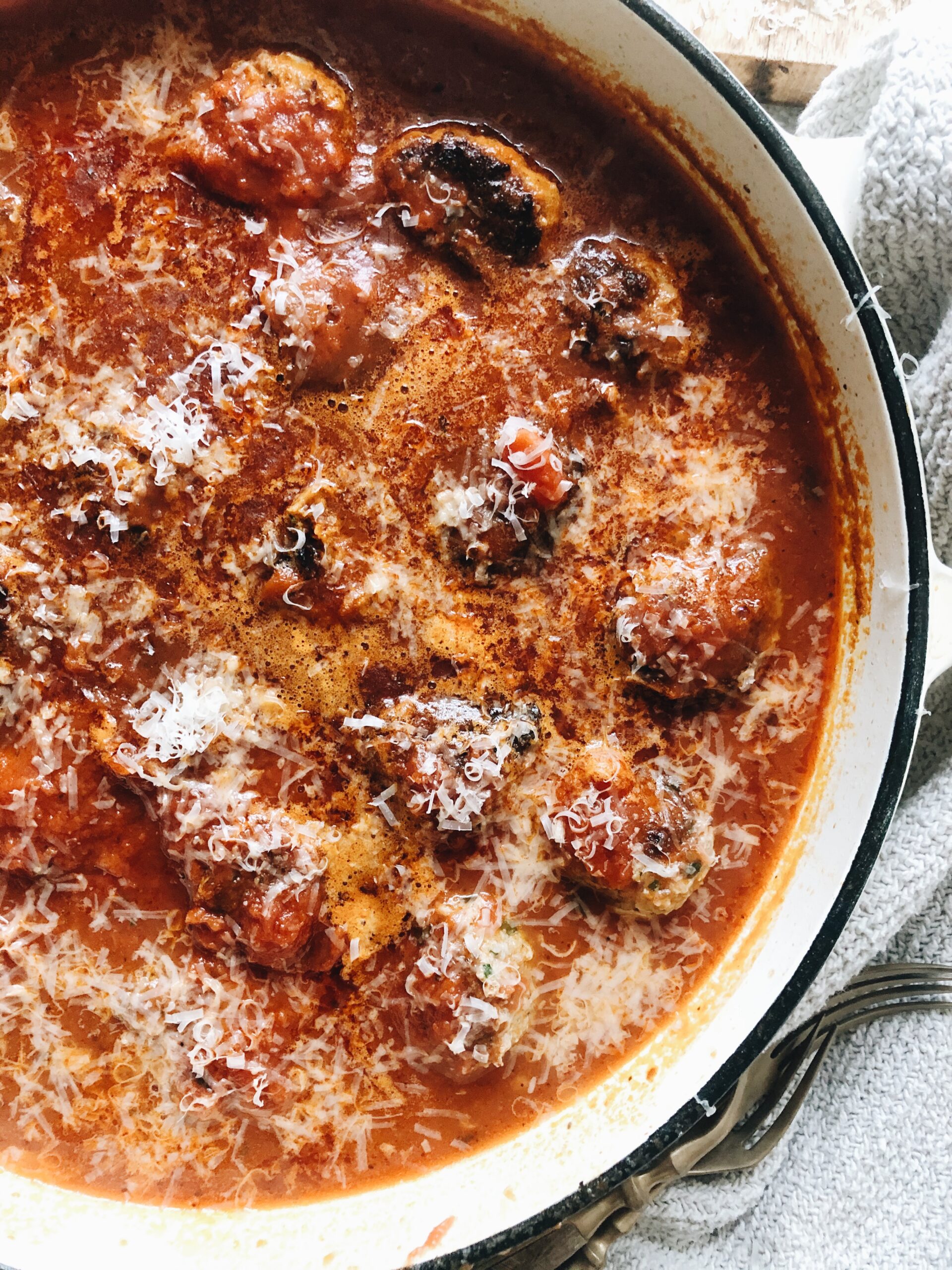 And oh my gauce here's our sauce. (<–Testing out the word gauce. I'll let you know if it works.) Taste it and salt if it needs. Then add a truck load of freshly grated parm. These are the good things in life.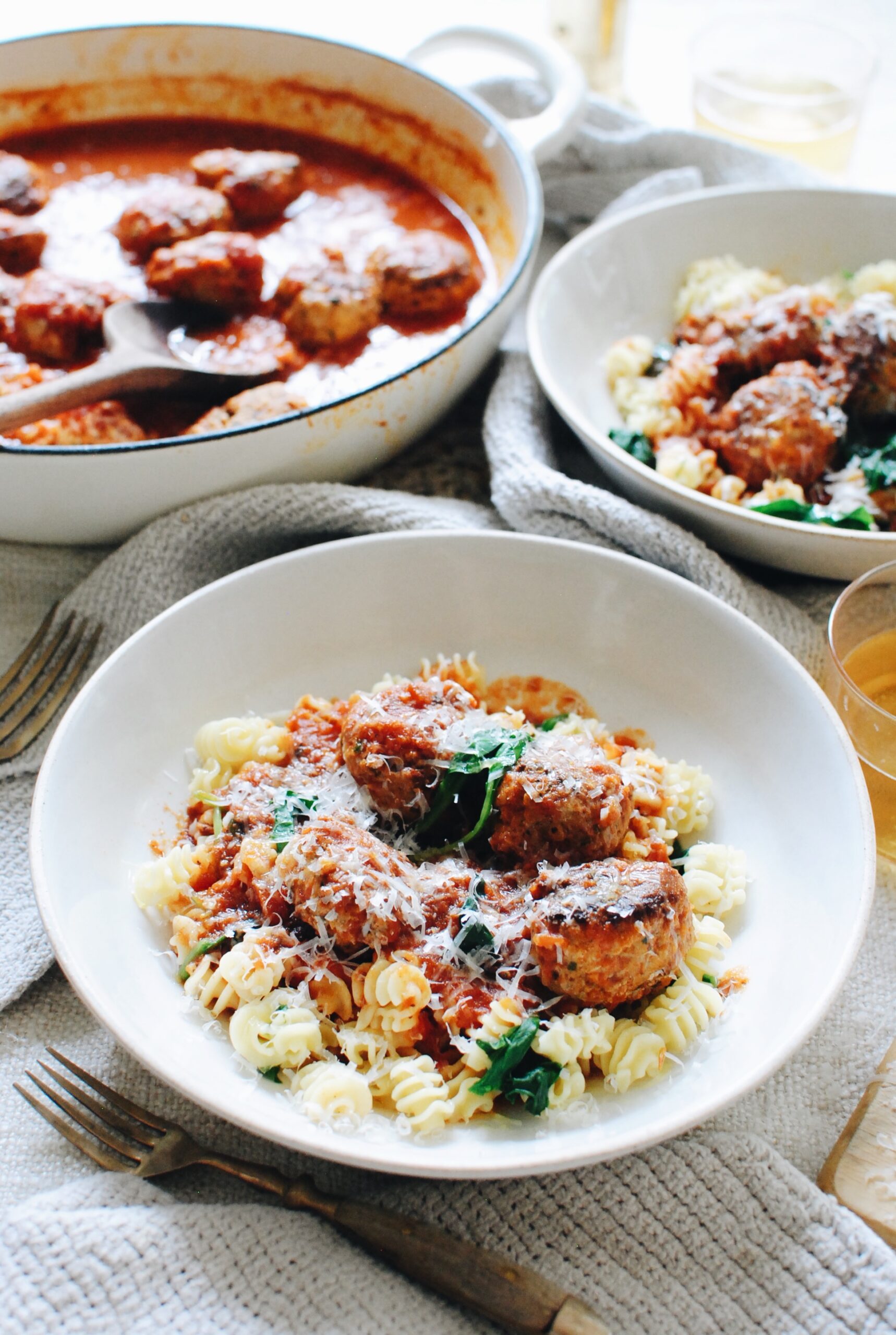 And there we are, bruh. DELICIOUS. The meatballs have a light, bright herby flavor, which pairs well with the bold, acidic marinara. And draped over radiatori pasta with silky spinach here and there? Pa-lease. Buckets of fresh, yet comforting all at the same time. It's absolutely exquisite for a chilly October night, or any other month or day or hour of any year. Family friendly, yet seductive enough for even date-night.
It all works. This is 2020.
Don't even come at me today.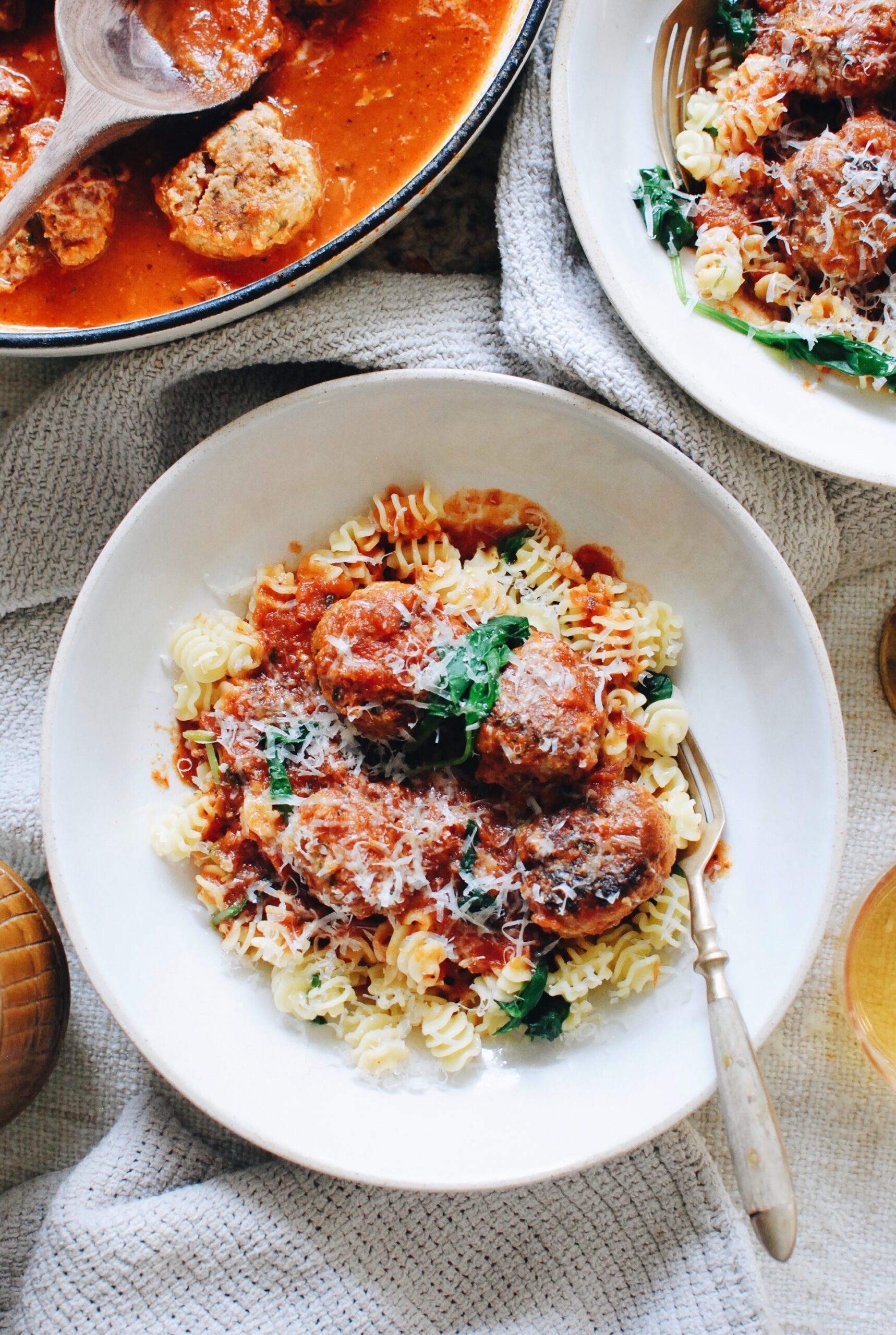 Hiiiiii, bye.
Loaded Meatballs with Radiatori Pasta in a Pomodoro Sauce
Ingredients
1 pound ground turkey
1/2 medium white onion, roughly chopped
1 medium carrot, cut into chunks
5 cloves garlic
1 egg
1/2 cup parmesan cheese
1/2 cup breadcrumbs
1 Tbs. Italian seasoning
1/3 cup chopped parsley, plus extra for garnish
Coarse salt
1- 2 Tbs. all-purpose flour
1 lb DeLallo's Radiatori pasta
1 (1 pound 9.25 oz) jar DeLallo's Pomodoro sauce
2 cups chicken stock
1 (5 oz) bag spinach
Instructions
Place the onion, carrot and garlic in a small food processor. Pulse a few times until finely minced. Add this mix to a bowl with the ground turkey, egg, parmesan cheese, breadcrumbs, Italian seasoning and chopped parsley. Season well with a good pinch of salt, and mix it all together with your hands. Then form 2-inch meatballs, placing them on a large baking sheet. Chill in the fridge until you're ready to brown. Right before browning, dust the meatballs with all-purpose flour, so that they stick together and brown more evenly.
Bring a large wide pan to a medium-high heat. Add a Tbs. of oil to the pan, and evenly arrange the meatballs in the pan. Sear them for three minutes on one side, gently turning to brown on the other side, another three minutes.
To the pan, add the DeLallo pomodoro sauce, along with the chicken stock. Don't stir too much, as you want the meatballs to stay in tact. Simmer on a low heat for about 15 minutes, while you boil the pasta. Taste and season with a pinch of salt if needed.
In the meantime, bring a large pot of salted water to a boil. Add DeLallo's radiatori pasta to the water and boil until it reaches al dente, according to package directions.
Before you drain, turn the heat off and add the spinach to the pasta. It will wilt within seconds, and then you can drain the rest of the water. (Save 1/2 cup pasta water to help thin the sauce if needed.)
Serve the pasta with the spinach, topped with meatballs simmered in the pomodoro sauce. Garnish with more parmesan and serve immediately!
Serves 4-6.
7.8.1.2
456
https://bevcooks.com/2020/10/loaded-meatballs-with-radiatori-pasta-in-a-pomodoro-sauce/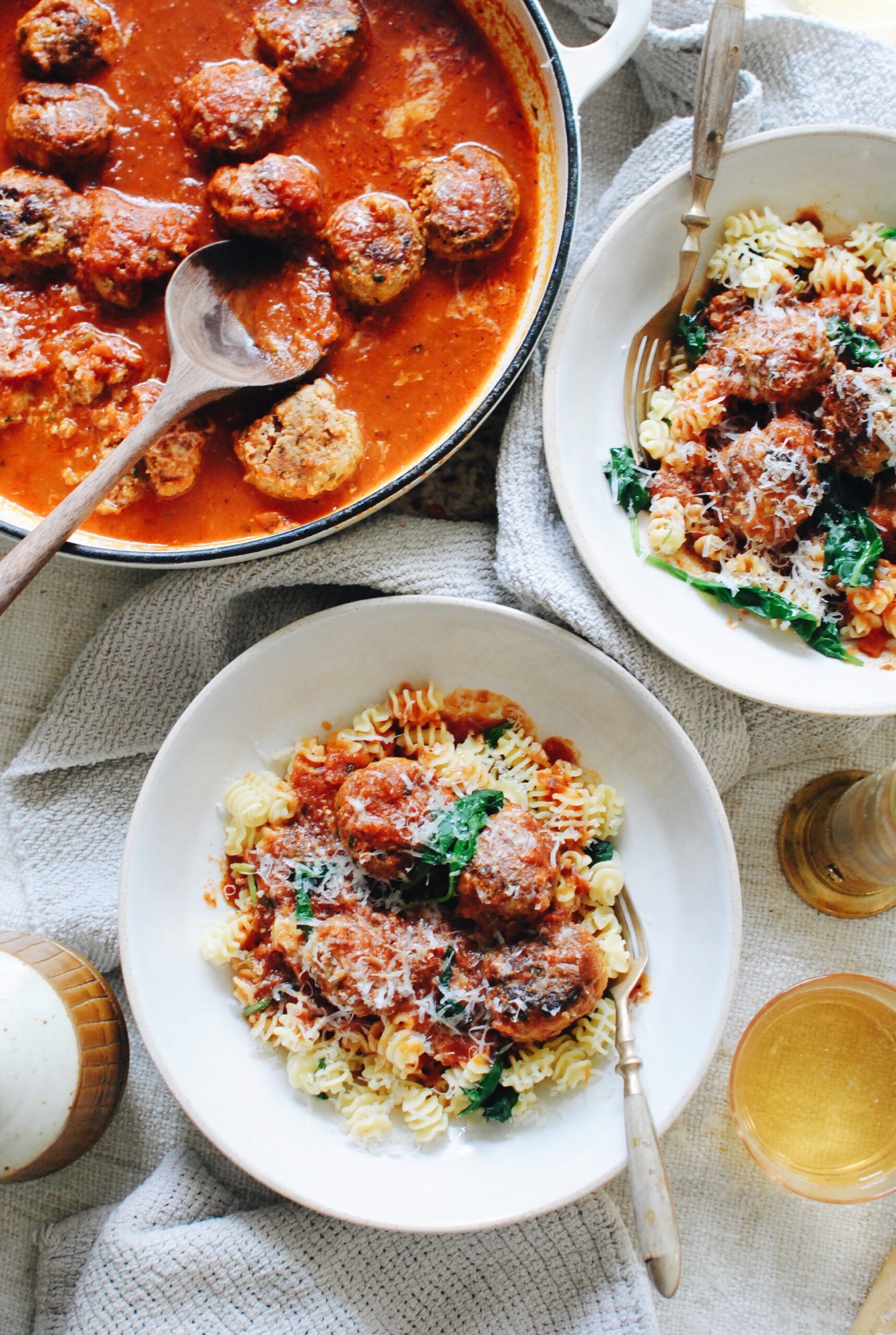 I mean…^^^
(This post is definitely in partnership with my lover DeLallo. But all pasta and sauce inhalings and ramblings are totally my own. We coo?)