We have an issue.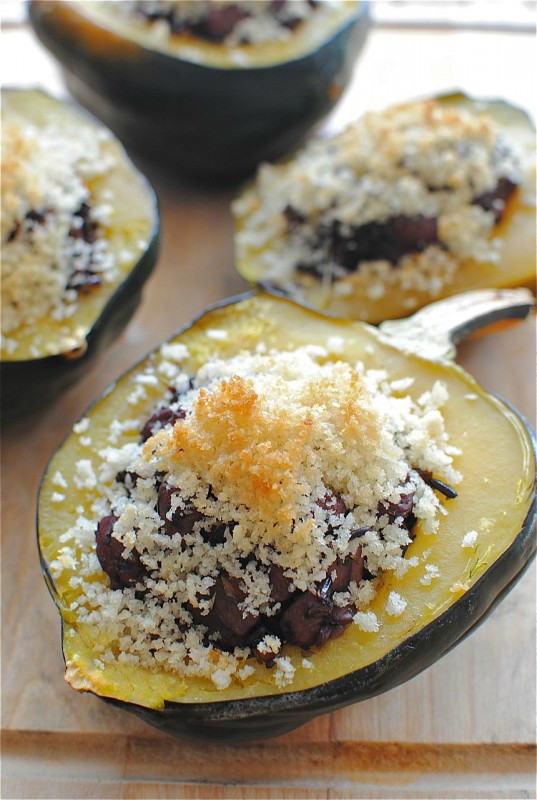 It all started with an acorn squash. Okay two acorn squashes. And my overactive sweat glands.
I'd decided that since it was October the 1st, I'd be a good American citizen girl of the Americas and stuff some squash. With yumminess like browned chicken, black rice, veggeroos and herbaroos. Which is all great on paper, but in order to stuff the dang things, you have to GET INTO the dang things. And my name isn't Bevulk Cooksogan I mean am I right.
I'm convinced the Latin name for acorn squash (and butternut for that matter) is Rockus Maximus of the Earthus and Youis Will Cussus.
I had to get out the CLEAVER for this. The Montana-sized knife in the back of the block that no one ever dares to touch because it's basically the whisper of death. THAT ONE. And no one was home. And I cried. Because you have to hold the stupid acorn b.s. with one hand and HI-YA! the knife down on it all Bruce Lee style. Which now I'm betting I looked pretty bodoss doing this. But probably not.
I still haven't told you what the issue is yet, have I?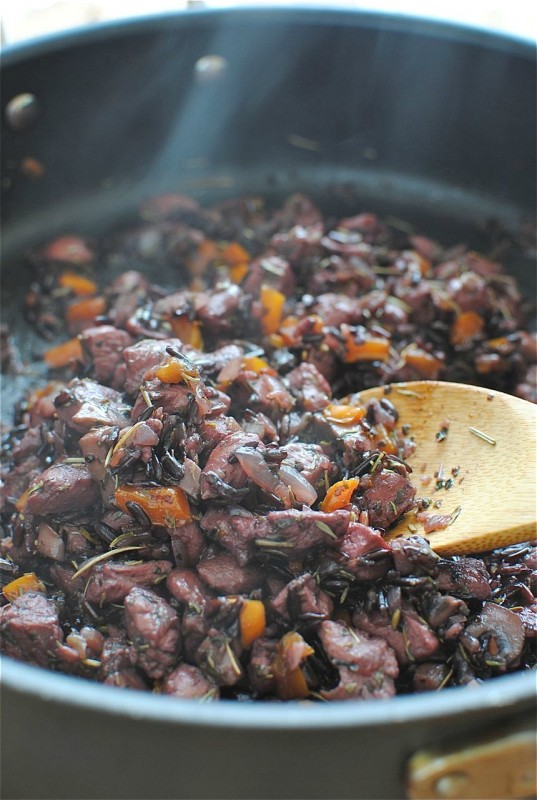 Ummmm, look at that filling. We're getting close.
Okay now look at this BUTTERY panko. We're so close I want to punch it in the kneecaps.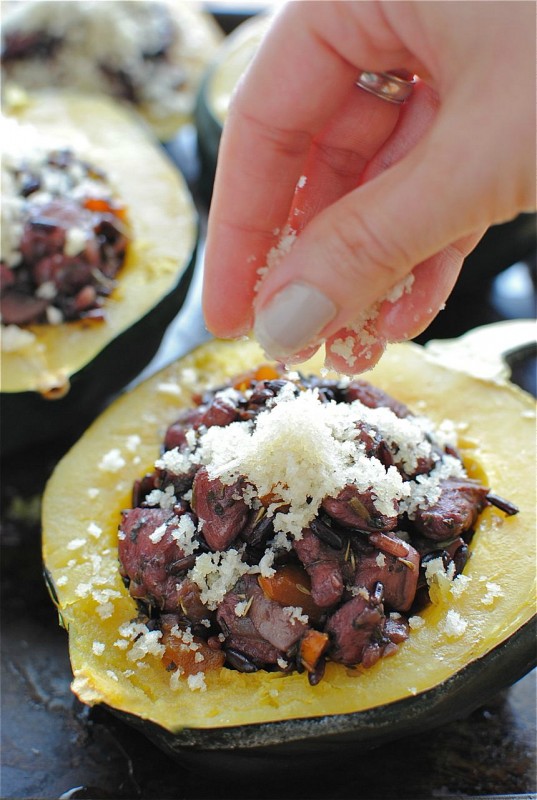 Alright, let me just break this down for you. When you roast an acorn squash, it turns into butter cream gold baby cherub wings butter. And then when you stuff it with that savory chicken and rice and herby and veggie filling, YOU turn into butter cream gold baby cherub wings butter.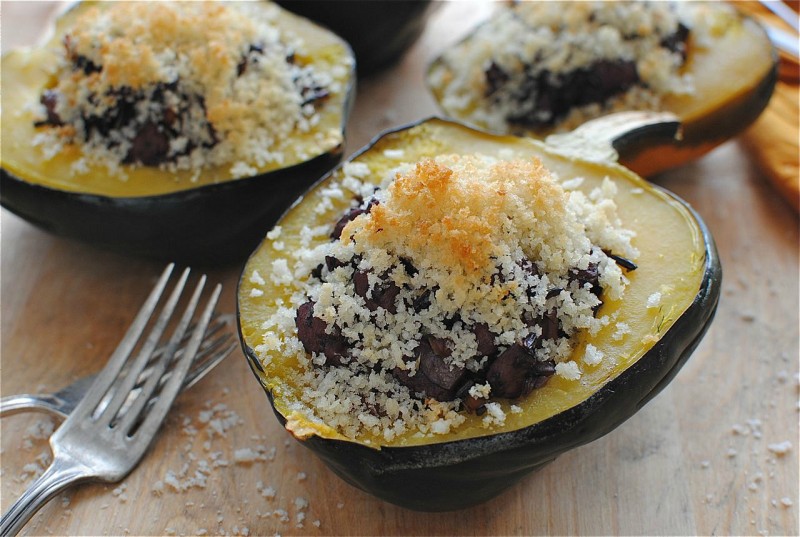 Major issues.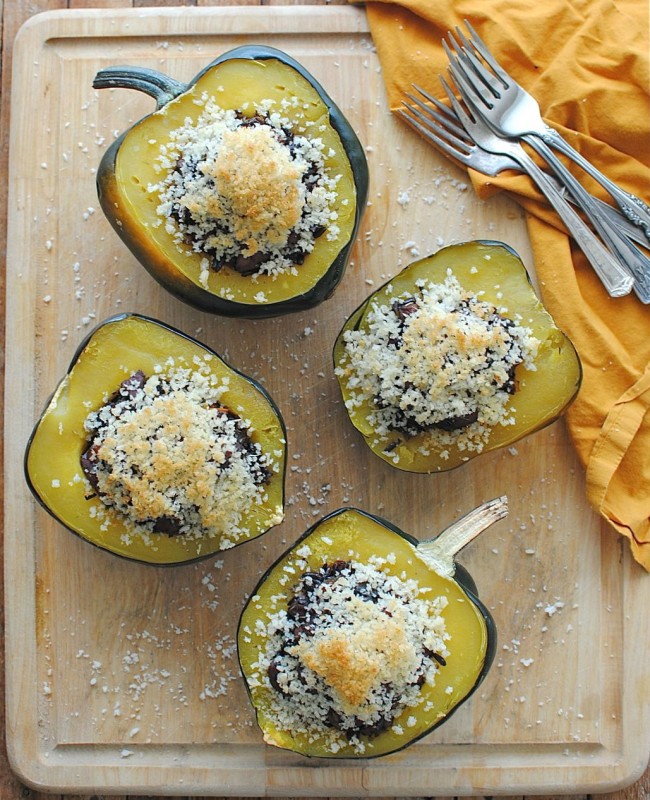 I'm never ever eating anything else ever ever again for the rest of my life.
Chicken and Black Rice-Stuffed Acorn Squash:
(adapted from my neighborhood grocery store newsletter, hahahah!)
What it took for 4 halves:
* 2 acorn squashes, cut in half lengthwise and seeded
* 2 Tbs. butter, divided
* 1 Tbs. extra-virgin olive oil
* 1 pound chicken tenders, cubed
* 1 celery stalk, diced
* 1/2 yellow onion, diced
* 3 cloves garlic, minced
* 4 ounces (half an 8 oz container) baby bella mushrooms, chopped
* 1/2 orange bell pepper, diced
* 2 Tbs. Herbs de Provence
* 1/2 cup black rice (par-cooked in a rice cooker for about 30 minutes)
* 1 cup chicken stock
* 1/2 cup panko or breadcrumbs
* coarse salt and freshly ground pepper
Preheat oven to 400.
Place the acorn halves, cut-side down in a rimmed baking sheet. Pour 1/2 cup water into the pan and bake 30 minutes. Remove and set aside.
Heat 1 Tbs. butter and the oil in a large skillet. Add the chicken, brown all over.
Add the onion, celery, mushrooms, garlic, orange bell pepper, the Herbs de Provence and a good pinch of salt and pepper. Sauté about 5 minutes, or until the veggies soften.
Now, add the black rice to the pan, along with the cup of chicken stock. Simmer and stir frequently, about 15 minutes, getting the rice all cooked. Look at how purple it made the filling!
Evenly spoon the chicken filling into each acorn half.
Oh! Melt the remaining butter and mix it with the panko. Now top each acorn half with that. It's gonna be so pretty.
Stick them back in the oven for about 10 minutes, or until the panko is golden brown on top.
Serve her up!
This is what it looked like halfway through eating it.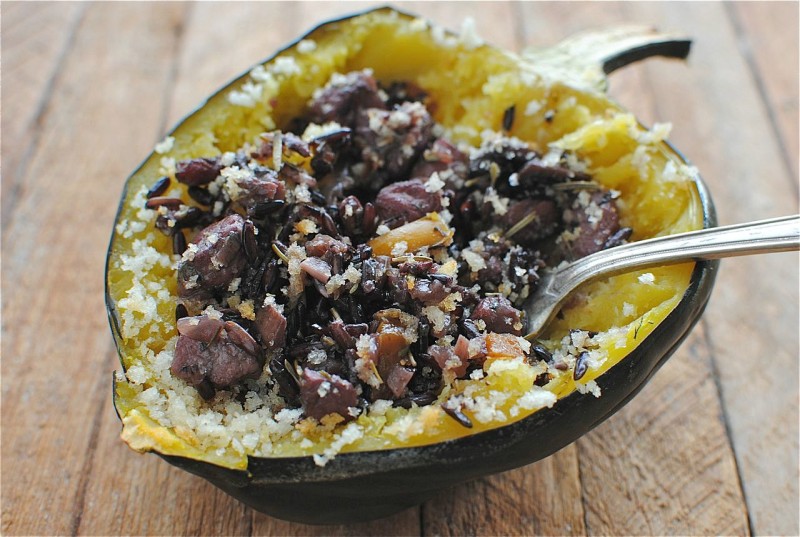 So insane.