Oh dear.
Oh oh oh dear.
We're talking, I've fallen and I can't get up-stuff here, folks.
Actually, the first fall took place on September 19th, 2012 when Kelly posted her Pepperoni Pizza Pull-Apart Bread. I 'bout had 13.5 conniptions right then and there. Ugh, and it's so unfair. She made what's basically a wet dream for me with that cheesy pull-apart bread, AND on top of that, she seriously has the most sickening incredible locks of hair. No, I know this. I touched them once in a Nashville hotel elevator when she wasn't looking.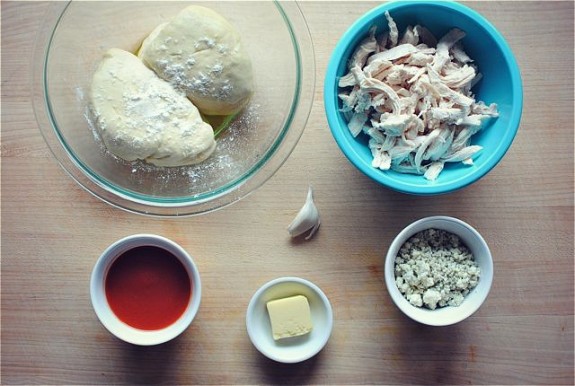 AND, this is another five ingredient meal! If you don't count one of those ingredients up there. And the ingredients it takes to make the dough. Well, and the wine you're drinking when you make this. It's totally five ingredients!
Let's take a walksie through it.
But first, a warning: I shot some of these in my kitchen, hence the desire to violently rip out your eyeballs, set them on fire and flush them down the toilet. Actually if you just get started on that wine right now, we should be okay.
Okay so ya roll out your dough and WAIT. I have something else to add. (is that your head in your hands? already?) I had two leftover balls of dough from those chickeny calzones I made a while back, so I used them here. Like, in two batches. BUT, if you want to use one large ball of dough, victory!
After you roll it out you get the edges all trimmed up into a huge square. I think I might have rolled mine out a tad too thin. But let the moon tide of your soul guide your every move.
Okay then brush some buffalo sauce over the square. Use a pizza cutter to cut them into smallish rectangles. Like 3×4 or something. Then sprinkle on that poached chicken (which you can do early in the day when Days of Our Lives is on but you didn't hear that from me) On goes some crumbled blue cheese.
Speaking of crumbling: me with my frickin' nail biting. I swear when I look at my fingers they're like little cheese sticks BEGGING to be chewed on. That's the grossest thing I've ever typed. But probably not.
Okay now thiiiiiis is the tricky part. At least it was for me. I don't know how Kelly made it look so flawless and perfect. I bet it's in her conditioner. But you take a super flat spatula and stack the little squares on top of each other. Like maybe 2 or 3. Now, I made my squares pretty small since I was using a mini-loaf pan.
You guys I was sweating so much at this point.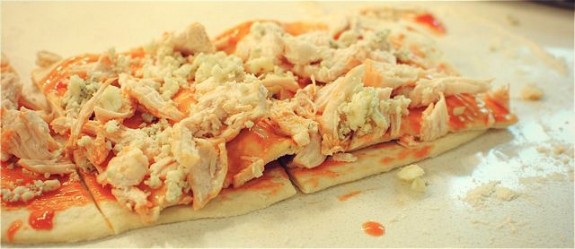 Then you transfer them to your pan, upright, as best you can, and move them to a place with natural light so that you'll stop complaining about horribly wretched photos.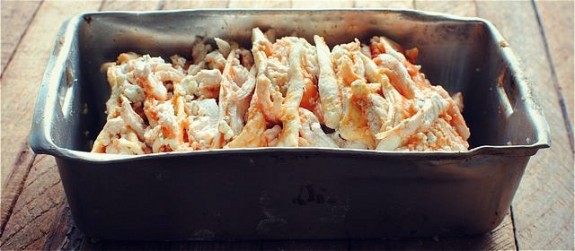 Baked! And you'll never guess what happens halfway through the baking process. You melt a little butter, mix it with a minced garlic clove, refill your wine, and brush the top of the bread with it.
Oh haaaaayell yeah.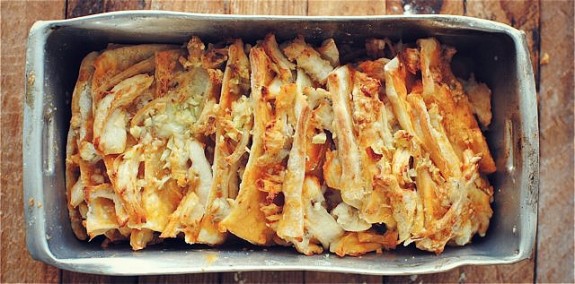 Now, mine didn't puff up as much as Kelly's did. But I think it's because I hadn't mowed my lawn yet, so you should be fine.
Pull-apart bread. Right, it's more like TRY TO PULL MY MOUTH APART FROM THIS.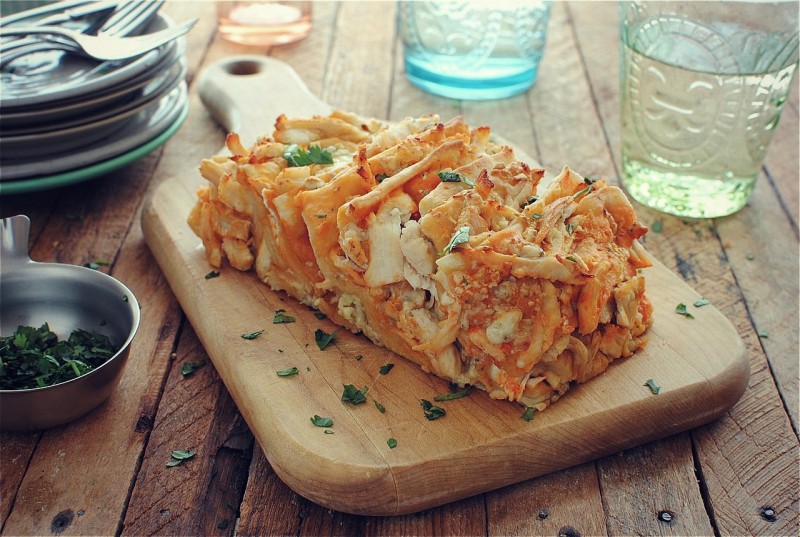 Now Kelly, about that conditioner . . .
Buffalo Chicken Pull-Apart Bread:
(adapted from Kelly's pimp mutha version.)
What it took for one 6-inch loaf:
* half of this pizza dough recipe right here
*1 chicken breast, poached and shredded
* 1/3 cup (roughly) buffalo sauce (I used Frank's)
* 1/2 cup (roughly) blue cheese crumbles
* 1 Tbs. butter
* 2 cloves garlic, minced
Preheat oven to 350. Lightly grease a 3 x 6 mini loaf pan.
Roll the dough out super thin on a flour working surface. I had two leftover balls from the recipe, so I rolled them out separately. But you can do whatever. I DON'T EVEN CARE. I'm totally kidding. I care.
Using a knife or pizza cutter, trim the ends so you have a nice clean large square.
Brush the dough with the buffalo sauce.
Grab the pizza cutter again and cut 3×4 inch rectangles.
Sprinkle the shredded chicken over the sauce.
Then sprinkle on that good crumbled blue cheese.
Then, carefully stack them on top of each other. Like maybe two or three at at time. Then transport them to the mini loaf pan where they're side by side. Kelly had much better luck at making them nice and uniform. Mine look sad and pretty much suicidal.
Slide them into the oven for 15 minutes.
While they're in the oven, melt your butter, add the minced garlic and mixeroo.
Pull the pan out, and brush the top with the garlic butter. Slide it back in for another 20 minutes.
Sprinkle some cilantro over ze top and pull it apart, dudes.
* you can make the squares bigger and use a regular loaf pan eef deesaaahred.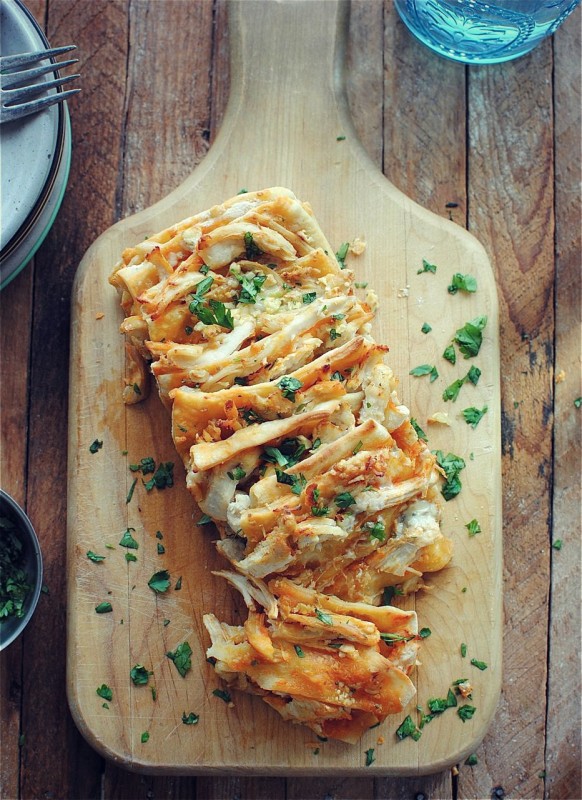 Pull me apart! . . . That was weird.