Doozy-ville Central Town Tostadapalooza of 2012.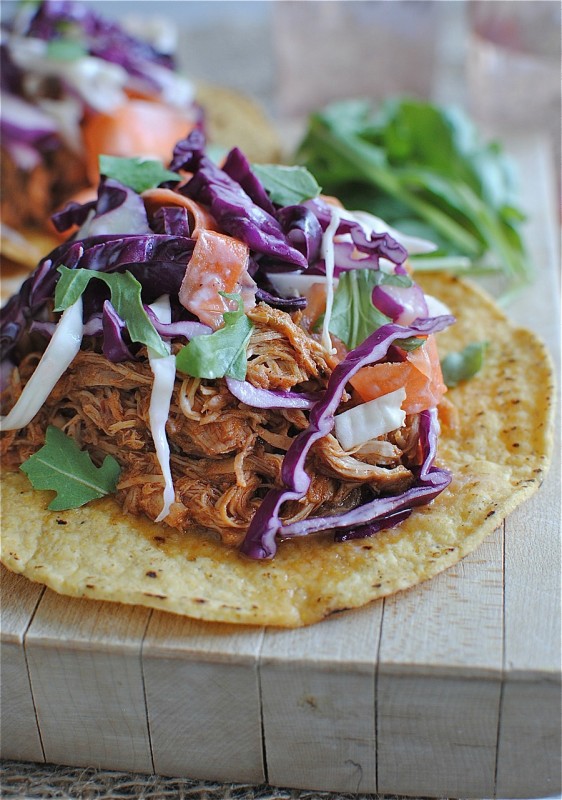 That's pretty much what we have on our hands here, folks.
Minus the keg stands. Ew.
Look, the weekend is upon us, and you have important things to do I'm sure, like play with your kids, watch a football game, wash the cars, fertilize the yards, being all fallish and sickeningly adorable, ugh.
I SEE YOUR INSTAGRAMS.
I have important things to do too! Very important, like ignore mowing my lawn so that I can search the interwebz for a stylish kindle cover, and continue to obsess over 13 zillion different shades of potential fall hair colors whilst harassing my friends with 297 gazillion different pinterest links to help me decide:
"omg bangs or no bangs?"
"will I look jank?"
"but my forehead is weird."
"okay so yay or nay on the ombre?"
"super dark or caramely or streaky or stay blonde or what do you think omg?"
"this is happening in like TEN DAYS and I already can't feel my face."
I'm not overwhelming at all.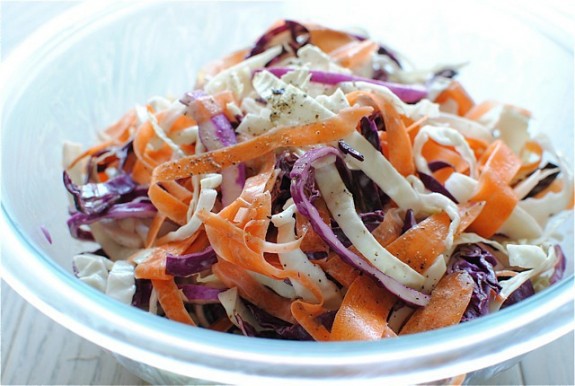 Have I ever told you how Crock Pots were invented? Oh, oh. Saddle up.
Something like 18 or 100 moons ago, the executives were sitting around a huge table filled with dirty ashtrays and jet black coffee, scribbling ferociously on tattered notebooks, when one dude looked up over this thick black-framed glasses (I think his name was Geoffrey), dropped his pencil, letting the cigarette fall out of his mouth and onto the floor, "I've got it. Listen, listen, listen. Okay, Bev is going to need all kinds of time to freak out about her new fall hair color and whether or not she would look good with dramatic bangs. She's gonna need the time, I tell you! We have to come up with a pot that she can dump a bunch of stuff in, set it on a low heat, walk away from it for hours so that she can concentrate on these vital perplexities in life, come BACK to it hours later and dinner. is. done. We'll call it . . . the Crock Pot."
"Why would we call it the Crock Pot?"
"Because if we call it the Crack Pot she'll be onto us."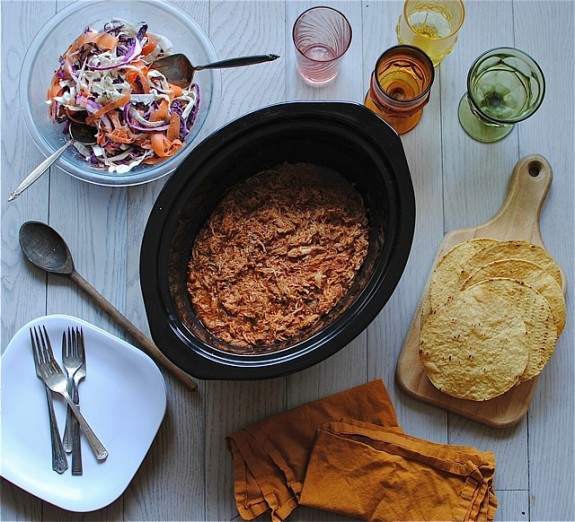 YOU GUYS THIS IS TRUE.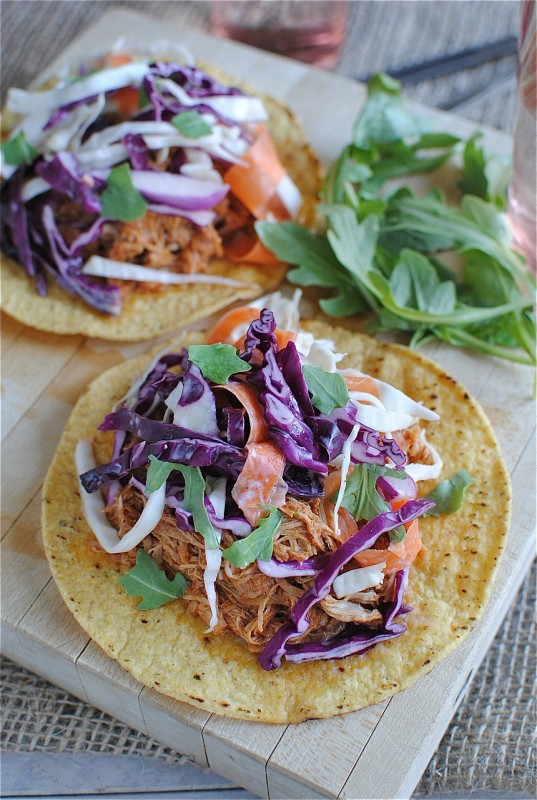 Bottom line: Your mouth is seriously in for it. IN FOR IT.
And PS: that cole slaw has Greek yogurt in it. Oh yes she doooooooo.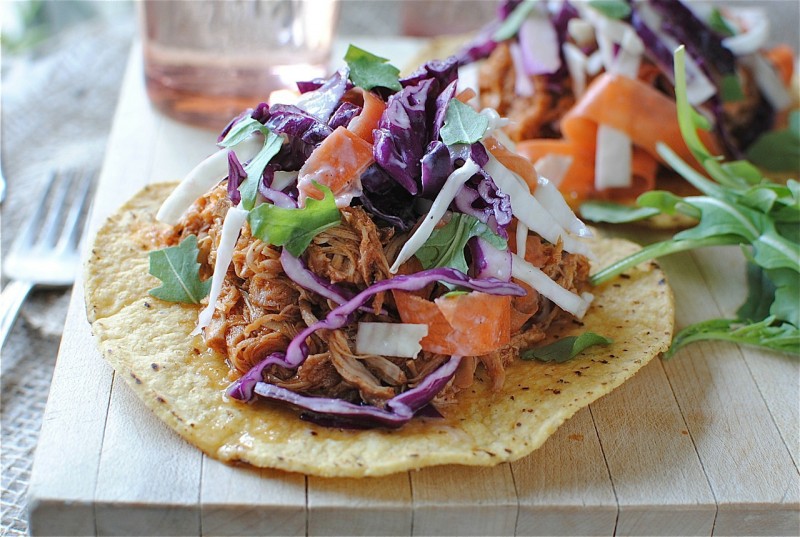 I guess I should wash my car too.
BBQ Pulled Chicken Tostadas with Cole Slaw:
What it took for 6:
for the bbq chicken:
* 6 chicken thighs and 2 chicken breasts (about 2.5 pounds)
* 1/2 onion, chopped
* 3 cloves garlic, minced
* 1 (8 oz) can tomato sauce
* 1 (4 oz) can diced green chiles
* 3 Tbs cider vinegar
* 2 Tbs. honey
* 1 Tbs. tomato paste
* 1 Tbs. smoked paprika
* 1 Tbs. Worcestershire sauce
* 2 tsp dry mustard
* 1 tsp chili powder
* 1 Tbs. brown sugar
* 1 jalapeno pepper, minced
for the slaw:
* 1/2 head green cabbage, cored and thinly sliced
* 1/2 head purple cabbage, cored and thinly sliced
* 2 carrots, sliced into ribbons (using a vegetable peeler)
* 1/4 cup cider vinegar
* 2-3 Tbs. plain Greek yogurt
* 1 Tbs. sugar
* 1 tsp salt
* 1 pinch crushed red pepper
for the final dish:
* tostada shells
* fresh cilantro for garnish
Combine all of the bbq ingredients in a Crack Pot, I mean Crock Pot and let it cook all day! Or 6 hours, whatever.
After about 5 hours, shred the chicken with 2 forks. Put the lid back on it and let it cook 30 minutes to an hour more.
Combine the vinegar, yogurt, sugar, salt and pepper in a medium bowl. Whisk to combine. Add the sliced cabbage and carrots and toss to combine. Stick in the fridge until you're ready to use.
Place a good amount of the bbq pulled chicken on top of each tostada shell. Top with cole slaw and garnish with cilantro.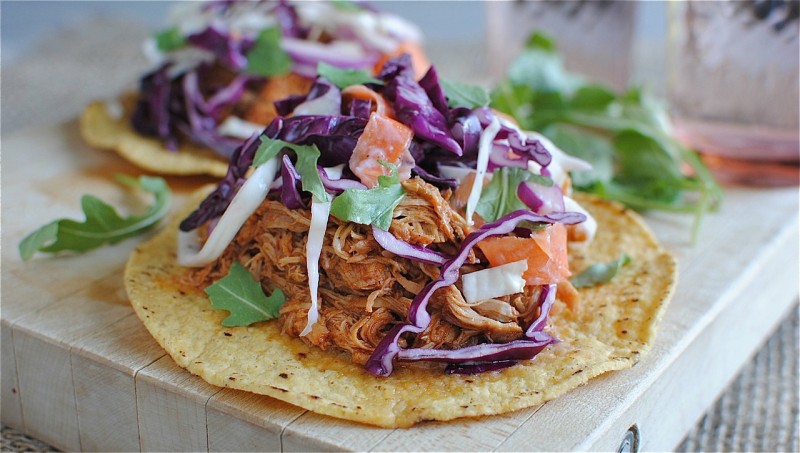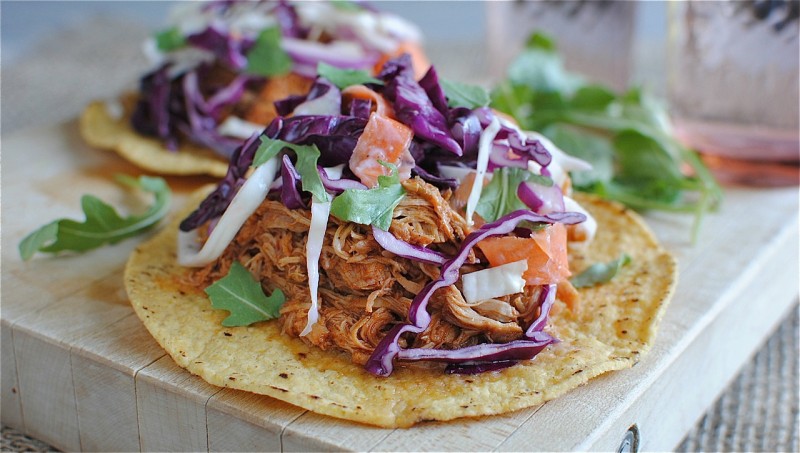 Heaven should probably help us.