Did you know that in ancient times, "autumn" actually translates to "eat risotto?"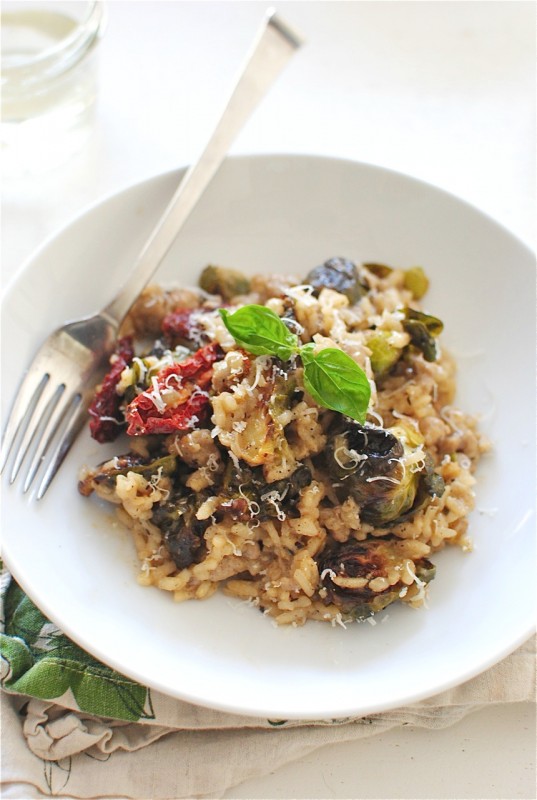 It does. But don't try to look it up because Merriam and Webster had a fight last night and the site's down.
Don't you just love risotto? I could snarf it year round, but I especially dig it during the fall, because of the comfort, starchy glee it unloads.
And this risotto? Gewd Lawd. Aaron had picked up some unbelievable bourbon apple sausages from a local butcher. We'd snatched some gorgeous brussels sprouts at the farmer's market. And of course with our ever-growing pile of sundried tomatoes, and leftover weekend wine (blasphemous, right?), risotto it beeee.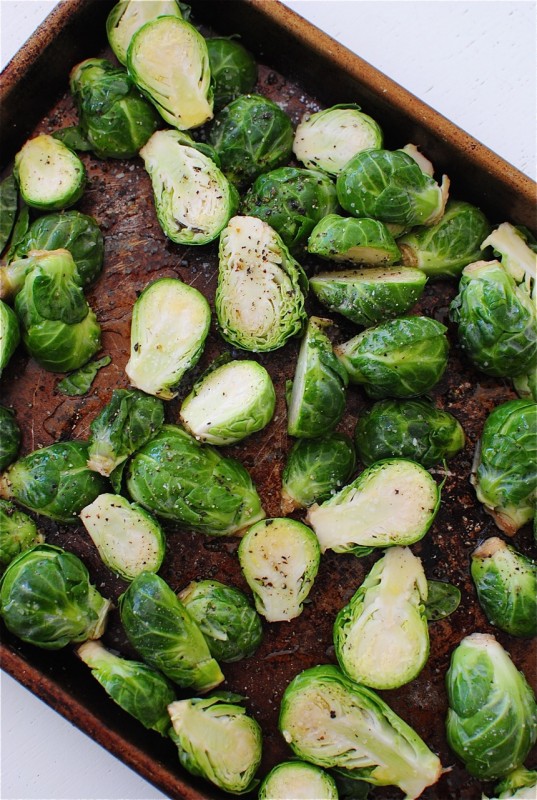 The principles for preparing risotto are the same across the board, but the final dish can yield some mighty different results. Do you prefer your risotto creamy and soupier? Do you prefer it thicker and stickier? Do you leave it simple with only a heavy hand of fresh parmesan and dollops of butter? Do you pack it tight with meats, veggies and herbs?
It's yo' thang. Do what ya wanna do. And honey, I can't tell you, who to sock it to.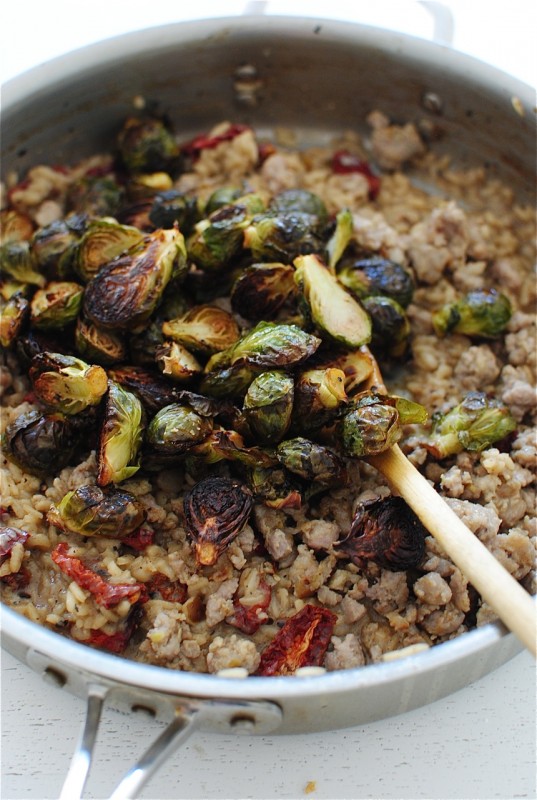 But I can tell you that I jam-packed mine. Jam-packed her good.
That didn't come out right.
Listen, these flavors are going to change the direction of thy soul fairies. Get some good flavored sausage or you'll regret it for the rest of your life. Roast up some sprouts. Creamy up some rice. Finish that wine because, really, leftovers? Embarrassing.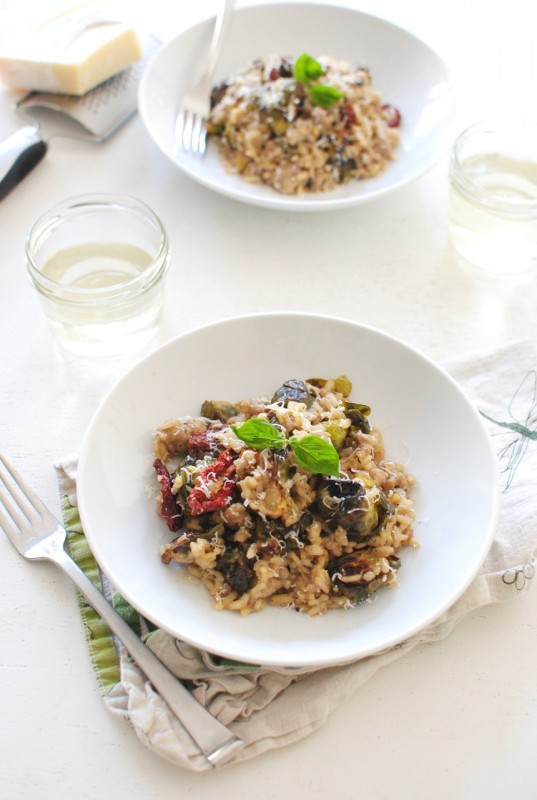 Git it.
Risotto with Sausage, Brussels Sprouts and Sundried Tomatoes:
What it took for 4:
* 1 Tbs. extra-virgin olive oil
* 3 Italian sausage links, casings removed (or any crazy local flavor you can find. we used bourbon apple, omg)
* 1 cup arborio rice
* 1/3 cup dry white wine
* 4 cups chicken stock
* 2-3 Tbs. butter
* 1/2 cup freshly grated parmesan cheese
* 2 cups brussels sprouts, halved
* 1 cup sundried tomatoes
* salt and pepper
Preheat oven to 400. Place the brussels sprouts on a rimmed baking sheet and drizzle with a Tbs of oil. Season with salt and pepper. Roast for 30-40 minutes, until tender.
In a large sauté pan, add a Tbs. of oil, and the crumbled sausage. Over medium-high heat, brown all over, then remove from the pan.
To the pan, add the rice. Toss to coat with the browned bits. Add the wine and deglaze.
Pour the stock in a smaller saucepan, and keep on a medium-low heat. Ladle about a cup of the stock into the rice. On a medium-low heat, let the rice slowly absorb the rice, adding more stock in small amounts until the rice is tender and creamy. If you run out of stock and need more liquid, add 1/2 cups of water until the rice is tender, yet still a little toothy.
Off the heat, add the butter and cheese. Stir in the reserved sausage, roasted brussels sprouts and sundried tomatoes.
Season with salt and pepper, and serve with extra parmesan cheese!
*once you add everything, and you feel you want it just a tad soupier, add a little more water or stock to thin it. I didn't this time, and loved the thicker risotto just as much. Boom.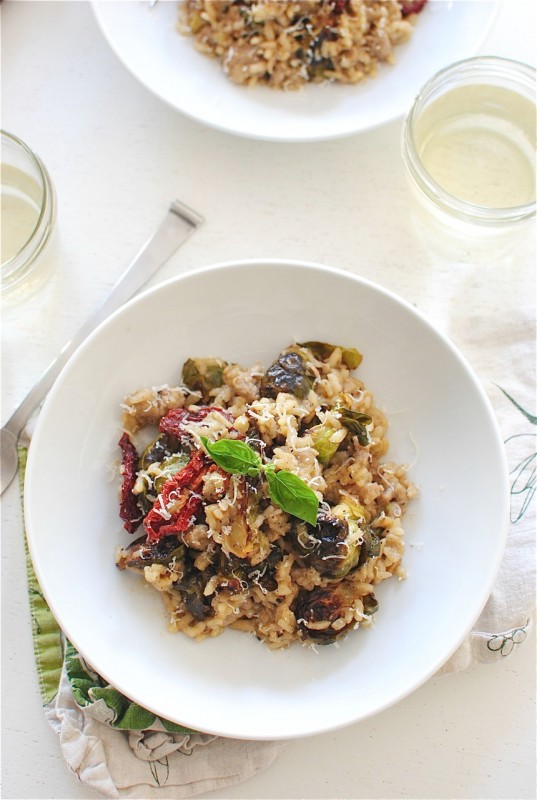 Don't forget, "autumn" means "eat risotto." But the site's still not working, so . . .