So wait, I thought the chicken was the eggplant. BA-DOMP.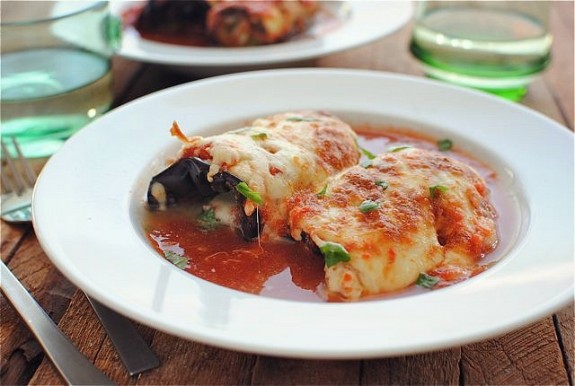 I'm here all night, folks.
So, eggplant is that vegetable that I totally on purpose forget about. I see it every summer in farmers' markets, in various shapes, sizes and stunning shades of purple, and I run away like the boogie man is chasing me with a wasps nest. I don't know what my deal is. Oh wait! I know what it is. Eggplant is like, the sweatiest vegetable ever with all that moisture trapped inside, and there's only room for one sweater in the kitchen.
I really need to not talk about sweat so much on a food blog.
FAT CHANCE.
However, there's a restaurant in town that serves t-h-e-m-o-s-t-u-n-b-e-l-i-e-v-a-b-l-y-s-u-c-c-u-l-e-n-t eggplant parmesan that it requires an obscene amount of hyphens between letters to describe it. And it makes me actually like eggplant. So much that I'll take a bite and let it sit on my tongue for an hour and look like a complete idiot with my eyes rolled to the back of my head and border-line disturbing noises escaping from my face.
It's so . . . cute?
I'm not trying to recreate that here, because you just CAN'T. I'm pretty sure they have magical aliens in their kitchen with wands and capes and chants or whatever. But I did want to create a simple eggplant "roll-up" with seasoned ricotta (SPEAKING OF, I'm going to make homemade ricotta. omg, I can hardly wait. Have you done it? Do I need a cheesecloth because I was JUST at Sur La T — okay we can talk about this later), a layer of baby spinach, all baked in a fresh tomato sauce and an insane amount of melted cheese.
It had to be done.
And I'm realizing this is the second dish in a row I'm showing you that has an embarrassing amount of melted cheese on top. I must be going through something emotional internally.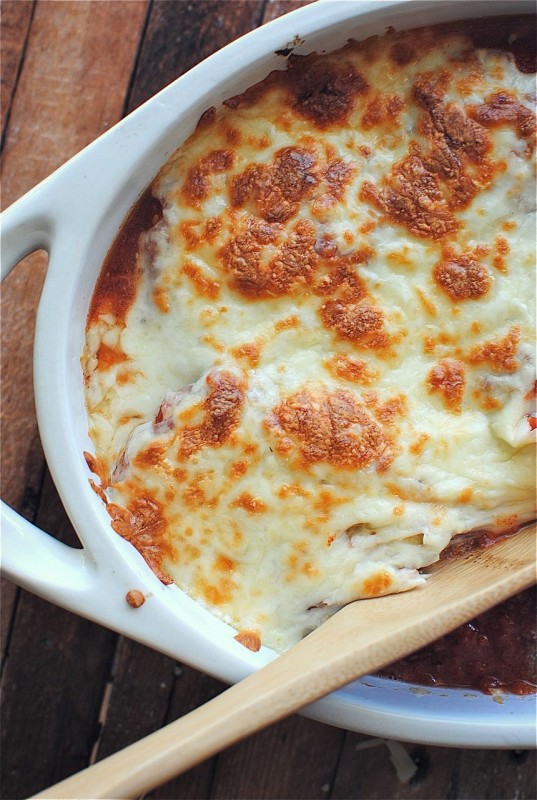 You just now figured out the chicken/eggplant joke, didn't you?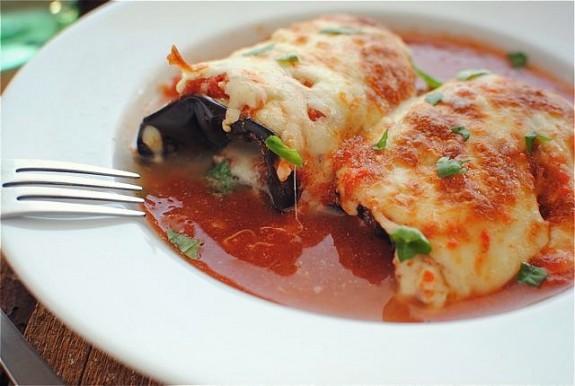 There's room in this for you.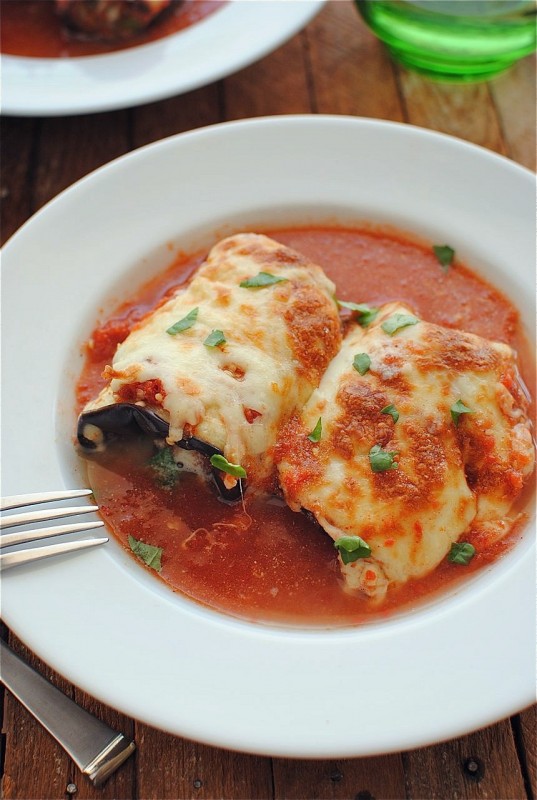 Climb on in.
Okay! The winner of Ree's Cooking Essential kit selected by Random.org iiiiiiis: Jennifer C who said, "Curled them under with curling iron. Went to school plenty of times with burns on my forehead!! :-/!" Nice job, Jennifer! I emailed ya. Thanks to everyone who played!
Eggplant Involtini:
What it took for 6-8 roll ups:
* 1 eggplant, sliced thinly into 6-8 strips
* 2 cups cherry tomatoes, halved
* 1 (14.5 oz) can diced tomatoes
* 1/2 cup ricotta cheese
* 1/2 cup grated parmesan cheese
* 1 egg
* 1 clove garlic, minced
* 4 basil leaves, chopped
* 1 cup freshly torn spinach
* 1 – 2 cups shredded mozzarella cheese
* coarse salt and freshly ground pepper
Preheat oven to 375.
Pulse the tomatoes in a food processor until smooth. Add the canned tomatoes and pulse to combine. Spoon about a cup of tomato sauce over the bottom of a 2-quart baking dish.
In batches, place 2 slices of eggplant on a microwave safe dish and cook on high for 3 to 4 minutes, until pliable. Continue with the remaining slices.
Arrange a few paper towels on a rimmed baking sheet and place the hot eggplant slices on top. Press each slice with paper towels to absorb as much moisture as possible.
In the meantime, combine the ricotta, parmesan, egg, garlic, basil, a pinch of coarse salt and pepper in a small bowl or cup. Stir to combine.
Spoon the ricotta mixture in the center of each eggplant slice. Top with torn spinach. Roll slices up and place in the baking dish, seam side down. Pour the remaining tomato sauce over the roll ups. Sprinkle with cheese. Yes.
Bake for 20-25 minutes, until the cheese is melted. If it's not browning and bubbly like you want, flip the oven to broil to finish her off.
Serve with fresh basil and dig. in.