Hearty summer grain salads are ALL THE RAGE RIGHT NOW.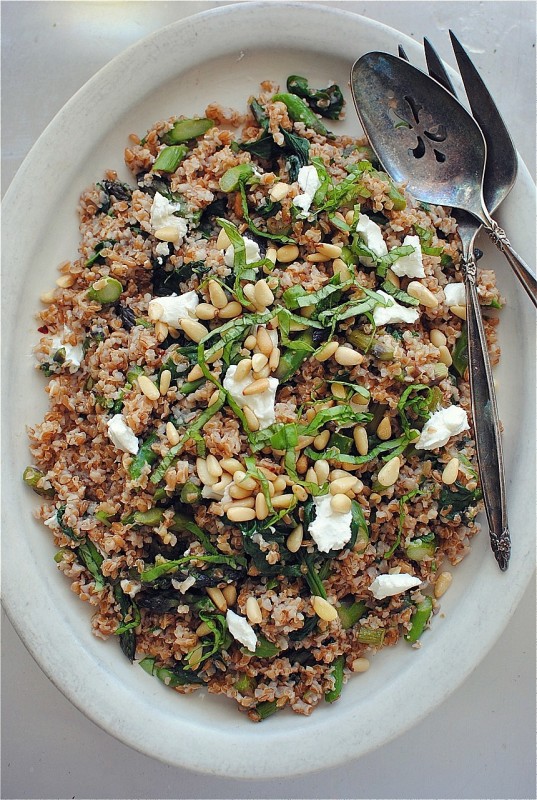 Could you tell I was using my best car salesman voice? Actually they would say, "GIT YER BULGUR SALAD BEFORE IT'S GONE GONE GONE."
Why do car sales people repeat words? "I'm sorry honey, I know we were in the middle of fertilizing the flower beds, but the man riding a dragon in a parking lot screamed that EVERY LAST ONE of their cars has hail damage and need to be sold FAST FAST FAST. No, he said it three times. We have to go."
Speaking of, I need a new car. Mine like, won't start. I've been stuck at so many places over the last few days it's only a little bit hilarious. It starts sometimes on the first key turn, but most of the time, the 67th or 2,113th. It doesn't exactly rule. RULE RULE RULE.
So yeah, grain salads! Bulgur is a funny word. And you most definitely need to say it with an authoritative accent. COMETH FORTH WIDTH THE BULGURRRRR. Oh wait! A king car salesmen, omg. COMETH DOWN TO THE LOT AND I SHALL GRANT YOU THE BULGUR BULGUR BULGUUUR BEFORE IT'S GONE GONE GONE.
I should switch to decaf.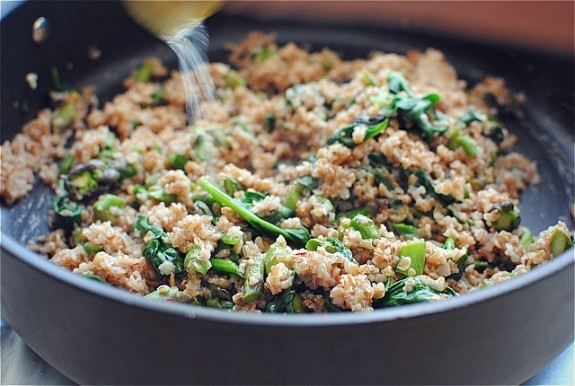 Alright so basically what we have going on here IS: nutty bulgur, velvety spinach, garlicky sautéed asparagus, toasted pine nuts, softened goat cheese and buckets of fresh lemon juice. And ribbony basil. Sweet Lawd.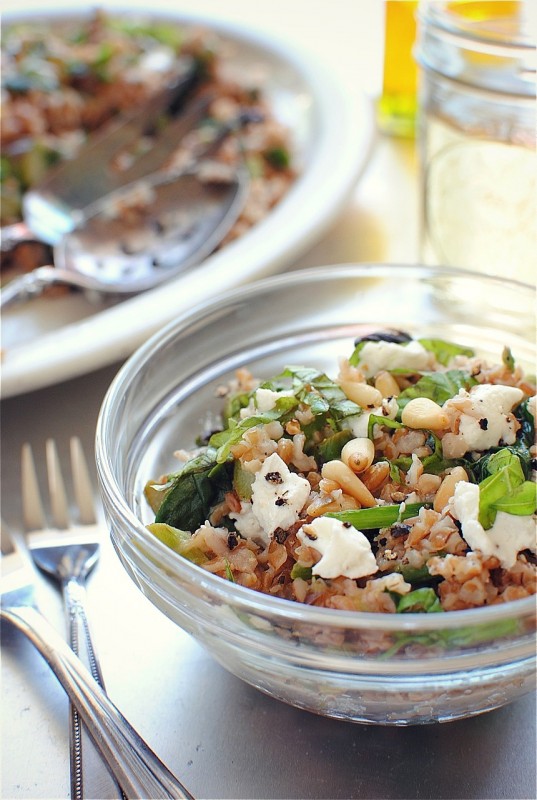 But you know a king car salesmen would be really funny. PATENT PENDING.
Bulgur Salad with Spinach, Pine Nuts and Asparagus:
What it took for 4 (as a side dish) or 2 (as the main entree):
* 1 cup bulgur
* 2 Tbs. extra-virgin olive oil
* 2 cloves garlic, minced
* 1/2 bunch asparagus, ends trimmed and cut into a dice
* 4 cups baby spinach
* 1/4th cup pine nuts, toasted
* 3 oz softened goat cheese
* 1 lemon
* 1/4th cup fresh basil, sliced thinly
* coarse salt and pepper
Pour two cups of water and the bulgur into a saucepan. Bring to a boil, reduce heat and simmer for about 15 minutes, or until tender. There shouldn't be any water left.
Heat the oil in a medium skillet over medium heat. Add the garlic and bloom 30 seconds. Add the asparagus and cook until crisp-tender and it pops in color, about 4 minutes. Season with salt and pepper.
Add the bulgur to the skillet and stir in the spinach. Toss everything to combine. Give a good squeeze of lemon juice over the whole mess. Taste it. Throw in some more salt and pepper.
Serve on a big platter dolloped with the goat cheese and garnished with the pine nuts and thinly sliced basil. And more lemon. Oh yes.