Remember when we memorialized on that one day last week? This here salmon is what we ate.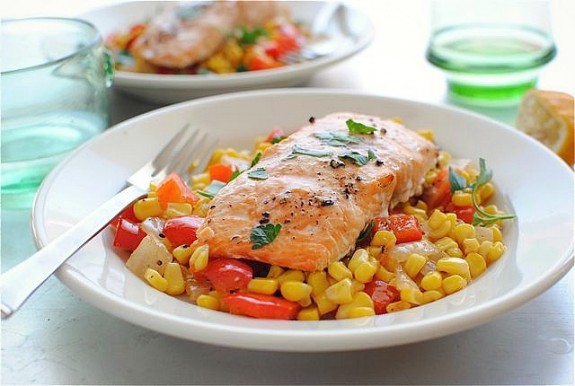 Is it an oxymoron to ask if one remembers something memorial-y? Things that make you go HMMMM.
I never liked that song.
So, CEDAR PLANKS. Do you use 'em? Love 'em? Hate 'em? Swear by 'em? Practice your Kung Fu karate chopping skills with 'em like I do? I MEAN DON'T. Like I absolutely don't.
Or probably do.
I'mone be straight witcha. This was the first time I'd ever used one and. . .  I dug it! You have to soak the plank in water for about 2 hours before you put it on the grill. And it was hilarious because I couldn't find a container long enough for the plank to fit in, so I was about to put it in the BATHTUB (I was, you guys!) when Aaron brought out a huge red cooler from the garage that you normally take to a tailgating party or whatever, and it fit in there!
That was a boring story.
Oh, hi. There may or may not be Phillip Phillips playing on the YouTubes in the screen reflection. Notice how enthusiastic Aaron is about this?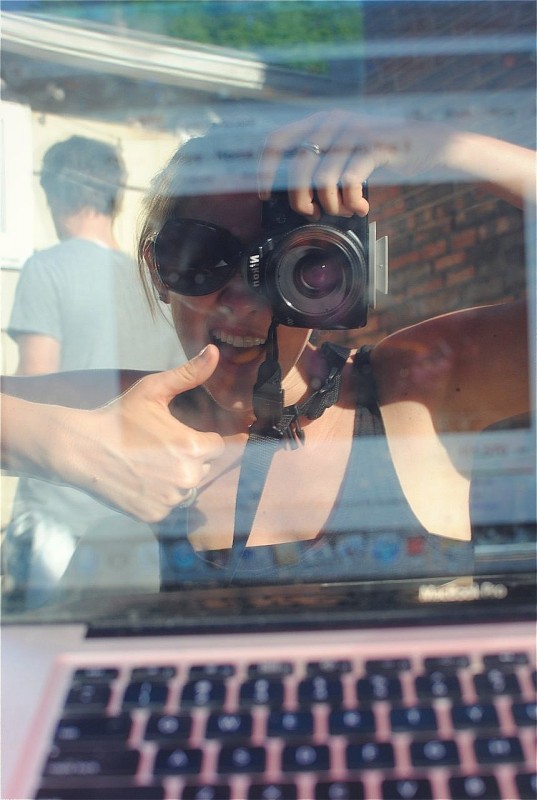 Of course this summer dinner is like, THUH easiest business to pull together. Grilly grilly here, saute saute there, (P.S. sometimes the little accent thingy over the "e" appears in saute, and sometimes it doesn't. Will someone tell that thing to chill and just appear all the time already? Because I can't figure out how to get it there. And I have more important things to do like tell you riveting stories about planks fitting inside red coolers. Thank you.)
I would not kick this salmon out of bed.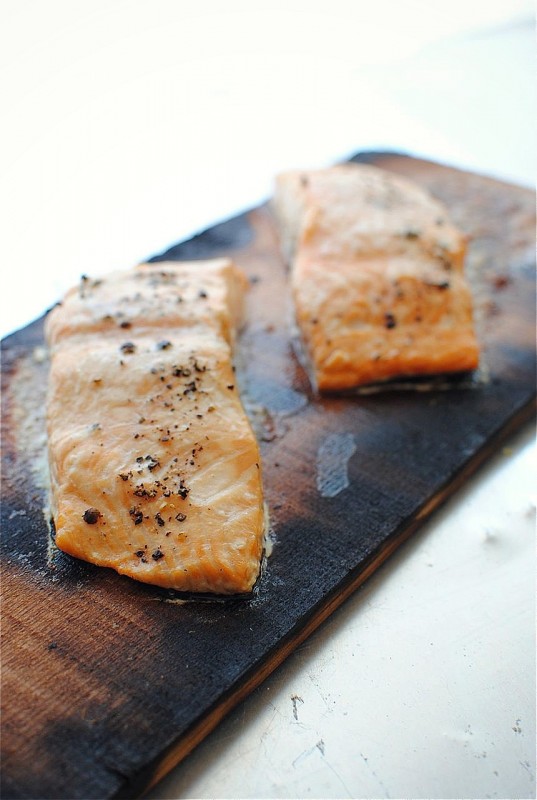 The butter in the corn/pepper relish is the new Land o' Lakes olive oil and sea salt butter that Miss Ree is endorsing right now. And okay. So tomorrow I'm participating in a webinar with her and I'm already sweaty and nervous that my voice is going to crack when I ask my questions. So, if you're listening or participating in the same webinar tomorrow (11 am CST) and you hear a janky high-pitched squeak stutter through her part, that's me.
But doesn't this look so tasty and waistline-friendly and delightful and fresh and bright and shut my trap already?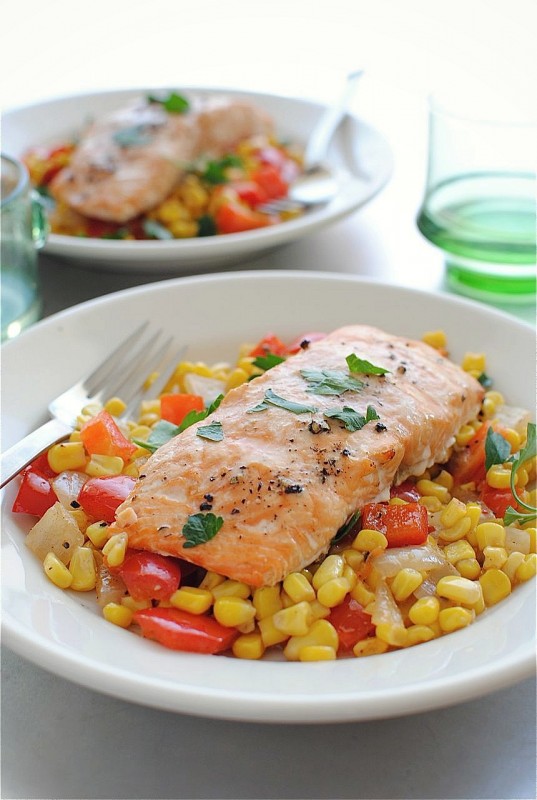 You should totally plank.
Grilled Cedar Plank Salmon with a Corn and Pepper Relish:
What it took for 2:
* 2 fresh salmon fillets
* 1 cedar plank, soaked in water for 2 hours
* 2 Tbs. extra-virgin olive oil, divided
* 1 white onion, finely diced
* 1 cup frozen or fresh corn
* 1 red bell pepper, diced
* 2 Tbs. Land o' Lakes butter with olive oil and sea salt
* coarse salt and freshly ground pepper
* parsley, for garnish
* 1 lemon (for the juice)
Heat 1 Tbs. oil in a small saucepan over medium-high. Add the diced onion and saute until it starts to soften, 3 minutes. Season with salt and pepper. Toss in the corn and diced red pepper, add the butter and continue to saute until tender, 3 minutes. Throw in another pinch of salt and pepper.
In the meantime, lay the salmon fillets on the cedar plank. Drizzle the remaining Tbs. oil over the fish, along with a pinch of salt and pepper. Grill until the fish is cooked through, about 10 minutes.
Serve salmon over the corn and pepper relish. Garnish with fresh parsley and a good squeeze of lemon juice. DULISH.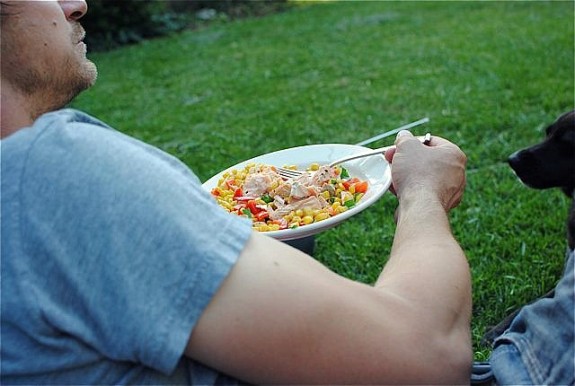 p.s. Charlie liked it.