It's a double feature today, folks! Step right up!
We got goat cheese. We got herbs. We got lox and endive and chicken.
We got mushrooms. We got soup. We got foil and 'sparagus and lickin'.
It's like MY EVERY OWN CARNIVAL IN MY MIND.
Wait a minute, this is all wrong. If I'm the carny, I should really be smoking a Virginia Slim and wearing my jorts. I mean jorts. I don't have any.
Okay I have jorts.
Soooo yeaaaaah, look at these endive boats! That's LOX inside them. Getting its cradle on. Bassineting it for those balls o' cheese of the goat variety. Row row row yourself to fancy land cuz you're on the endive boat of awesomeness.
My carny lingo is SAD, you guys.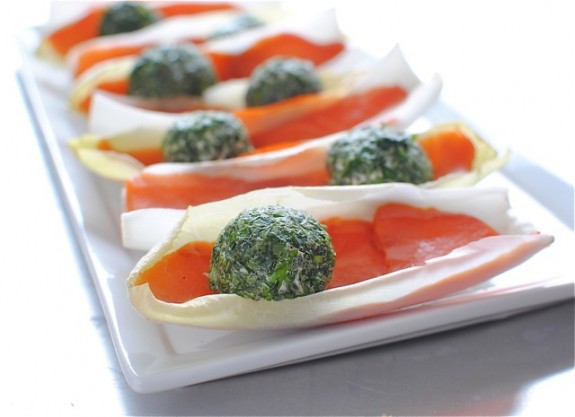 Before you claw your own eyes out reading my pathetic attempt at the slangs, here's the link where you can find a (semi-normal) post about these endive boats.
GO. SAVE YOURSELF.
BUT HOLD ON NOT SO FAST.
I have one more thing to show you, pigeons. (I'm totally batting my eyes right now)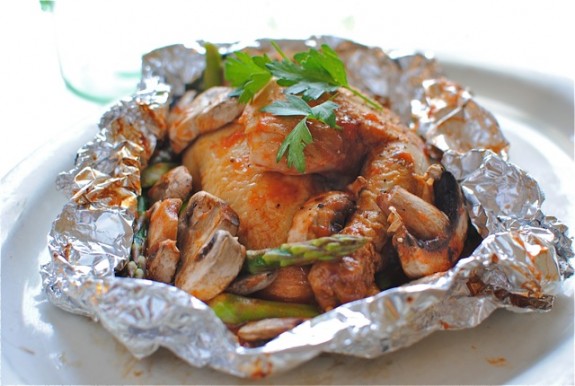 It's actually chicken in there, not a pigeon. STOP REPORTING ME.
But isn't it all cute wrapped up in foil, with delicious veggies in it and creamy tomato basil SOUP drizzled on it? True fact.
And I've made a decision. It was hard to come to this, but, carny life isn't for me. The time I spent just now proved to me it's really rough out there. I'm going to go snuggle my jade plant now.
Oh! Here's the chicken dinner story fer yer eyes.
I'm still wearing my jorts though.