That's RIGHT I did, yo.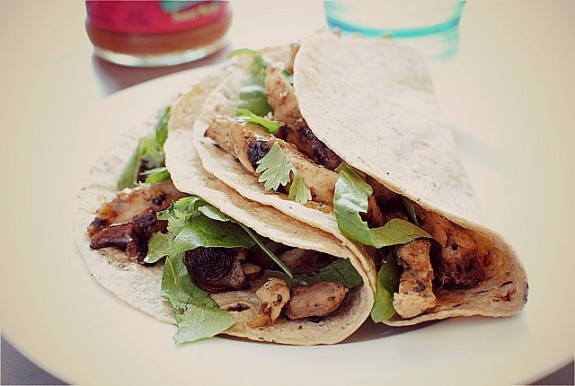 Okay seriously – "yo?" I swear, if there was a Nerd Jar on this internet blog website, I'd be BROKE AS A JOKE. <— see? help me.
The true fact deal is, I haven't been able to get the pizza version of these out of my head. Wait, are these the taco version of the pizza or was that the pizza version of the tacos? AND LIFE UNFOLDETH IN ITS PERPLEXITIES ONCE AGAIN BEFORE OUR VERY EYES.
$5 in the Nerd Jar? Already?
So this is basically the same principle as before – you marinate chicken (thighs! boom.) in the yogurt/tandoori mixture overnight. And then you grill 'em up and slice 'em up. Simple as PIE. I mean tandoori chicken tacos.
And then you slice up some red onion and sloooooowly caramelize the bajuju out of them. If you don't know what "bajuju" is then I feel really sorry for you. And I am not putting any more money in the jar. For at least an hour.
Oh! One minor edit from the pizzas; instead of sliced mango I picked up some jarred mango chutney. But say it like CHUT-A-NEY and have no friends ever.
Pile, layer, layer, pile, pile, dollop, garnish, dollop, dollop, pile, layer, pile, garnish and yes.
You KNOW you wanna get. in. that.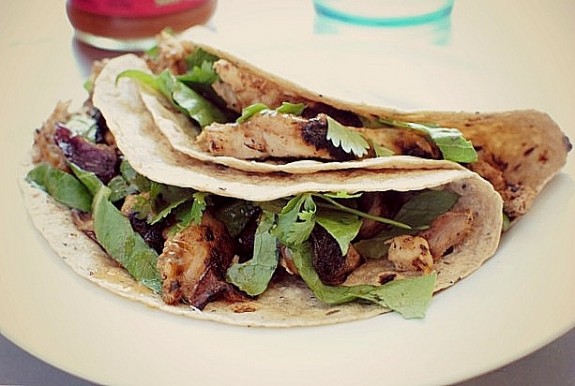 And P.S. Don't worry. I'm not going to stay all vintagey on you forever. It must be the TIDAL WAVE OF MY BRITTLE SOUL.
Okay fine. $20 in the Nerd Jar.
Simple Tandoori Chicken Tacos:
What it took for 6 tacos:
* 1 pound chicken thighs, trimmed of any excess fat
* 3 Tbs. plain Greek yogurt
* 2 tsp (or more!) tandoori paste
* 2 Tbs. extra-virgin olive oil, divided
* 1 large red onion, thinly sliced
* 1/2 cup shredded romaine lettuce
* 1/4 cup cilantro leaves
* 2 Tbs. sweet mango chutney (from a jar is what I used and it was wonderful)
* 6 whole wheat tortillas
In a medium bowl, combine the yogurt and tandoori paste. Stir together until smooth. Place the chicken thighs into the bowl and toss to coat with the marinade. Cover and stick in the fridge for at least 4 hours. Overnight is best!
Heat 1 Tbs. oil in a medium skillet over low. Add the sliced red onions and caramelize them until they are reduced, sweet, and candy like, about 40 minutes.
Heat the remaining oil on an indoor or outdoor grill. Grill the chicken until cooked through, with nice grill marks on both sides, about 10 minutes. Remove from heat and cover to rest 5 minutes. Slice thinly.
Then you just assemble! Heat the tortillas on the grill, oven or microwave. Then lay the chicken slices in the center of each tortilla, followed by some caramelized onions, shredded romaine, fresh cilantro a good dollop of the mango chutney.
This is life, you guys.