Slurp. Crunch. Chew. Pow. Zing. Faint. Repeat.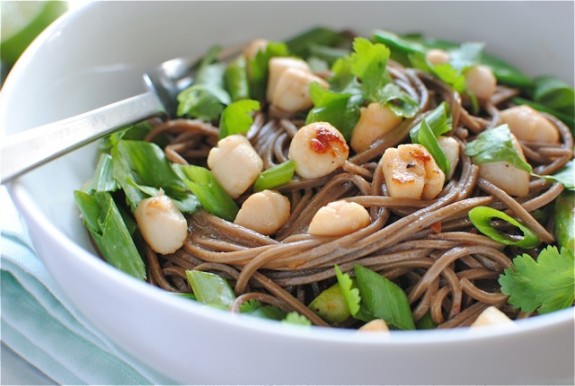 That's pretty much what we're dealing with here, folks. A quadrafecta of bite by bite mouthal blowout.
I discovered soba noodles a lawng time ago, in an old Domino magazine. Which BY THE WAY, am I crazy or did I hear it's coming back? Like, only online? Or just a special issue and that's it? Or in the hopeful corner of my imagination where things occur like Ryan Gosling and Phillip Phillips cleaning my kitchen with no shirts on, or Wilson Phillips inviting me to be a guest host on their NEW SHOW and I get to wear a wig?
Soba noodles. Right.
I remember reading the word soba for the first time and mistaking it as soap noodles. Like, WHO EATS SOAP NOODLES. I MOST CERTAINLY AM NOT EATING SOA- oh, soba. Well, what in the name of bull honky tonkeraroo is soba?
Let me tell you.
Soba noodles are thin Japanese noodles made out of buckwheat flour. And they're deliciously nutty and wonderfully toothy and I'm going to make a wig out of them for my debut on the Wilson Phillips show. YOU WATCH ME.
Soba noodles are also rad because you can eat them hot, warm, room temp, or cold. Or on your head.
I'd eat soba noodles straight from a dirty pig trough, but one of my favorite ways to slurp them into my life is this supah simp to the pimp toss with barely sauteed asparagus and snow peas, a quick dressing of soy, spicy sambal oelek and lime juice, and topped with seared scallops and scallions. And of course more lime juice.
Oh, and while I'm thinking about those little scallops: you know the frozen bags at the store of the little scallops and you're like, "ewwww." Well, I tried them! And they're great! Huge diver scallops will forever rule of course, but when you're in a pinch and don't want to sell a kidney in order to purchase the good stuff, try these. I dug 'em.
I'm telling you, this meal is SO fresh and takes NO time at all and there is SO much going on in the ways of flavor and texture and this sentence needs an exclamation point, dag nabbit!
Slurp. Crunch. Chew. Pow. Zing. Faint. Repeat.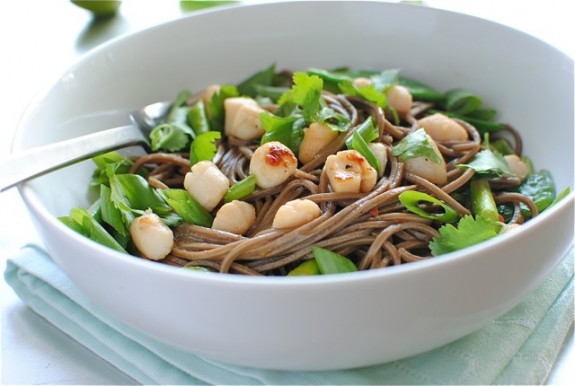 My wig is coming together pretty nicely, you guys.
Soba Noodles with Scallops and Vegetables:
What it took for 2:
* 2 bundles soba noodles
* 1 Tbs. extra-virgin olive oil
* 10 asparagus spears, ends trimmed and cut into 2-inch pieces
* 1 cup snow peas, sliced on the diagonal
* 1 Tbs. sambal oelek
* 2 Tbs. soy sauce
* 1 Tbs. toasted sesame oil
* 2 Tbs. fresh lime juice
* 1/2 tsp brown sugar
* 1 cup frozen baby scallops, thawed
* 2 Tbs. sliced scallions, for garnish
In a medium bowl, whisk together the soy sauce, sambal oelek, sesame oil, lime juice and brown sugar.
Bring a pot of water to a boil. Add the soba noodles and cook until tender, about 5 minutes. Drain and rinse under warm water. Dump noodles into the bowl with the spicy dressing.
Heat the oil in a medium skillet over medium-high. Add the asparagus and snow peas and saute until crisp tender, 4 minutes. Remove from heat and toss into the bowl with the soba noodles.
Back in the skillet, add the scallops. Sear on one side for about 2 minutes. They'll shrink up pretty fast, so instead of flipping them one by one, just toss the pan around for another minute until they're browned all over. Season with a pinch of salt and pepper.
Serve soba noodles topped with scallops and scallions. Give the whole darn thing another good squeeze of lime juice. Eat it!