Saaaaaaaaaaa-lurp.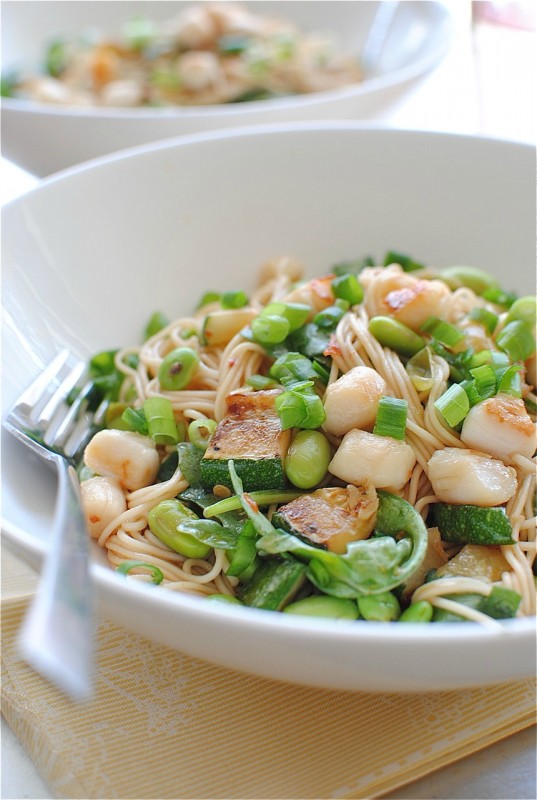 Okay. I know you're probably looking at those little scallops on top of those noodles and thinking you've seen this before somewhere, tucked neatly in a memory folder stored in that one dusty corner of your cerebrum. And you have! I kindasortamaybe made this back in April with soba noodles. But! I swapped out the veggies and fine-tuned her a smidge. Plus, some of you may be new to my site and haven't seen that old post on soba noodles. If you are new, I'd like to welcome you! Have you filled out these sign-in forms yet?
I'm just kidding.
Aaaaand you're gone.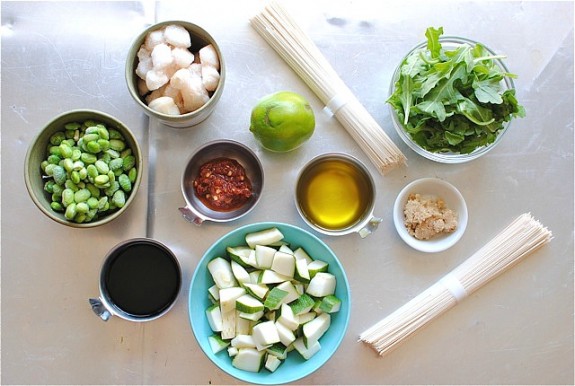 So, Aaron and I are on this "low carb" thing right now (which is dumb) because we're headed to North Carolina in a couple of weeks to sing in a family wedding, followed by a week on the beach with the whole crew and a bunch of swimsuits and cameras and SELF WORTH ON THE LINE. I say we're on a low carb thing, which is a hilarious joke because A) I'm, uh, showing you somen NOODLES right this very second, and B) you're going to shake your index finger right up in my face when you see what I'm posting next week. And then right after that you'll love me forever and want to feed me niblets of dark chocolate whilst I lie on clean white linens kissed by the open summer breeze.
My heart is in the right place though. And isn't that what really counts here? No? Oh.
So remember that bag of little frozen baby scallops that I used last time? Finally used 'em up, bay-bay. Jeah.
And sautéed zucchini from the garden, natch.
Somen noodles – ever had them? They're super thin, delicate Japanese noodles that cook up in seriously half a nano. You buy them packaged in little bundles. "It's time for a tumble with the bundle."  Name that movie.
I like to drain them under cool water, wrap them around my neck like a million little scarves, and then toss them into this super primo, spicy, limey soy dressing that is most likely starting to replace my blood.
And then when you toss in that cooked edamame, the zucc, some arugula, the bebe scallops, garnished with crisp, finely sliced scallions?
Honey. Child. Please.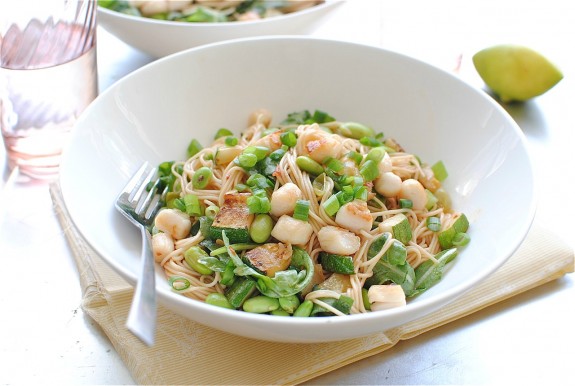 And I mean really toss it good. Get everything coated with the dressing. And then scoot everything to one side and just slurp it right out of the bottom of the bowl like a true lady.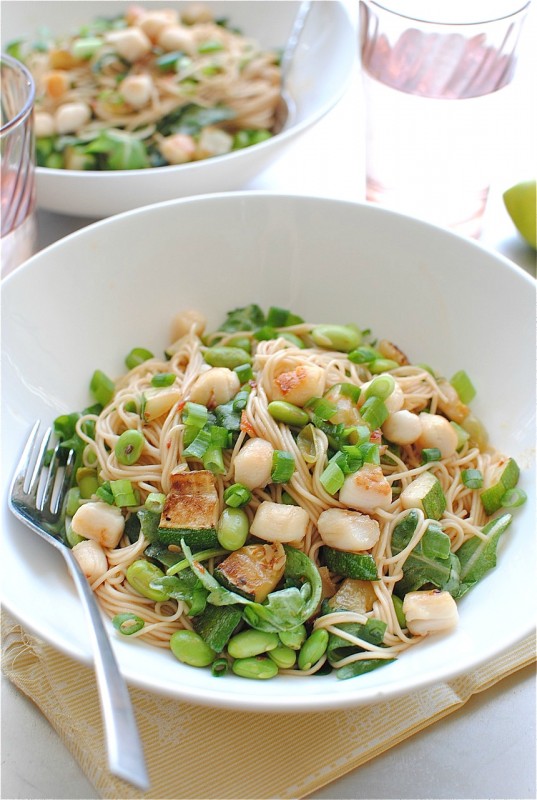 I mean, am I right or am I right?
Somen Noodles with Scallops and Vegetables:
What it took for 2 dinner bowls:
* 3 Tbs. extra-virgin olive oil, divided
* 1 cup baby scallops (if frozen, thaw them first and pat dry)
* 1 cup diced zucchini
* 1 cup frozen edamame
* 2 cups arugula
* 2 Tbs. soy sauce
* 1 tsp sambal oelek
* 1 tsp brown sugar
* juice of one lime
* 2 bundles somen noodles
* 1 scallion, finely sliced
* coarse salt and freshly ground pepper
In a small bowl, whisk together 2 Tbs. oil, soy sauce, sambal oelek, brown sugar and lime juice. Set aside.
Cook the edamame in a small pot of boiling water for 5 minutes. Using a large slotted spoon, fish out the edamame, set aside and leave the water boiling. Add the somen noodles and cook until al dente, about 5 minutes, if that. Drain and rinse under cool water.
In the meantime, heat the remaining Tbs. oil in a medium skillet over medium-high. Add the scallops and sear on both sides, about 5 minutes total. Season with a small pinch of salt and pepper. The scallops will release a lot of water, so if you need to, tip the skillet over the sink to drain the water, and return to finish searing. Remove scallops from pan and set aside. *You can always sub gorgeous diver scallops for these baby ones. Or leave them out all together for a straight vegetarian meal.*
To the pan, add the diced zucchini and pinch of salt and sauté until they start to brown on both sides, 4 minutes.
Add the somen noodles to the bowl with the soy dressing and toss to combine. Add the edamame, zucchini, arugula and scallops; toss to combine.
Divide the noodle dish among two dinner bowls and garnish with sliced scallions. Serve with more fresh lime juice because ohhhh the things that will happen to you.