I've been on a mission, y'allins. A mission with high heels on.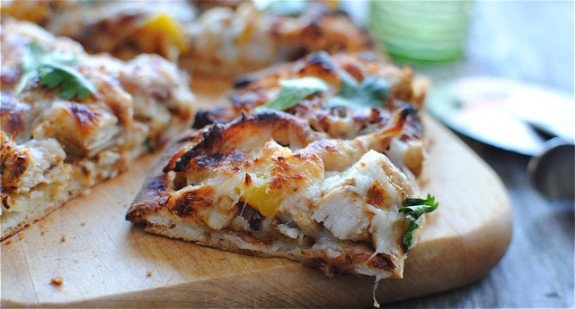 Just kidding. I've not worn high heels since I worked in a bank. Actually, I wore some cute brown chunky half heels with this cool strap to brunch this past weekend, but I guess that's not rightly important right now. Let me start over.
I've been on a mission, y'allins. A mission to create the most simple, most tantalizing, no guess work, stomach-massaging, mouth-seducing, esophagus-rocking tandoori pizza ever naan to man.
See what I did there?
Naan?
These things make me giggle so hard.
Well, this is pretty much it, bunnies. There are only TWO ingredients in the marinade if you don't count the chicken. If you do count the chicken, only three. BECAUSE I NEED TO EXPLAIN MATH TO YOU.
Do you love caramelized onions like a weirdo loves his slanket? Me too. Me. Too.
And do slices of mango make you twirl and curtsy to an imaginary group of dashing fellows on horseback that you made up in your head but you might accidentally on purpose speak out loud as if they were there? No?
Oh.
I don't either.
And does pillowy naan bread make you put the back of your hand against your forehead and beg for someone to fetch you one of those large bamboo fans and a face mister?
Yes.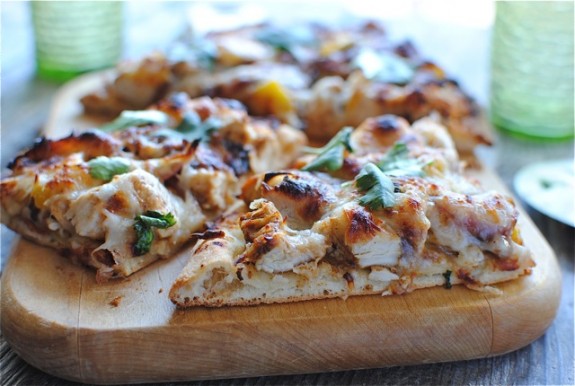 It has arrived.
I would lick this spicy tandoori sauce straight off of Satan's pinky fingernail.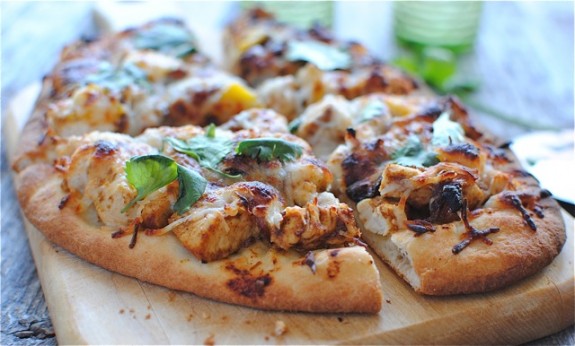 And since it's naan pizza, it's totally portion control friendly! So go ahead and eat 17 portions.
Simple Tandoori Chicken Naan Pizza:
What it took for 2 pizzas:
* 2 chicken breasts, cut into a small dice
* 3 Tbs. plain Greek yogurt
* 2 tsp. (or more if you can handle the heat!) spicy tandoori paste
* 1 Tbs. extra-virgin olive oil
* 1/2 red onion, thinly sliced
* 5 frozen mango chunks, thawed and thinly sliced
* 2 store bought naan breads
* 1 cup shredded mozzarella cheese
* cilantro, for garnish
In a bowl, stir together the yogurt and tandoori paste. Add the chicken, cover and marinate it in the fridge for at least an hour.
Preheat oven to 400.
Heat the oil in a medium skillet over low. Add the onions and caramelize them until they become super soft and sweet, about 30 minutes. (If you're in a hurry, you can always just saute the onions to your desired softness and sweetness.) Remove onions from the pan and set aside.
Add the chicken to the pan, marinade and all. Saute until chicken is cooked through and the sauce reduces a tad, 6 minutes. Remove from heat.
Layer the chicken over each naan bread. Top with caramelized onions, sliced mango and top with shredded cheese.
Slide into the oven and bake 10 to 12 minutes, until the cheese has melted and is browned and bubbly.
Garnish with cilantro, slice and serve it up, baby!
* That pizza sauce that you see in the first picture. Yeah. I thought I was going to need that, but the tandoori marinade ended up becoming the perfect light sauce for the pizza. But you are more than welcome to brush a little olive oil under the chicken if you feel the desire. Which would be lovely. The end. *