I'm baaaaaaack! And full-fledged, so you better watch yo'self.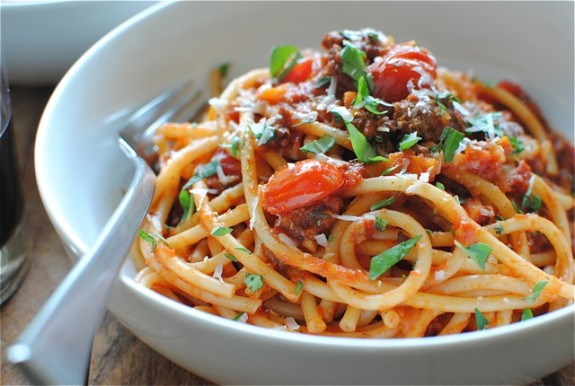 You might not recognize me right off the bat, not seeing pictures of rusty nails, dry wall and grout paste or whatever. And that's okay! Even if it takes you some time to remember me and the actual food I post on this blog, I won't cry enough to drown in it. I'm 16% sure of that.
So the new kitchen, oh my LORD. I seriously walk into it everyday and come to a screeching-oh-my-face-did-Bob-Barker-and-his-skinny-microphone-just-win-me-this-kitchen-paralyzed halt. It's just so dang gorgeous. Who knew a room could have so much LIGHT. And everywhere! It's like every little corner just dances with light and sings, "Look at me! Look at all this light! Grab this cute little bowl right here in this super cool wall pocket because it's all lit up and stylish against this white wall and oh look at all of your colorful dishes on those rustic wooden floating shelves all lit up and it's okay if you want to do the Electric Slide right now." I pretty much freak out 75 times a day.
I'm planning on getting a full reveal post up by the end of the week to show you the room behind all of the freaking. We're still working on the pot rack and a few other teensy things. But you just need to see it and do the Electric Slide with me.
Alright, so this here pasta dinner. I had to EASE back into cooking after eating take-out 47 billion times over the last 3-ish weeks. Things felt weird at first. My hand looked wonky holding the pepper grinder. My fingers forgot how to use tongs and they most definitely looked like Kristen Wiig's tiny hands on the Lawrence Welk Show skit on SNL, minus the forehead and the bubbles. But things felleth into place a couple of glasses of wine in, and life doth resumeth.
And it resumethed pretty darn awesome in my mouth because this meal was TIGHT. I used bucatini for the pasta, which I totally love because of the teensy hole down the center. And since we were throwing our hands in the air like we just didn't care, I used organic ground beef for the meat. The sauce is a combination of crushed tomatoes and fresh cherry tomatoes and spices and honey and herbs and wine and please make this.
Don't even think about sharing.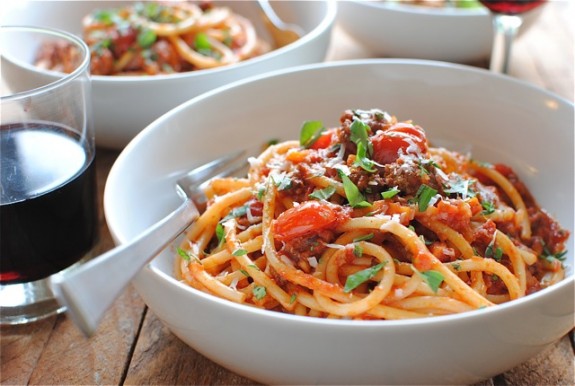 Now I'm wishing we'd installed a bubble machine over the stove.
Beef Bolognese with Bucatini Pasta:
What it took for 4:

* 1 pound organic ground beef
* 1 Tbs. smoked paprika
* 1 pinch crushed red pepper
* 1 medium yellow onion, finely diced
* 2 carrots, finely diced
* 2 celery stalks, finely diced
* 3 cloves garlic, minced
* 1 (1 lb 12 oz) can crushed tomatoes
* 1/2 cup chicken stock
* 1/4 red wine
* 2 Tbs. honey
* 2 Tbs. fresh herbs (oregano, thyme)
* 1 tsp worcestershire sauce
*1/2 cup halved cherry tomatoes
* 1 pound bucatini pasta
* coarse salt and freshly ground pepper
* fresh parmesan for garnish
Heat a large skillet over medium heat. Add the ground beef and cook until browned all over, breaking up with a wooden spoon. Add a good pinch of salt and pepper, along with the smoked paprika and crushed red pepper. Sniff. Yes.
Add the onions, carrots and celery. Saute until the veggies have softened, 5 minutes. Add the garlic and saute 1 more minute. Maybe toss in another pinch of salt. Yeah. Do that.
Add the crushed tomatoes, stock, wine, honey, herbs, and worcestershire sauce. Cover and simmer for 30 minutes. After the simmering, taste it and add more salt and pepper if needed.
In the meantime, bring a large pot of salted water to a boil. Add the bucatini and cook until al dente. Drain and add to the sauce. Toss to combine.
Serve bolognese garnished with the cherry tomatoes, more fresh herbs and lots of parmesan cheese.
Taste that. Hurts so good.