Whoa there, beefy mcbeeferpants!
I didn't mean to post two beef-a-roo (or is it beef-a-MOO? OHHHHH) recipes two days in a row. Maybe I'm low on iron? Maybe a message was subliminally sent to me in cloud formation from the sky? Maybe I'm still sad that Elise got sent home on American Idol but relieved it wasn't Phillip Phillips because then we'd be dealing with a serious cardiac arrest on our hands? Maybe I'm stressed that I can't get to the paint in our garage due to 15 large contractor trash bags leftover from the remodel so that I can paint my vent covers before I show you our new kitchen on Friday? Maybe I'm irritated that the last two boxes of Nag Champa I've purchased haven't nagged my champa like it used to and I'm afraid they changed their formula and they really shouldn't mess with my heart like this? Maybe it's because my cilantro bolts immediately after I plant it each year and this year I decided to display it in a vase once it had flowered because I'm so crafty like that?
Or maybe I made this two weeks ago and nearly forgot to show you?
I'll let you pick.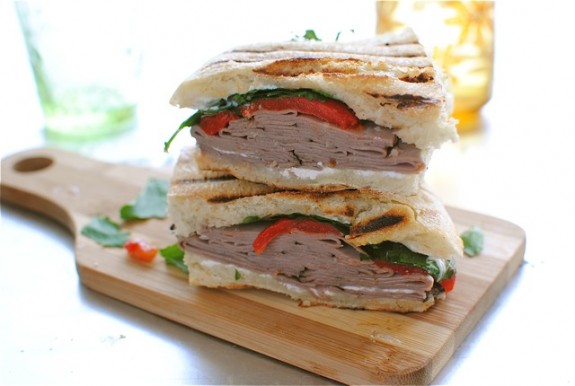 Doesn't it almost remind you of the leaning tower of panini?
GET IT? INSTEAD OF PISA?
Oh.
Here you go, beef lovahs. 
p.s. sorry about the whole "beefy mcbeeferpants" thing up there.