So I'm tweeting with Phillip Phillips' girlfriend. Is this a new low for me? I prefer to think of it as a new awesome.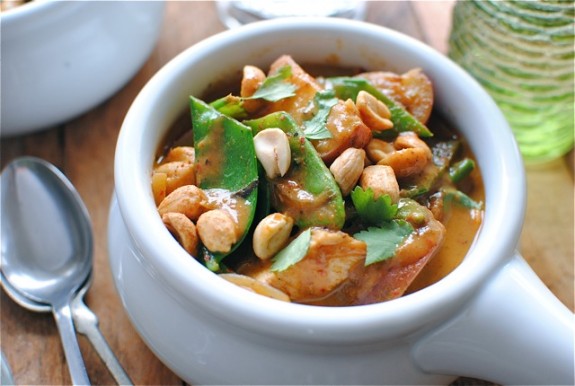 I tried tweeting with Phillip himself, but when I noticed a line of cop cars in front of my house and snipers in my birch trees, I climbed down from my chimney, turned down "In Your Eyes" blaring from my Macbook Pro, and zipped up my trench coat, heeey-oh!
She's a nice girl and I hate her. She's going to be at the show tonight and I hate her. She gets to make out with Phillip after the show and I hate her. It's things like massaman curry that massage the broken soul during times like these.
Okay but real quick. I need to bring something up because I need clarification (and a new trench coat, stupid chimney) for something. Is it masSaman or maSaman? Because my little can of paste just had the one "s" but most everything I see online has two.
OH THE PUZZLEMENTS OF LIFE.
It doesn't really matter because in my head it's massasammassmamsman curry. You should hear the way I say THAT word.
Oh, speaking of! After the whole "flatbreaaaad" thing, I've had quite a few requests to make the audio clip a regular feature. Like, audio clip day! Or "HWBSTW." How Would Bev Say That Word. I'm already over complicating every single one of your lives.
But what do you think? Yay? Nay? Sock it to me? Stick to the voices in my head? Get back up on the chimney and quit bothering me?
Have I mentioned how gloriously sublime masssasmasmamamasan curry is? Chunks of tender chicken, potato and crisp snow peas all swimming together in a thick, luscious pool of coconut curry sexiness. With crunchy roasted peanuts and fresh sprigs of cilantro on top. And hints of freshly squeezed lime juice in every bite. You could strap me to a herd of raging bulls headed for a 500-foot cliff with a lake of this stuff on the other side and I would protest noneth.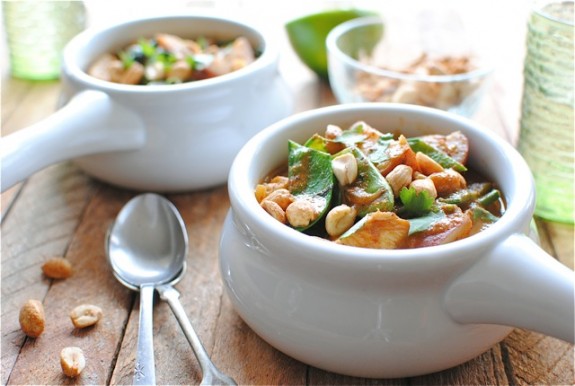 Or if you wanted to make it a herd of raging Phillips, I'm okay with that too.
*I swear I will stop talking about him one of these days.*
Chicken Massaman Curry:
What it took for 2 (with leftovers!):
* 1 Tbs extra-virgin olive oil
* 1/2 medium onion, thinly sliced
* 1 (4 oz) can massaman curry paste
* 1 (13.5 oz) can coconut milk
* 10 small red potatoes, quartered
* 2 chicken breasts, cut into small chunks
* 1 cup snow peas, cut into diagonal chunks
* 1 lime
* 1/4 cup cilantro
* 1/4 cup roasted peanuts
Heat the oil in a medium skillet over medium high. Add the onions and saute until softened and slightly browned, 5 minutes. Add the curry paste and 1/4 cup of the coconut milk; stir to combine. Once the flavors have bloomed, about a minute, add the rest of the coconut milk and bring to a light simmer.
Add the potatoes, lower the heat, cover and simmer until they start to soften, 15 minutes. Add the chicken, cover and simmer 10 more minutes.
Add the snow peas and simmer 2 more minutes.
Squeeze in the lime juice and stir to combine.
Serve curry garnished with cilantro and peanuts!
*You could always serve with this with brown or white rice, but I didn't want to over starch my face with potatoes AND rice. Do what you love!