There are two imperatively crucial subject matters that I must exclaim to all the lands right now.
1) Asian chicken burgers rule my face.
2) Steam from a tea pot burns the skin like a mother.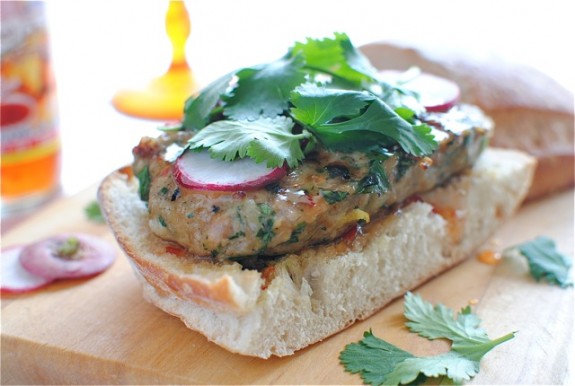 Let's start with the first subject matter. Has your mouth experienced an Asian chicken burger before? Guess how many lids you're going to flip when I tell you what's in these. PEANUTS. Chopped up magical roasted peanuts that offer crunch and depth and the promise of a new day.
Okay so the *&@% steam. This morning I was making my coffee. My water was almost at its boiling point. The French press sits on the counter with coffee grounds resting in the bottom. The tiny hiss of a whistle begins. I pick up the tea pot and start to slowly pour the water into the French press. Then the dang lid slides off the tea pot and the steam body slams my right pinky finger like an angry villain with a sword or a dagger. I scream and scare my dog to the point of urination.
Okay so the burgers. The crunch doesn't stop at just peanuts, ohhhh ho ho no. There's panko in them too. Or painko like my sister says. And an herbilicious truck load of cilantro and scallions. (If cilantro makes you barfy, just throw in a bunch of parsley. OR EVEN MINT. Man, I should have done that.)
And for more lid flipping, we have fresh garlic, a drizzle of soy sauce, LEMON ZEST (!!) and a healthy pinch of crushed red pepper for that perfect tinge of spice that makes ya want slap your own booty.
And I don't think I need to go into how pimp the "buns" are. Just look at this brilliant loaf of bread.
Yes. Yes.
Okay so the steam. Once my heart rate settled down, I assessed the situation and have made the decision for my hand to take permanent residency in my freezer for the next forever.
If the skin bubbles, is that bad?
Okay so the burgers. The garnishes are going to push all of this lid flipping over the edge. Sweet chili sauce, thinly sliced peppery radishes and 30 more cups of cilantro. I am on the verge of fainting just remembering this.
Okay so the steam. What does it mean when a finger turns bright red, then fades quickly to a shade resembling death, then turns to ashes and blows off my hand in a swift spring breeze, leaving me with a nubbin? Should I make a call to someone? A doctor? The circus?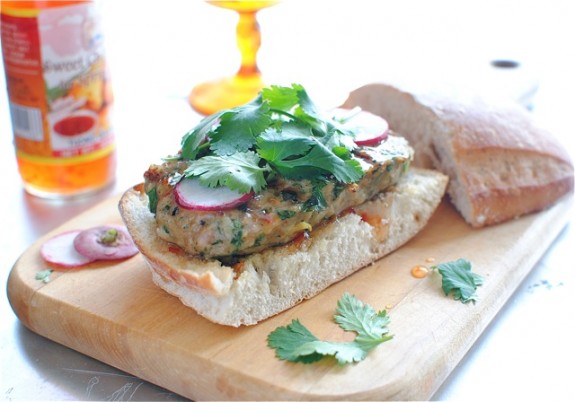 Okay so the burgers. If you don't find these on your tongue today, I'll hurt for you. So will my finger.
Asian Chicken Burgers:
(inspired by My Cooking Hut)
What it took for 4 burgers:
* 1 pound ground chicken
* 1/4 cup soy sauce
* 1/2 cup finely chopped peanuts
* 1/2 cup panko
* 1/2 cup chopped cilantro, plus more leaves for garnish
* 3 scallions, finely chopped
* 2 cloves garlic, minced
* 1 pinch crushed red pepper
* 1 tsp lemon zest
* 1 Tbs. lemon juice
* 2 Tbs. extra-virgin olive oil
* 1 loaf ciabatta bread, sliced evenly into 4 sections, and then each sliced lengthwise
* 4 radishes, thinly sliced
* 4 Tbs. sweet chili sauce
Combine the chicken, soy sauce, peanuts panko, cilantro, scallions, garlic, crushed red pepper, lemon zest and juice in a bowl. Use your hands to form 4 evenly shaped rectangular patties. Place on a plate, cover and stick them in the fridge for at least an hour.
Heat an indoor or outdoor grill over medium high. Lightly coat with oil or cooking spray and grill the patties until cooked through with nice grill marks on both sides, 10 minutes total.
Brush ciabatta buns with oil and toast or grill 2 minutes.
Serve burgers garnished with cilantro, radishes and a good drizzle of the sweet chili sauce. OMG.