What started out as a sinless, innocent puppy love back in my college years, hath quickly and destructively grown into a full-blown, no holds barred, unmanageable, MUST HAVE OR DAH, injurious addiction. Chipotle.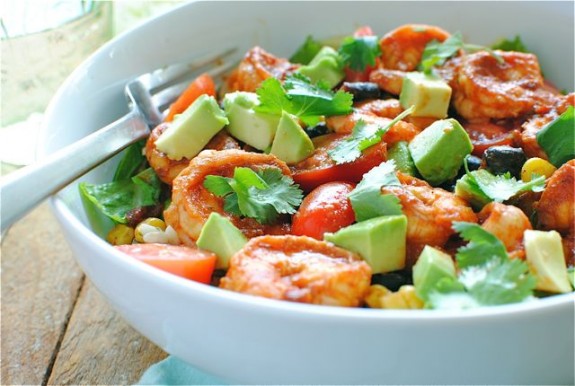 I freaking love Chipotle. Like bawd. In our house, you can often hear things like this coming from our mouths.
Me, "I'm tired. Let's get Chipotle!"
Aaron, "My toenails hurt. Let's get Chipotle!"
Me, "Oh look, there's a bird out there in the bird bath. Let's get Chipotle!"
Aaron, "Which paint color will work best for our new cabinets? Let's get Chipotle!"
Me, "I really should wash my hair. Eh, waste of time. Let's get Chipotle!"
Aaron, "I heard the earth was going to blow up this December. Let's get Chipotle"!
These things happen.
And while I would love to spend every single solitary day and night snorting my way through that nectarous burrito bar, I have real things in life to tend to. Like watching that one bird in the birth bath and not washing my hair.
Oh! And trying to copy cat their salad bowl at home, which is the point of this post. DIDN'T SEE THAT COMIN', DID YA NOW?
Oh.
Of course I got all willy nilly with it and seared some shrimp that had been marinating all afternoon in some chipotle peppers and their adobo sauce. Which, holy face is my new favorite thing ever. And I made their signature cilantro-lime rice, but I used brown because I felt like wearing my pageant sash that reads, "THIS GAL IS ALL HEALTHY LIKE. BOO-YA."
Layer it on. Layer it thick. Layer it good. Oh, my taste buds dance at the memories.
Chipotle who?
Now if you'll excuse me, I'm going to go marinate my head in some adobo sauce.
Chipotle Shrimp Salad Bowls:
What it took for 2 dinner salads:
*1 pound frozen raw shrimp, thawed, peeled and deveined
*1 can chipotle peppers, in their adobo sauce
* 1/2 cup brown jasmine rice
* 1/2 cup freshly cilantro, chopped
* 1 lime
* 1 tsp extra-virgin olive oil
* 1/2 (14.5 oz) black beans, drained and rinsed
* 1/2 cup frozen corn
* 1 tsp ground cumin
* 1 tsp chili powder
* 2 romaine hearts, sliced into thin ribbons and chopped
* 1/2 cup cherry tomatoes, halved
* 1 avocado, diced
* coarse salt and freshly ground pepper
Puree the chipotle peppers and their sauce in a small food processor until smooth. Pour into a small baggy. Dump the shrimp into the baggy and squish the sauce all around them, getting everything all coated. Stick in the fridge and marinate as long as you want. At least 2 Tom and Jerry episodes.
In the meantime, cook the rice in a rice cooker (or the traditional way) with the cilantro and the juice from 1/2 the lime. Once cooked, give another squeeze of lime juice into it.
Heat the oil in a small saucepan and add the corn and beans. Season with a pinch of salt and pepper, along with the cumin and chili powder. Keep heated on low until you're ready to assemble.
Layer the shrimp in a medium skillet (you don't need any oil as the marinade is plenty liquidy) and sear the shrimp one on side for 2 minutes. Flip and sear another minute.
Evenly divide the romaine over 2 large plates or dinner bowls. Top with rice, corn and beans, shrimp, avocado and tomatoes.
Garnish with more lime and another giant squeeze of lime juice!
* We like A. LOT. of shrimp. If you want to just use half a pound, I won't be upset. I mean it's sad and all, but I'll get over it.
*** A few of you have told me that this dish is like, WAY WAY HOT. Melt your face off hot. So, with that said, maybe cut that chiptotle pepper action in half. I guess my mouth is made out of the lining of HELL. ;)***