Super simple sassy Spanish sauté! (don't punch)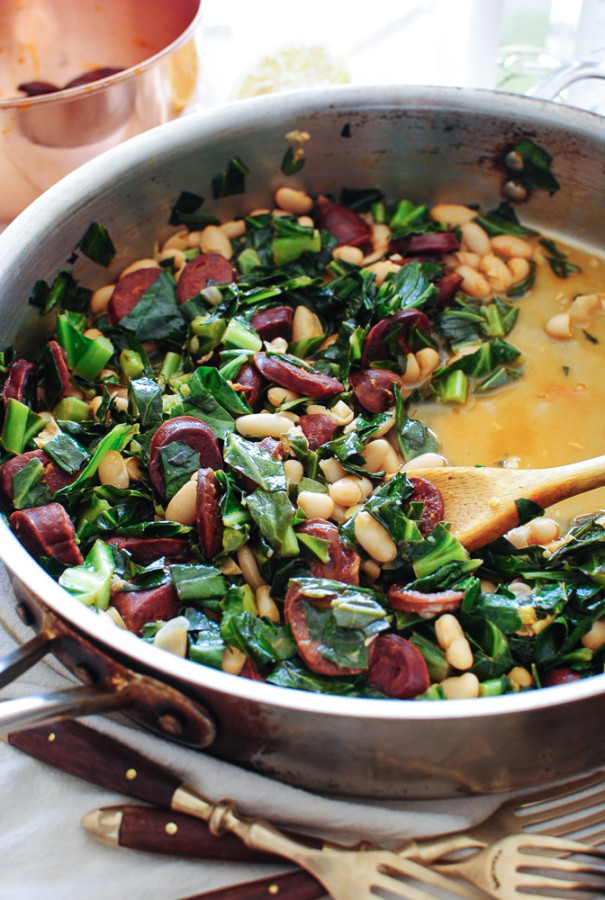 I'm not kidding when I say this one is seeeemple. The legwork (if you can even call it that) is all in the prep. After that, it's smooth Spanish sailing, Sally! (seriously, you're not allowed to punch)
The idea behind this recipe springs from my all-time favorite soup of ever – the kale, sausage and white bean soup. But instead of kale, I swapped in some beautifully bitter collard ribbons. And instead of Italian sausage, in bee bops a sturdy, spicy Spanish chorizo. And instead of everything swimming in soup, I decided that a quick and lovely white wine and stock PAN SAUCE (remember my new love for pan sauces?) would do the trick here. And it did.
The trick.
Here.
It did it.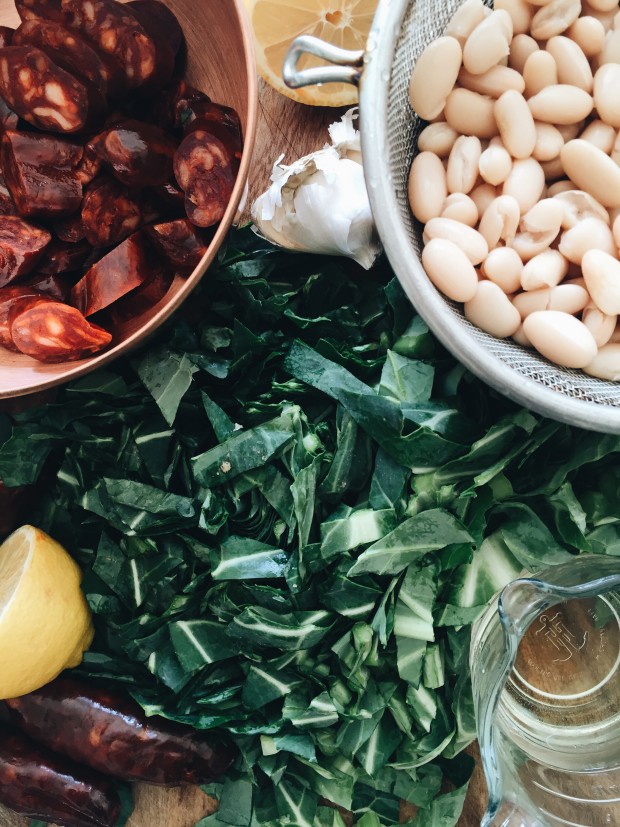 I do want to call special attention to the chorizo real quick! I know it's easy to skim over recipes all, "blah blah chorizo lemon beans yadda yadda yadda, got it." And then get home and find that one of your key ingredients is the wrong dang thang. You're going to look for SPANISH chorizo – not Mexican. The textures are night and day, with Spanish being a solid pepperoni-like tube, easily cut into slices. Mexican chorizo is ground up, minced, and – well, a bit soggy slop slop. I like it! Just not here. Not in this recipe.
You could try it in this one, though.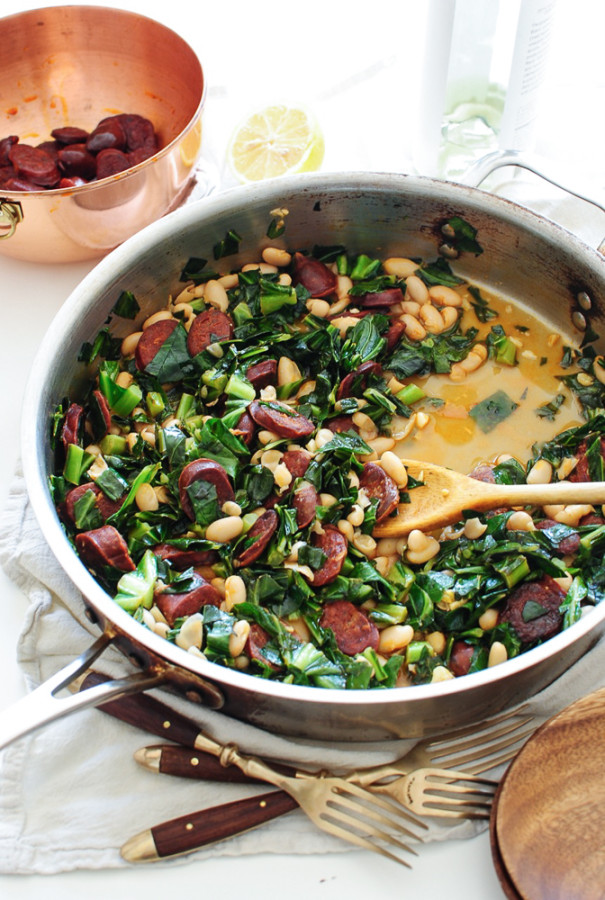 We inhaled this mutha last night. Smaller portions are all you'll need, as the paprika-spiked chorizo takes the flavor to funky town.
HA! Remember on Parenthood when Adam would always say funky town when he was in the moo- hold on. Ew, sorry.
This won't…this won't do that. I don't think. Never mind.
Anyway, if you're not ruined forever, I served this with a giant spinach and strawberry salad, and toasted Asiago ciabatta on the side. And it was i n s a n e.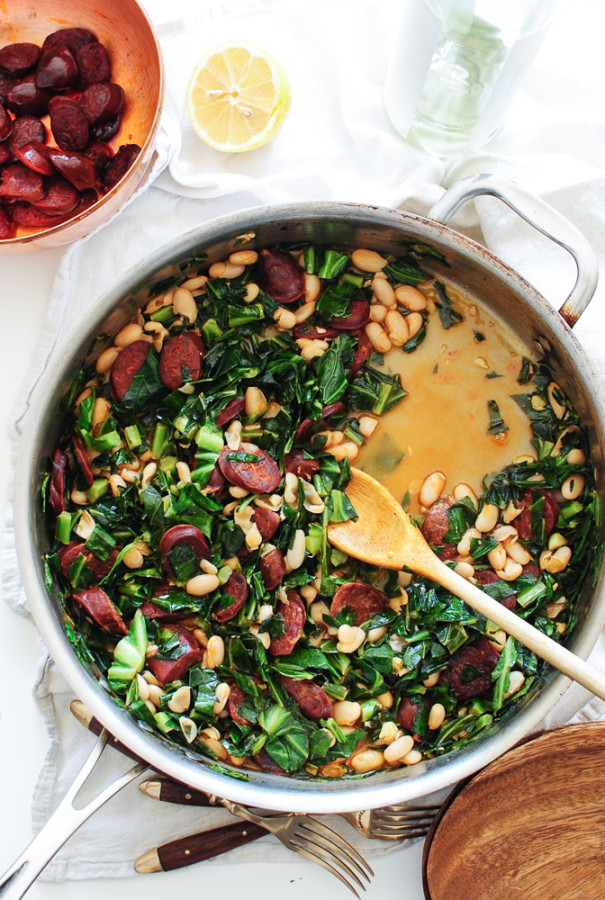 So seriously sassy.
Spanish Chorizo with Collards and White Beans
Ingredients
1 Tbs. extra-virgin olive oil
8-12 oz of Spanich chorizo, but on the diagonal into 1/4" inch pieces
1 bunch collard greens, cut into ribbons, then roughly chopped
4 garlic cloves, minced
1 (15 oz) can cannellini beans, drained and rinsed
1/2 cup white wine
1/2 cup chicken stock
juice of half a lemon
1 pinch of a salt
Instructions
Add the oil to a (medium-high) hot pan and swirl. Add the chorizo to the pan and give it a quick sauté, about two minutes total. The meat won't need much. Remove from the pan and set aside.
To the pan, add the collard greens and garlic. Add a small pinch of salt and sauté until the collards begin to wilt, about three minutes. Add the beans to the pan, followed by the wine, chicken stock, and lemon juice. Toss it all to coat.
Add the chorizo back to the pan and let it simmer and slightly reduce for maybe five minutes. Taste it and add a pinch of black pepper if you want.
Serve with a spinach salad and cheesy toast! That's what I did, anyway. Cool, cool.
Serves four.
7.8.1.2
6
https://bevcooks.com/2016/02/spanish-chorizo-with-collards-and-white-beans/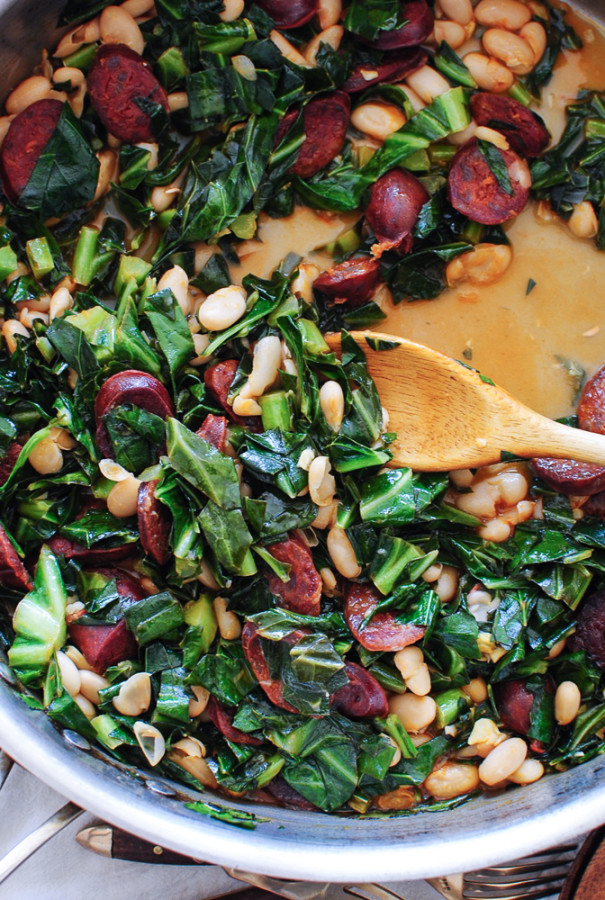 I miss Parenthood.