Why yes it's July and I'm posting beef soup. Woo hoo!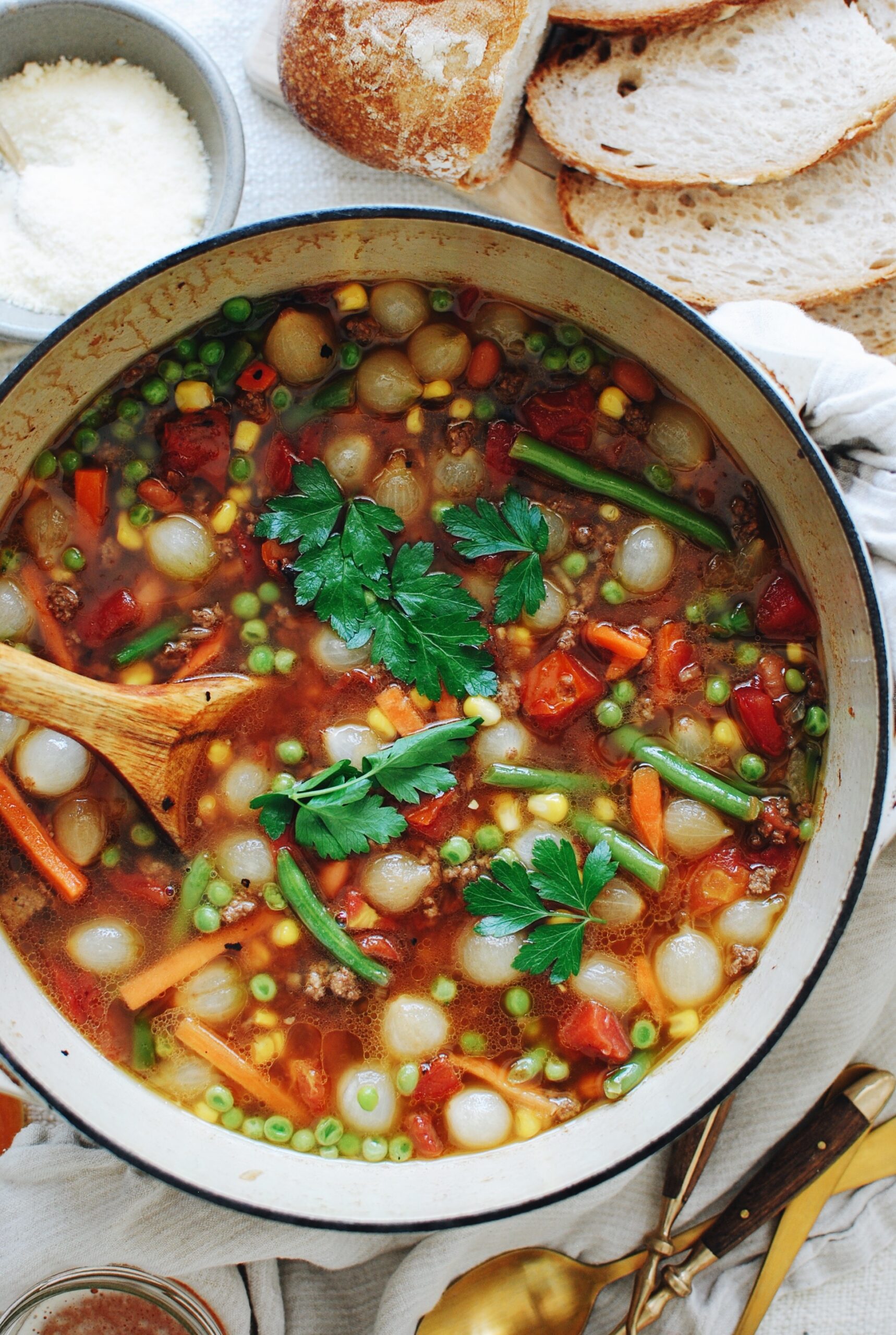 On top of that, it's all frozen vegetables. And frozen onions. And a dried onion packet. IN THE MIDDLE OF SUMMER. Don't delete me from your life.
Listen though, the reasoning behind this recipe is simple – we still have all that frozen quarantine food! I was cleaning out the freezer the other day and it was like, "OH YEAH these onions. OH YEAH these frozen veggies. OH YEAH this mango peach kiwi bellini popsicle."
We're using it all up today, folks.
Not the popsicle.
Maybe.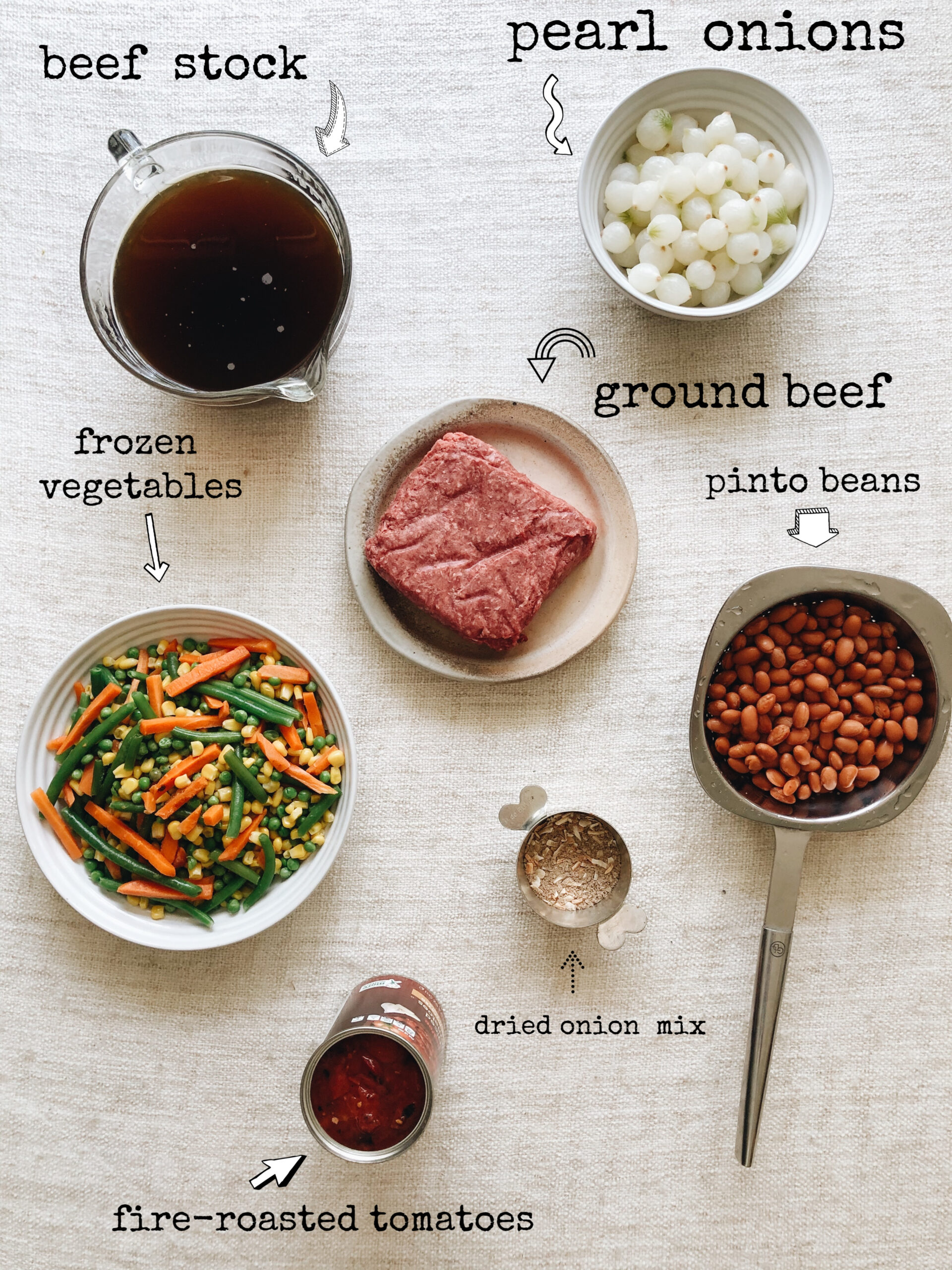 It is as pantry as pantry gets. And I am not mad about it.
Listen though – you can swap in fresh veggies or diced onions if you're feeling it. The pearl onions are totally optional and semi-pretentious, yes, so don't stress it.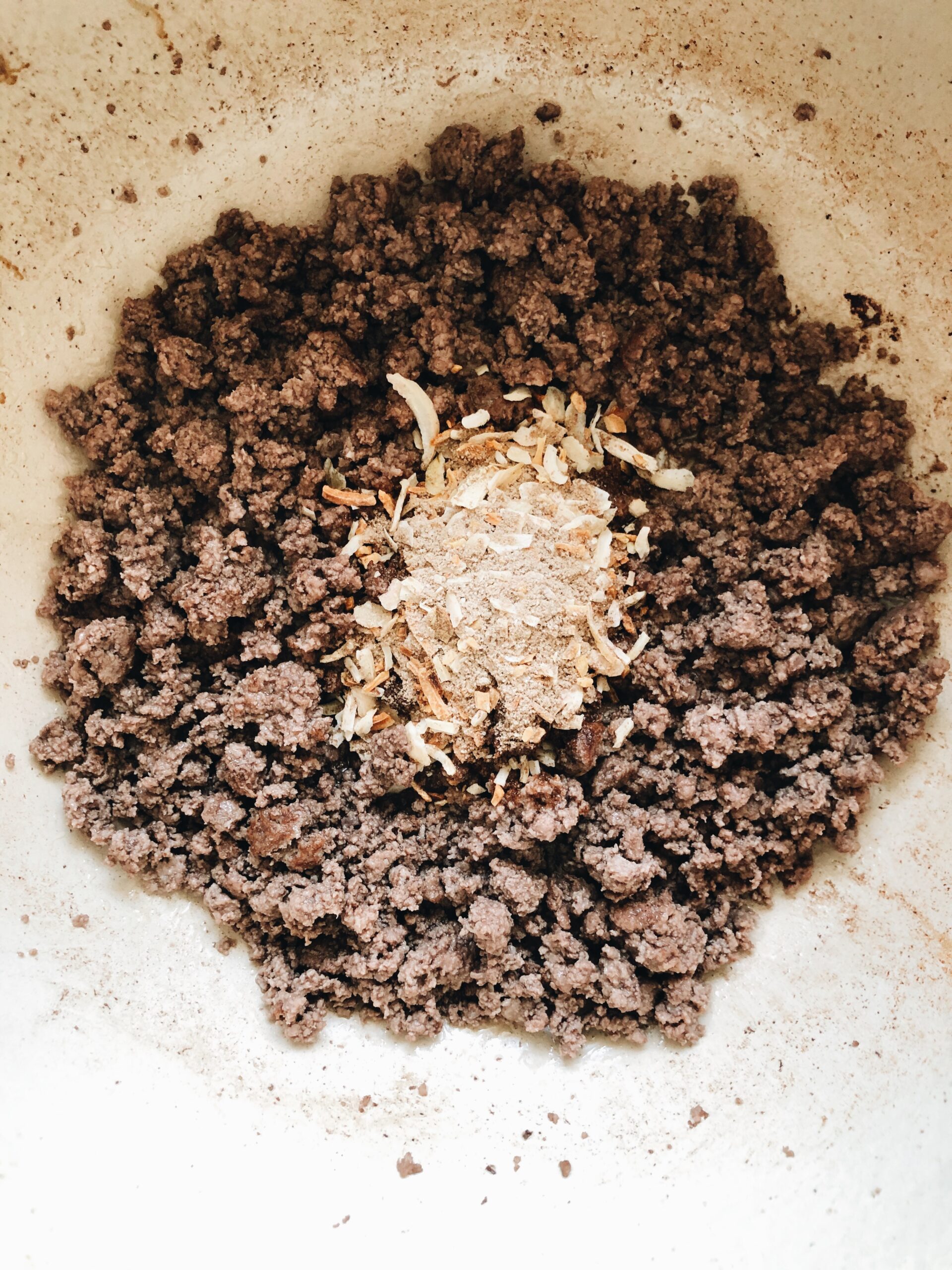 It's got mega onion flavor because we're starting with that dried onion seasoning packet, you see. Oh how I love a good dried onion seasoning packet.
That and a ranch seasoning packet. I love a good ranch seasoning packet.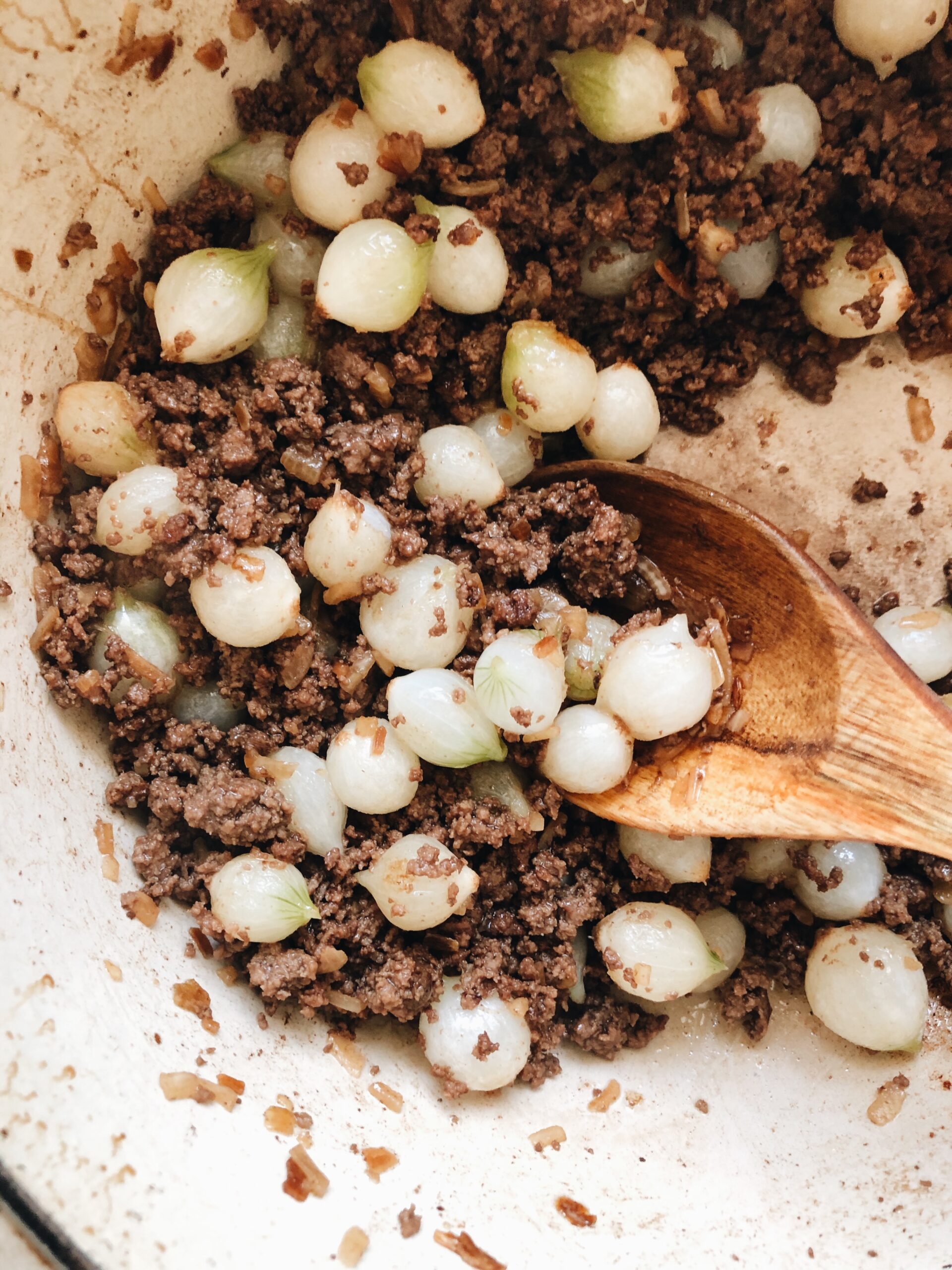 Next up we add the pearl onions! They're thawed, by the way. You'll add them room temp and just let 'em sear in the beef for about 10 minutes. They might not brown up and caramelize like they would in a stew, but you're still a good person.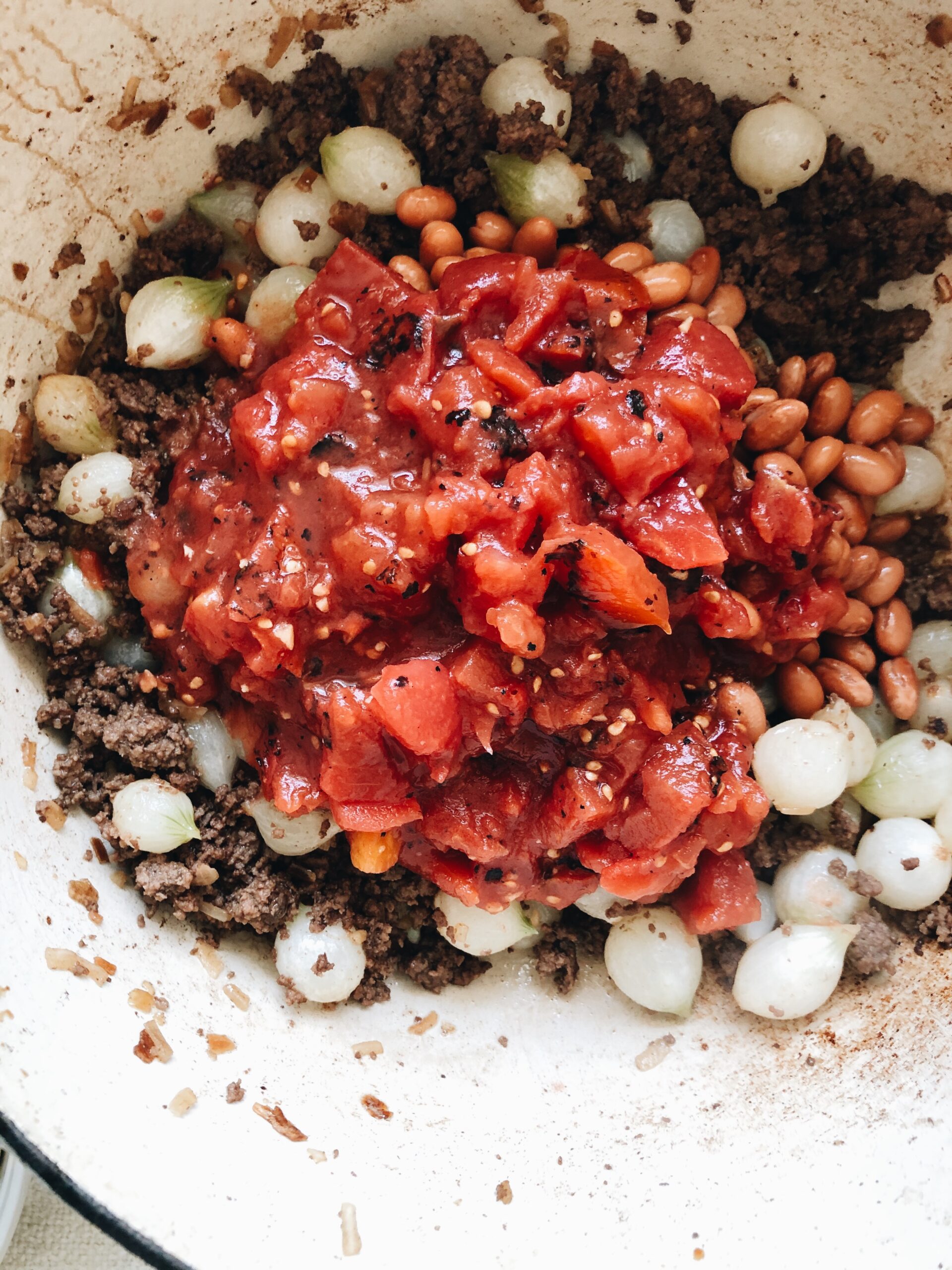 Then we add our fire-roasted tomatoes!
You might not need all these photos. I took last Friday off so I've missed you! I feel like hanging out. How are you? Tell me everything.
Wait, hello?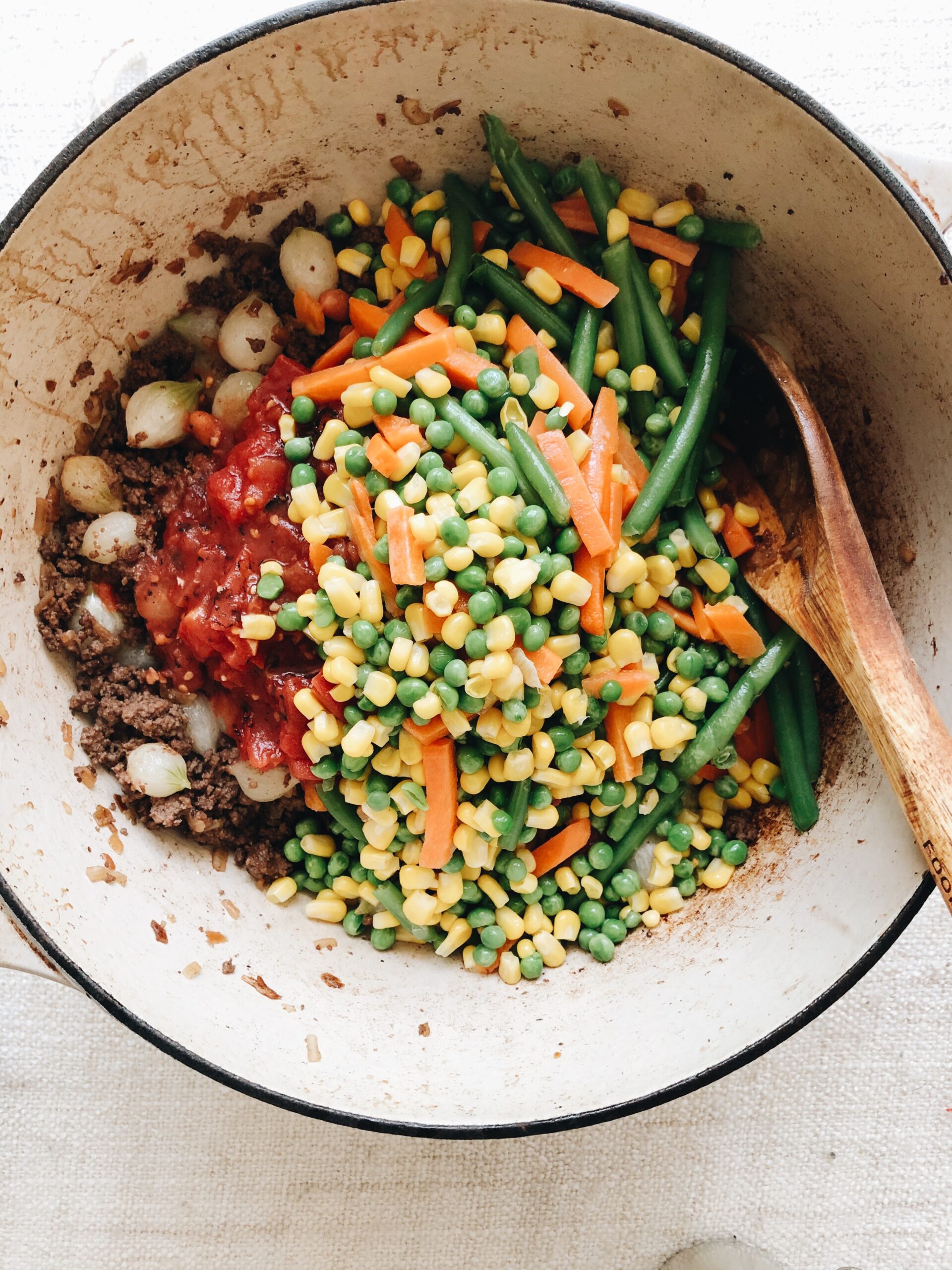 In go the thawed veggies. And if you don't have this exact mix, no tears – just grab what you have in ze ol' freezer and call it good.
Or go see what your garden is birthing! Each time I say birthing, I cringe a little bit more.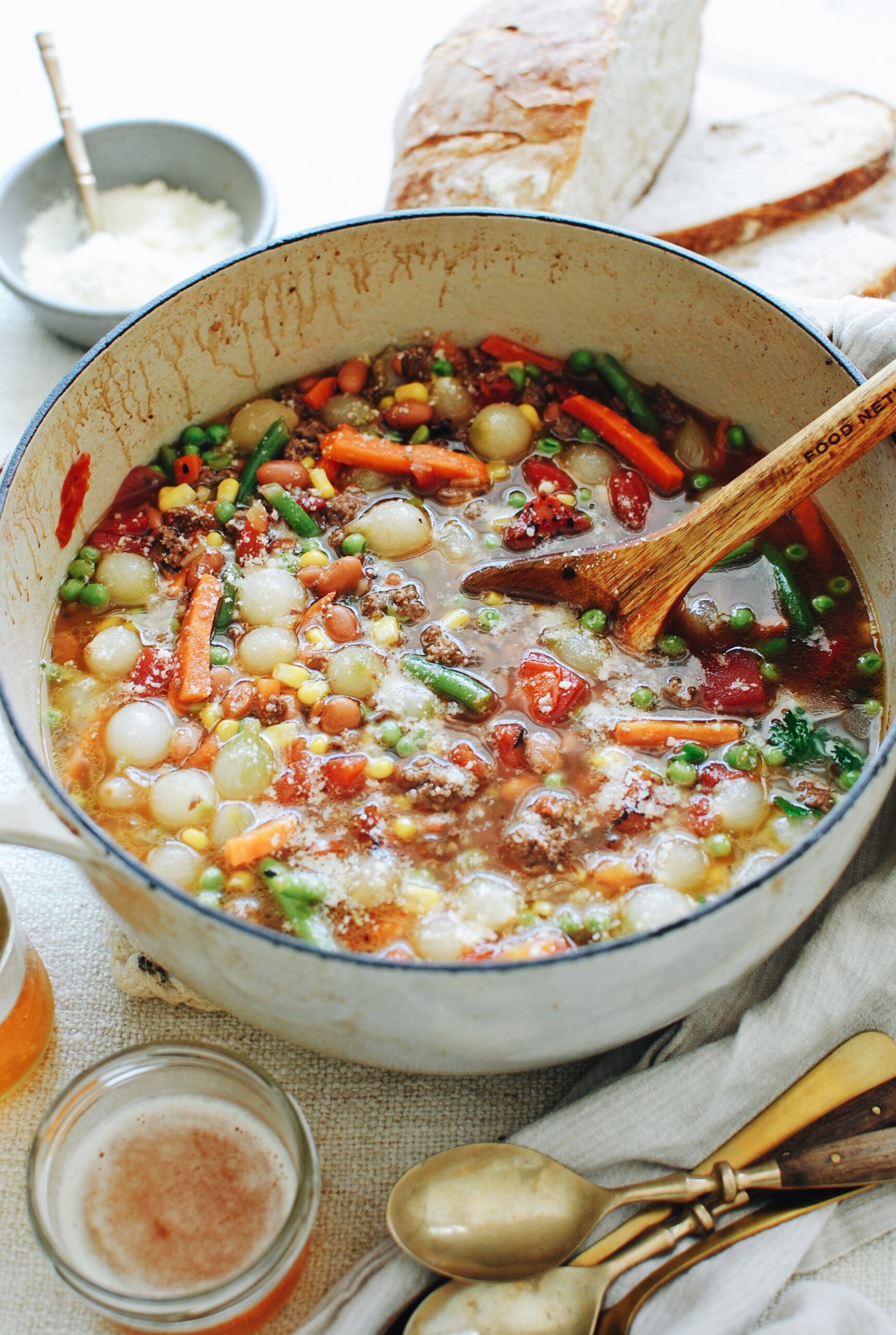 And honestly, that's it. Beef stock was my choice because I really wanted that beefy depth, but go chicken if y'awnt.
Also we're starting a band called Beefy Dep- nope.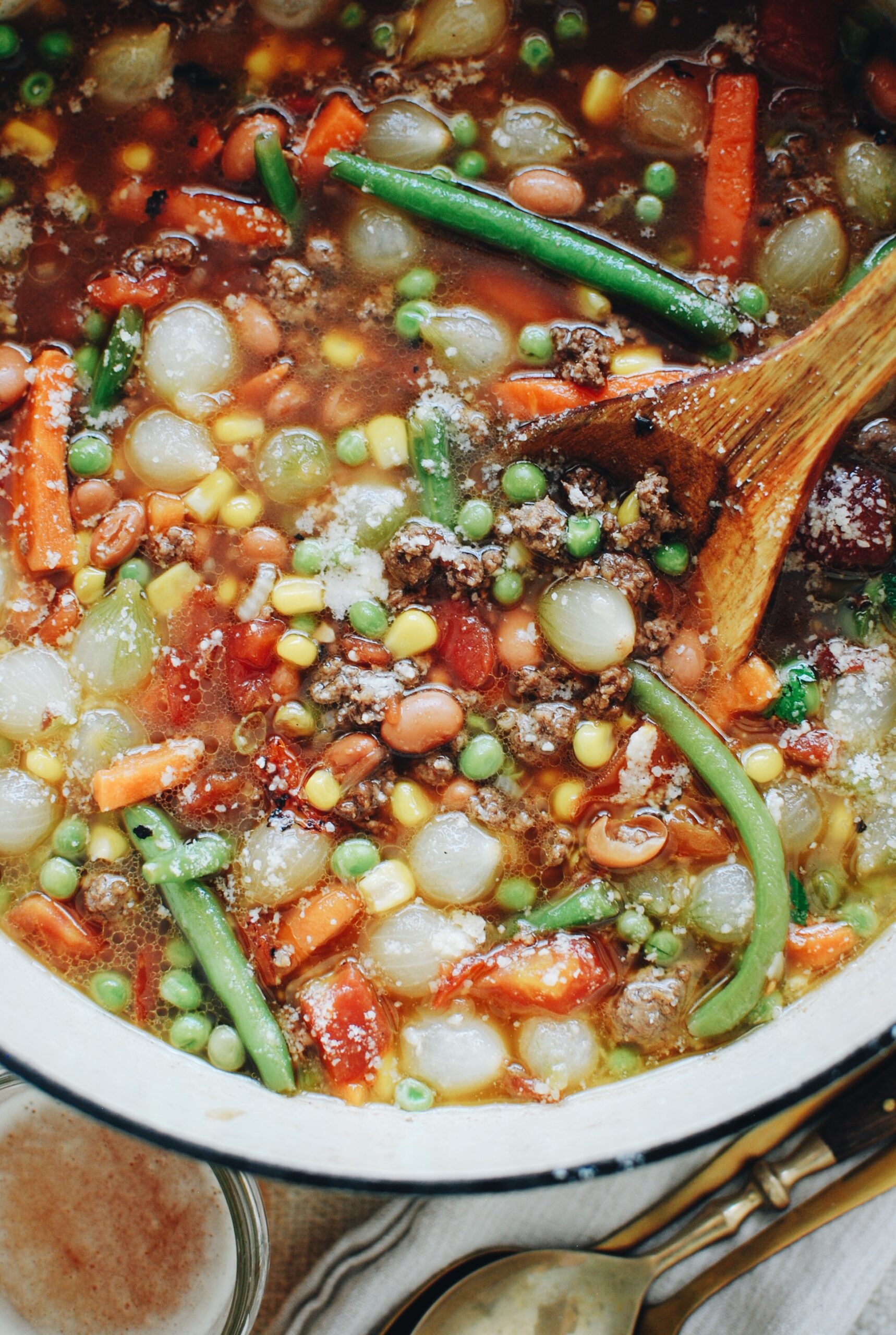 You don't need me to tell you how much flavor is going on in that. I mean LOOK. I sprinkled some grated parmesan over it because it's who I am.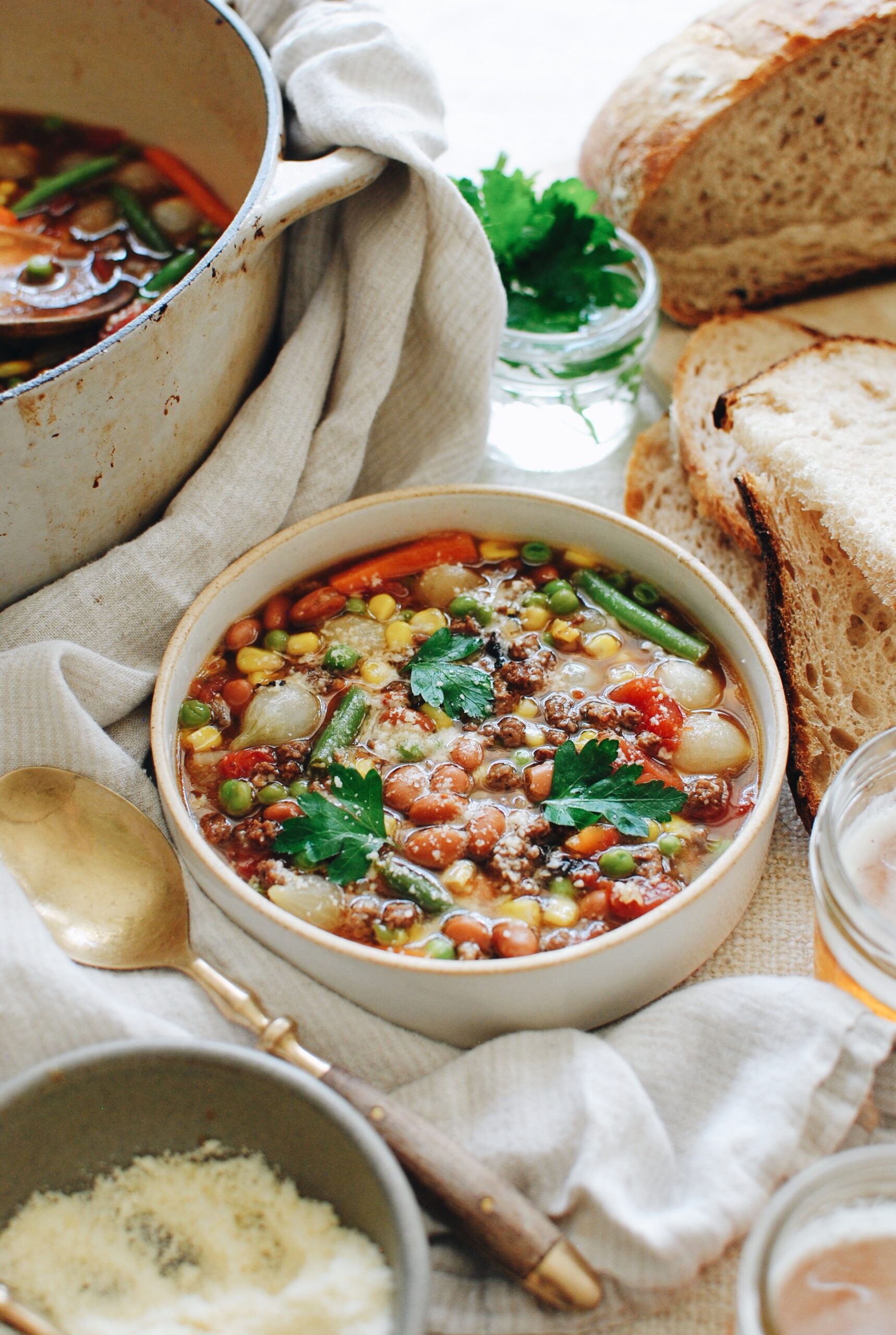 So totally loaded with beans, vegetables, onion-y beef, fire-roasted tomatoes, the WORKS, dude.
It's the middle of summer, okay yes, but if you're feeling a quick post-quarantine/pantry/freezer staple slurp sesh, I got you. You know I got you.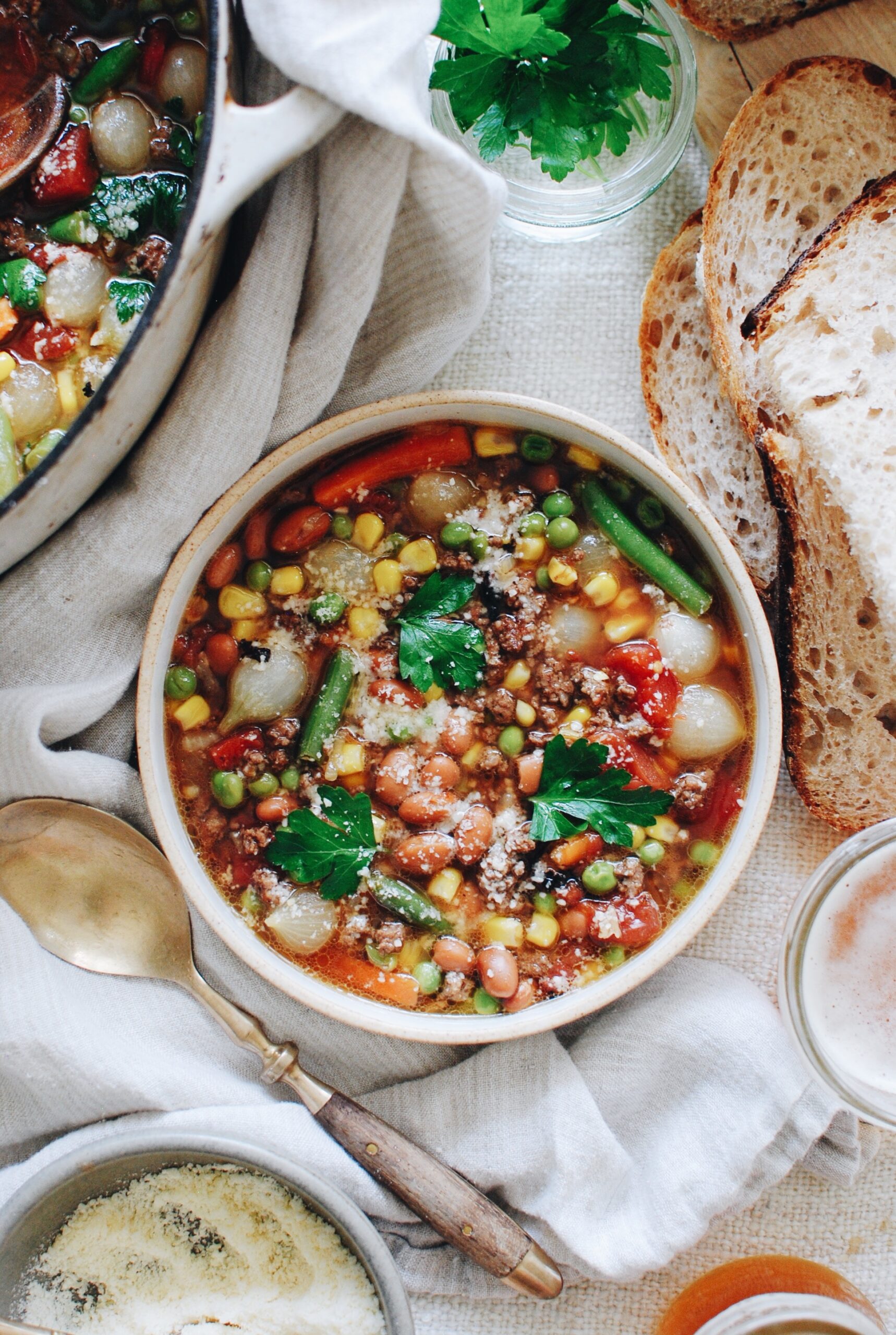 Oh, I so got you.
Ingredients
1 pound grass-fed beef
1 (1 oz) dried onion seasoning packet
14 oz frozen pearl onions, thawed
1 (14.5 oz) can fire-roasted tomatoes
1 (16 oz) bag frozen veggies, thawed
1 (15.5 oz) can pinto beans, drained and rinsed
1 quart beef stock
1 Tbs. soy sauce
Coarse salt
Freshly grated parmesan, for garnish
Fresh parsley, for garnish
Instructions
Bring a large pot or dutch oven to a medium-high heat. Add the beef and brown all over, breaking up with a spoon, until cooked through. (Tip: let the beef sit in the pot for two minutes, getting a good sear on the bottom. Flip and sear another two minutes. THEN break up with a spoon and keep browning. You'll get some nice crunchy bits.)
Add the onion mix and cook another minute or two. Then add the thawed pearl onions and cook with the beef for ten minutes, letting the onions really soften and brown in places. Now add the fire-roasted tomatoes, beans and thawed veggies. Add the stock, bring to a boil, then reduce and simmer for 15 minutes. Stir in the soy sauce and a good pinch of salt right at the end. This just amps up the flavor.
Garnish and parsley and parmesan, and serve immediately! (Crusty bread is a solid idea.)
Serves six.
7.8.1.2
435
https://bevcooks.com/2020/07/beef-and-vegetable-soup/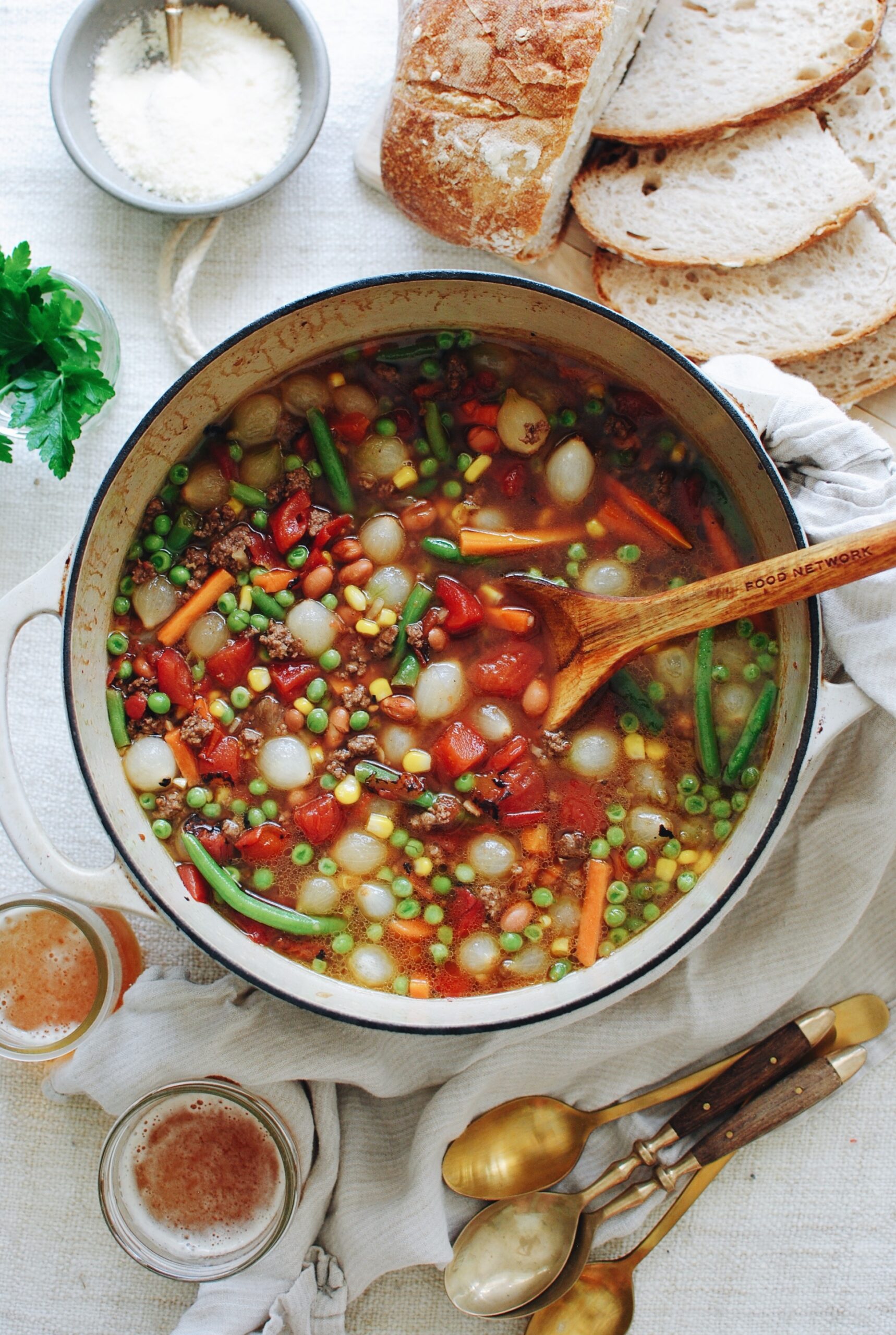 SAAAA-lurp.