Slurp fest! (<—just love it)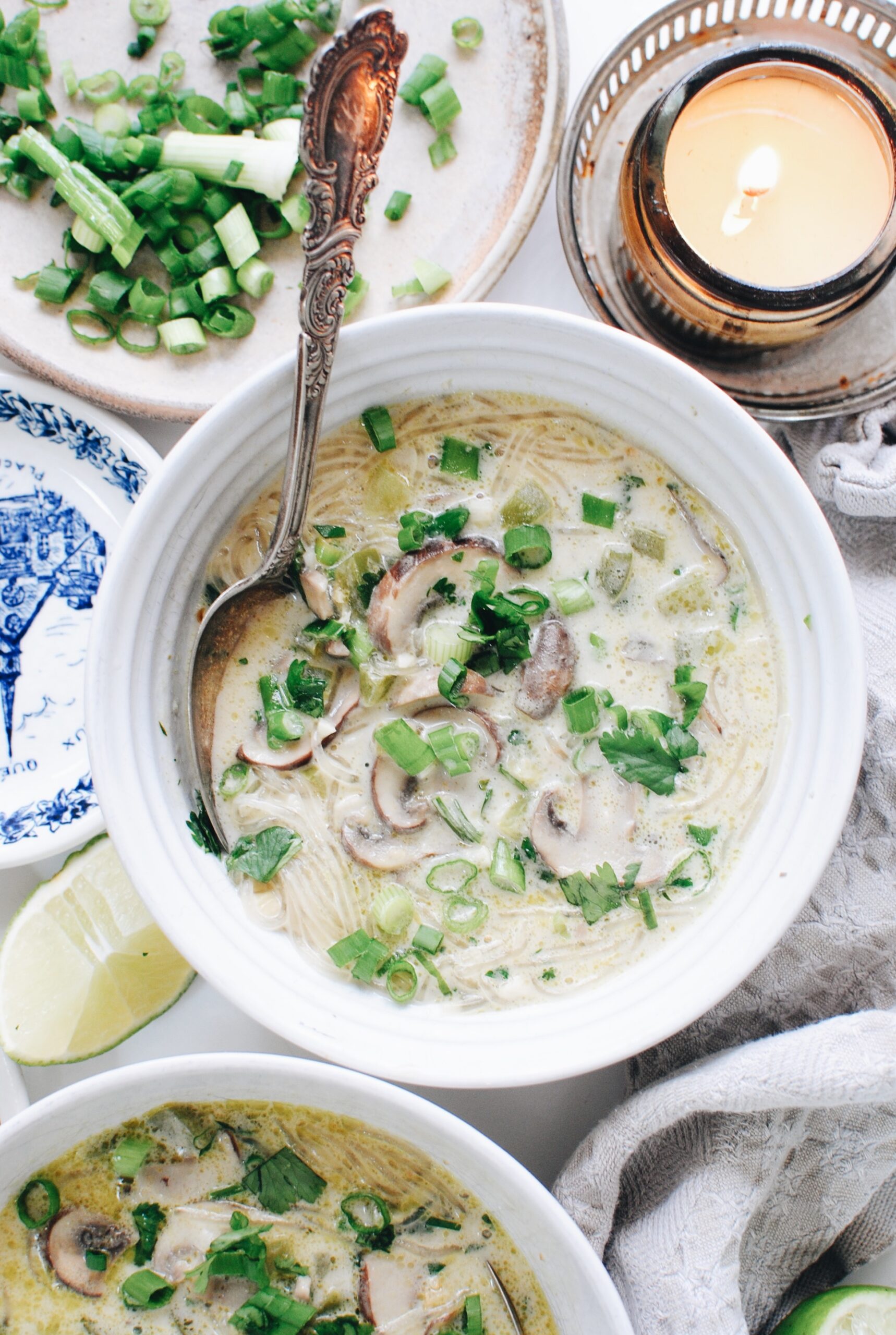 I'll say it now, this is problematically delicious. And completely vegetarian if you don't count the chicken stock! If you do count the chicken stock, swap it out, man.
We're having glass noodles (that's what I call them), sliced mushrooms, a diced green bell, loads of green curry paste and a vat of coconut milk. And your entire upper torso.
Let us peepeth.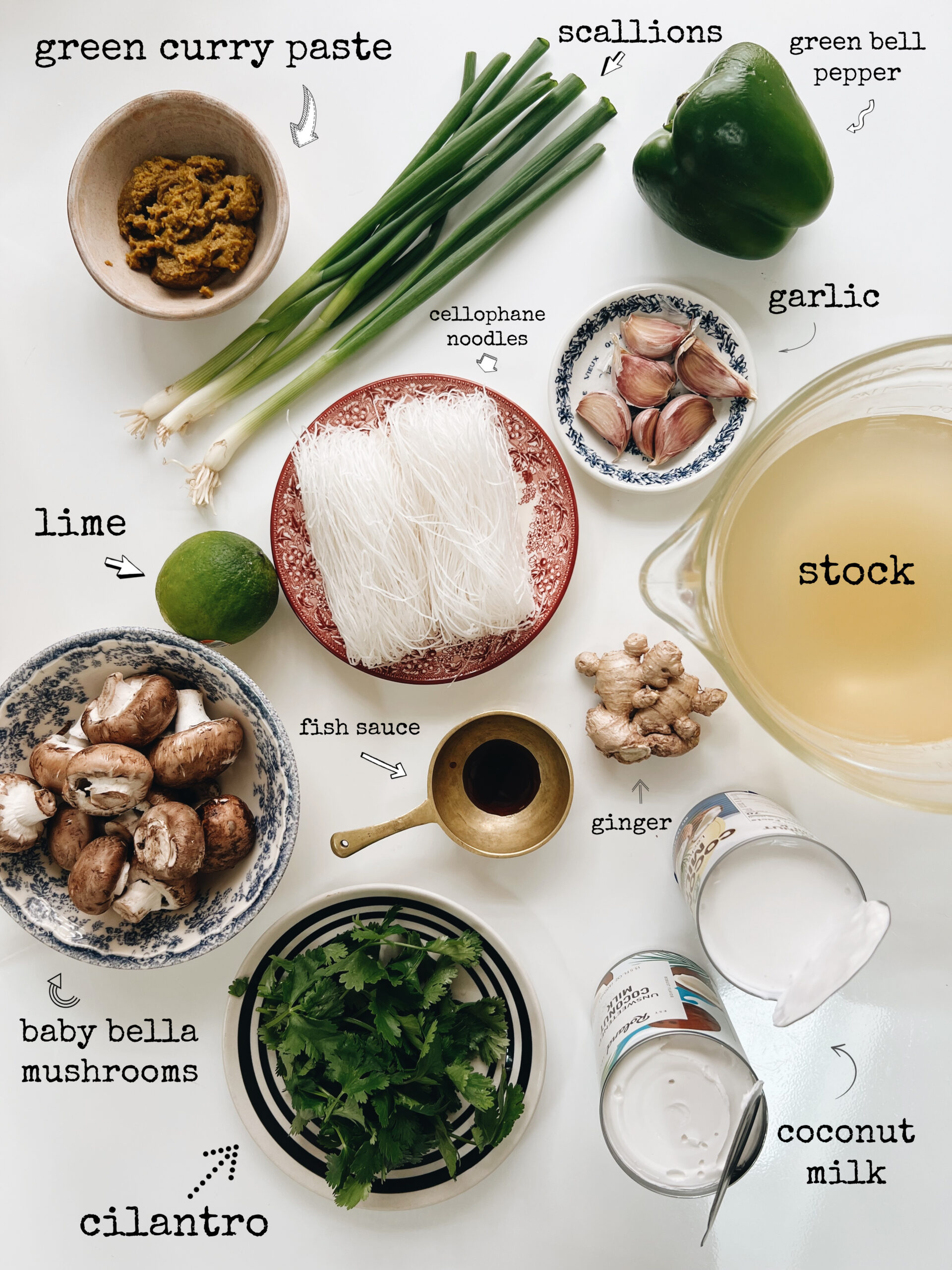 I'll also say this, it's a bit of prep work. But no meat so it's fairly straight forward with chopping and mincing and dicing. Just get in a groove and knock it out. This mixtape will help with that.
Also, when it comes to coconut milk, you'll see different options and it does get confusing. See the two cans I have above? One is pure milk, and the other has the solids at the top and the watery liquid below. These are both fine. Just get unsweetened and you're good to go.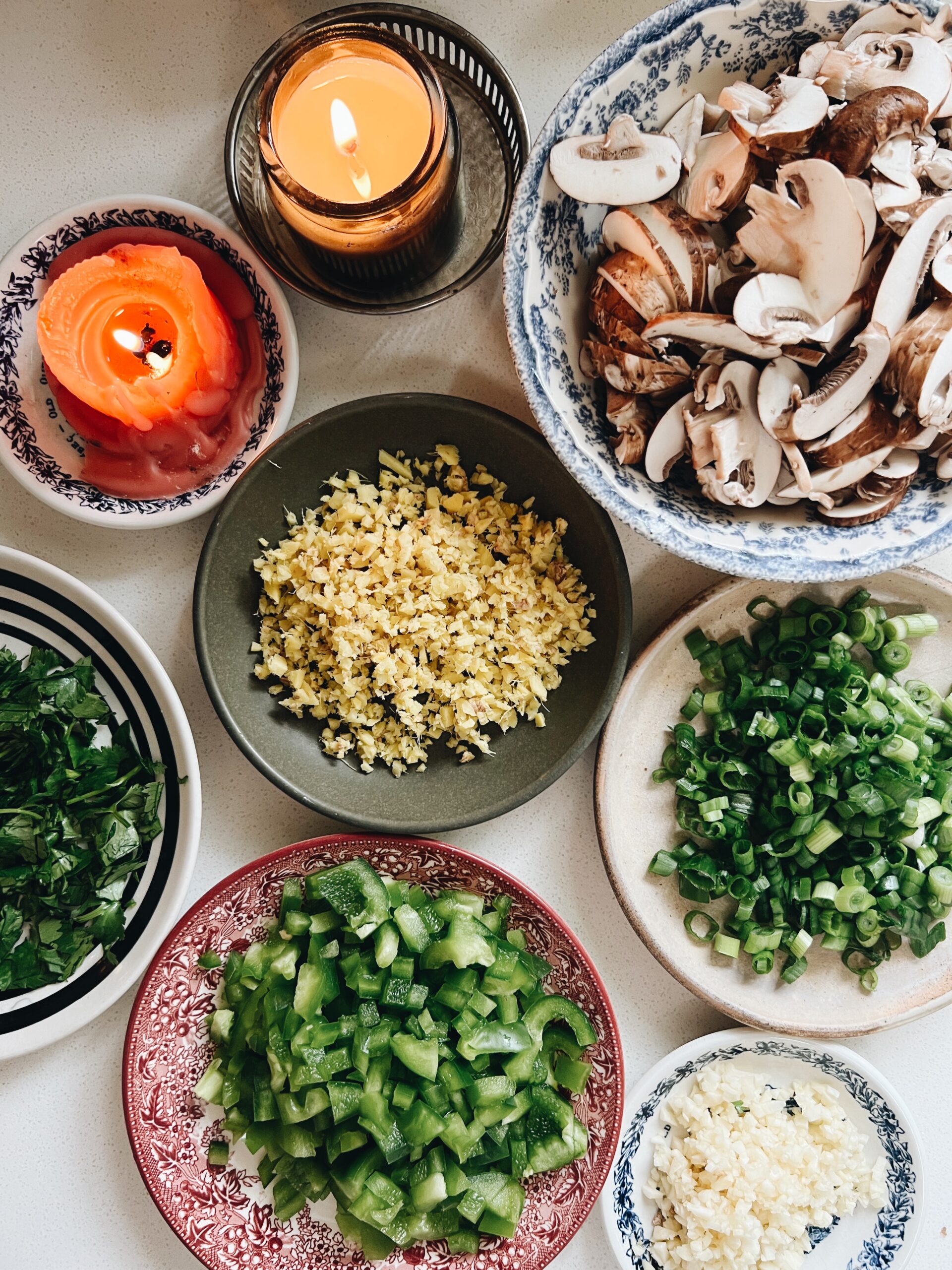 I just felt like you needed to see it all chopped and diced and prepped and minced and sliced.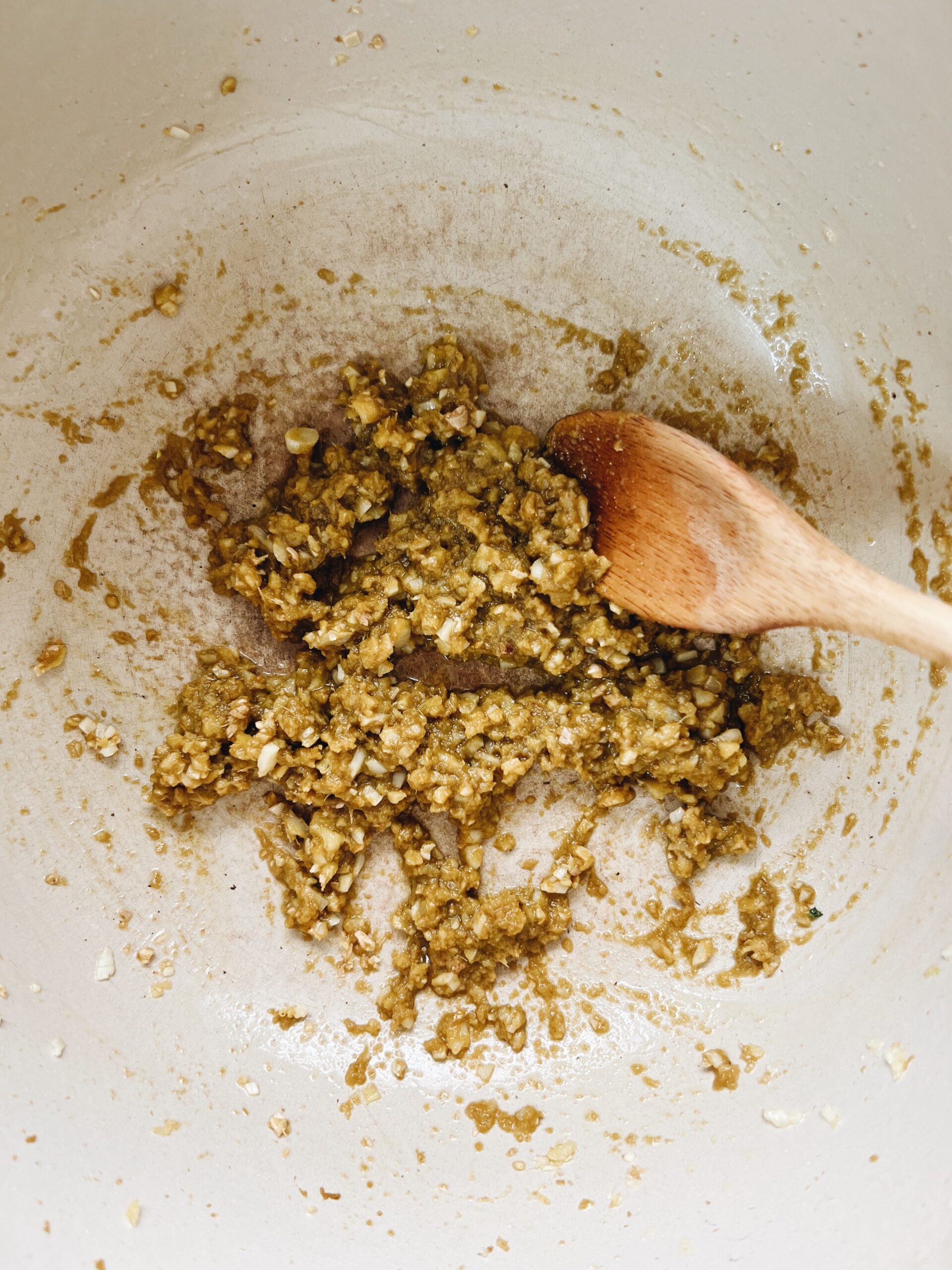 So in a pot we'll add a little oil, along with the ginger. Get that going for a couple of minutes, then add the garlic in. Go another two minutes, until the fragrance punches you square in the face. NOW add the curry paste. Good heavens. Press the paste into the aromatics just a little bit. The scents wafting up are nearly illegal at this point. And we just got started.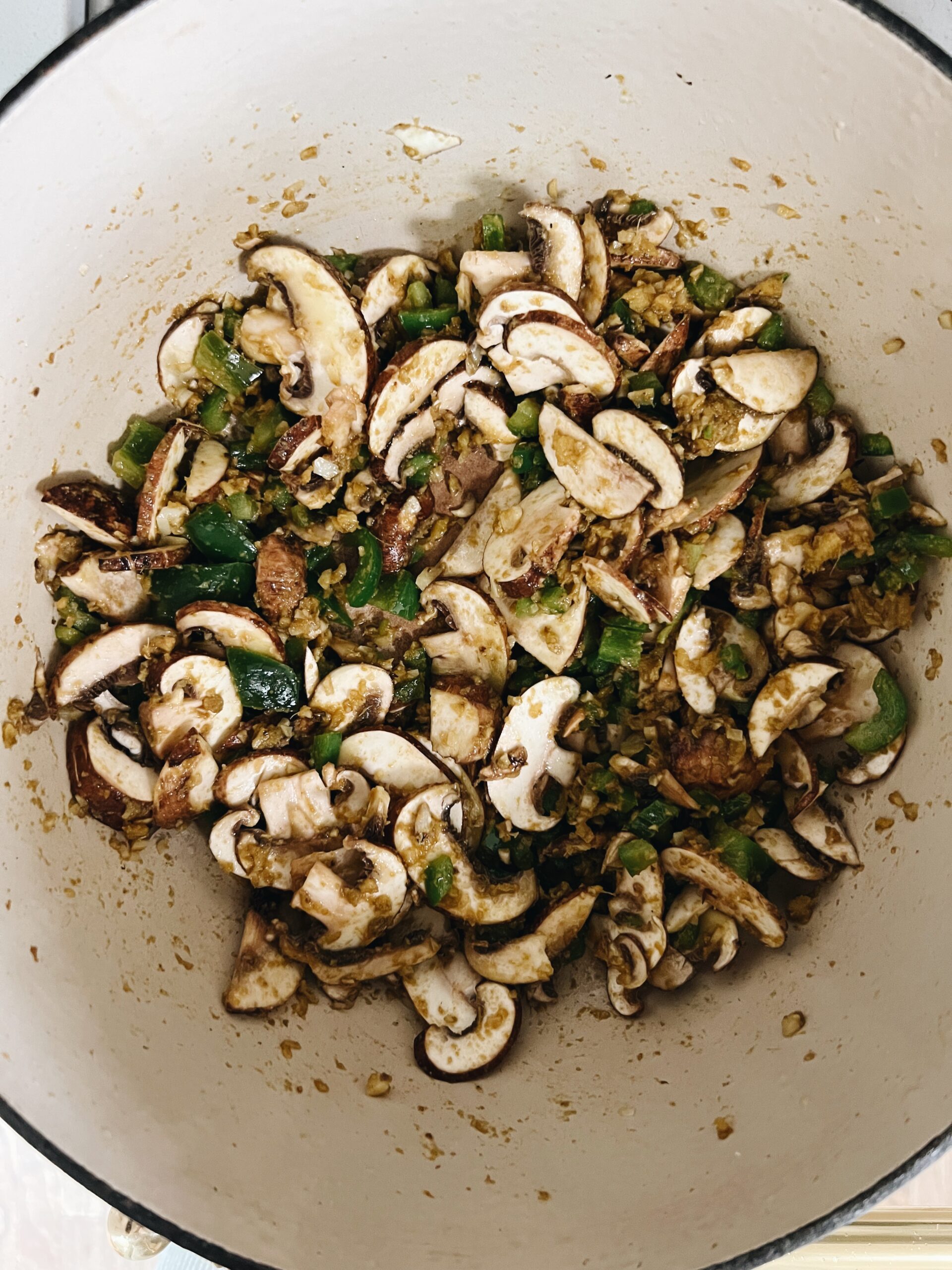 We'll add in the sliced mushrooms with a bell pepper and sauté this for a good five minutes. A pinch of salt about now is a fantastic idea. The mushrooms release their juices and you release a few cries as well. Go just a bit, until the veggies (and okay, fungi) starts to shrivel and take on color.
The coconut milks go in. The stock goes in. We'll bring to a simmer and drop the noodles in. Let this cook a few minutes, adding a pinch of salt when you need it.
As we all know, the longer the noodles cook, the more they soak up, so get it off the heat at the right time before it thickens too quickly. If there's even such a thing, it's so good.
We'll add some fresh lime juice and so many herbs your head will spin and fall off. Scallions and cilantro for days. Garnish it just the way you dig.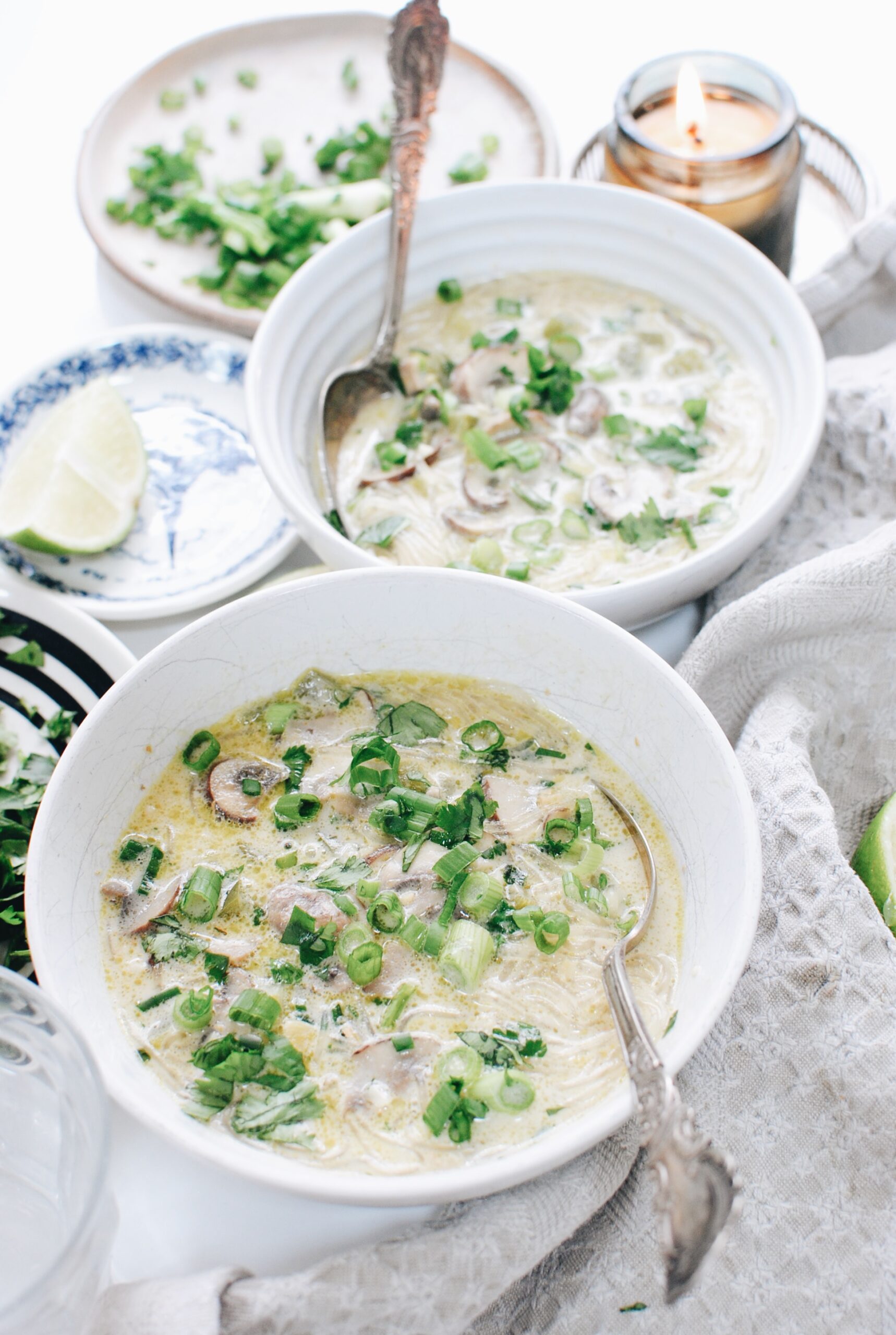 And that's it! Really doesn't take long at all, besides a little legwork up front. The rich flavor the green curry is transcendent. It's light, but hefty. It's satisfying, but not a total gut bomb.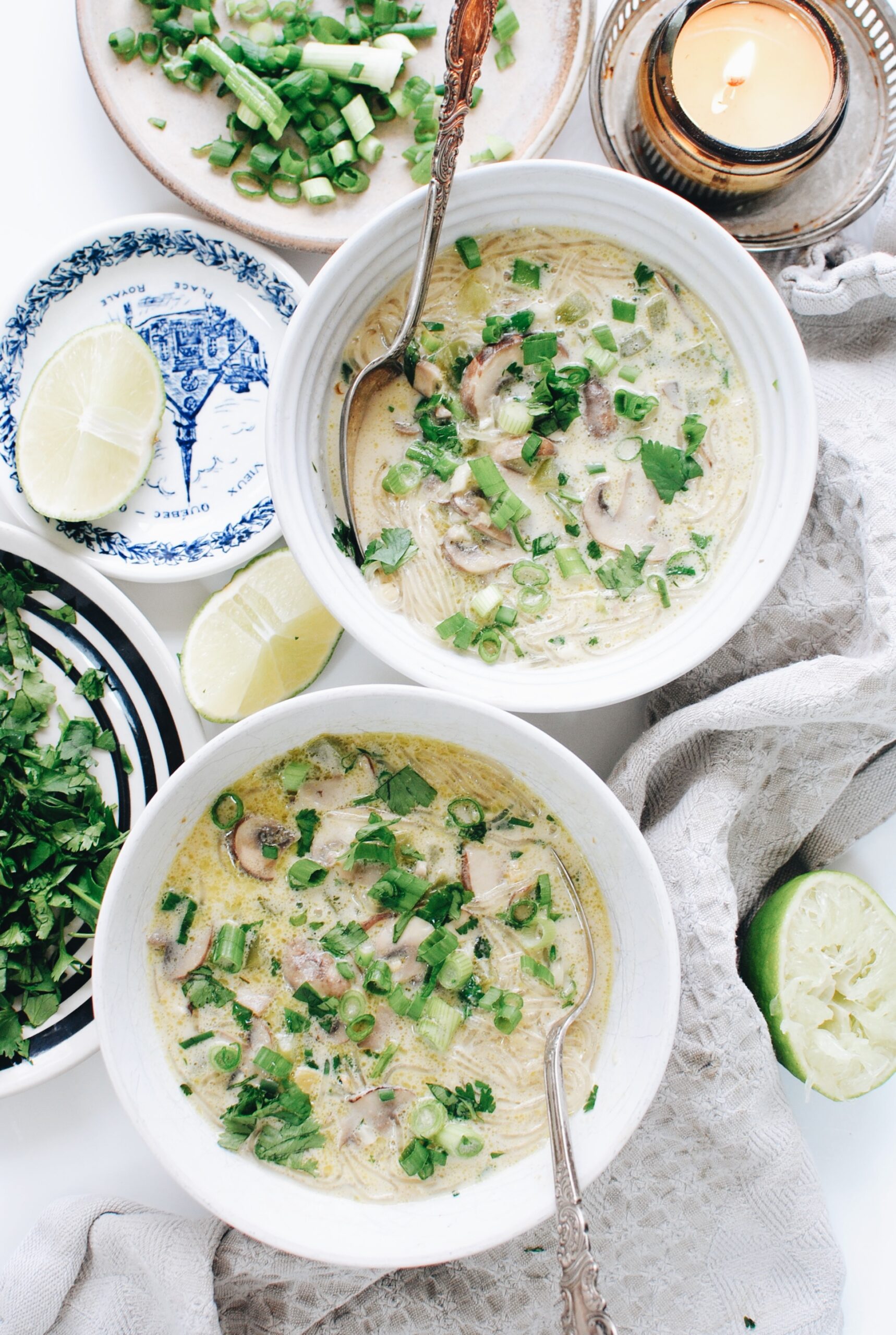 Obviously the noodles are fun to slurp and the herbs are so fresh and the perfect complement to the rich savory/sweet ocean below.
Here, just make this before I start yelling at something.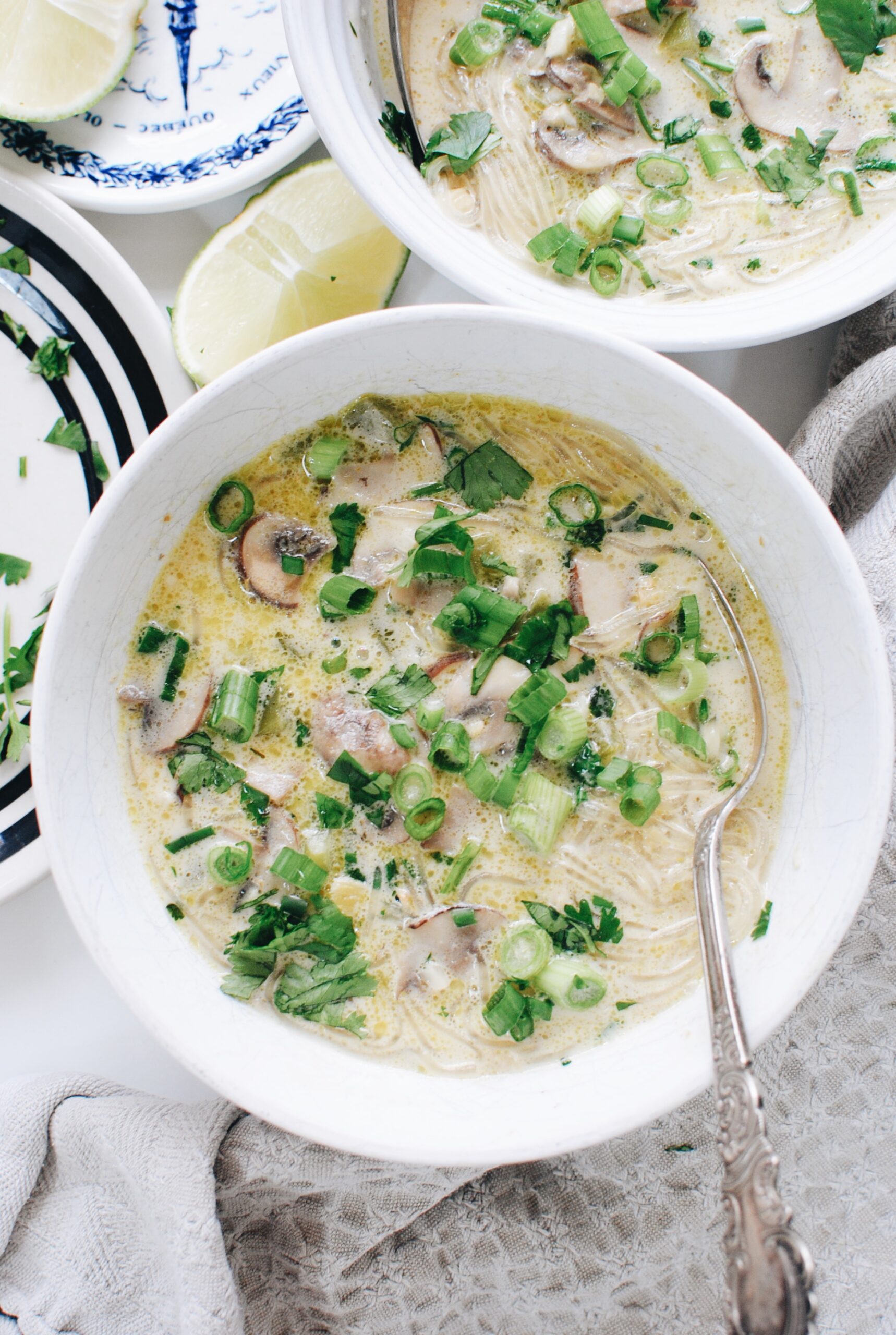 It's too good.
Green Coconut Curry Noodle Soup with Mushrooms
Ingredients
5 cloves garlic, minced
1-2 Tbs. Freshly chopped ginger root
4 Tbs. Green curry paste
8 oz baby Bella mushrooms, rinsed and sliced
1 green bell pepper, seeded and diced
2 (13.5 oz) cans coconut milk
4 cups chicken stock
3 3/4 oz (one package) cellophane noodles
2 tsp fish sauce
4 scallions, thinly sliced
A handful of cilantro, chopped
1 lime
Coarse salt
Instructions
In a large pot, heat 2 Tbs. Extra-virgin olive oil (or sesame oil if you have it) over a medium high heat. Add the ginger to the pot and sauté for a couple of minutes. Add the garlic and sauté another two minutes, until the aromatics are fragrant and starting to take on a little color. Add the curry paste and press it into the aromatics, Swirl a little more oil in if needed. Add the sliced mushrooms and green bell pepper to the pot. Stir this and sauté as the mushrooms release their juices and become tender and brown. This takes about five minutes, if that. Season with a good pinch of salt.
Now add the cans of coconut milk, along with the chicken stock. Add the fish sauce for that boost of depth. Bring the soup to a simmer and drop in the noodles. Let this simmer for just a few minutes, letting the noodles soften and absorb the soup. We all know this: the longer the noodles sit, the more liquid they absorb. So, off the heat, add in the lime juice, and garnish with the sliced scallions and chopped cilantro. Perfect.
Ladle into soup bowls and serve immediately!
Serves four to six, depending on the serving size.
7.8.1.2
632
https://bevcooks.com/2023/03/green-coconut-curry-noodle-soup-with-mushrooms/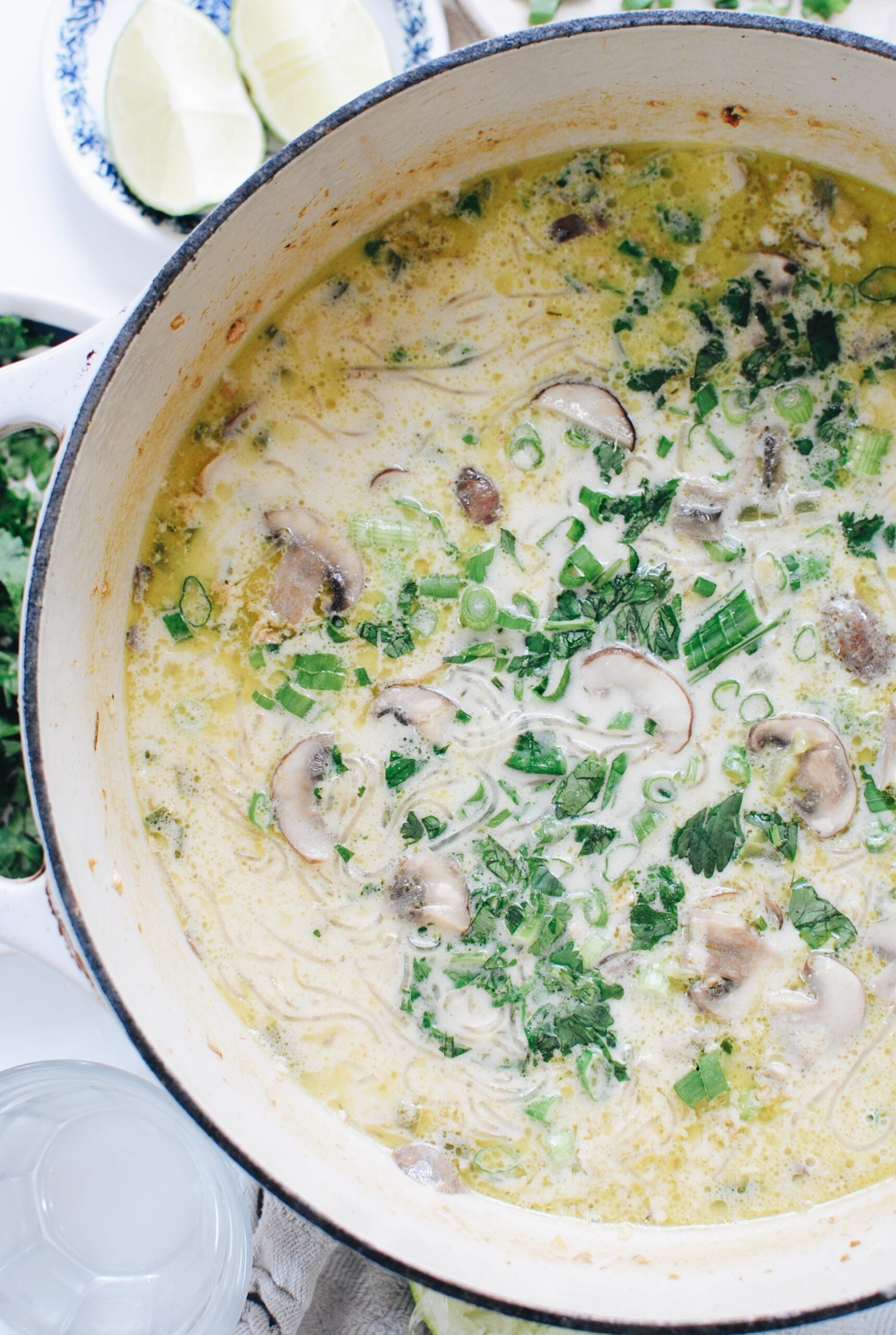 You could even add a little chili crisp for heat right at the end! OH, do that.