Another one-pan show-stopper! But this time we're going the Texish-Mexish route. (it's a thing.)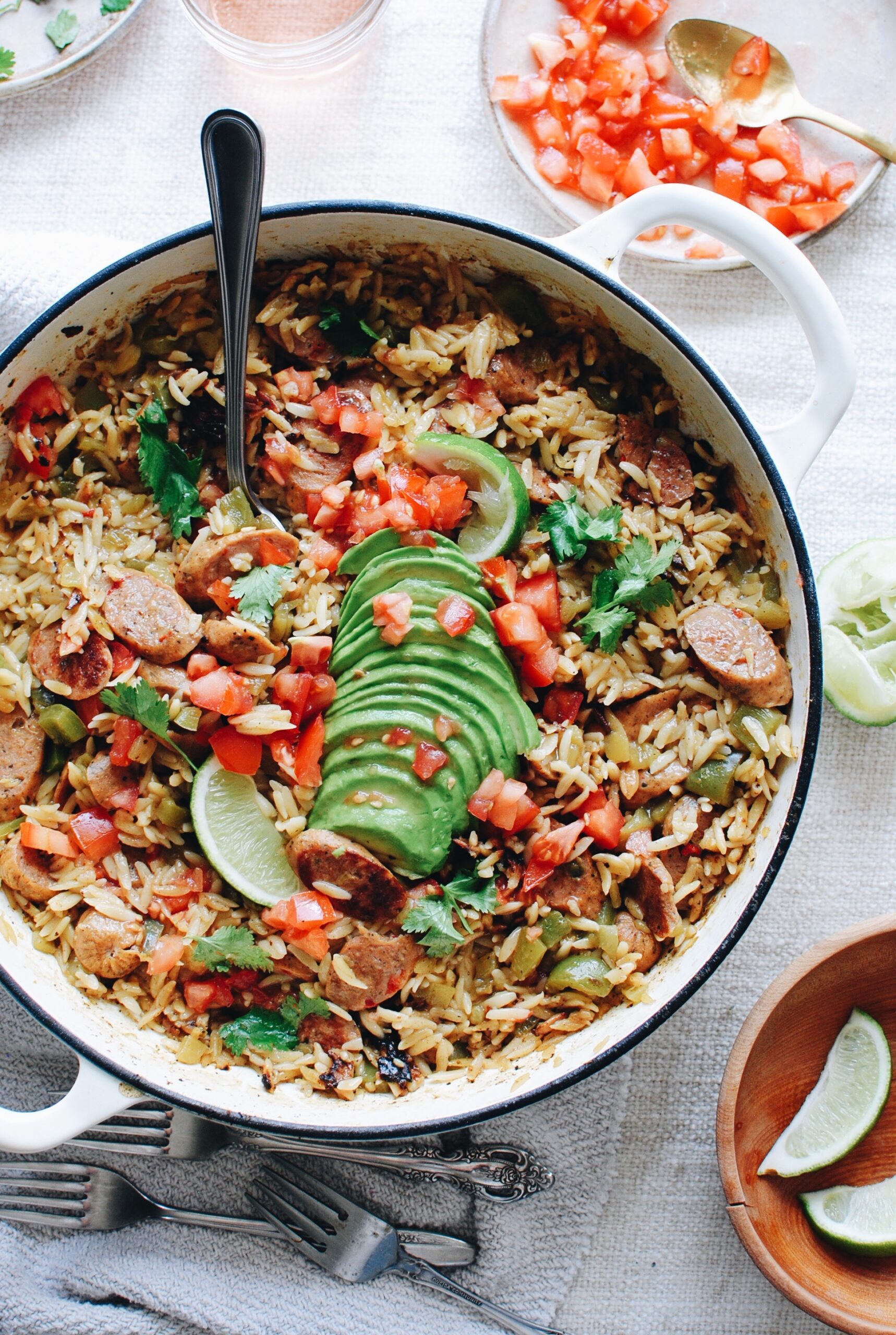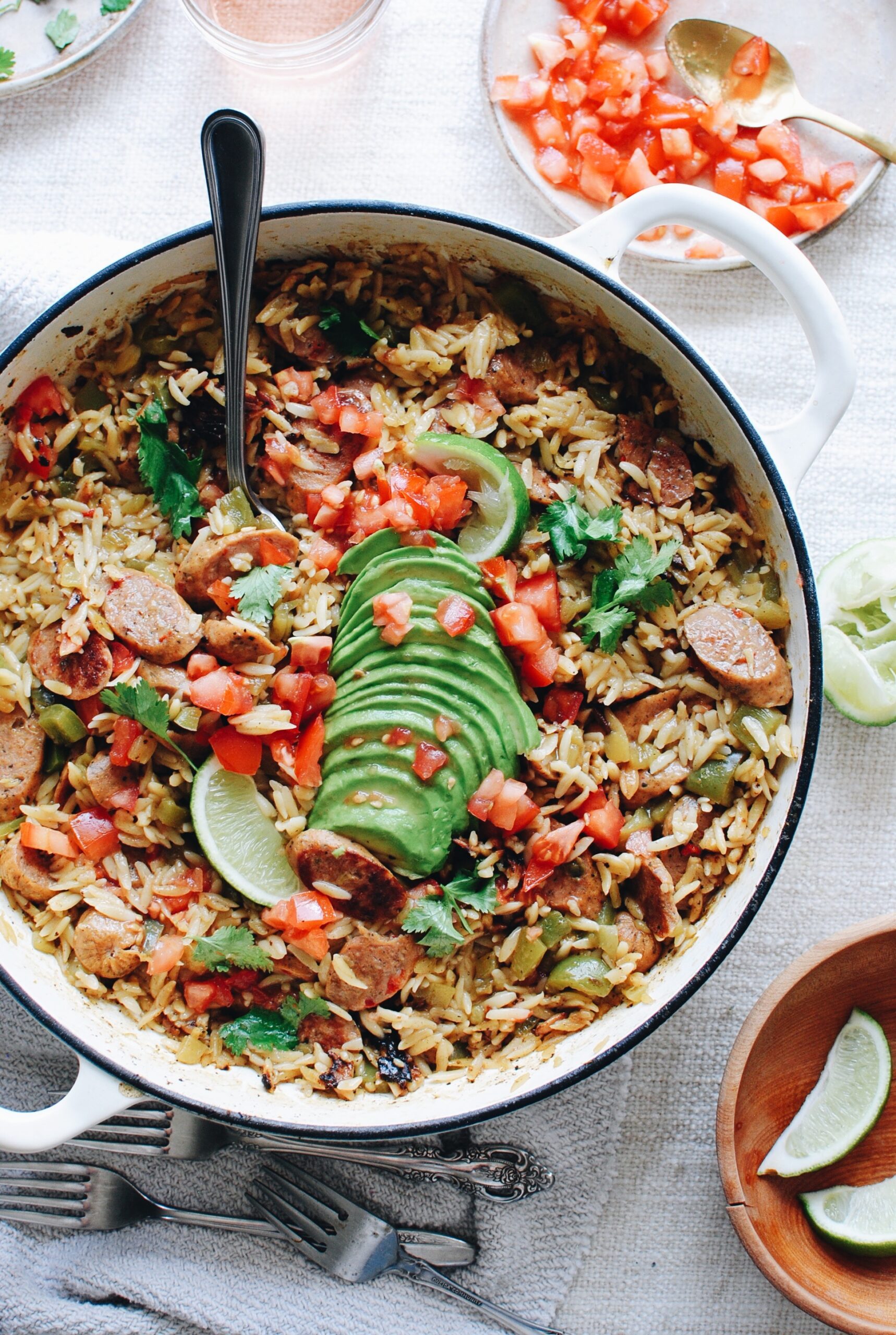 I'll tell you the background of how this recipe came to be. (you're like, "you don't have to.) I was perusing the pantry a while back, trying to find something for something else, when I found the green enchilada sauce next to the can of diced chiles. And the ORZO was right below it on another shelf. And I was like, "Hmmmmm. That would be good." And then I remembered some JALAPENO-flavored chicken sausages in my freezer. And it was like, "Hey now there we go."
The end.
It's a gift, my compelling storytelling.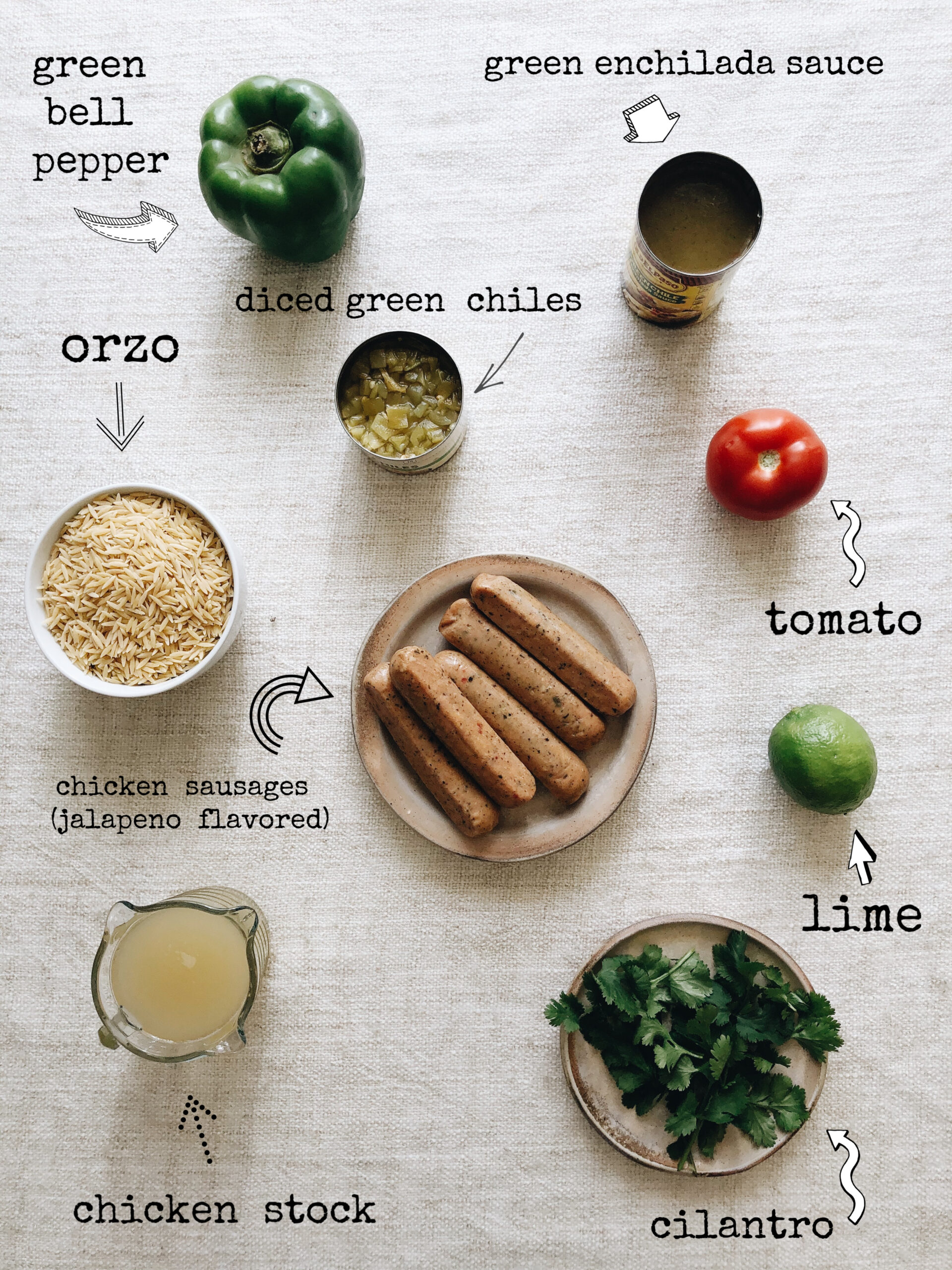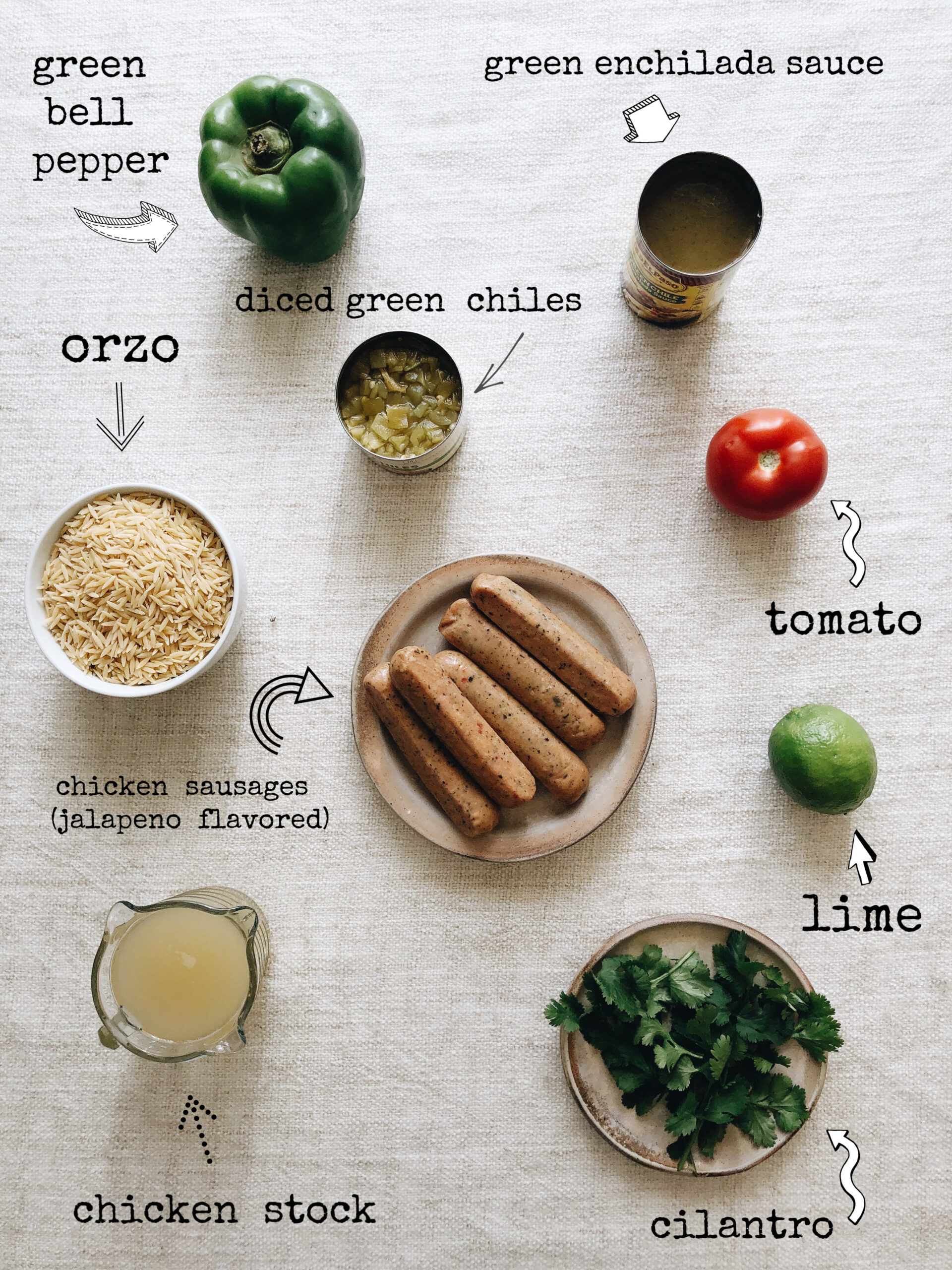 I've got a few of these one-pan orzo wonders on my site. Make your way through this one first, then try the one with chicken and sun-dried tomatoes! It's truly a favorite around here. And then try the one with grains and broccolini. CRAZY delish.
But for now, let's go this Tex-Mex route. It's like enchiladas meets a skillet sausage party. I shouldn't have typed out the words sausage party just now. My friend Lacy is going to text me later, "Just no."
Another pantry-friendly weeknight pal, but with some fresh toppings added in for vibrancy. You know the drill these days.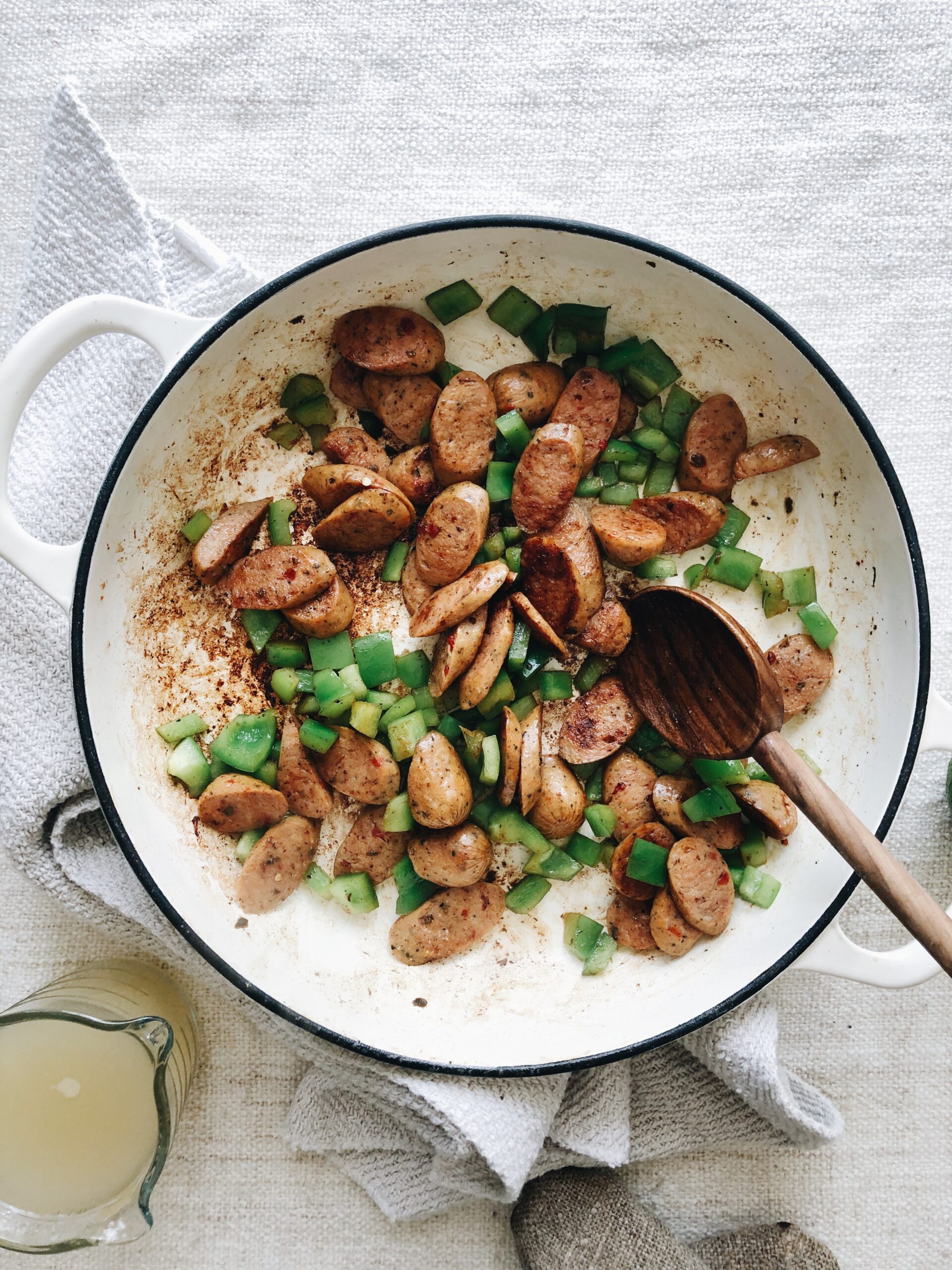 First up just slice and sear the chicken sausages. If you can't find any jalapeno flavored ones, just grab a flavor that you love and I'm sure the world will not blow up. You WILL be putting Mexican flavors in this with the chiles and enchilada sauce, so just amend if you need to.
Add a green bell pepper and sauté it for a nano.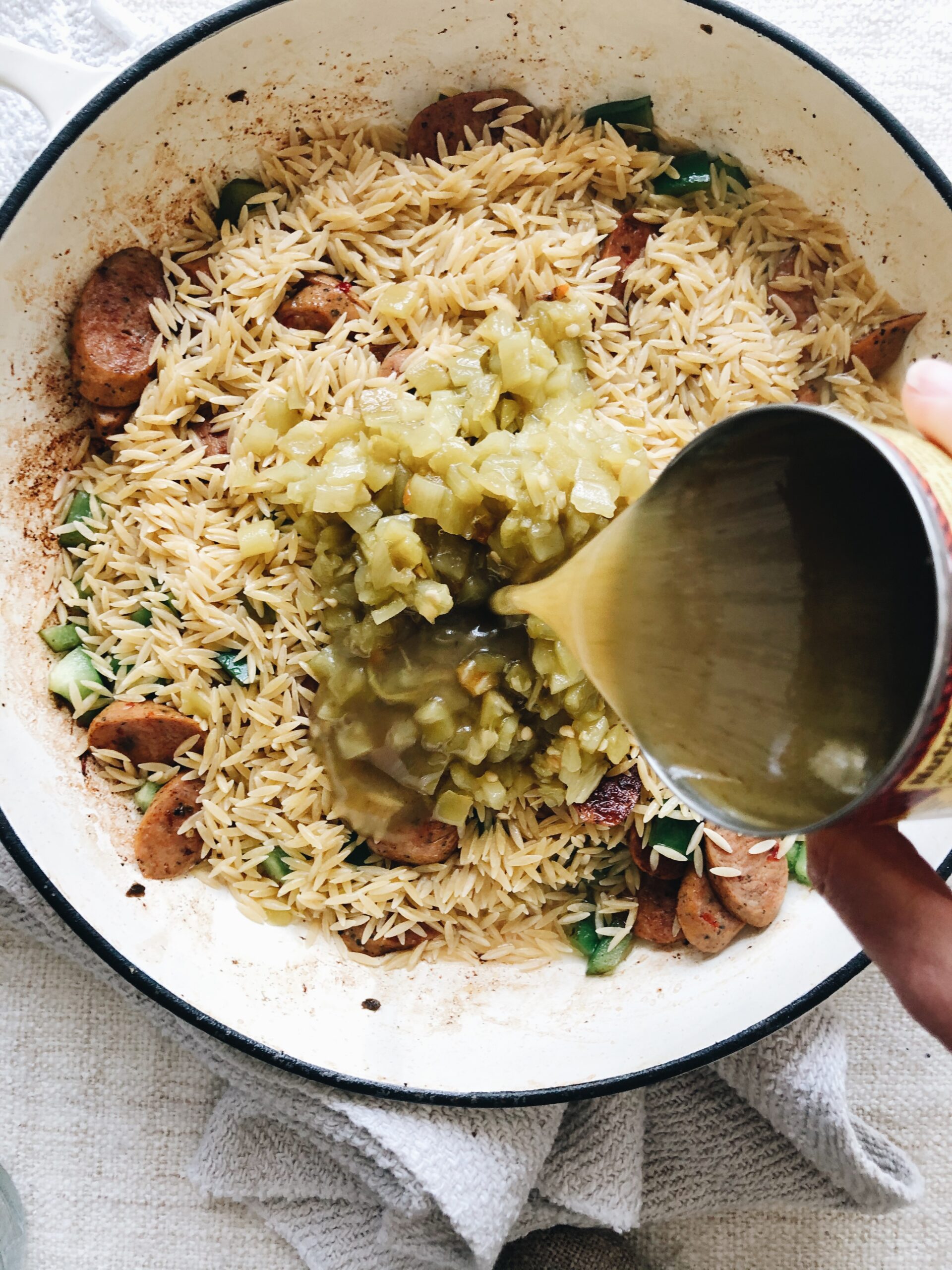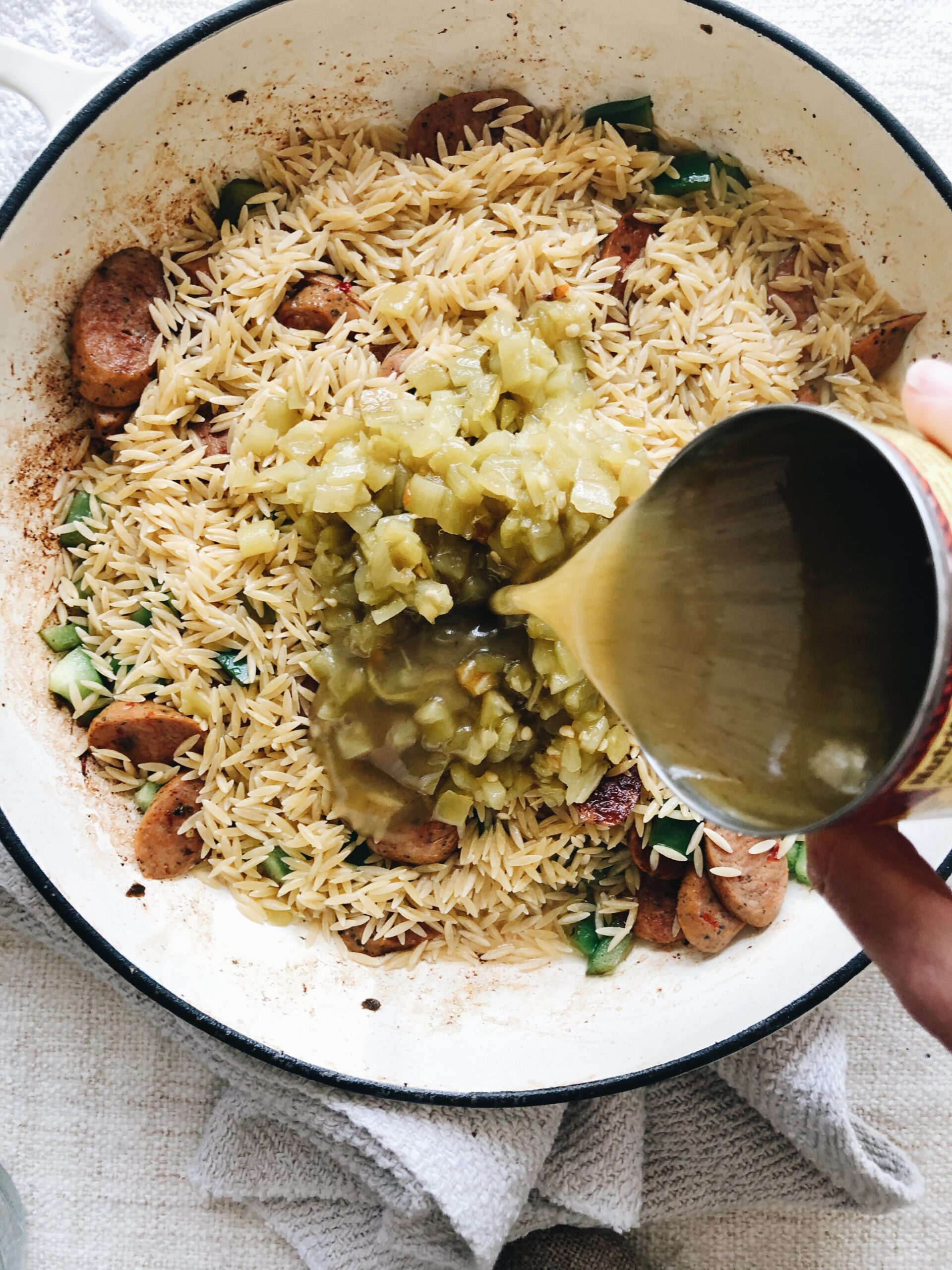 And then it's really just so dern (my mom says dern – remember?) simple from here on out. You'll add dried orzo, the canned chiles, the enchilada sauce and two cups chicken stock. Brilliant, dahling.
Give that a stir to fully incorporate, with a nice peench (my sister says peench – remember?) of salt to carry the flavors, slap a lid on it and reduce the heat to a medium-low. Simmer for 20-25 minutes, you know, nothing aggressive. But HARK THIS – get your wooden spoon in there every five minutes to make sure nothing is sticking on the bottom. You want all that orzo to absorb the liquid, becoming a creamy-ish skillet of blisseroo.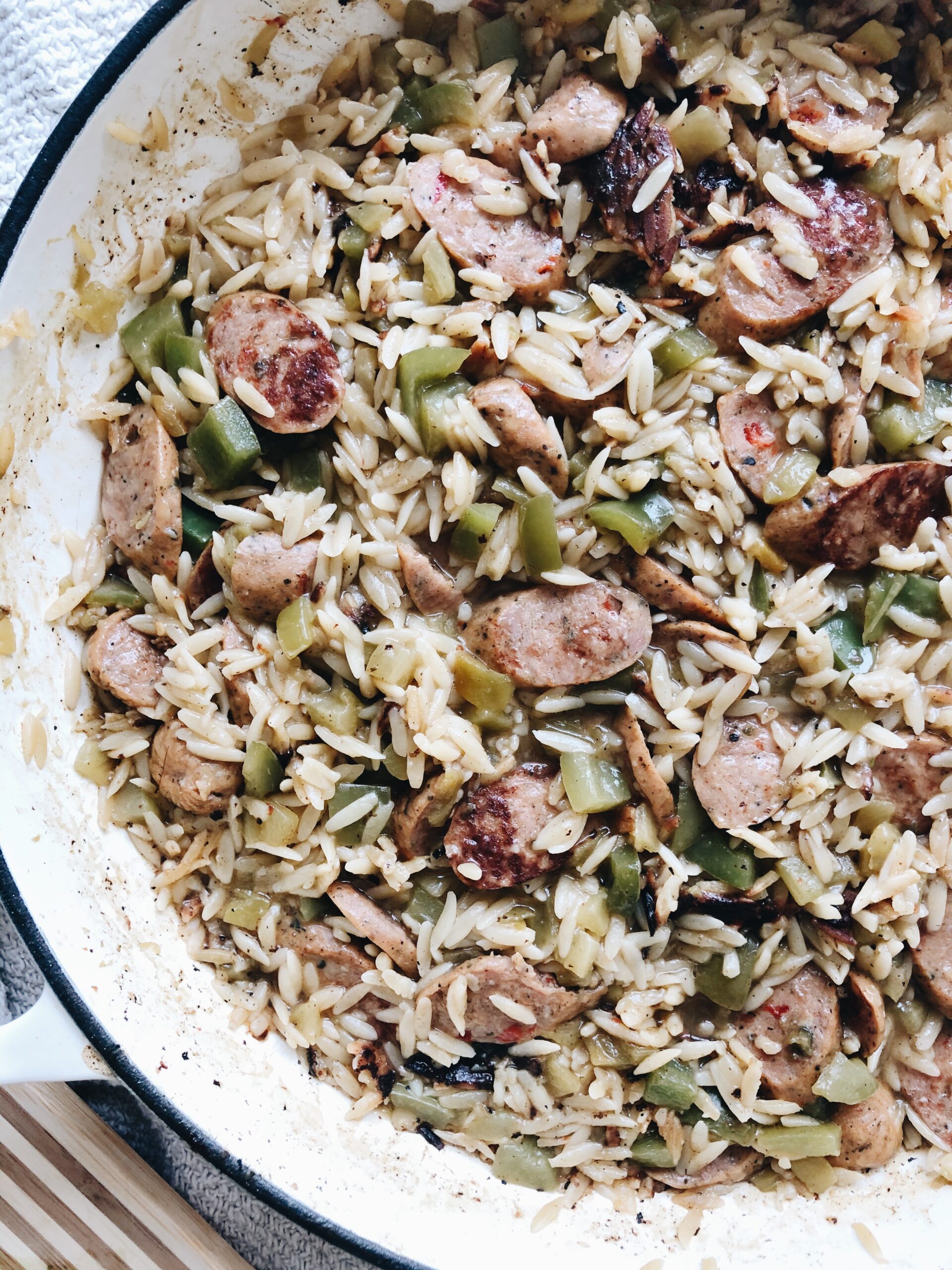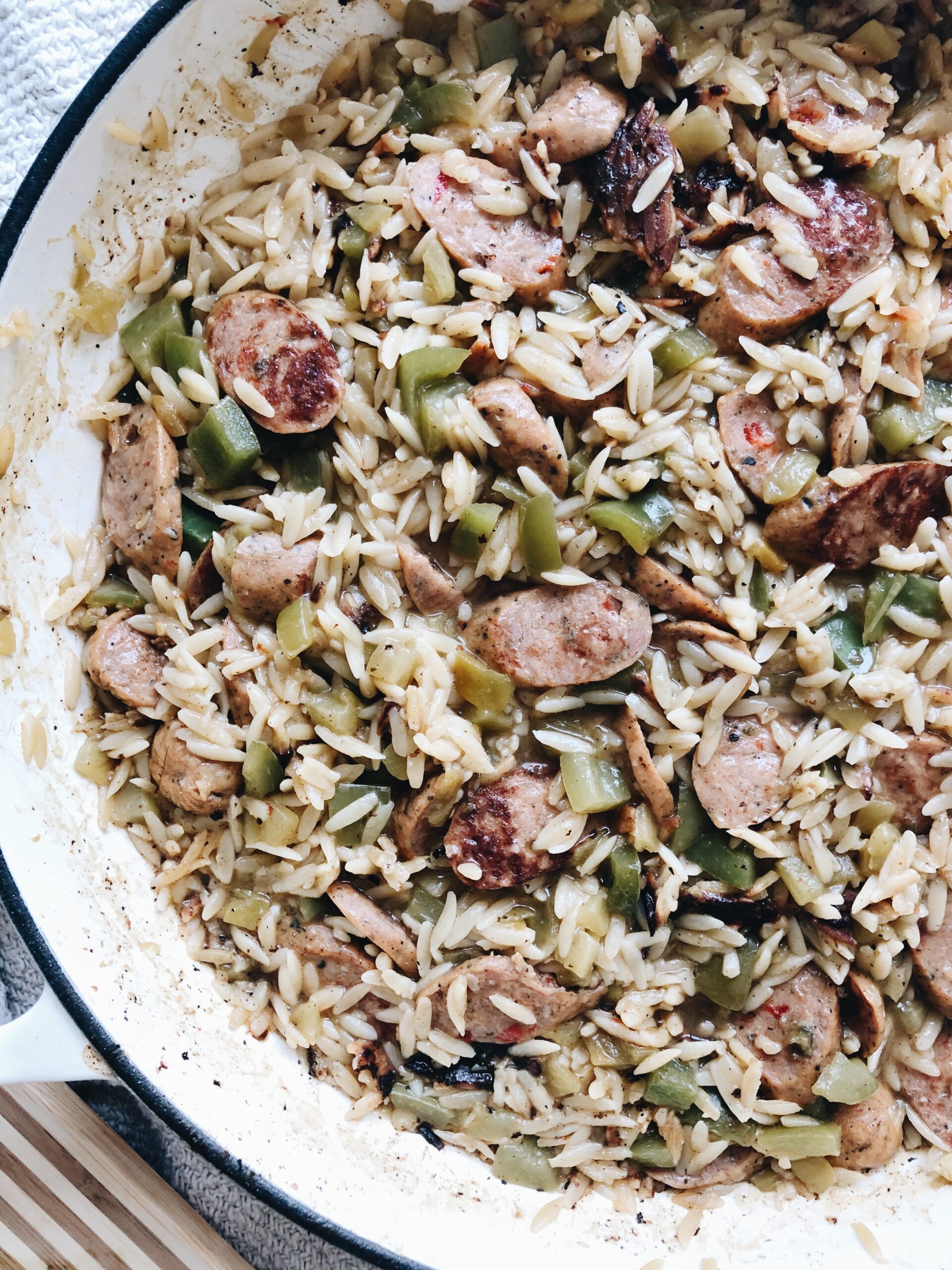 And I think we got there.
At this point, squeeze half the lime in and give it all a gently stir. Lil' bit of citrus lurve. 'Atta girl.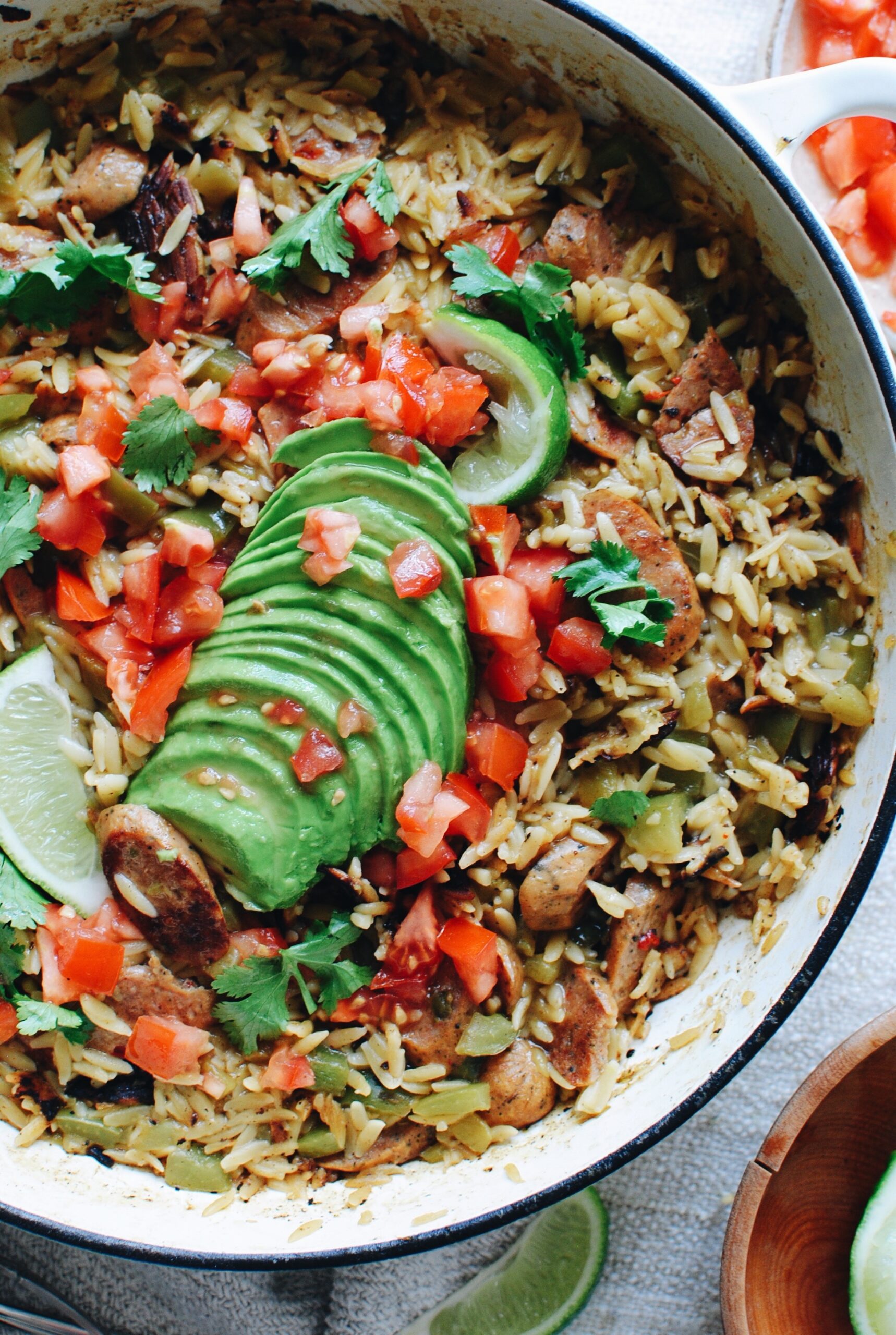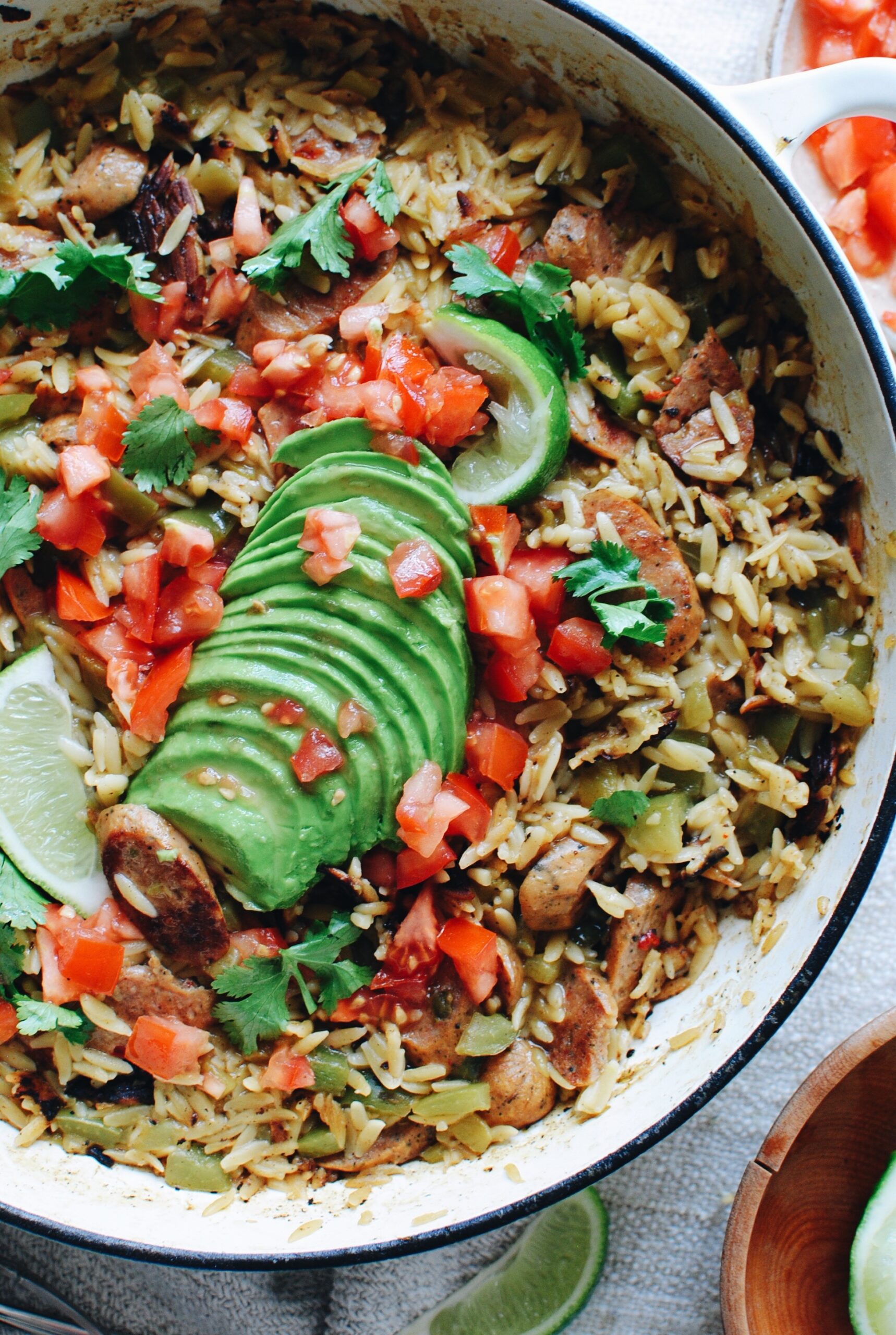 Jush it up with fanned-out avocado BECAUSE WHY NOT, some torn cilantro leaves here and there, some freshly diced tomato (because I had one left and it was going to go bad otherwise but it's totally optional.), and you're set, Chet.
(I have a friend named Chet so that was for him. He doesn't read my blog though, so never mind.)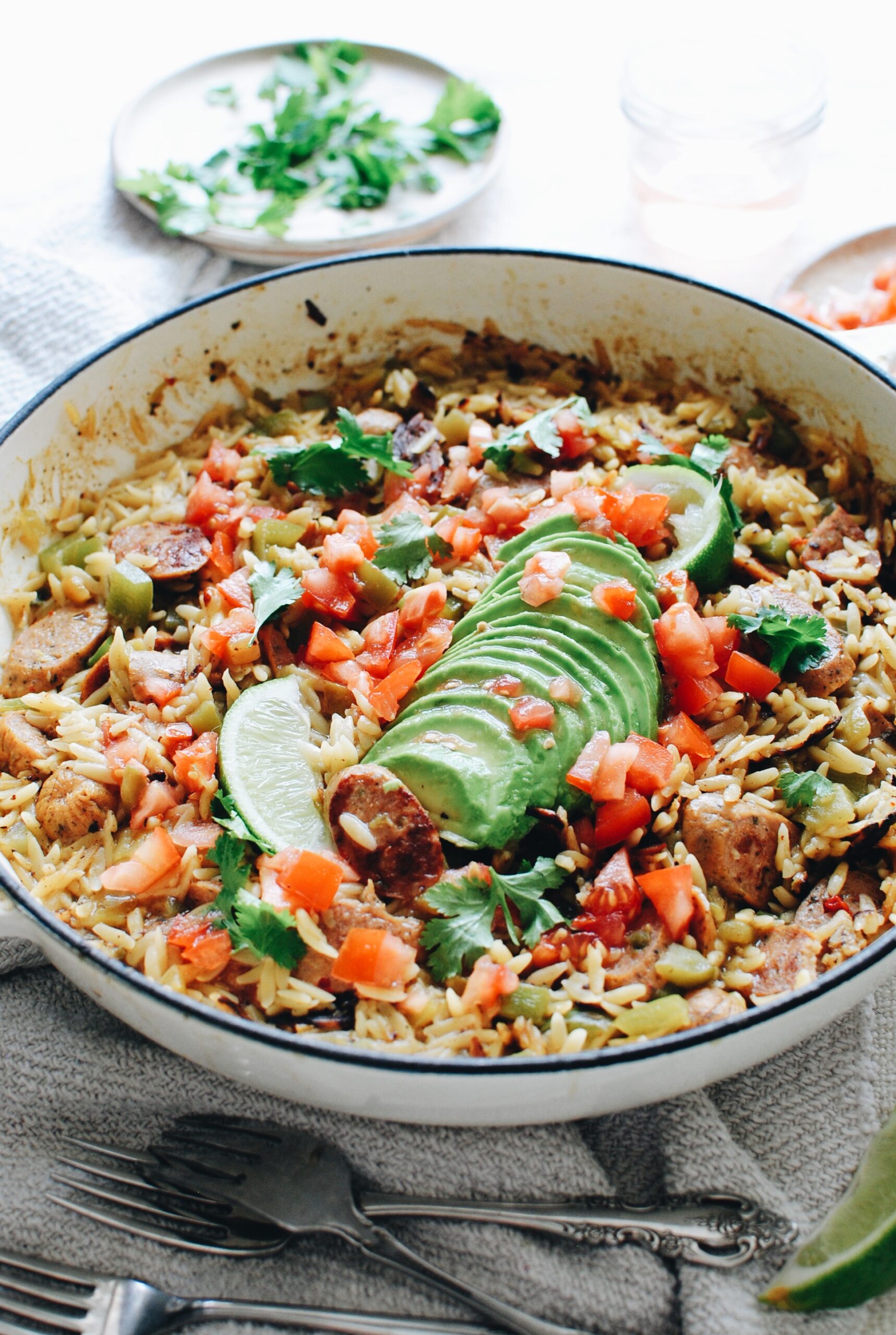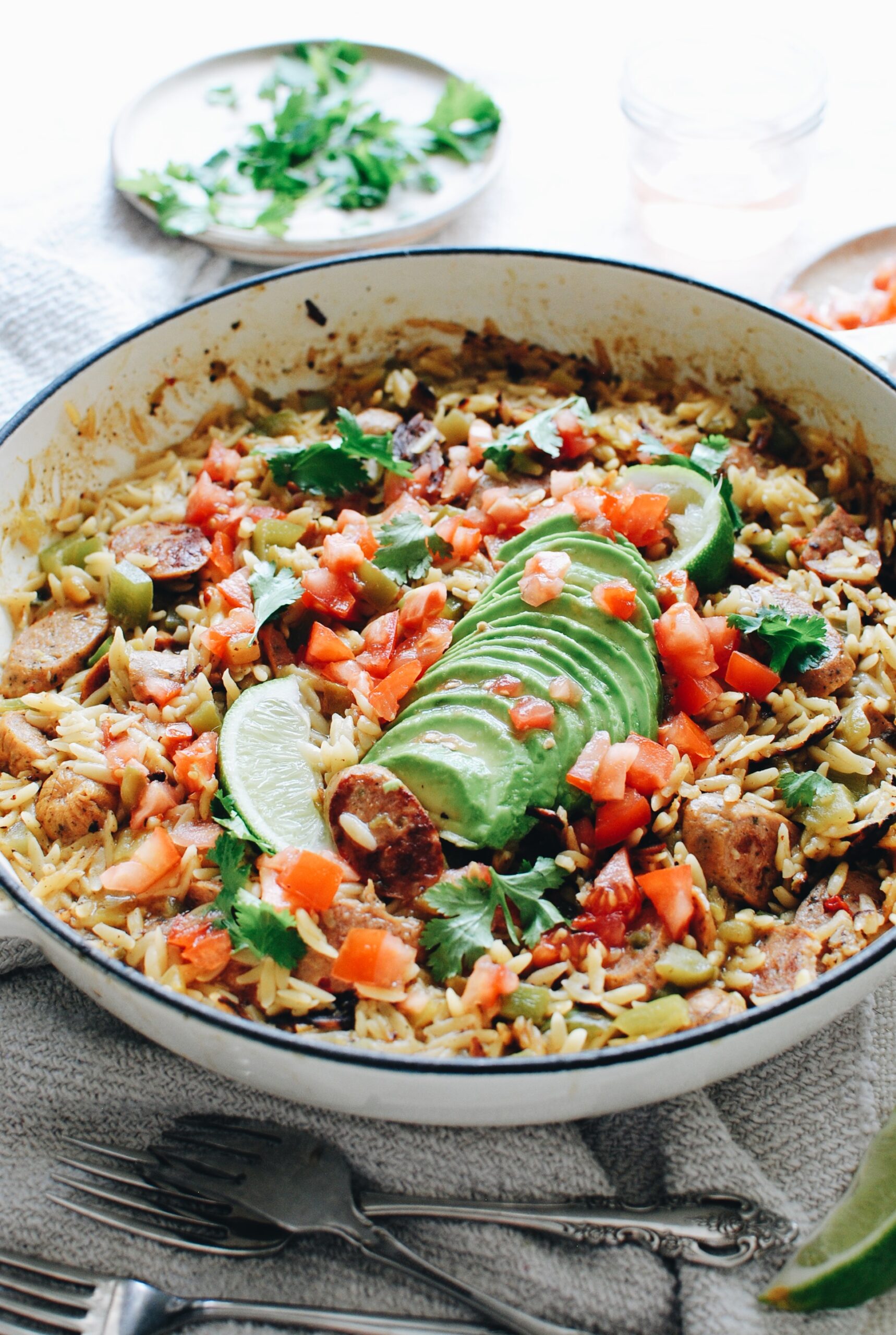 This is SUCH a crowd pleasure, you guys. Familiar flavors, nothing overly spicy, comforting with all that orzo and seared sausage, but fresh with the hit of lime and bright garnishes. SO GOOD. You'll see.
OH YOU WILL SEE.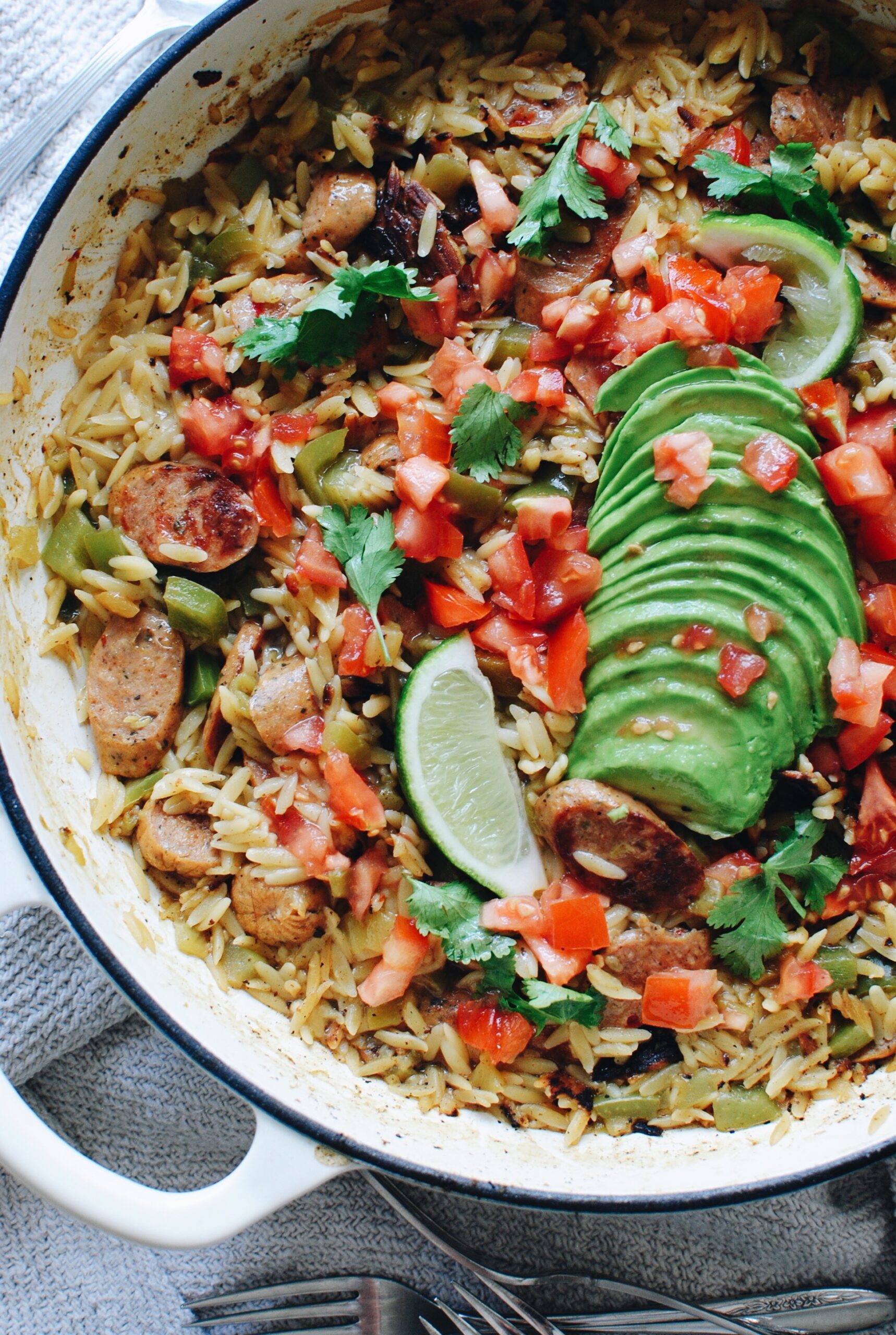 Hope you enjoy your new life.
Skillet Tex-Mex Orzo with Chicken Sausages
Ingredients
1-2 Tbs. extra-virgin olive oil
1 (12 oz) package chicken sausages (I used a jalapeño flavor for a tex-mex vibe), sliced
1 green bell pepper, seeded and diced
2 cups orzo
1 (7 oz) can diced green chiles
1 (10 oz) can green enchilada sauce
2 cups chicken stock
1 tomato, diced
1 lime
1 cup cilantro leaves
1/2 avocado, thinly sliced
Instructions
Heat the oil in a large skillet over medium high. Add the sliced sausages and sear on both sides until you get some good browning, about five minutes. Add the diced green bell pepper and sauté two minutes, until it begins to lightly sweat. Season with a small pinch of salt.
Add the dried orzo, diced green chiles, enchilada sauce and chicken stock. Stir everything together and season with another pinch of salt. Reduce the heat to medium-low, cover and let it all simmer 20-25 minutes, until the orzo is cooked though and absorbed the liquid. Stir it at each five minute mark to ensure nothing is sticking on the bottom.
Off the heat, add the juice from half the lime and give it a light stir. Top with the diced tomato, cilantro leaves and the avocado fanned out. You know, just for fun. Because you can.
Serve it immediately with the extra lime wedges! How amazing does this look? AH KNOW.
Serves four!
7.8.1.2
420
https://bevcooks.com/2020/04/skillet-tex-mex-orzo-with-jalapeno-chicken-sausages/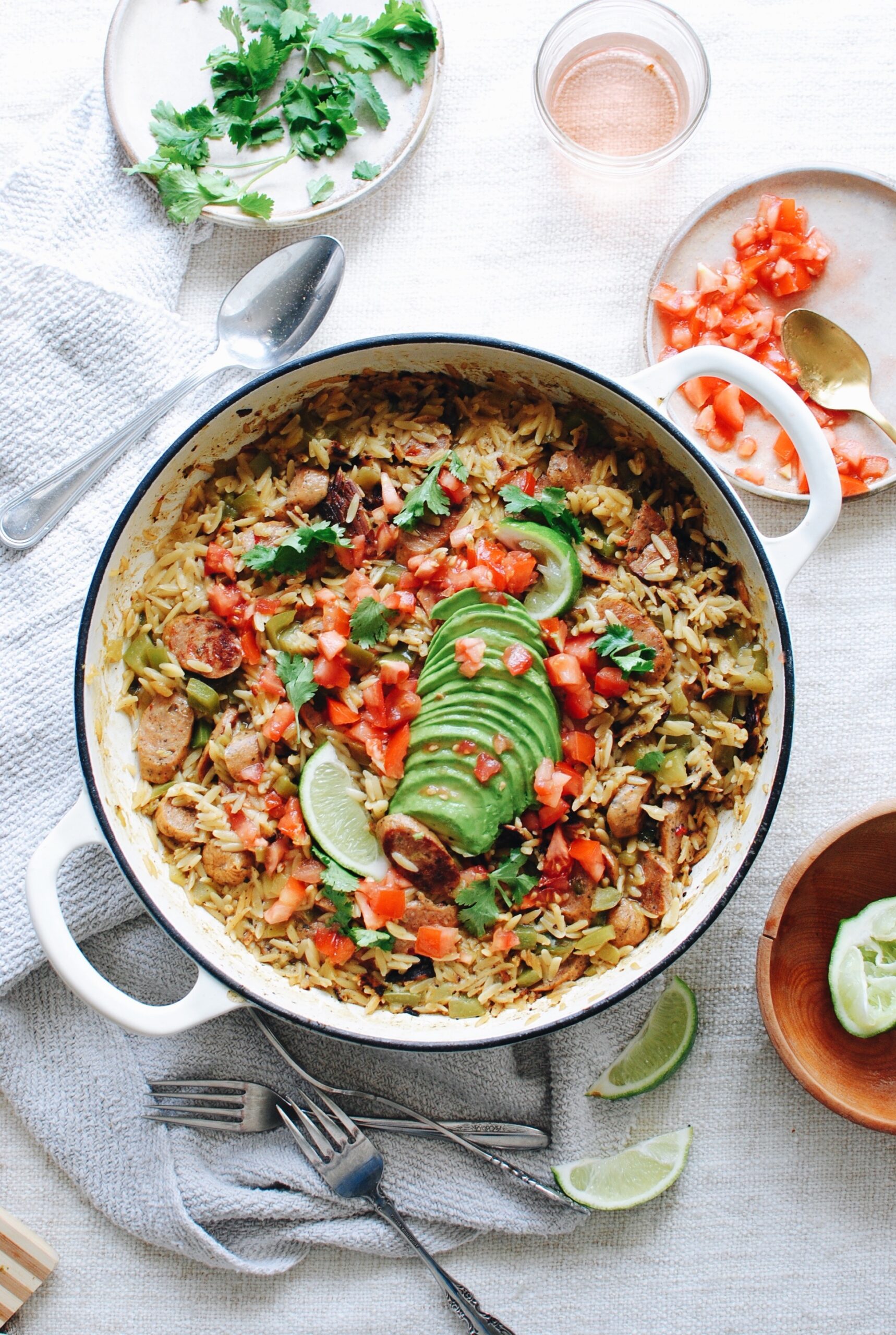 Texish-Mexish. It's absolutely a thing.