And now I give you, your new autumnal foodal obsession . . . al.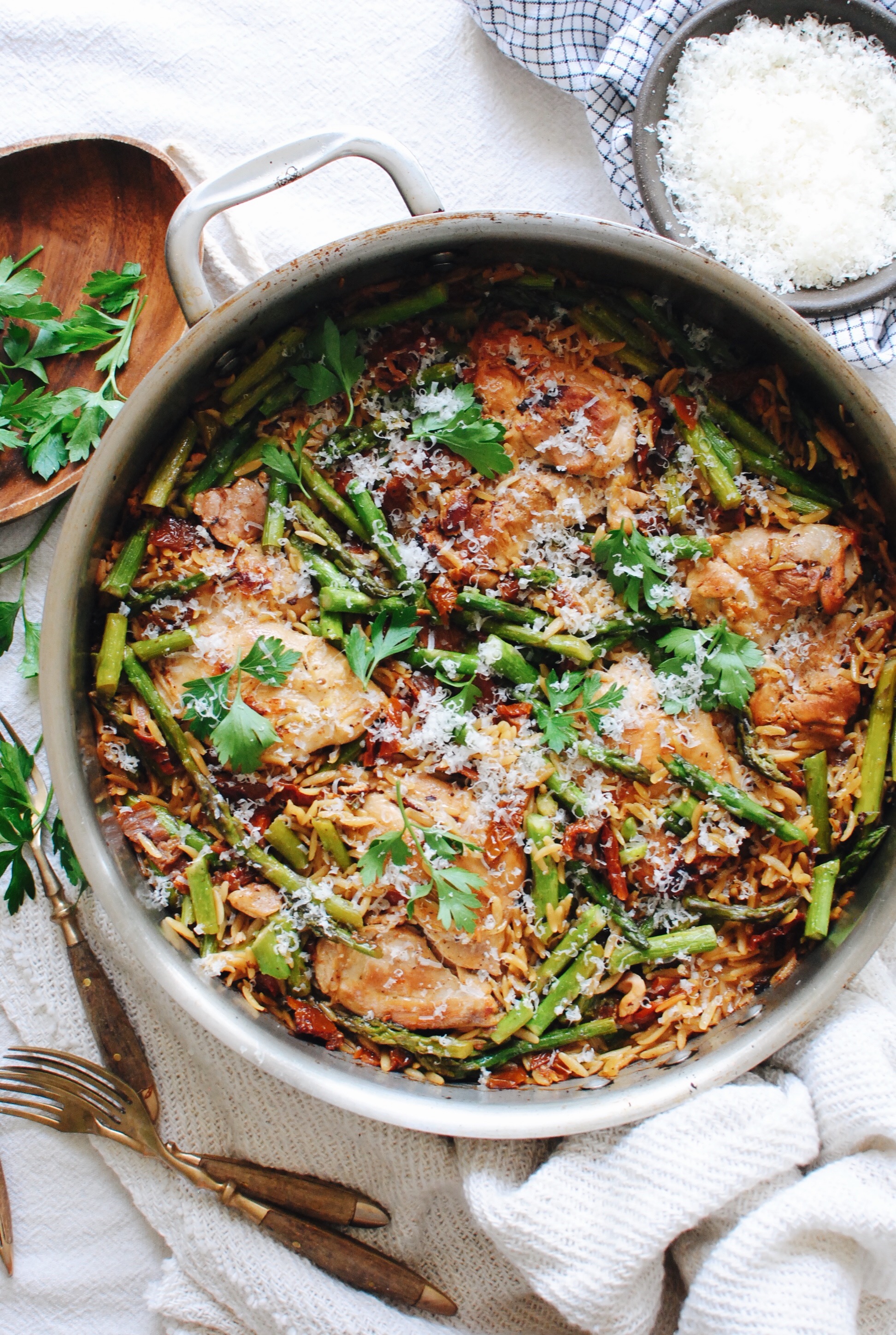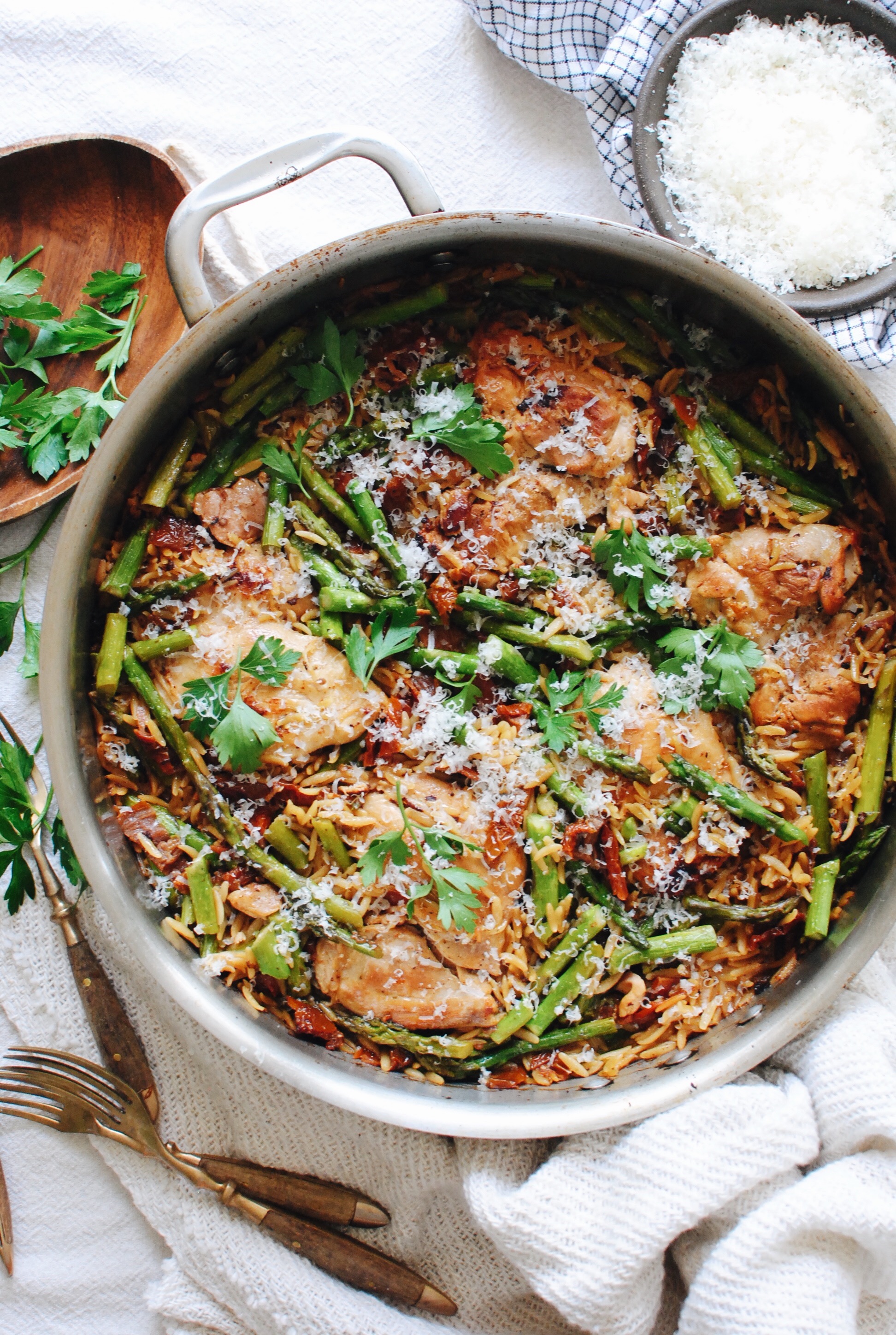 Guys it is ONE PAN. I know how you love your one pan meals. And you know how I love my one pan meals. This has so little hooplah you will absolutely lose your mind in it. And I'm not sorry.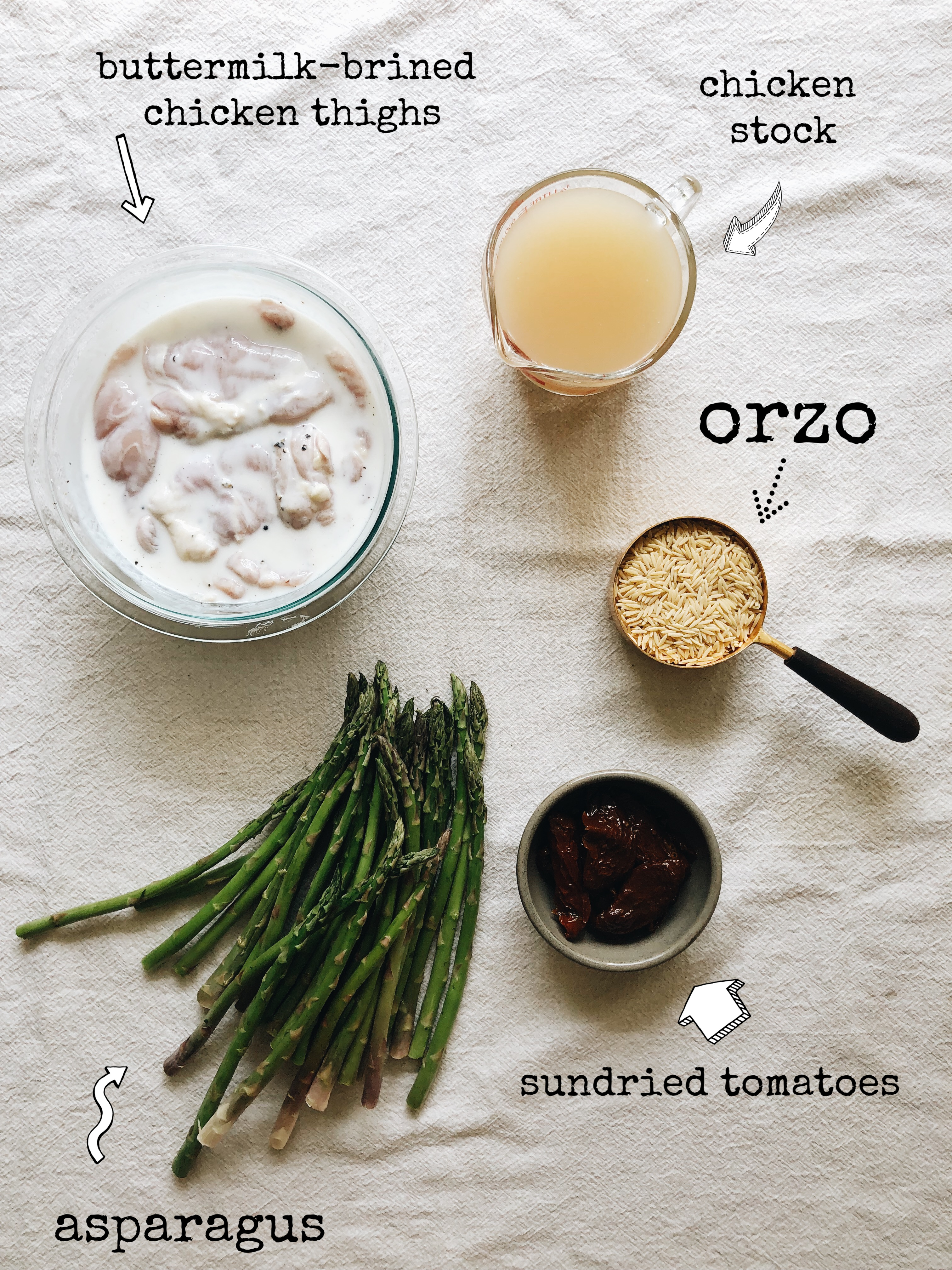 First of all, FIVE INGREDIENTS. That is it. That is all. (okay besides parm and parsley, but those are garnishes so they don't count.)
(I mean, they count. Don't get me wrong. But they go on TOP of the finished meal as opposed of going INTO the meal to make it what it is.)
(And you can swap one out for something else or leave it off all together!)
(. . . not that you'd want to do that, though. Parm and parsley are divine enhancers and actually add so much finesse to the finished product.)
( . . . never mind. seven ingredients.)
(I guess eight if you count the buttermilk and chicken separately.)
Only eight ingredients, you guys!
(don't delete me from your life.)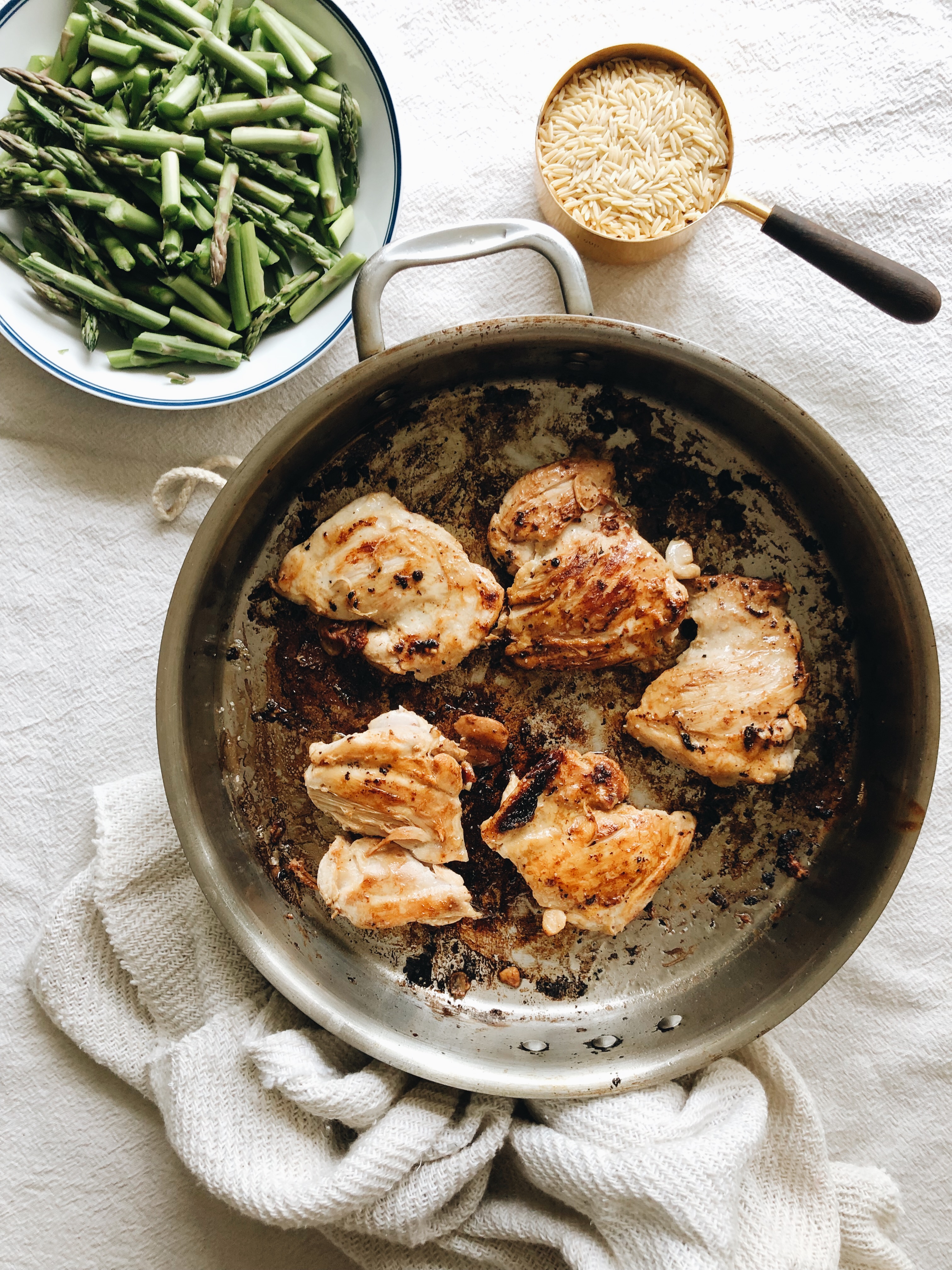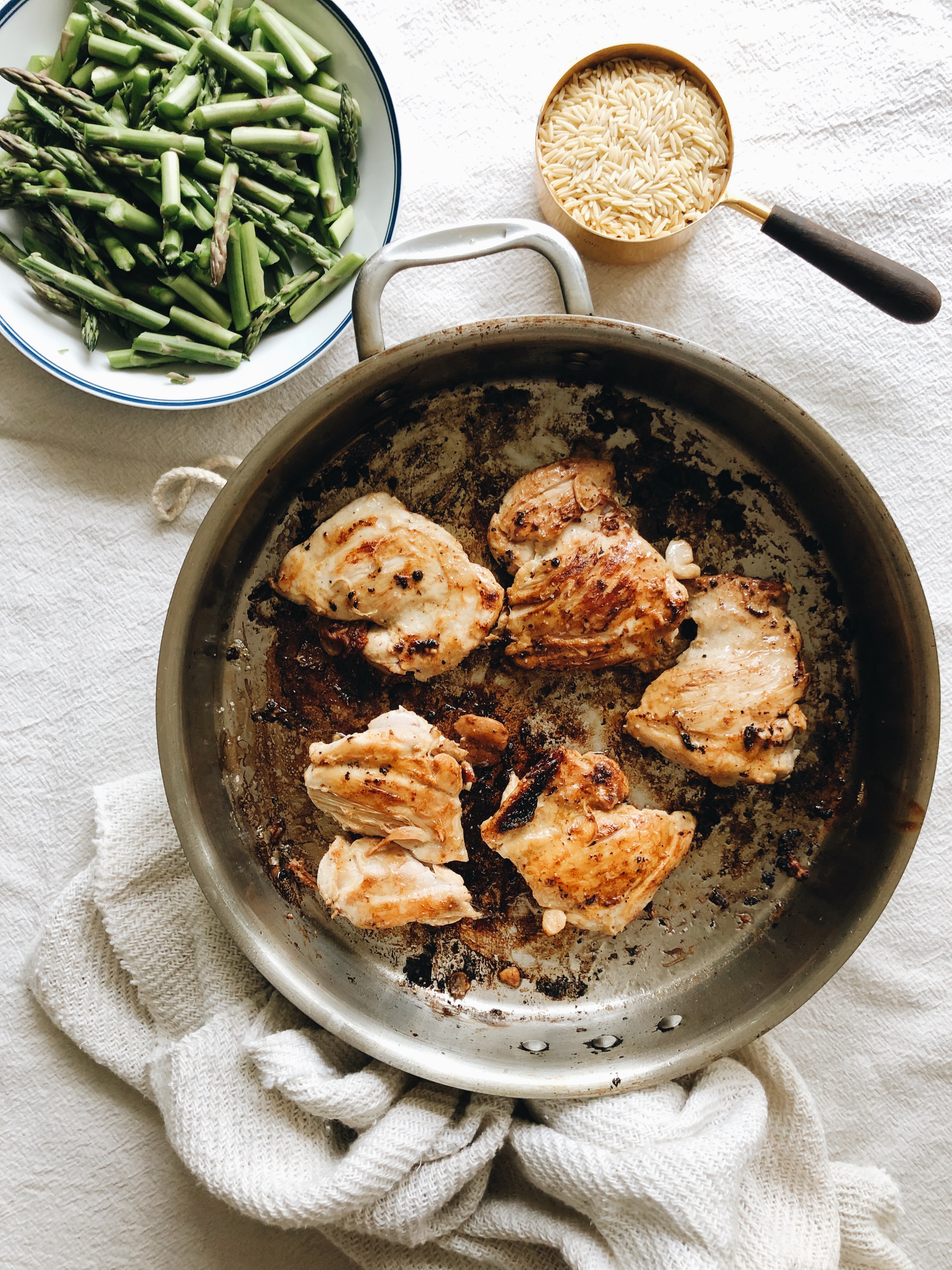 The buttermilk chicken. I've just got a thing for it, man. Buttermilk is that top secret James Bond ingredient that transforms chicken. Adds such much subtle flavor in the tang department. Tenderizes it, too! Don't skip this, brah. Just throw the chicken in a bag with the buttermilk, along with a pinch of salt and stick it in the fridge all day. Zero hassle. Just do it. You'll thank me at dinner.
Just sear the thighs (hello dark meat is living) in a hot skillet for about five minutes per side. You want pretty sear marks all over. It might not be cooked all the way through, but you're still a good person. It will finish in the oven. Hang tight.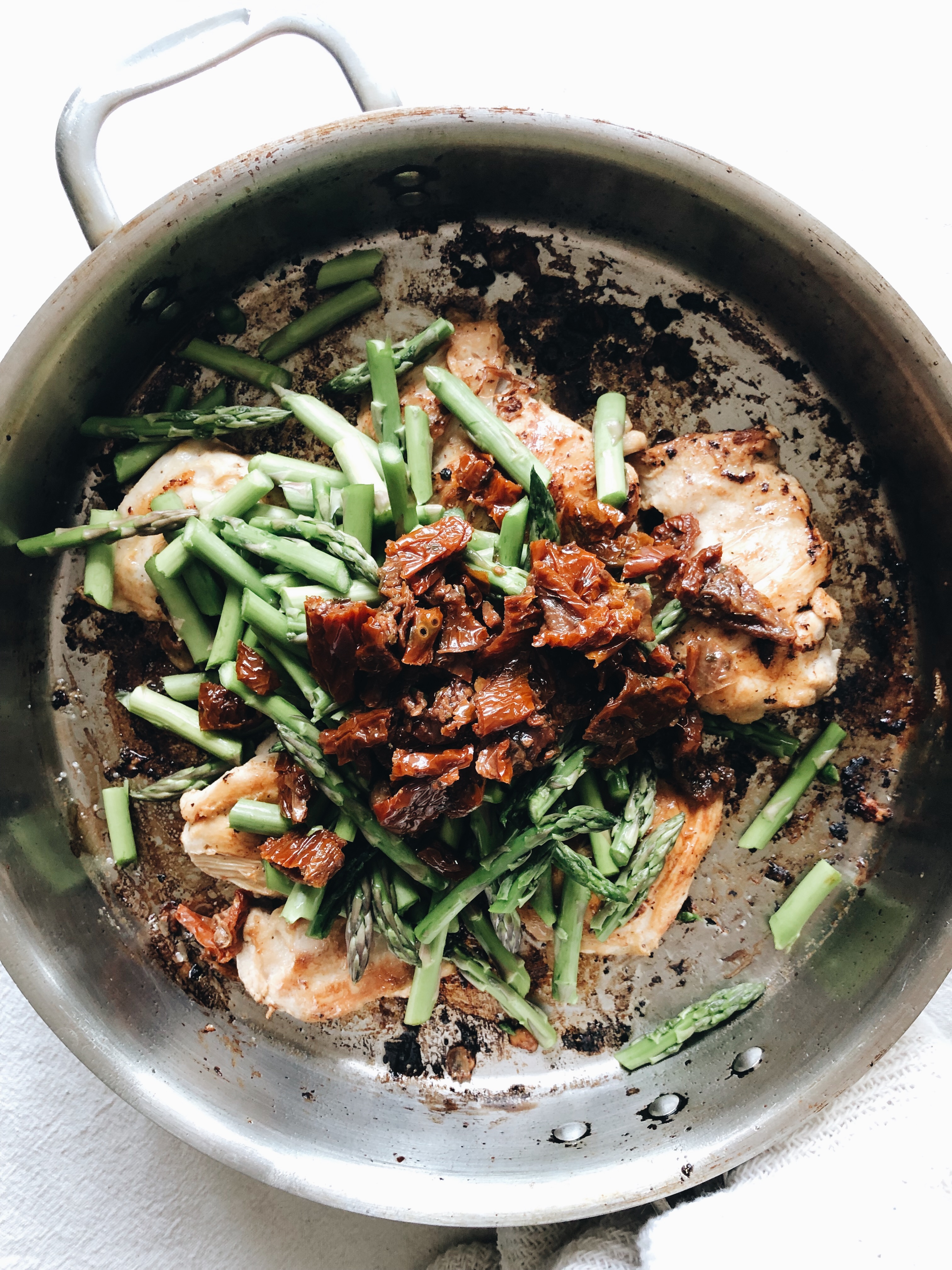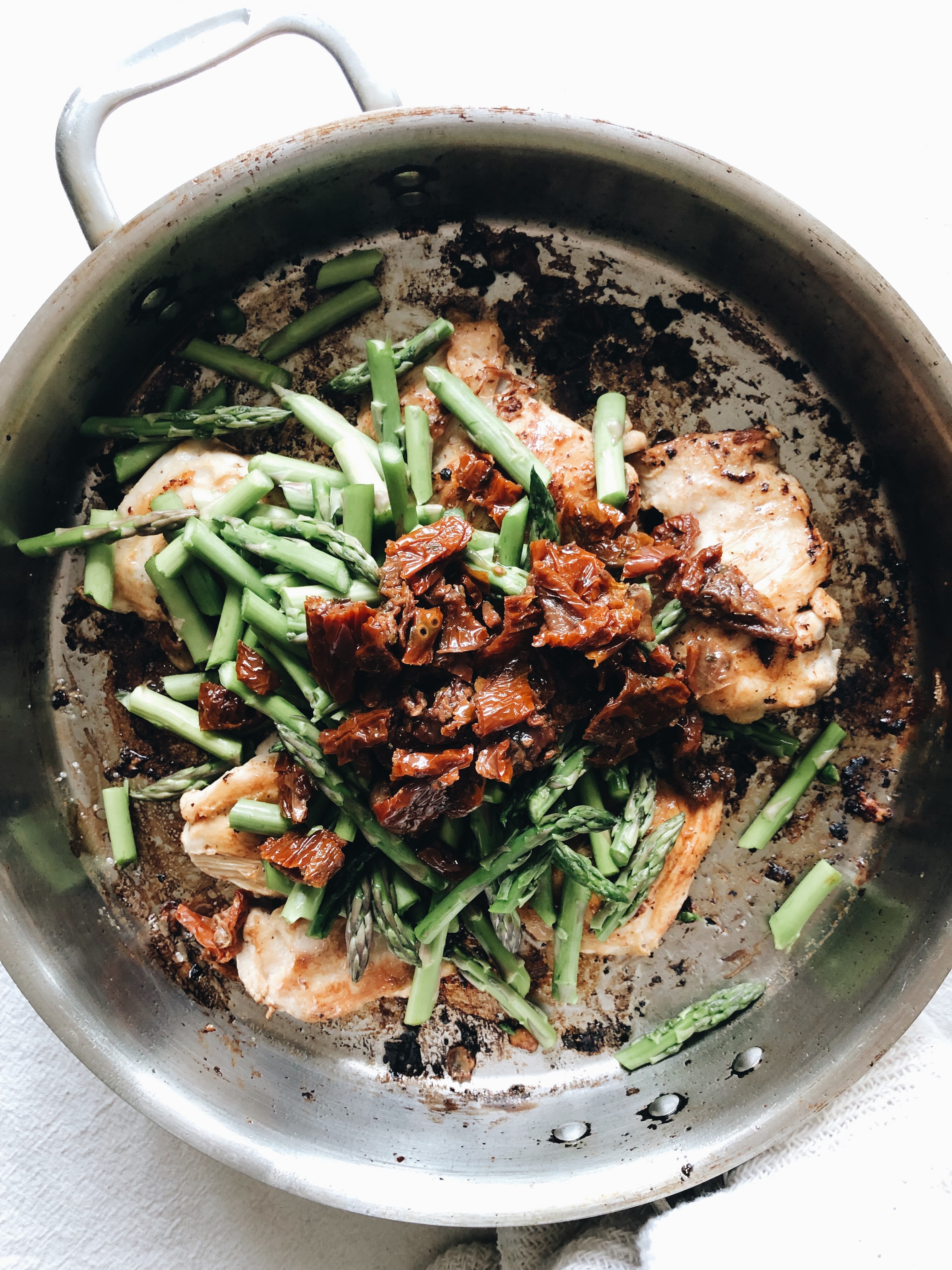 Then you simply just add chopped sundried tomatoes (from a jar, in their oil) and some sliced asparagus. One-to-two-inch pieces, ya know. In they go.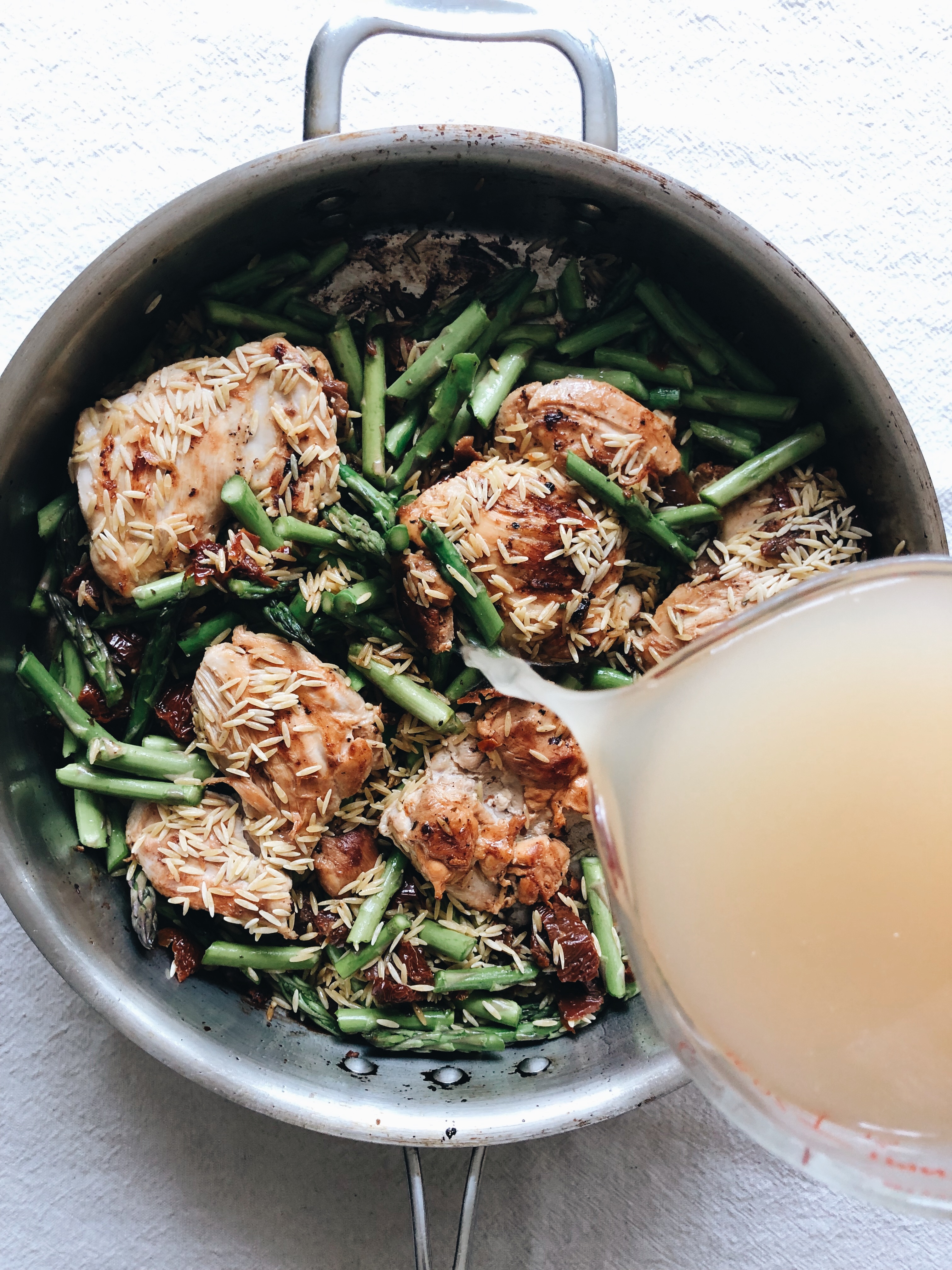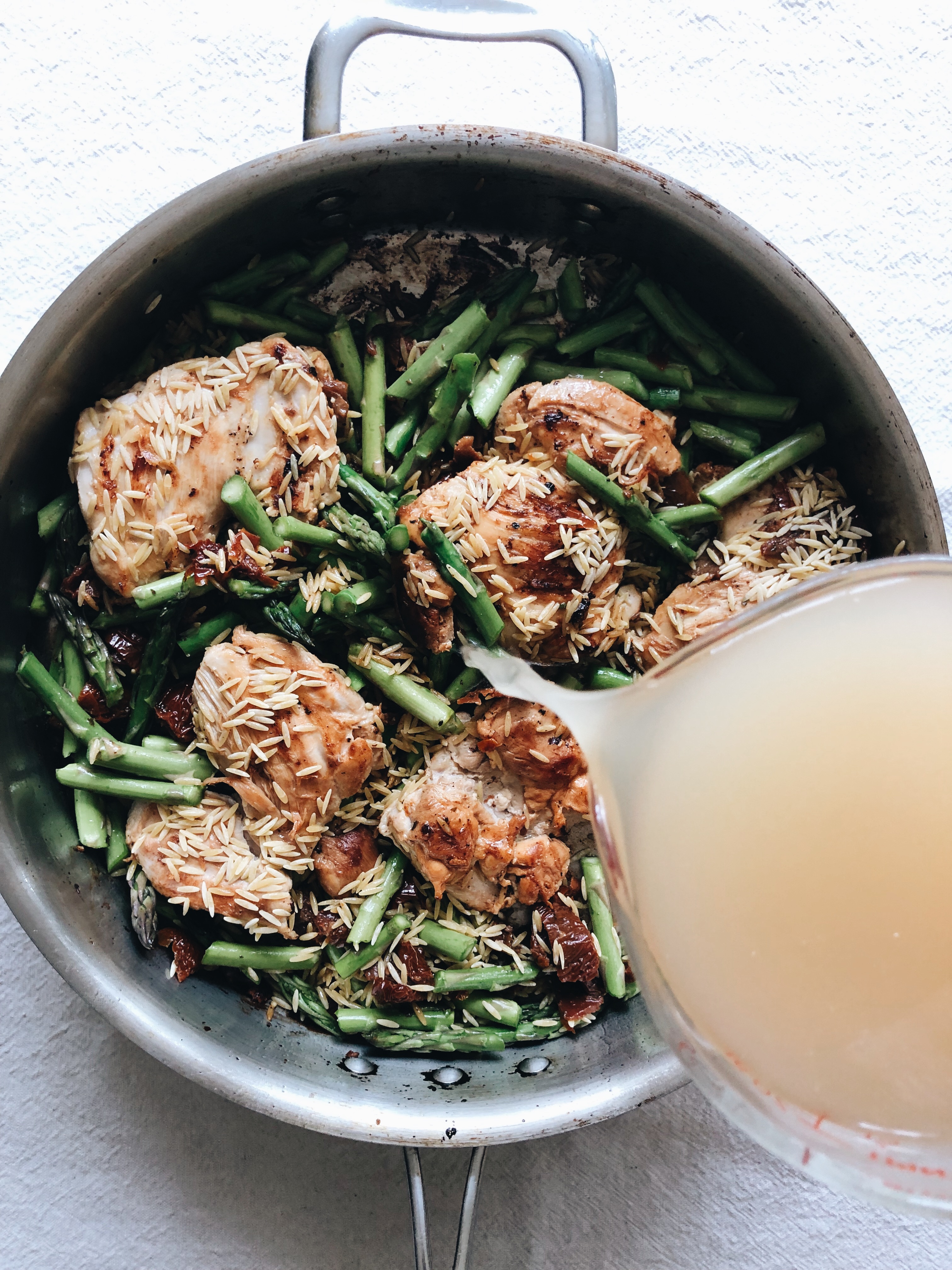 Then add the (uncooked!) orzo and give it all a stir. Pour the chicken stock over everything, making sure that all the orzo is covered in liquid. Slap a lid on it and…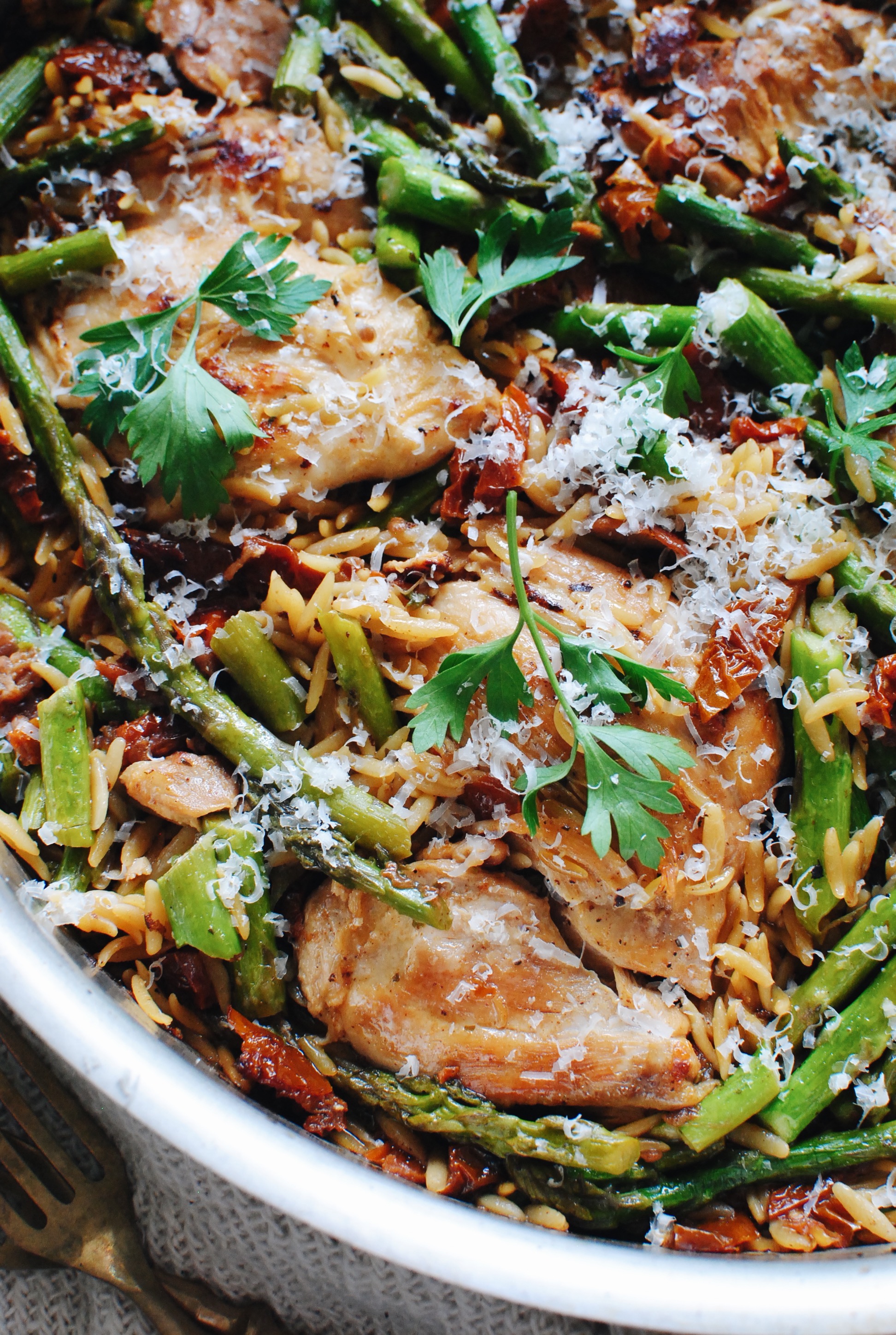 Twenty five minutes later, boo bears.
It's PERFECT. The orzo is completely tender (but not mushy and overdone!) and the asparagus has popped in a gorgeous bright green color and is crisp tender and the tomatoes add all that umami and the chicken is sublime and omg.
ALSO, the stock is no' mo'. All absorbed into the now-plump-and-succulent orzo. And everything has this nice subtle red tone due to the sundried tomatoes and it's just other worldly. You're going to fall on the floor in a blubbery swoon. (my sister hates the word swoon. ha!)
Serious weeknight game changer. I've made it thrice now and the kids all but completely devour it.
I'm telling you, make this and you will see your fall weeknight dinners in a WHOLE NEW LIIIIIIIIIIIIGHT. (um, the new Aladdin is amazing! and he's totally cute, so.) (I do realize it's world and not light.)
(bye.)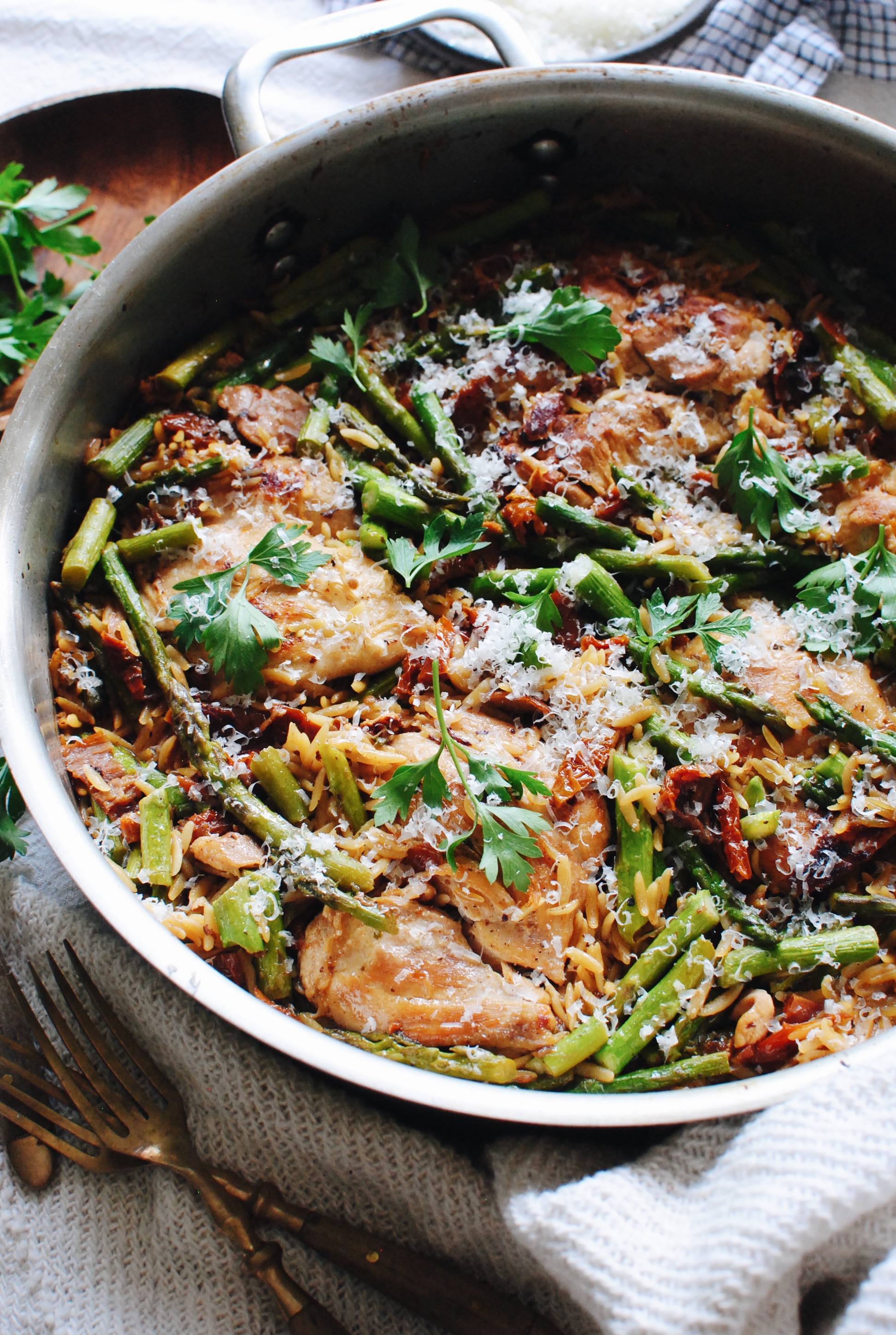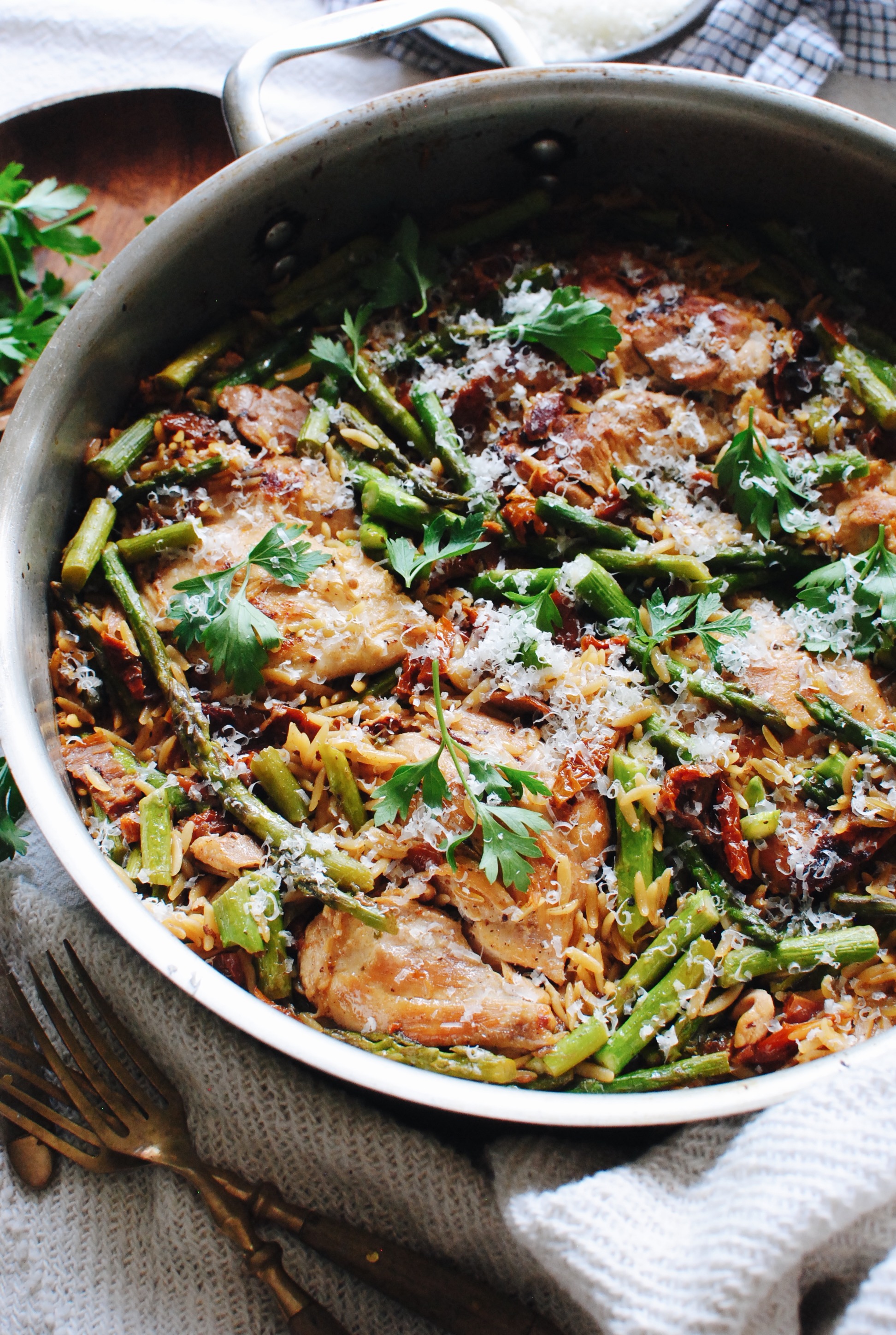 You can basically consider this begging.
One-Pan Orzo with Asparagus and Sundried Tomatoes
Ingredients
1 1/2 pound chicken thighs (any excess fat trimmed away)
1 cup buttermilk
1 bunch asparagus, ends trimmed and spears sliced into 1-inch pieces
10-13 sundried tomatoes (depending on their size) (from a jar, in their oil) roughy chopped
1 cup orzo
2 cups chicken stock
Parmesan cheese, grated for garnish
Fresh parsley leaves, for garnish
Pinch of salt
Instructions
In a large sealable plastic or reusable bag, add the chicken thighs, a pinch of salt and the buttermilk. Seal and marinate the chicken in the fridge for at least four hours. All day if you can!
Preheat the oven to 375.
Remove each chicken thigh from the bag and place them on a plate. Take a paper towel and lightly pat them. You want them coated in the milk, but not any drippy excess milk going into the pan.
Add a tsp of the sundried tomato oil to the skillet and bring to a medium high heat. Add each thigh to the hot pan and sear on one side for five minutes. Flip and sear another five, until you get pretty browning all over.
To the pan, add the sundried tomatoes and asparagus. Give it a stir. Then add the orzo and give it one more stir, distributing the orzo all over the pan. Pour the stock over the top, making sure all the orzo is covered. Cover with a lid (or foil even works) and bake for 25 minutes.
Done! It's perfect. Garnish the whole thing with freshly grated Parmesan and fresh parsley leaves. Bring to the table immediately and wait for the loving gasps of approval from your family. Oh, I'm serious.
Serves 4.
7.8.1.2
376
https://bevcooks.com/2019/09/one-pan-orzo-with-chicken-asparagus-and-sundried-tomatoes/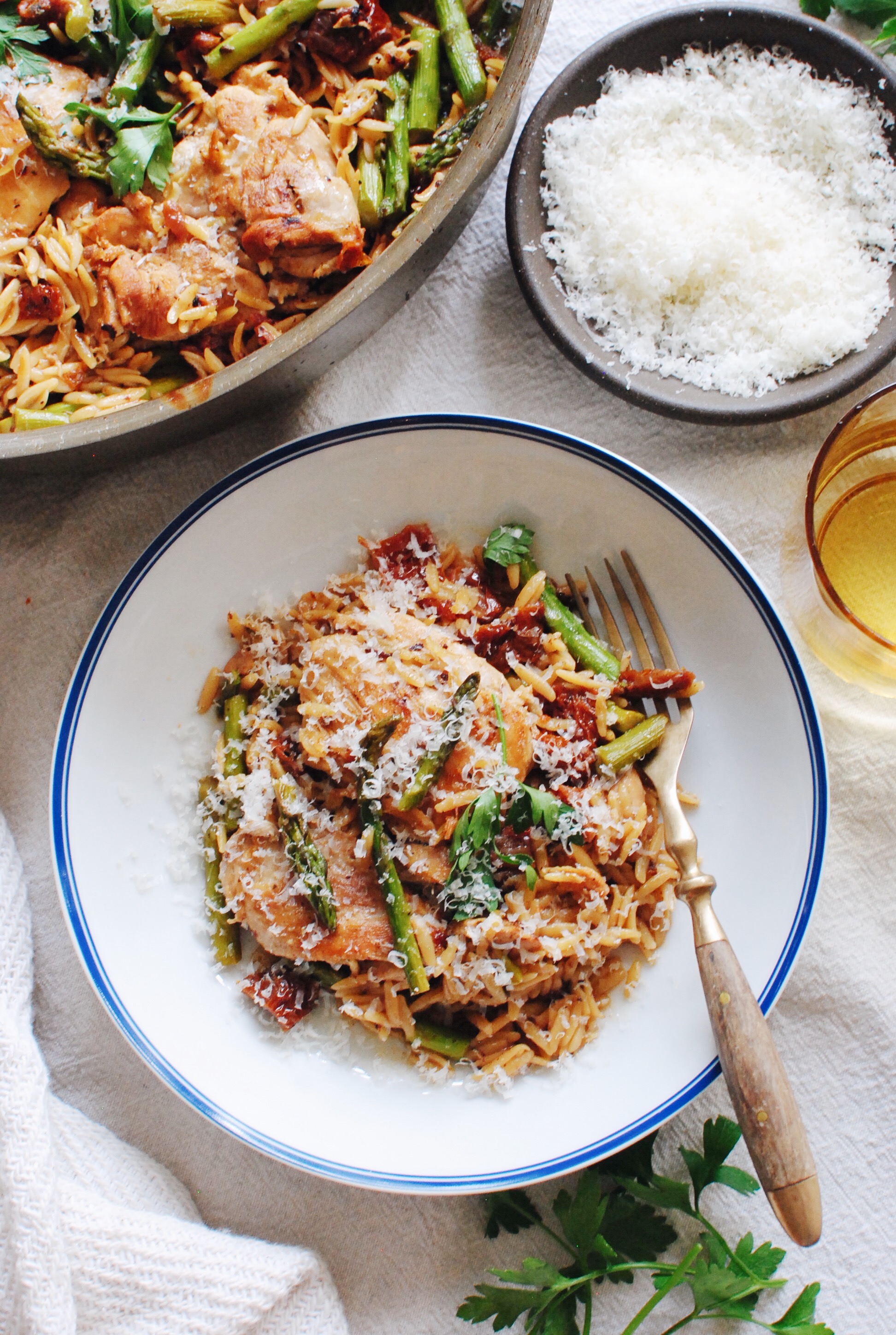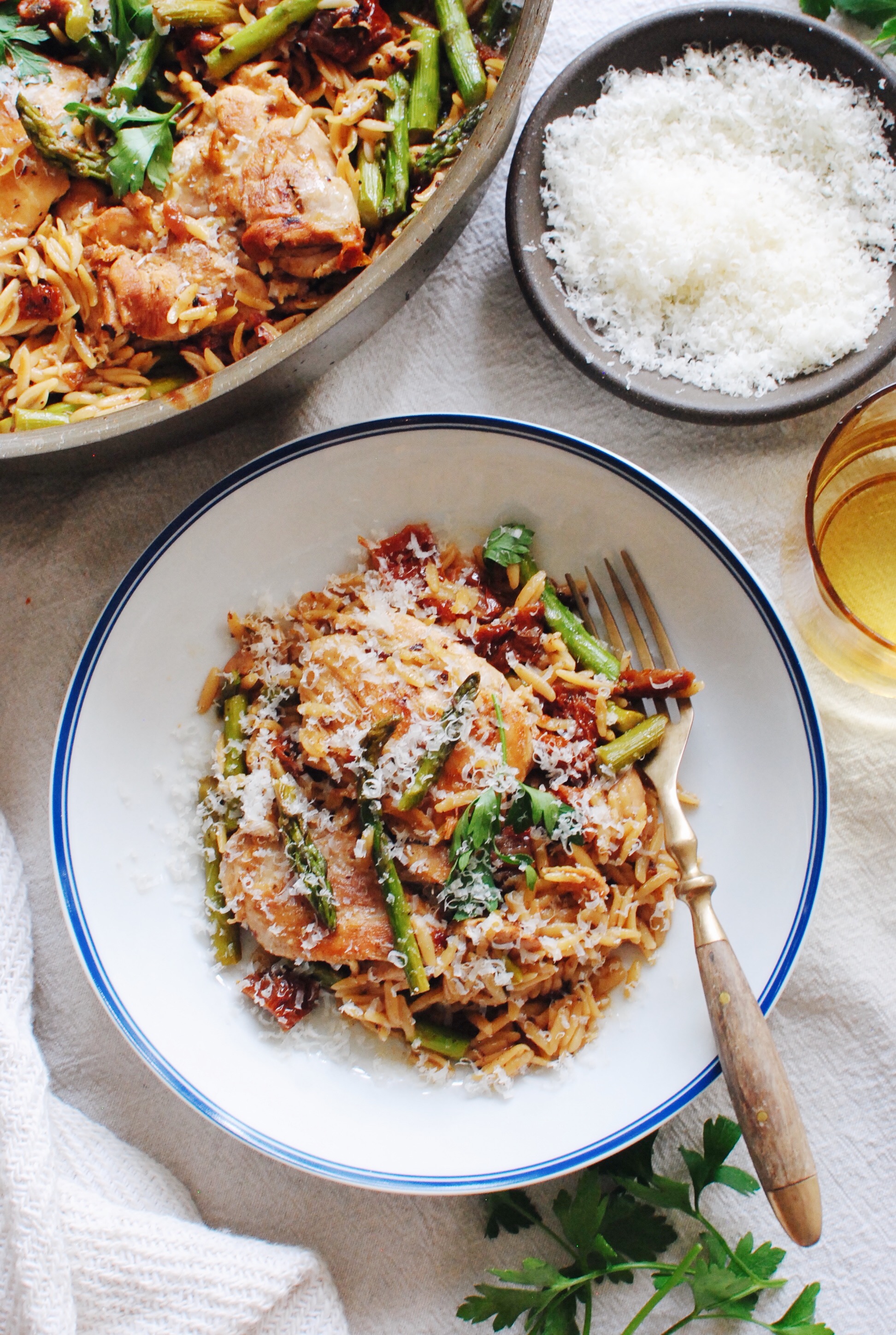 Like, on my knees.