We're going back to a basic today. An oldie but goodie. A classic. A NEED-IT-YESTERDAY situation. Ready?
And it's just a few ingredients, so hip hip hooray, bruh.
The beauty of this weeknight wonder is that you can swap in or out any small pasta. Shells all ya got? Use 'em! I like the bowtie because they look like bats and my children are still at an age where if a food looks like something festive or gross, even better.
Plus for me, the little shapes hold the finishing oil pawfectly.
Let us peepeth!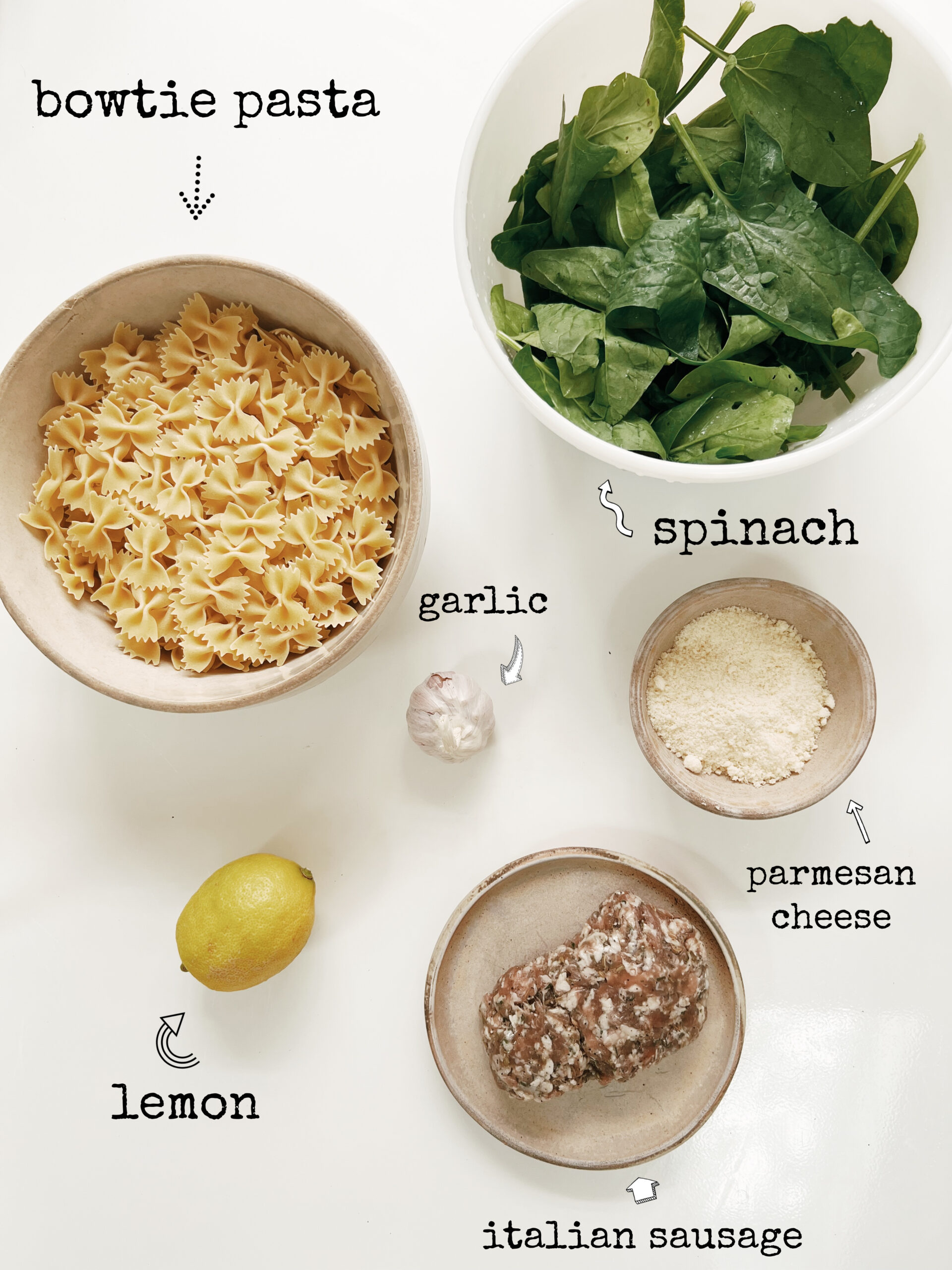 This is it. I'm not even using a full pound of sausage because I just don't think we need that much. If you want to use more, fly. But I feel like this amount gets the job done.
Lemon because you know how we like to wake ish up at the end.
The spinach is from my garden, but bagged works perfectly.
Alright, let's get in this.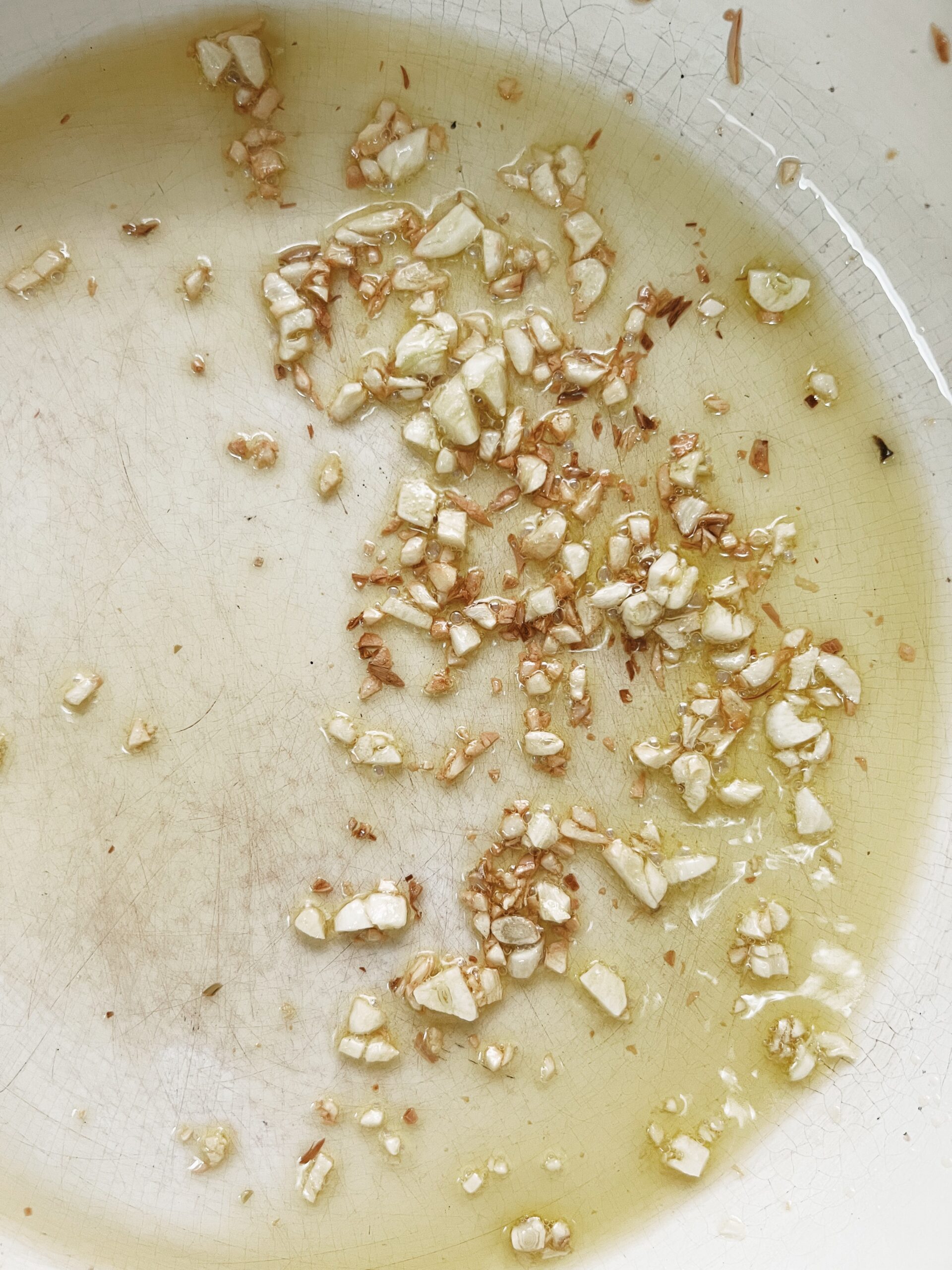 Sauté your garlic! Chop it, mince it, hack at it. Don't go too long because we're about to add sausage to it and we don't want the garlic to burn. So just get it on that light golden brown side in some AWL. (that's oil, Mom.)
Brown ze sausage. Mine was a medium spice, but if you need a full-on spicy situation, go for it. Mild is fine too, for those the sensitive sissies.
I mean sensitive eaters.
(sissies.)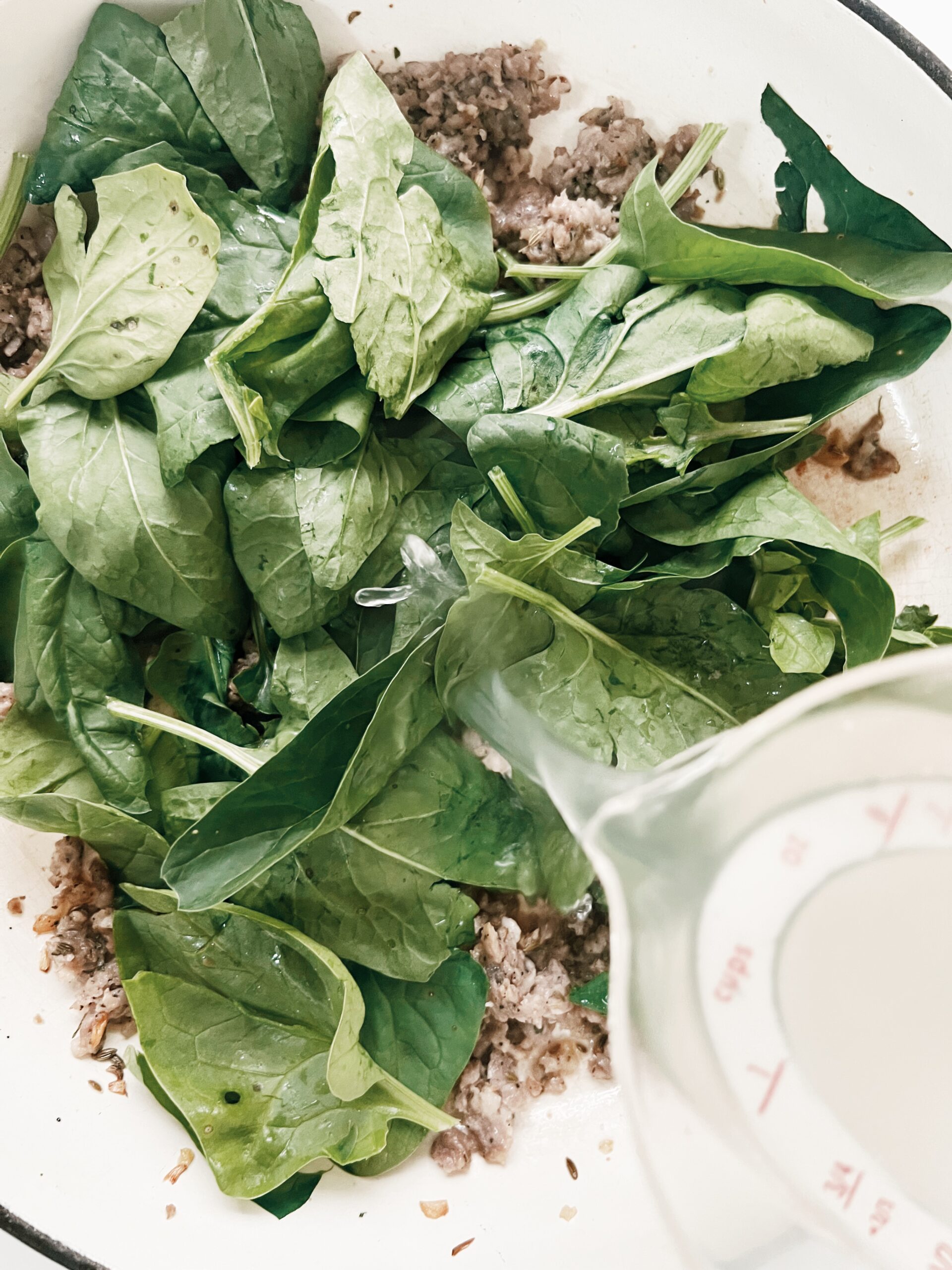 The spinach goes in! That liquid is actually starchy pasta water. Because remember, you're boiling some bowtie on the side in a giant pot. So get some liquid gold in there and wilt that spinach like you MEAN it.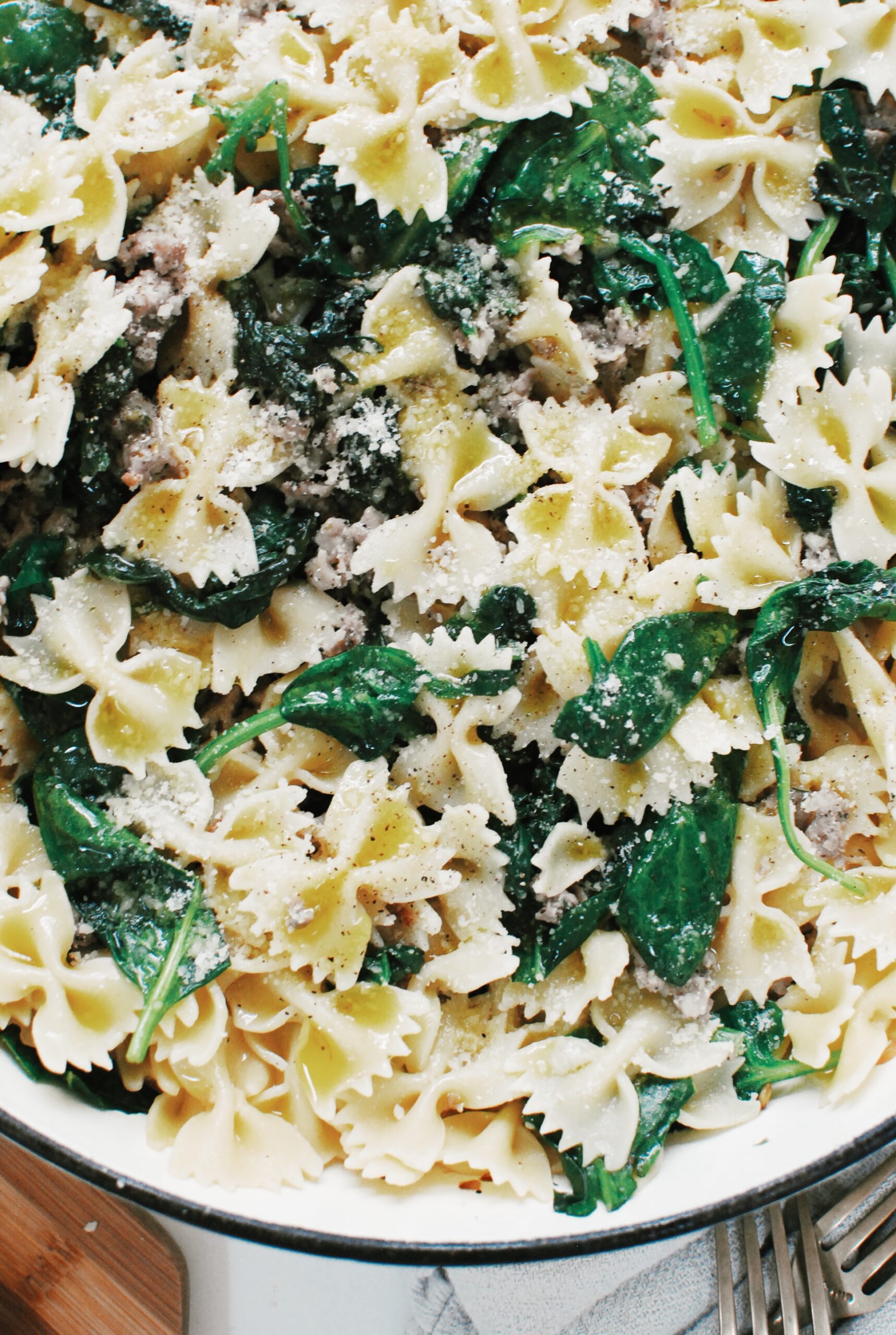 Well well well. Look what we have here.
It's GORGEOUS. The pasta gets added and the lemon gets squeezed in and a bit more pasta water for a little saucy sauce and the parmesan cheese is dusted and the oil drizzled and it's just everything. Embarrassingly simple. You've done like, nothing.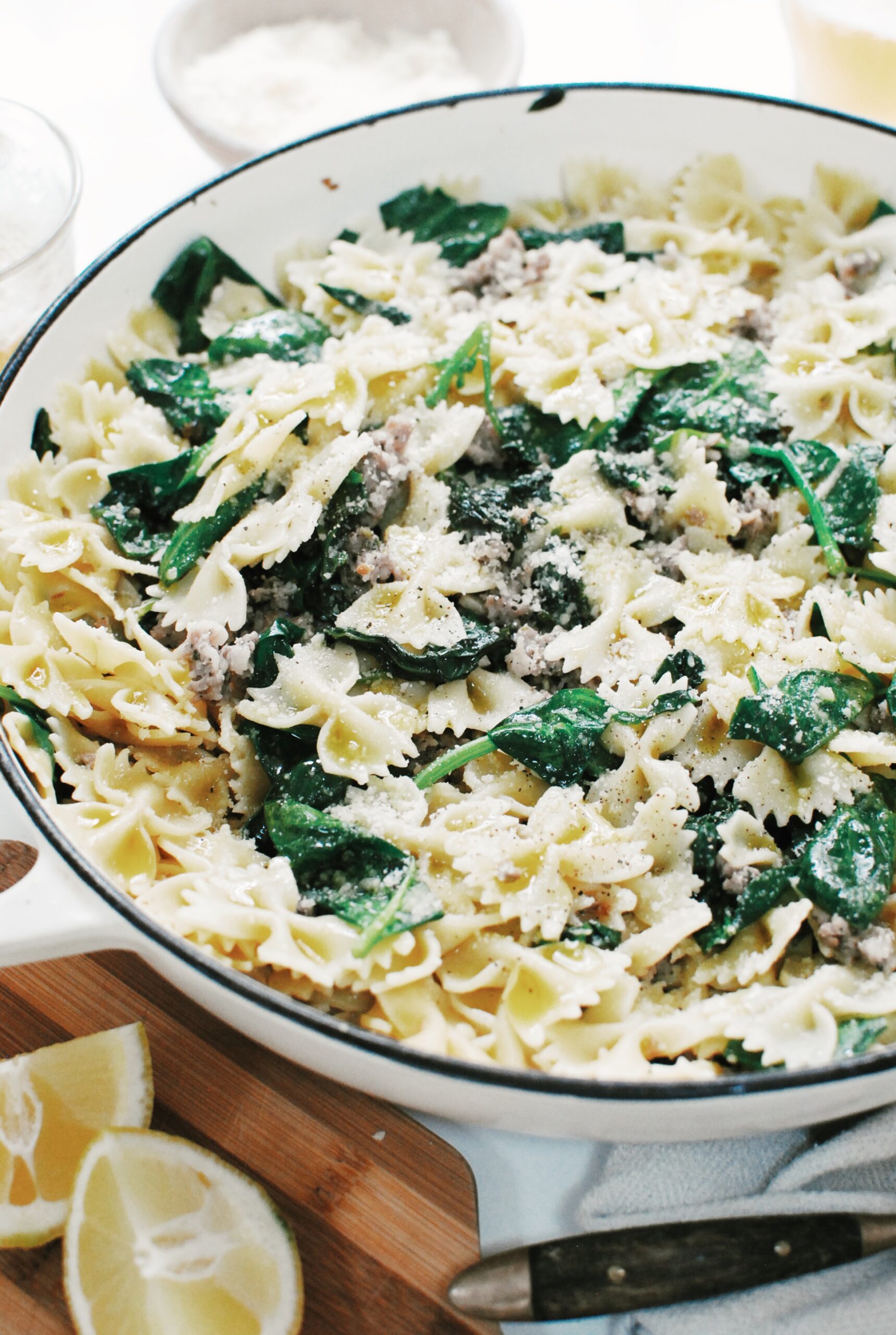 Thing IS, it's family friendly. It's also good for any night of the week but still has a little bit of sexiness if you're putting this on the table on a Sunday. It's comforting, not pretentious, yet luxurious without spending a second more in the kitchen than you want to.
You hear me?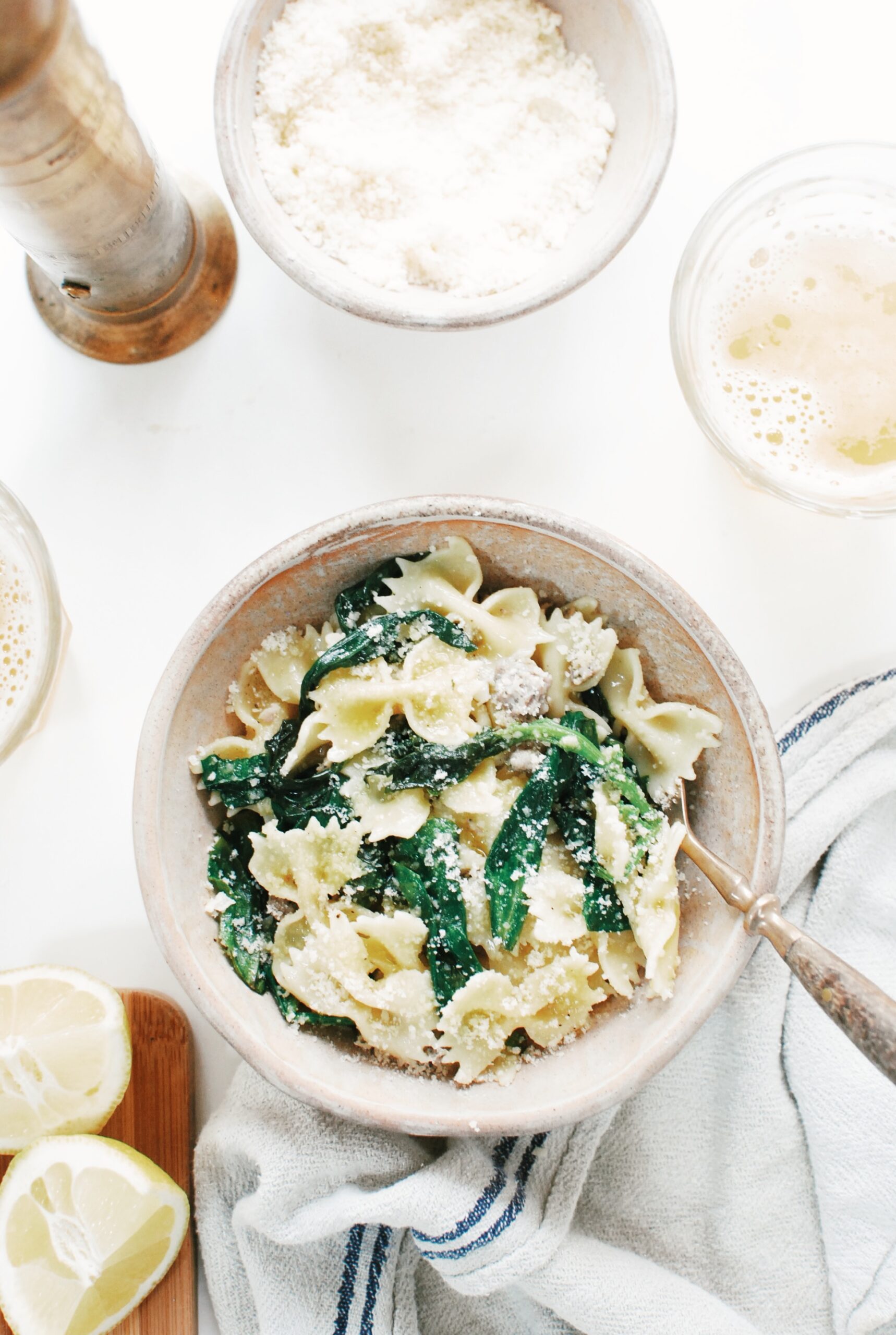 Garnish with extra lemon wedges for acidity, more cheese for nuttiness, a crack of black pepper to finish it off. It's divine. I'll never quit this classic.
And swap in a different green if ya fancy. (I said fancy) Kale, wilted chard, arugula even. Just get something in there dark and leafy.
We're starting a band called Dark and Leafy. Not liking this at all.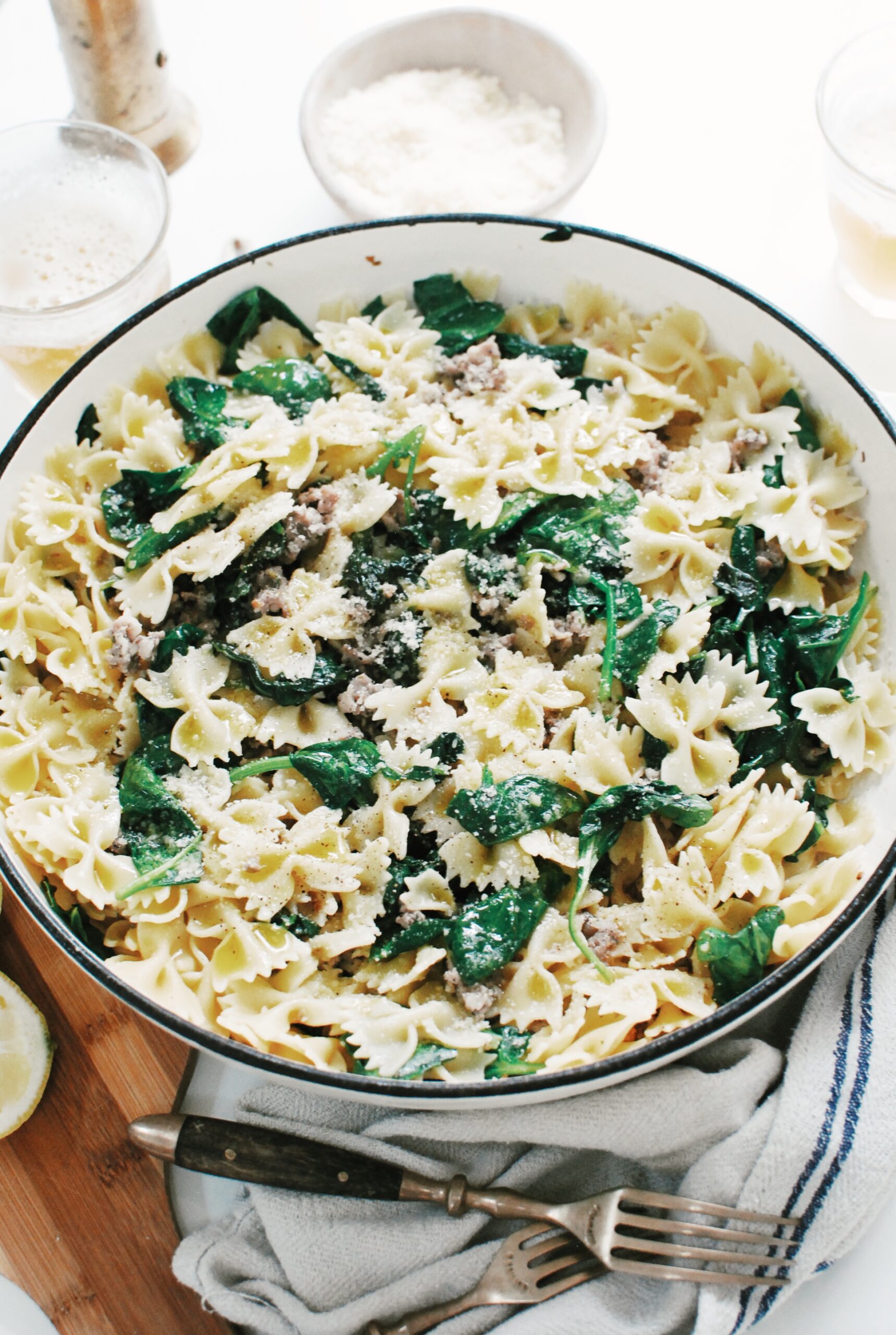 Tonight? I mean it's just RIGHT HERE for you.
Bowtie Pasta with Italian Sausage and Spinach
Ingredients
1/2 pound Italian sausage
4-5 cloves garlic, chopped
2 Tbs. extra virgin olive oil
5 cups spinach
1 pound bowtie pasta
1 lemon
1/2 cup parmesan cheese
Coarse salt
Instructions
Bring a large pot of salted water to a boil. Cook the bowtie pasta according to package instructions, until it's al dente. Save 1-2 cups pasta water and drain the rest.
In the meantime, heat the oil in a large skillet over medium. Add the garlic and sauté about 30 seconds, until fragrant and light golden brown. Add the sausage and brown all over, breaking up with a wooden spoon.
Add the spinach to the skillet, along with a cup of the pasta water, wilting the spinach. You might need to do this in batches. Add in as much of the al dente bowtie pasta as you like, along with a little starchy water, to create a light sauce. Squeeze in half the lemon and taste it. Need a pinch of salt? Probably. Get it just right.
Dust with parmesan and drizzle a little of your best oil over the top. A crack of black pepper? Yes, please. More lemon wedges along side? Of course.
Serve immediately!
Serves four.
7.8.1.2
579
https://bevcooks.com/2022/06/bowtie-pasta-with-italian-sausage-and-spinach/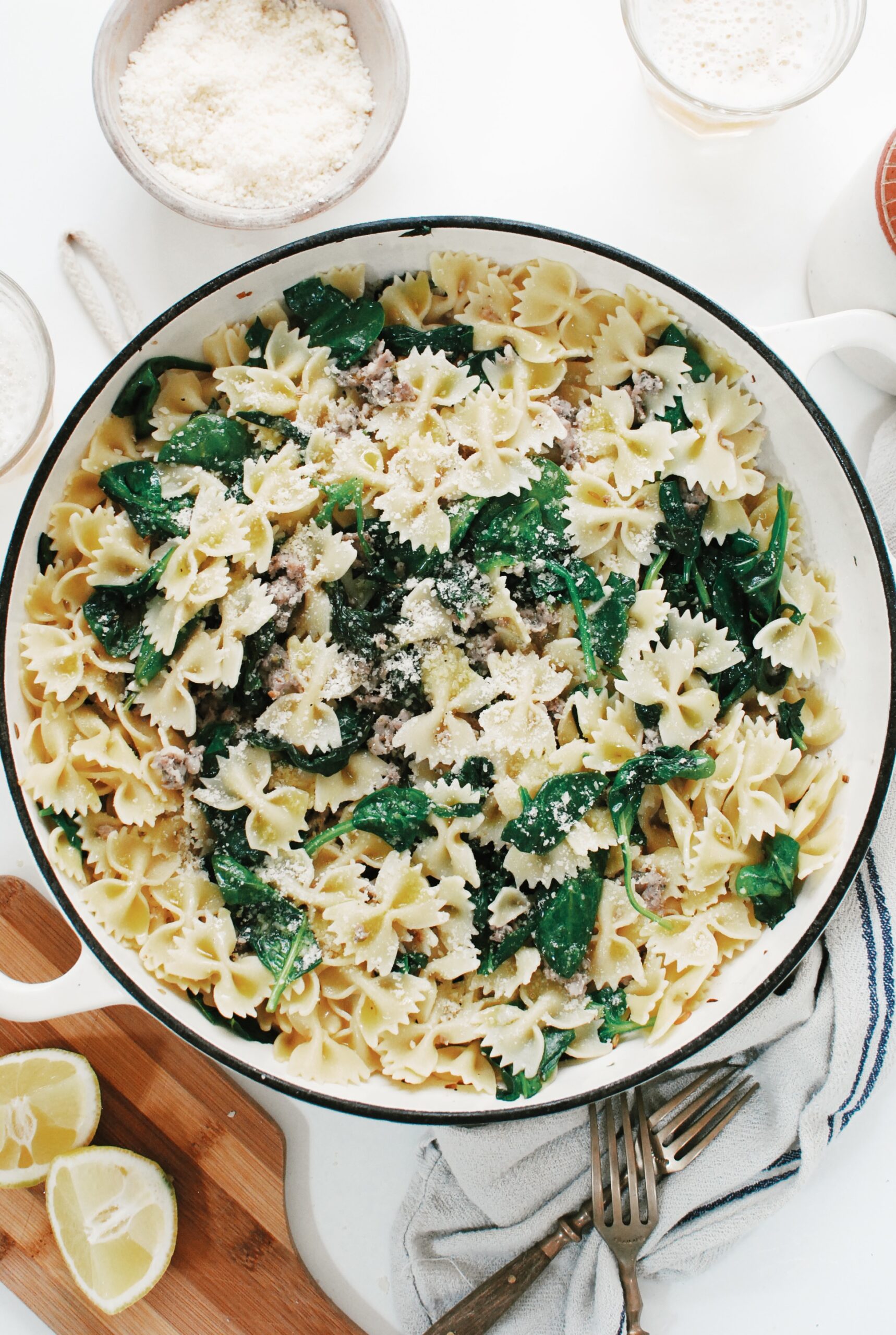 So, so much yes.