YES MORE LENTILS. But would you believe I shot this recipe back in February? It's the truth I speak right now.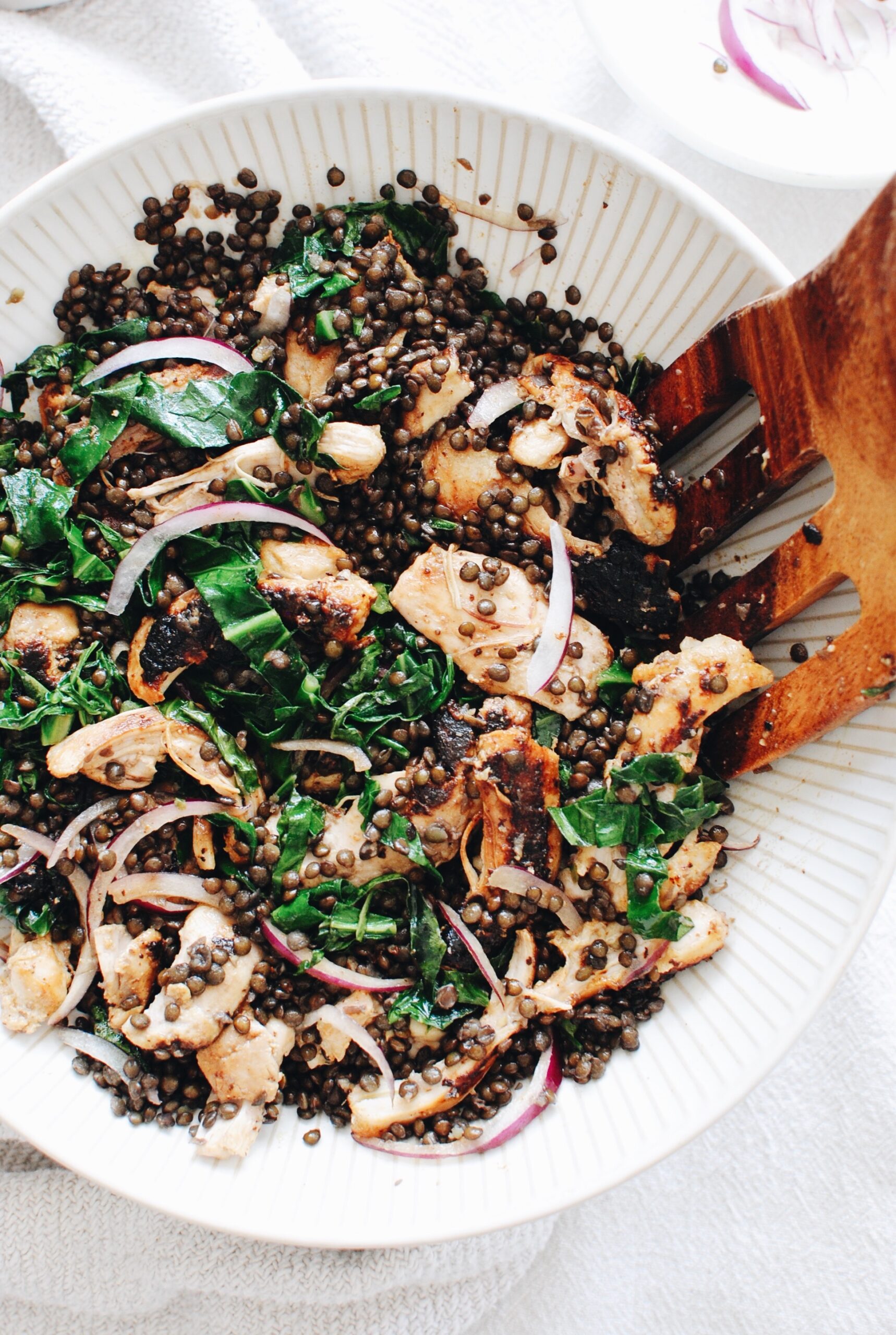 And I paused on posting this for the longest time and I have no idea why. Lentils are pantry. Red onions last FOREVUR (Sandlot style), you can make your own buttermilk to avoid the sto', anchovies are definitely umami pantry, and the collards, I mean you can swap in any ol' green ya got, George!
Who's George?
Let's pretend I said all that under this photo because that would make more sense.
So this recipe is UNDER TEN INGREDIENTS (counting the buttermilk), yet the flavors will scream in your soul because of two things: the buttermilk, duh, and the garlic anchovy dressing.
Now, don't freak out about that dressing. Anchovies are your friend. I'll show you here in a second. We can even hold hands if you want.
No? Oh. I'll wear gloves?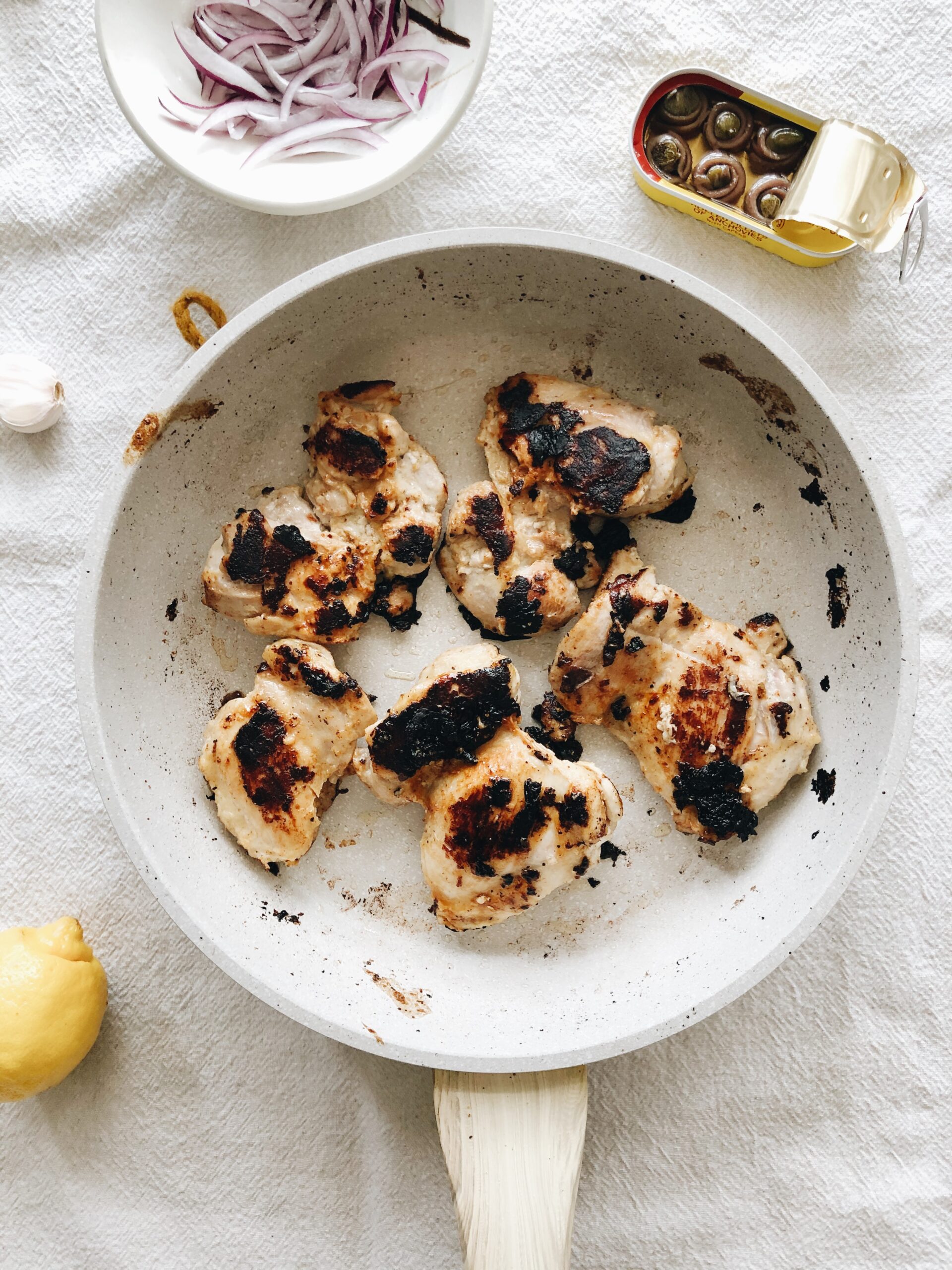 So the let chicken marinate in buttermilk overnight if you can. And if you don't have buttermilk – just squeeze some lemon juice into regular milk and that'll work. A few hours during the day is totally fine, too. And use thighs! (Breasts work, too – but thighs are supreme and you just need to accept it.)
What happens is you'll sear that chicken in a pan with a good pinch of salt on either side (no oil needed because the marinade will bubble up and be enough liquid for a bit). It will braise at first, but once the buttermilk evaporates the chicken gets this brilliant crust from the buttermilk here and there and it's just absolutely delicious. So don't be afraid of that dark sear. That is flavor.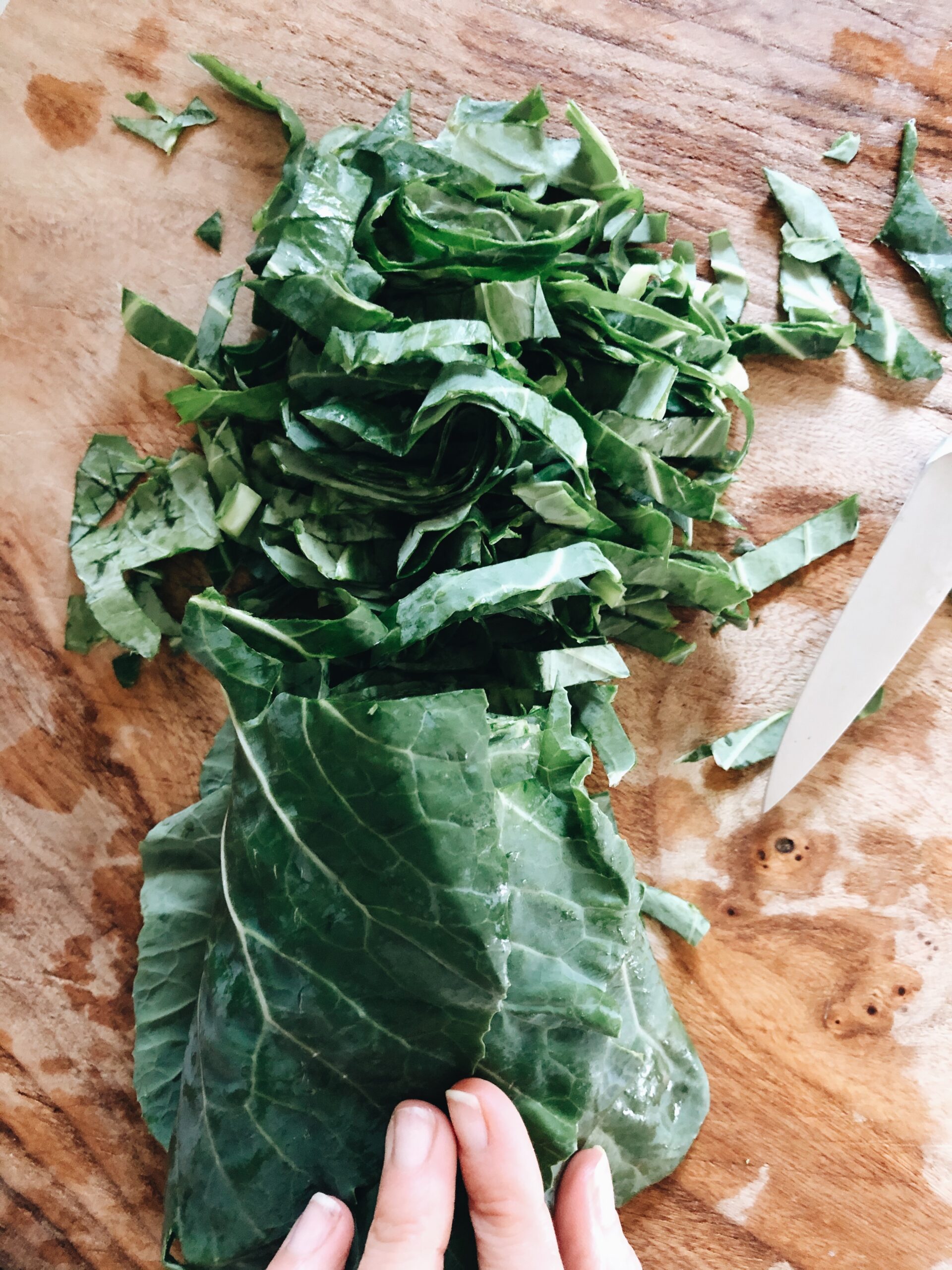 While the chicken cooks, just slice up your collards into ribbons! I DID cut out the thick stems first, which makes the ribbons easier to slice. I just like saying ribbons basically.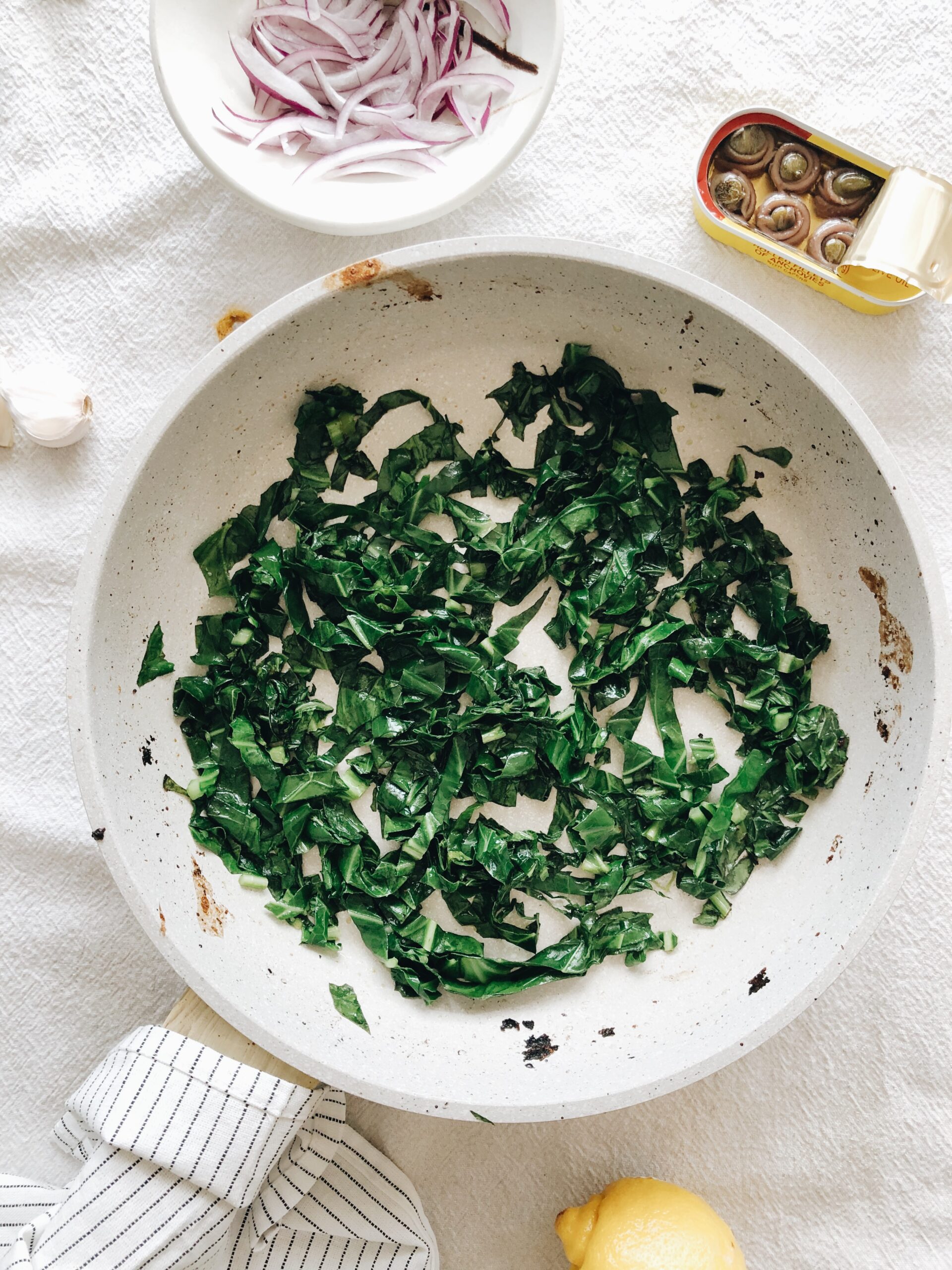 Then sear them in the pan with a lil' AWL. Just a wilt. Nothing major.
I should also mention that you've got lentils boiling. I went with black lentils because that's what I have, but anything goes. French green, regular green, even red!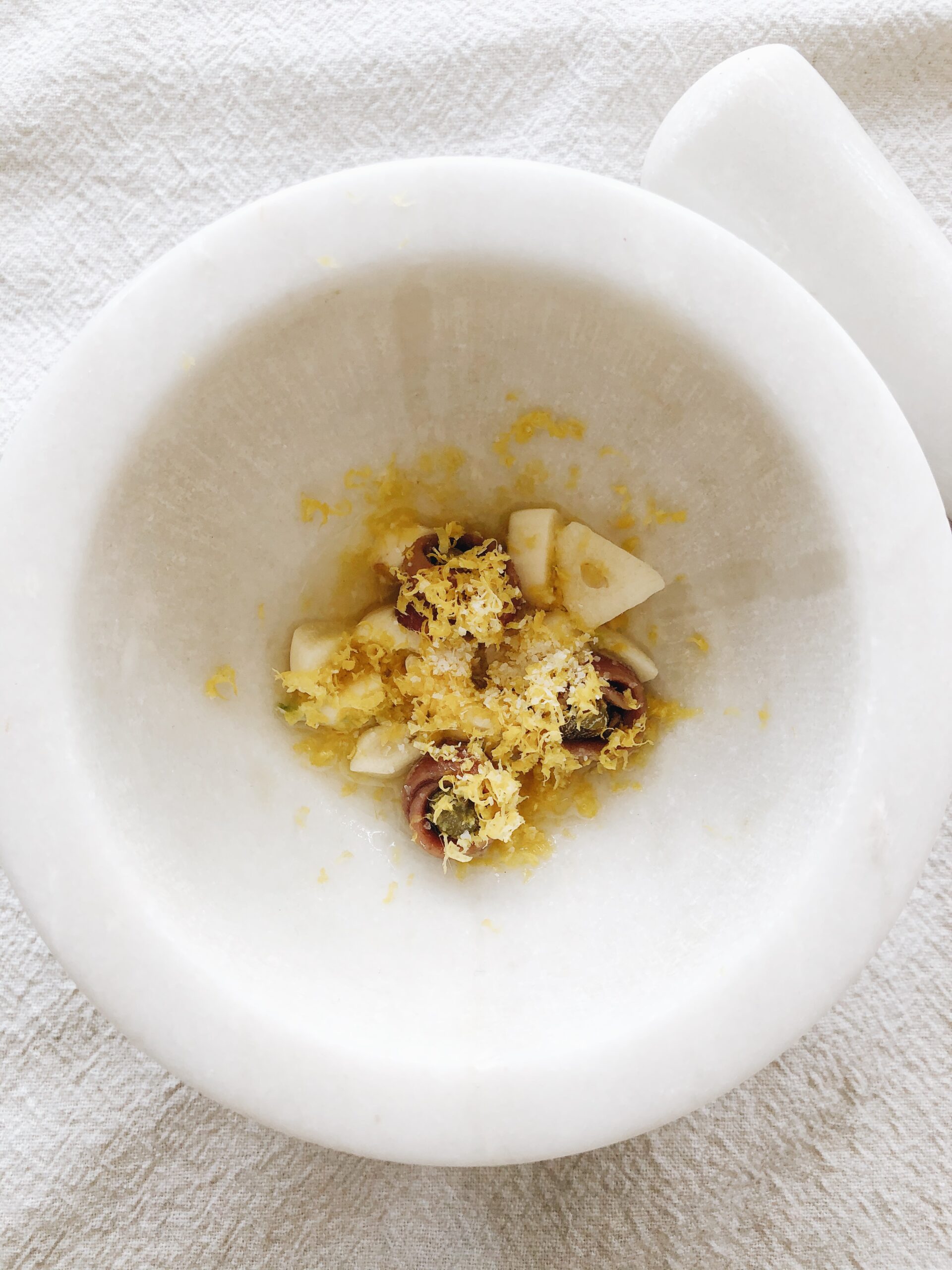 OKAY, the dressing of bliss and I mean IT IS RIDICULOUS.
The one thing I ask of you that's different from this photo (IF YOU ARE USING A MORTAR AND PESTLE) is to grate your garlic in. Don't add chunks here like I did. It takes a while to grind that garlic down to a paste, so just grate it in with your microplane and all is well.
But the dressing is: garlic + three anchovies (mine had capers in them but it's totally not necessary) + lemon zest + salt. This is part one. Just grind that into a paste.
Like this: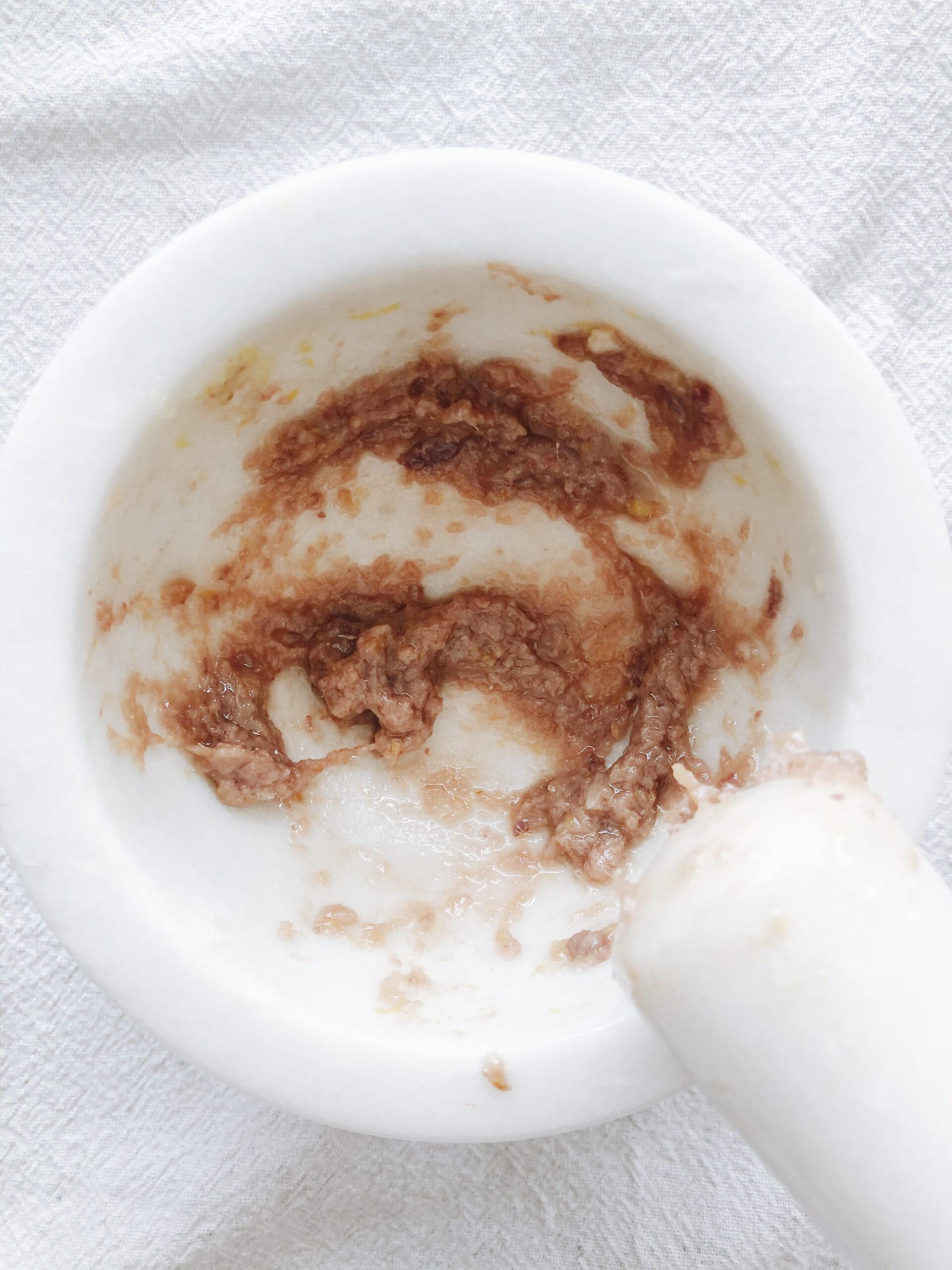 I can't even breathe.
That is such serious flavor right there. But what you'll do transfer it (with a small spatula) to another bowl where you can add the lemon juice and olive oil. Whisk that until it's emulsified and you won't believe how amazing it is. I've been making this dressing since last October and I'll never quit it.
And listen listen listen (like Kelley Copeland in Such a Fun Age), if you don't have a mortar and pestle, no sobby. Throw that ish in a mini food processor and you're gold, bab-ay.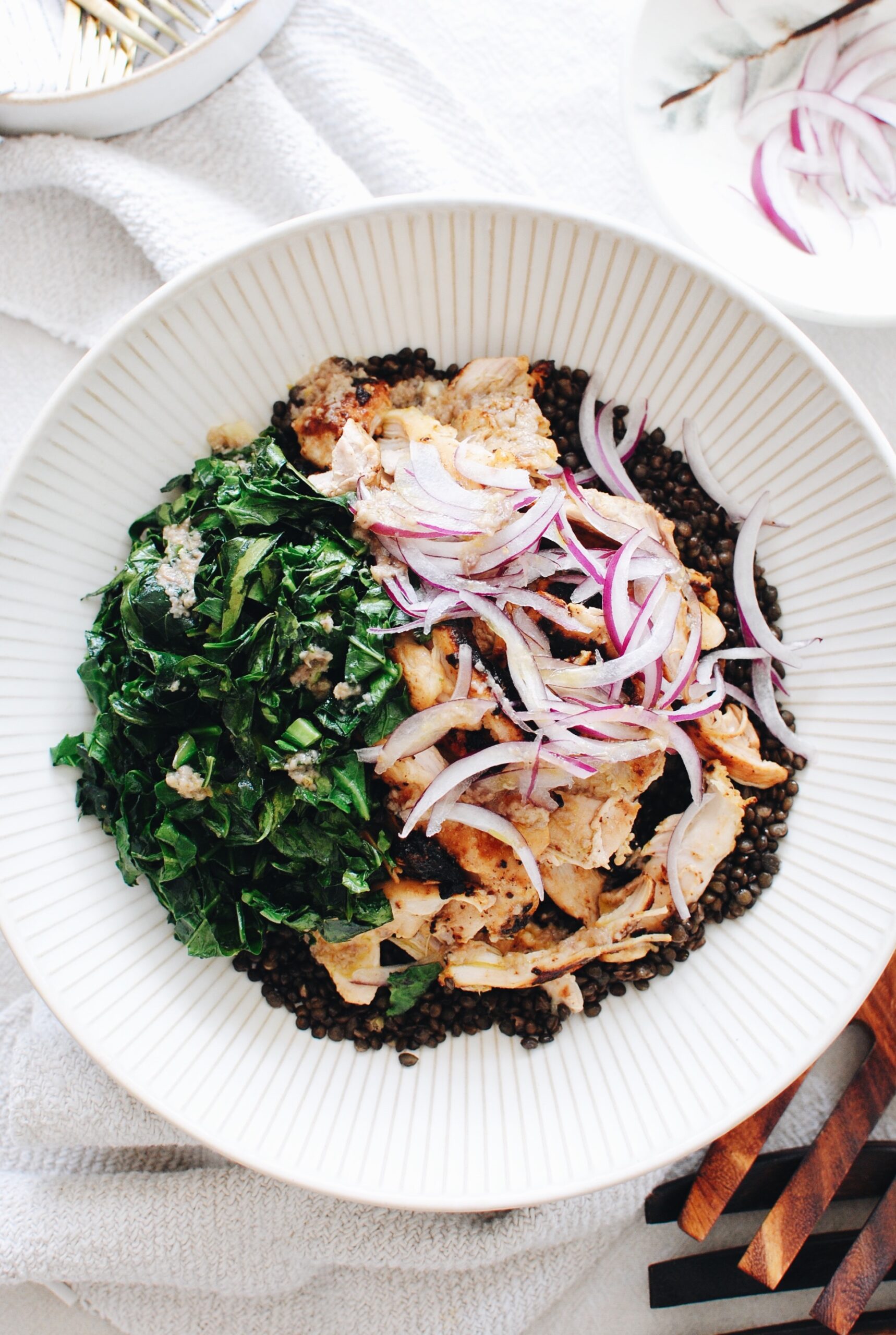 Goodness gracious, George. Would you look at that?
See, you've shredded the chicken and just piled it all together in a giant serving bowl. The lentils on the bottom, the chicken, the red onion, the wilted collards, that holy grail anchovy/garlic dressing. And I weepeth.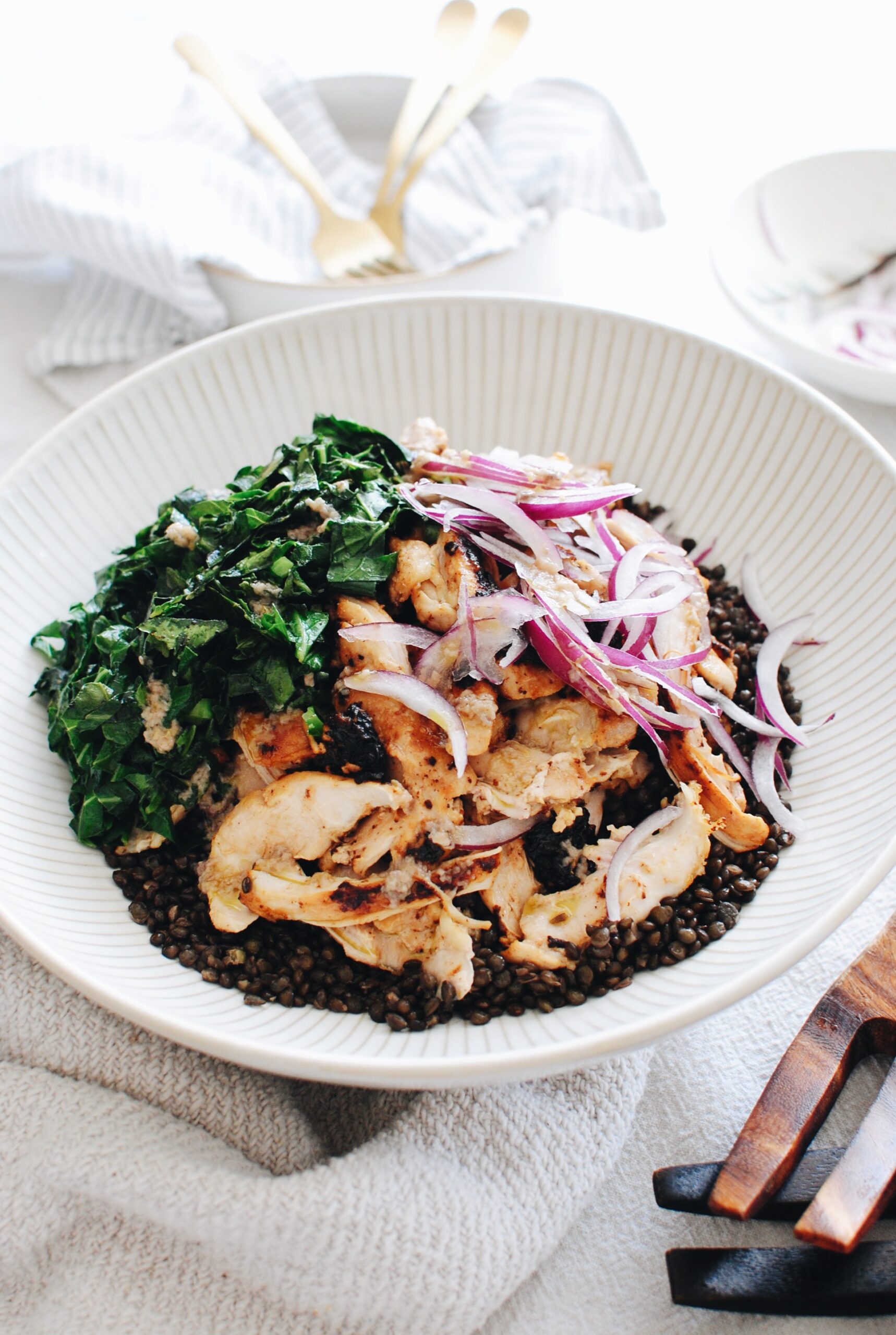 Here's another angle so you WITNESS THE HEAP.
And see, what you can do is serve it like a mountain first, and then toss it all at the table so you get the oooooo!s and ahhhh!s and woooooow!s and thanks, mooooom!s. I didn't get that, but you will.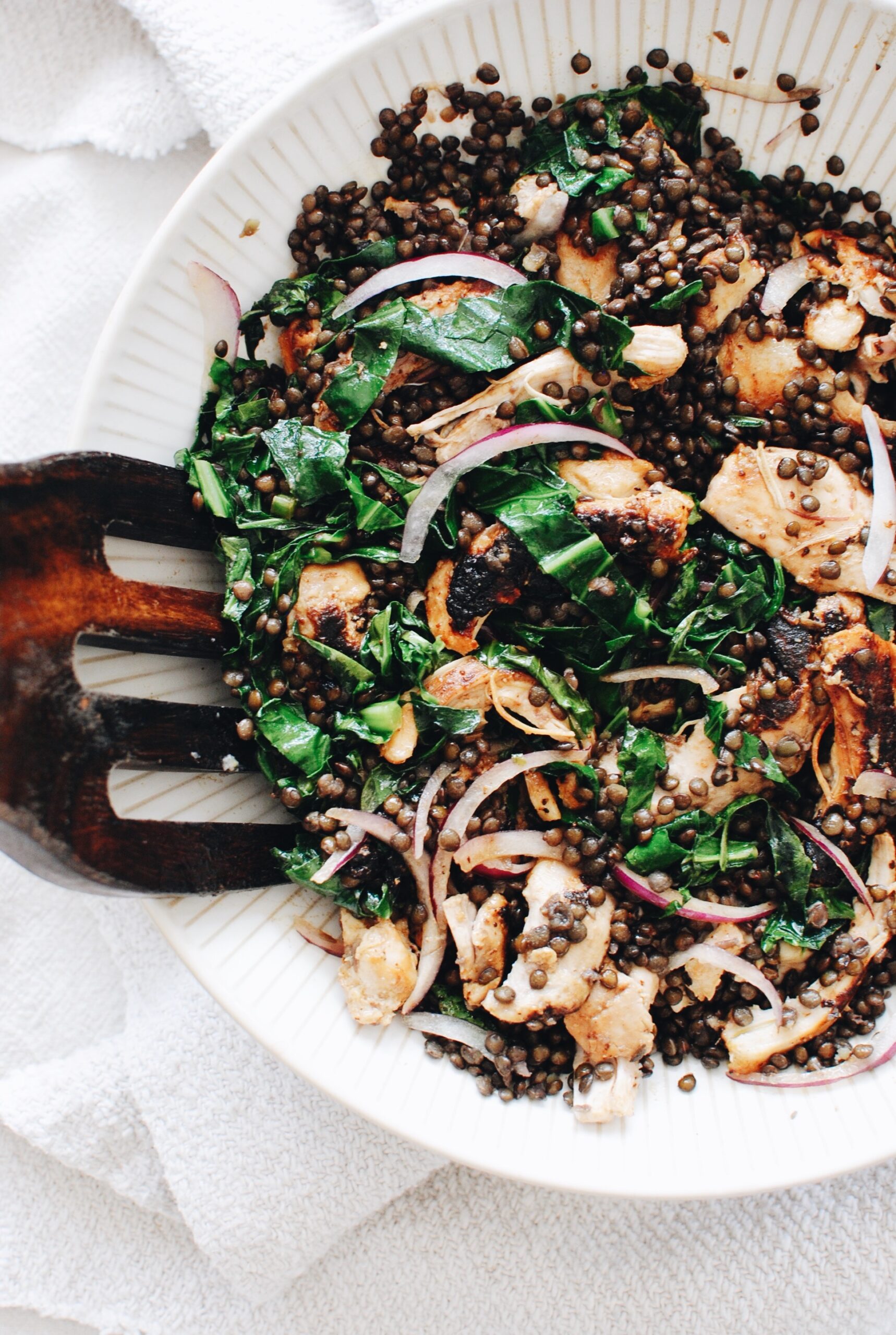 Look how pretty it is all tossed! Everything gets coated in the dressing, and that vibrancy plus the rustic nature of the dish just wins my heart every time.
And see how simple that was? Yep.
Why I waited on posting this for so long I'll never know.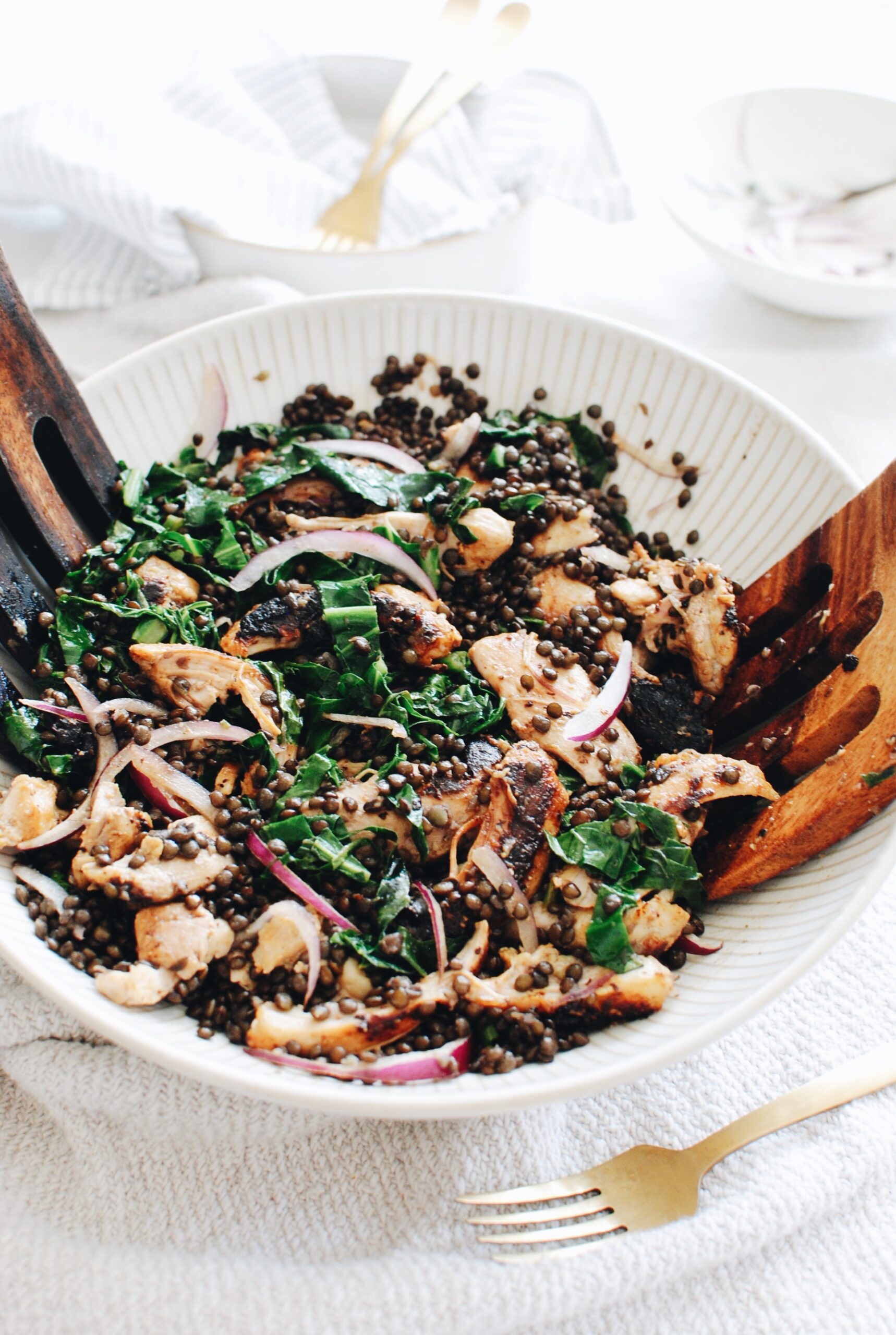 You may now jump in.
Buttermilk Chicken with Lentils and Collard Greens
Ingredients
1.5 pounds chicken thighs (boneless, skinless)
1 cup buttermilk
1 cup black lentils (any lentils work!)
1 bunch collard greens, stems trimmed and leaves cut into thin ribbons
3 cloves garlic, grated
3 anchovy fillets
1 lemon
4 Tbs. extra-virgin olive oil, plus a tiny drizzle for the skillet
1/3 cup thinly sliced red onion
Coarse salt and freshly ground pepper
Instructions
Marinate the chicken in the buttermilk in a sealable plastic bag for at least an hour, and up to overnight. Tong the chicken out of the baggie, letting the excess buttermilk drip off and place the thighs on a plate. Season with a pinch of salt and pepper.
Bring a medium pot of water to a boil. Cook the lentils until they're toothy and tender, but not mush. And not pebbles, either. About 20 minutes. You'll feel it. Drain the lentils.
In the meantime, heat a medium skillet over medium heat, and add the chicken to the pan. The buttermilk will bubble up and braise the chicken for a few minutes, but let it keep going so that the milk burns off and the chicken begins to sear and brown in places. Flip the chicken after six minutes and sear on the other side. If you need to flip again and sear another couple of minutes, go right ahead. Get the chicken cooked all the way through. Remove and set aside on a clean plate. Once cooled, lightly shred with two forks.
To the pan, add a small drizzle of oil and add the sliced collard greens. Season with a pinch of salt and let them sauté a couple of minutes, just to wilt. Turn the heat off while you make the dressing.
In a mortar and pestle (or small food processor), add the grated garlic, anchovy filets, zest from the lemon juice and a pinch of coarse salt. Mash this mix into a paste. (Alternatively blitz in a food processor.) Transfer the paste to a small bowl and add the 4 Tbs. oil plus the juice from the lemon. Whisk it until it's emulsified. (If using a food processor just add the oil and lemon juice; blitz again.)
Combine the lentils, shredded chicken, red onion and cooked collards in a large bowl. Pour the dressing over the mix and toss to combine.
Serve immediately! It's SO GOOD. SOOOOOOOO GOOD.
Serves about 4!
7.8.1.2
419
https://bevcooks.com/2020/04/buttermilk-chicken-with-lentils-and-collard-greens/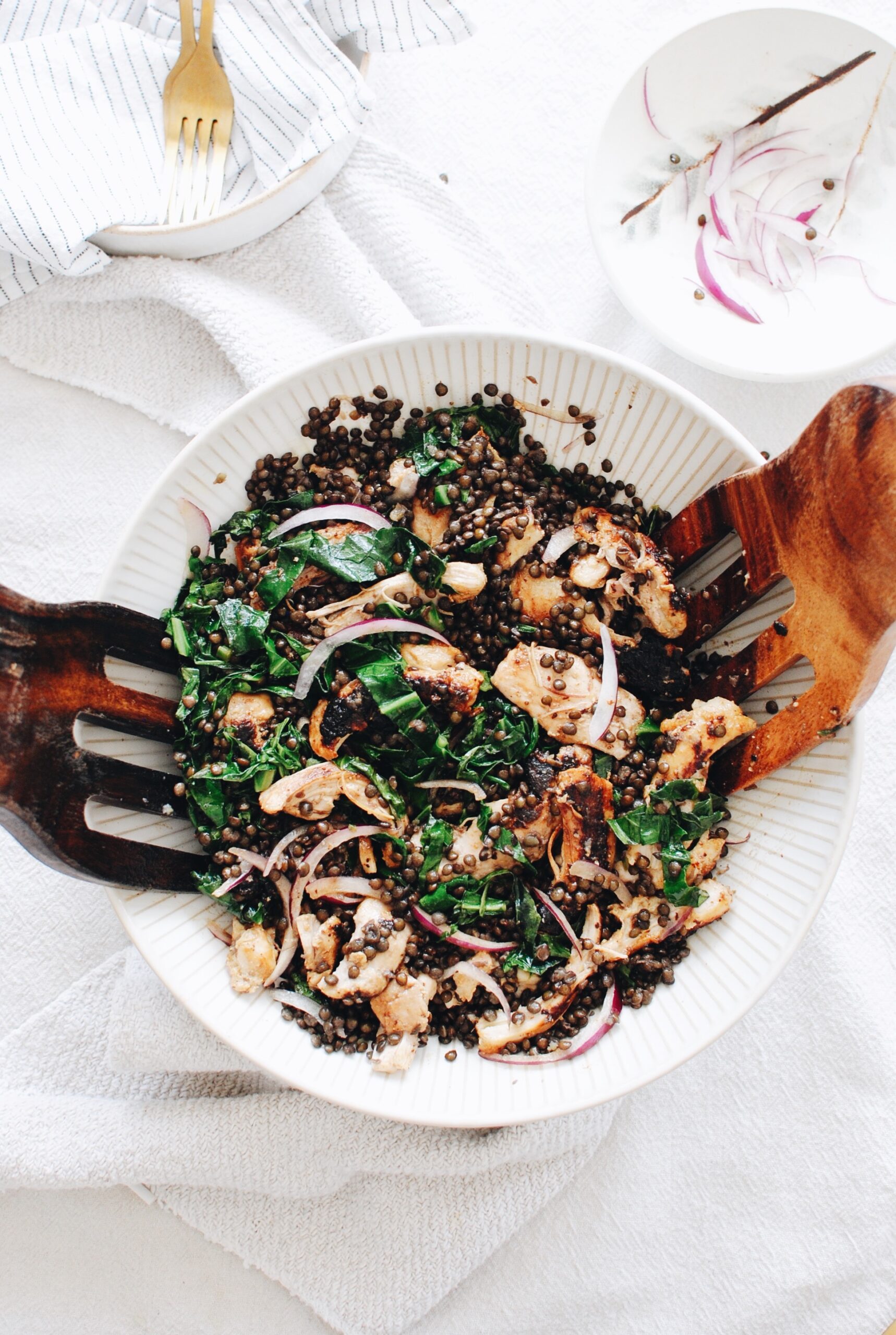 Light, bright, nutritious, gutty, fabulous, filling. I'll never hold out on you again.