Another single skillet situation for ya, Sally! (<–who is Sally?)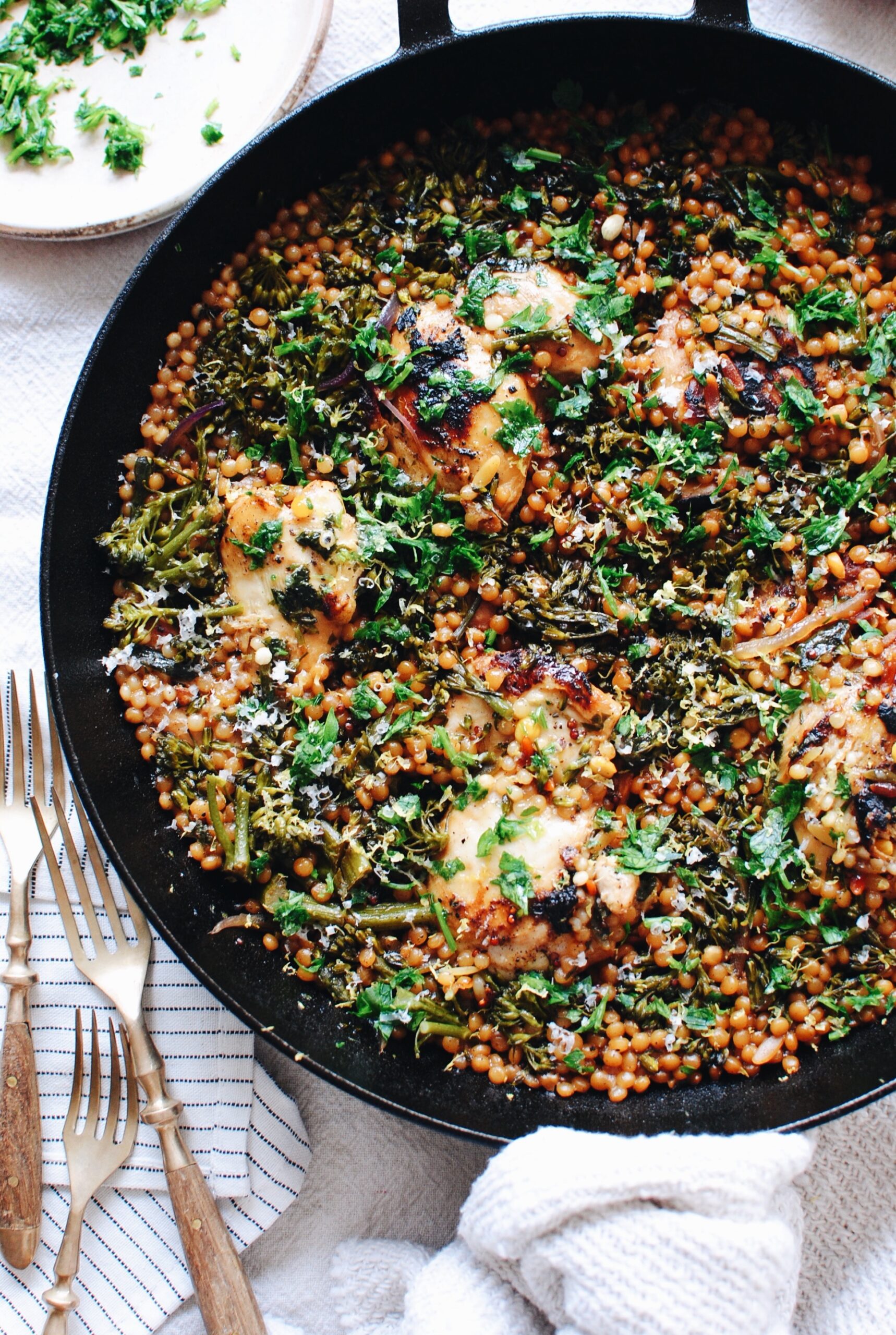 Okay, remember this One Pan Orzo Chicken thang I made you from yesterlore? It is that again, once I put my thing down, flipped it and reversed it.
Because we need options, man! More things to do with buttermilk chicken thighs, brah! More one-skillet meals possibilities, homie!
I can chill.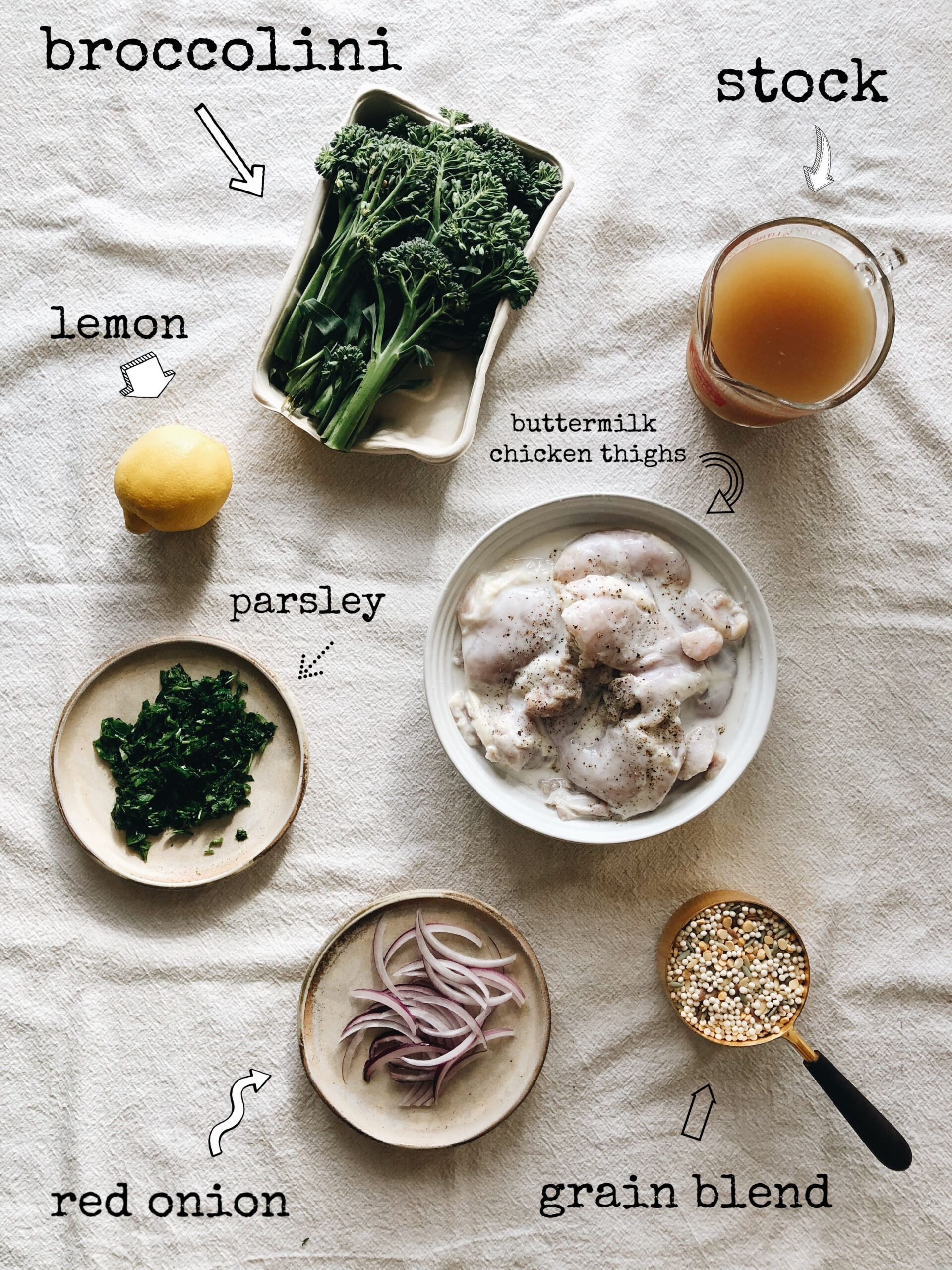 See? Seven ingredients from top to bottom.
And you may be like, "Why are you so obsessed with buttermilk, Bev?" To which I respond, "Is the Pope crossing the road with the chicken?" (that worked better in my head.)
Buttermilk is an acid, so it tenderizes. Adds tang. Enhances. Makes a little silky. Why AREN'T you obsessed with buttermilk is the true issue here.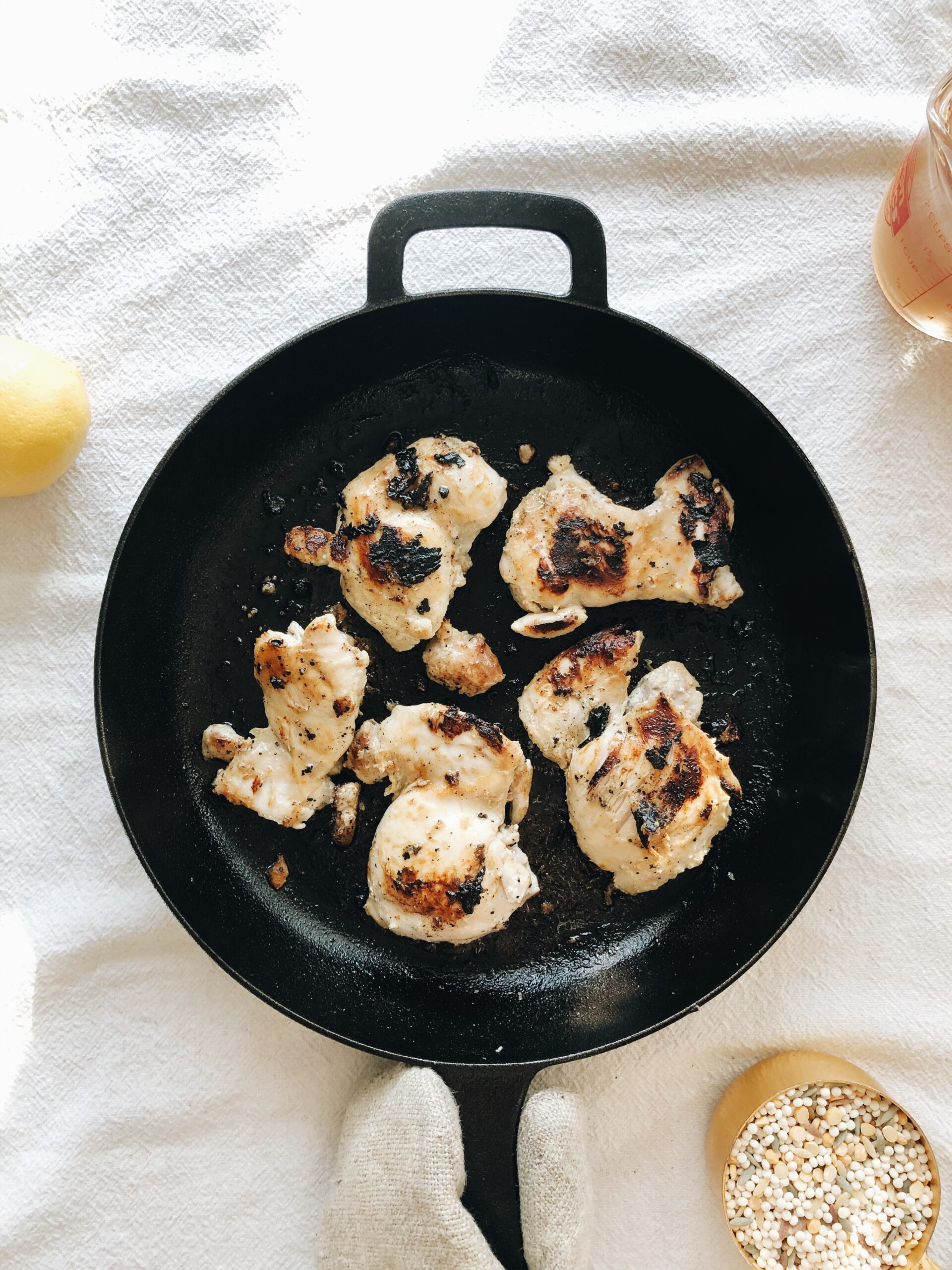 Speaking of, let's sear! Five minutes on each side until you get some pretty browning. Also, let me say this here. When you tong the chicken out of its marinade and into the hot pan, there will be a small chunk of time where the buttermilk bubbles up and gets almost braise-y like. Just let it keep going, because once you flip it, it'll evaporate and the chicken will really start to brown and get guuuuud.
Ten minutes of searing. Doesn't have to be cooked all the way through yet, so stop throwing machete eyes at me.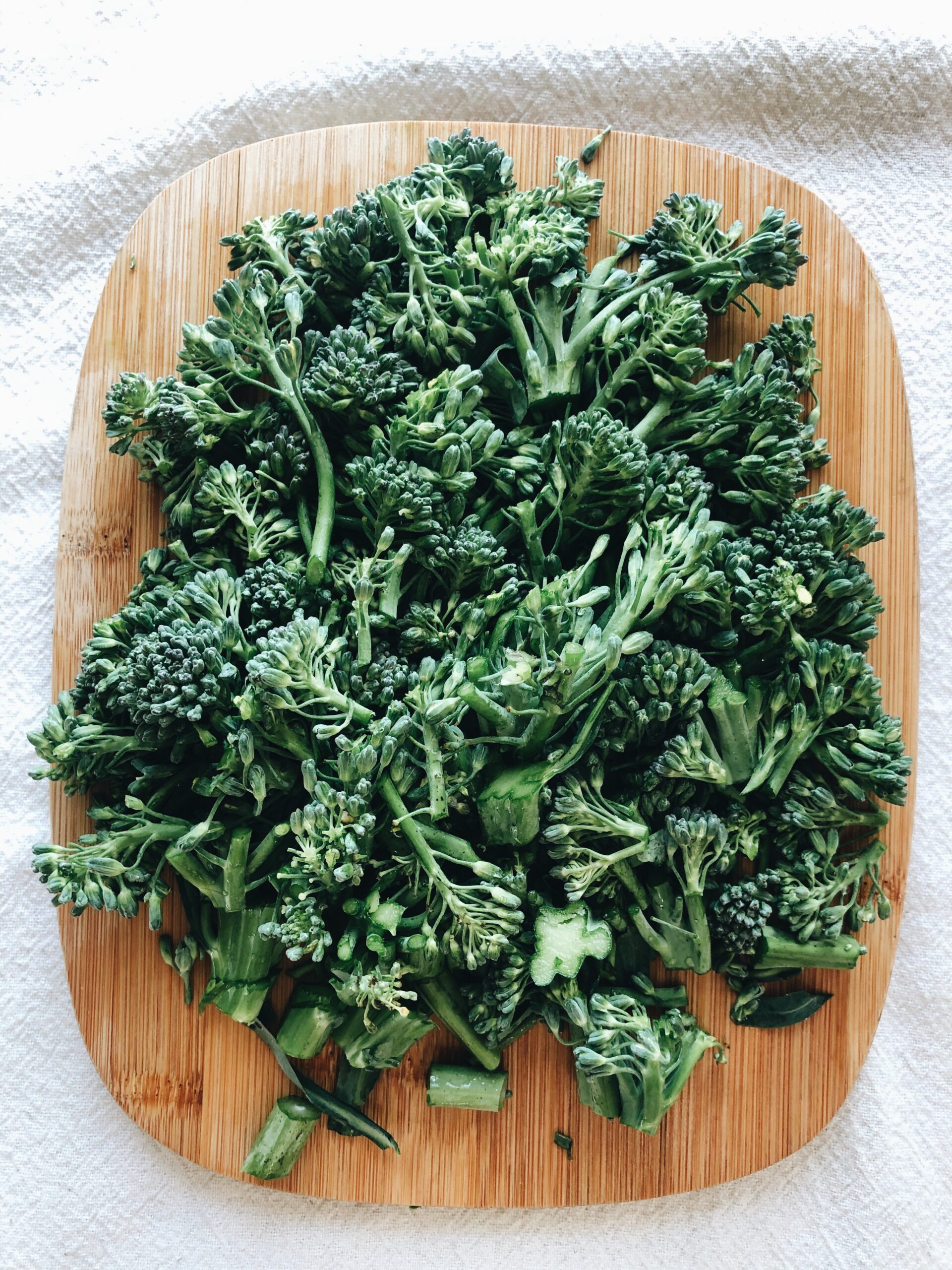 Chop up your broccolini! If you can't find the baby broccoli, regular broccoli works just fine. Just be sure to call it "common" broccoli behind its back, to feel like Downton Abby for a hot moment.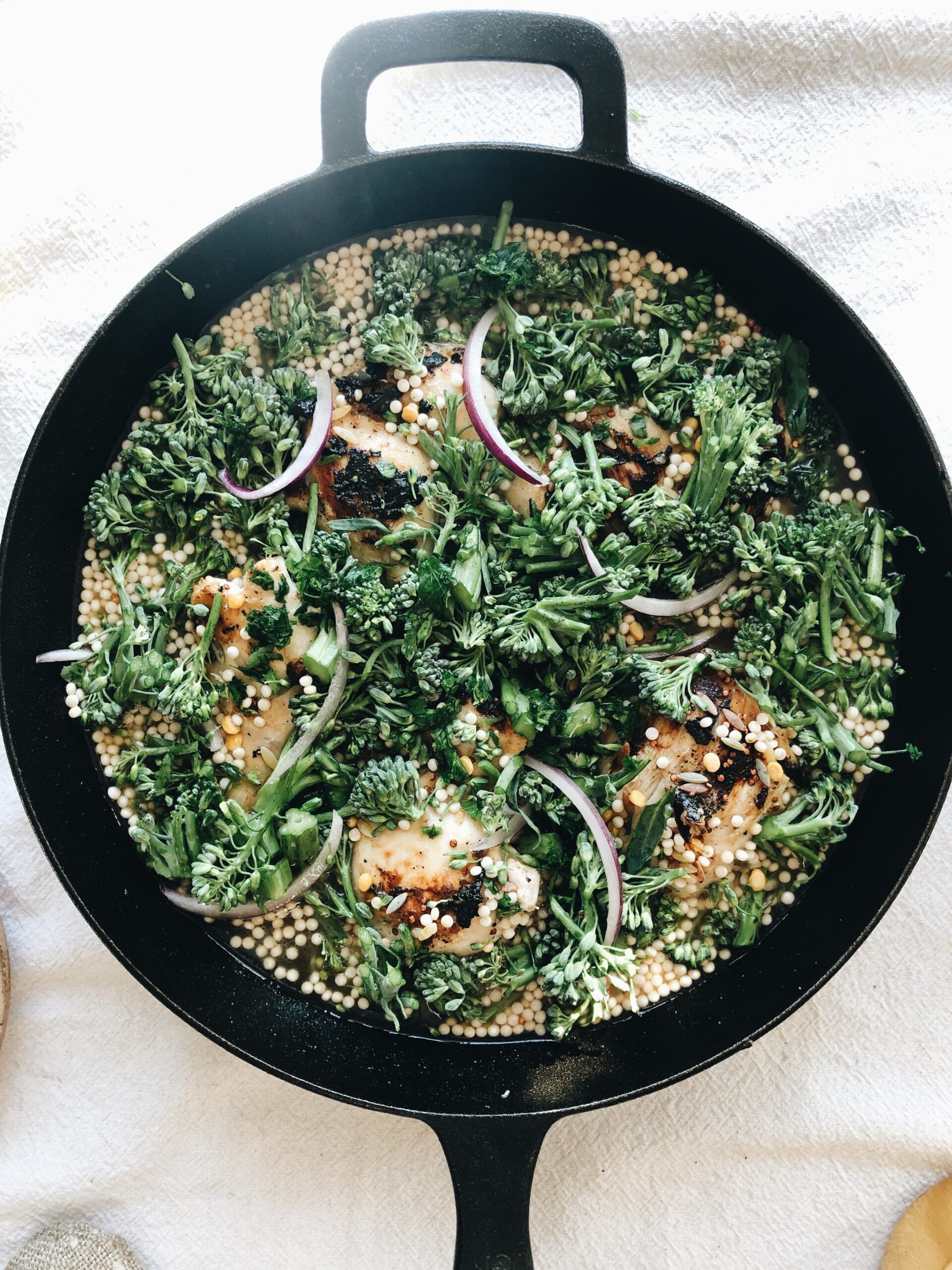 To that skillet, you'll add it all. The grain ble-
Oh! Let's talk about this grain blend. It's this, specifically. And I've seen very close versions of it in multiple grocery stores, which is the only reason I'm including it here. But HARK, if you can't find it, straight up Israeli couscous is fiiiiiine. Or orzo! Or a MIX.
So add it all to the pan – the onions, the grains, broccolini and the stock. Get it all covered and snuggled, because it's about to go on a joy ride in that hot oven. (you can ignore the way I said that just now.)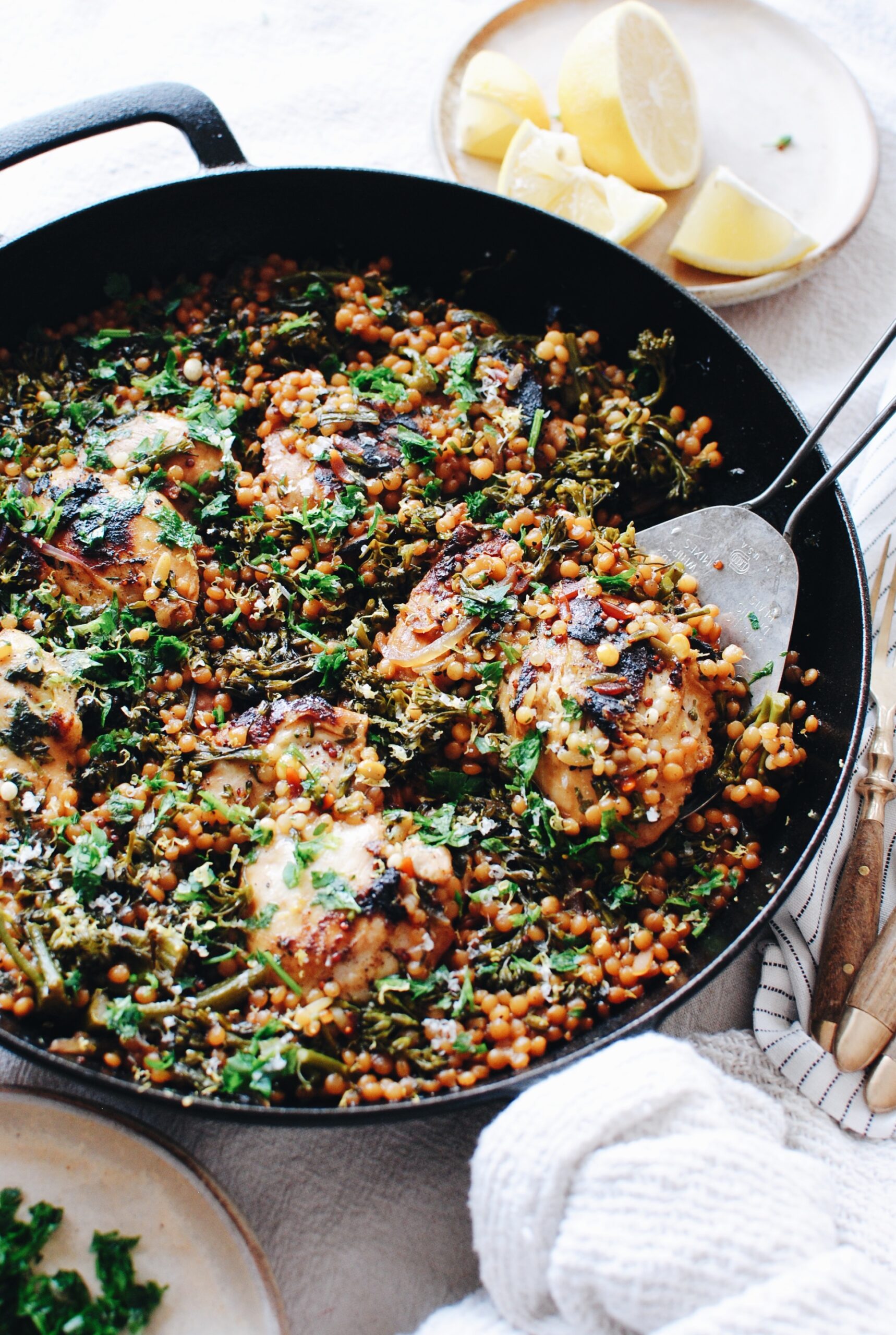 Hello, mega mama skillet of cozy bliss face. Everything is PERFECT in this, you guys. In that short time the stock soaks it all up and the grains are toothy but tender, the chicken is cooked through and a breeze to lightly shred.
And also, you've sprinkled chopped parsley on top with plenty of lemon juice so the brightness and zing factor is beautifully out of control right now.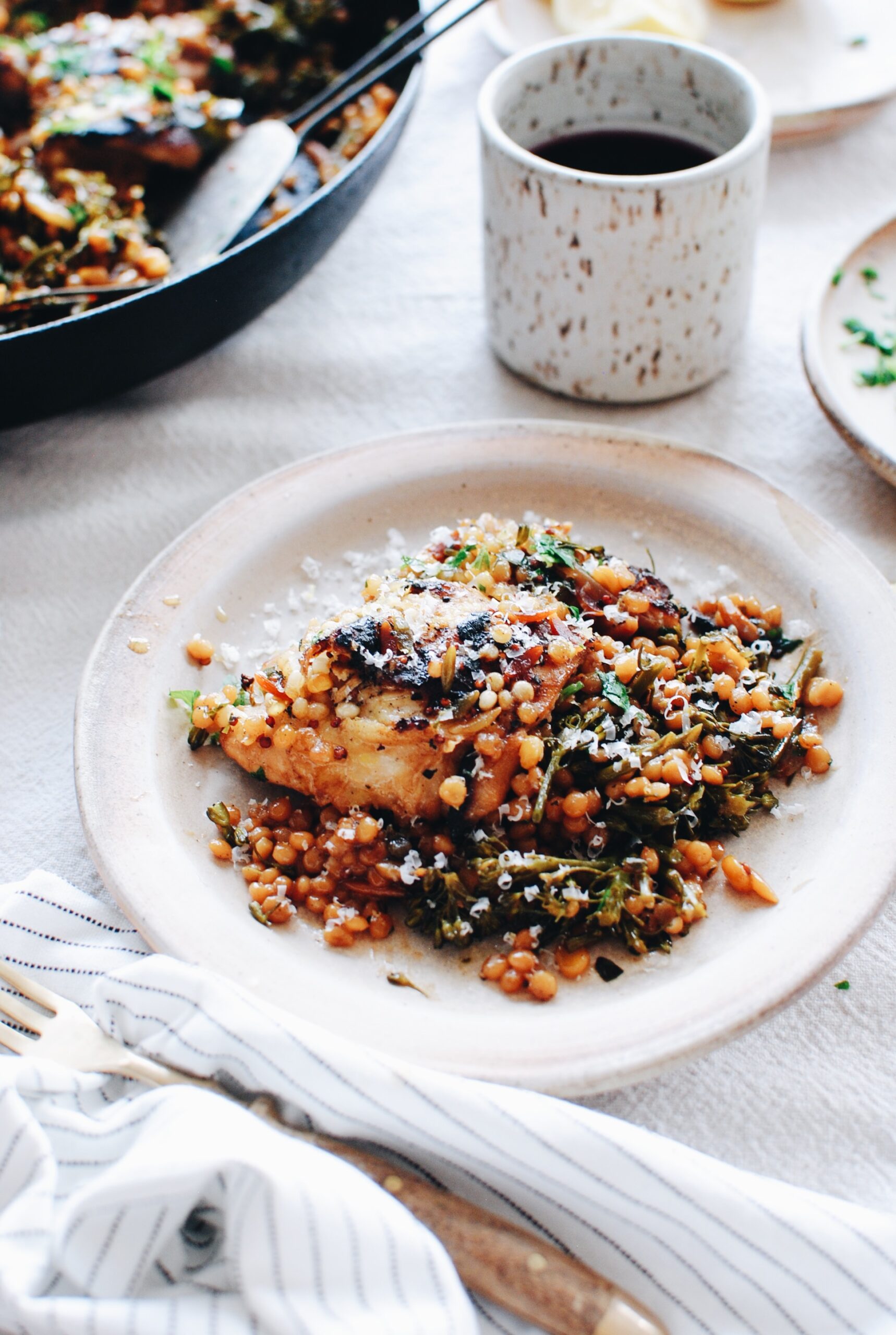 Such a simple recipe. The only thing you really need to remember ahead of time is the chicken in the buttermilk. Get it in the buttermilk, already! For a few hours. Even overnight is fab. But buttermilk that ish. It makes. a. DEEF-ER-AAAAANCE.
I'm not yelling at you.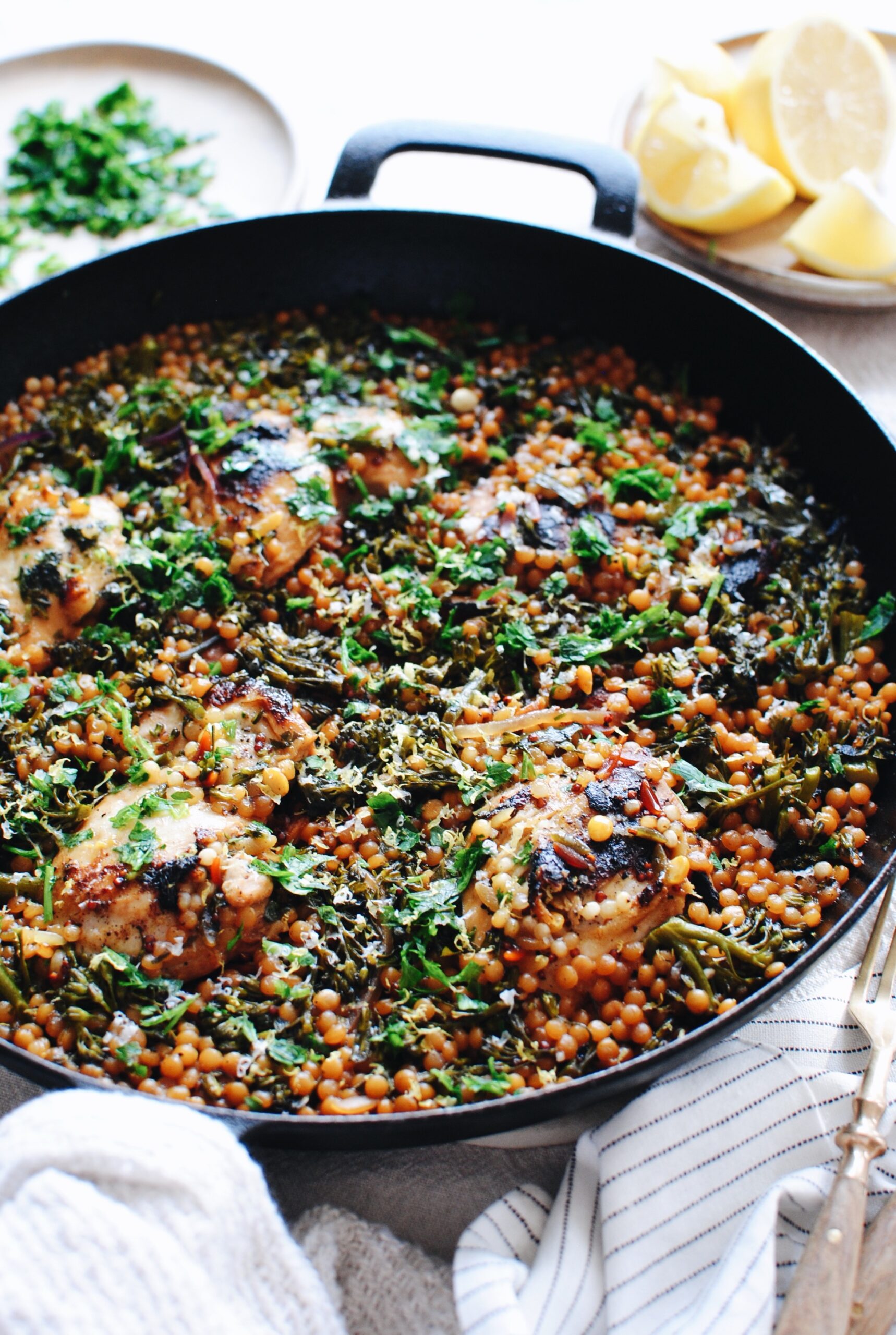 Perhaps I should be though BECAUSE LOOK.
One skillet. Succulent thighs. Toothy grains. Tender greens. Lemon bliss.
ONE SKILLET.
o n e s k i l l e t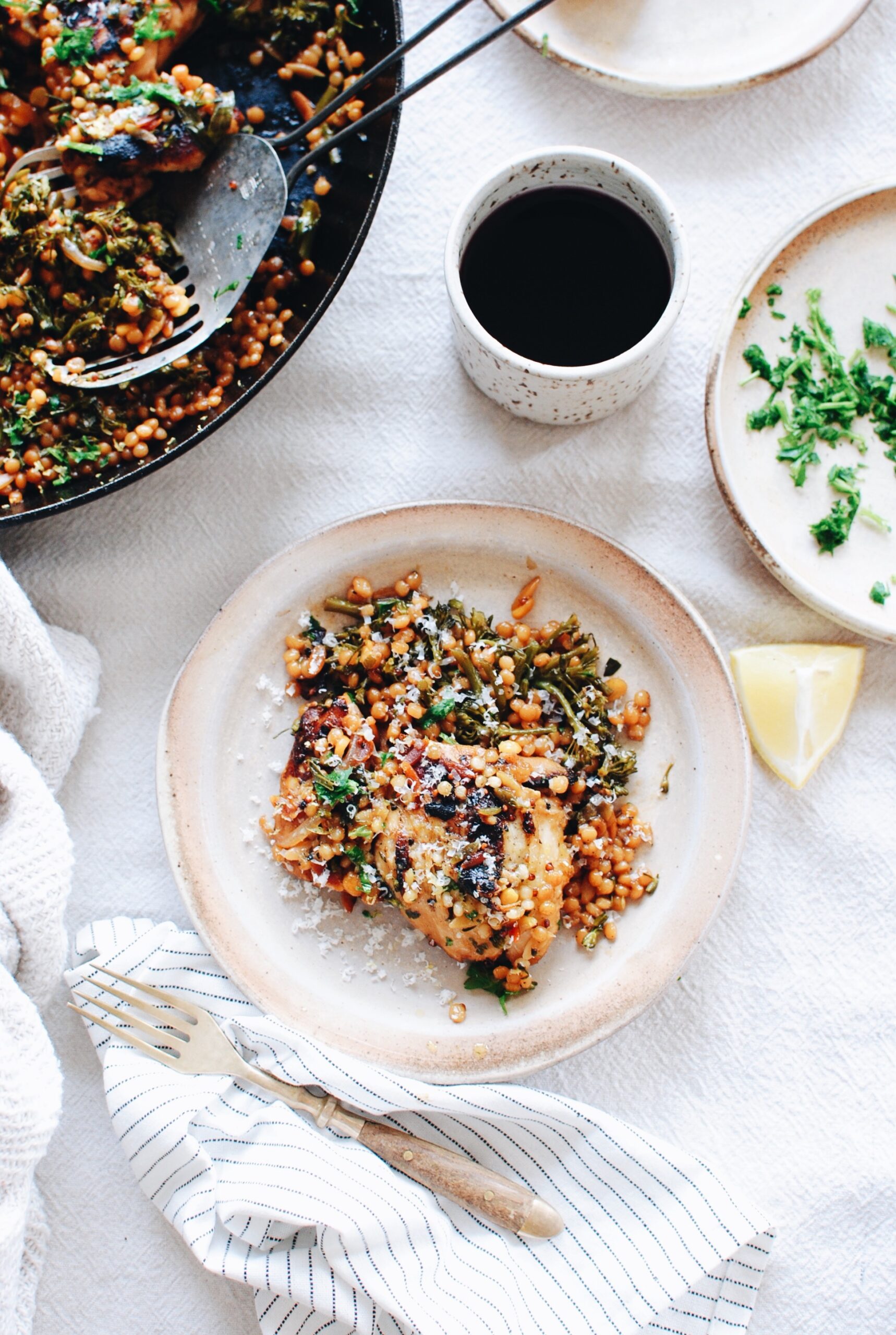 Your new best friend.
Skillet Chicken with Grains and Broccolini
Ingredients
5 boneless, skinless chicken thighs
1 cup buttermilk
1 Tbs. extra-virgin olive oil
8 oz broccolini, chopped (stems discarded)
1/8th cup thinly sliced red onion
1 cup grain blend (Israeli couscous and/or orzo work great here!)
2 cups chicken stock
1 lemon
Chopped parsley
Coarse salt
Instructions
Place the chicken in a sealable baggie, and add the buttermilk, along with a good pinch of salt. Let marinate a few hours, or up to overnight.
Heat the olive oil in a medium cast iron skillet (a non-stick is fine, too!) and bring to a medium-high heat. Using tongs, carefully remove the buttermilk chicken from the baggie, letting the marinade drip into the bag. Place the chicken in the hot pan, and sear for five minutes on one side. The buttermilk will almost braise the chicken at first, but it will bubble up and burn off soon enough. Flip and sear the chicken another five minutes.
Add the grains, chopped broccolini, red onion and chicken stock. Make sure all the grains are submerge in the stock. Give another pinch of salt and wiggle everything around to coat. Put the lid on, take the heat down to medium-low and simmer anywhere from 20-30 minutes. The grains will soak up the liquid and the chicken finishes cooking through. It's just glorious.
Top with freshly chopped parsley and a good squeeze of lemon.
Serve immediately!
Serves 4.
7.8.1.2
399
https://bevcooks.com/2020/01/skillet-chicken-with-grains-and-broccolini/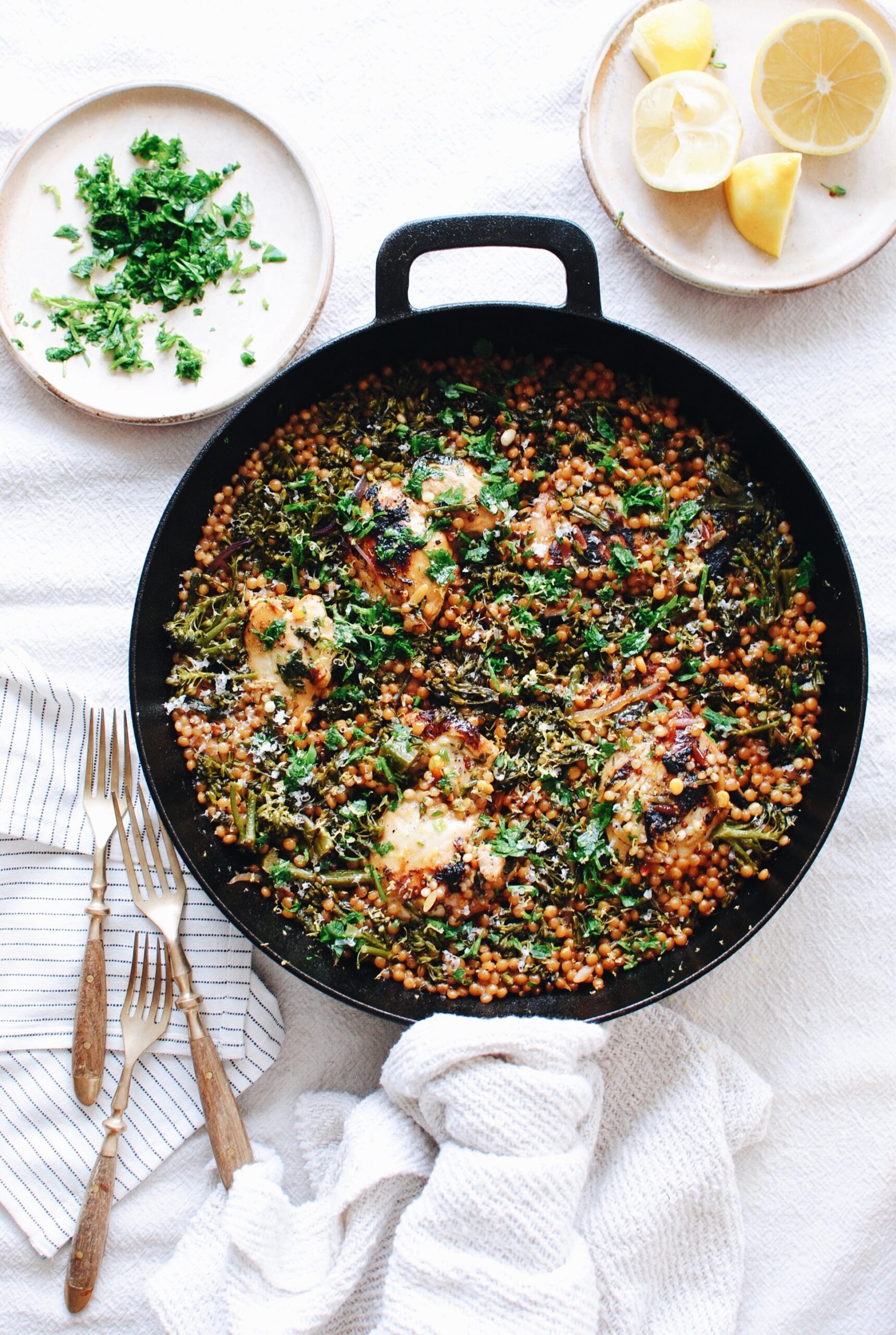 Make this tonight. I dare ya.