Oh. Yeah. This. Right. Yep. Yeppers.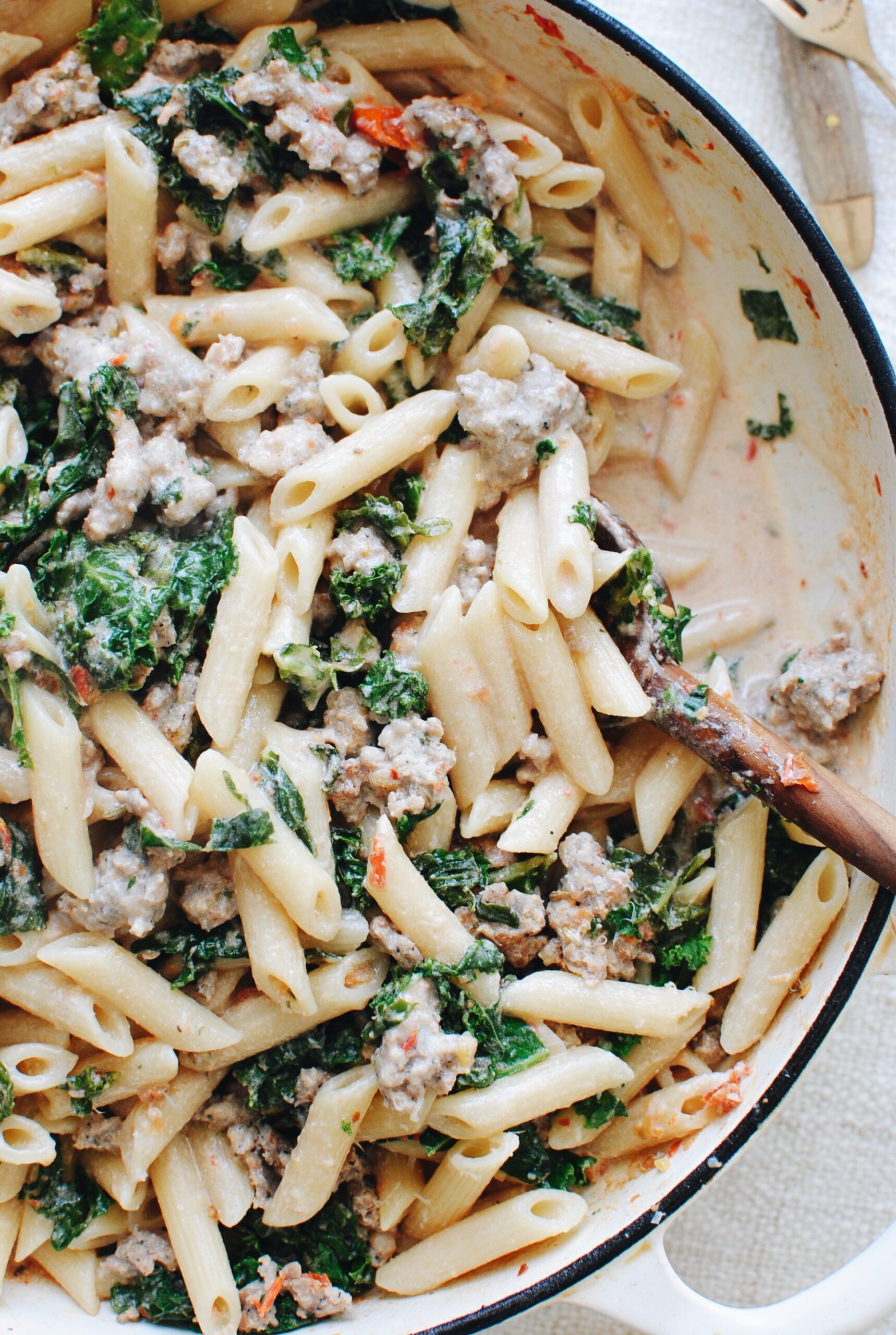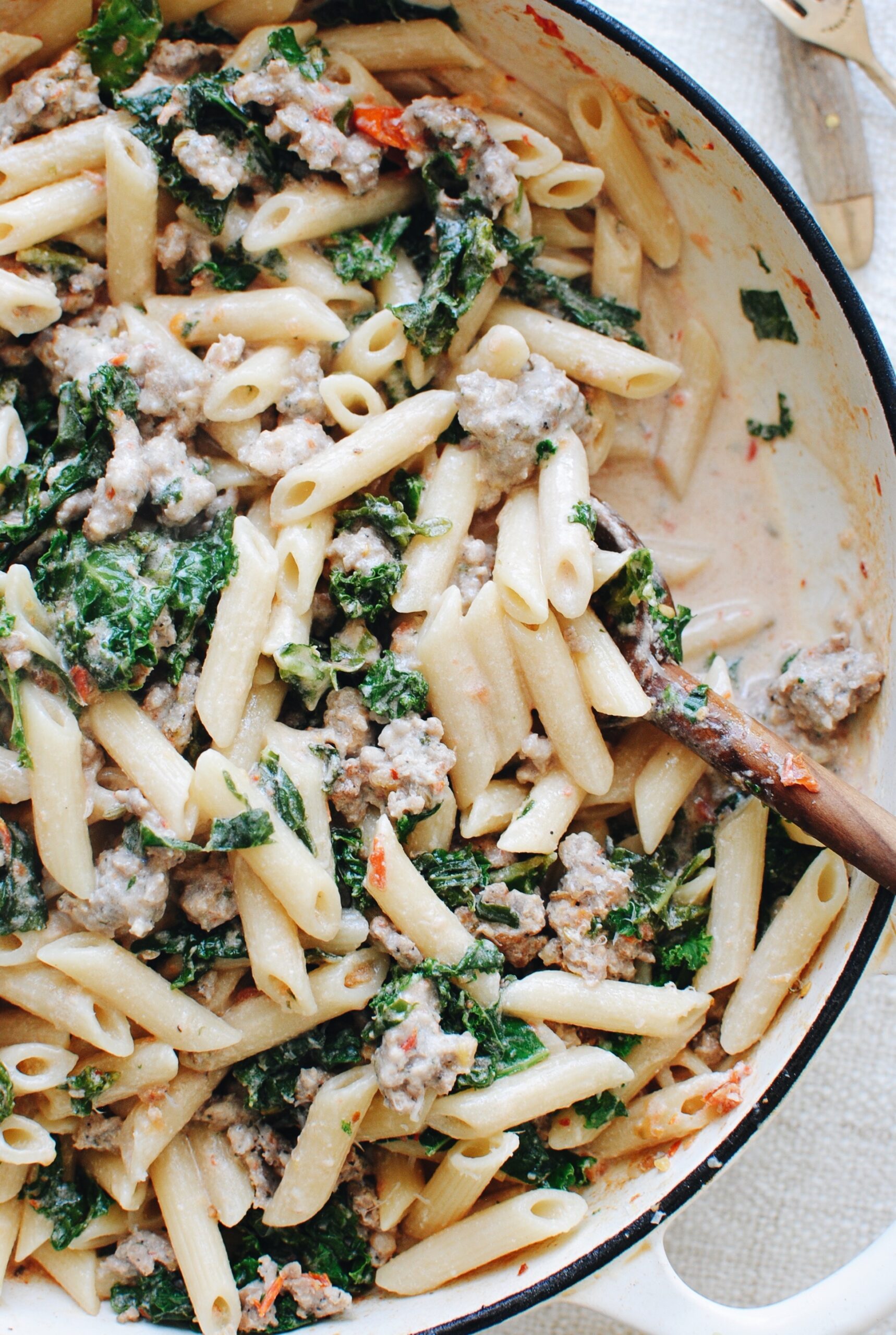 I know I shouldn't do this to you. But on the other hand, it would be such a disservice on my part if you didn't know about this dish. I almost don't even want you to scroll down to the ingredient photo because you're going to pass out at how LITTLE there is in this (you're welcome), and how SIMPLE it is to pull together (you're welcome again.)
It's not even a recipe really. It's more of a lifestyle. A way to be. And this is happening today on Tuesday.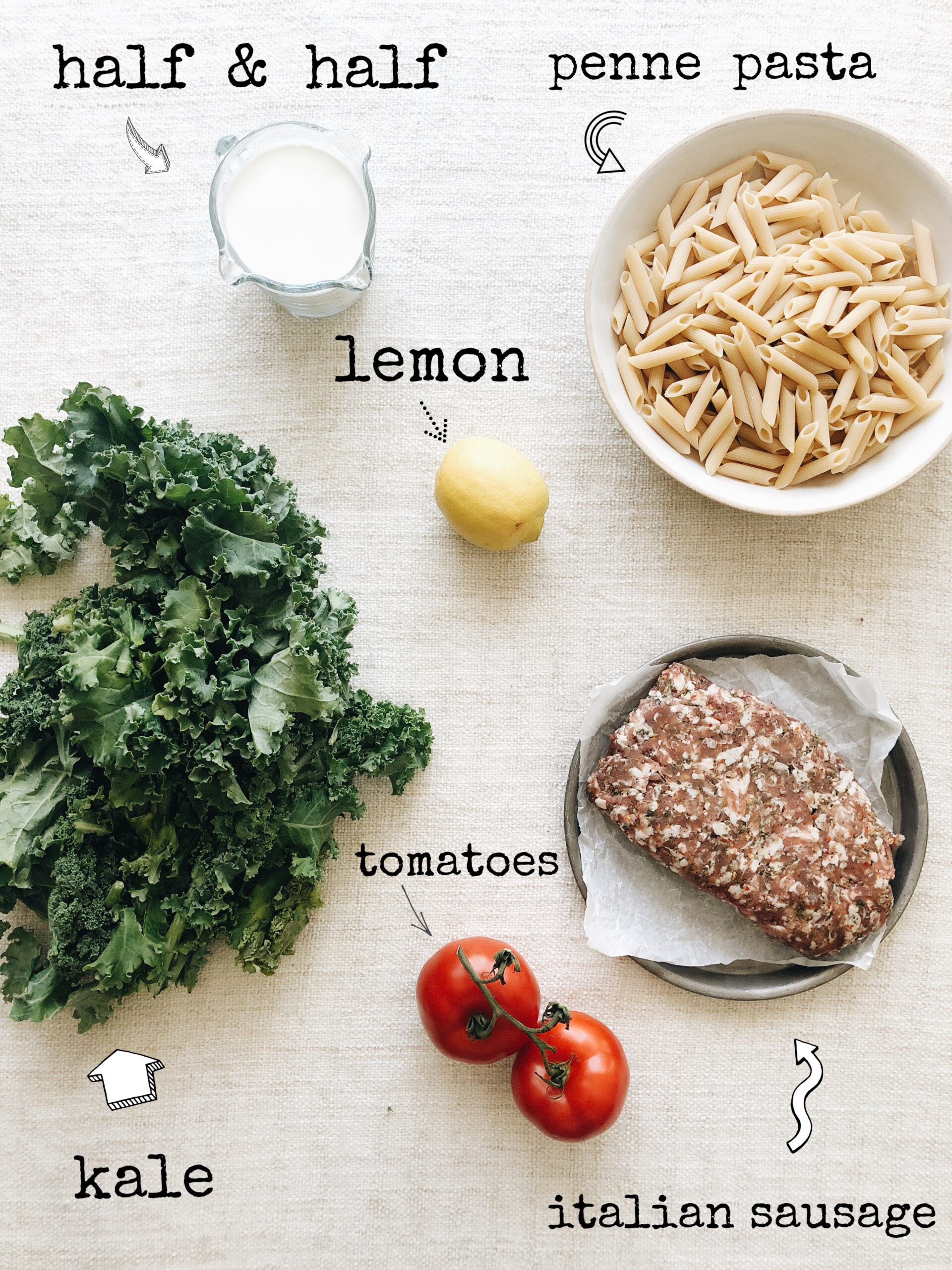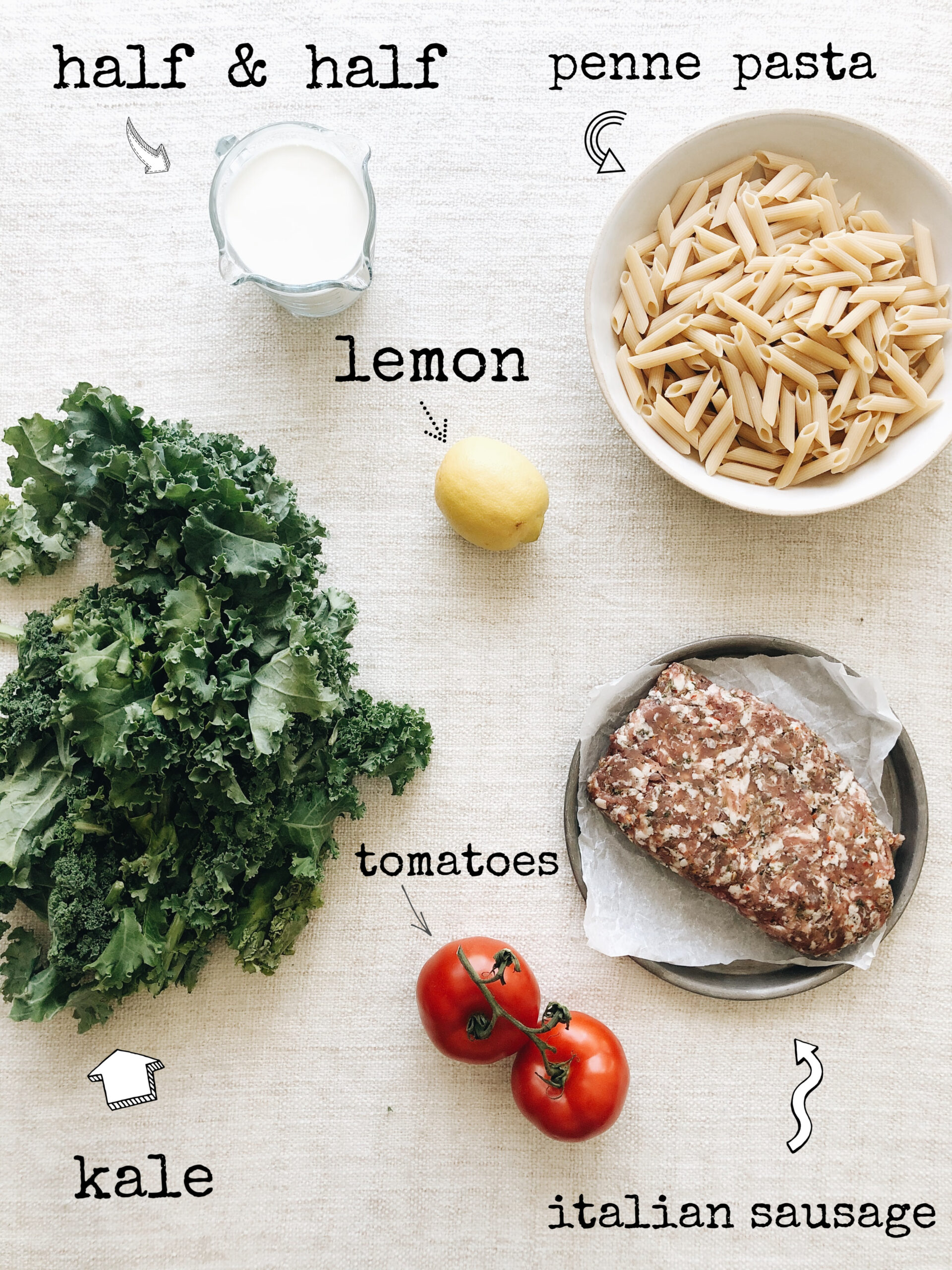 Six ingrawdients. That's it. That's all.
And I know you know this ("they don't know that we know they know we know."), but I'll say it anyway so that there are more words in this blog post: use links of sausage, or even chicken sausages if you want. Use bagged kale, or Tuscan if that's whacha got. Use canned tomatoes if you're staying home to avoid shopping. Any ol' short pasta will work, and cream or milk is fab!
This is the loot I had on hand. So this is what became of it in my face and stomach. (I don't like the word TUMMY, you guys. Or ew, Tum Tum. Hard no.)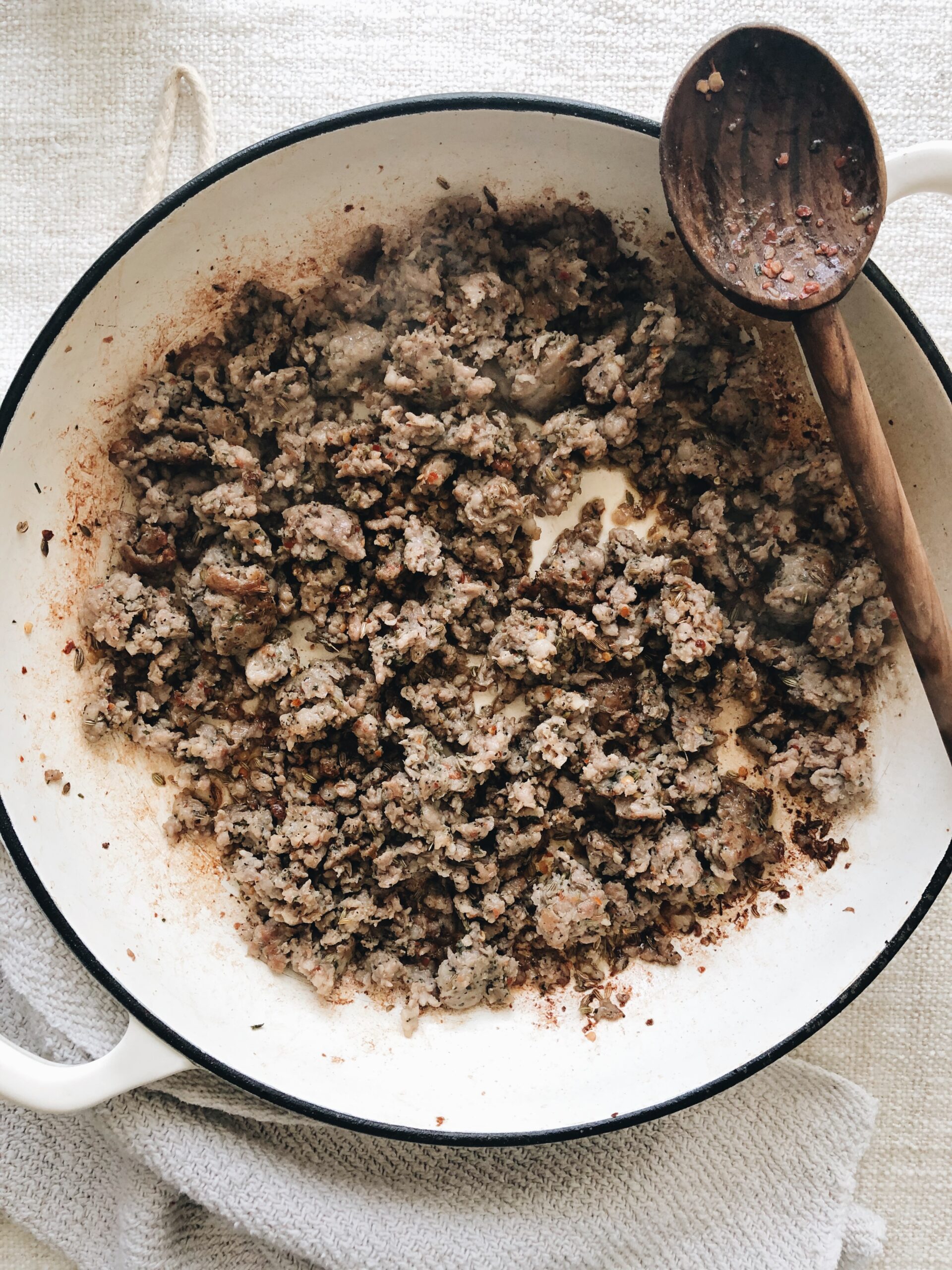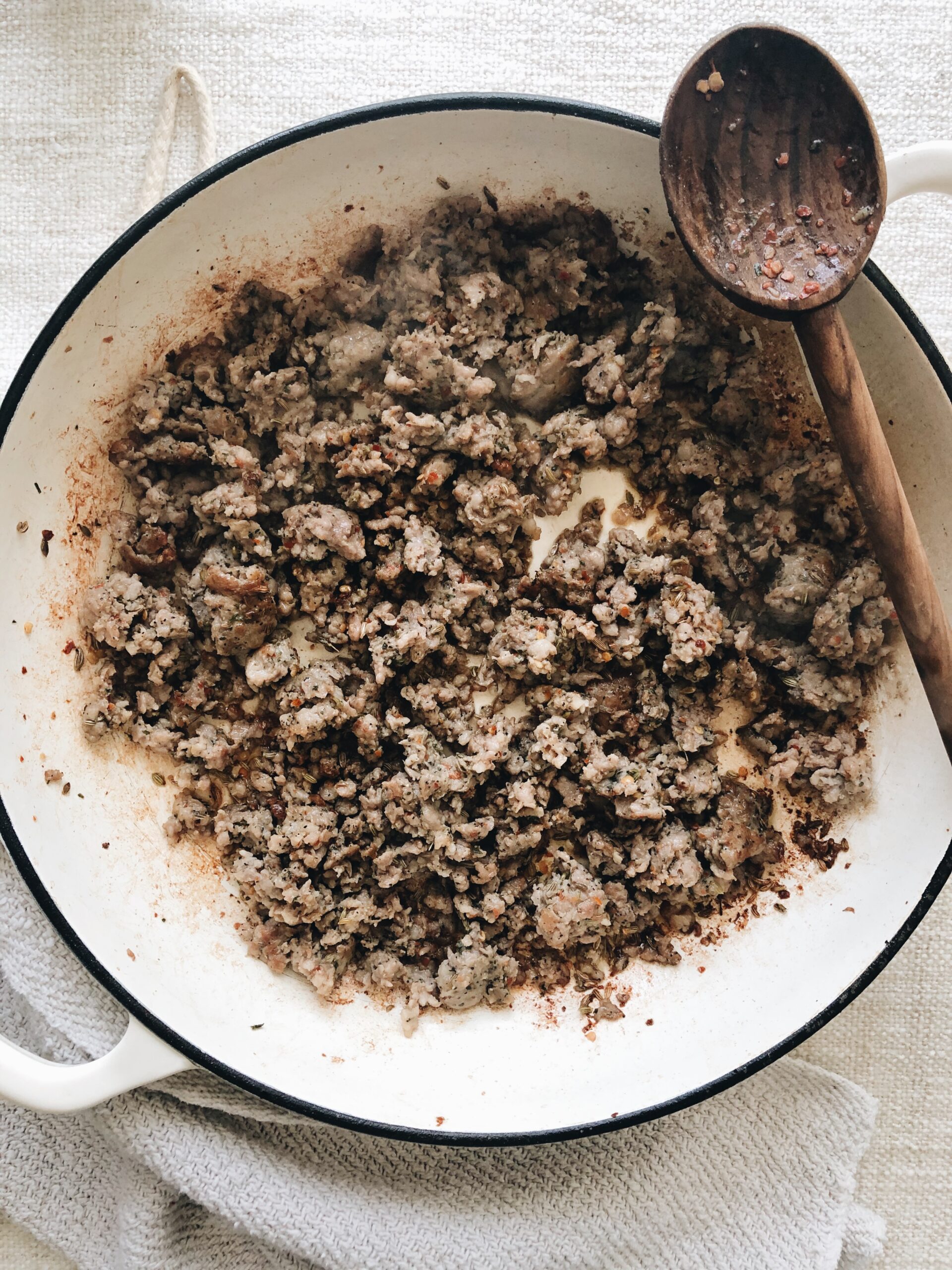 It's honestly as simple as it gets. Crumble and brown your sausage until it's cooked through. Boom.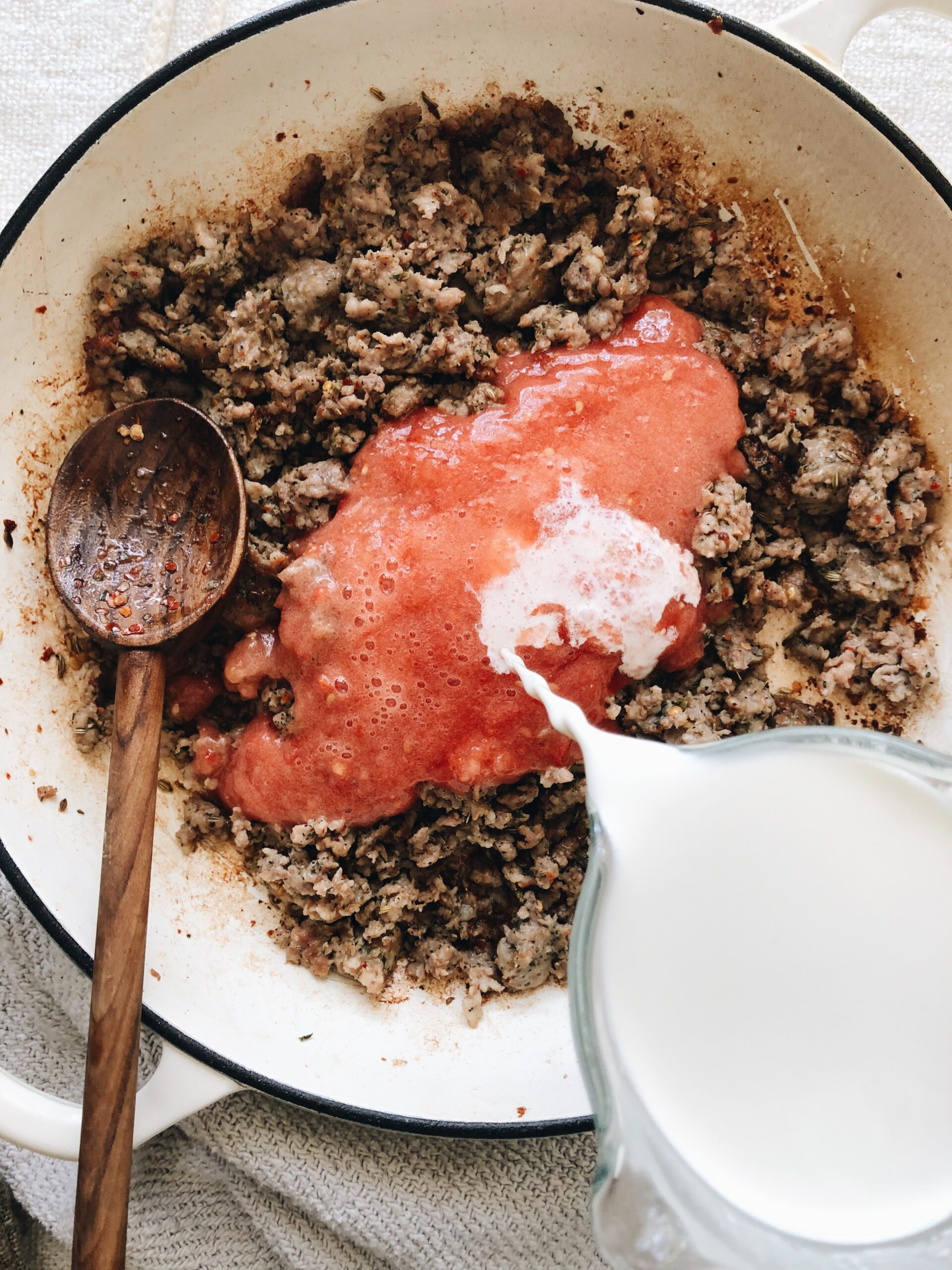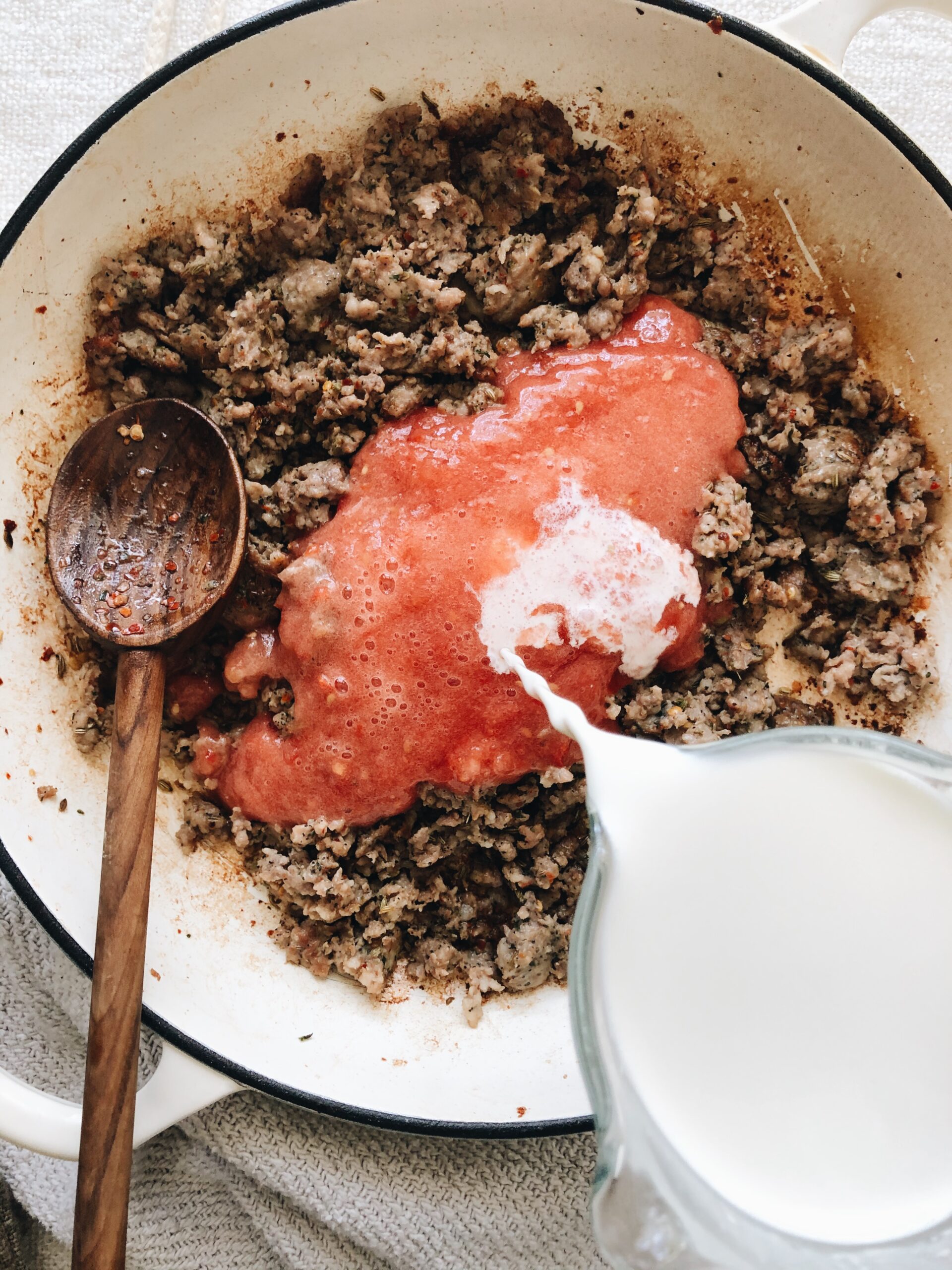 Oh! The tomatoes – yes those are verrrr pureed. Your eyes are on fleek. (wait, is the word "fleek" still around? and can it be used for more than eyebrows? and also what does fleek mean again?)
I blitzed them in my food processor to that they were smoooooooth like groove. But if you want to simply chop and toss them in for a chunkier version – fly, little bird.
After the 'maters, pour that cream in with all your heart. (these are the good things in life.)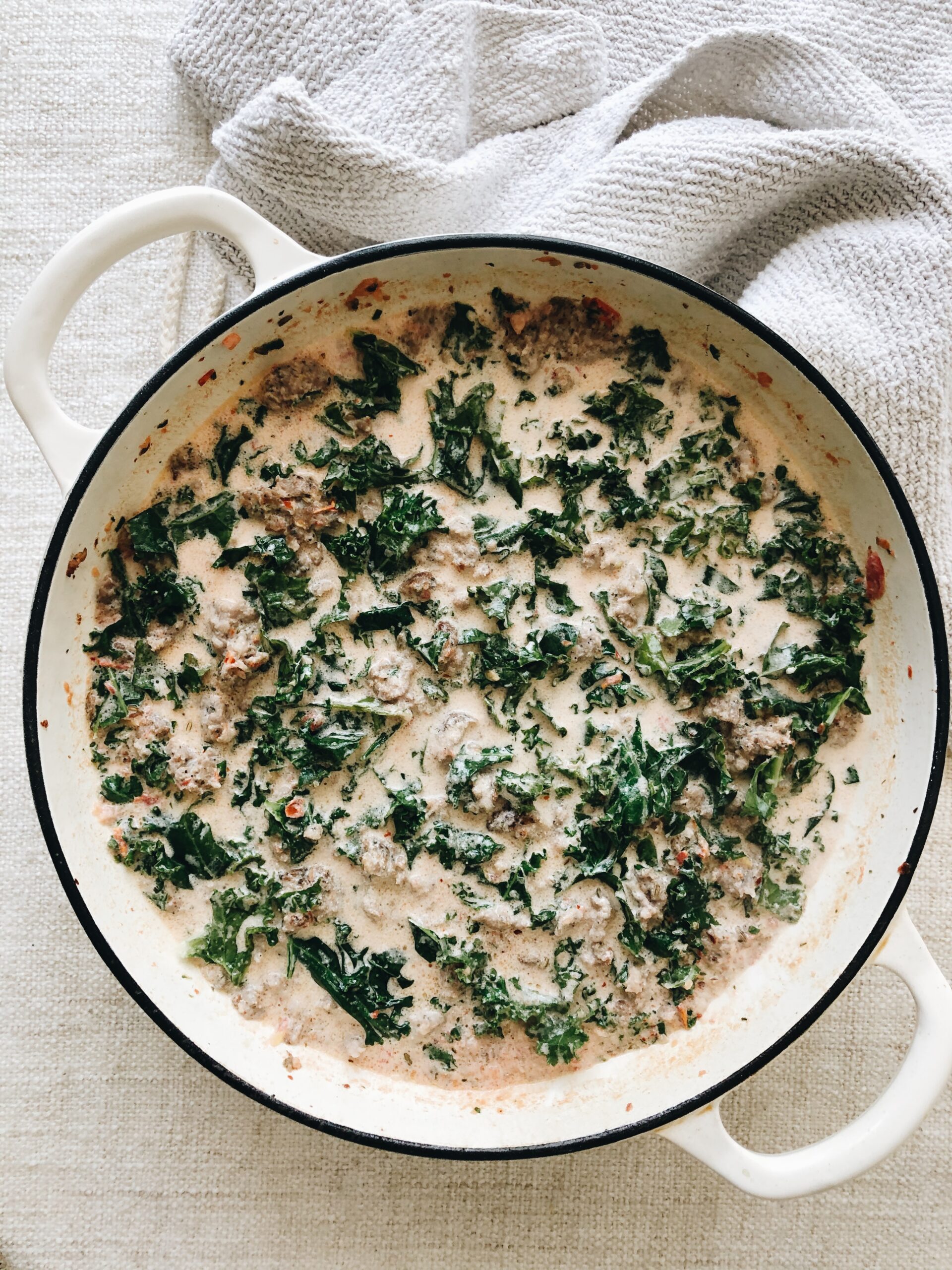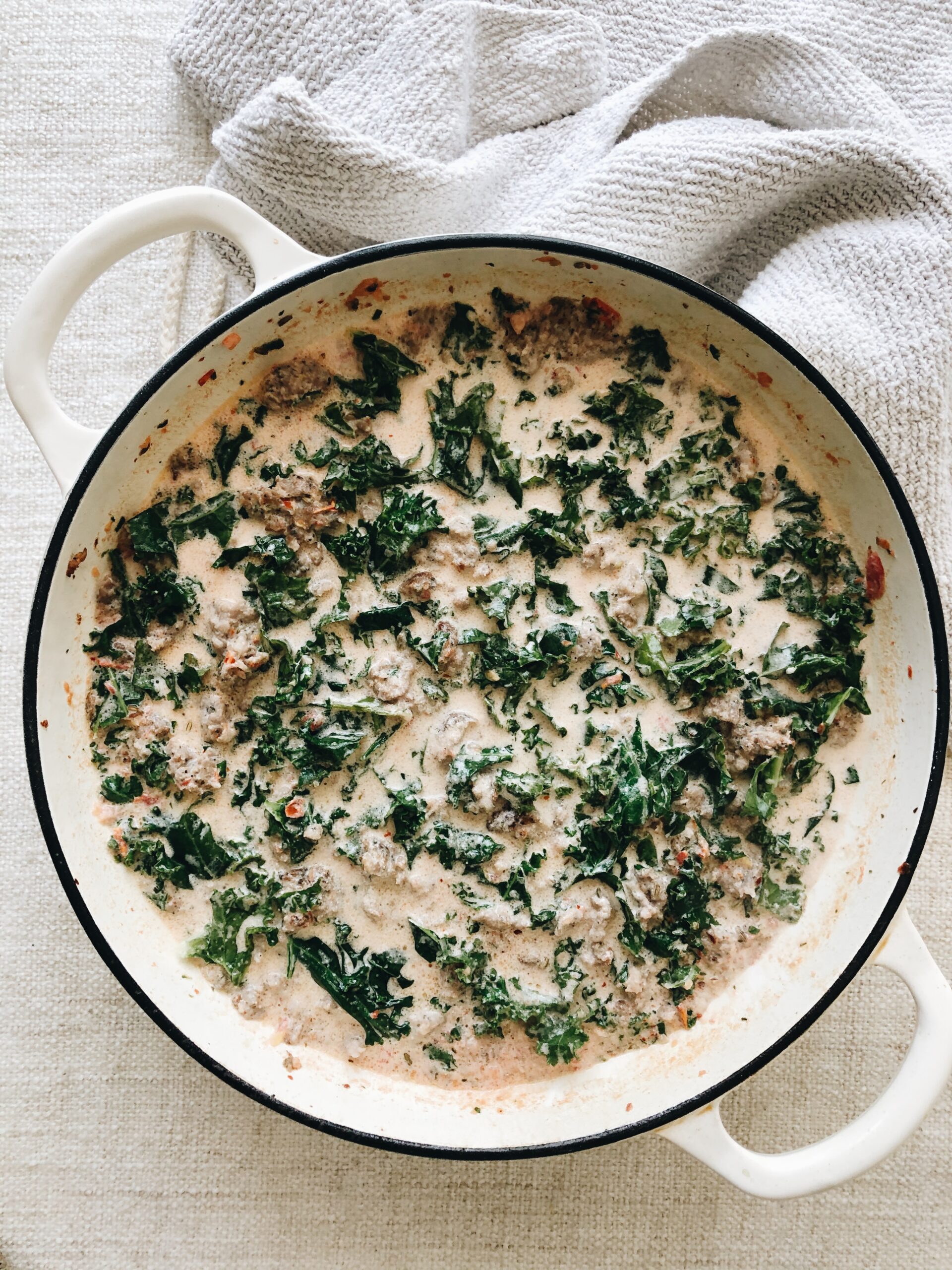 And really, this just simmers on low while the pasta cooks. You can taste it NOW though to see what it needs.
Oh wait, I know what it needs. Lemon! Squeeze in half the lemon. Now taste that. Is it completely ridiculous and you want to slap it sideways? Good.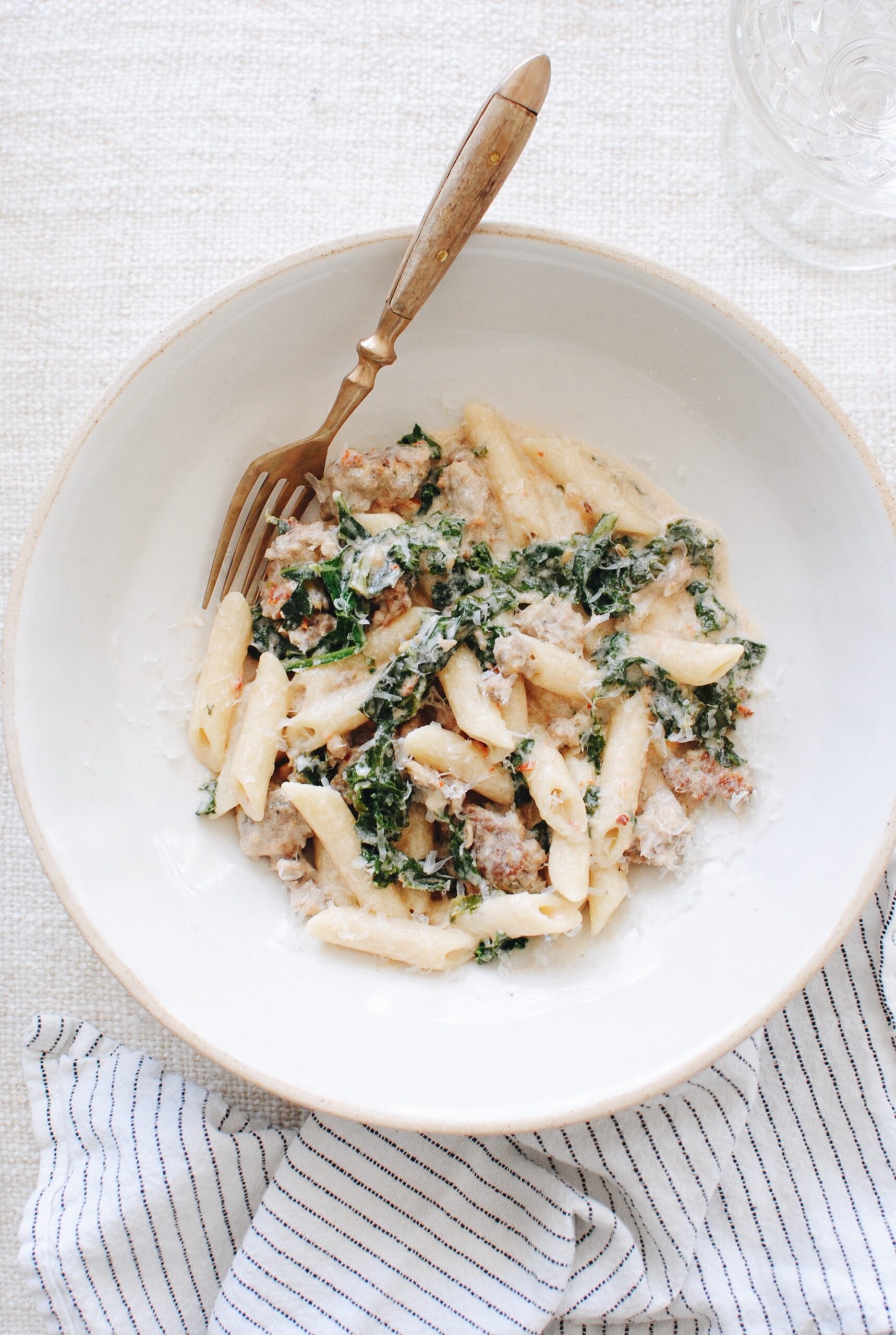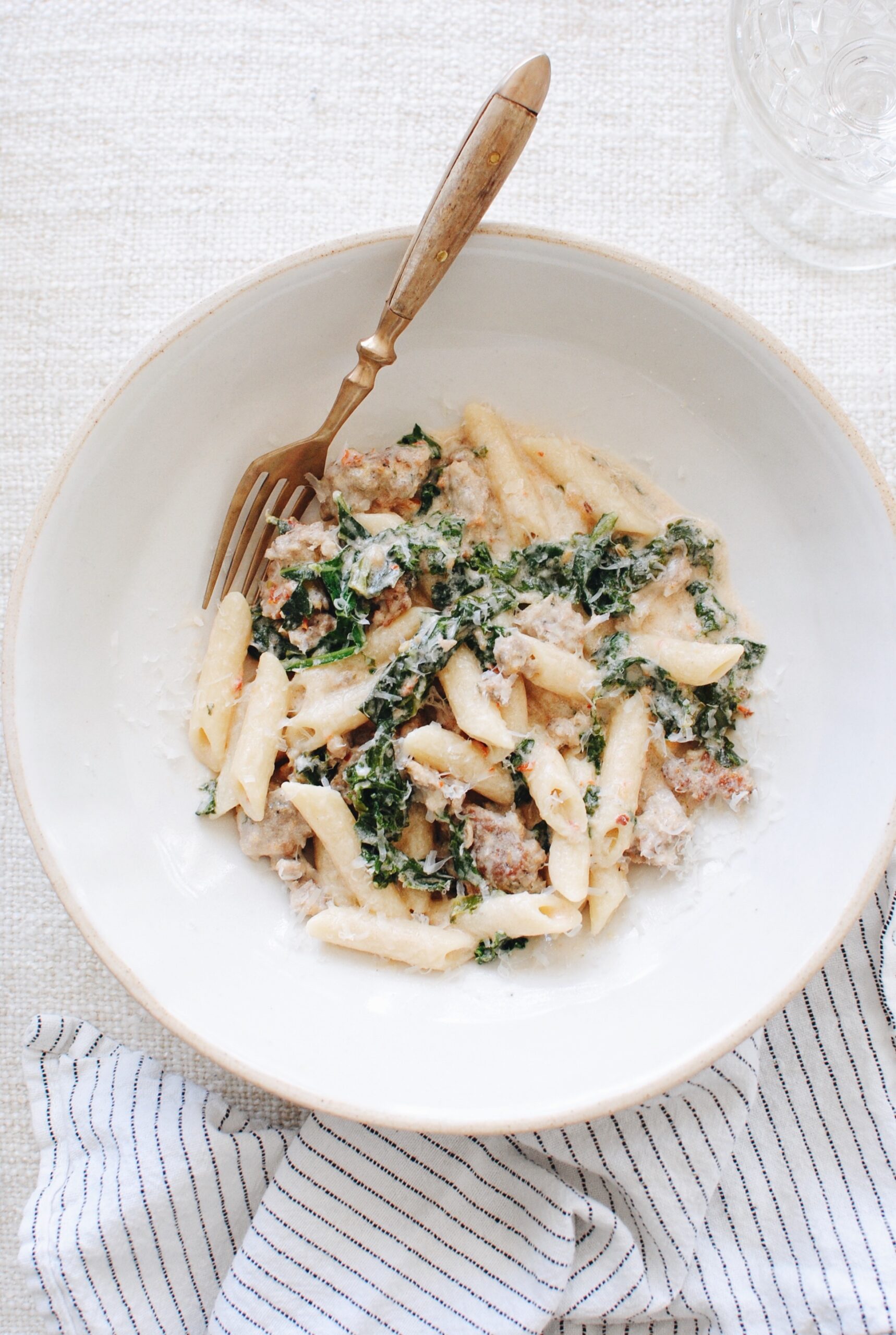 If you've gone numb throughout your torso just now, we've done this right.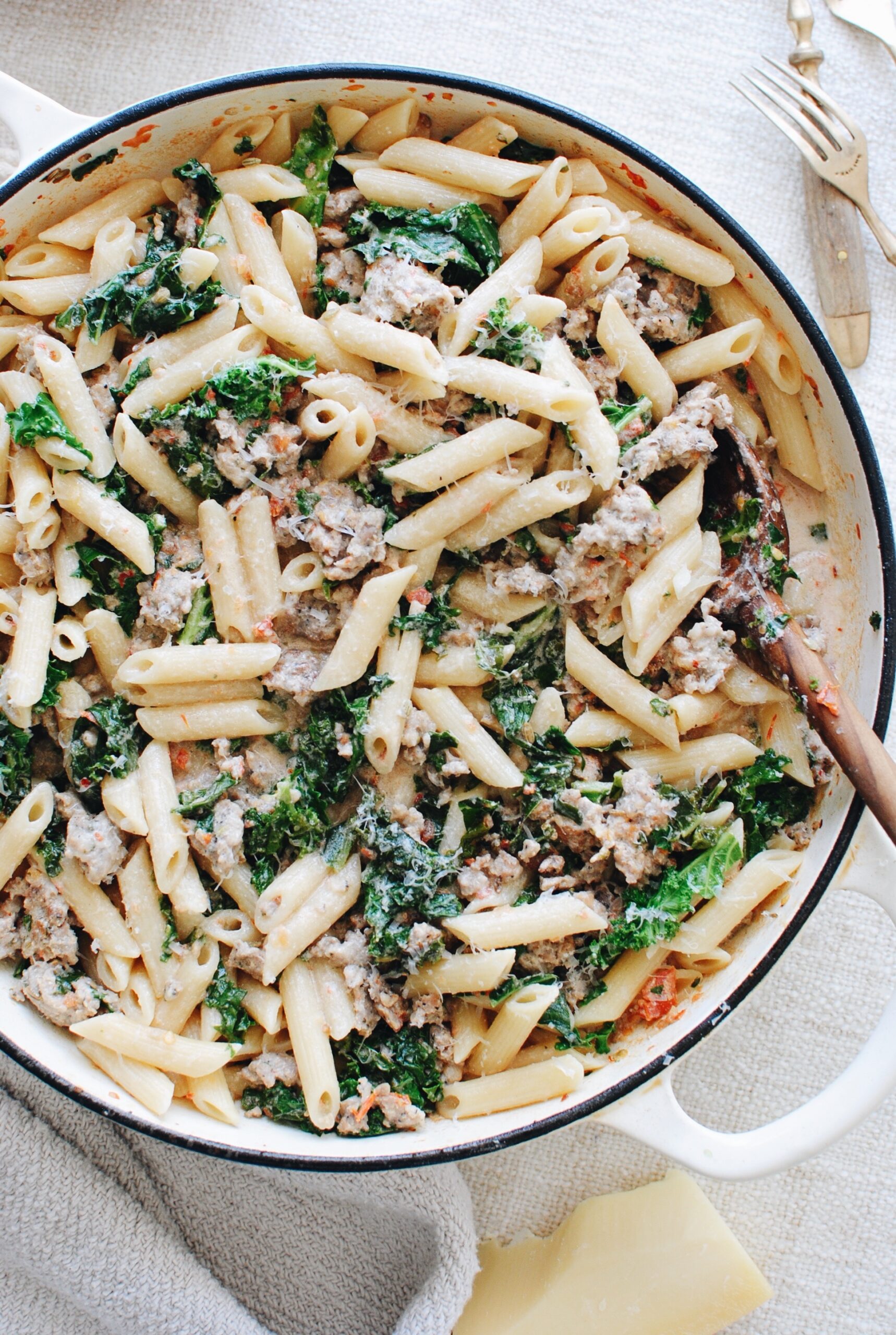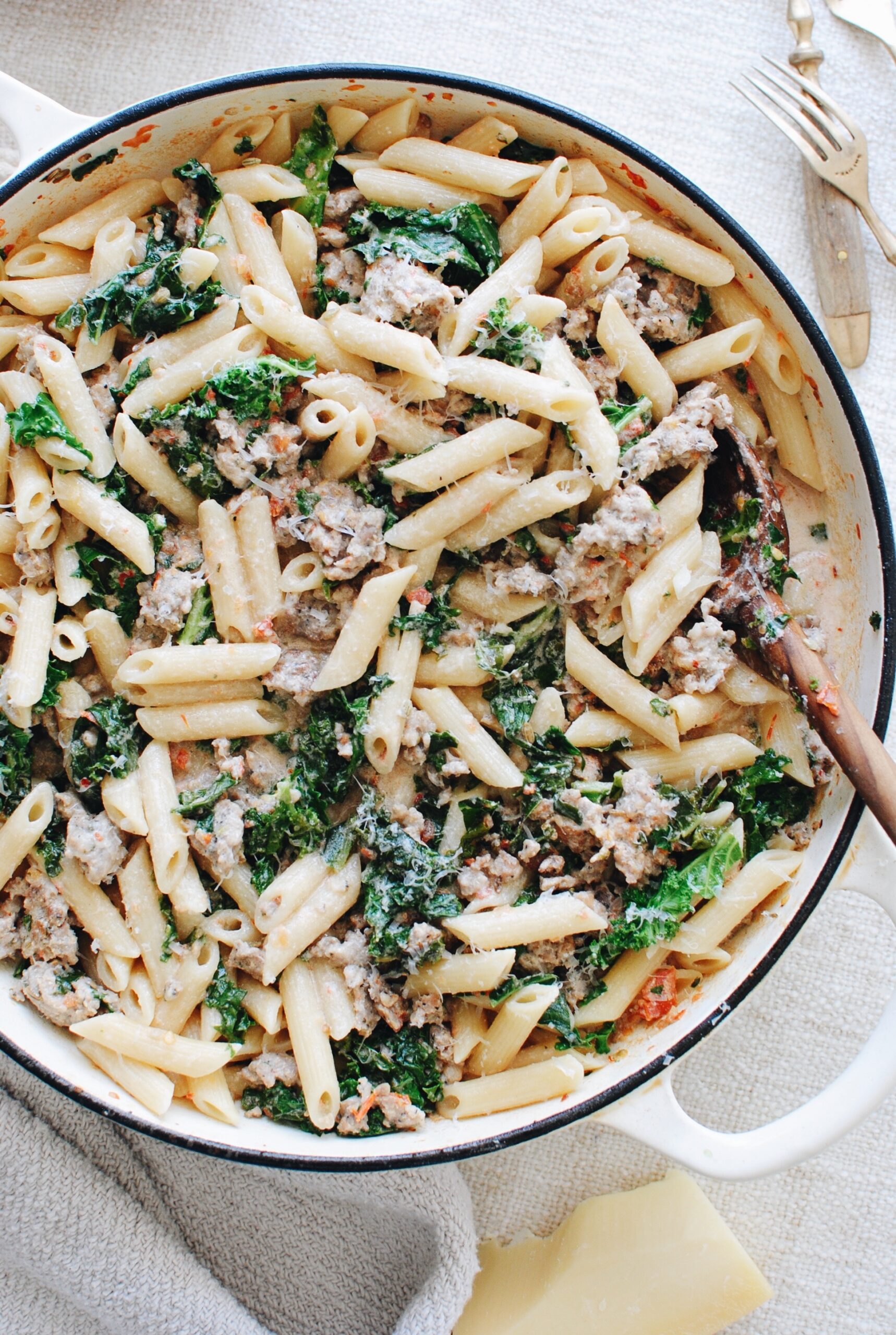 Of course the pasta will keep soaking up the creamy sauce, so it's best to serve immediately while there STILL IS a creamy sauce. You won't be able to not though because look at all that.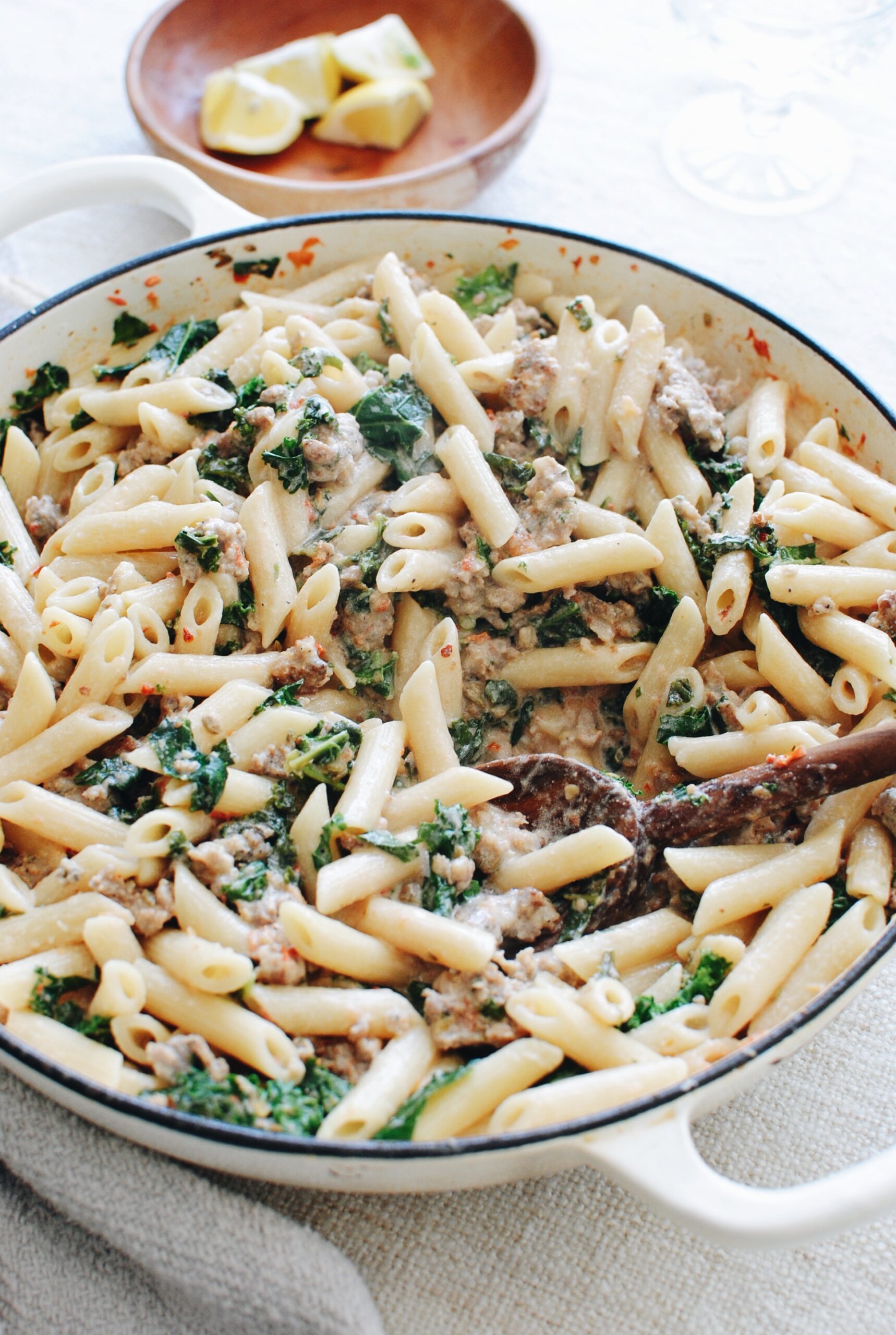 And see the tiny hints of tomato here and there? The aftermath of your slayed soul from that creamy tomato-ness will render you DUNZO. (that was for you, Sarah and Laura.)
Also, there's kale in it, so this is basically a salad.
Why are you looking at me like that?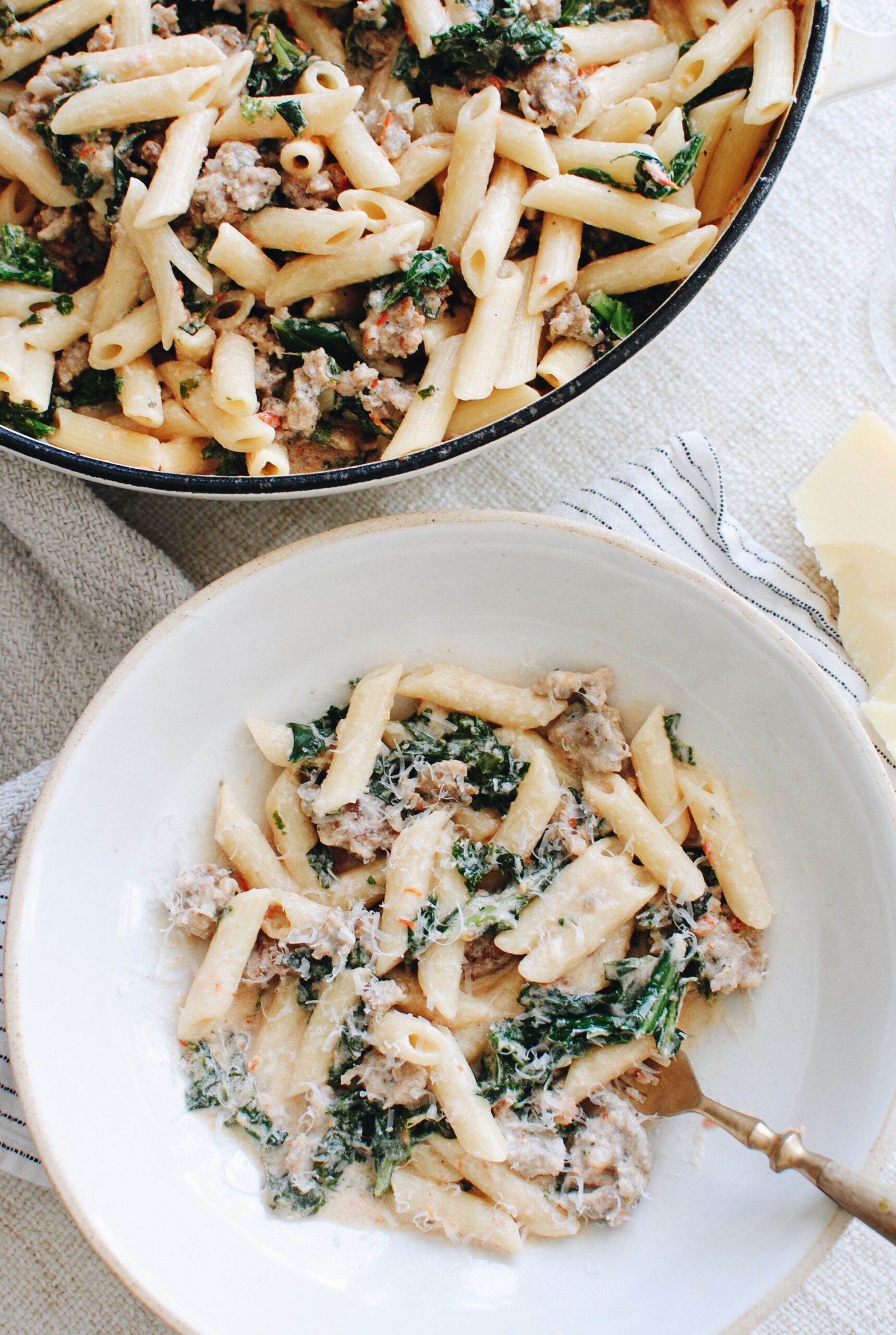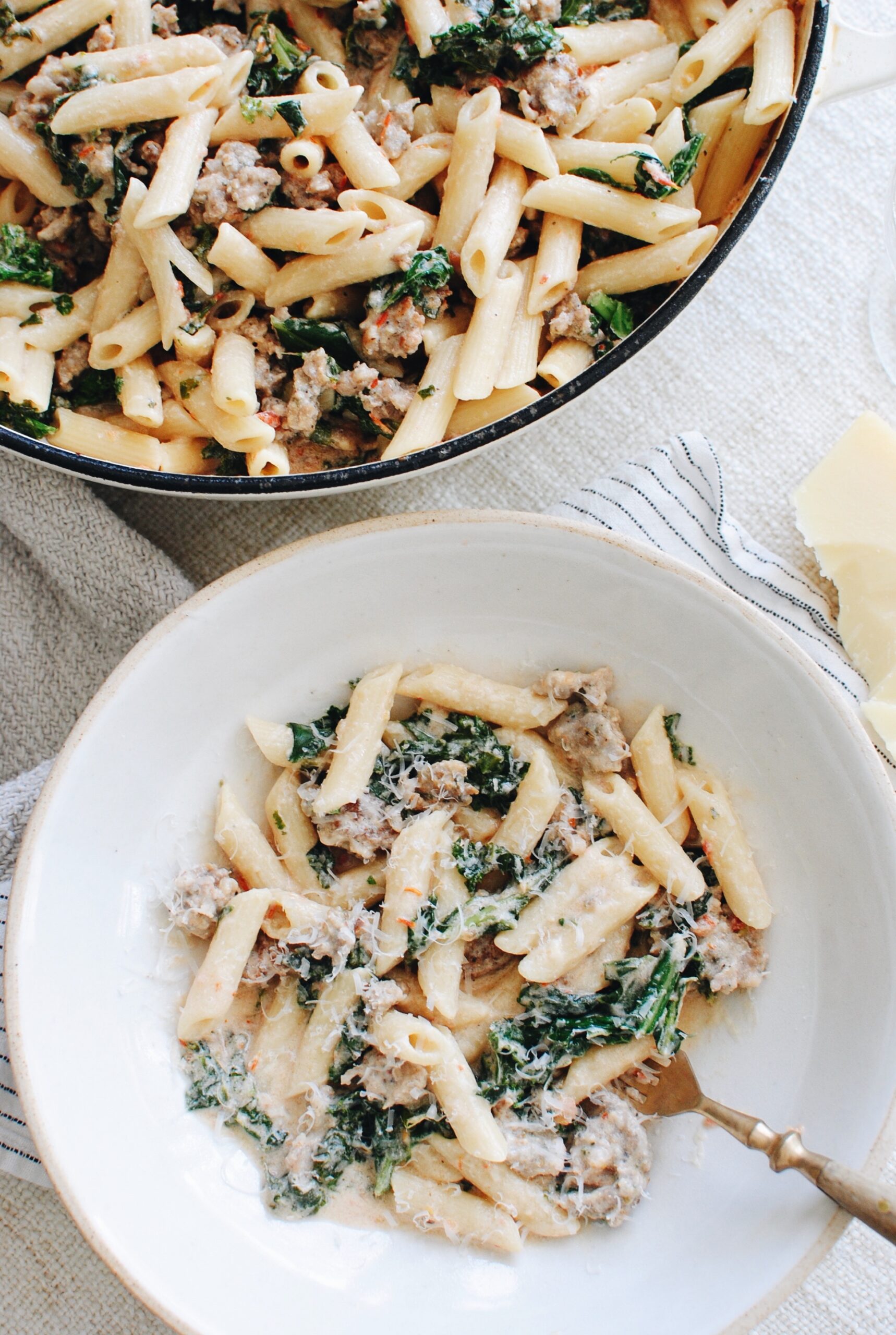 Goes without saying that every single face in your hizz will flip out over this. Easy for weeknight, very little to do, and tastes like a dang dream.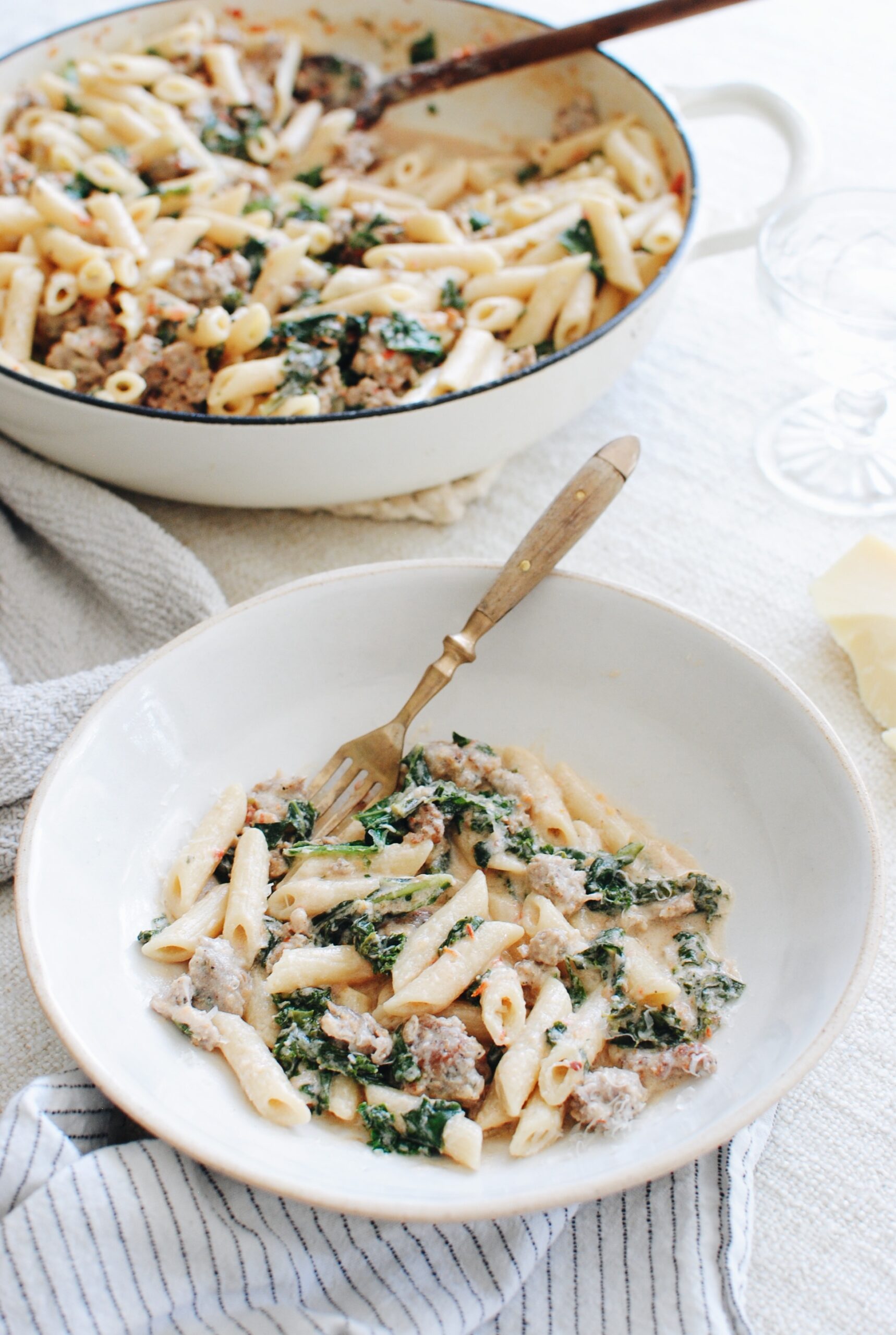 And your mouth is the alarm clock. Ha! oh.
Creamy Penne with Tomatoes, Kale and Sausage
Ingredients
1 pound penne pasta
1 pound Italian sausage (mild, medium, hot or sweet all work here!)
2 cups half and half
About six cups torn kale (roughly half of a large bunch)
2 medium tomatoes, pureed in a food processor
1 lemon
Parmesan cheese, for garnish
Coarse salt
Instructions
Heat a large skillet over medium high heat. Add the sausage and break it up with a wooden spoon, browning all over until it's cooked through, about six minutes.
Add the pureed tomatoes, the half & half and chopped kale (in batches.) Simmer until the all the kale has been added and has wilted. Taste it now. Probably needs a pinch of salt? Yep. Add the juice from half the lemon and keep simmering for a minute or two.
In the meantime, bring a medium pot of salted water to a boil. Cook the penne until it reaches al dente, then transfer it over to the simmering sauce. Add a 1/4 cup of pasta water if needed. Stir until the pasta is completely coated and silky and delicious looking.
Garnish with lots of parmesan cheese and serve it immediately!
Serves four-ish, depending on your serving size.
7.8.1.2
422
https://bevcooks.com/2020/04/creamy-penne-with-tomatoes-kale-and-sausage/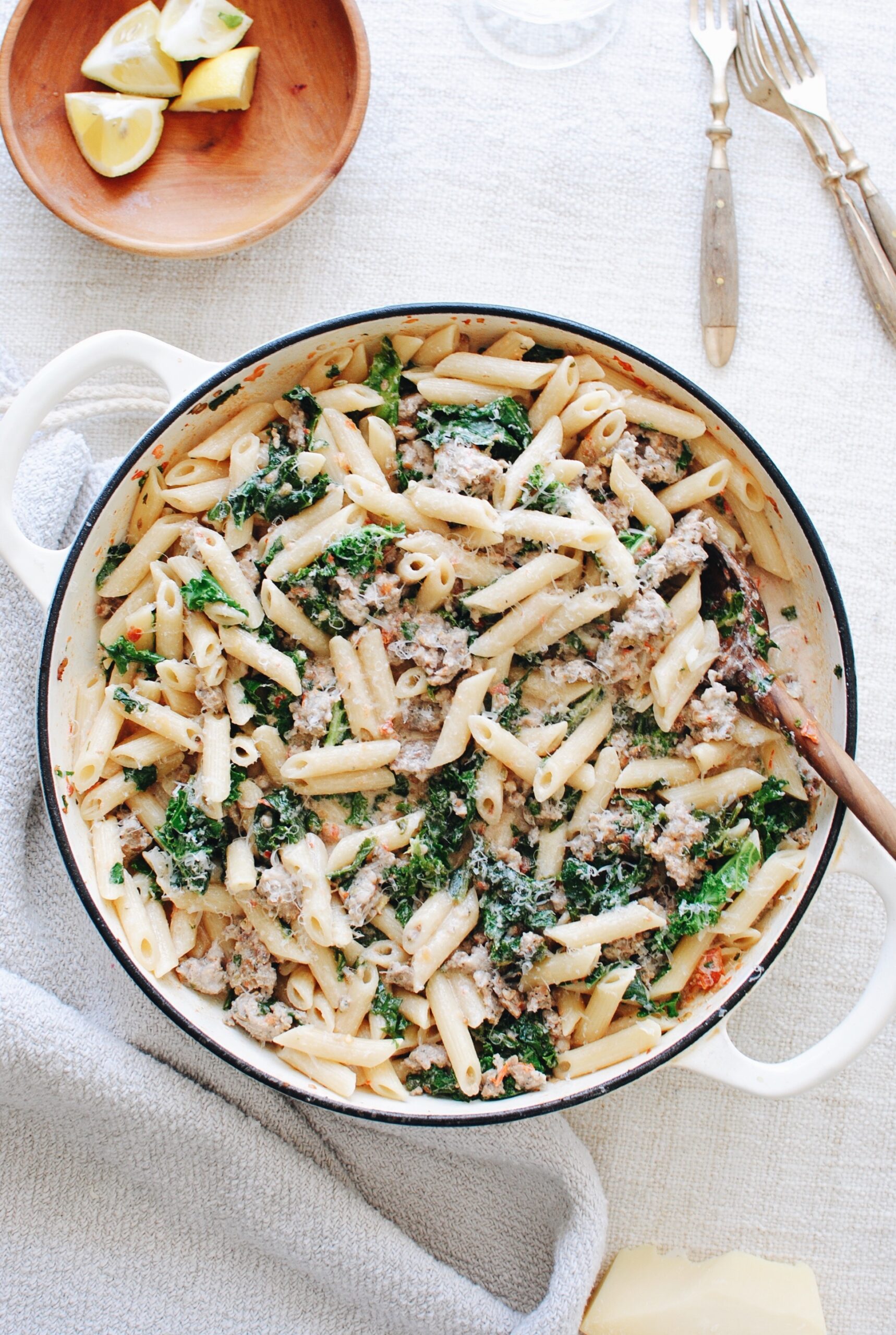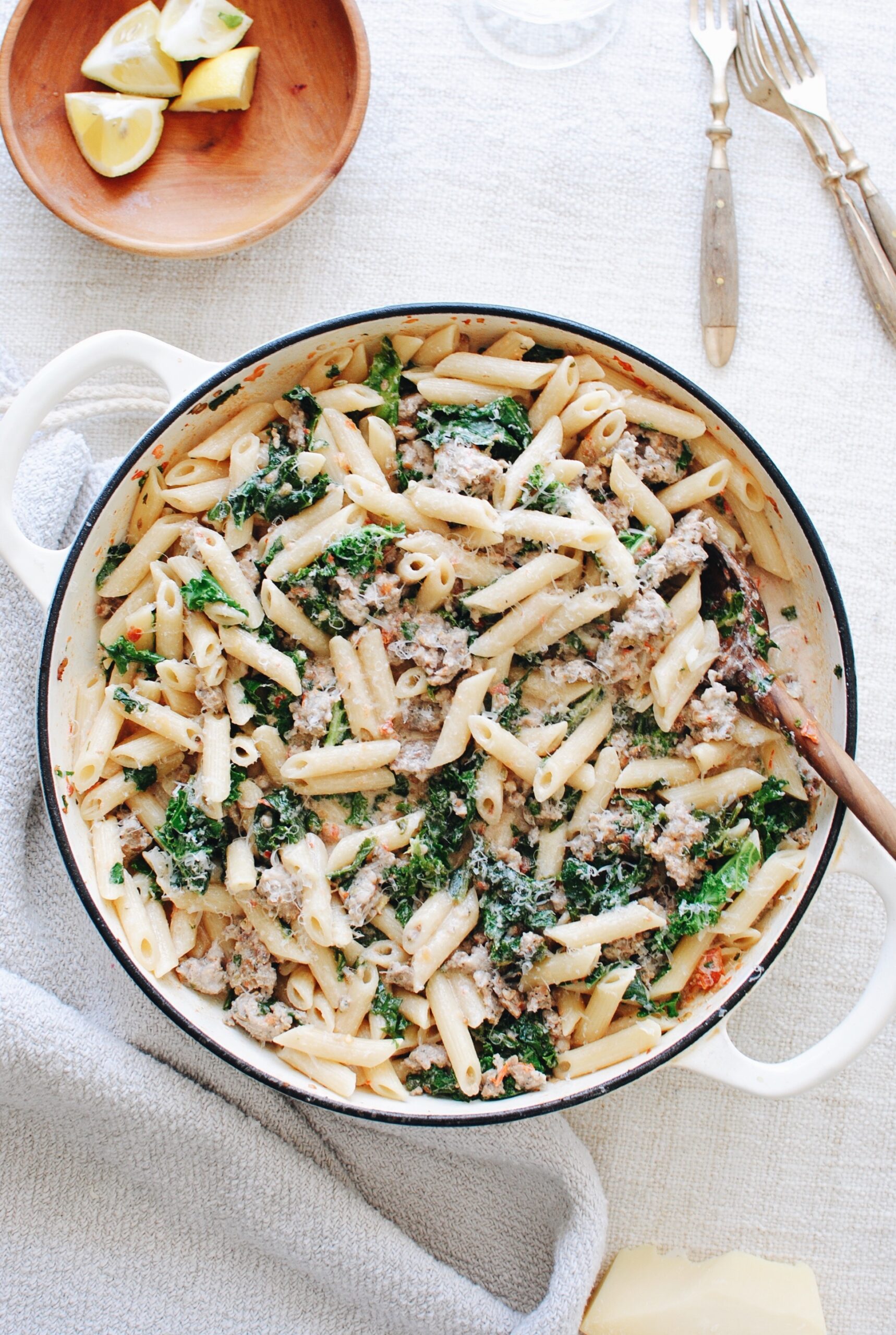 I'll be in the bottom of that pan until July, bye.