Yes MORE PASTA. But I don't think you'll be mad about it.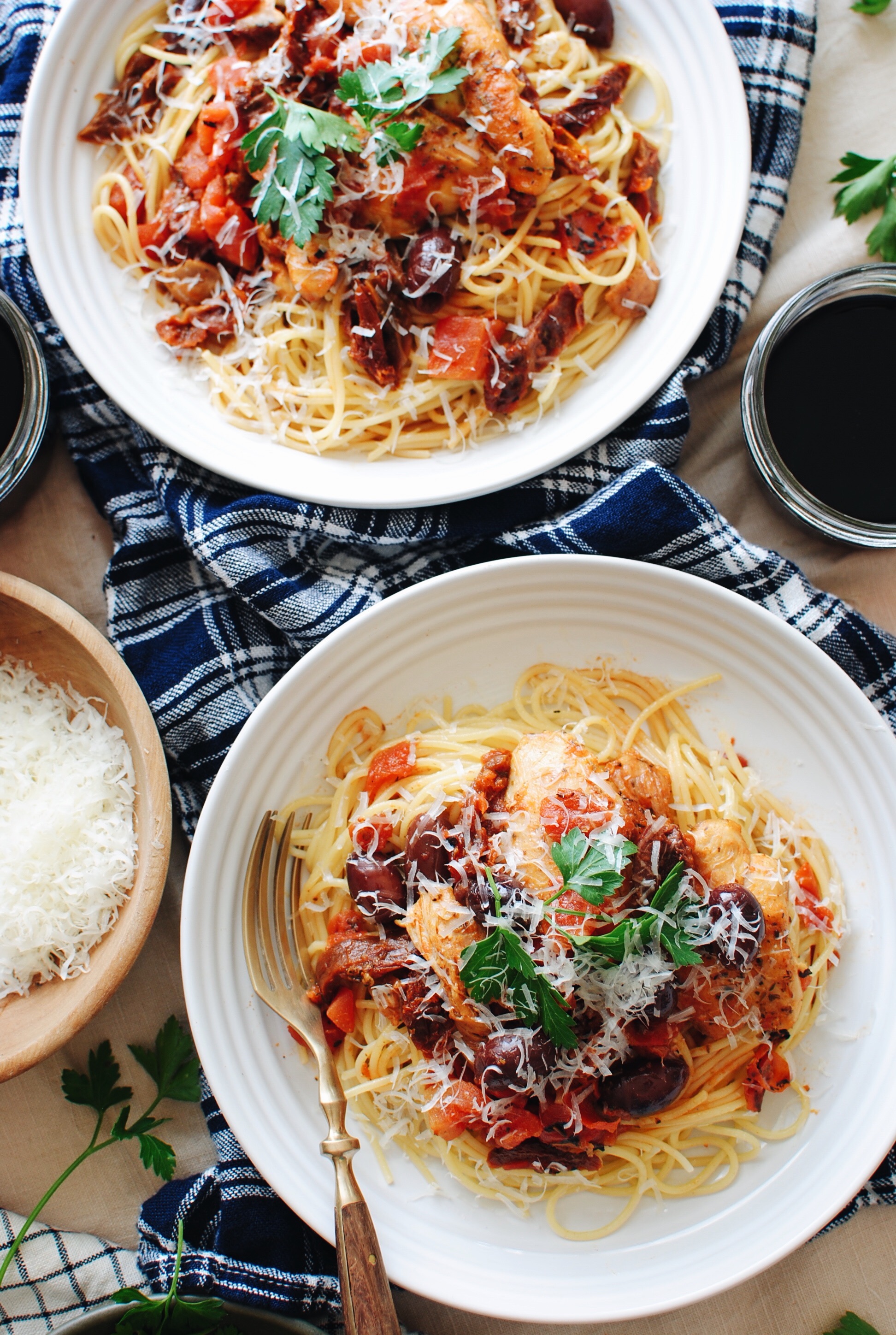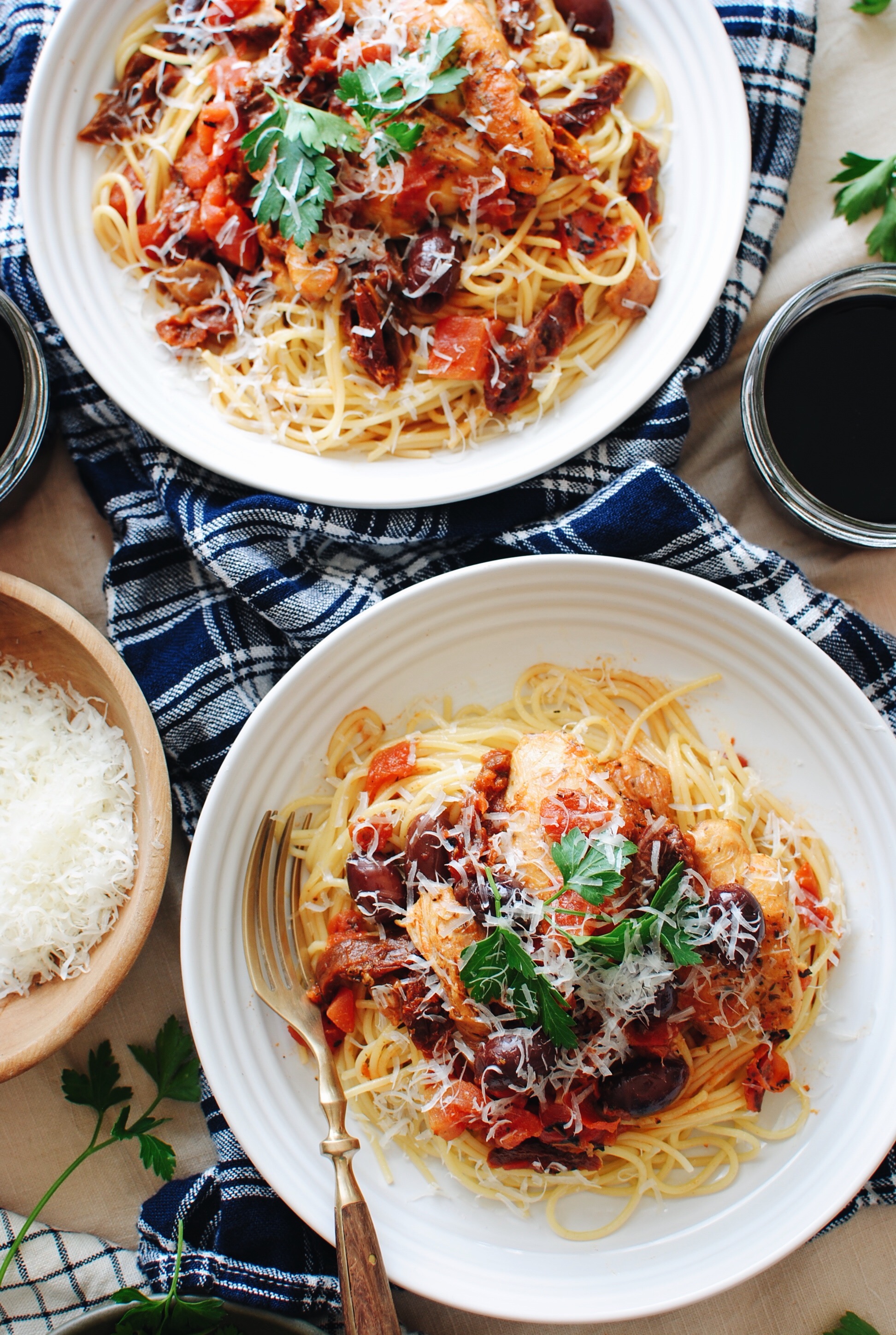 Because it's puttanesca. Which is a painfully unfortunate name.
But my version is stripped way down!
Which is an even more poor choice of words.
Let me start over.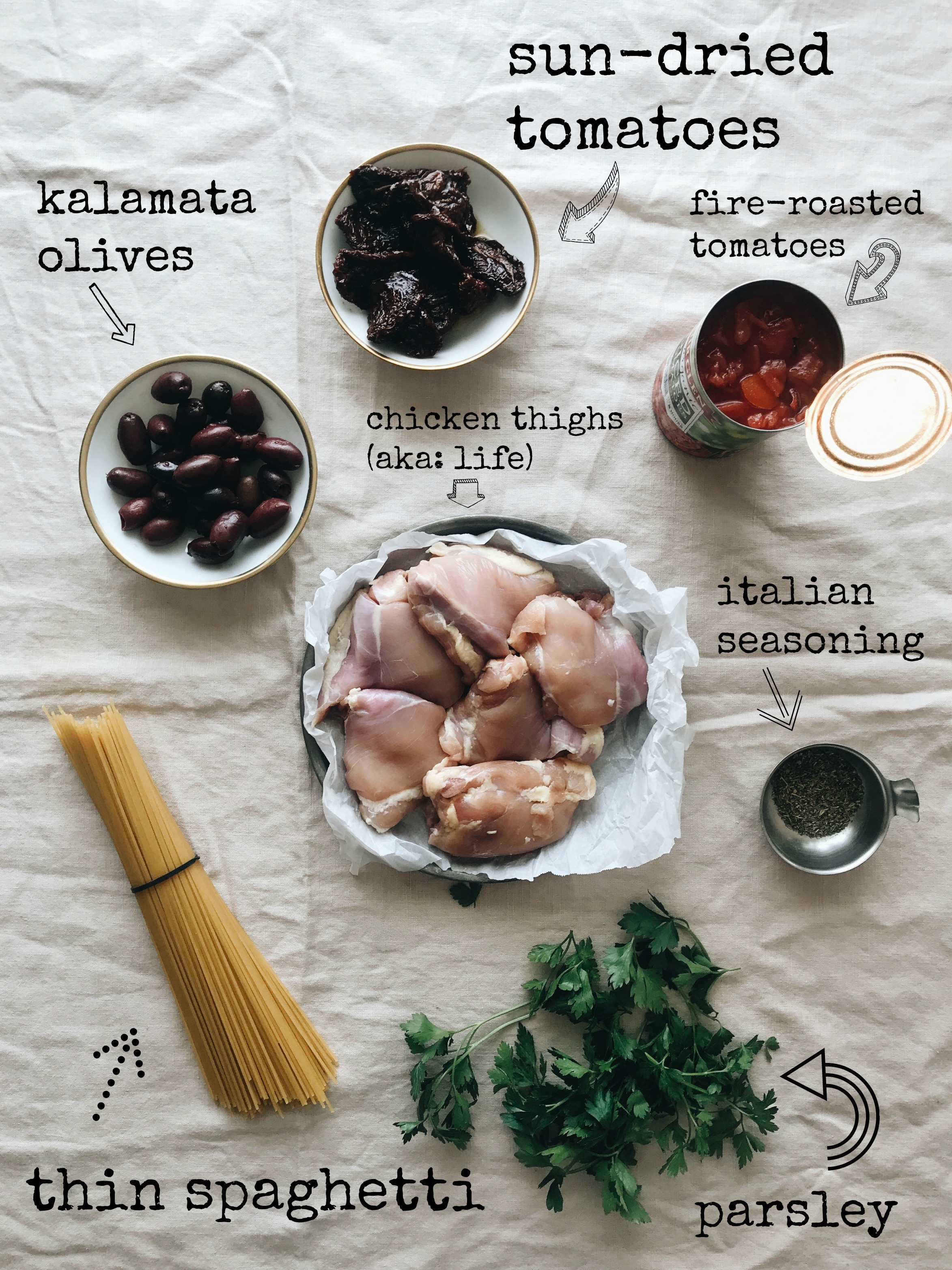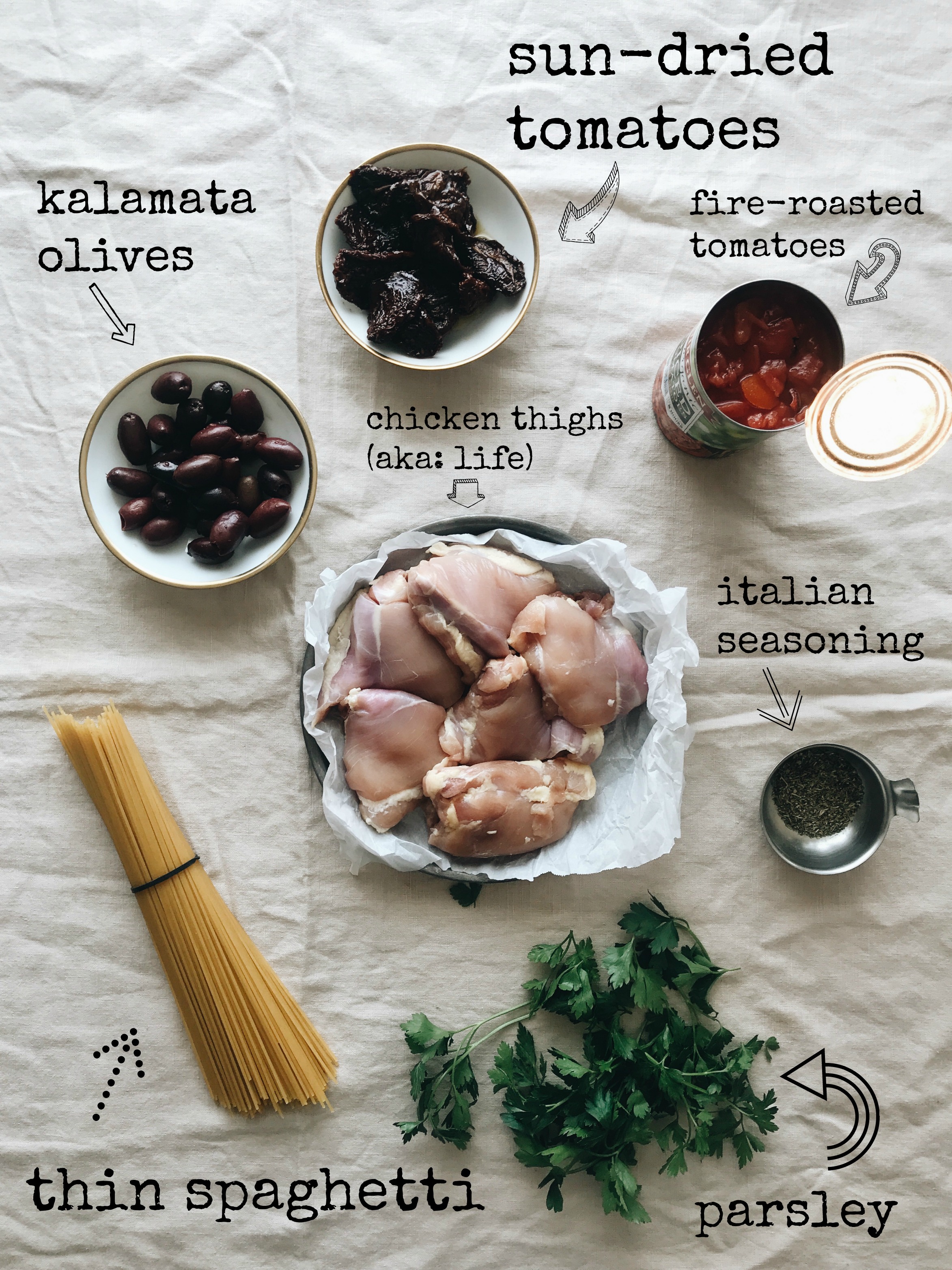 There are toooooons of putt putt (<–no) recipes out there, but I'd like for us to think of this less as a recipe, and more of a NEW LIFE PATH.
Because listen, you basically willy nilly the whole dern thing. It takes as long as boiling spaghetti, from start to finish. And I made it simple for you, with kalamata olives (buy them sliced if you want!), sun-dried tomatoes (mine look like death prunes, but we'll still love them), and fire-roasted tomatoes (one of life's greatest gifts). Those three ingredients are PIMP together, once braised all around the chicken thighs.
And please, buy thighs. They taste a ka-zillion times better, and they won't dry out in all that braisey braisin'.
Oh! Not pictured, and this is optional, is a tiny bit of white wine. The wine is for your face.
Just kidding. It's for the dish.
Just kidding. It's for your face.
Just kidding. It's for the di – wait what?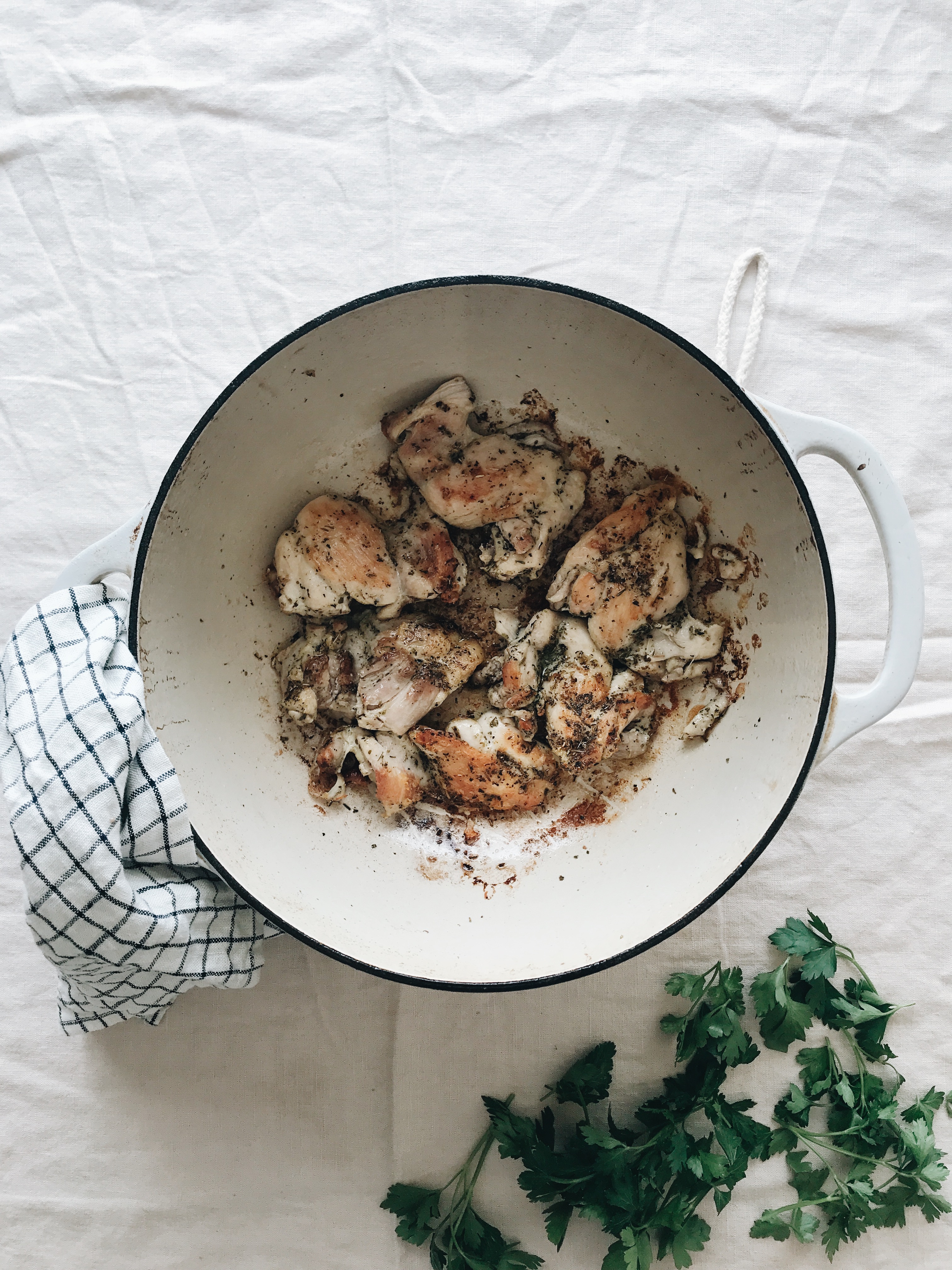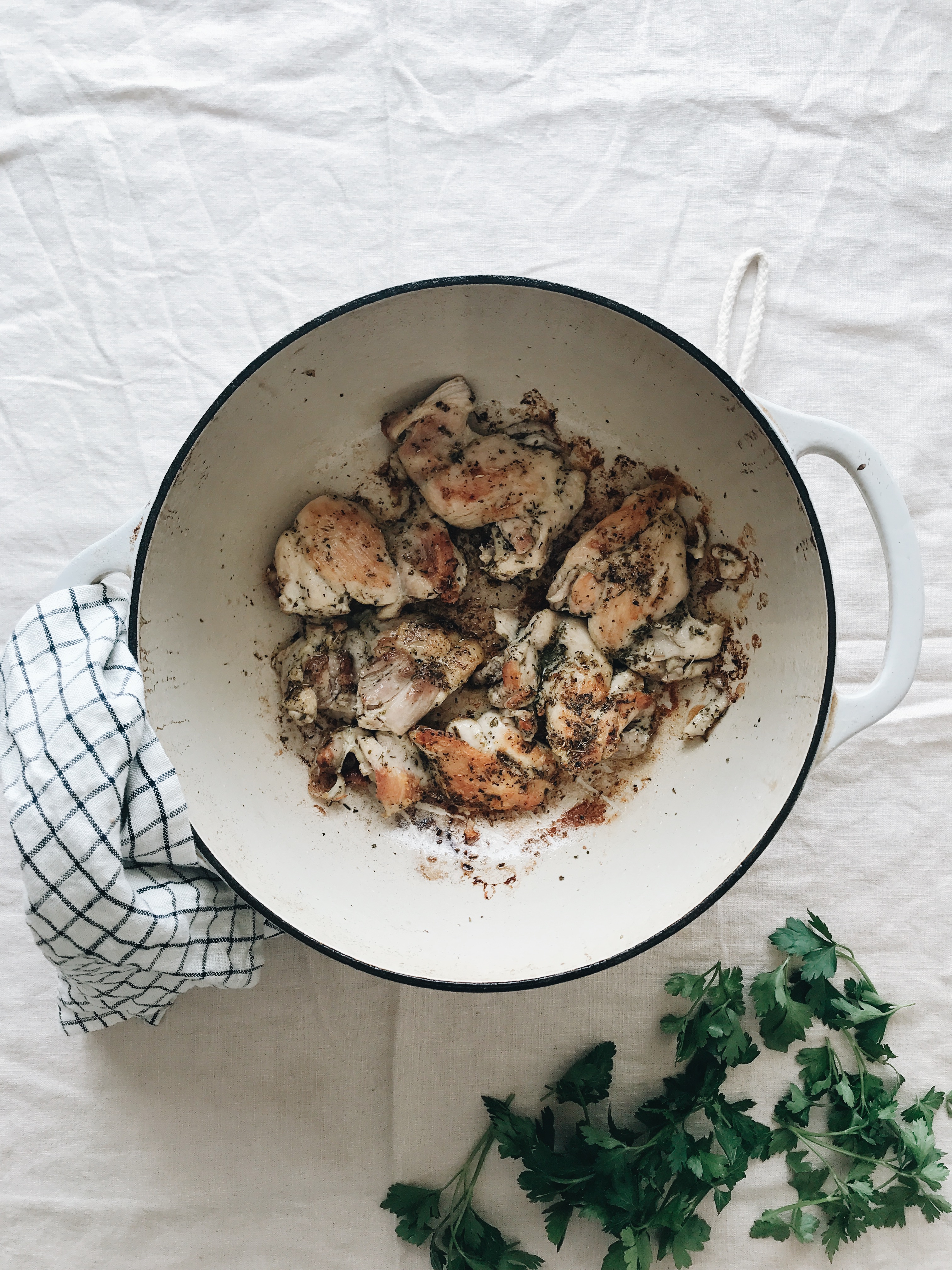 Braising chicken is a rustic, two-step jam in which you sear, then you simmer. Dust that dried Italian seasoning all over the thighs, then sear 'em up in a deep pot.
Then you can either add a tiny bit of wine to the pot and let it bubble up and burn off for about 30 seconds, or skip this step and jump to the rest. If you do skip to the rest, do me a favor and put that wine in your face.
Good girl.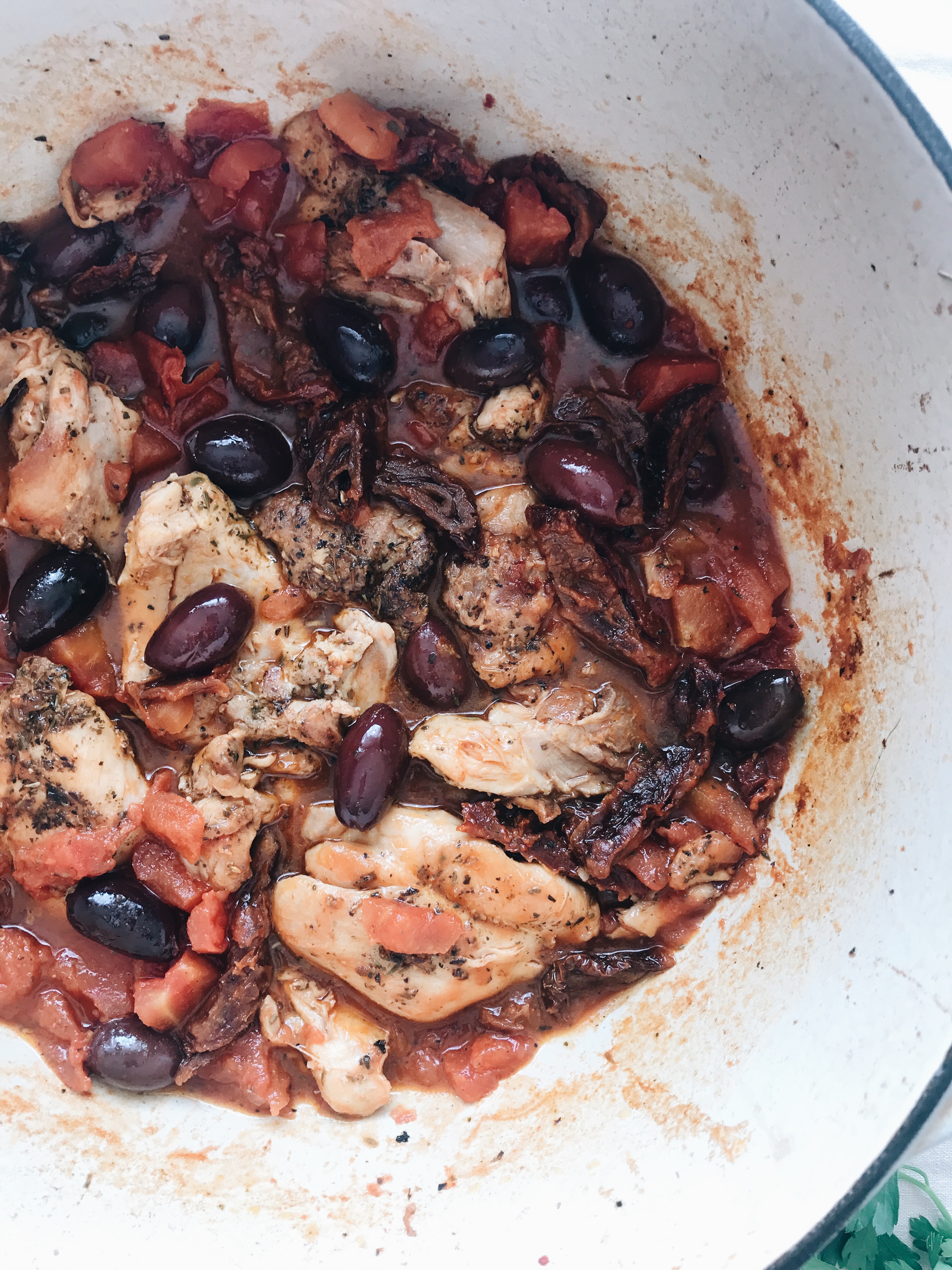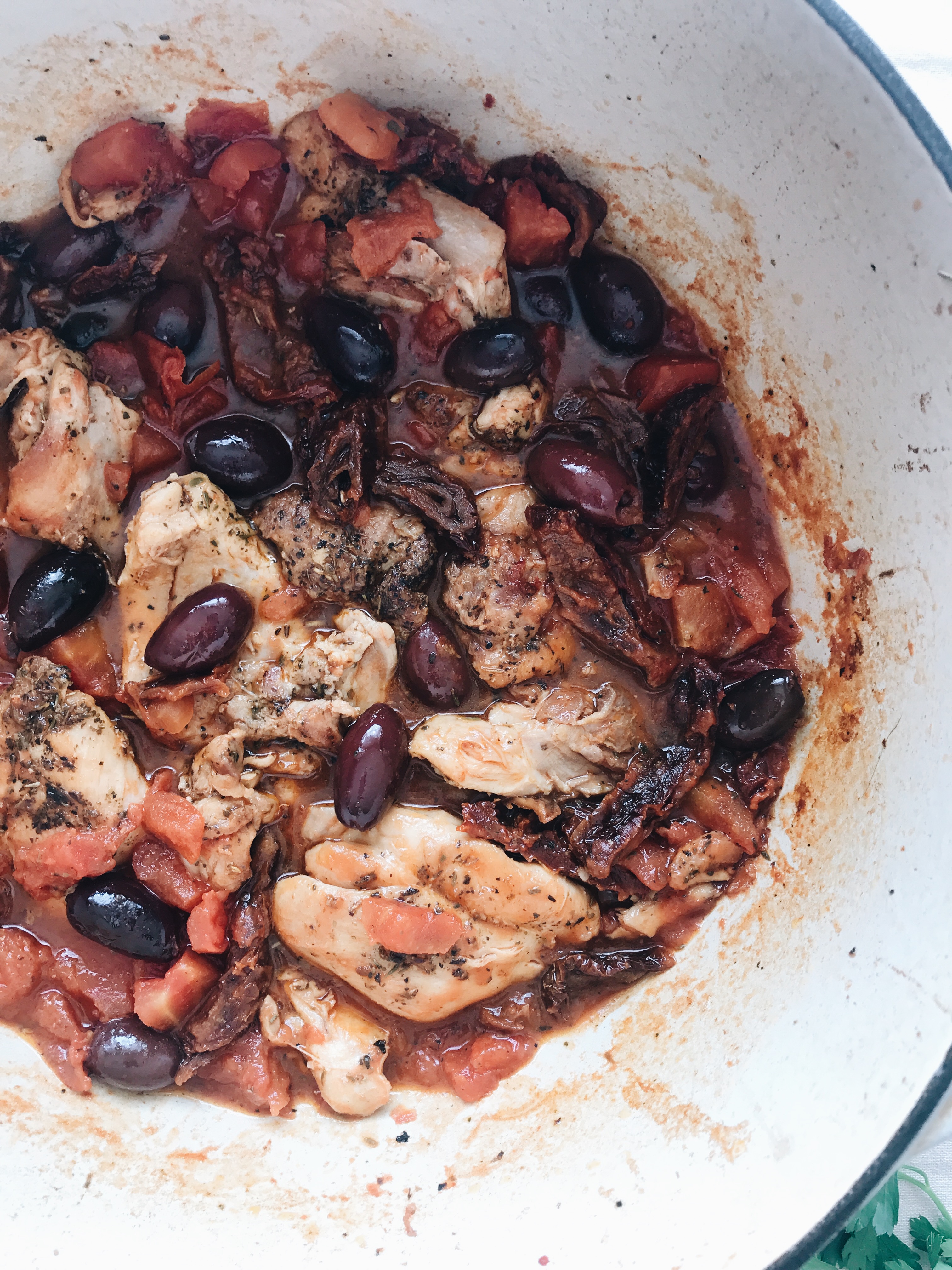 Add the fire-roasted tomatoes (with their juices!), the olives and sun-dried tomatoes. Keep the heat around medium, give it a decent pinch of salt and let it braise and bubble for about 15 minutes, letting the sauce reduce a little bit. If you feel like it's TOO reduced, just ladle about 1/4th cup of pasta water into it. It'll give it more liquid to reduce down. And give you more happiness.
Remember the whole willy nilly thing I said? Right. Just eyeball it. Does it look like a glorious putt-fest? (<—why.)
*Also, add capers if you're feeling it! I left them out because I didn't have any. And frankly I forgot. Are we okay?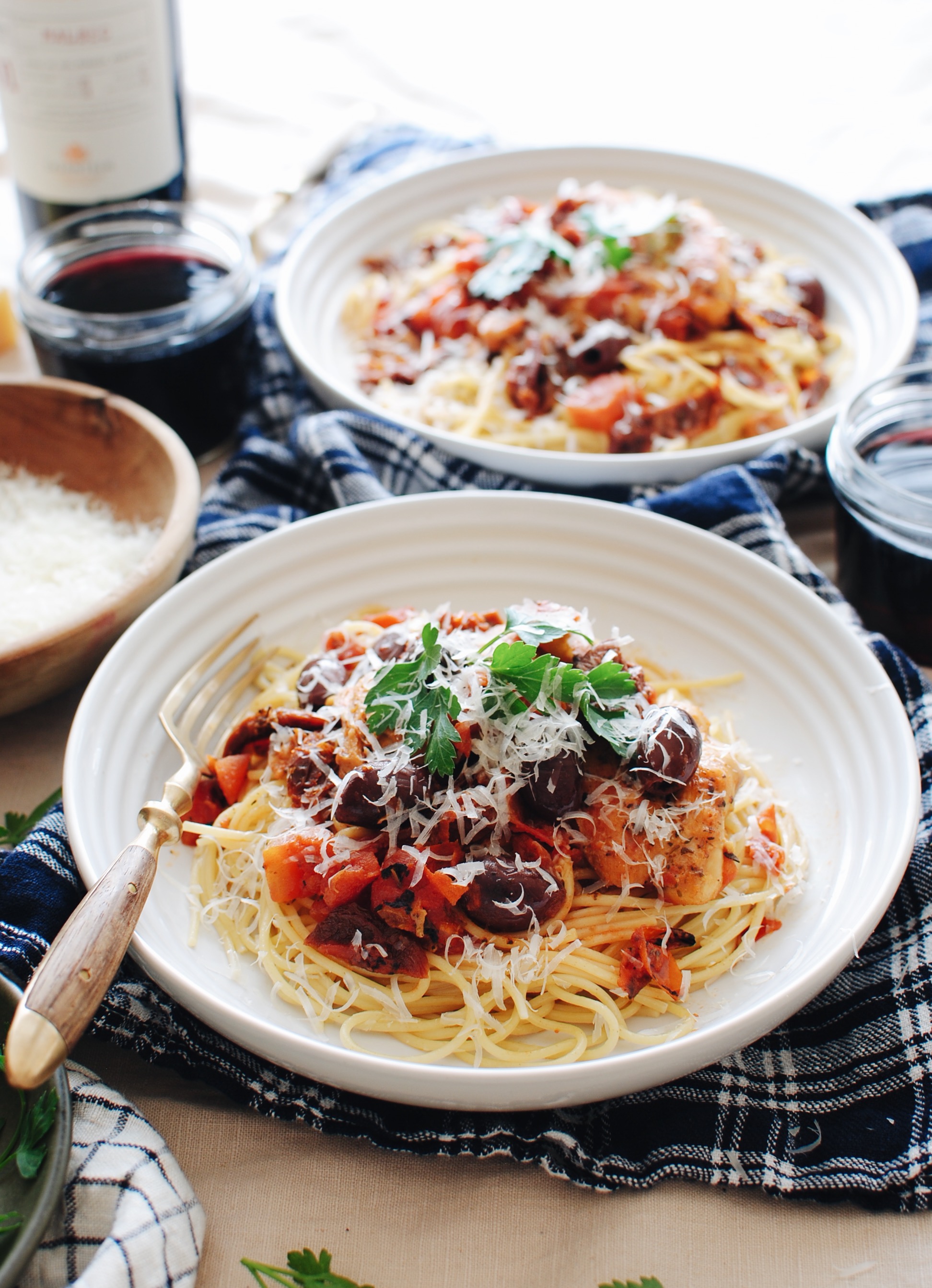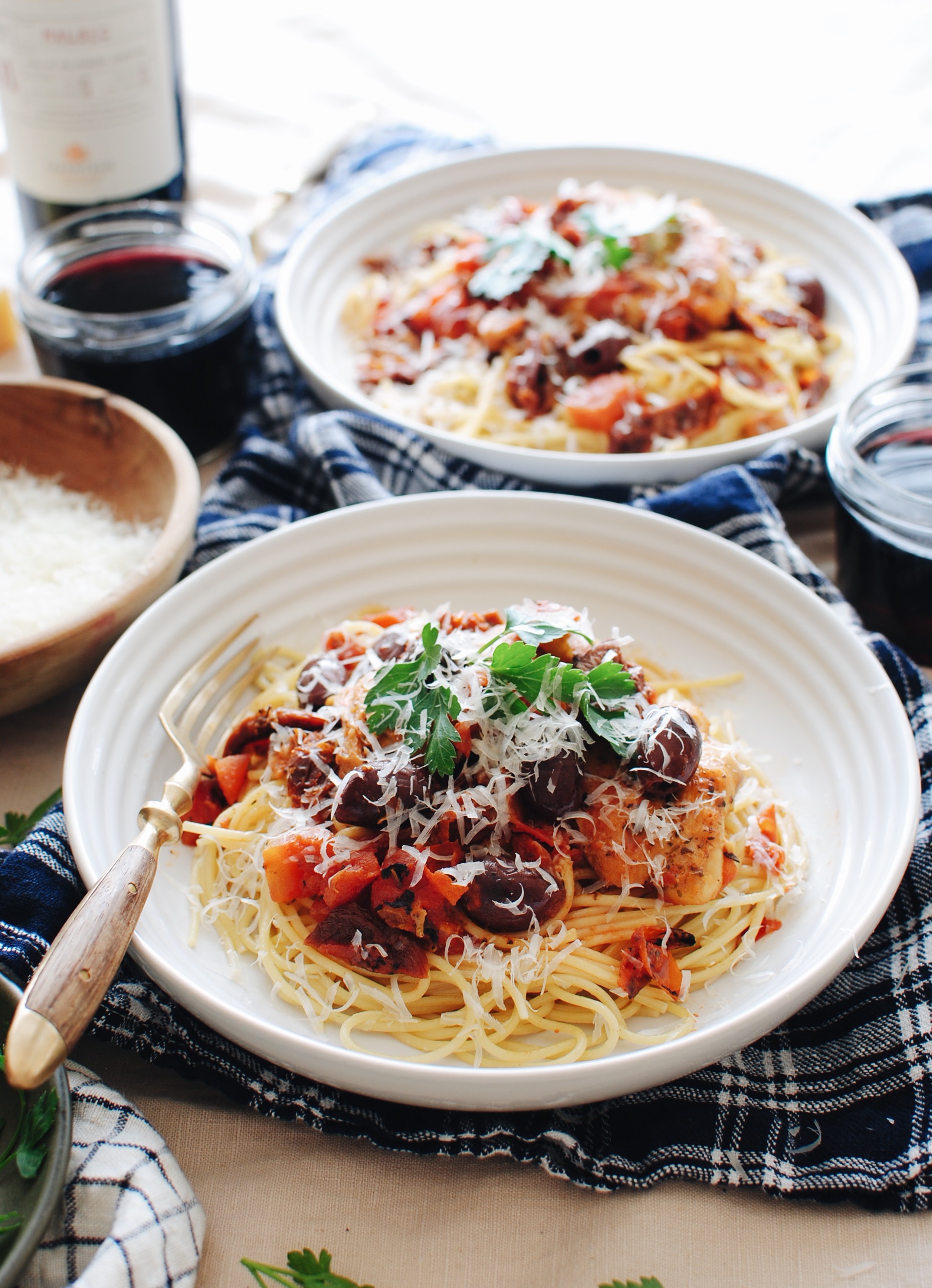 And your job is done. Start dancing.
You can serve this two ways. 1) Add the al-dente spaghetti straight to the chicken pot and swirl it all together. (I would have personally done that, but Aaron would hand me divorce papers if I dared.)
Or just nestle the cooked pasta in a wide dinner bowl, and spoon the chicken puttanesca party right on top! Of course you'll garnish with loads of fresh parsley and parmesan, in order to stay right in this world.
The flavors? DEPTH. You know me and depth. The salty, briney action of the olives and tomatoes are pure magic. The chicken thighs, seared and lightly shredded all in the zingy acidity of the sauce is going to have you punching something.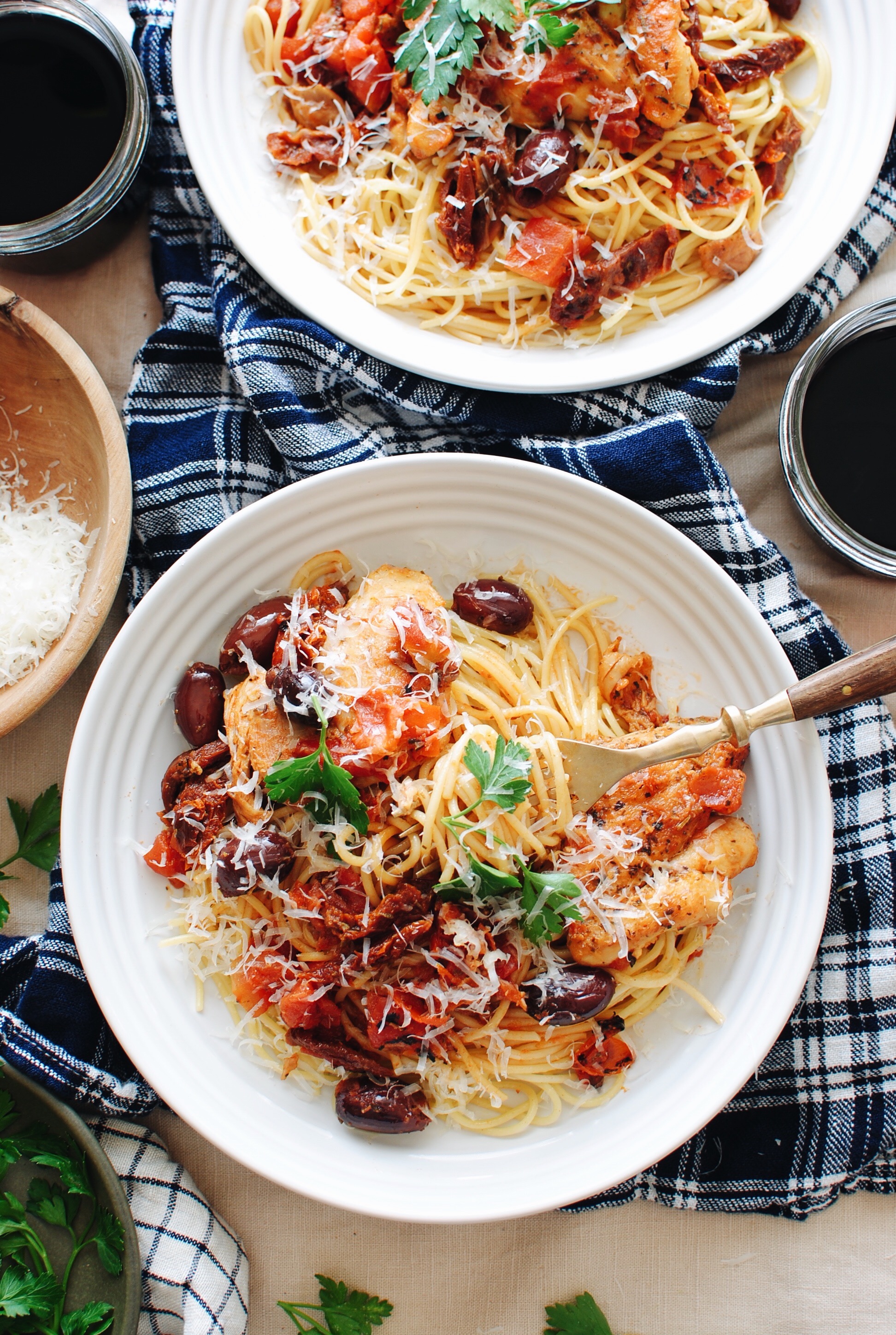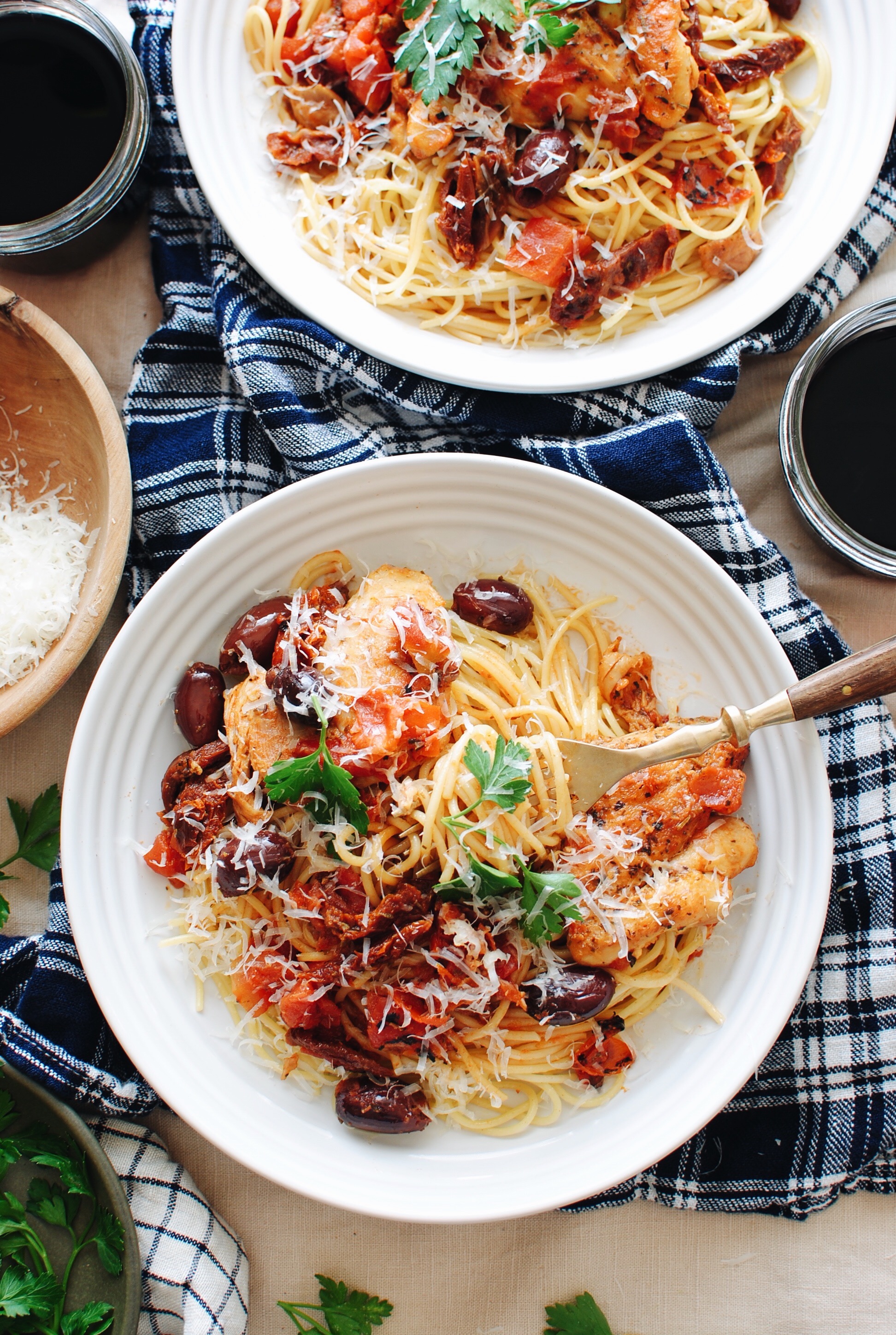 But maybe don't punch me.
Rustic Chicken Puttanesca Spaghetti
Ingredients
22 oz chicken thighs, trimmed of excess fat
2 Tbs. dried Italian seasoning
2 Tbs. extra-virgin olive oil
1/4 cup dry white wine (optional!)
1 (15 oz) can fire-roasted tomatoes
About a cup of kalamata olives
About a cup of sun-dried tomatoes, sliced into chunks
12 oz thin spaghetti
Freshly chopped parsley, for garnish
Parmesan, for garnish
Salt and pepper, to taste
Instructions
Bring a large pot of salted water to a boil. Cook the spaghetti until it reaches al dente.
In the meantime, heat the oil over a medium-high heat in a deep pot. Dust the chicken with the dried Italian seasoning and a pinch of salt, then sear the chicken on both sides until nice and browned. About five minutes per side.
If you're using the wine, add it now and let it bubble and burn off, about 30 seconds. Add the fire-roasted tomatoes, olives and sun-dried tomatoes, along with another pinch of salt and pepper. Let reduce, bubble and braise for about 15 minutes, while the pasta cooks. If you need to add any pasta water to thin the sauce, go ahead! Taste the rustic, chunky tomato sauce one more time, and add another pinch of salt, if needed. Just make it to where you start weeping.
Either add the spaghetti and swirl it all together in the pot, or serve mounds of puttanesca over spaghetti nests in dinner bowls. Give the chicken a light shred, and garnish with all the parsley and parmesan. Commence more weeping.
Serves 4!
7.8.1.2
141
https://bevcooks.com/2018/03/rustic-chicken-puttanesca-spaghetti/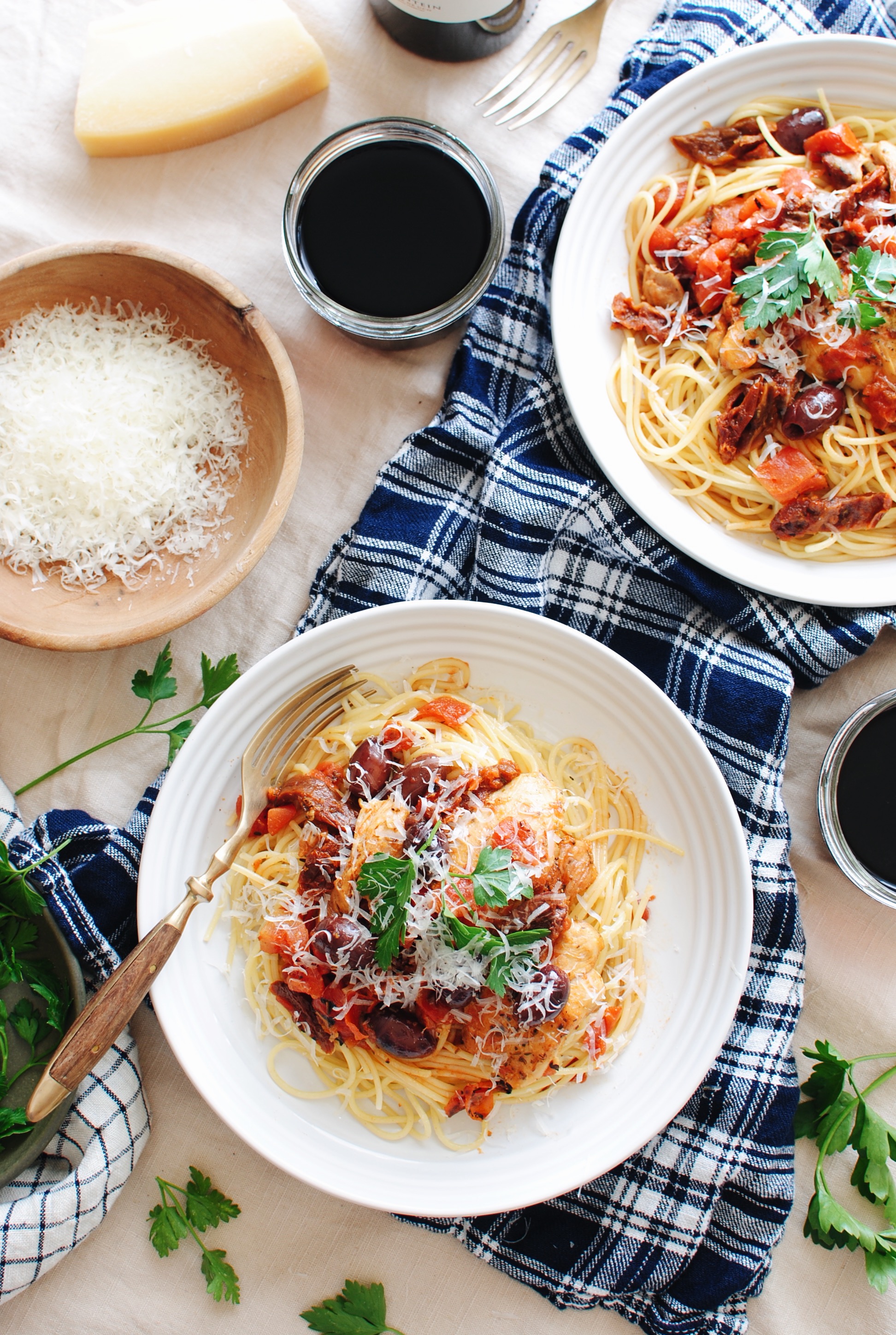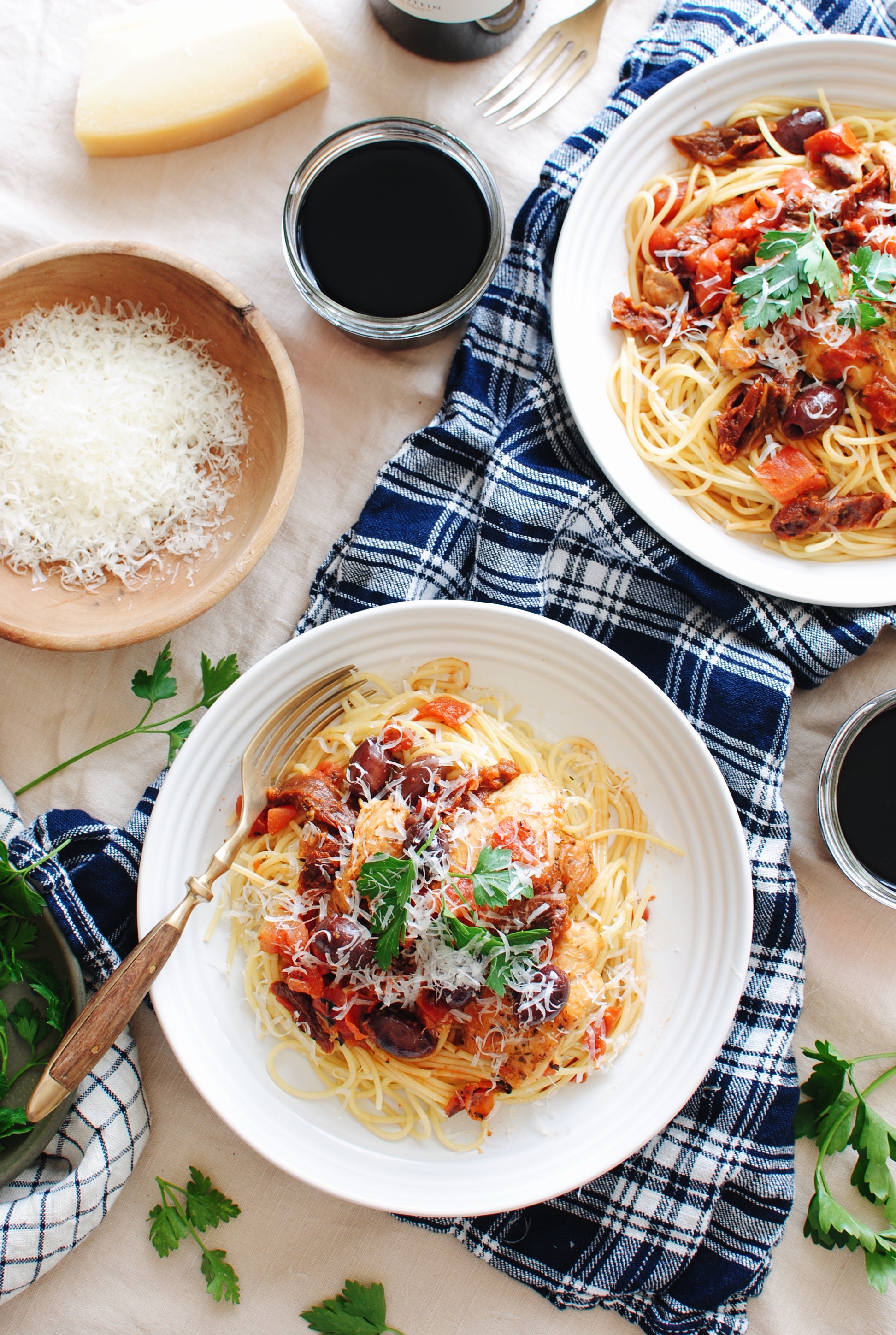 Putt puuuuuuutt. (<—ugh.)