Am I the only one who desperately wants to pet those little chickpeas and call them Frank?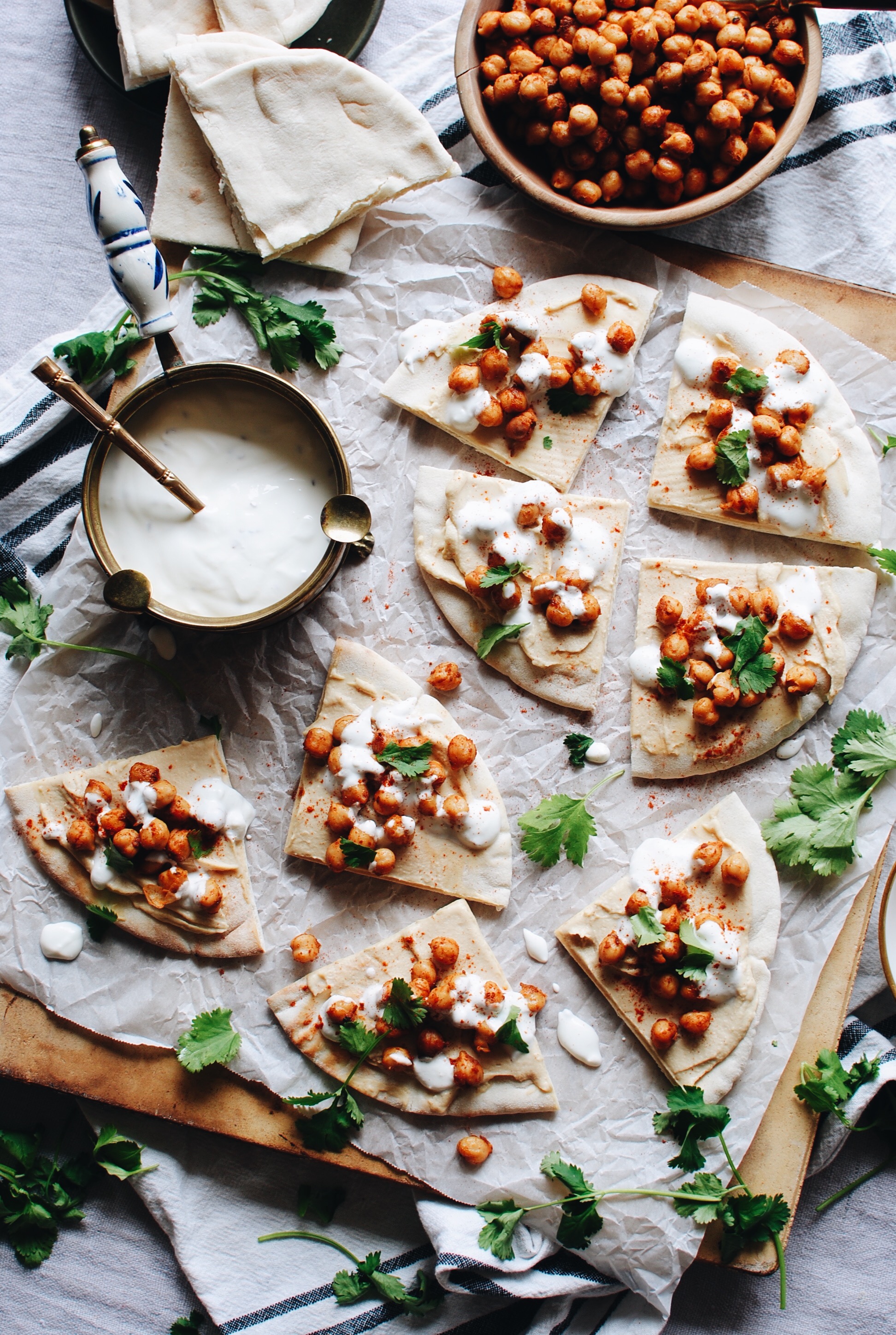 This appetizer! First of all, I can't take credit for it. It's not mine. But I did inhale 5/8ths of it in 12 minutes flat. Does that count?
My sweetie pie/travel partner gal friend Sonja of A Couple Cooks just released her brand new cookbook (with her huzbie Alex), Pretty Simple Cooking! ALL VEGETARIAN recipes, you guys. Because you know if I can't give it to you, they will. And they do it reaaaally well.
Like this appetizer!
Let's talk.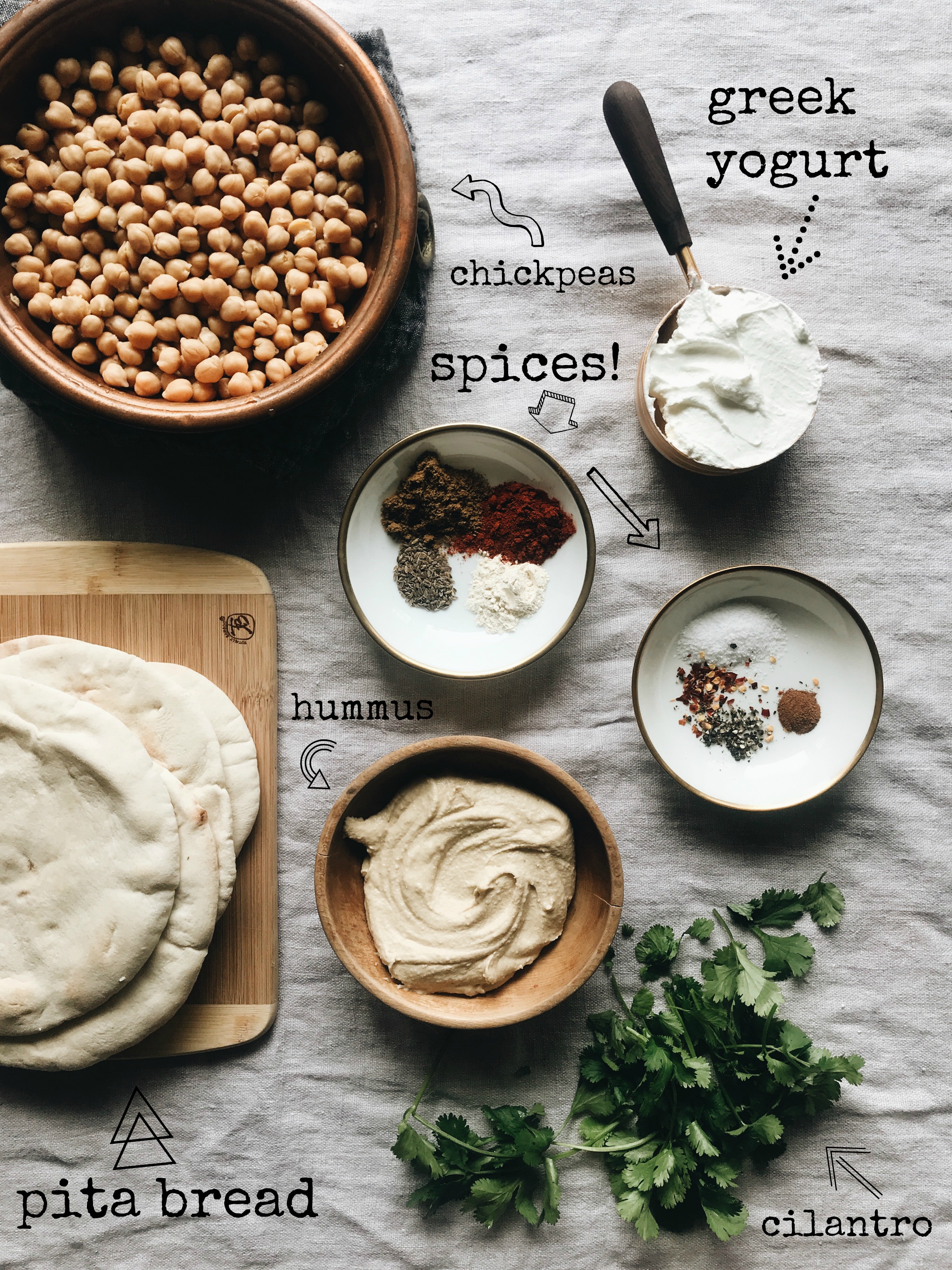 I'm always drawn to appetizers that are warm, but have texture and depth. You know me and the depths. We're like THIS. (I'm twisting my fingers together right now.)
This recipe (like all of the ones in their book) is super approachable, simple, and  – well, PRETTY.
"I feel prettyyyy, oh so prettyyyy, so pretty and witty and briiiiiiiiight." (<–name that movie.)
So you'll just mix together an array of spices – some will go in the yogurt drizzle, and the others will go on the sautéed chickpeas.
Easy peasy.
I mean chickpeasy.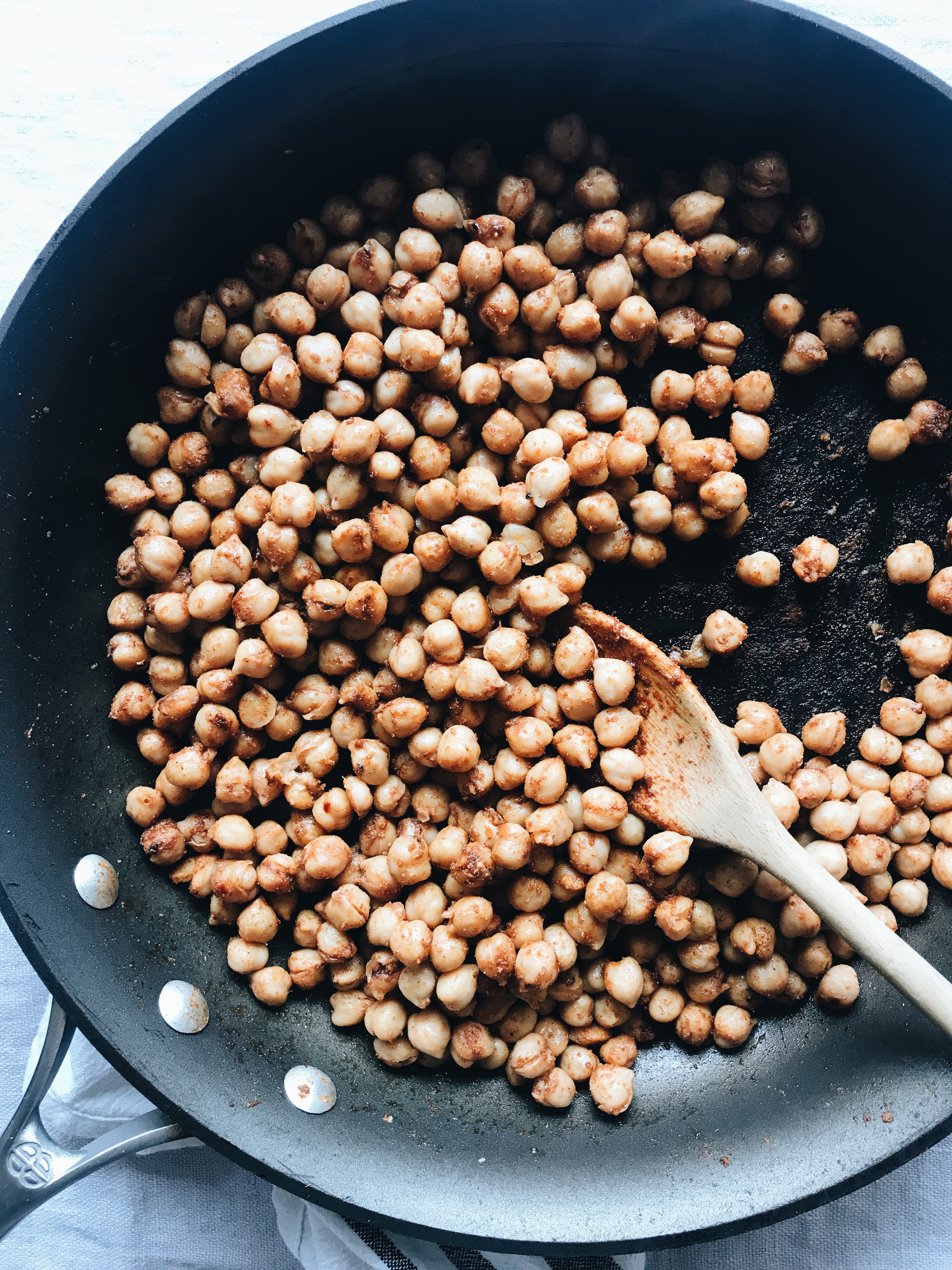 Just a quick swirl in the pan with some oil and spices and they will OPEN UP with flavor. You'll weep for an hour, I swear it.
I toasted my pita bread, just for extra warmth and slight crispiness, then spread some hummus over each triangle. Then you'll basically spoon little baby mounds of chickpea glory over each hummus blanket, then drizzle the yogurt nectar over each chickpea mound. Little bit of cilantro, little bit of paprika, and you're set!
Are you petting them yet because my hands were out of CONTROL at this point.
Insanely simple to pull together for a party, but also a preeeetty pimp accompaniment to my Greek night meal, if you feel like being awesome.
Brilliant work, Sonja and Alex! (and baby Larson, because I'm sure he slobberly helped on occasion.)
And for all of you, keep an eye out later this morning for a Pretty Simple Cooking giveaway on my Instagram page! Or just buy it here, because it's seriously a beautiful piece of vegetarian work. And the illustrations heading each chapter make me so weepy. They're gorgeous!
Go get it.
Or enter the giveaway.
Goodbyeforever.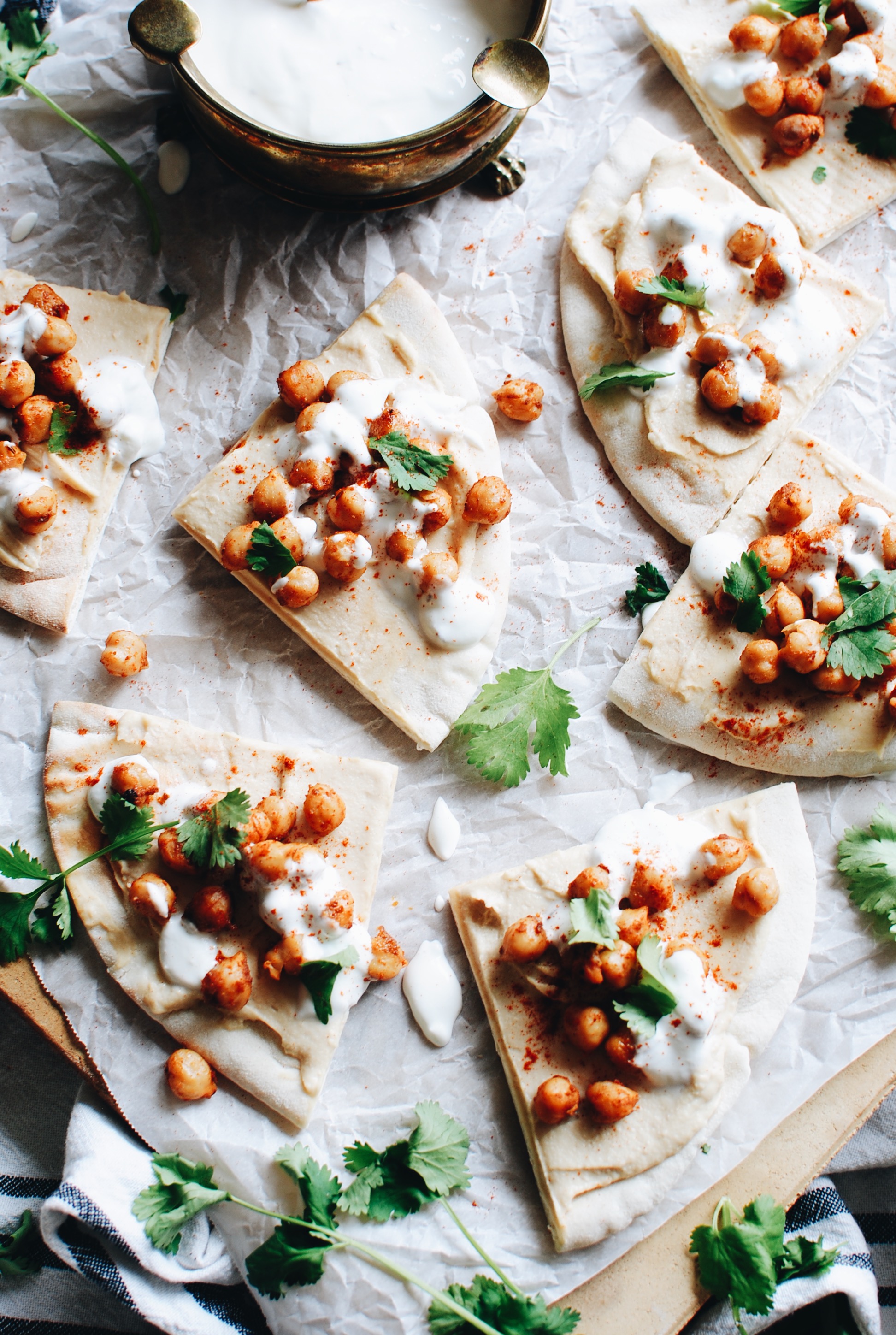 *Burp*
Chickpea Shawarma Flatbread
Ingredients
1 (7 oz) cup greek yogurt
1/2 tsp dried dill
1 1/4 tsp garlic powder, divided
1 tsp other salt, divided
2 (15-oz) cans chickpeas, drained and rinsed
1 tsp cumin
1 tsp paprika, plus more for garnish
1/8 tsp cinnamon
1/8 tsp red pepper flakes
1 tsp freshly ground pepper
2 Tbs. extra-virgin olive oil
4 naan or pita breads
1 cup hummus (I used store-bought)
Cilantro, for garnish
Instructions
Start by making your yogurt sauce. In a small bowl, mix together the Greek yogurt, dill, 1/4 tsp garlic powder, 1/4 tsp salt, and 3-4 Tbs. water until you get a thin sauce.
Dry the chickpeas as much as you can. Then in a small bowl, mix together 1 tsp garlic powder, cumin, paprika, cinnamon, red pepper flakes, black pepper, and 3/4 tsp of salt. Heat the oil in a large sauté pan, and add the chickpeas with the spices; let that sauté for 4-5 minutes, until warm and bursting with fragrance. It smells so good in your life right now.
Now, cut the pita bread into equal triangles. You can either toast the pita or not (I suggest toasting!), then just spread the hummus over each triangle, followed by a spoonful of chickpeas, a good drizzle of the yogurt sauce, a few cilantro leaves, and a tiny sprinkling of paprika for garnish. You're done! You may now weep.
Serves 4!
(Recipe by Pretty Simple Cooking)
7.8.1.2
139
https://bevcooks.com/2018/02/chickpea-shawarma-flatbread/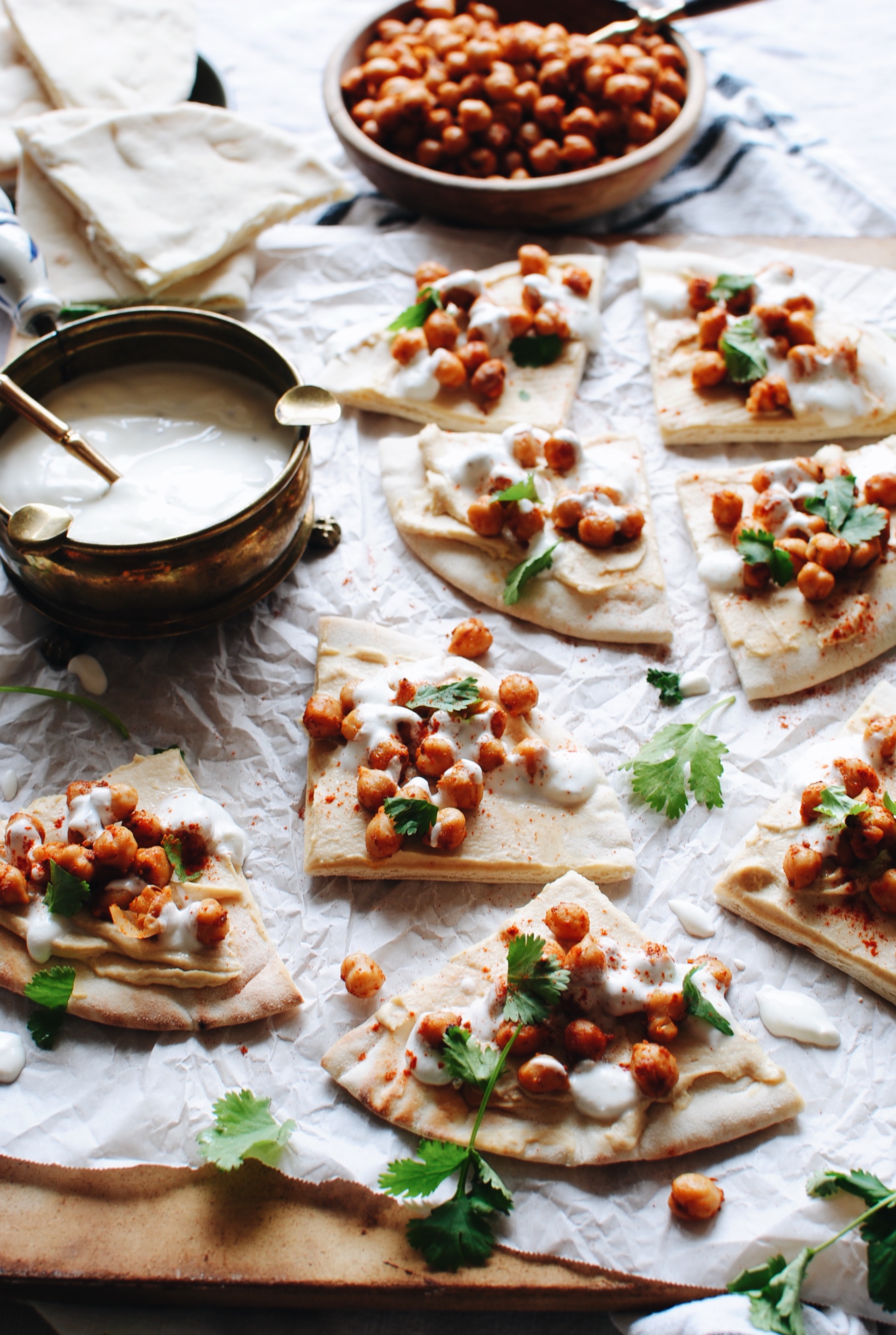 You're petting them now, aren't you? I knew it. I KNEW IT.