I put blue cheese first in the title because BLUE CHEESE.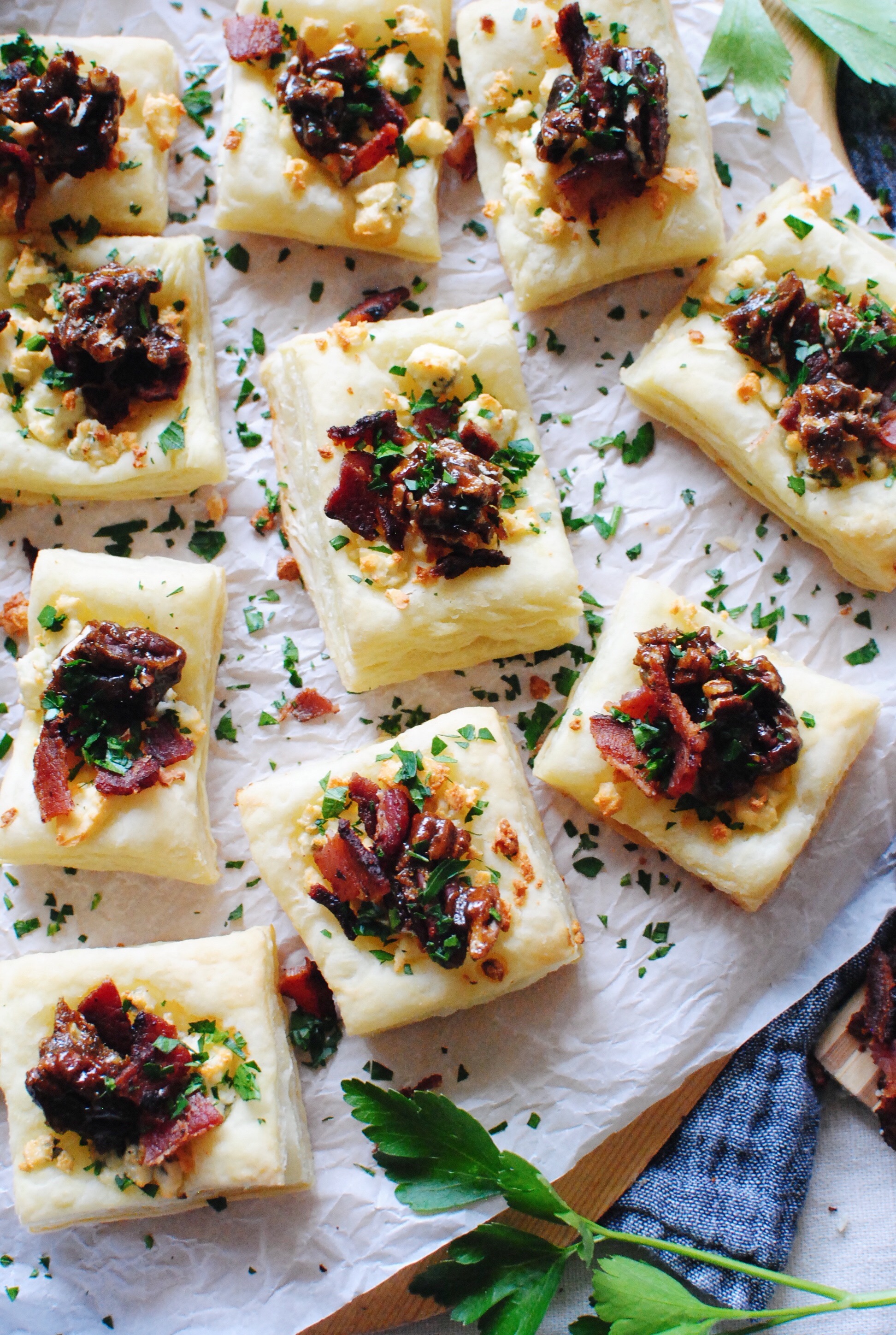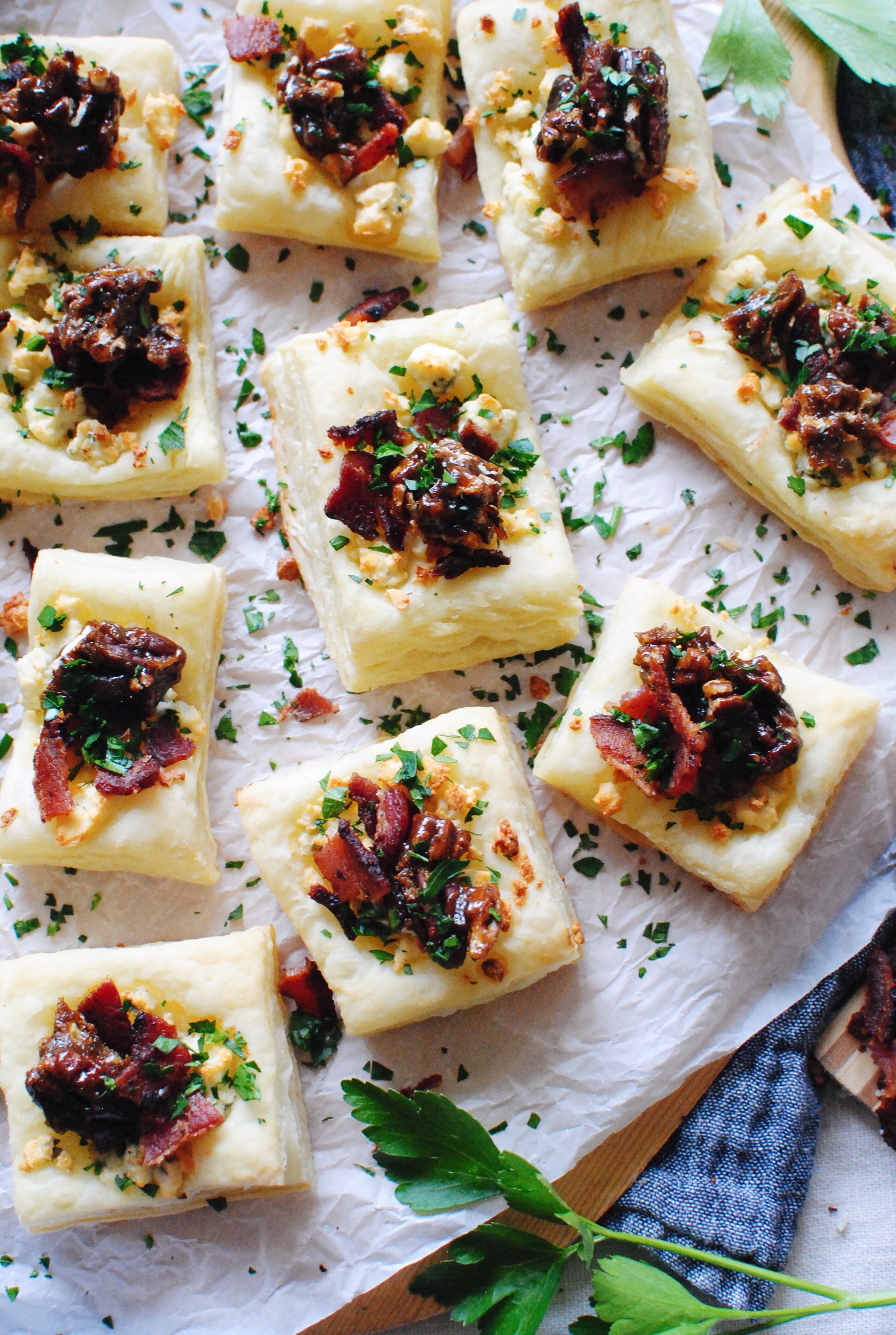 Okay, let's talk about New Year's Eve, please.
What do you do?! Venture out? Hermit in? Invite your best pals over to play Pictionary? ("Draw something resembling ANYTHING." <–name that movie.)
Stay up past midnight? Go to bed at 8pm like normal?
GUYS, I'm joking.
. . . 8:15.
No matter how you choose to live your life (I go to bed), this gloriously salty nibble wibble NA-HEEDS to make its way to your appie table (before you to bed at sundown like me).
Let's break it down.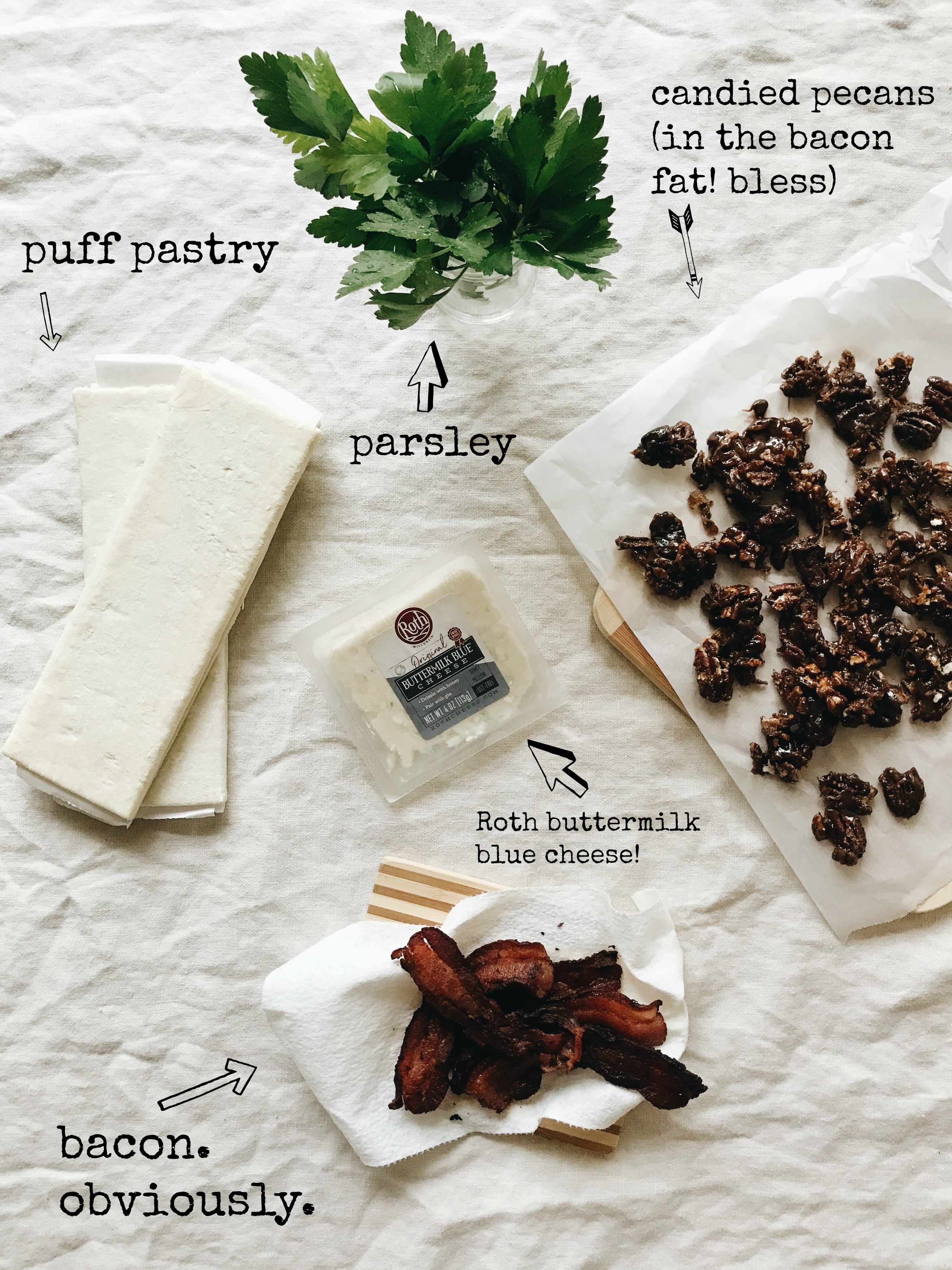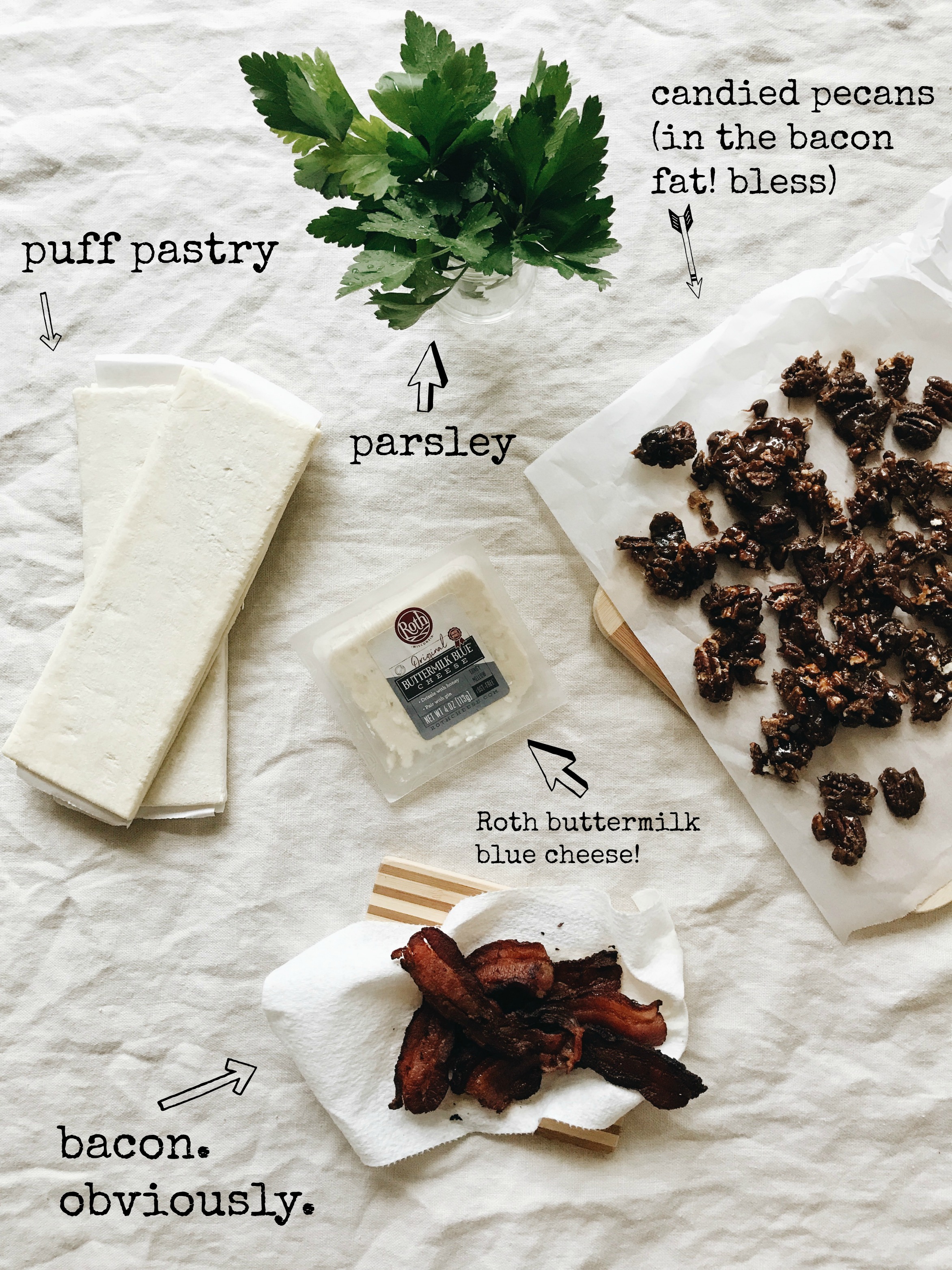 Simplest mess in the ever.
They're puff pastry bites with Roth's BUTTERMILK (!) Blue Cheese, crumbled bacon, and candied pecans. But like, you'll make the candied pecans. Because it's New Year's Eve and you deserve the best 2017 has to offer BEFORE IT'S TOO LATE.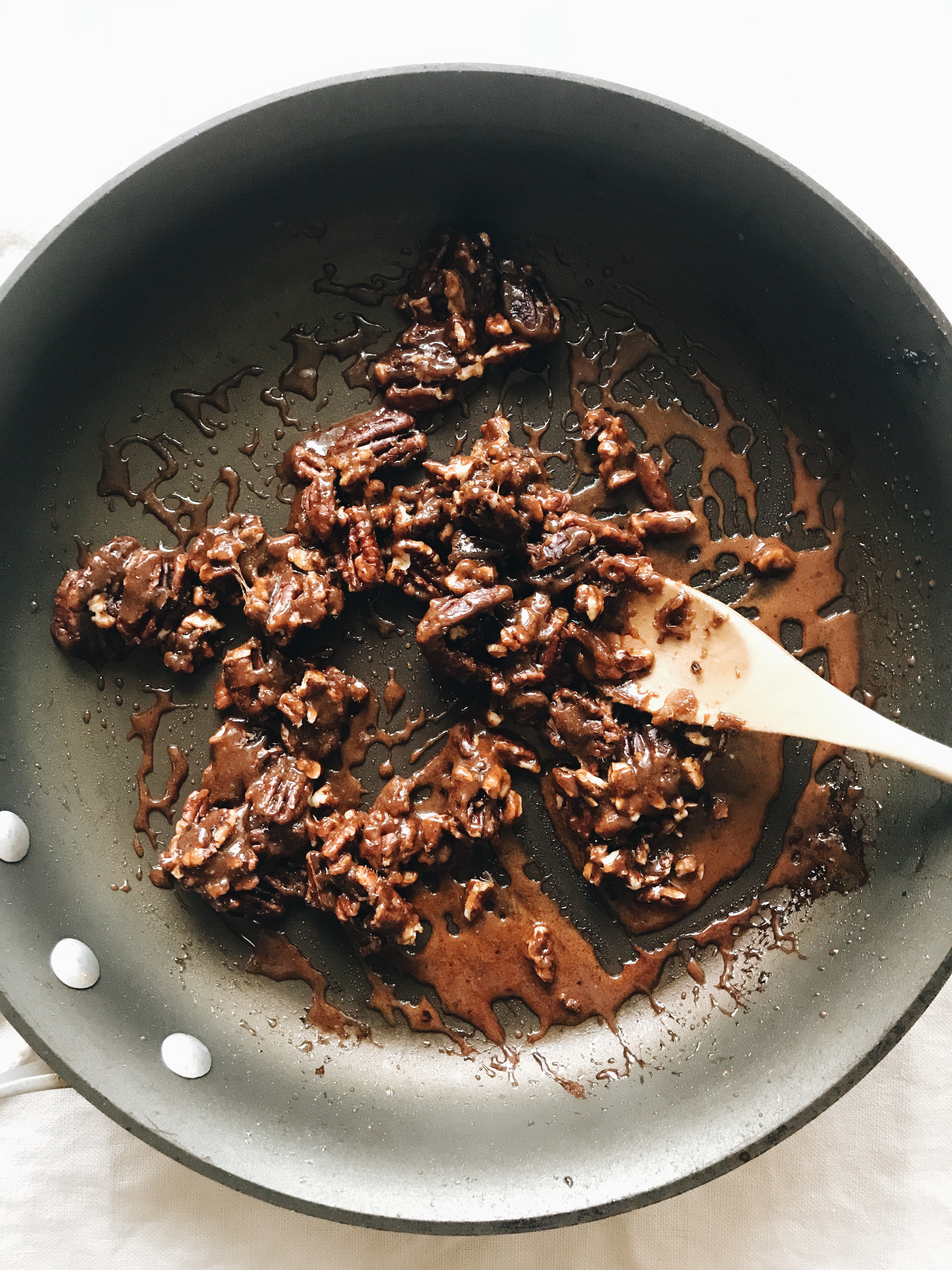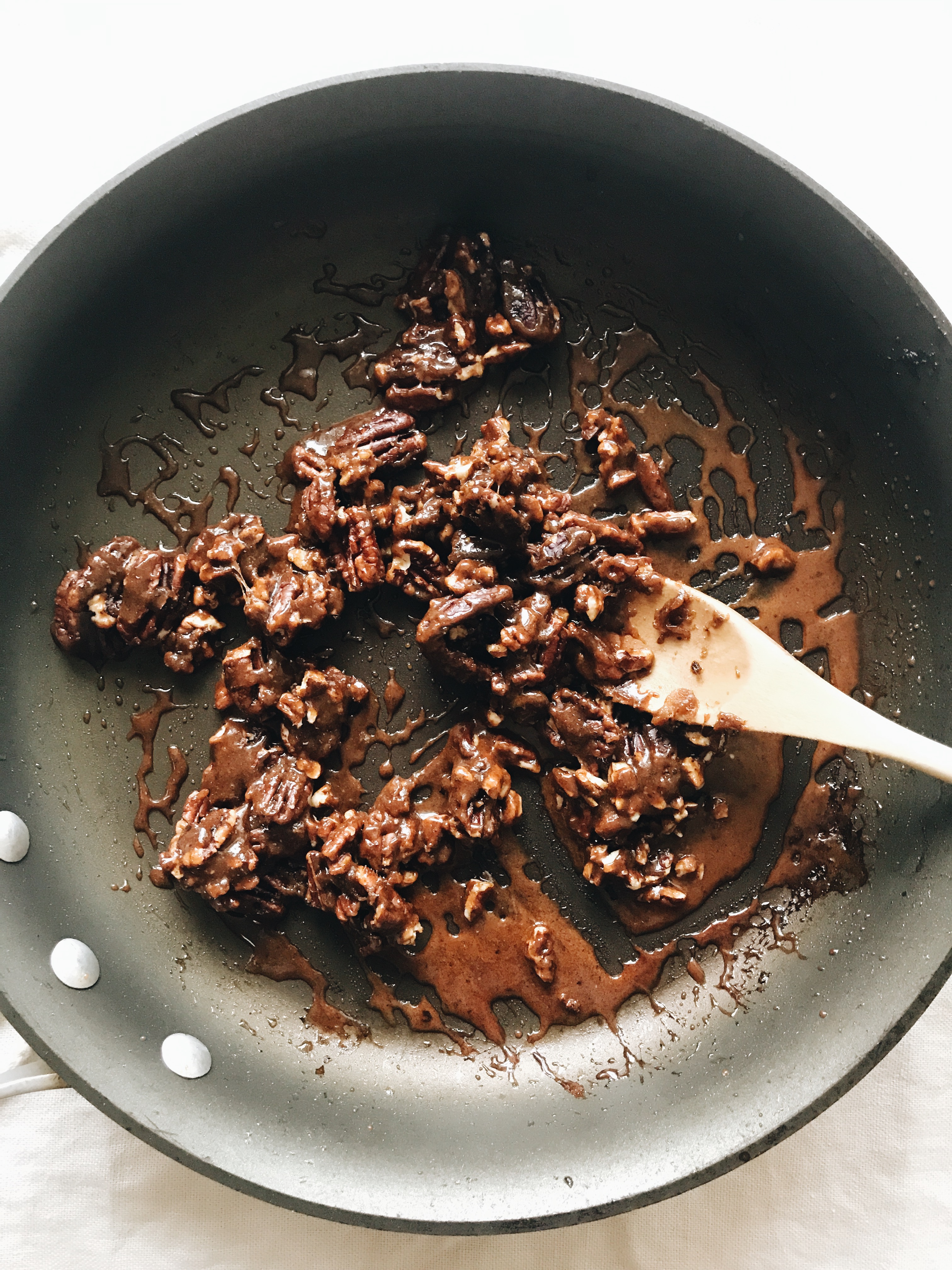 It's soososososooso easy, so don't curse my name just yet. The magic of these is that you've just made them in the reserved (not a ton, don't freak out) bacon fat! I poured off everything except what lightly coated the bottom of the pan. Then melt some brown sugar in it, along with a pinch of cinnamon and salt. Stir the pecans into the caramelized sugar and
o
m
gggggg.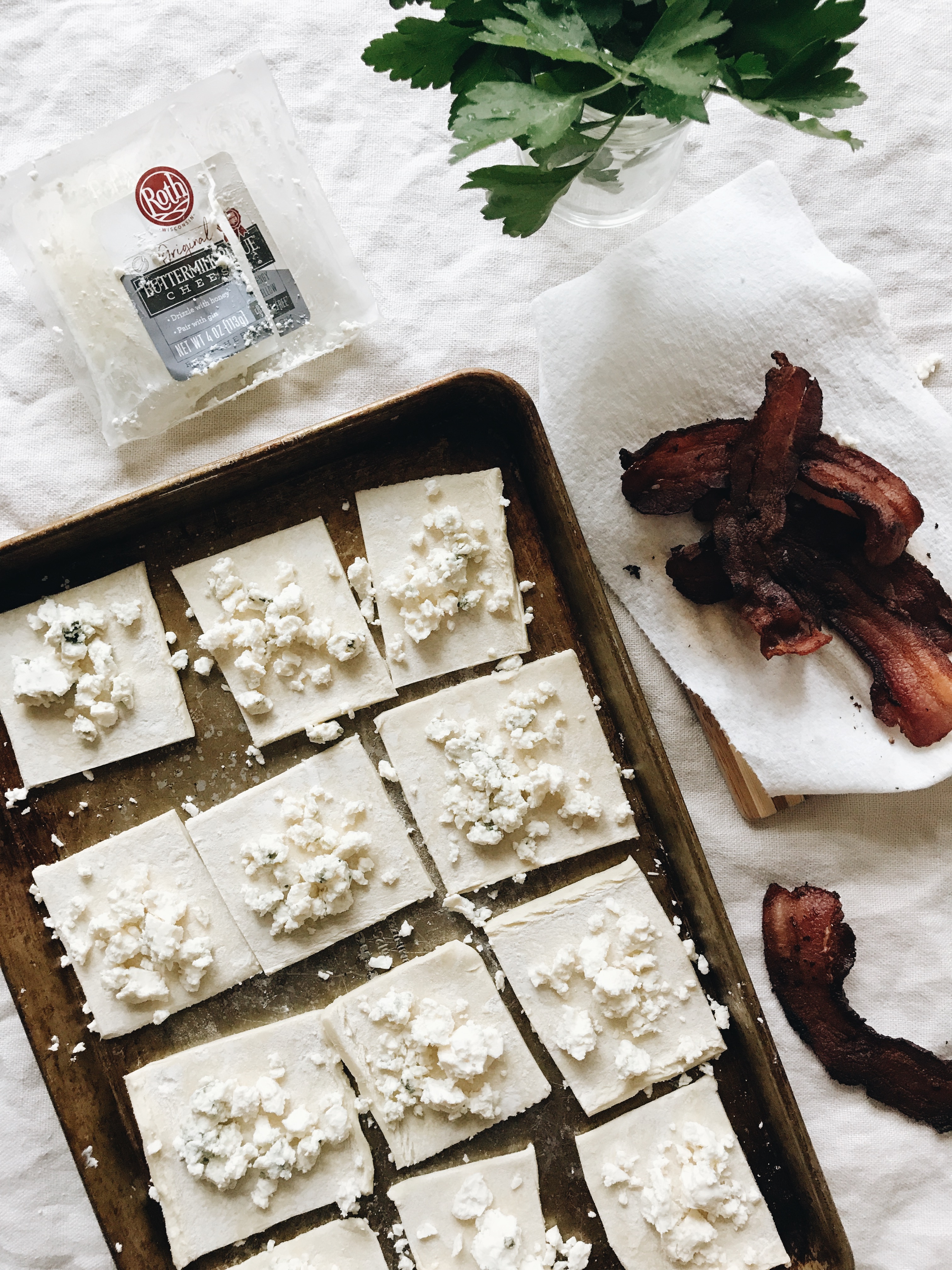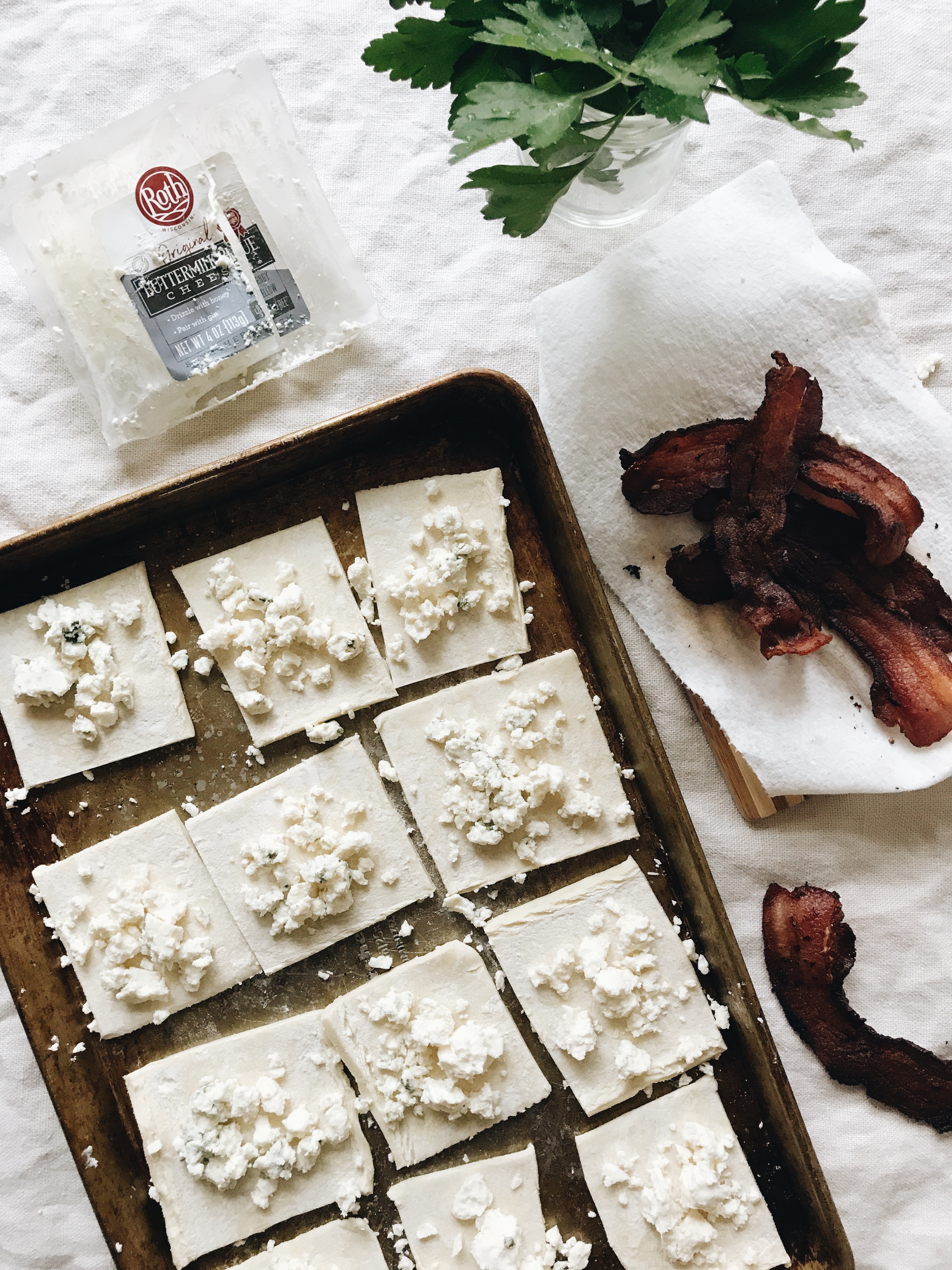 Then you'll arrange your nibbles! (<—are we okay?)
Also, let me just SAY – before you sprinkle on that Roth buttermilk blue cheese (which you guys, is SO creamy and mellow but still has that blue cheese pow you love so much, but sort of runs its fingers through your hair and calls you lover and you don't mind), you're more than welcome to brush on a little egg wash over the tops of the pastry. It'll give the finished product a more golden brown appeal, which is nice! I forgot because I was noshing on crumbled bacon and candied pecans, and the combination of those two flavors did unspeakable things to my noggin that should never be discussed among living human beings. Sorry.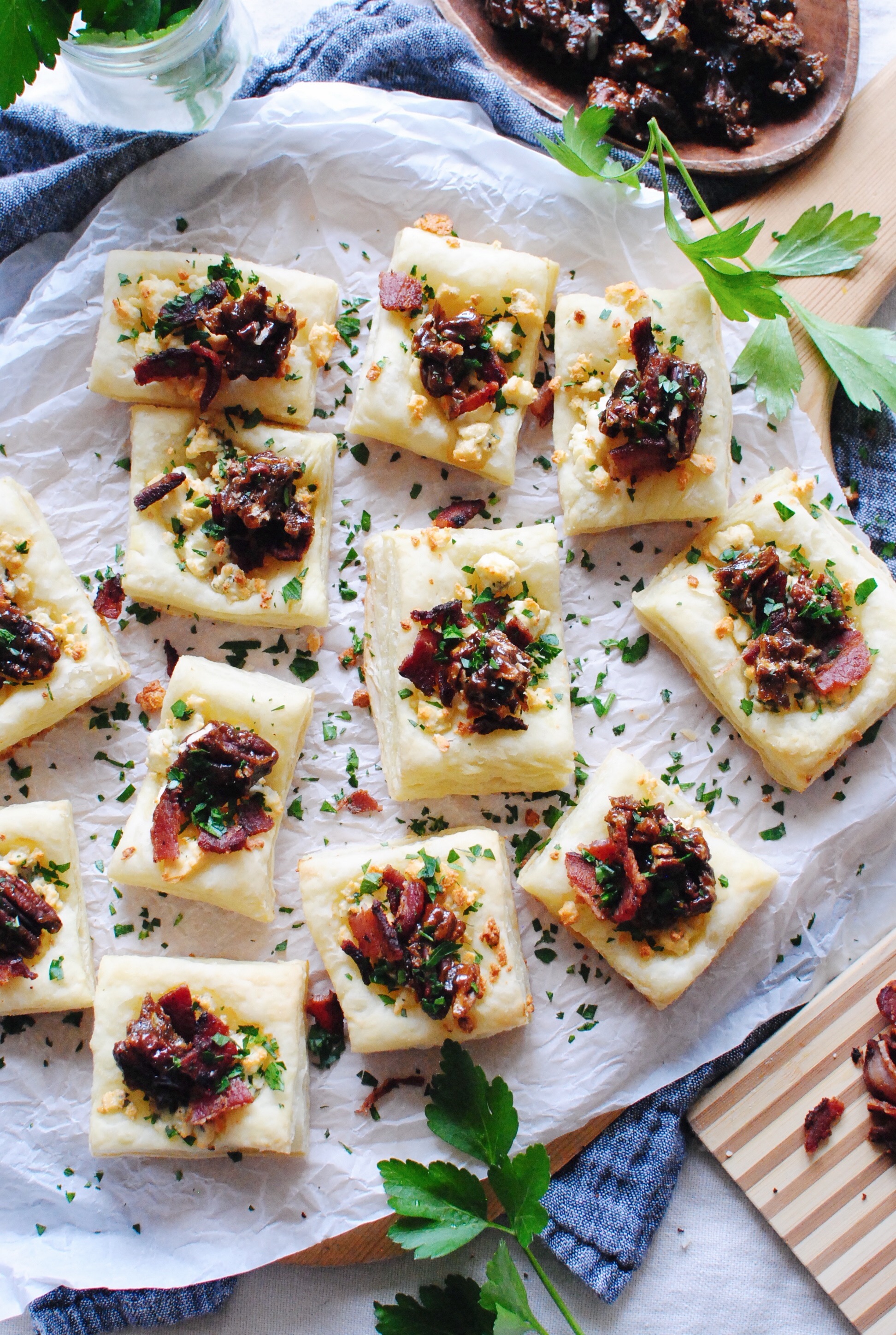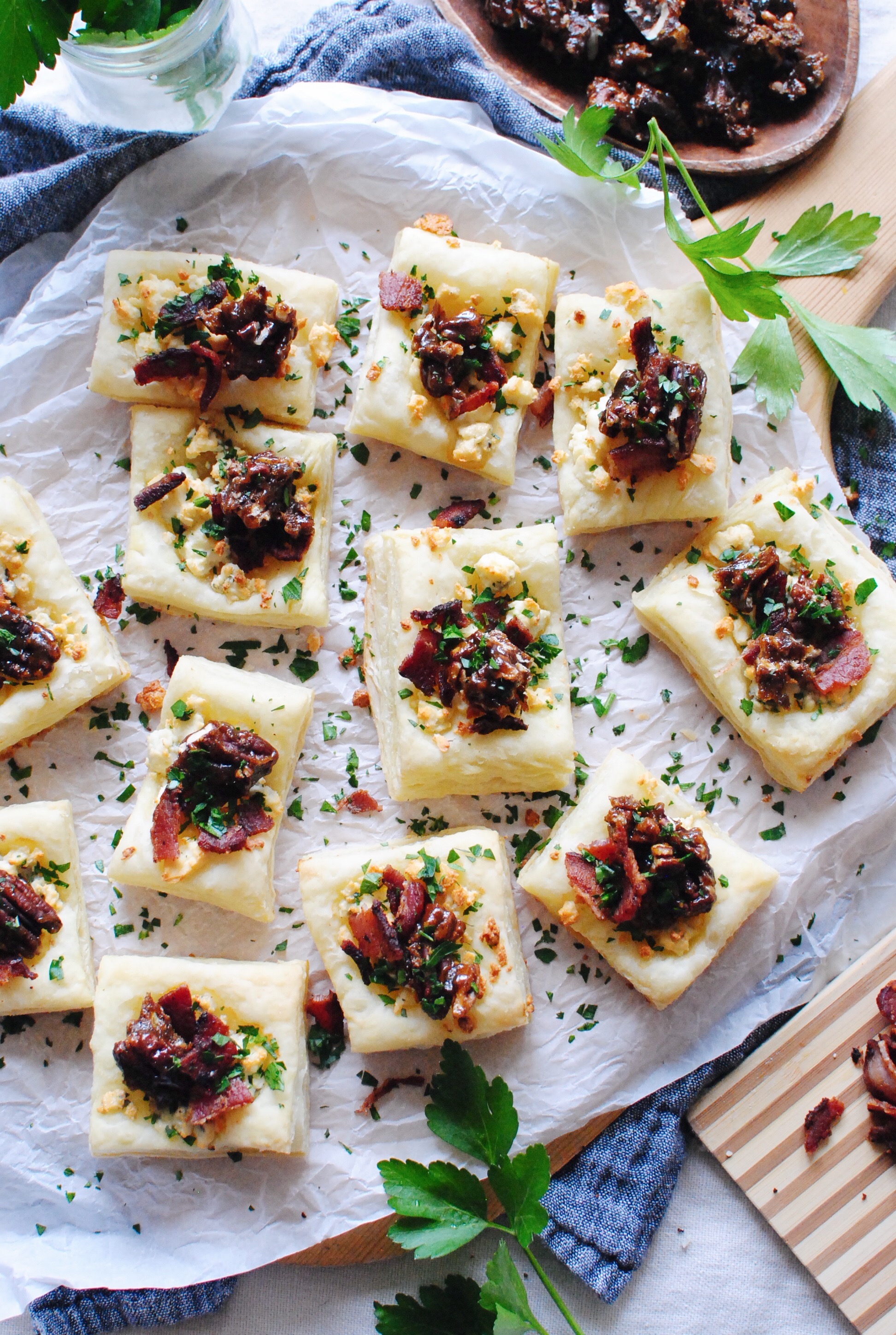 That is IT. Once the cheese is lusciously baked on each puffed-up pastry, you'll arrange each little square with crumbed bacon pieces and candied pecans. And parsley! Mince some parsley and scatter it with incredible force all over the pastry bites. (I keep wanting to type pasty bites. My mother does not approve of this.)
These are insane. Ludicrously easy to pull together. Salty, sweet, puffy, cheesy. A well balanced meal if you ask me.
I also go to bed at 8:15, so don't listen to a thing I say.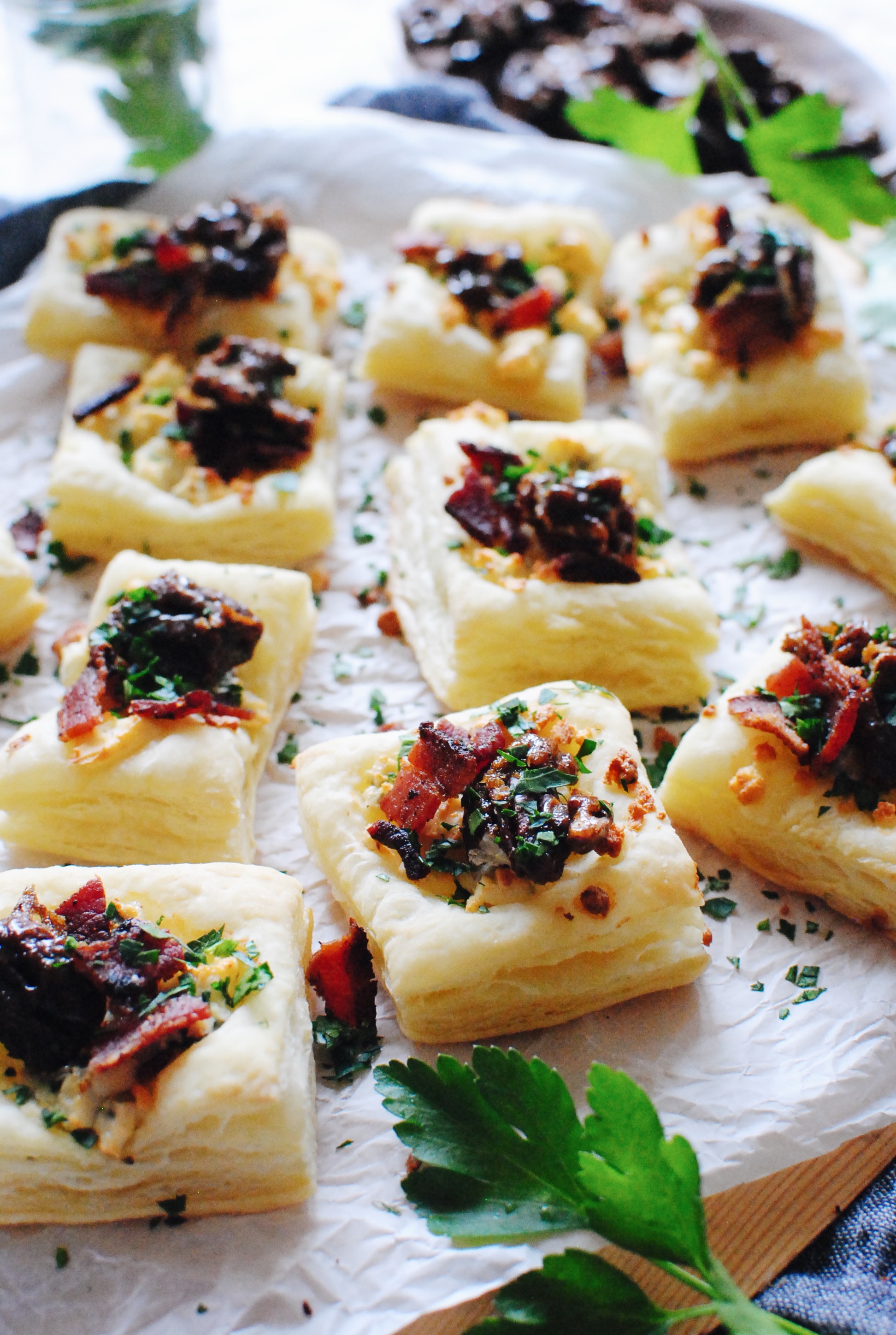 New Year's Cheese! I mean Eve.
Blue Cheese, Bacon and Candied Pecan Puff Pastry Bites
Ingredients
2 sheets puff pastry, thawed and cut into small squares
4 slices bacon, rendered and crumbled (reserve about a Tbs. bacon fat)
1 cup pecans
1/2 cup brown sugar
1 pinch cinnamon
1 pinch salt
4 (oz) package Roth Buttermilk Blue Cheese, crumbled
Minced parsley, for garnish
Instructions
Preheat the oven according to the puff pastry box directions. I think 425!
After you render the bacon, save about a Tbs. of bacon fat to make the candied pecans. (These are the good things in life.) To the bacon fat, add the brown sugar, cinnamon and salt; heat over medium, until the sugar dissolves and begins to bubble. Add the pecans and stir in the thick sugary goo until coated and lovely. Remove from the pan, place on parchment paper and let cool. Once cool, break into pieces.
Sprinkle the Roth Buttermilk Blue Cheese on each puff pastry square. Bake about 15 minutes, or until puffed up and the cheese is browning and slightly melted.
Garnish each square with crumbled bacon, candied pecans and minced parsley. Inhale them all before anyone sees you.
Makes about 25.
7.8.1.2
128
https://bevcooks.com/2017/12/blue-cheese-bacon-candied-pecan-puff-pastry-bites/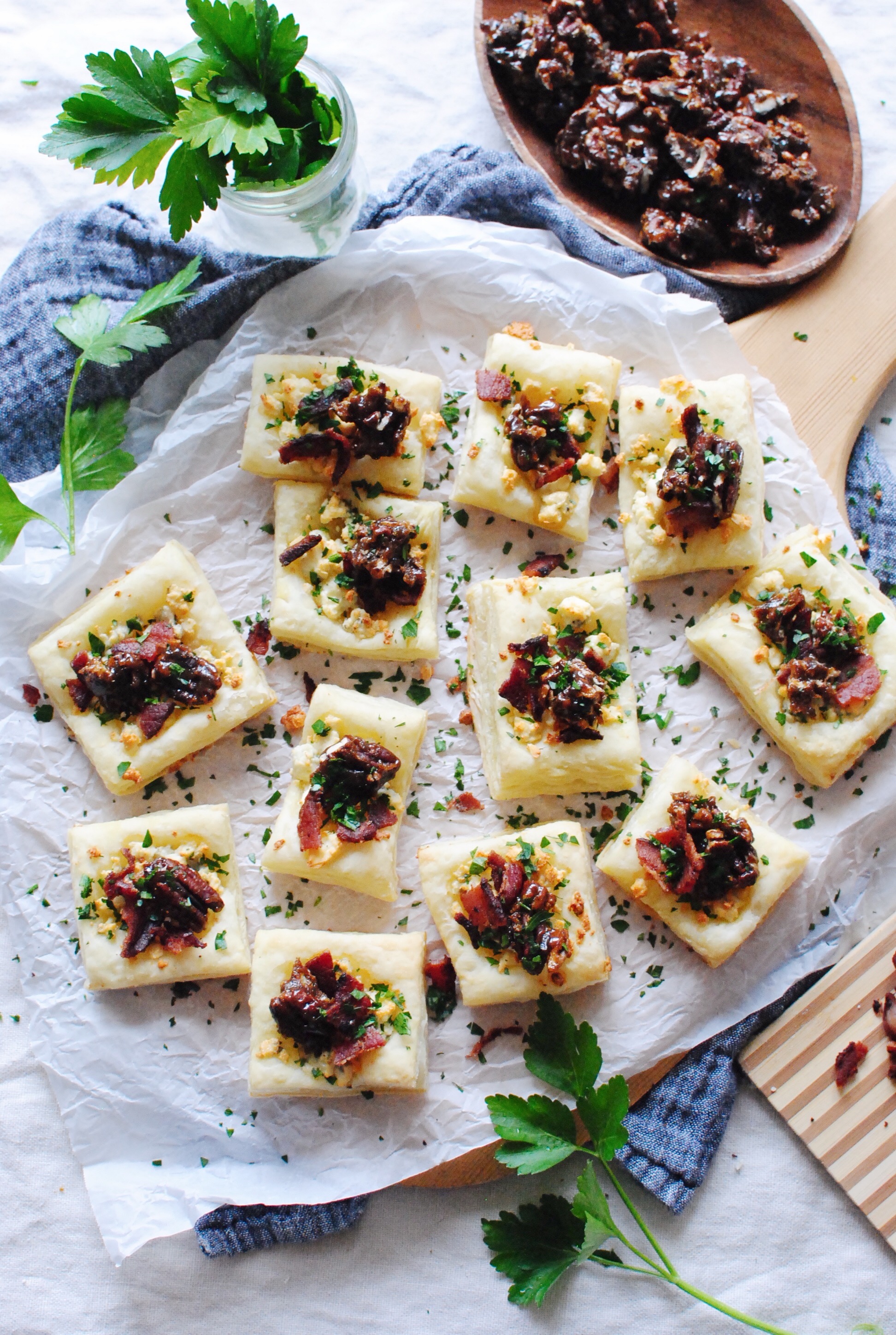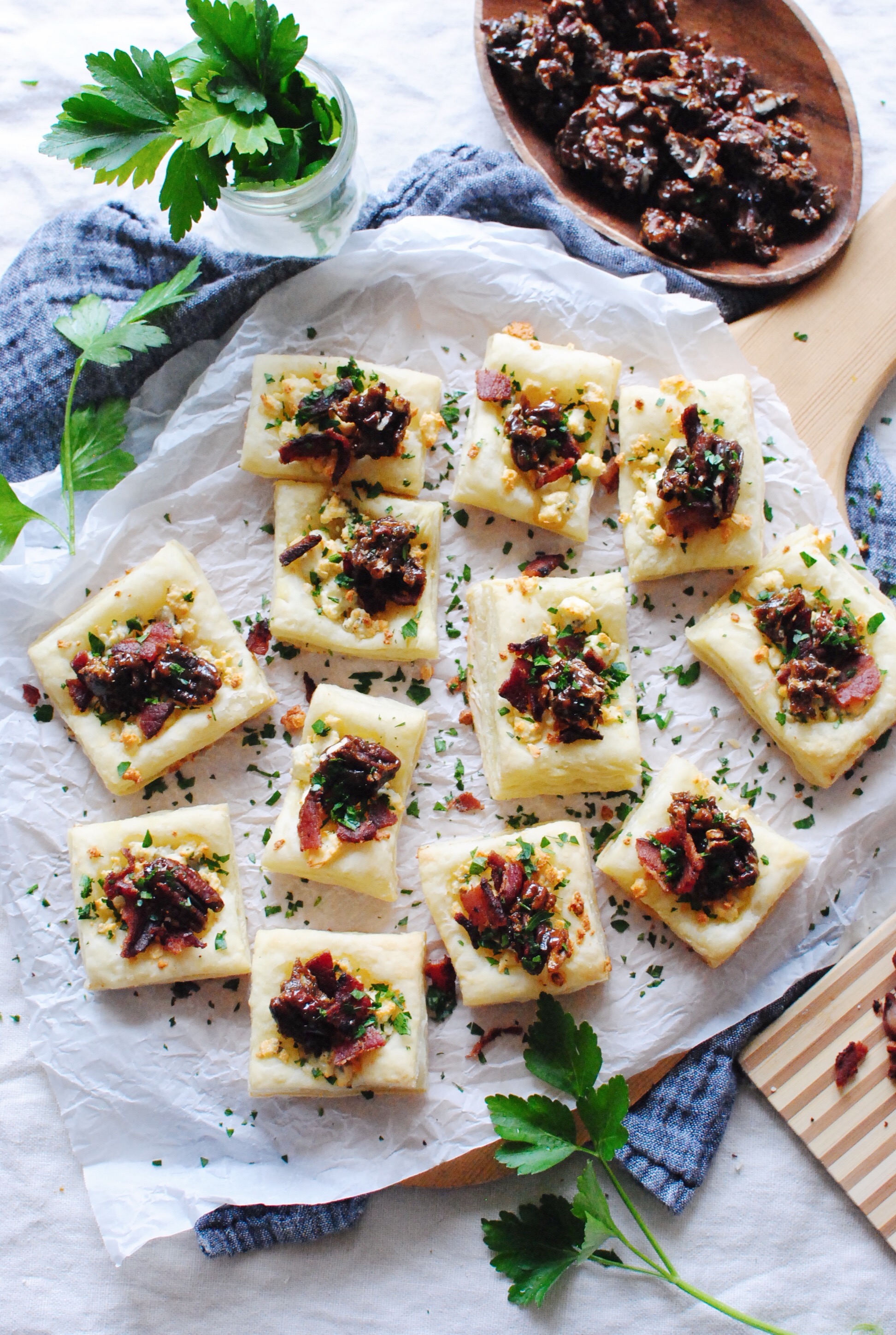 "Oh, but BABY FISH MOUTH is sweeping the nation." (<–name that movie.)
(This post is definitely in partnership with Roth Cheese, but all ramblings and blue cheese snarfings are totally my own. We coo?)