Best strand of words in the history of ever.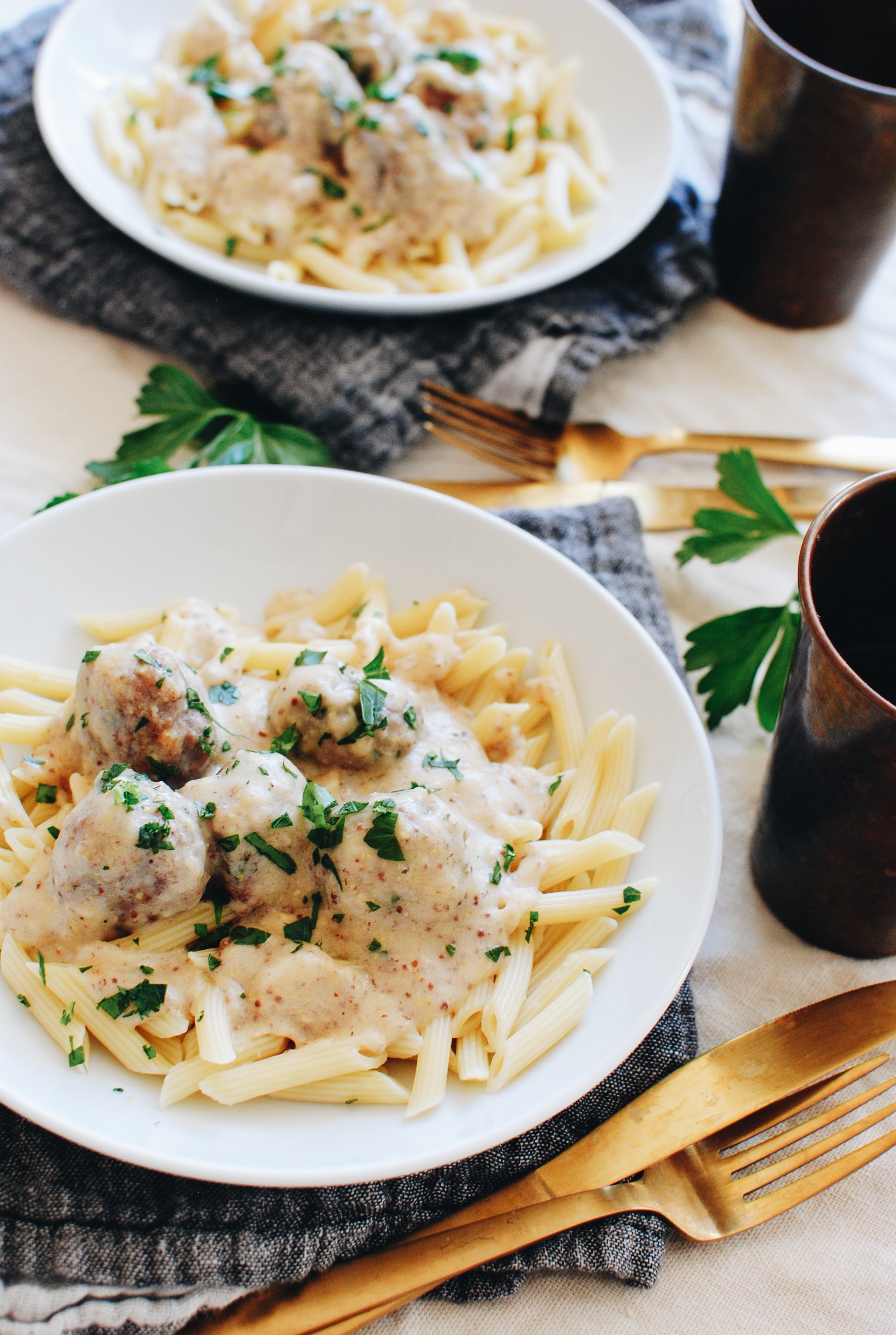 I got this wild hair the other day when I came up with the idea for this recipe.
Me, "I want to make a creamy mustard butter sauce!"
Aaron, "A what?"
Me, "A creamy mustard butter sauce."
Aaron, "Mustard with cream and butter?"
Me, "Yes! Over pork meatballs. And pasta."
Aaron, "Does that work?"
Me, "DOES YOUR FACE WORK?"
Aaron, "First of all, no one says that. And, I guess mustard on brats is good, so why not in a sauce?"
Me, "DANCE, PUPPET, DANCE."
But I'm not dramatic about it or anything.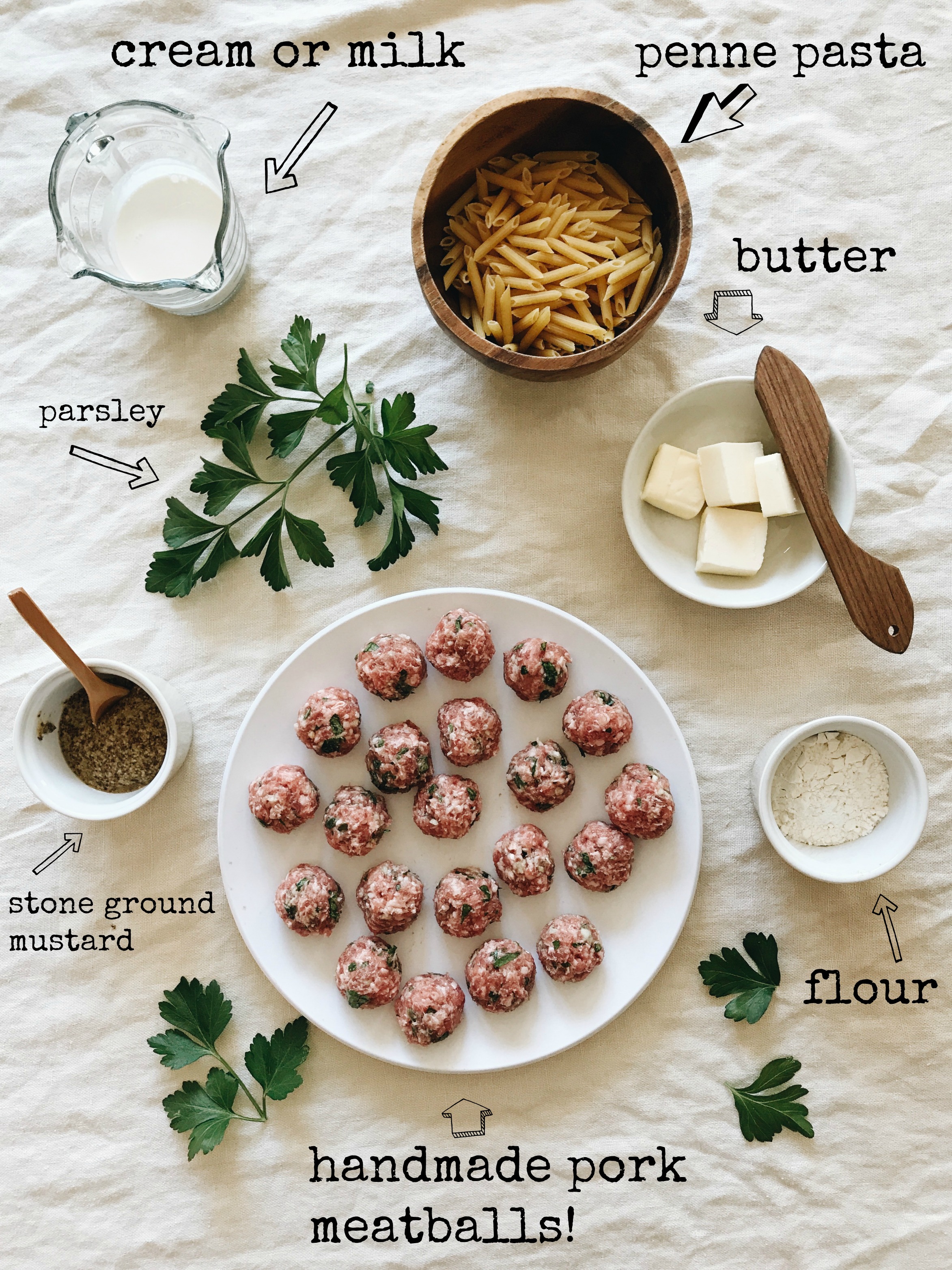 So this is how it goes down: make your meatballs early in the day and let them sit as long as you want. If you don't have the time for all that sittin', you're still a good person. They'll be JUST AS GOOD.
The balls are simple – ground pork, garlic, salt, and parsley. That's it. If you want to get freaky with them and add a bunch of other flavors, go ahead! I just prefer these herb-flecked and garlic-smooched.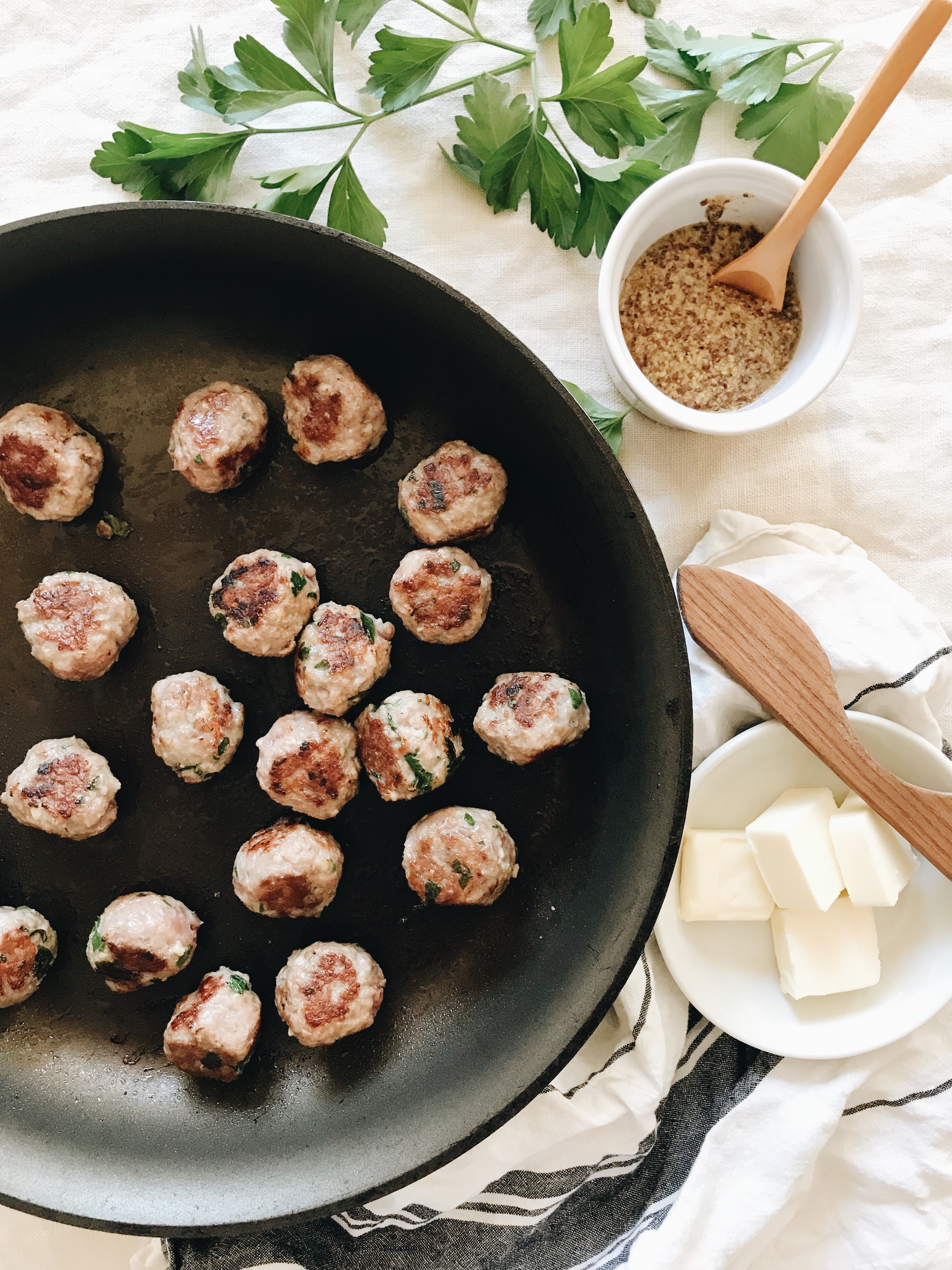 You'll saute the meatballs in a large pan until they brown all over. You don't have to cook them ALLLLL the way through, as they'll simmer in the butter mustard creamy bliss lake for a few minutes at the end. Just get them browned and sexy. Then remove them from the pan with GREAT force.
Not really.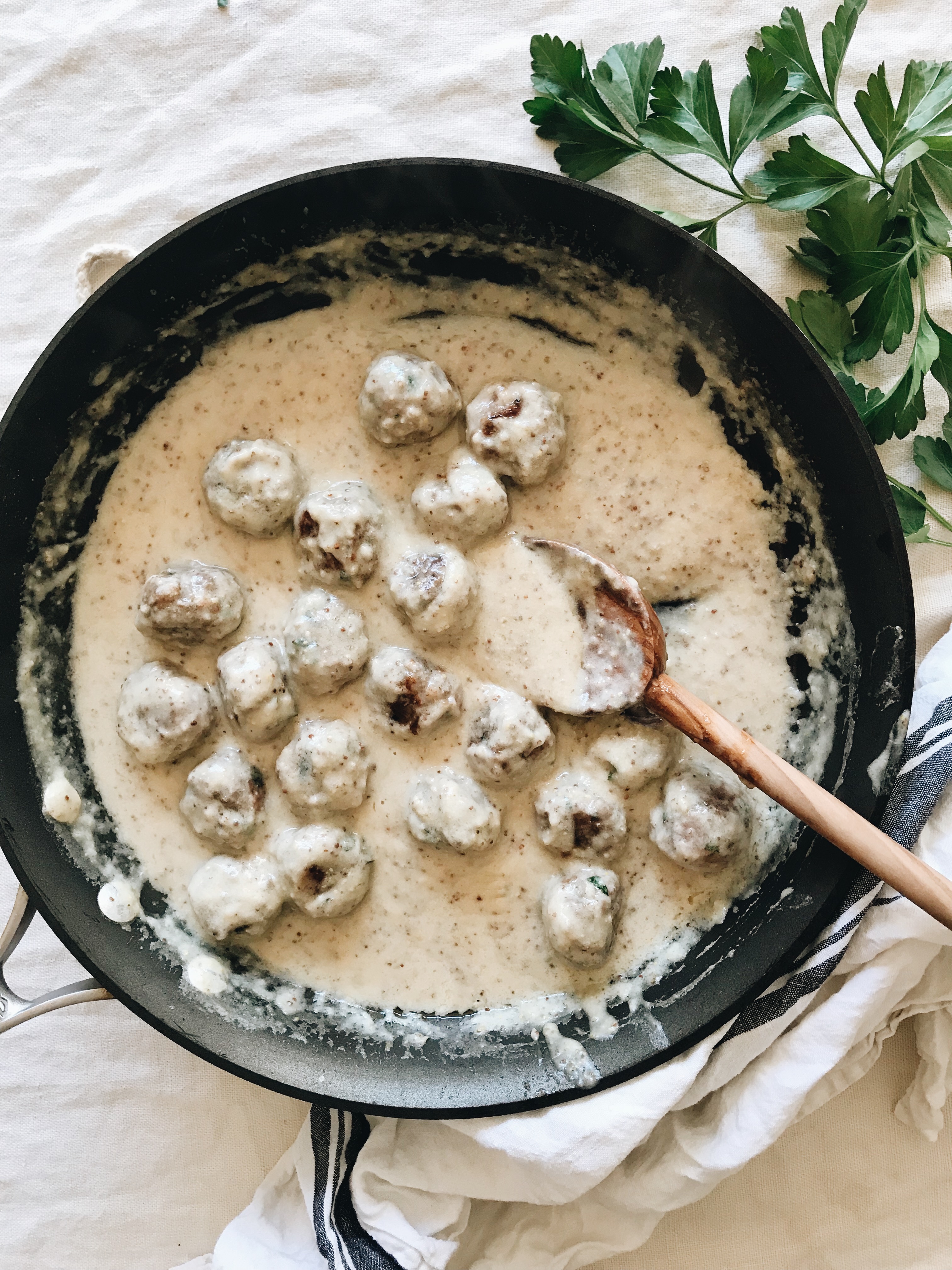 Let's talk about this sauce! First of all, it's REAL butter. Nothing weird or fake. Use the good stuff. Real butter forever.
Secondly, at this particular stage, I realize the sauce looks more like a gravy. Because it sort of was, until I really thinned it out with more milk, pasta water, and a bit of lemon juice (not included in the ingredient photo because I'm a dingbat of great proportions.)
You'll start by melting a few Tbs. of butter. Once it starts to foam, add in a Tbs. of flour. Whisk it until it becomes a light brown roux. Then whisk in a couple Tbs. of stone ground mustard. Using stone ground will give you those unmistakable little brownish/yellowish dots in the sauce. I didn't try this with regular American mustard or Dijon, but I can't imagine it would be heinous.
Then stir in two cups of milk, and about a cup-ish of pasta water. OH, you're boiling penne pasta while you're making the sauce. You read my mind.
Keep stirring until the sauce is the thinness or thickness that you dig. Somewhere between OMG and HOLD ME.
Add the meatballs back and let 'em simmah.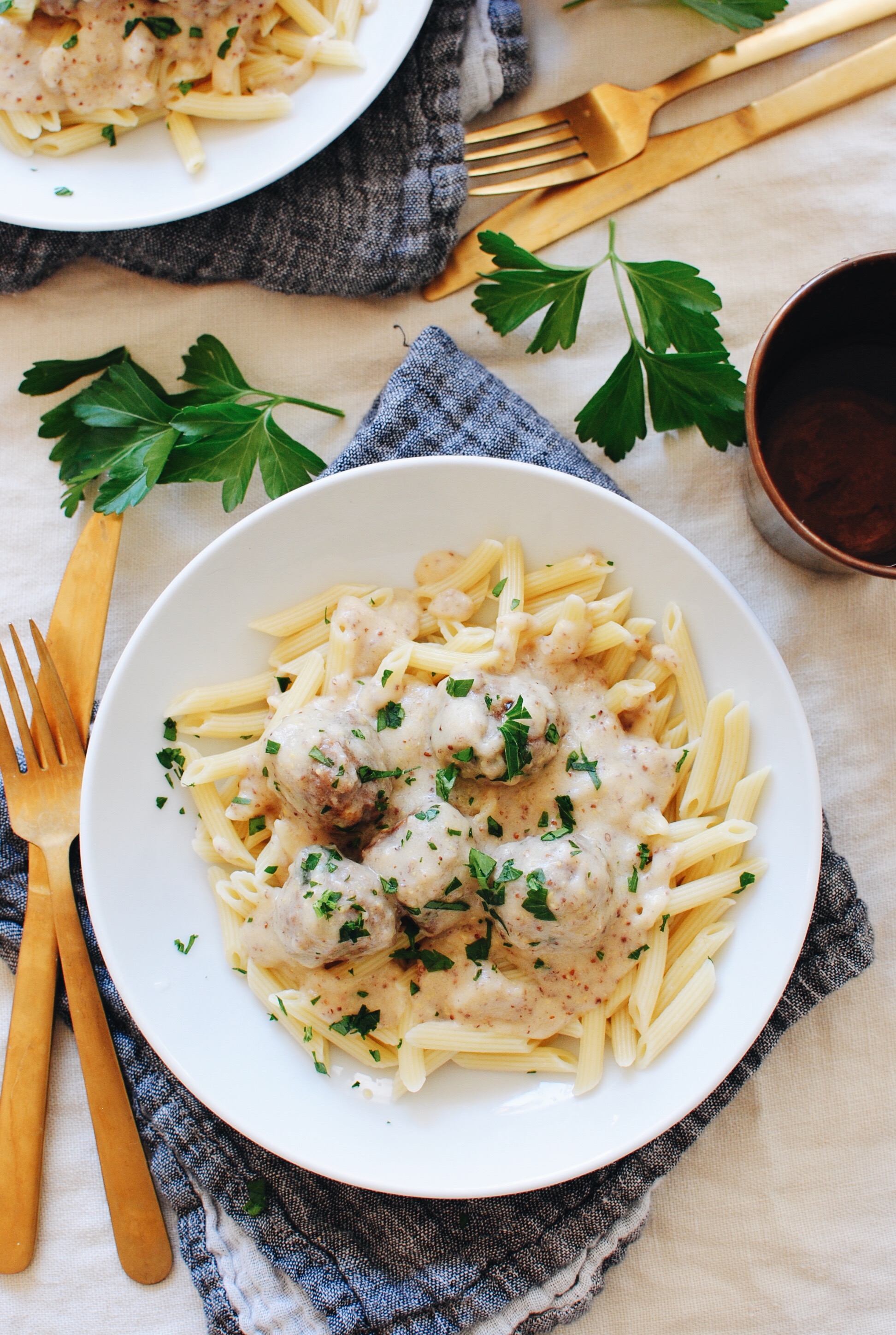 And that's it! Once the meatballs have had a chance to cook through (maybe five more minutes), place a few on top of a mound of penne, and drizzle with the buttery, mustard-y creamy sauce straight from the pearly gates.
More parsley on top because you like pretty things in life.
This makes a FABULOUS meal with unexpected elegant flavors. But simple enough to swing on a school night.
And, butter.
Duh.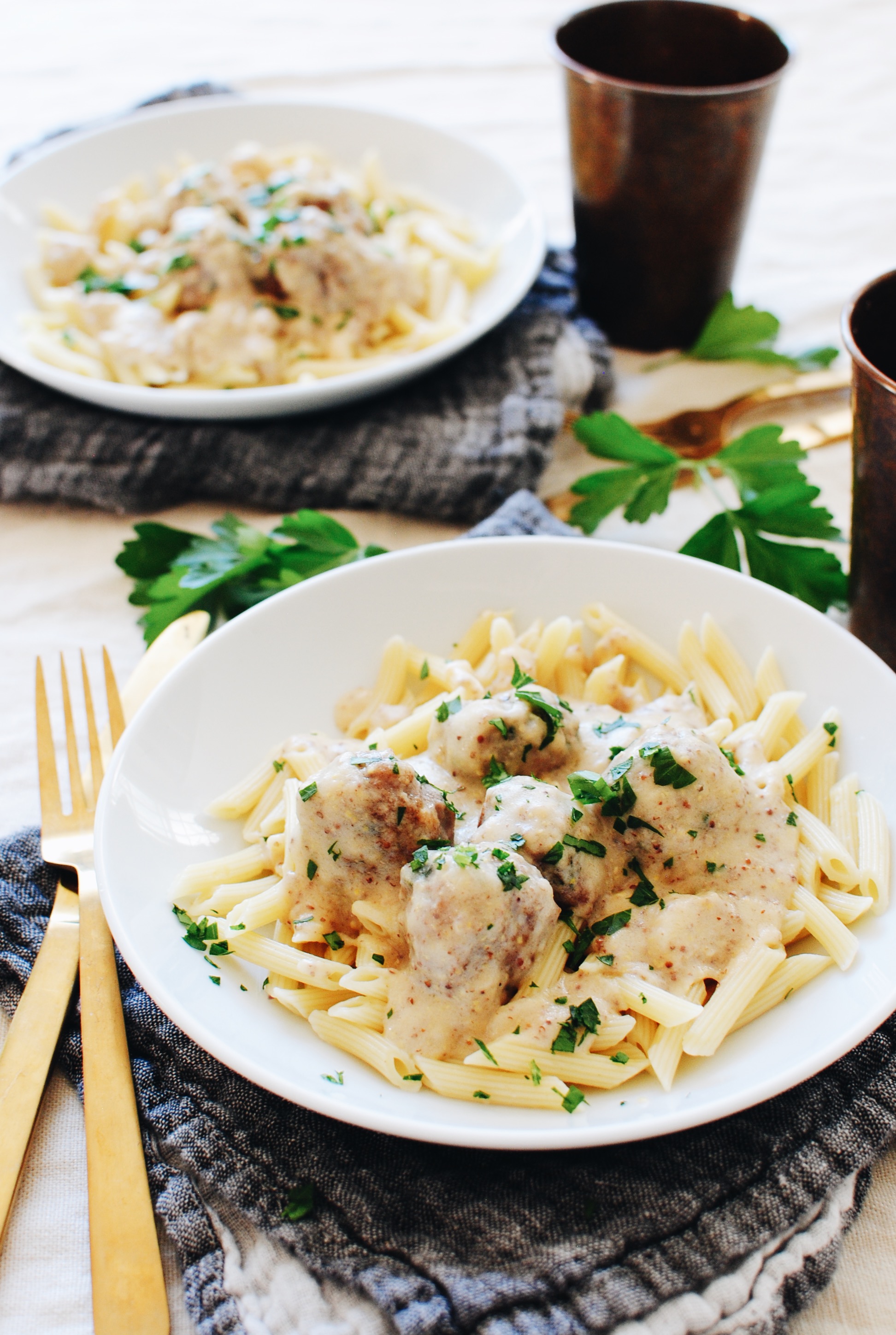 Make make MAKE.
Pork Meatballs and Penne with a Creamy Mustard Butter Sauce
Ingredients
1 pound ground pork
3 cloves garlic, minced
1 Tbs. finely minced parsley, plus extra for garnish
4 Tbs. butter
1 Tbs. all-purpose flour
1-2 Tbs. stone ground mustard
2 cups milk (or half cream and half milk, whatever you prefer!)
1 cup pasta water
Juice of one lemon
2 cups penne pasta
Salt and pepper
Instructions
In a large bowl, combine the ground pork, minced garlic, parsley and a good pinch of salt. Using your hands, incorporate everything until evenly mixed. Then form little meatballs. About 1 inch across. You can cover and chill these as long as you want, or keep on cooking!
Heat a large skillet over medium high. Add the meatballs and brown all over, turning every other minute. Once browned (mostly) all over, remove from the skillet and set aside.
To the skillet, melt the butter. Once it starts to foam, add the flour. Whisk until a light brown roux forms, about a minute. Now add the mustard to the skillet and keep whisking until thick and almost paste like. Slowly add the milk, whisking as it begins to thin and create a sauce.
In the meantime, bring a large pot of salted water to a boil. Cook the pasta until al dente. Drain the pasta and transfer about a cup of the pasta water to the sauce. Keep whisking as the sauce thickens a little more. Add the lemon juice and another good pinch of salt. Give another stir or whisk and transfer the meatballs back in. Let the meatballs simmer another five minutes. You can even add the pasta to the sauce at this point! Some like the pasta topped with the sauce. Others like it mixed in. Do what makes you giddy.
Garnish with extra finely chopped parsley and get your entire face in that.
Serves 4.
7.8.1.2
127
https://bevcooks.com/2017/12/pork-meatballs-penne-creamy-mustard-butter-sauce/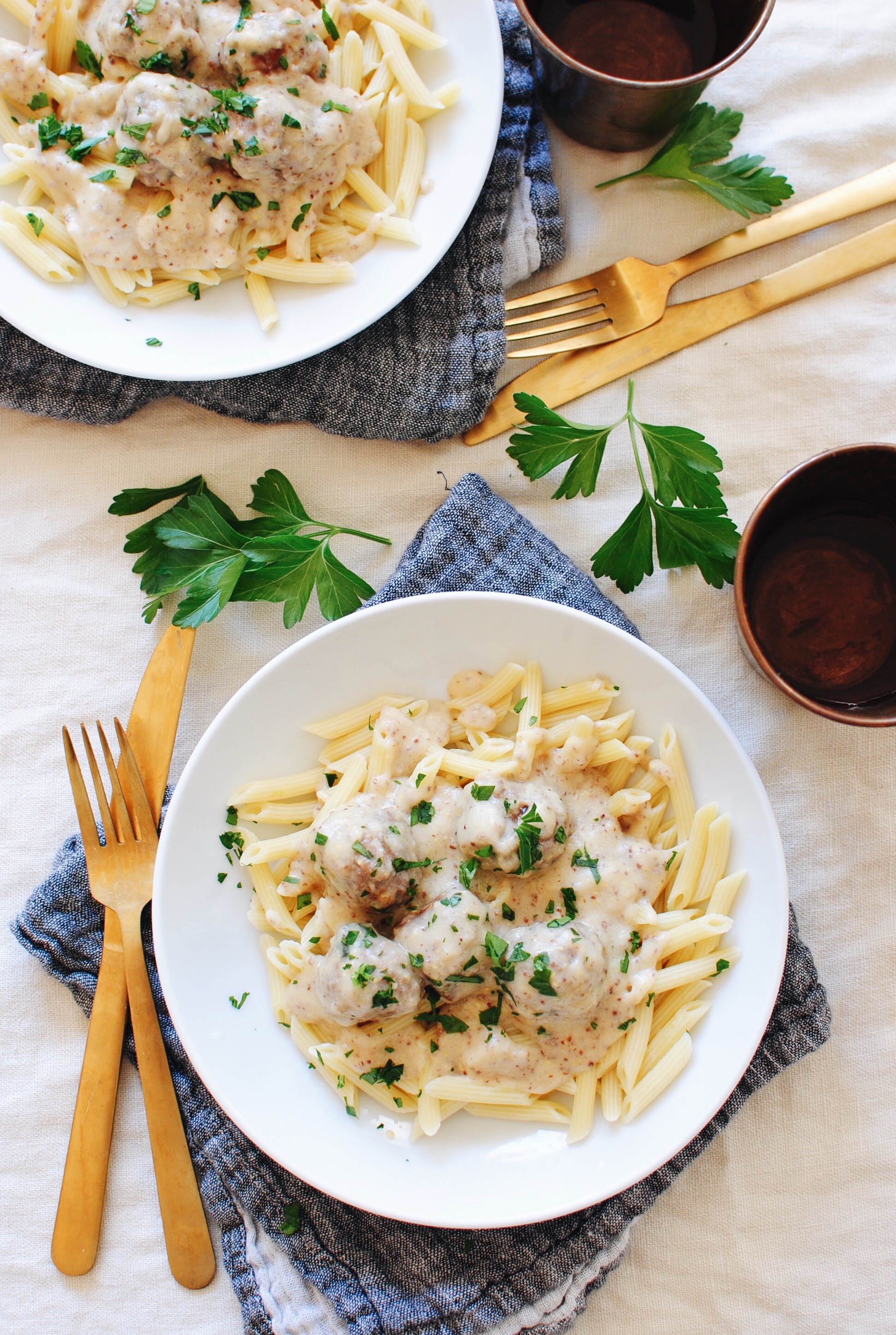 p.s There's butter in that thar sauce.
(This post is definitely in partnership with REAL BUTTER. But all ramblings and butter snarfings are totally my own. We coo?)