Wanna know what I dig most about end-of-summer grubbing?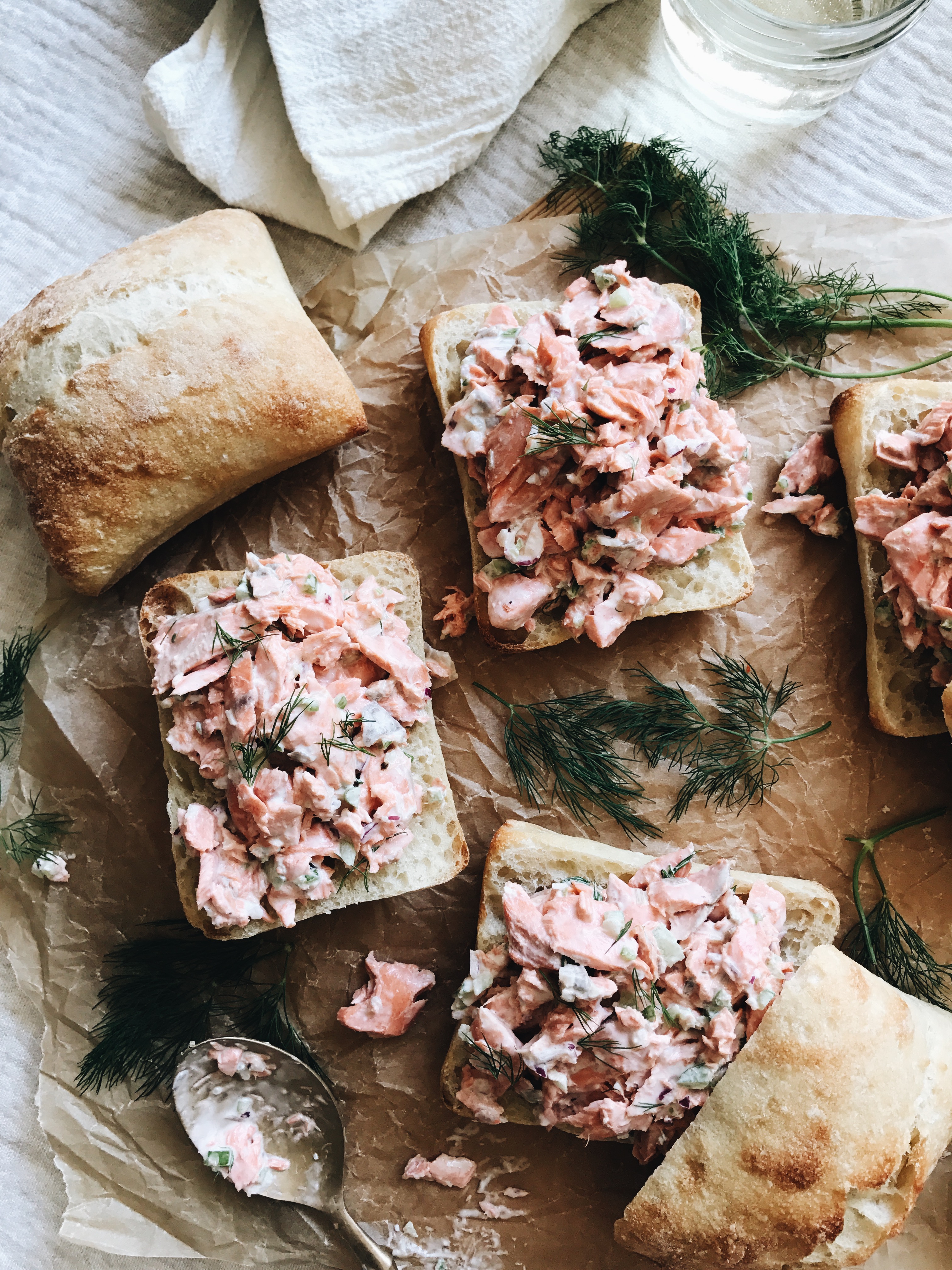 Helloooo, O U T S I D E O N C E A G A I N.
The humidity has mostly vanished, the temperatures are crisping up, and picnics don't sound so terrible and dreadful and disgusting and stabby and horrible and awful anymore. Yay!
I know this might seem like an odd time of year to post a poached salmon salad sandwich recipe, but Aaron gave me this book on fancy French picnicing for my birthday a couple of weeks ago, and oh my word, it's got me super jazzed (<–why) about fall picnicing. Why am I getting a squiggly line under picnicing? Pickinicking. Picnicking. THAT'S IT. Sorry. Picnicking.
Picnicking.
This recipe isn't from the book, but it's inspired by one of the photos. It had salmon and wine and crème fraîche in it and I was like DOING. Done. Did.
So if you dig fall picnicking just as much as we do, your mouth and soul are going to have a conniption times 40.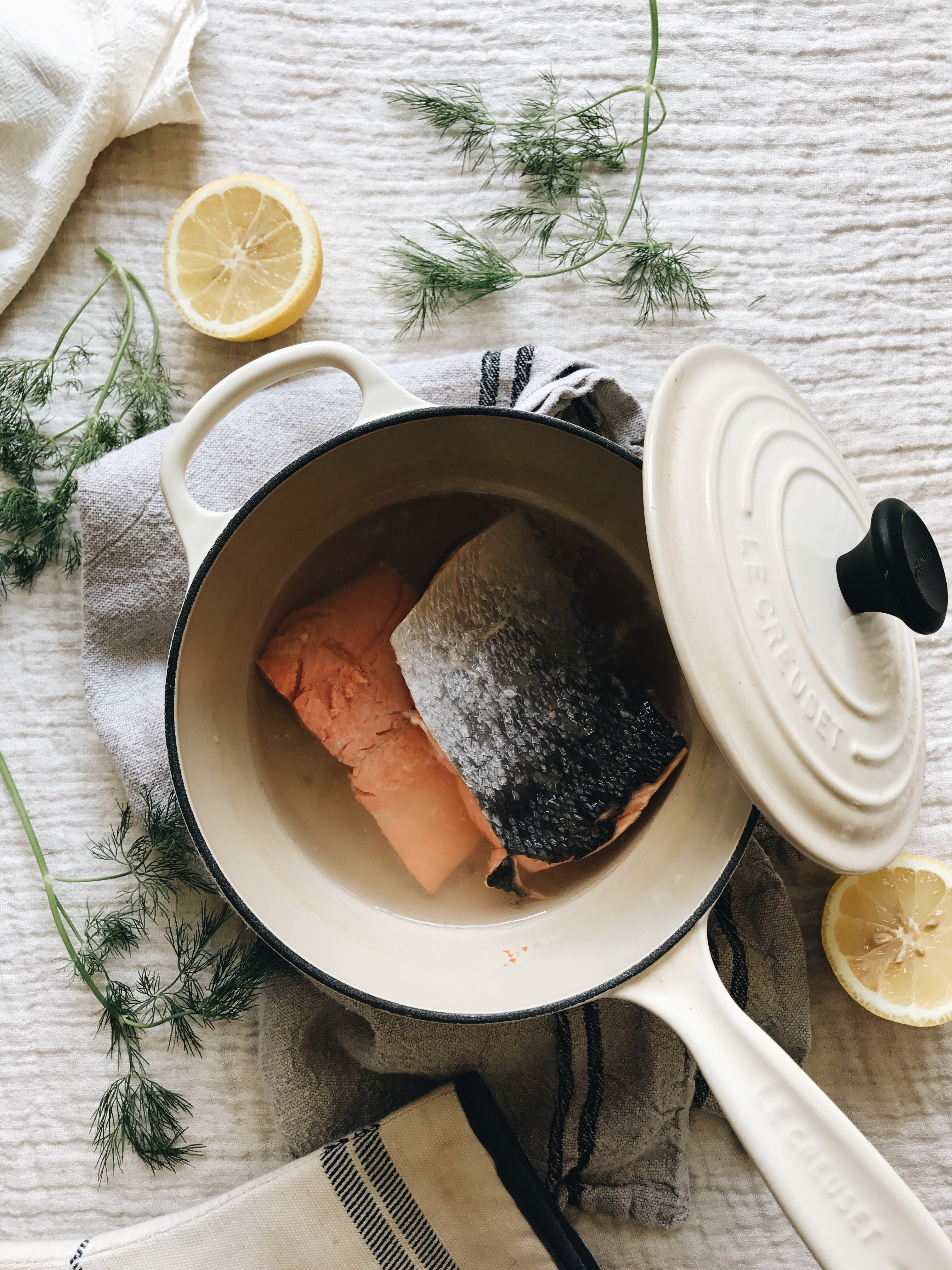 Listen to how easy it is. You'll poach a couple of salmon fillets in a mix of white wine and water. (the scent will slay.)
But this is important! LISTEN CLOSELY. While you poach the salmon in the wine, be sure sure SURE to pour yourself a glass and sip the wine as you poach. If you don't sip the wine as you poach, something chemical will go awry with the poaching slash inner giddiness, and the meal just don't taste the same and you'll regret it and be upset at me forever. And I can't have that on my plate today.
Poach, then let it sit. Then remove and let it cool. (the salmon, not the wine.)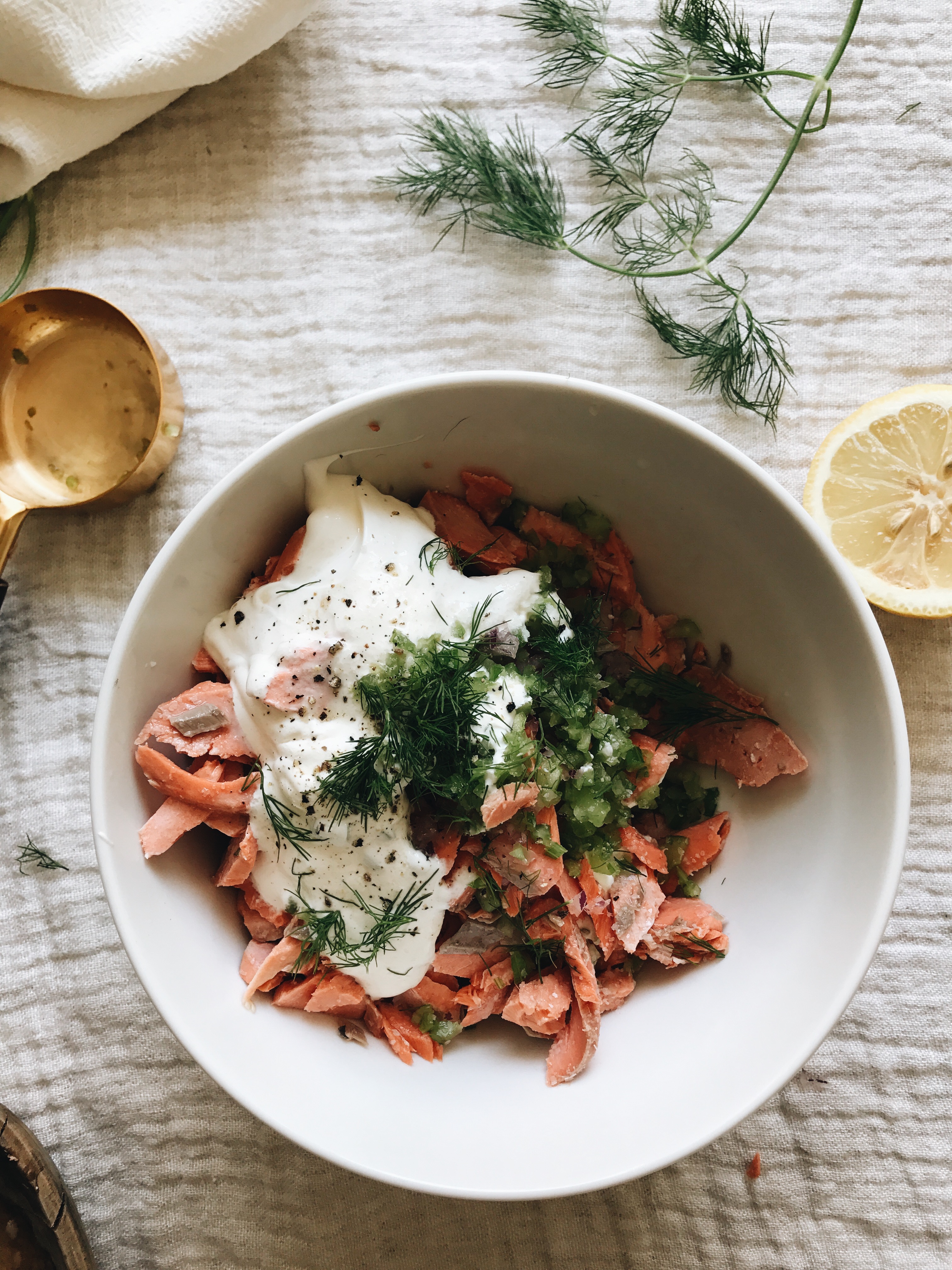 After about 10 minutes of cooling, you'll flake the salmon into chunks and gently toss it in a bowl with diced red onion, diced celery, crème fraîche, fresh lemon juice, some dill, and salt and pepper. THAT IS IT.
It's done. Done! And I'm telling you, the delicacy of the crème fraîche mixed with salmon flavor is REEDIC.
There's crunch with the veggies, brightness with the lemon and dill, and pimpin' elegance everywhere else.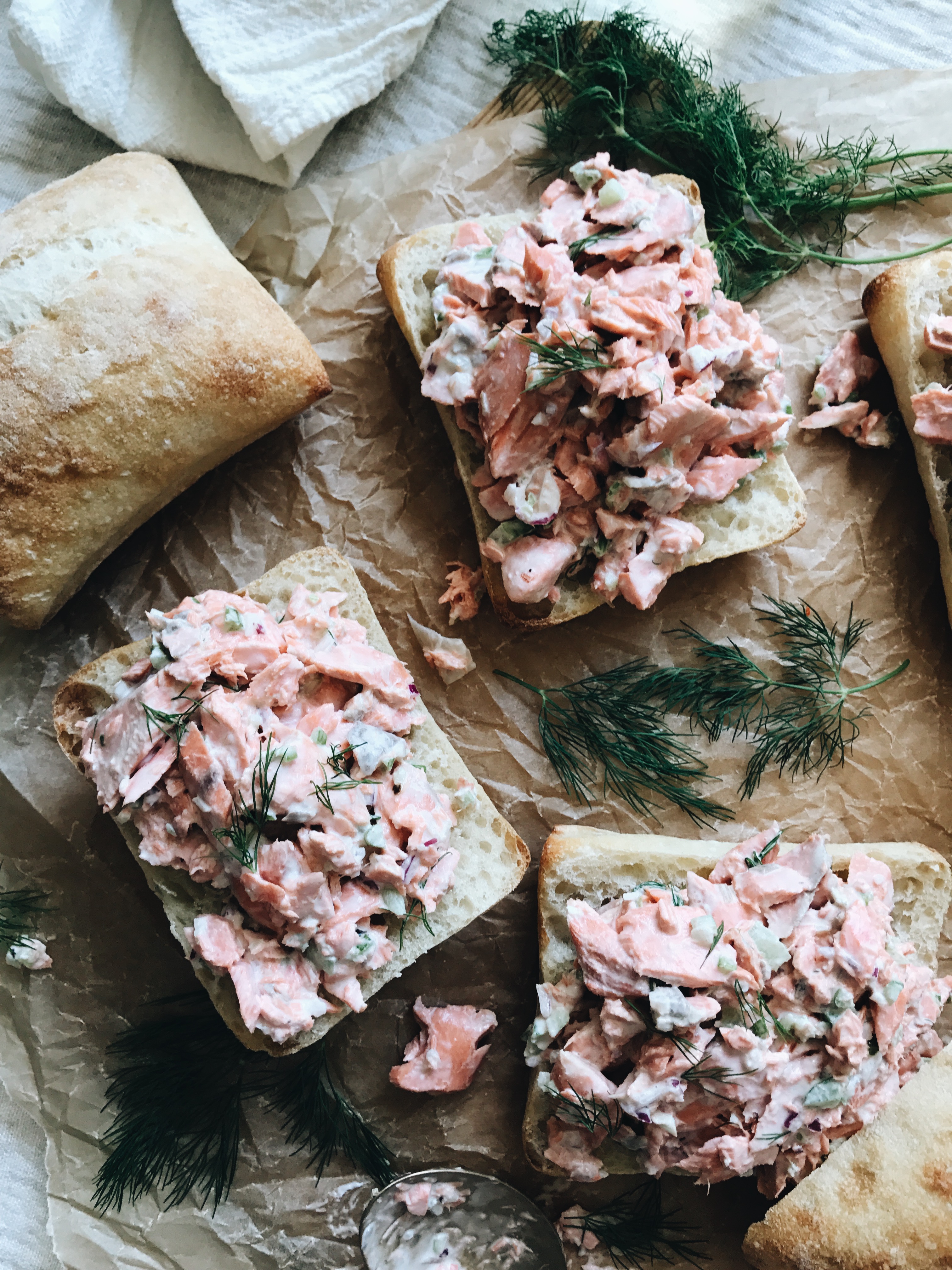 So this is what you do: this Saturday, make it early in the day and chill it in the fridge. Then later on in the afternoon, pack up your cute vintage woven picnic basket that you bought at a flea market IN FRANCE or something, throw another bottle (or 8) of wine in there, some grapes, some crusty ciabatta, maybe some cheese, and just get out there. Picnic it up. Even if it's just your back yard. Or garage. Or bathroom floor.
Open-faced is fab. Full sam is fabber. Even piled into crisp lettuce leaves is glorious. You do you.
But maybe invite me?
Poached Salmon Salad Sandwiches
Ingredients
2 salmon fillets
1 cup water
3/4 cup of dry white wine
1/4 cup finely diced red onion
1 celery stalk, finely diced
3 Tbs. crème fraîche
Juice from half a lemon (more if you need!)
1 Tbs. freshly chopped dill (more for garnish)
Salt and pepper
Ciabatta bread, sliced
Instructions
In a medium pot, bring the water and wine to a light boil. Add the salmon and poach 2 minutes. Turn off the heat and let it sit for 10 minutes. Remove the salmon from the pot and let it cool in a bowl for another 10 minutes. Once cooled, remove the skin (it should peel right off!), and flake it with a fork or your fingers. Add the diced celery, onion, crème fraîche, dill, lemon juice, salt and pepper. Gently toss it until combined. Cover and chill in the fridge until ready to devour.
Pile it on sliced ciabatta (or any good crusty bread) and garnish with more dill!
Makes 4 sandwiches.
7.8.1.2
107
https://bevcooks.com/2017/09/poached-salmon-salad-sandwiches/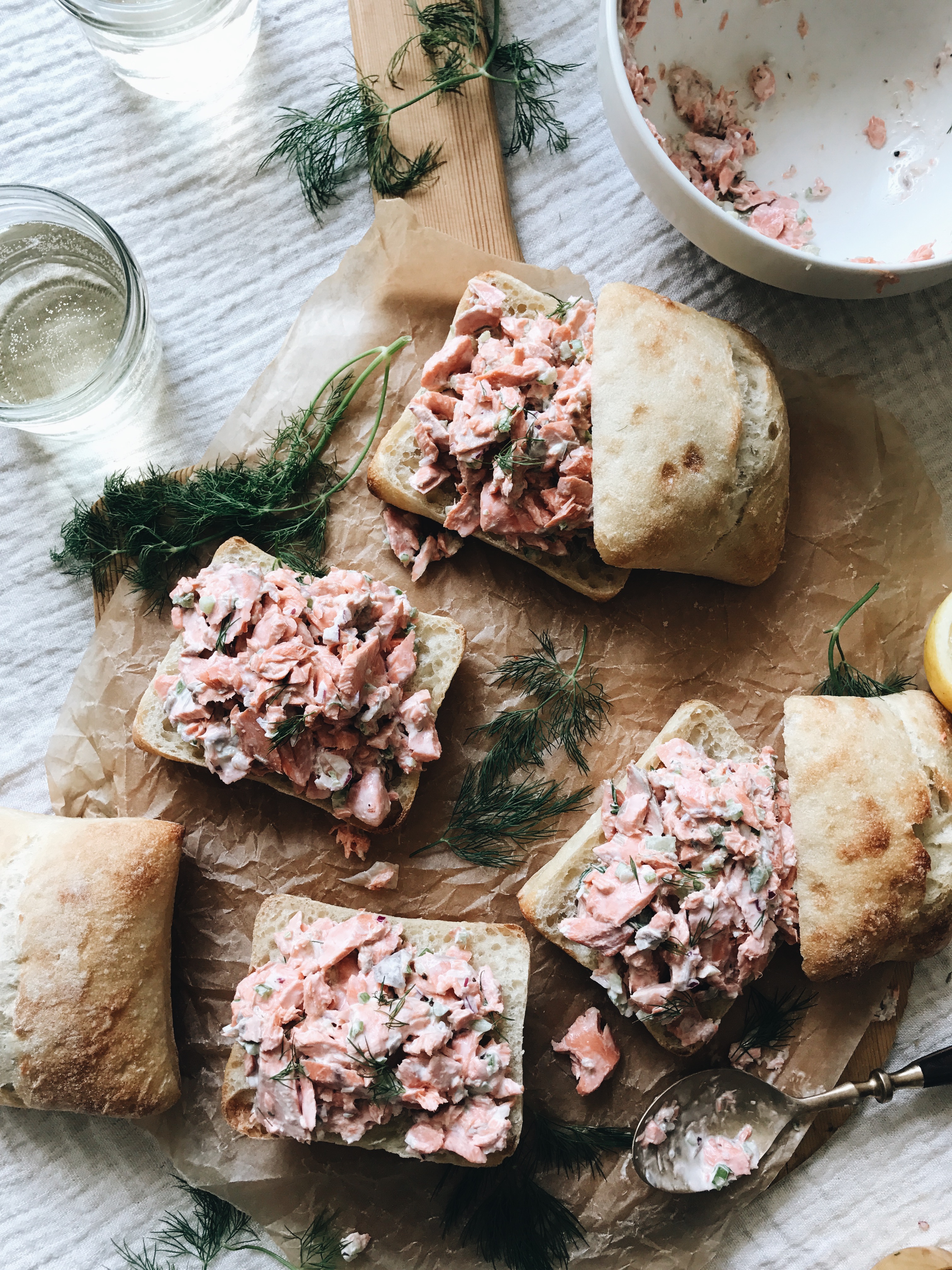 PICNICS FOR PREZ.