Beautiful. Bright. Glorious.
But now let's talk about this salad.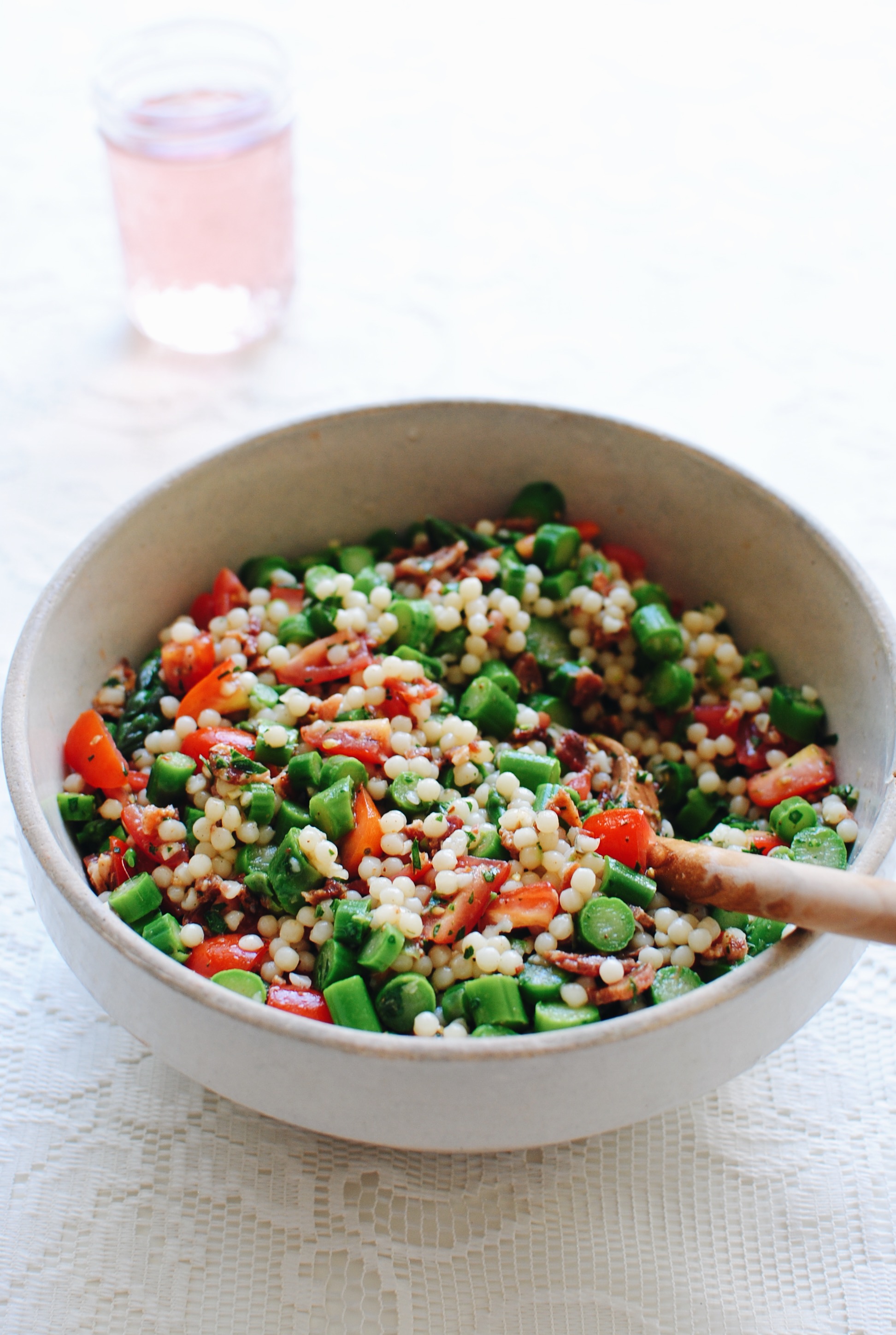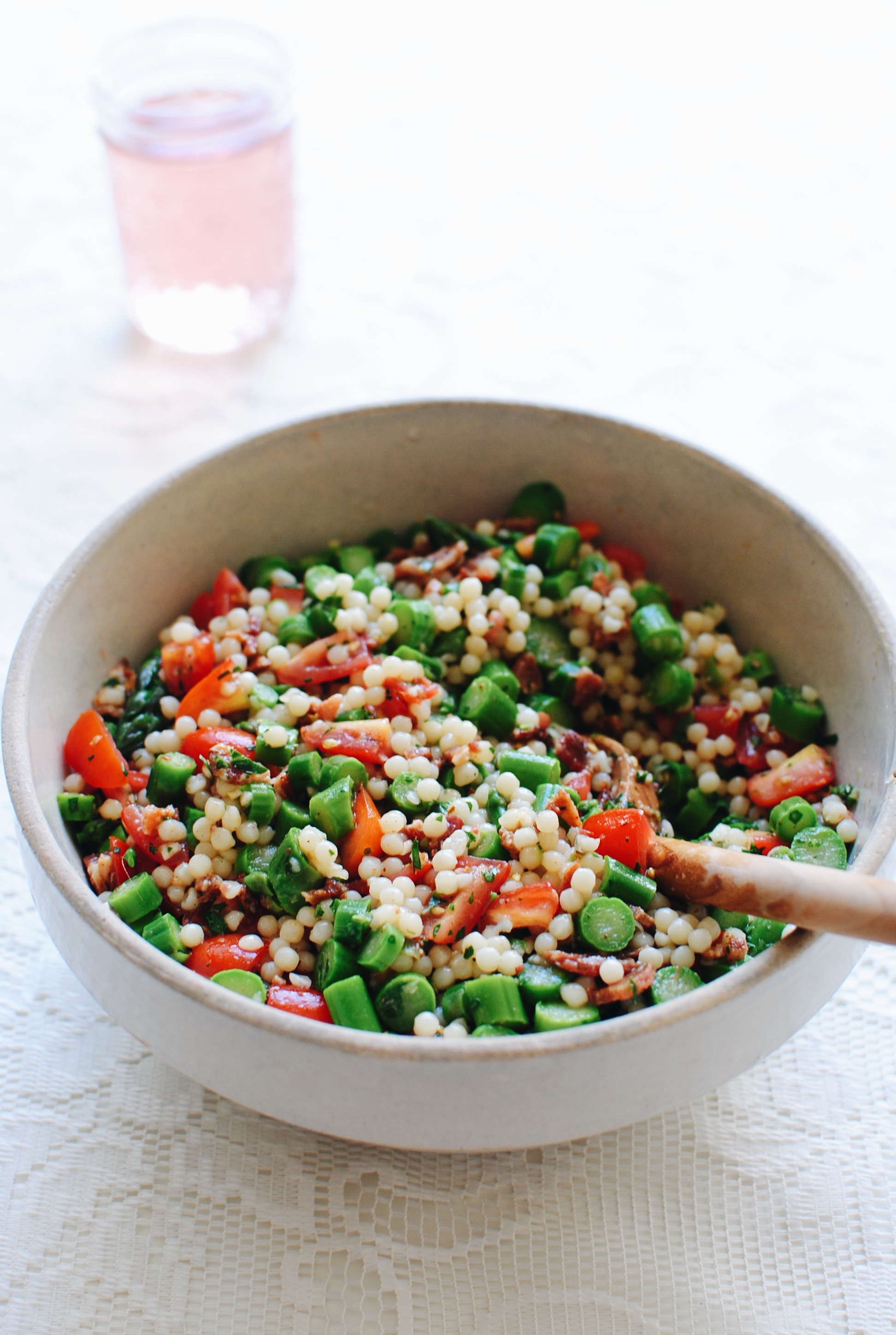 This mess is straight up (now tell me) out of control. First of all, look at that color! Don't you want to punch it in the shin?
I don't eat enough Israeli couscous. Truthfully, I kind of forgot about it, until I spotted it in the store the other day. And I was like, "Oh YEAH."
Good story, huh?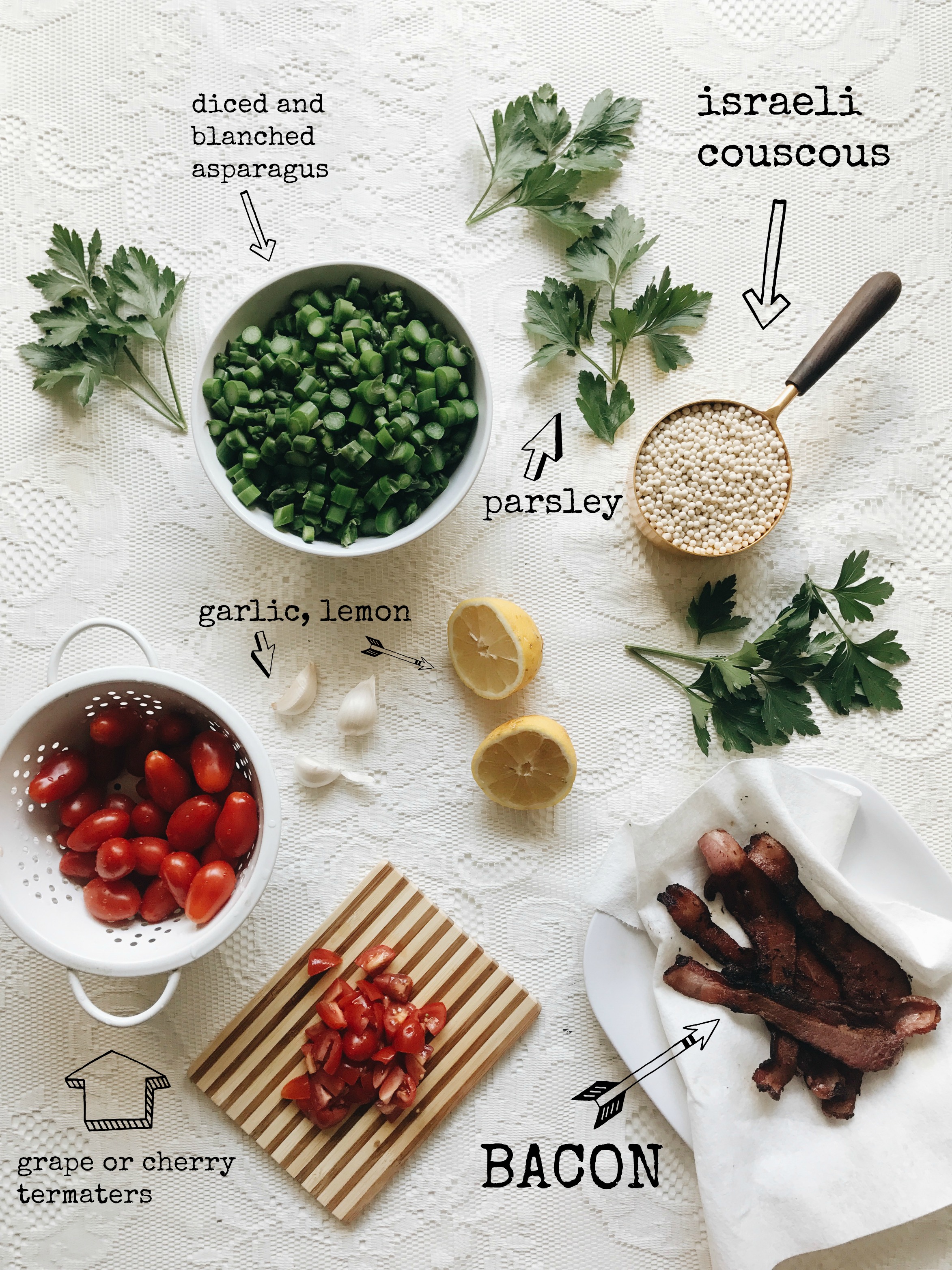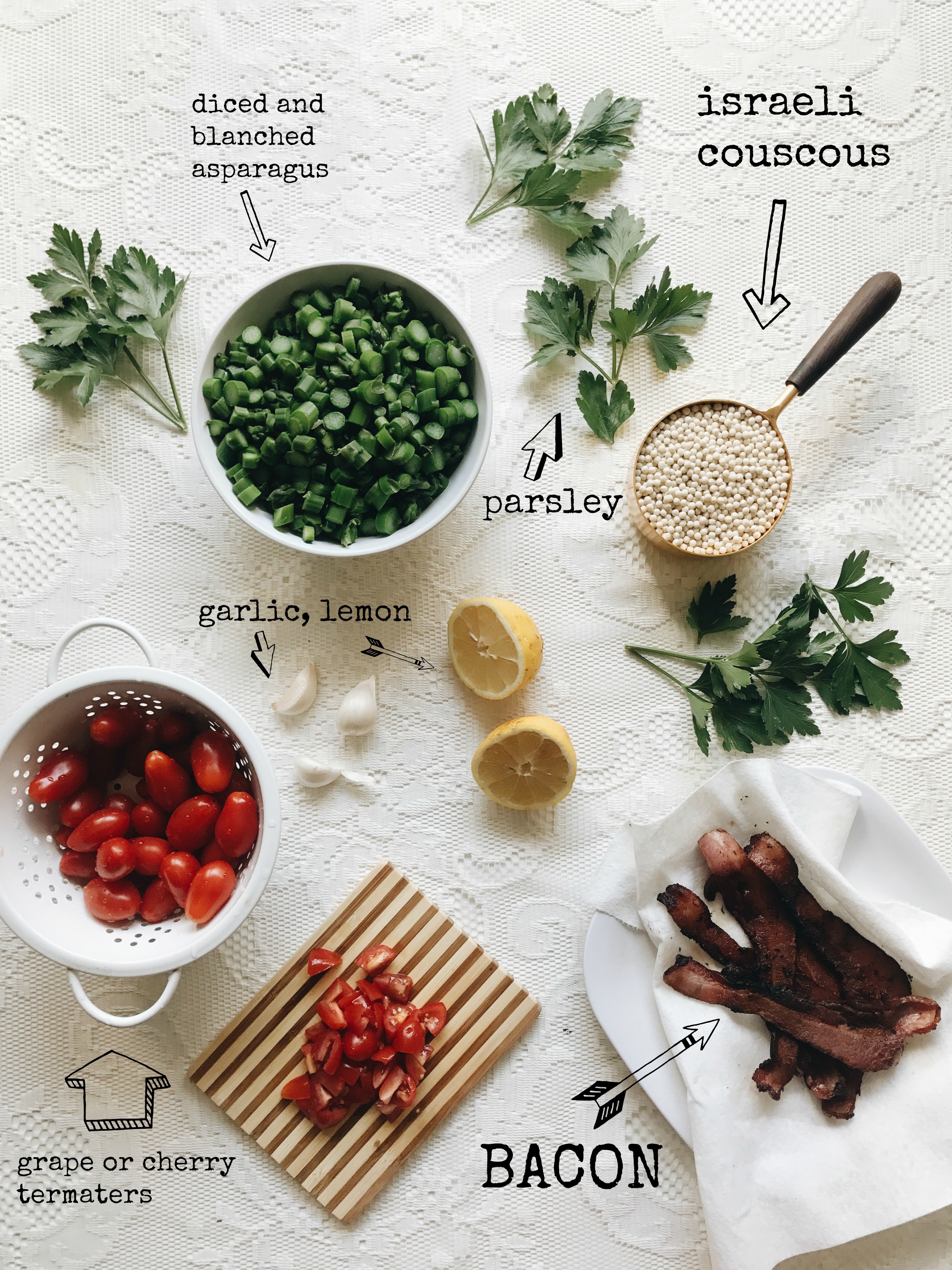 The flavors in this salad are insane for summer. And aside from the tiny bit of leg work up front, it's pretty easy to pull together! You can actually make it early in the day, stick it in the fridge so it can think about what it's done, then give it a lil' toss right before supper. I said supper because I feel like it's more fitting for summer. I never say supper. Supper is a weird word. 'SUP, SUPPER.
Never mind.
The key to this salad is to keep everything tiny. All the bites need to be itsy bitsy, to add to the festive slash adorableness of the dish. Finely dice and blanch asparagus, fry and crumble up some bacon, quarter some cherry or grape tomatoes, boil the couscous, mince the parsley. TEENY TINY TOONEY. This is your mission.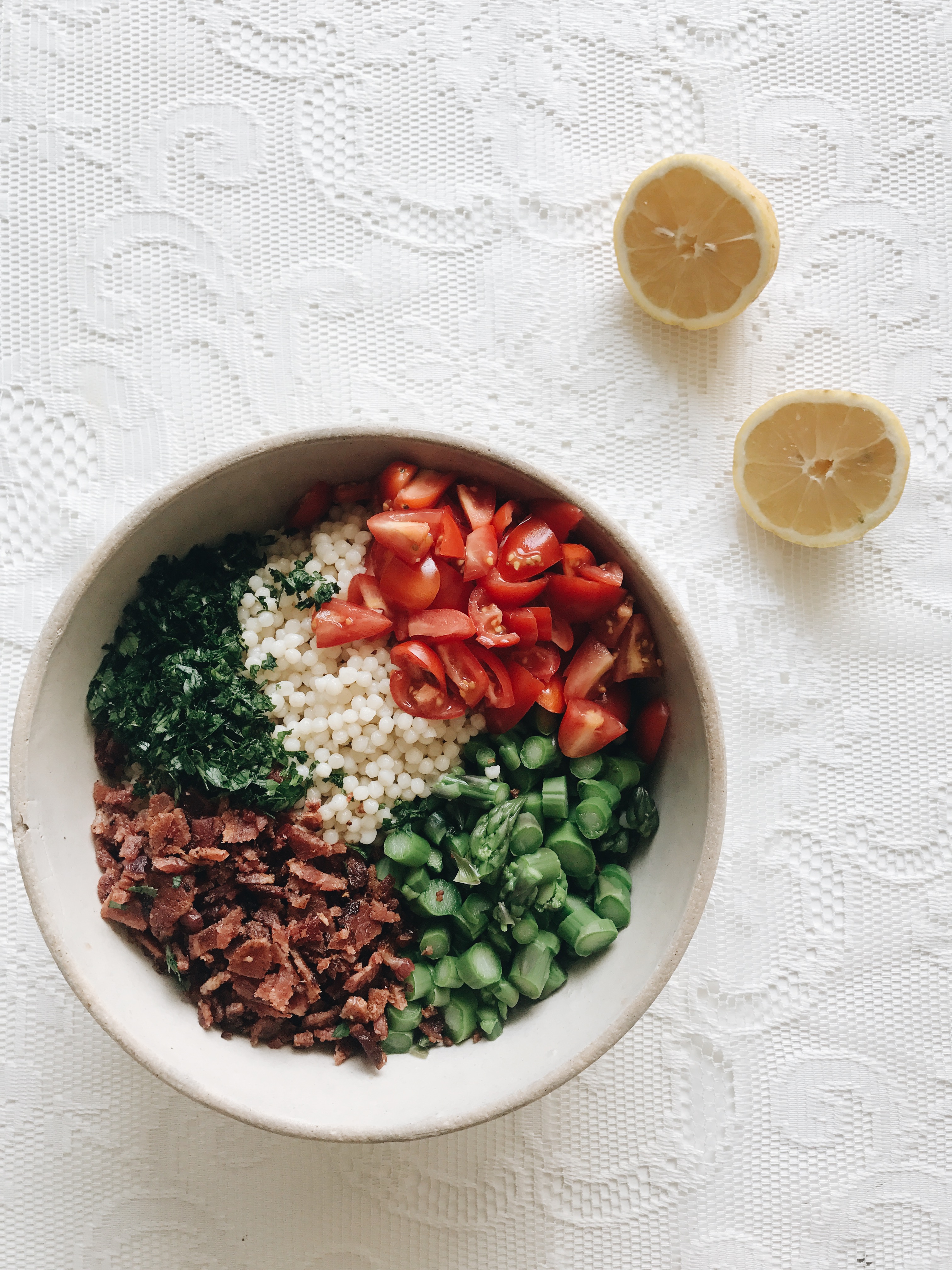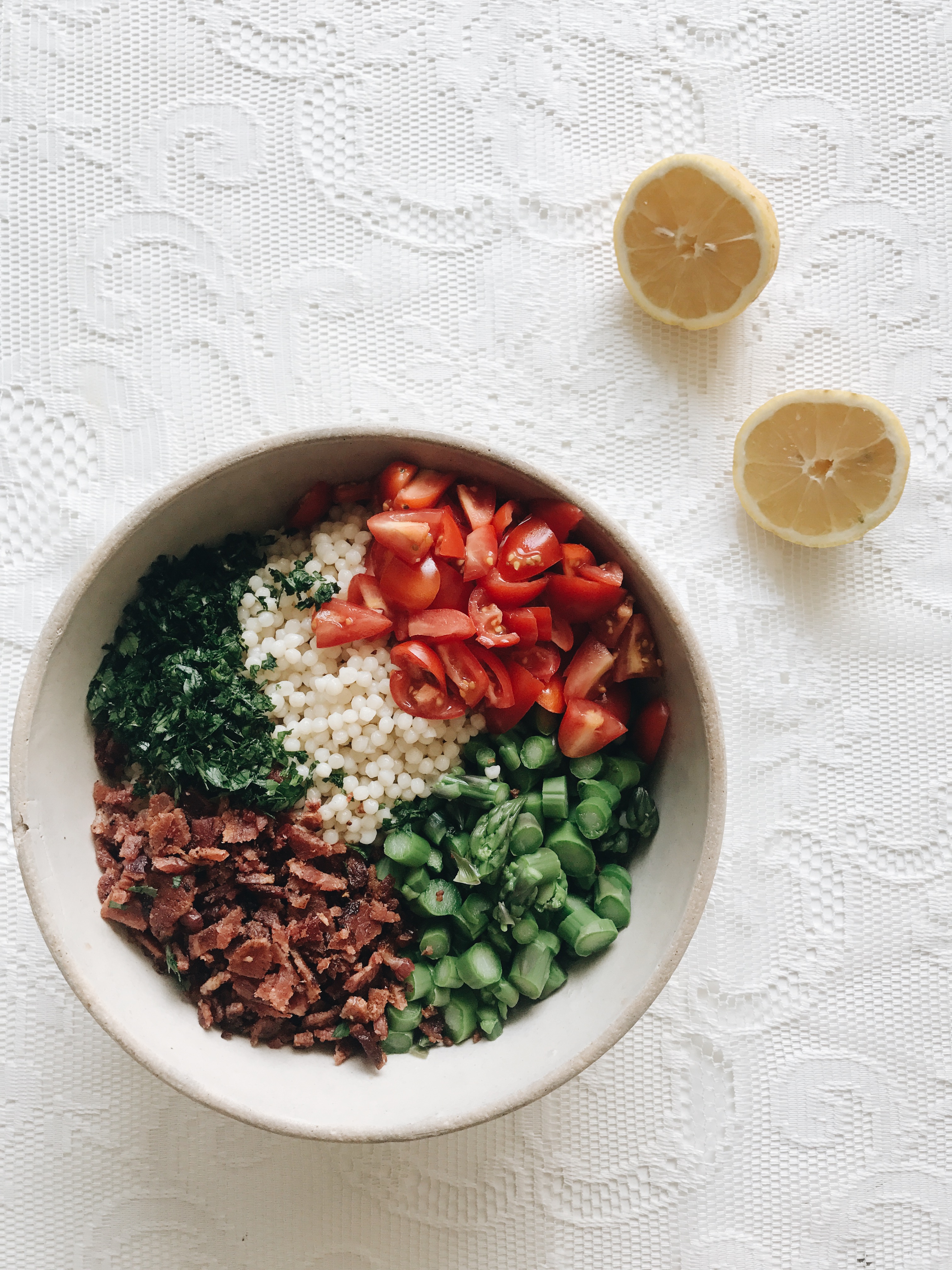 There are two other INDISPENSABLE FACTORS that will make or break this summery salad. And I mean MAKE.OR.BREAK. But I'm not dramatic about it or anything.
First – don't skimp on that raw garlic, man. Either mince or grate it into the dish, but don't leave it out! It's like a good PICO DE GALLO, you know, where the garlic shiiiiines like the top of the Chrysler Building. Does it here, too. Don't leave it out or else I'll cry for an eternity.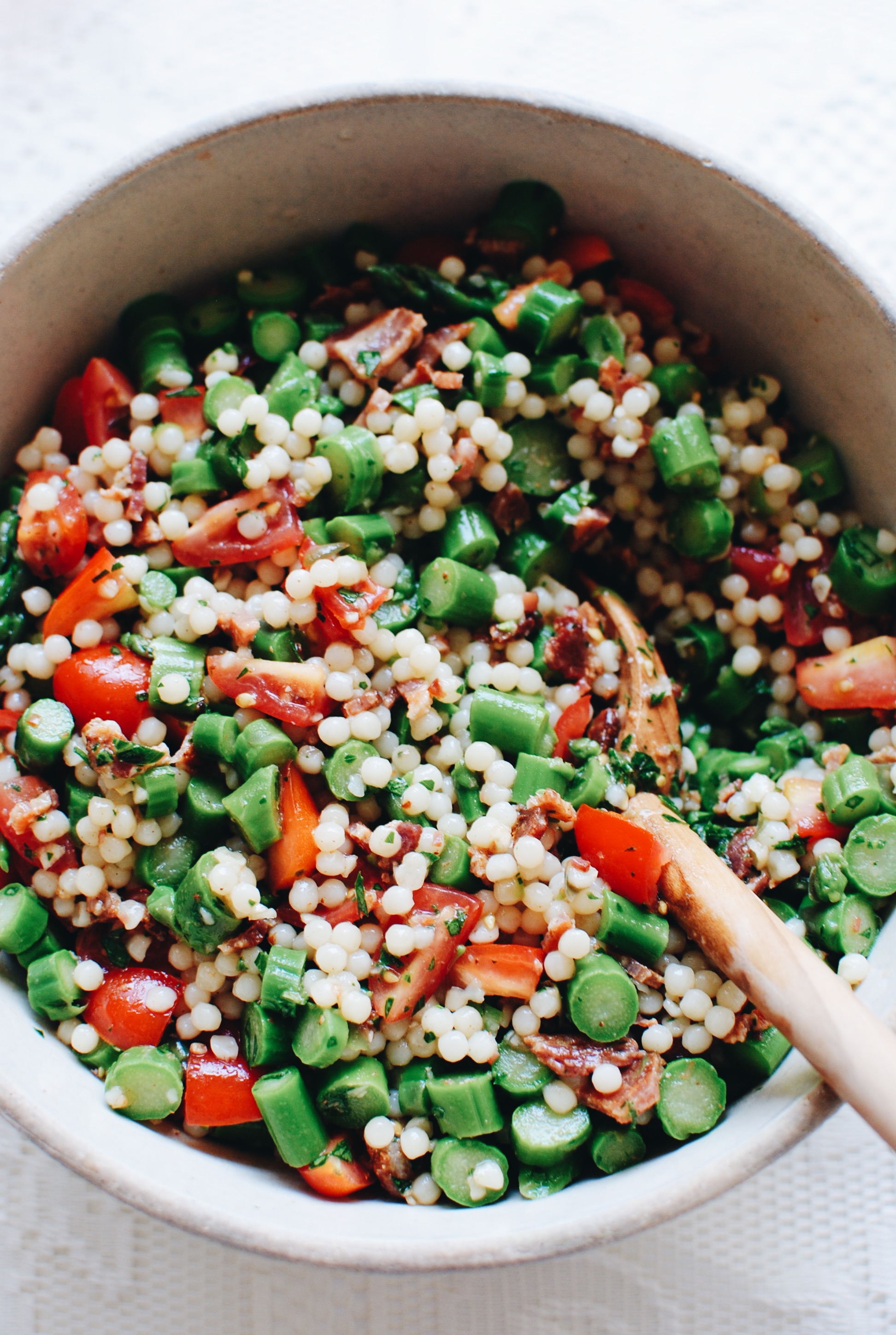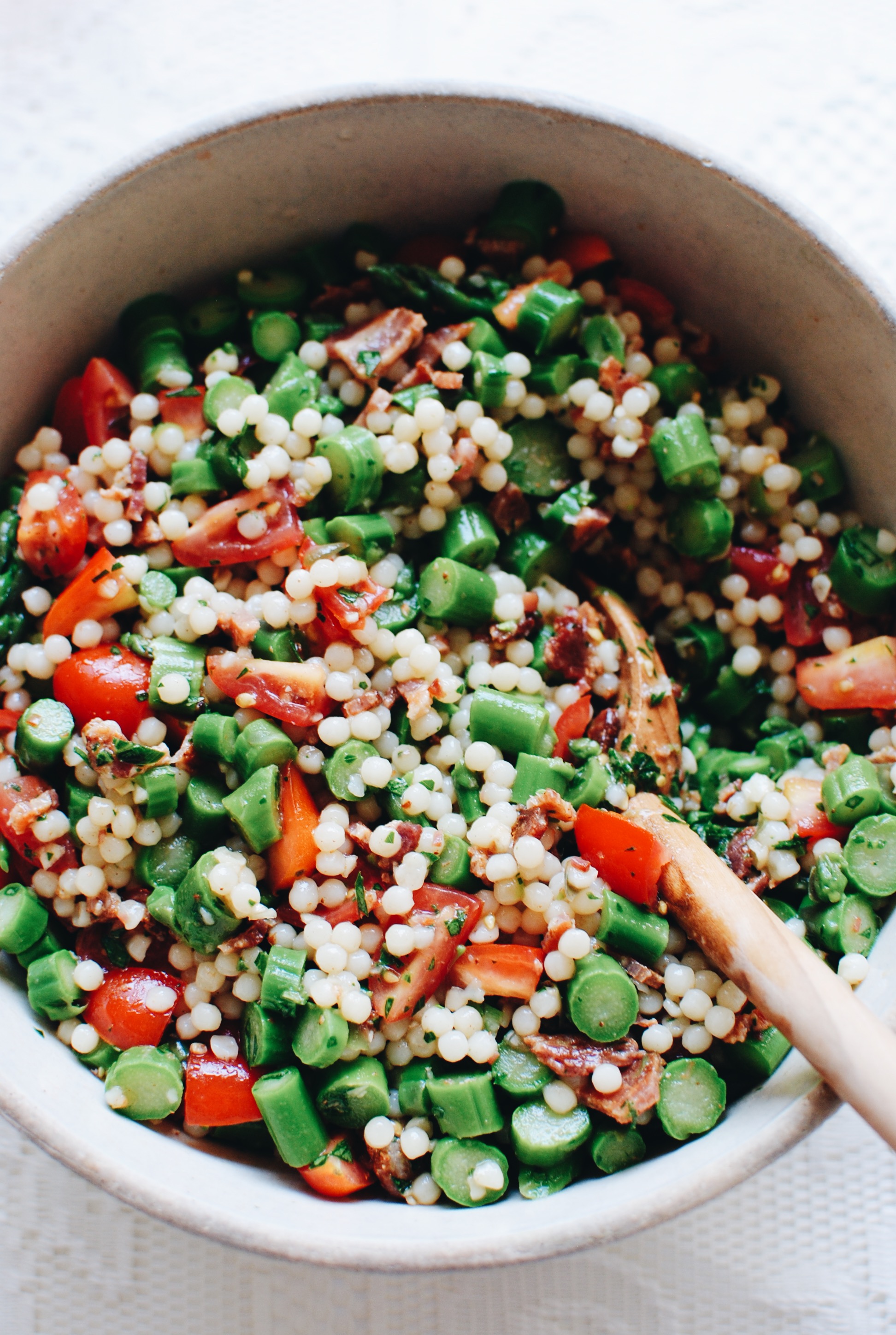 The other thing – the lemon dressing! The more lemon, the more giddy pants. Use your good olive oil, too. You won't be mad about it.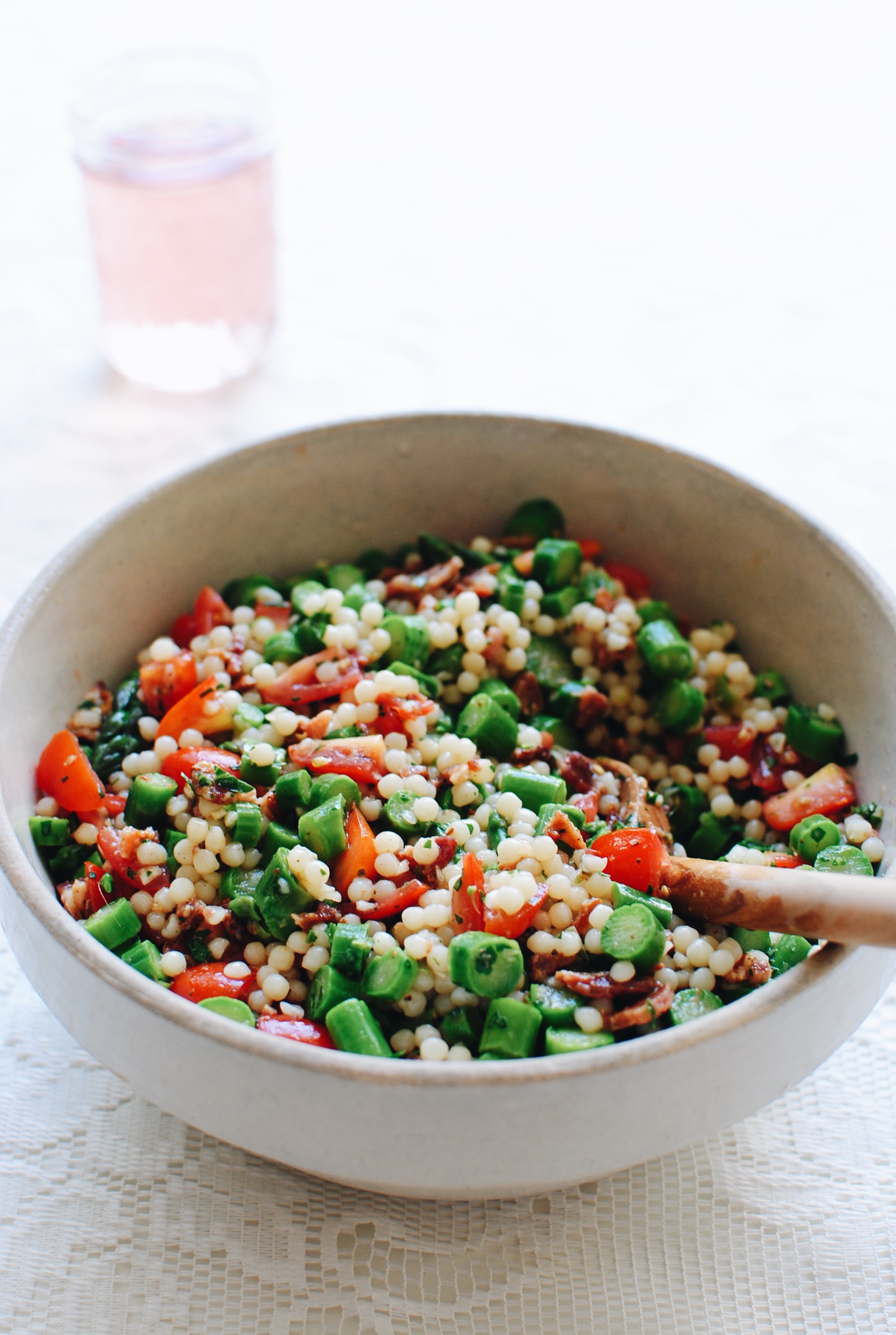 This is just EVERYTHING. Ugh. I served it recently along side some grilled corn, brats and 13 bottles of rosé. It's best served on the chilled side, so make it early and chill your face off for the rest of the day.
If you want to bulk it up a bit more and serve it as a main dish, throw in some grilled and chopped chicken! Or leave it just bacon-y. Or bacon-y AND chicken-y. Or just chicken-y. Or neither-y, if you want it vegetarian-y.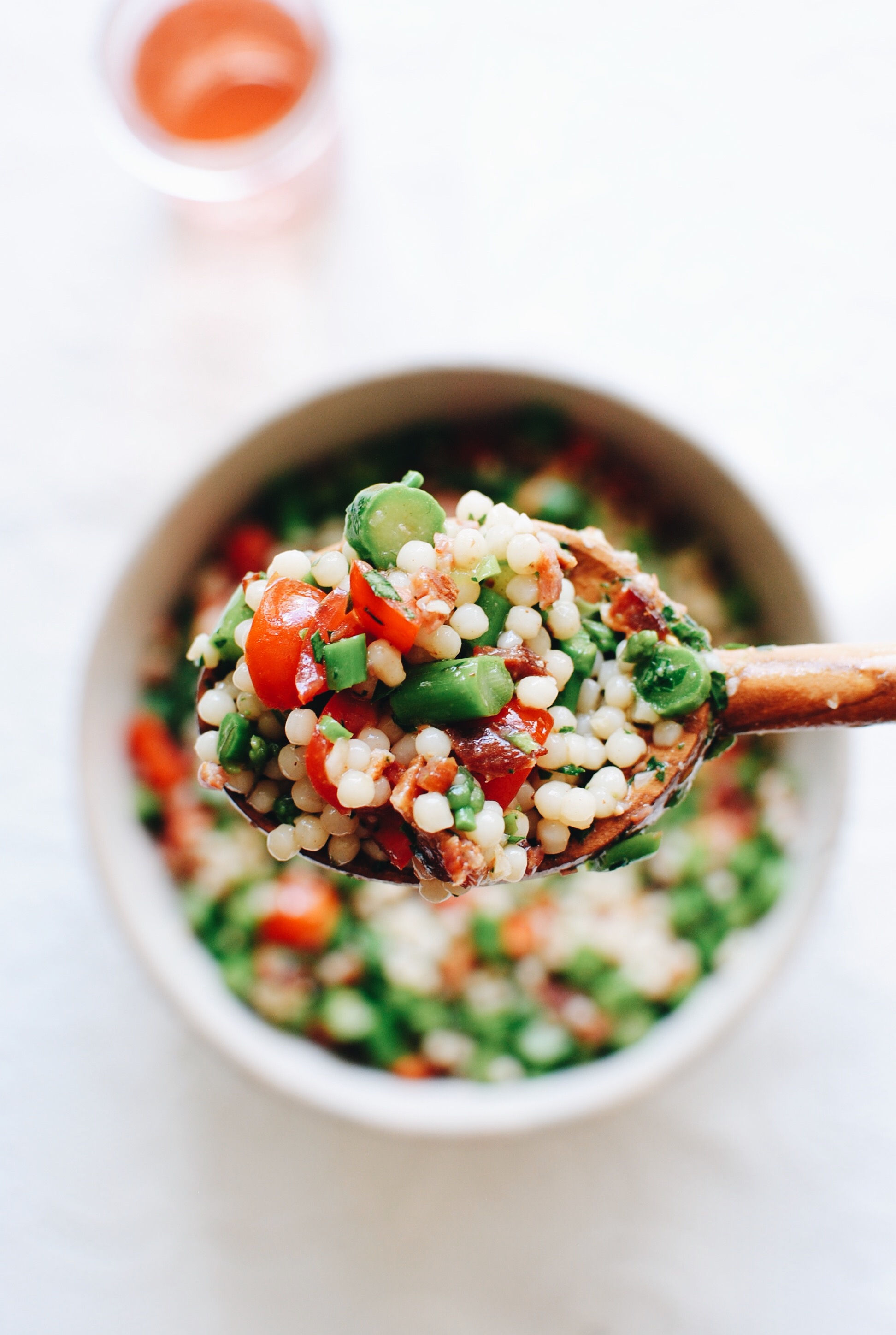 Your 4th of July party table BEGGETH.
Israeli Couscous Salad with Asparagus and Bacon
Ingredients
1 cup Israeli couscous
1 bunch asparagus, finely diced (ends trimmed and discarded)
1 1/2 cup quartered cherry or grape tomatoes
5 or 6 slices of bacon, rendered until crispy and crumbled
3 cloves garlic, finely minced or grated
1/3 cup finely minced parsley
1 lemon
1/3 cup good extra virgin olive oil
Salt and pepper
Instructions
Bring a pot of salted water to a boil. Add the diced asparagus and cook for about 2 minutes, until the color pops. Using a sieve, immediate transfer the asparagus to a bowl of ice water to stop the cooking. Drain the cold water.
Back in the pot, add the Israeli couscous to the (now green) water, and let boil for about 8 minutes, or according to package directions. Drain and let the couscous cool in a large bowl.
Once the couscous has cooled, add the asparagus, tomatoes, bacon, minced garlic and parsley.
In a smaller bowl, whisk together the juice from the lemon and the olive oil. Season with salt and pepper, and whisk again. Pour the dressing over the couscous salad and give it a good toss. Chill until you're ready to serve. Taste it again before serving and add another pinch of salt if needed.
YOU WILL FLIP.
Serves 4-6.
7.8.1.2
95
https://bevcooks.com/2017/06/israeli-couscous-salad-asparagus-bacon/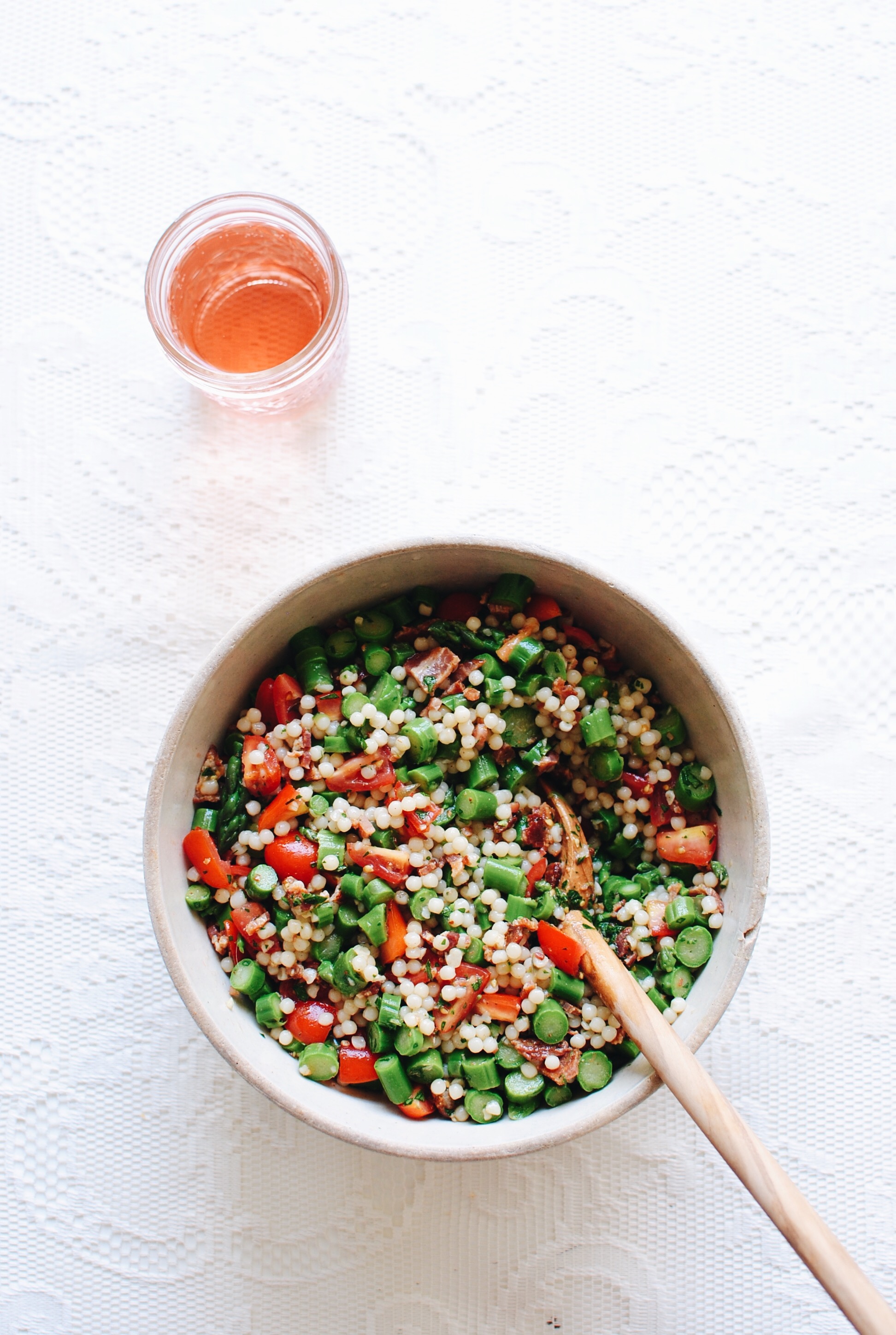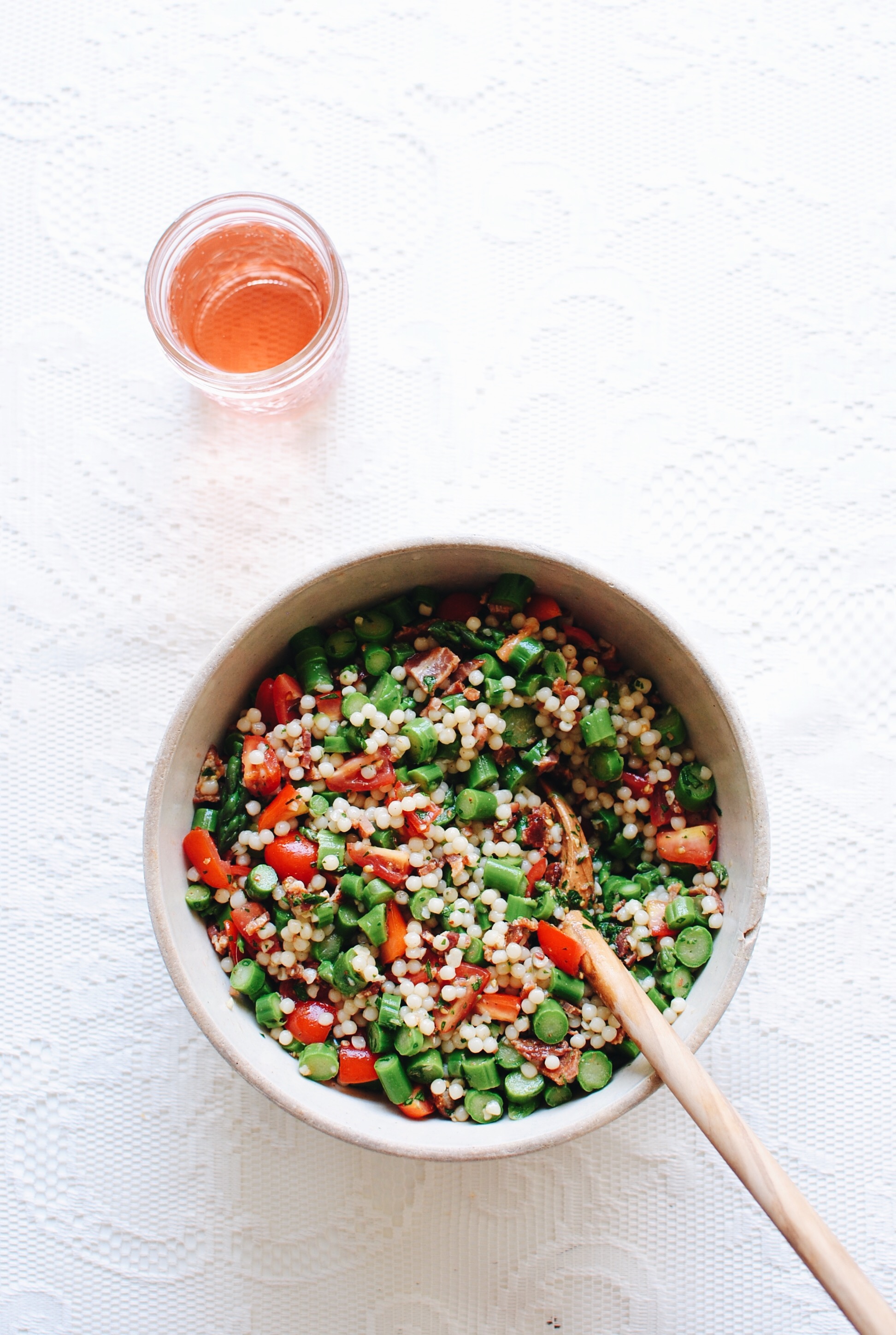 You could invite me over if you wanted to.