It's like brunch and dinner had a hybrid love child. Don't tell anyone.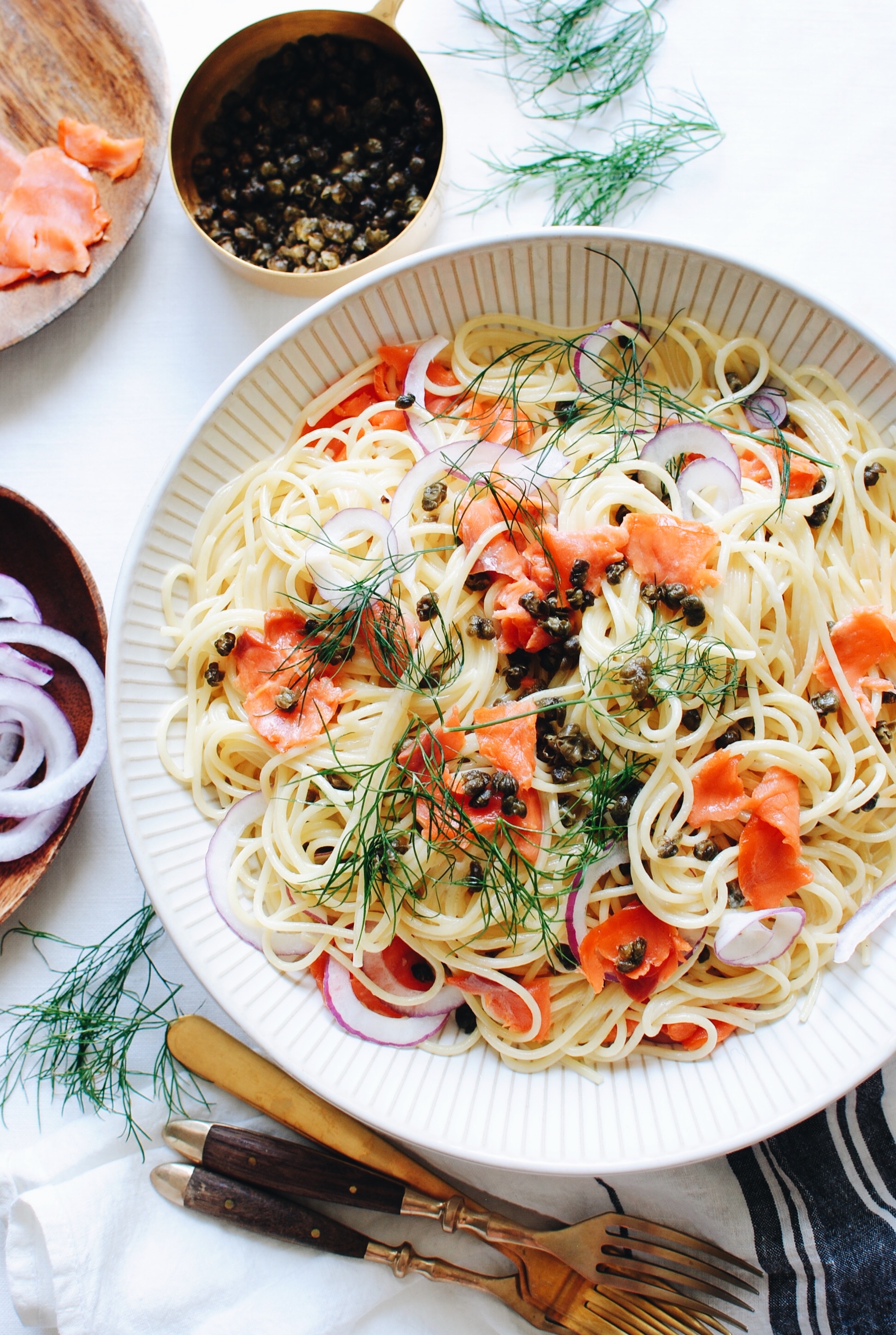 The way I ended up on this recipe was sort of like a mental joy ride. (you're like, isn't that your brain ALL THE TIME?)
No comment.
I wanted salmon! But like, regular salmon. Salmon that you sear in a pan and flake apart. And I wanted pasta. But then I started to fear that regular seared salmon might flake apart too easily under the heat and weight of the pasta, and it might become salmon shreds. Salmon hairs. We can't have salmon hairs in our food.
"Waiter! There's a salmon hair in my pasta."
No.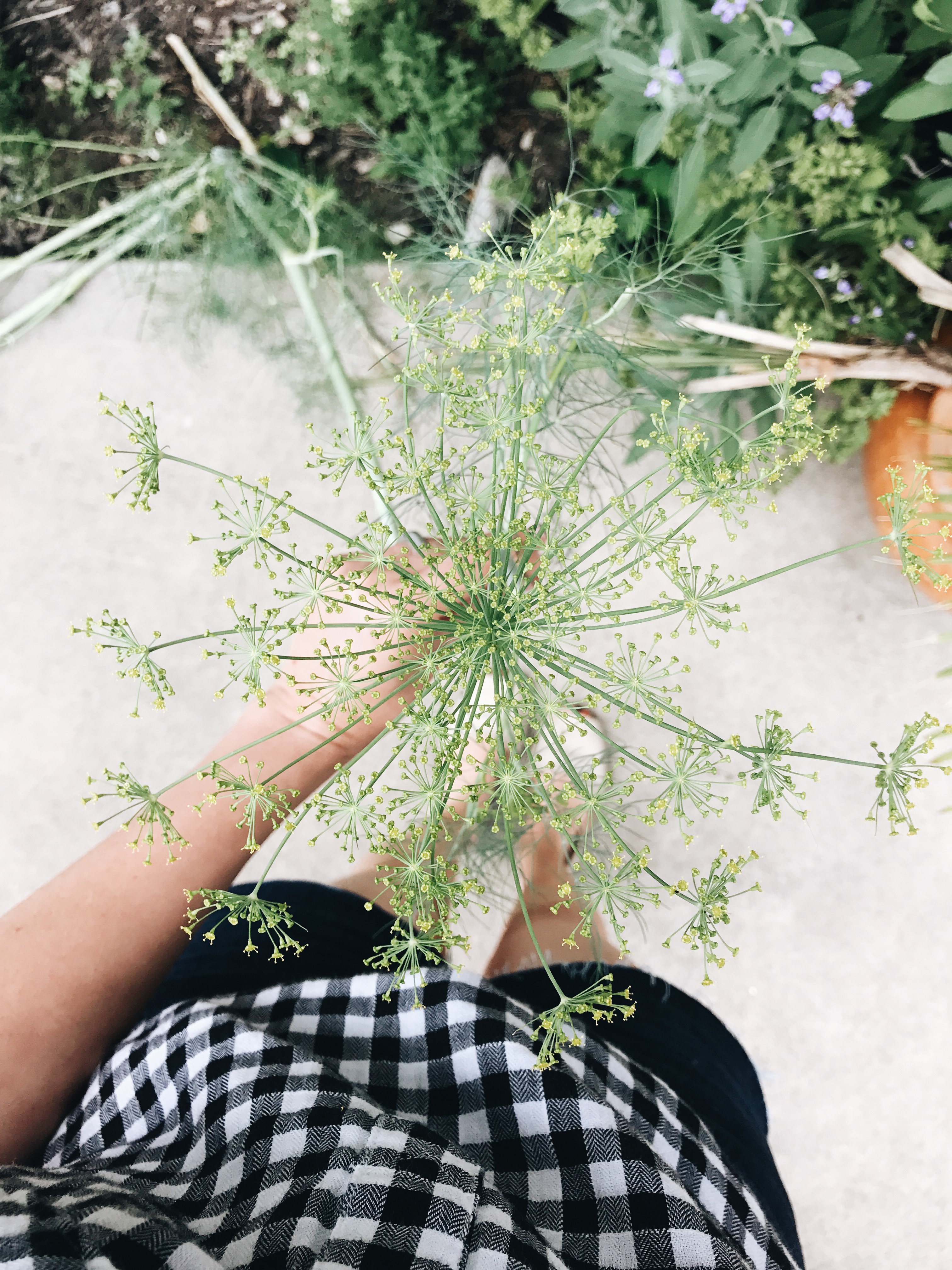 So then I said to no one, "Okay, what about smoked salmon?" And no one responded, "Nice one, Bev!"
So smoked salmon it was. The layer-y kind. Not the kind where you buy a vacuum-packed filet of thick salmon that's been smoked. I mean like lox. The papery-thin kind where you pile capers and thinly-sliced red onion and a bucket of cream cheese on top. That kind.
SO THEN I said to the voices in my head, "What about frying the capers!"
And the voices came back weeping.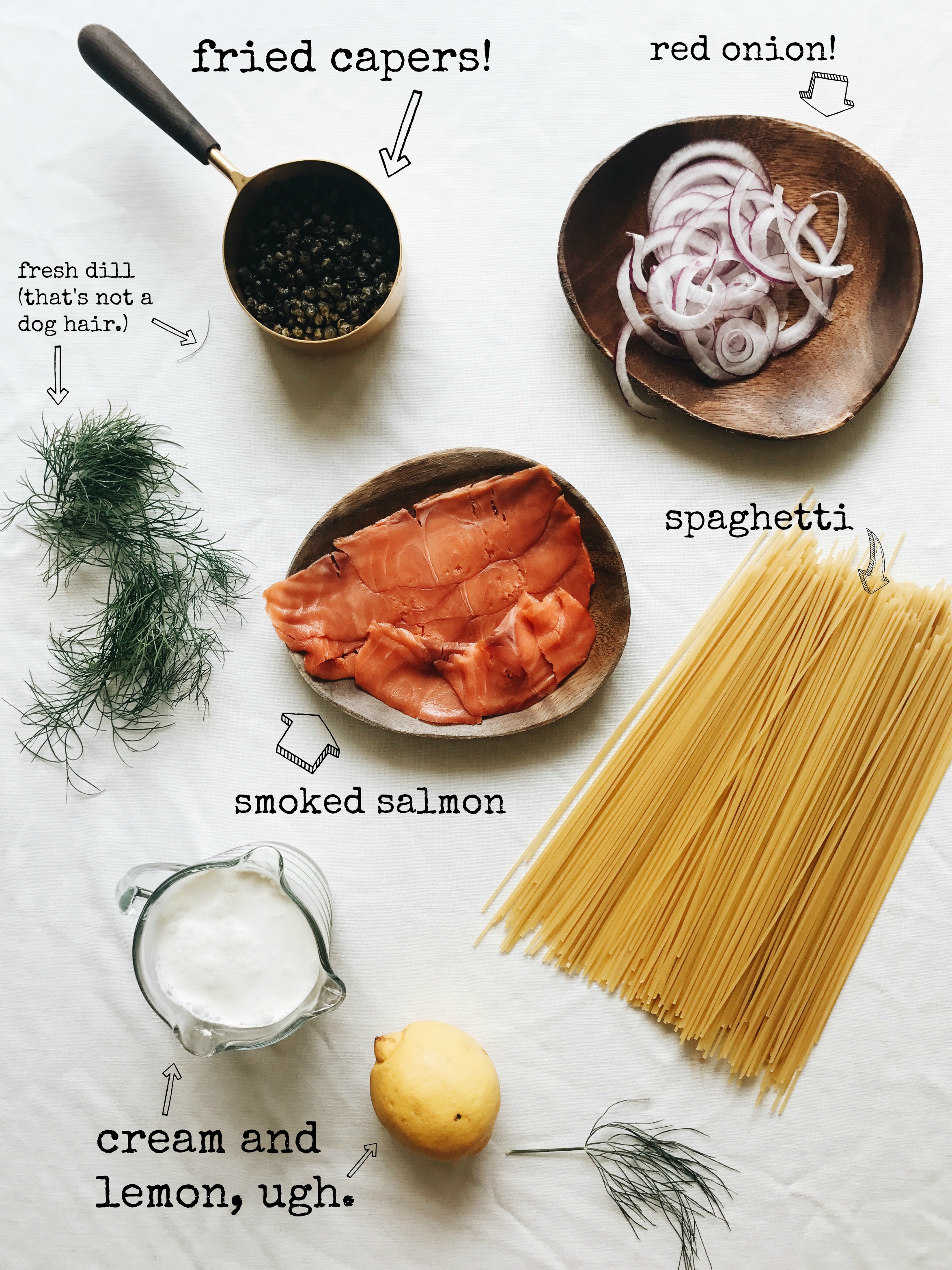 So theeeen it was like, well the pasta simply must be creamy. Creamy and lemony and so sinful that you need to wash your mouth out with soap. But instead of doing that, you eat more pasta. #math
By the way, have you ever fried capers? Easiest business in the entire world. You heat some awl. You add a few Tbs. of capers to the awl. You let them sizzle and crisp up like little June bugs on concrete in the hot hot heat. (<–why did I say that.) Two minutes later, you've got crispy fried capers. Tiny salt bombs of crunchy delight. They're my new life.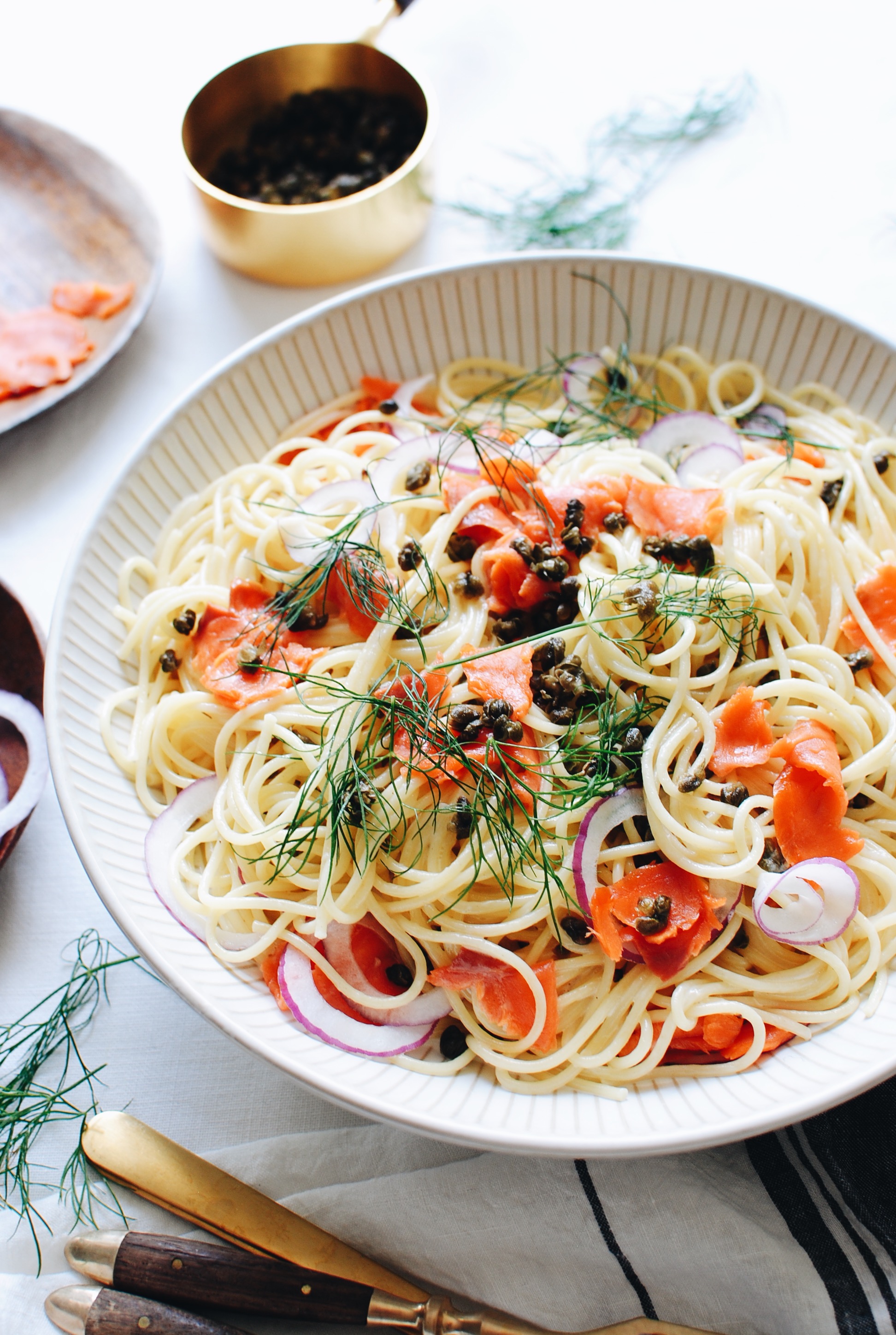 Matter of fact, this whole operation is easier than you can even know. You boil pasta and fry the capers at the same time. The sauce is a pure and sacred mix of cream, lemon and a little bit of pasta water. You add the cooked spaghetti to the cream sauce and let it become one under holy matrimony. You add parmesan cheese to the situation. And then top it all with the smoked salmon, thinly sliced red onion, fried capers, and fresh dill.
THIS IS THE BEGINNING OF THE REST OF YOUR LIFE.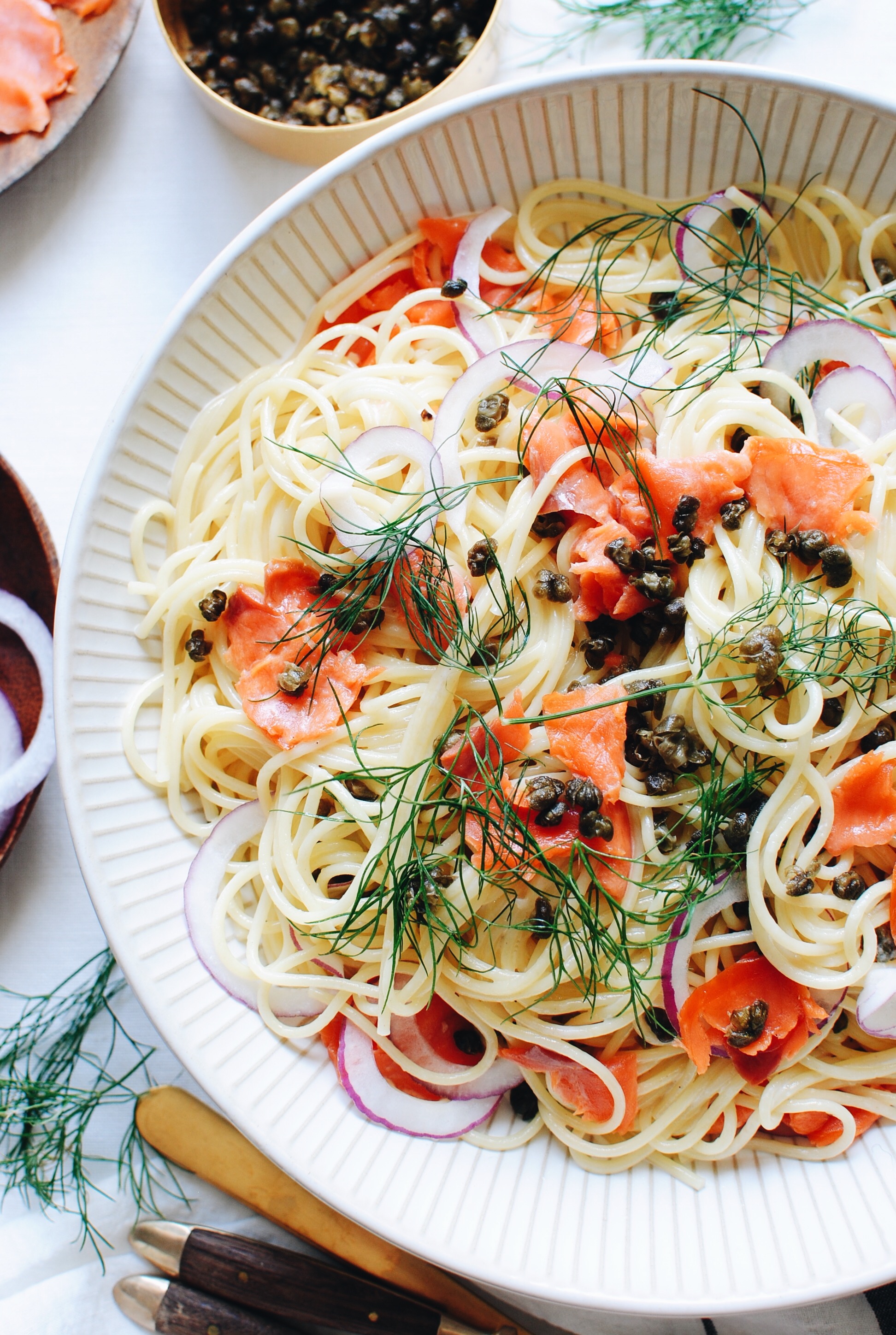 Everything just pops pops POPS. You've got crunch, you've got lusciousness, you've got salty, soft salmon, the raw essence of the onion, and the unmistakable vibrance of fresh dill. I see your brunch and I RAISE YOU THIS MAMA.
Sorry to scream at you.
But really.
Make this.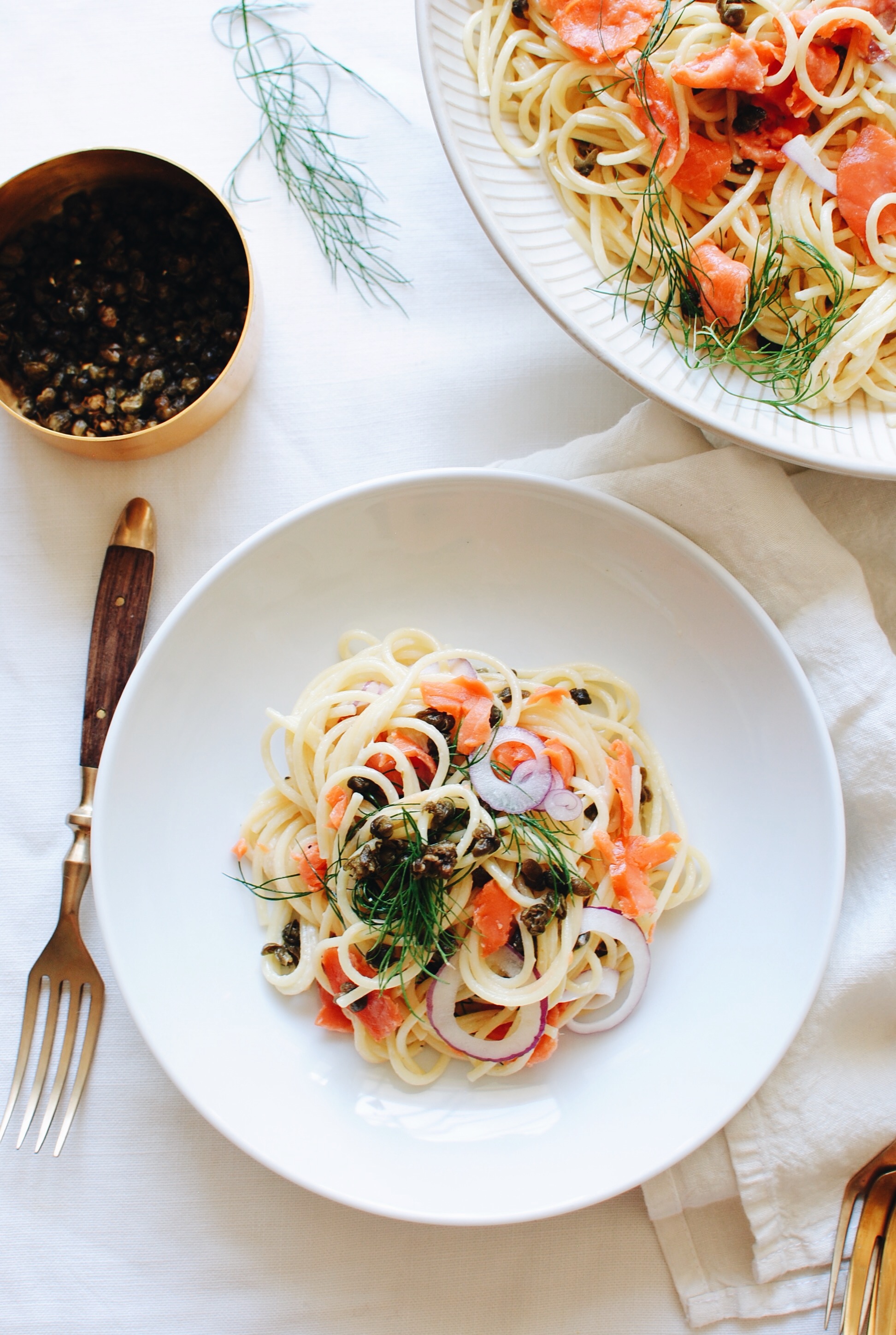 Really.
Creamy Spaghetti with Smoked Salmon and Fried Capers
Ingredients
12 ounces thin spaghetti
4 cups vegetable oil
2-3 Tbs. capers
1/3 cup thinly sliced red onion
1 (4 oz) package smoked salmon or lox
1 cup heavy cream
1 lemon
1/4 cup freshly grated parmesan
Fresh dill, for garnish
Instructions
Bring a large pot of salted water to a boil. Cook the spaghetti until it's just shy of al dente.
In the meantime, bring the vegetable oil to a high heat in a large skillet. Add the capers and fry until crispy, about two minutes. Set aside on paper towels to drain. (You can do this step early in the day if you want.)
Wipe out the skillet, then bring the cream to a medium simmer. Add the juice from the lemon and about a cup of the pasta water; whisk for a minute or two. Transfer the pasta to the sauce and let it finish cooking for another minute.
Add the parmesan cheese to the spaghetti and toss to combine. Transfer the creamy spaghetti to a large serving bowl, and top with the smoked salmon, thinly sliced red onion, fried capers, and dill.
Serve immediately. Faint from bliss.
Serves 4.
7.8.1.2
94
https://bevcooks.com/2017/06/creamy-spaghetti-smoked-salmon-fried-capers/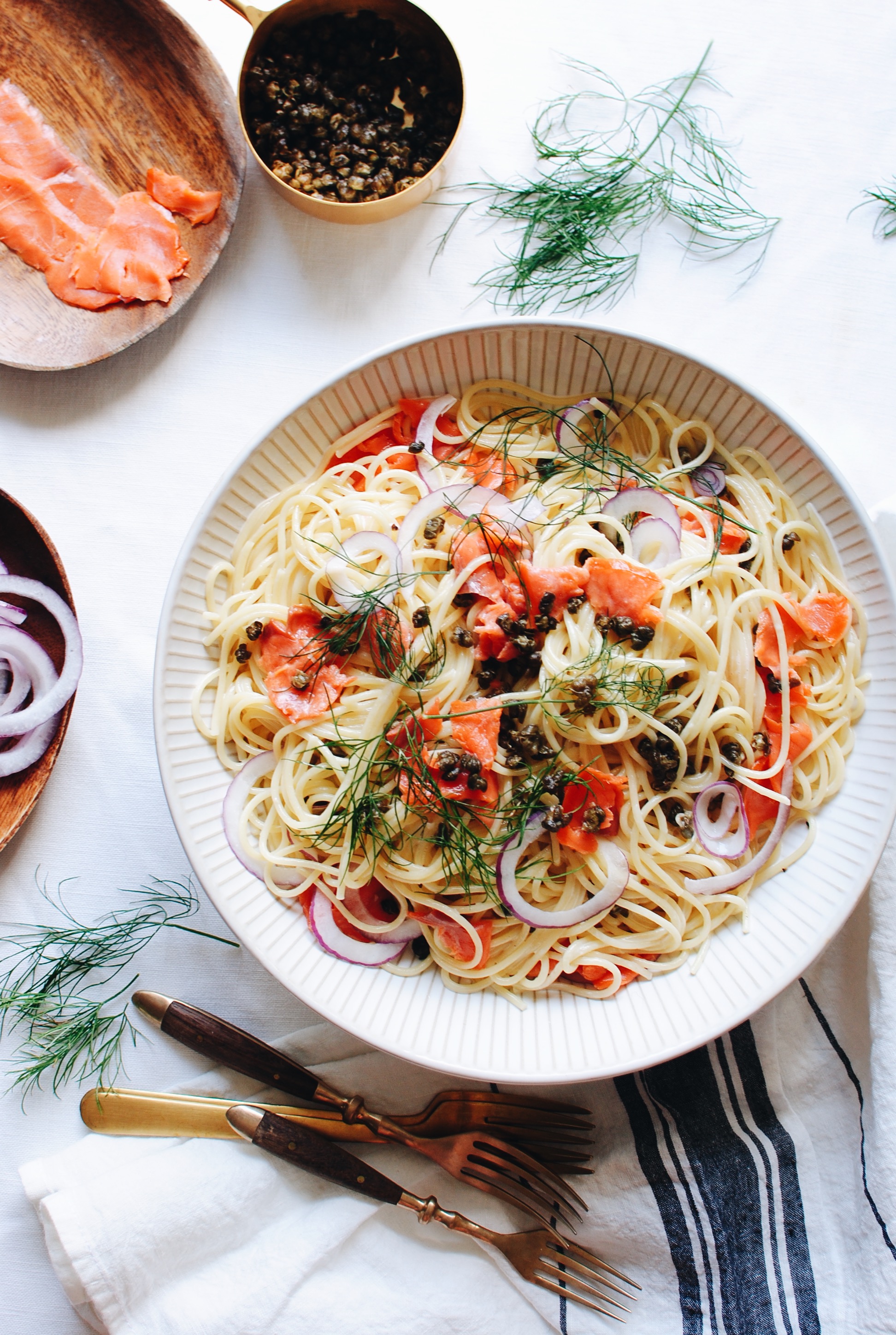 You're still thinking about salmon hairs, aren't you.