It's baby time! Not mine. For the love of all the infant ponies that drink the morning dew, not mine.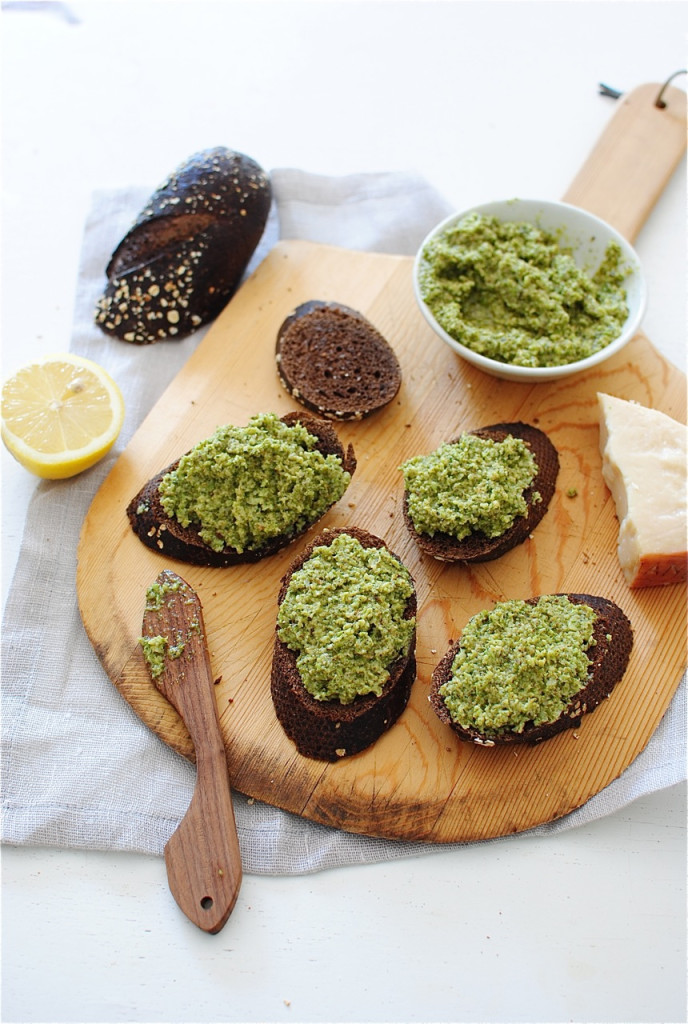 But it's baby time forrrrr the irresistibly charming Catherine of Weelicious!
Kind of makes you sick really. It's her third tot. She's in flawless shape. Hair that shines like the sun. Skin that glows like the moon. Style that makes the rest of us feel like we got dressed at a thrift store. In the dark. (not that there's anything wrong with thrift stores! I'm obsessed, myself.)
So today, a few of us in the blogosphere are celebrating her scrumptious little self (too much?) with a virtual baby shower! Surprise, Catherine!
By the way, is my restraining order lifted yet?

We all made you something colorful and healthy, since that's who you are. Colorful and healthy. With beautiful hair. Seriously, I need deets on your products.
I made you a roasted broccoli pesto because I feel like might be something you'd whip up for your kiddies. Slide some good old healthy broccoli into a pasta like a sneakster. TRICKED, KIDS. Ha! You've been swindled again!
But instead of words that come out of your mouth, you probably have baby birds that chirp darling messages in a circle around your head, in perfect harmony. Holding flower petals in their tiny little claws.
You just extended the restraining order? Oh.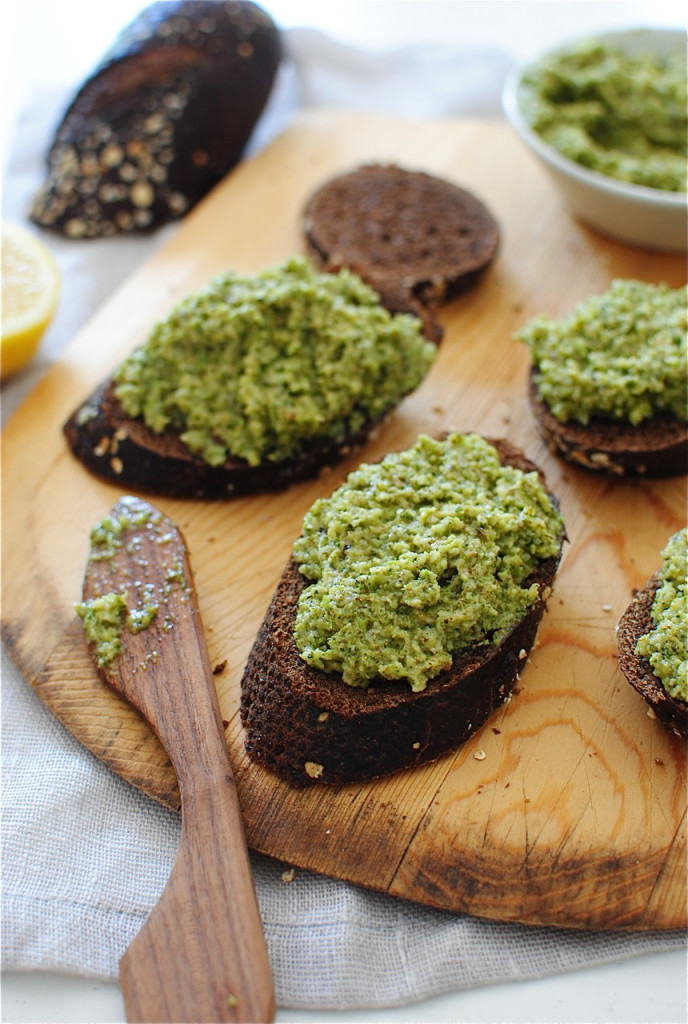 I can't tell you how insanely good this pesto is. It's sort of unexpected, really. It's deeper in flavor, due to all the roastage of garlic and broccoli, but carried with a subtle tang with the lemon juice. I slapped it on some toasted pumpernickel because frankly, I just enjoy saying the word pumpernickel. But put it on anything! Crusty bread, a baguette, a country loaf, even pasta! My babies i.n.h.a.l.e.d. it in pasta form. And they even cleaned up after themselves!
They did not do that.
So happy for you, Catherine! And only 5% jealous of your body. 5% plus 95%.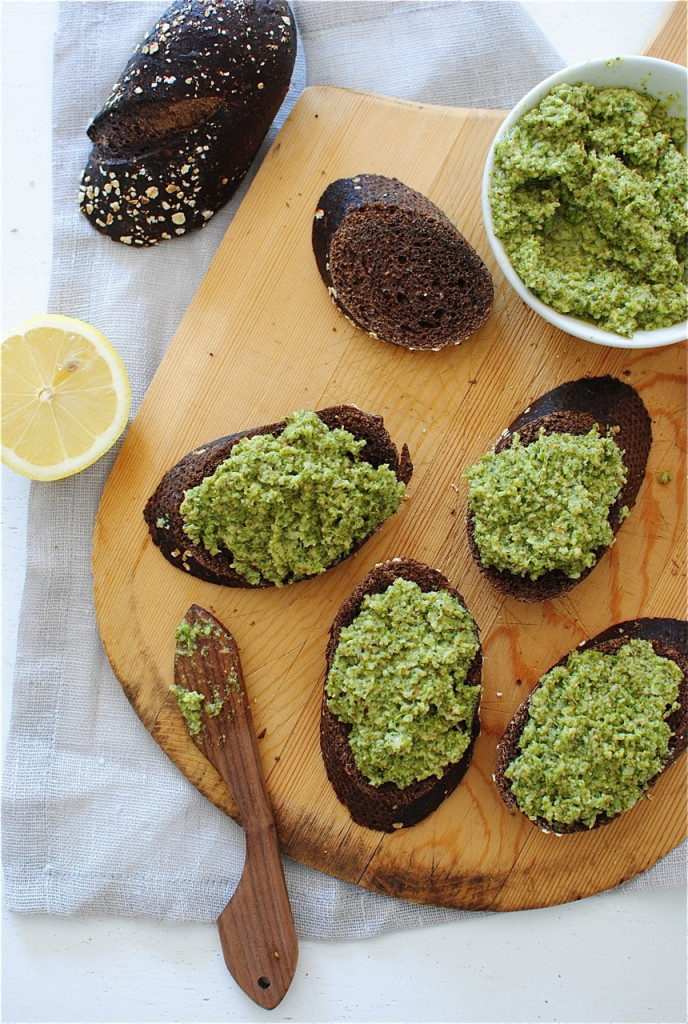 Get roasted!
Roasted Broccoli Pesto on Pumpernickel:
What it took for about 2 cups of pesto:
* 4 cups broccoli florets (from 2 medium heads)
* 4-6 cloves garlic, in their skins (my cloves were on the small side, so maybe 3 big ones)
* 2 Tbs. extra-virgin olive oil, plus 1/2 cup
* pinch of coarse salt and freshly ground pepper
* 2 Tbs. pine nuts (lightly toasted is great!)
* 1/4 cup freshly grated parmesan cheese
* 2 tsp fresh lemon juice
* sliced and toasted pumpernickel, for serving
Preheat oven to 400.
Place the broccoli florets and garlic on a baking sheet. Toss with the 2 Tbs. of oil and season with salt and pepper. Roast for 30 minutes, flipping at the half-way mark.
Transfer broccoli and garlic (squeezed out of their skins) into a food processor. Add the pine nuts, cheese and lemon juice, along with another small pinch of salt and pepper. With the motor running, add the oil in a thin stream until you get  pesto consistency. Taste that. It's roasted! And freaking awesome, right?
Serve on sliced and toasted pumpernickel, or throw over any pasta you dig. Voila.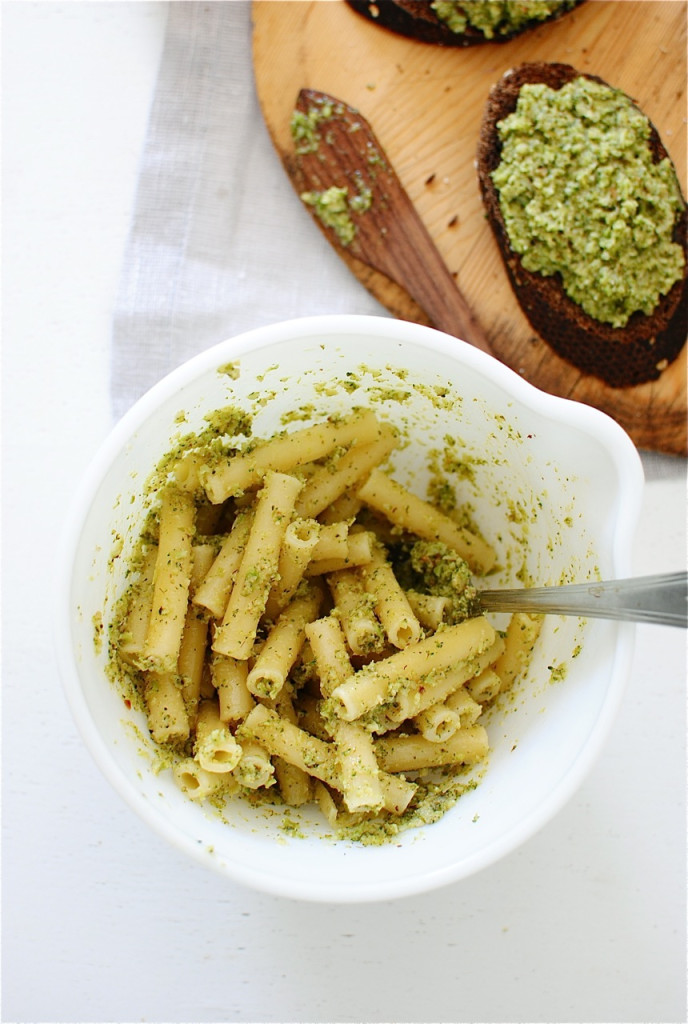 Happy showering!! Not that you need a shower. I just meant…never mind.
Be sure and peep the rest of the shower crew below!
Mini Strawberry Rosewater Pavlovas from Beard and Bonnet
Pink Lemonade Thumbprint Cookies from Fifteen Spatulas
Skillet Cherry Pie from FoodieCrush
Roasted Blueberry and Lemony Yogurt Popsicles from Tasty Yummies
Frozen Lemonade with Rose Water from The Lemon Bowl
Grilled Carrots with Mint Almond Pesto from Heather Christo
Persian Saffron Pudding from Tori Avey
S'more Brownies from What's Gaby Cooking
Jicama Pops from ¡Hola! Jalapeño
Roasted Broccoli Pesto on Pumpernickel from Bev Cooks
Farmer's Market Vietnamese Steak Salad from Alex T Cooks
Peachy Pineapple Green Smoothie from 100 Days of Real Food
Rainbow Smoothie from Daisy At Home
Chocolate Beet Cake from I Am Baker
Chocolate Cupcakes with Strawberry Frosting from Deliciously Organic